Get in the mood for cooler weather with these 32 Crochet Sweater Patterns. From v neck sweaters to off the shoulder sweaters, from cropped sweaters to classic standbys, there is sure to be a sweater in this list that you can't just live without!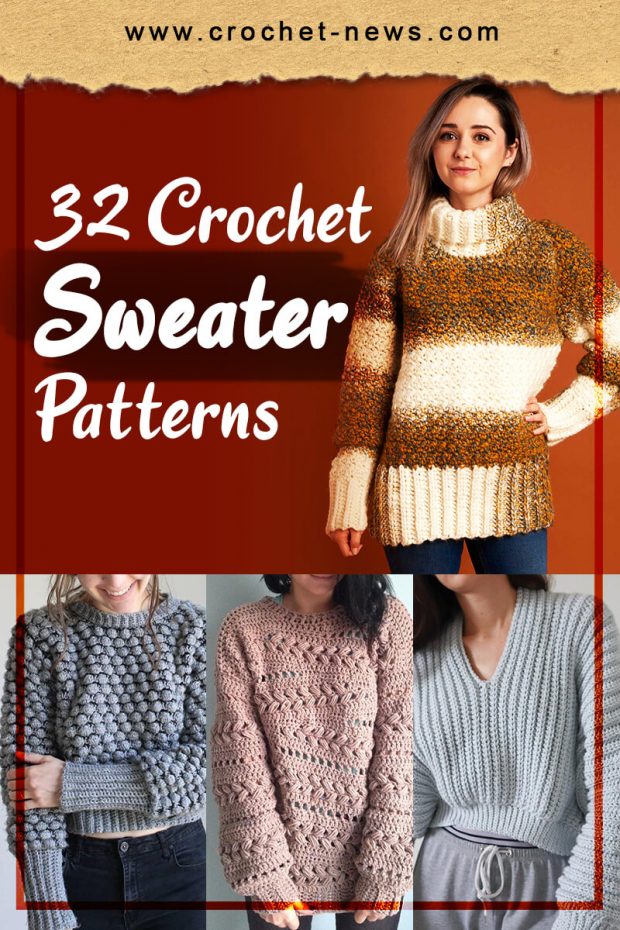 It's getting cold, and we all want something warm to bundle up in. Unfortunately, winter cover-ups can get expensive. Why not save money and crochet a sweater of your own?

And with so many pattern options to choose from, you're sure to find a style that works for you, a friend or a family member!

1. Super Slouchy Crochet Sweater Pattern by The Snugglery Patterns
Even though this sweater is so oversized and slouchy, it won't take you forever to make!

Using heavy worsted/aran weight yarn and a 6mm (US J) hook, this sweater works up surprisingly fast in half double crochet back loop stitches.

The coolest part is the slip stitch, knit-look edge at the bottom and sleeve cuffs which will be a fun challenge to keep beginner to intermediate crocheters on their toes!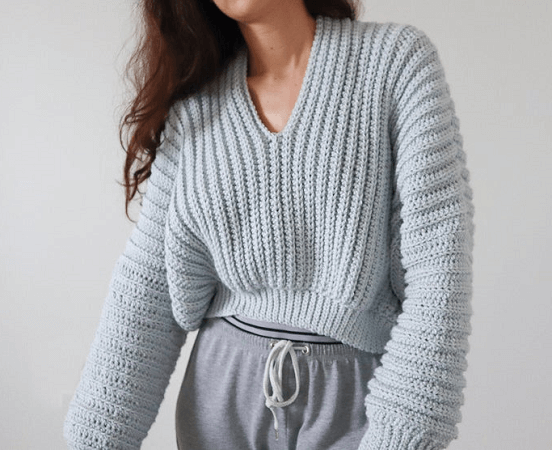 Get the Pattern by The Snugglery Patterns here

2. Bobblicious Sweater Crochet Pattern by Kay Krochets
Create this stunning sweater by following this easy to read, row by row, color-coordinated pattern.

It features lots and lots of bobble stitches (hints the name) and is the squishiest, coziest thing you'll ever make/wear!

And if you're not a fan of cropped sweaters, don't fret! The pattern includes instructions on how to elongate it. It also has a matching child-sized pattern for an adorable mommy and me look!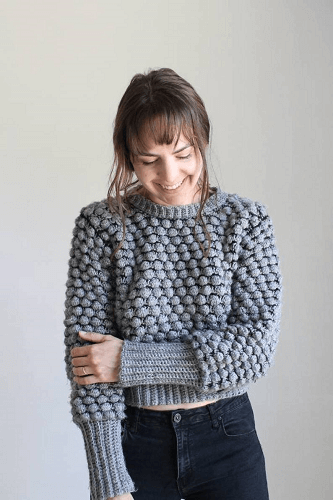 Get the Pattern by Kay Krochets here

3. The Home Girl Sweater Crochet Pattern by Megmade With Love
This Home Girl Sweater is a laid-back and comfy-cozy sweater designed to be worn with leggings (longer in the back!).

It features a v-neck, and oversized ribbing along the bottoms and the sleeves. It's made with DK weight yarn, and provides lots of texture with it's stitches. You'll surely love loungin' around in this garment!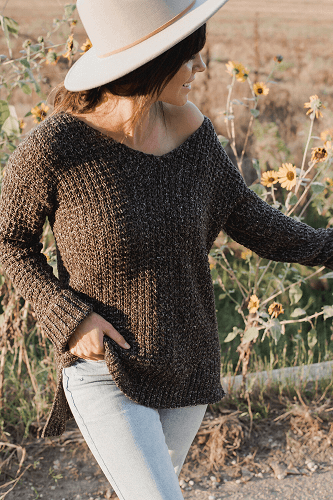 Get the Pattern here

4. Cozy Day Child Sweater Crochet Pattern by Jen Dwyer
This Cozy Day Child Crochet Sweater Pattern is a drop shoulder pullover with instructions for six children's sizes.

Crocheted with super bulky yarn, it's a great project for beginners and a quick make for those with more experience. Pieces are worked flat and seamed as you go.

The pattern includes a link to one video as a bonus to help you along the way!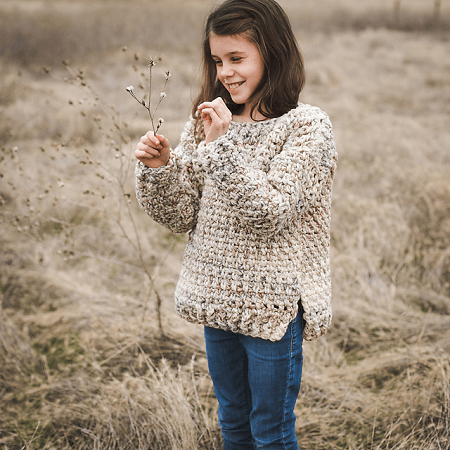 Get the Pattern by Jen Dwyer here

5. Cabled Sweater Crochet Pattern by Eleven Handmade
Steal the night with the cozy Cabled Sweater – with beautiful puff stitch braids align in breathtaking short rows.

It's a challenging pattern, with a repeat of treble and puff stitches that increases and decreases across the jumper, creating a sort of zigzag pattern.

It's warm and cozy, but lofty and light. It's just ultra-comfortable!
Get the Pattern by Eleven Handmade here

6. Valentina Top Sweater Crochet Pattern by Fiorelila
What a fashionable and elegant top sweater it is! This Valentina Top Sweater is unique and beautiful, which was made with basic shape and construction. It is simple but very stunning!

You will love the details added to this top, the lace motif gives the effect of bell sleeves and the puff edging around the neckline make it so pretty!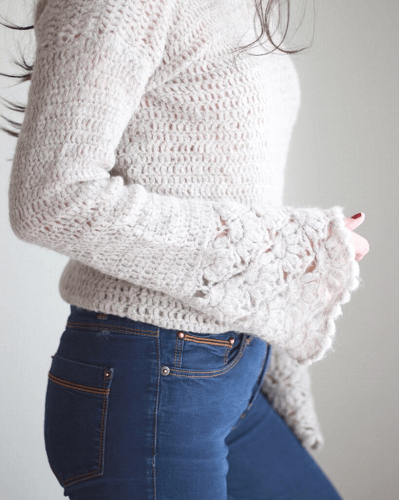 Get the Pattern here

7. Knit Look Crochet Sweater Pattern by Itchin' For Some Stitchin'
This easy "knit-look" cropped sweater is both classy and stylish. It uses a combination of stitches to create a unique ribbed effect that's absolutely eye-catching!

Add on the rolled collar, rolled cuffs, and hem and you've just created a fabulously unique sweater that you'll love to wear all fall and winter long!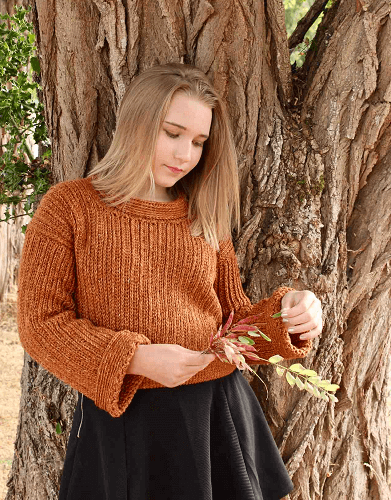 Get the Pattern here

8. Crochet Hoodie Sweater Pattern by Evelyn And Peter
This lightweight Crochet Hoodie Sweater is perfect to throw on during a chilly summer evening at the beach or cozied up in around a bonfire.

The in-style oversized fit compliments all body shapes and sizes. Get ready to never take off your new favorite hoodie!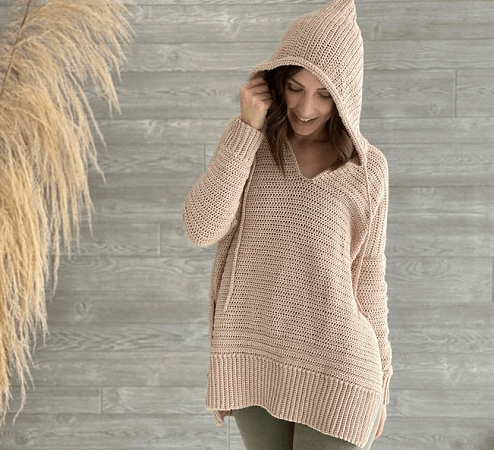 Get the Pattern by Evelyn And Peter here

9. Crochet Raglan Sweater Pattern by Knits N Knots WPG
This Crochet Raglan Sweater Pattern uses a stitch pattern that alternates single crochets and double crochets to create a textured fabric that will remind you of little rosebuds.

Since each double crochet is worked into single crochet, and each sc is worked into a dc, there is zero confusion as to where the first and last stitch of the round is to be worked.
Get the Pattern by Knits N Knots WPG here

10. Mount Tremper Sweater Crochet Pattern by Two Of Wands
Hit the slopes or the streets in this Mount Tremper Sweater. Sophisticated uneven striping, drop sleeves, and a dramatic turtleneck adds personality and modernity to this classic silhouette.

This is an easy level crochet pattern and the techniques involved are single crochet, half double crochet, hdc2tog, double crochet, dc2tog, slip stitch, and seaming.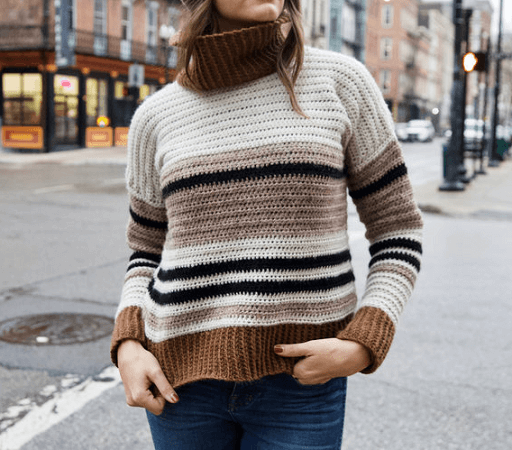 Get the Pattern here

11. Crochet Sweater Leaves Pattern by Knitwear By Palmiotto
This Crochet Sweater Leaves is a very cozy, easy, and comfy modern design – perfect for Autumn.

It's an oversized sweater with a low armhole, round wide neckline, and leaves 3D with asymmetric design on sleeve. Very trendy!

You should know how to crochet the basic stitches: chain stitch, single crochet, double crochet, and, front and back post double crochet.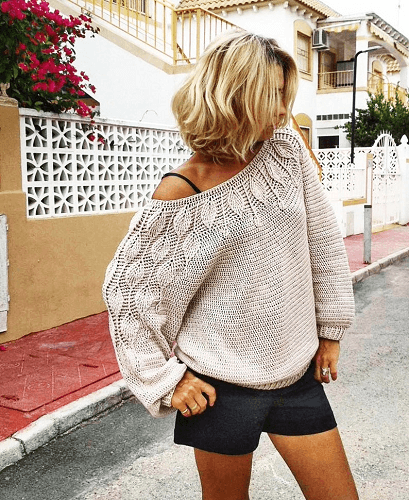 Get the Pattern by Knitwear By Palmioto here

12. Crochet Baby Sweater Pattern by Crochet Baby Boutique
This crochet sweater pattern is for babies and toddlers that features a beautiful mix of textures and a shawl collar. A sweater with a modern look but still traditional.

It comes in 7 sizes – 0-3 months, 3 months, 6 months, 12 months, 18 months, 2T, and 3/4T and is worked with an H(5mm) hook and worsted weight(size 4 yarn).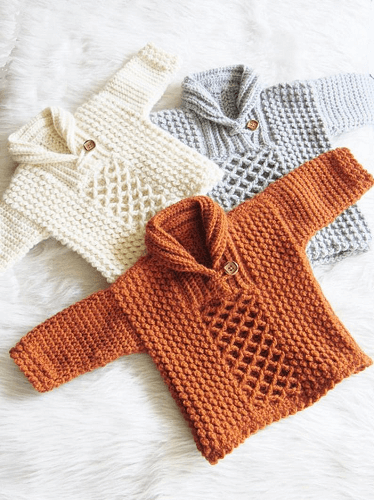 Get the Pattern by Crochet Baby Boutique here

13. Sand Dune Sweater Crochet Pattern by For The Frills
Cozy, breezy, and super soft, this Sand Dune Sweater is wonderful for beach days and windy summer nights!

This sweater uses stitches in front and back loops to create textured ridges on the front of the sweater. It uses 3 different colors for this sweater but it would also be great all in one color to highlight the different stitch textures.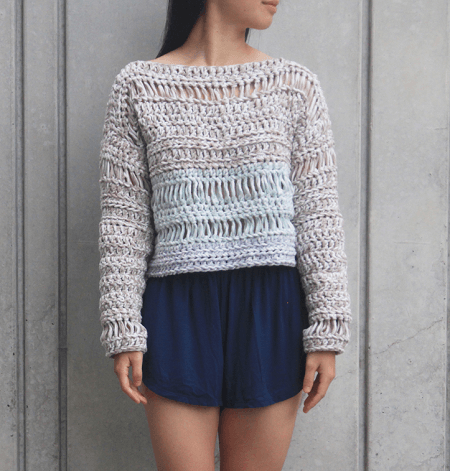 Get the Pattern here

14. Crochet Cabana Sweater Top Pattern by Sewrella
Crochet this simple T-shaped beachy top with the most basic stitches and comfortable drape. All you do is make two panels and sew them together, so easy!

Cotton blend yarn is light and breezy in the summer and this sweater will be the one you grab all season long.

This is an easy level crochet pattern (and is very doable for an enthusiastic beginner!), and the techniques you will need to know are half double crochet, chain stitch, seaming panels together, and slip stitch.
Get the Pattern by Sewrella here

15. Dapper Dad Cabled Sweater Crochet Pattern by MJs Off The Hook Designs
Make those men in your lives stay cozy and modern in this Dapper Dad Cabled Sweater! Front and back post stitches are used to create a beautiful cable that looks knit. The sleeve and body length are easily customized.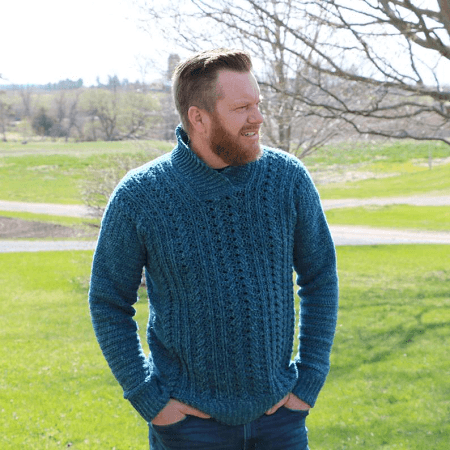 Get the Pattern by MJs Off The Hook Designs here

16. Easy Crochet Sweater Pattern by TCDDIY
This pattern is for a chic unisex crochet crew neck sweater. It's easy, it's fast and you'll be able to wear it for many years to come.

Using two different sized hooks, and few basic crochet stitches you'll get this beautiful classic sweater. The vertical ribbing is flattering on any person and has a seamless join to the sleeve for a clean look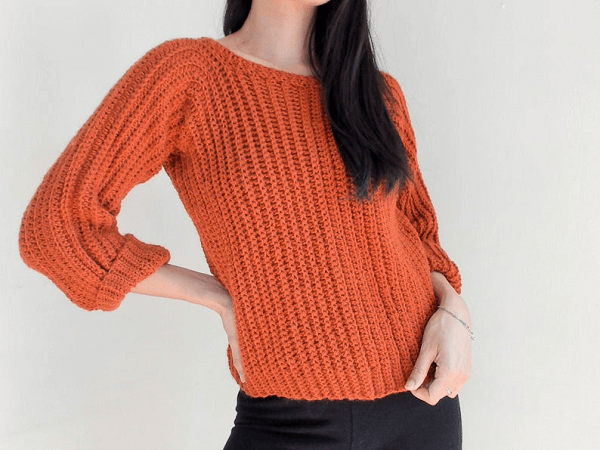 Get the Pattern by TCDDIY here

17. Meara Fisherman Sweater Free Crochet Pattern by Hopeful Honey
Dotted with lattice-work and traveling cables, this Meara Fisherman Sweater is an easy throw on in the colder months – perfect for the seashore or fishing off the pier.

Modified drop shoulders create a pullover roomy enough for layering, while bracelet-length ribbed sleeves keep the look simple and understate.

Soft as a cloud against the skin but durable enough to weather any storm, this oversized pullover is the kind of sweater for which you ignore all the others in your closet, and the ideal companion for weekend adventures.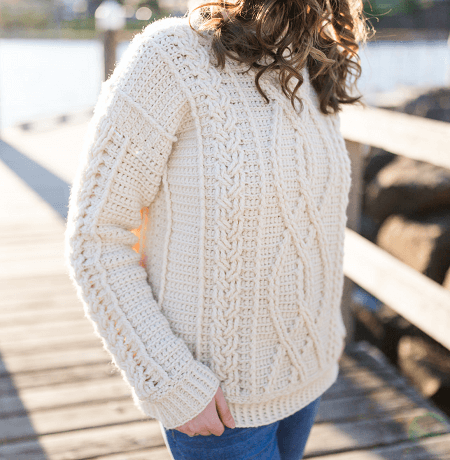 Get the Pattern here

18. Crochet Dapper Pup Sweater Pattern by Yarnspirations
Whether its for your dog, or for donation to a local humane society, keep pup super warm during winter walks.

Caron Simply Soft lets you finish a great looking sweater with a hint of luster and subtle sheen.

Make it in a solid color, or change it up for a more dimensional look – either way, Fido thanks you.

If you're looking for more patterns like this one, check out these 37 Crochet Dog Sweater Patterns.
Get the Pattern here

19. Men's Crochet Sweater Pattern by A Crocheted Simplicity
This Men's Crochet Sweater is a classic piece that can be worn for years to come. Pair it with dress slacks for a dressier look, or pair it with jeans for a more casual vibe.

This sweater uses simple construction methpds and there is very little seaming (only the shoulders). Whoe doesn'tlove an almost seamless garment?

Do you have a tall guy in your life? No worries! There are instructions included to easily lengthen the torso and the sleeves!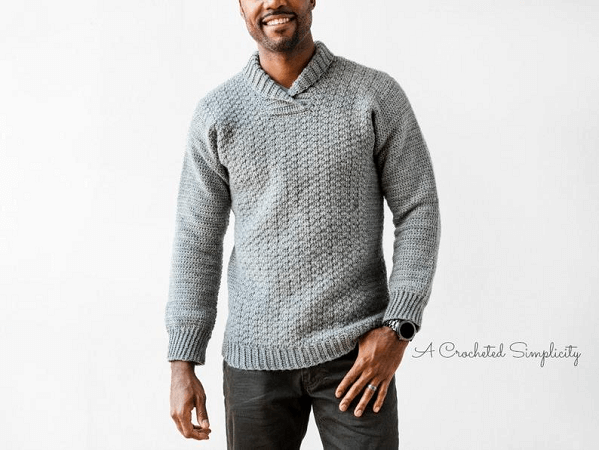 Get the Pattern by A Crocheted Simplicity here

20. Crochet Honey Bear Sweater Pattern by The Moule Hole
Your tiny cub will be "unbearably" cozy in this adorble Crochet Honey Bear Sweater! It's a unisex crochet pattern that comes in 7 sizes from size 0-6months all the way to 10 years.

Perfect, warm and cozy sweater for both – boys and girls! Easy to make and so fun to wear! Give it as a thoughtful gift to any cub that's close to your heart.
Get the Pattern by The Moule Hole here

21. Mysa Velvet Sweater Crochet Pattern by 1 Dog Woof
Cozy, casual, and comfortable. Who wouldn't want to be wrapped up in a velvet sweatshirt?

This Mysa Velvet Sweater is all about comfort, being comfortable physically in a warm and cozy-soft sweater, but also comfortable with who you are, in a casual, no-nonsense way.

This design uses single crochet stitches in a simple yoke construction to create a perfect personal weekend retreat to curl up in.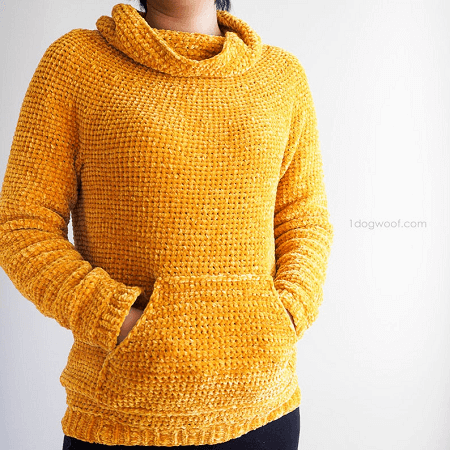 Get the Pattern by 1 Dog Woof here

22. Everykid Crochet Sweater Pattern by Hooked On Homemade Happiness
This Everykid Crochet Sweater Pattern is written in sizes 2T – 11/12 and can be made for boys or girls! This comfy, easy to make sweater is the perfect addition to your kid's fall wardrobe.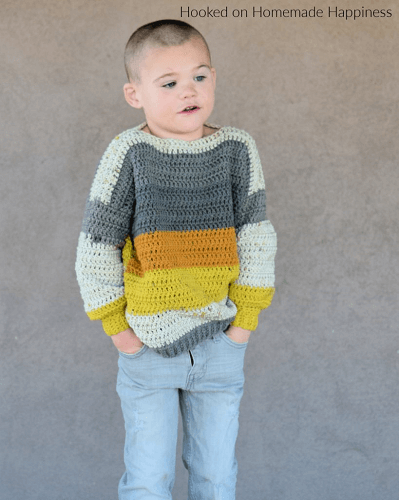 Get the Pattern here

23. The Acacia Cropped Sweater Free Crochet Pattern by Hooked On Tilly Life
This Acacia Cropped Sweater is a lightweighg sweater that comes with surprisingly simple construction and is perfect for the warmer months ahead.

This design is worked in 4 separate panels and seamed together at the end. This is the perfect beginners crochet garment and works up rather quickly.

And if you're not too big of a fan of cropped sweaters, it's actually easily adjustable – so you can add the length you'd like.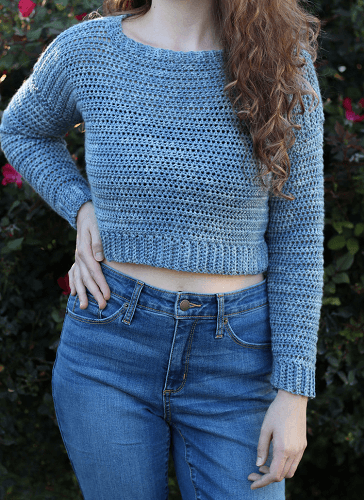 Get the Pattern here

24. Crochet Rainier Sweater Free Pattern by Sewrella
This Crochet Rainier Sweater is boxy and broken-in feeling fresh off the hook! It's slightly oversized through the body with great give through the sleeve.

It's a V necked pullover with delicate ribbing along all the edges and simple single crochet stitches throughout.

It's a thick, warm pullover with excellent drape and excellent texture for a day around the house or a hike in the woods!
Get the Pattern here

25. Blocked Cropped Sweater Crochet Pattern by Svetlana Avrakh
Worked in a crochet moss stitch to create a cozy tweedy look, this cropped color-blocked sweater with an easy fit is the perfect layering piece for Fall & Winter.

Complimentary shades of Patons Classic Wool Worsted are beautifully combined in a modern and fashion-forward way to become your new favorite sweater.

This is the perfect project for both seasoned and newer crocheters and with such a wide range of shades in the Patons Classic Wool Worsted line, you're sure to find your favorite color combo!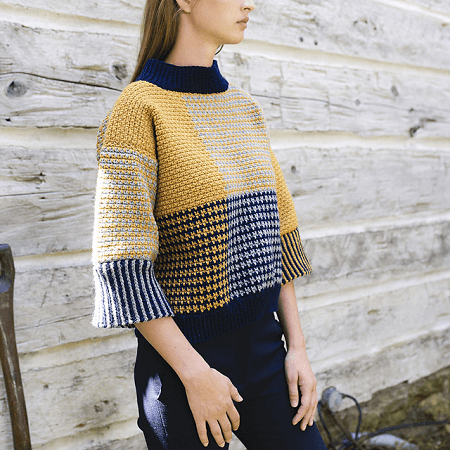 Get the Pattern here

26. Rainbow Smiles Striped Crochet Pattern by Dora Does
This Rainbow Smiles Striped is a top down raglan jumper with a gentle v-neck. Made with simple stitches, it is close fitting with a chevron burst of rainbow color.

This is a great pattern for beginners looking to try their first garment. It uses simple stitches all the way through and has no seaming.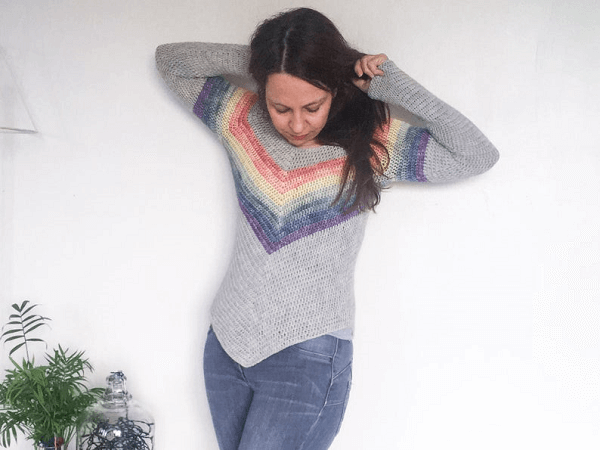 Get the Pattern by Dora Does here

27. Crochet V Neck Sweater Pattern by Crochet With Carrie
This Crochet V Neck Sweater Pattern uses easy stitches and simple construction to create a classic llok that's effortless to dress up or down.

It's designed bottom up and made with four panels; the back, front and two sleeves. The sweater is designed to be over sized, with a 10″ positive ease so keep that in mind when choosing your size.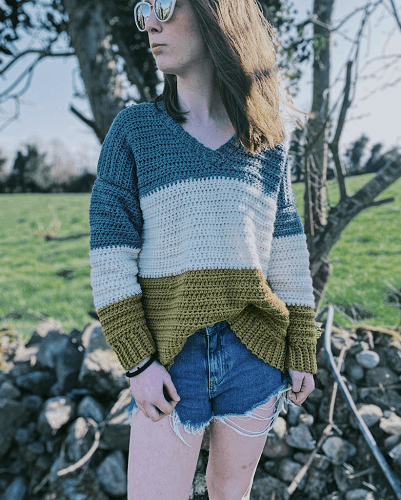 Get the Pattern here

28. Crochet Sweater Pattern by Yarnspirations
It only takes 1 yarn to achieve the striking color transitions on this ultra-cozy, crochet sweater.

Bold stripes take center stage with light texture stitchwork in self-striping Caron Swirl Cakes yarn. First, ribbings are done from side to side with the body and sleeves both worked from the bottom up.

This interesting project will keep you engaged with a series of techniques including single crochet, double crochet, and half double crochet worked in the horizontal bar for ribbing.

The relaxed look is flattering on most body types, so the pattern is given in a range of sizes.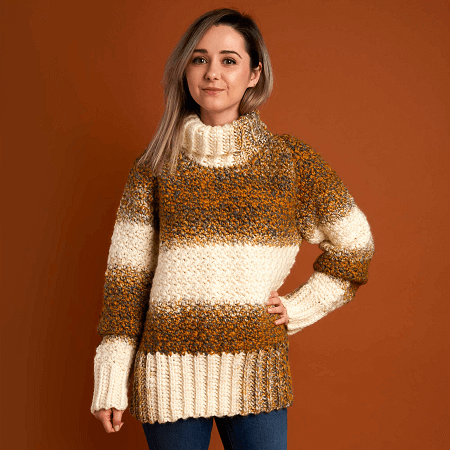 Get the Pattern here

29. Tunisian Crochet Sweater Pattern by Kay Krochets
This classic, unisex Tunisian Crochet Sweater is lightweight enough for spring/summer and thin enough to be layered in the fall/winter.

It features a classic crew neck, is worked from the bottom up in 4 separate panels, and is made using the stunning tks (Tunisian Knit Stitch).

Plus, the pattern itself offers row by row instructions with his/her measurements and has color coded sizing that makes it easy to follow.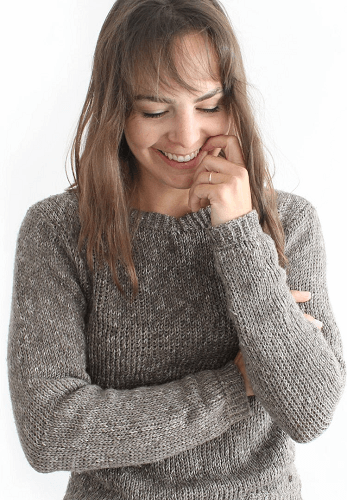 Get the Pattern by Kay Krochets here

30. Homebody Sweater Crochet Pattern by Megmade With Love
This is a crochet pattern for the Homebody Sweater, an oversized cute and cozy pullover.

Perfect for nights in watching Netflix and crocheting, saturday mornings sipping coffee or even paired with some jean shorts and sneakers to wear out.

This sweater is amazingly easy and quick to make! Makes a great "beginner sweater" for someone who hasn't crocheted apparel.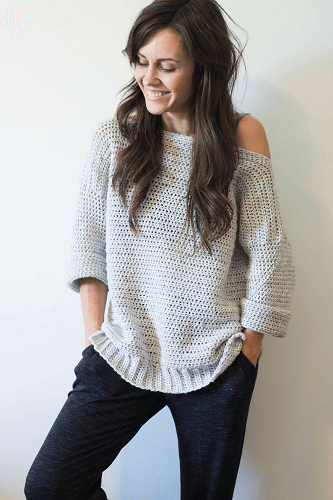 Get the Pattern by Megmade With Love here

31. Crochet Christmas Ruffle Sweater Pattern by For The Frills
This Crochet Christmas Ruffle Sweater is festive, cozy and fun with whimsical ruffles and cuffed sleeves.

If this is your first time crocheting a top-down sweater, don't worry! This pattern is a simple raglan pullover and there is a video tutorial to help you along the way.

The best thing about this design is that you can wear it year-round, it's not a Christmas only piece!
Get the Pattern here

32. Monochrome Stripe Sweater Crochet Pattern by Sewrella
Simple and chic – this Monochrome Sweater is a calming mindless make. Lots of basic stitches and drop sleeve construction make for a netflix-able project – you'll wonder how you wound up with a sweater that looks store bought!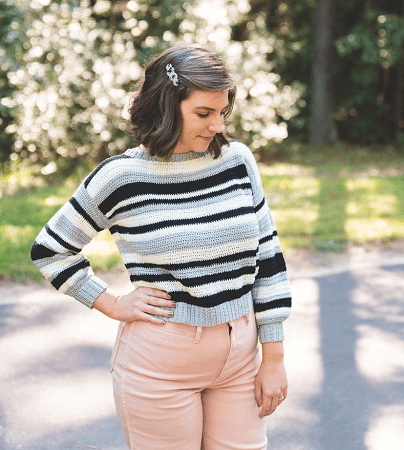 Get the Pattern by Sewrella here
So many crochet sweater patterns, so little time!
When you're done, be sure to share your makes with us on our Facebook Page. We'd love to see what patterns and color palette you come up with!

Are you overwhelmed? Do you want to start simpler? Maybe try a crochet blanket or crochet scarf instead! Take a look now.

I hope these crochet sweater patterns bring value to your life! It's so fun making the stuff we wear or even making something for someone else – it's just so special.