These pretty blanket edging crochet patterns will add the wow factor to your blankets! From pom poms to ruffles, we've got all tastes covered! Adding a border to your blanket is an important finishing touch that helps to clean up the edges of your work and hides small imperfections.
Crocheting edging on your blanket gives it a polished, finished look.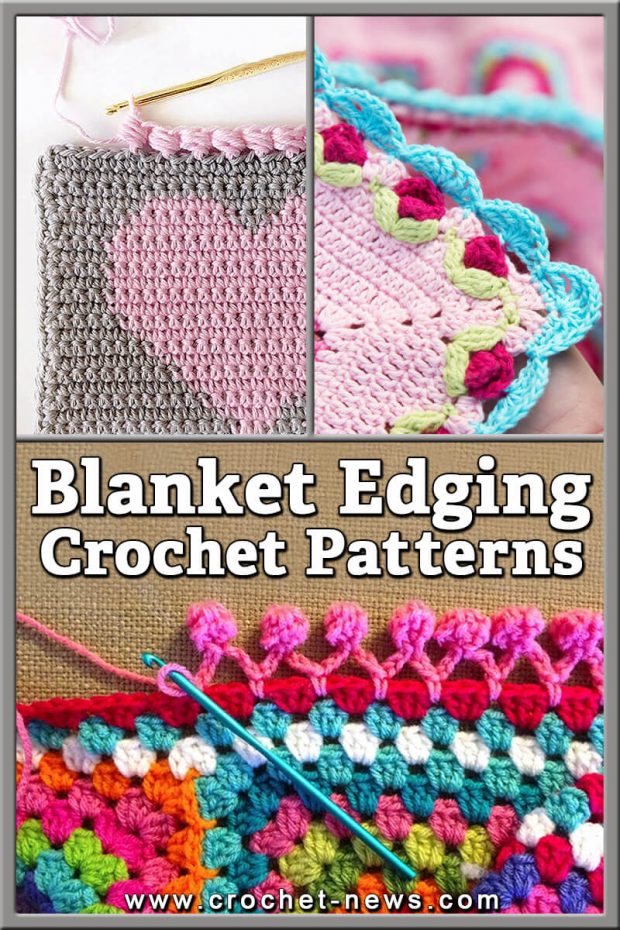 The kind of edging you choose to use can also affect the look of the entire project. Edging can elevate a design and make your nice work even more breathtaking. You can add unique, elegant borders to simple blankets, while simple borders can be used to complement blankets with busier designs.

If you love making crochet blankets, this is a must save post for future reference!

1. Simple Picot Scallops Blanket Border Crochet Pattern by Crafting Happiness
The Picot scalloped edge border is a simple edging constructed with double crochet fans that have a picot stitch made at the top. You can easily crochet this border around any edge, blanket or garment.

It is as simple as skipping extra stitches when making the fans. This makes it beginner-friendly and fast to crochet, giving a finished look to your project.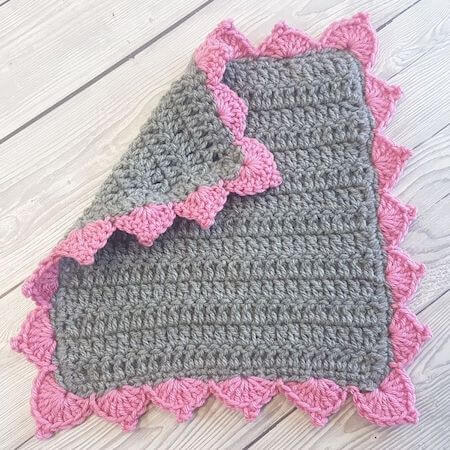 Get the Pattern here

2. Pumpkin Patch Edging by Fiber Flux
Here is a cute edging for your fall festivities – a crochet edging with sweet little pumpkins in a little row! It is super simple and fast – you can have your own pumpkin patch in no time! Suitable for chunky yarns or lighter weight yarns too – experiment to see what you like best!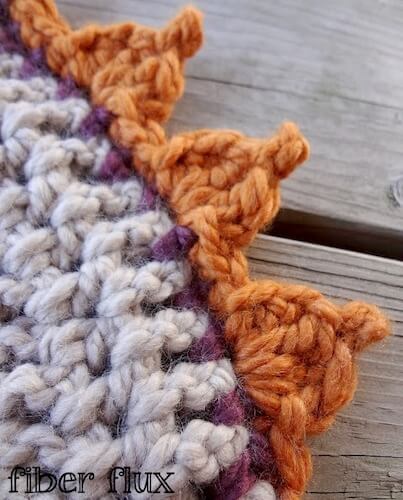 Get the Pattern here

3. Camel Stitch Blanket Border Crochet Pattern by Winding Road Crochet
Most borders require a certain number of stitches to work correctly, but the camel stitch crochet blanket border does not. This means you can add this crochet blanket border to any blanket that you have made.

This came stitch border is perfect to add a clean finished look to any blanket or afghan. No exact stitch count is needed to use this border which is perfect!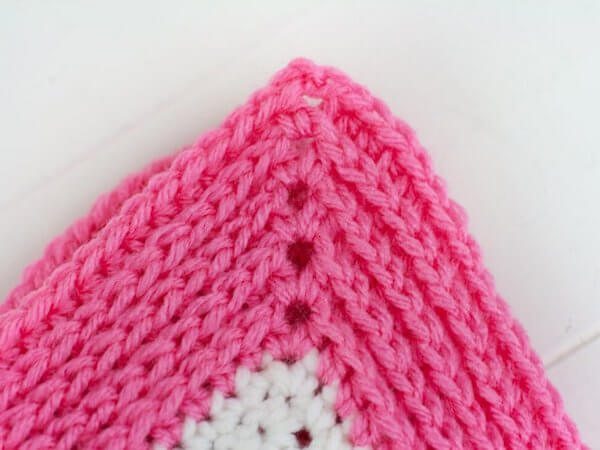 Get the Pattern here

4. Moss Stitch Blanket Edging Crochet Pattern by Every Trick On The Hook
This simple moss stitch border adds a touch of soft texture to any project. It's perfect for framing afghans of all sorts without distracting from the main piece.

It's extremely flexible! You can start with any four sided piece with any stitch count and you can repeat the pattern to make as wide or narrow of a border as you like.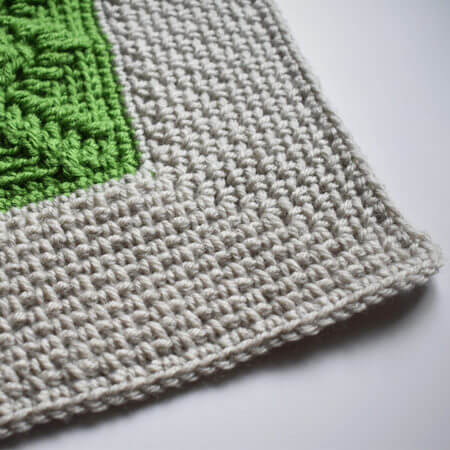 Get the Pattern here

5. Large Ruffle Blanket Edging Crochet Pattern by Dedri Uys
Crochet ruffles are both cute and versatile: you can use them to add a border to your blankets for a flowing feel, or you can use them as surface crochet to create a cheeky accent.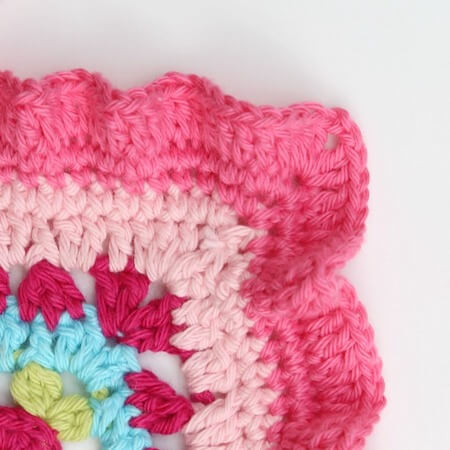 Get the Pattern here

6. Treble Scallop Edging Blanket Crochet by Cypress Textiles
This Treble Scallop Edging will certainly enhance your blanket and take it to the next level. It's lacy and delicate and will also look beautiful as a granny square afghan border.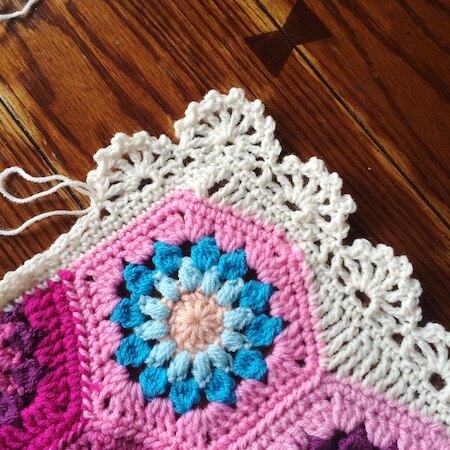 Get the Pattern here

7. Cute Bobble Edging by Lullaby Lodge
If you are looking for an edging that is both perfectly pretty and super simple, then this is the one for you. It's great for those blankets that you want something a little less girly around the edge.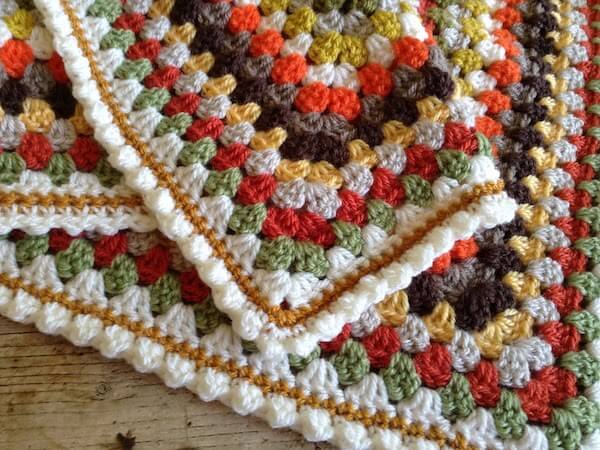 Get the Pattern here

8. Elephant Parade Blanket Edging Crochet by Allyssabeth's Crochet
This is a very flexible border or edging stitch motif with 3D accents that can be done in any yarn or thread with a compatible hook size. It can be adjusted slightly to fit the edge of the item as needed.

This crochet blanket edging works well with corner to corner blankets as pictured but can be used with most any edge-able item including handkerchiefs, pillowcases, clothing etc by varying the hook size and materials used.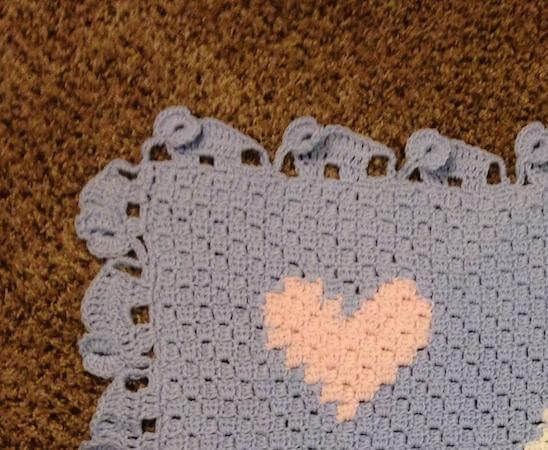 Get the Pattern by Allyssabeth's Crochet here

9. Crochet Scallops On Fleece Border Edging by Naztazia
Have you ever wanted to crochet a special blanket for someone but just didn't have the time? Here's a solution to that! Crochet a fancy border on the edging of a fleece blanket! This is a nice way to create a handmade blanket, but without all of the time needed to make a full blanket.
Get the Pattern here

10. Crochet Rib Blanket Border by Crafting Happiness
This Rib Border can be crocheted on any blanket, no matter the number of stitches you have around the edge, be it a rectangle, square or even in a hexagon or pentagon shape.

It creates a rounded thick border around your project that has a beautiful ribbed texture. Works great for any kind of blanket pattern as well as garments or straight edges.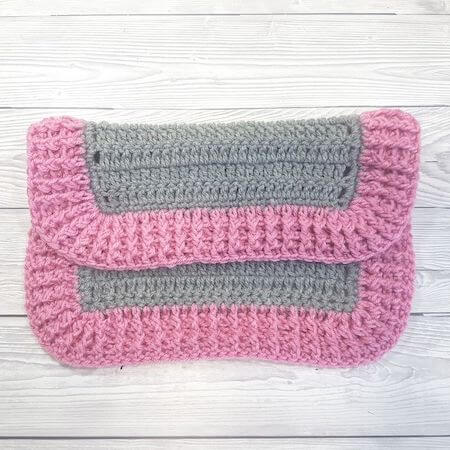 Get the Pattern here

11. Windows Border Free Crochet Pattern by Moogly
This deceptively simple border will give your project a finished look with a geometric twist. You will be using single, double and treble crochet stitches with some stitches being worked in the back loops only or around the post. There are only two rows and the no-frills design is perfect for projects like unisex baby blankets and crochet throws for men.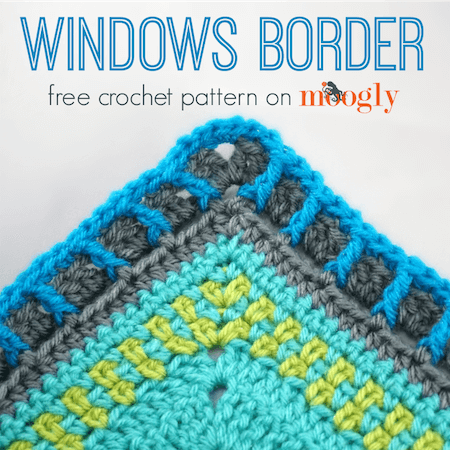 Get the Pattern here

12. Crochet Spades Stitch Edging by Yarn & Hooks
A row of striking spades makes a bold statement border using double and treble crochet stitches. This border only takes one trip around your project so it might go faster than you think!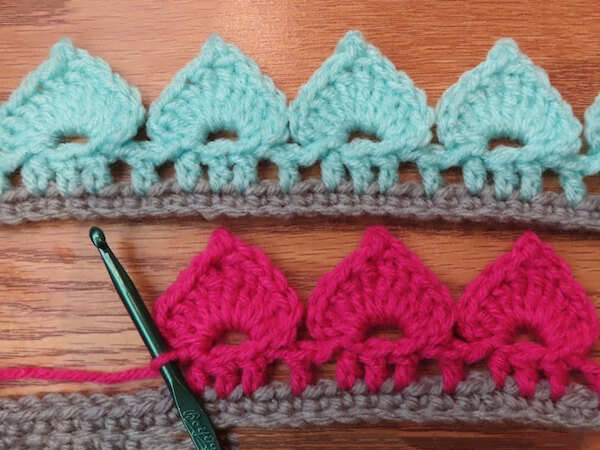 Get the Pattern here

13. Crochet Flower Border Edging by Naztazia
Ever want to know how to make a cute 3D flower that is incorporated into a border edging for a blanket, scarf, shawl, and more? It's a lot easier than you think!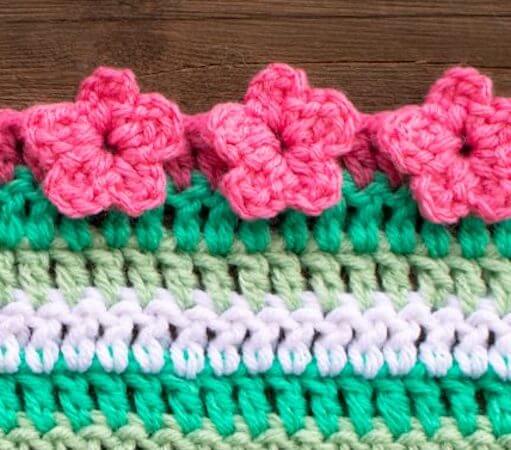 Get the Pattern here

14. Reverse Shell Blanket Border Crochet by Heart Hook Home
This crochet border is so much easier than it looks. Just a repeat of three of the most basic stitches: the single crochet, the double crochet and the slip stitch. Use two contrasting colors for your reverse shell border to make those shells really pop or use all one color as featured here.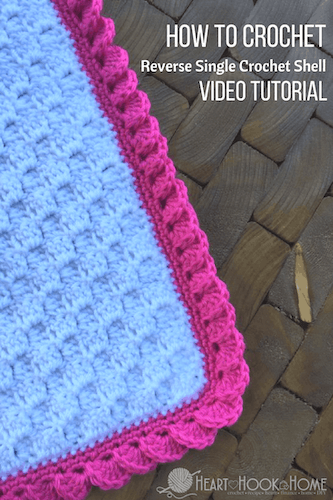 Get the Pattern here

15. Crochet Candy Cane Stripe Border by Maria's Blue Crayon
The Candy Cane Stripe Border is a fun festive border for your crochet projects! The first thing that will come into your mind is that this would make a fun border for a Holiday themed project, but you can change up the colors and use it for any project.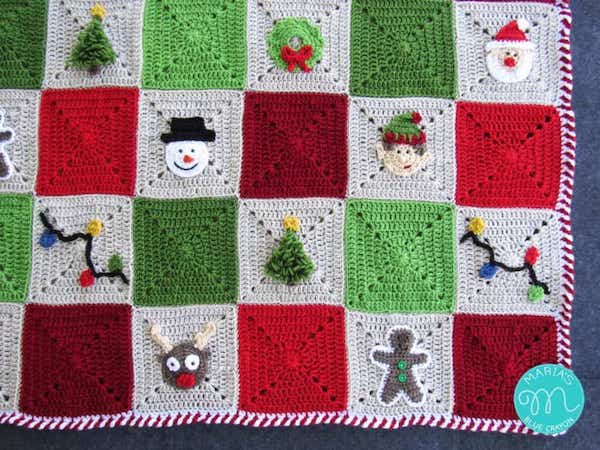 Get the Pattern here

16. How To Crochet Rose Border by Look At What I Made
Once you know how to make the Rose Border, you can add it to blankets, squares, lovies, dishcloths – anything with 4 sides, really! This tutorial is simple and easy to do once you follow the detailed instructions.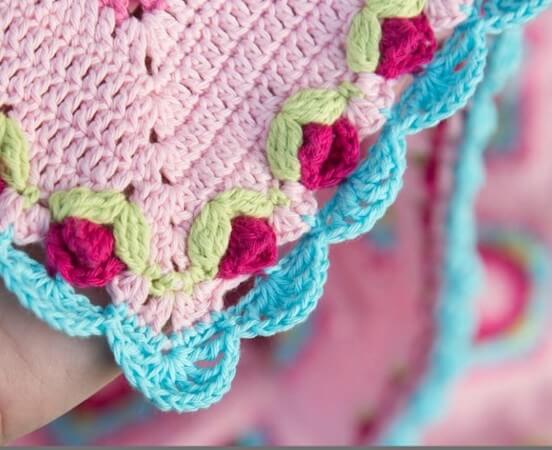 Get the Pattern here

17. Alpine Stitch Crochet Blanket Border by Winding Road Crochet
This Alpine Stitch Blanket Border is a great addition to any blanket. It has a slightly textured surface that looks beautiful in a solid color or with stripes.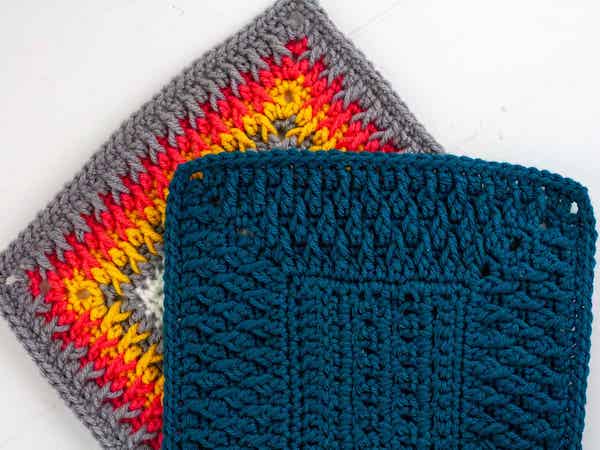 Get the Pattern here

18. Pom Pom Edge by Once Upon A Pink Moon
These cute little pom poms will look fabulous around your granny square baby blanket. They take a little time and patience to make but they are totally worth it for the cuteness factor!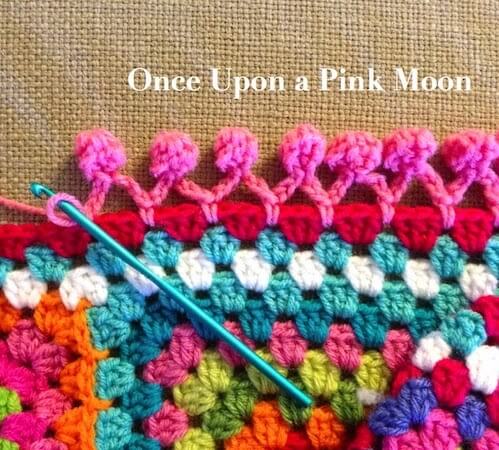 Get the Pattern here

19. Line Of Hearts Crochet Blanket Edging Pattern by Jay Greengrass
This sweet line of hearts crochet blanket border is another lovely way to finish up a baby girl's blanket. There's three ways you can do this, as a sturdy row of bunting hearts, as an edging of hearts, or as a border with embedded hearts in.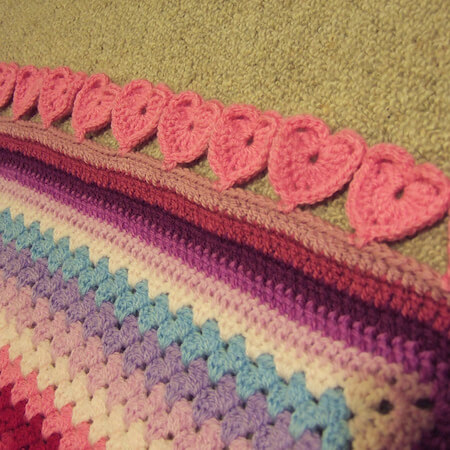 Get the Pattern here

20. Crochet Puff Edge Stitch by Daisy Farm Crafts
This sweet little crochet puff edge finishes off a heart project perfectly, don't you think? It's a great border for any crochet baby blanket.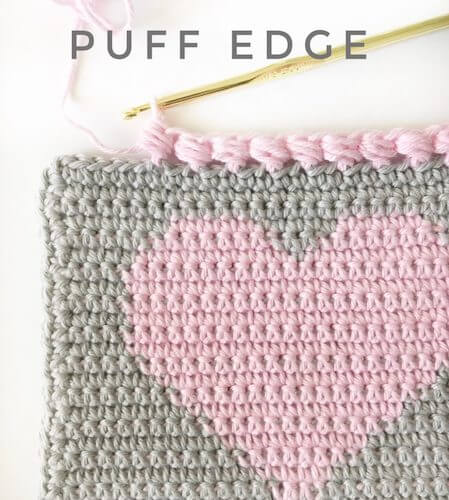 Get the Pattern here
WHICH BLANKET EDGING CROCHET PATTERN DO YOU THINK WOULD LOOK THE BEST ON YOUR PROJECT?
Sure, you can leave it unfinished, but by choosing the right edging, your blanket just gets even more eye-catching. We love to see your finished projects! Here are Crochet Lap Blanket Patterns and Modern Crochet Blanket Patterns to keep you busy once you've finished the patterns above. Post a pic on our Facebook Page and show off your stitches!
If you didn't find exactly the crochet stitch idea for your next blanket or afghan in this collection, be sure to check out our archives of crochet blanket patterns for more inspiration.

With this great list of blanket edging crochet ideas, you'll learn how to crochet a great variety of edging types – something for all your upcoming crochet projects (not just for blankets)!