A modern contemporary vibe, that is what Geometric Diamond Afghan Modern Crochet Blanket Pattern is all about. It has simple colors and clean lines that are unique and stylish enough to keep attention.
The clean design has been integrated with modern patterns which are combined with colors and simple stitches chosen. The simplicity is what makes it fresh and act as a nice focal point to any décor.

ABOUT THE PATTERN
This afghan pattern made by Esme of RedSparrowCrochet is a stunning design that depicts geometric shapes that are so stylish. It will definitely look fabulous and stand out anywhere in your home!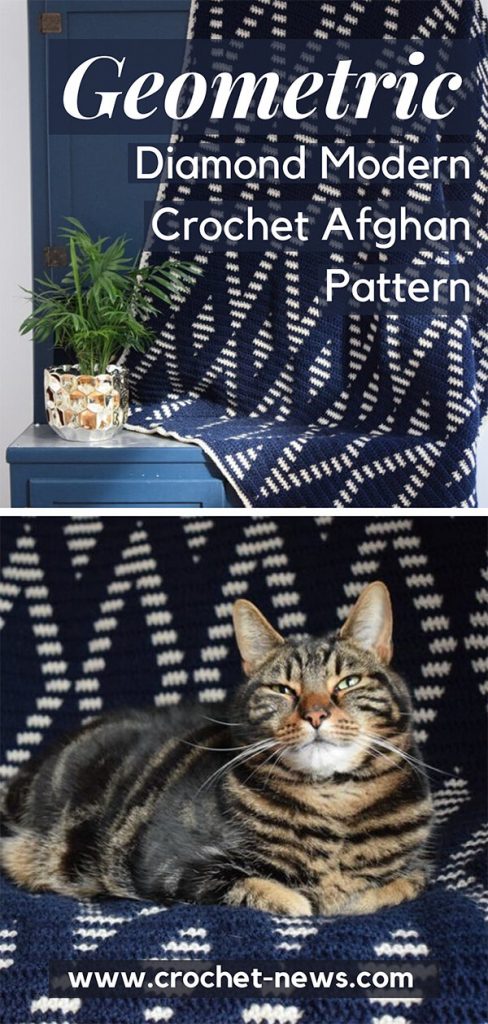 USE OF THE MODERN CROCHET AFGHAN
Protects you from the cold – The afghan will keep you all warm and cozy because of its dense yet cottony fabric. It is stylish and functional – keeping you all warmed up but still keeping you stylish and fab.
Covers your sofa or bed – The pattern can be used as a sofa or bed cover depending on the size.


MATERIALS FOR THE AFGHAN
What's best about this pattern is that it is very versatile that you can customize it according to your preference. Here are the materials you will need to get started:
Yarn – You can either make use of the gorgeous Scheepjes Colour Crafter yarn or any DK yarn you like.
5.5mm Hook

COMBINING COLORS FOR THE MODERN AFGHAN PATTERN
In making modern and contemporary designs, one color is usually enough. But if you aim for a dual-color, mixing nude or pastel colors it the way to go to achieve the contemporary vibe. These include gray, white, black, light brown and other earth-toned colors.

Black and gray together will definitely bring a simple yet stylish vibe that'll definitely attractive to the eyes.

FINISHED GEOMETRIC DIAMOND AFGHAN SIZE
The approximate size of this pattern is 103 x 155 centimeters or 40.5 x 61 inches.


THE PATTERN IS PERFECT FOR…
This pattern is definitely perfect for those who loved handcrafted items. This modern crochet afghan pattern puts a twist in crocheting since it has been known to be an old-fashioned craft. With this contemporary and modern twist with the afghan, more and more people will be fond of these handmade crafts!
It also makes wonderful gifts to make for yourself and for your loved ones as well. Because of its contemporary afghan patterns and colors; anyone will be happy to receive it. The simple design will definitely catch their attention as well as a more subdued color palette.

WHY MAKE YOUR VERY OWN MODERN AFGHAN PATTERN?
Modern afghan patterns will definitely change how others view crocheting since it depicts a modern twist to the craft. It is a perfect way to showcase your inner state-of-the-art minds merging into an old fashion craft.

As they say nowadays, 'simpler is better.' The less complicated stitches a pattern has, the more modern it looks. It's also more about the colors on how you relate them together.

Choose your colors and start creating this Geometric Diamond Modern Crochet Afghan Pattern for your modern homes!