Check out this collection of 26 stylish crochet dress patterns for women that are ready for you to make.

Upgrade your wardrobe without breaking the bank.
With a choice of designs suitable for work, parties, or special occasions, these patterns come in a range of yarn weights for summer and winter wear.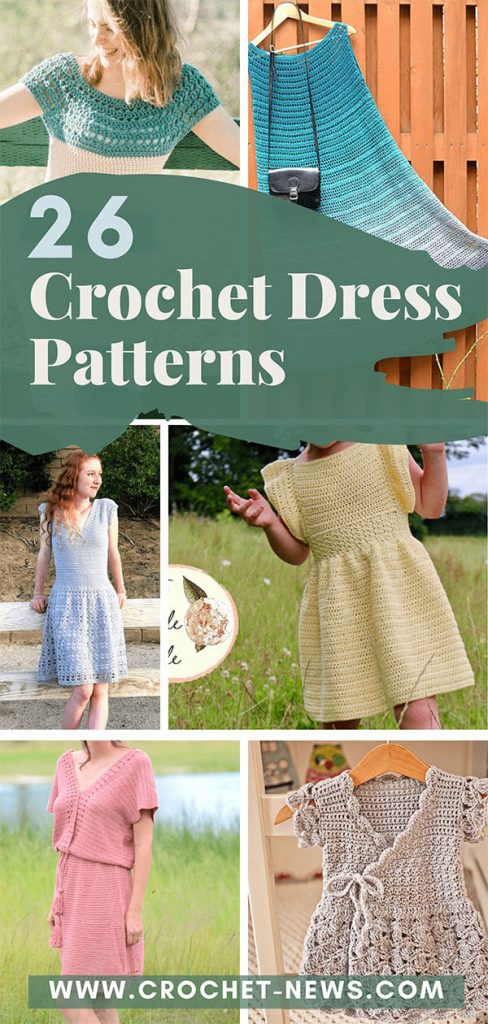 With such variety, it can be a challenge to decide what you'll make first. But, let's face it. You'll probably want to make more than one of these designs for your closet!

1. Audrey Crochet Dress Free Pattern by For The Frills
This Audrey Crochet Dress is fit and flare crochet dress with elegant cap sleeves for extra coverage.
The sleek and stylish silhouette creates an extremely versatile piece, while the short sleeves and loose skirt make it perfect for summer!
Since this is a neck down/raglan crochet pattern, it's very easy to alter so that this dress can fit your body.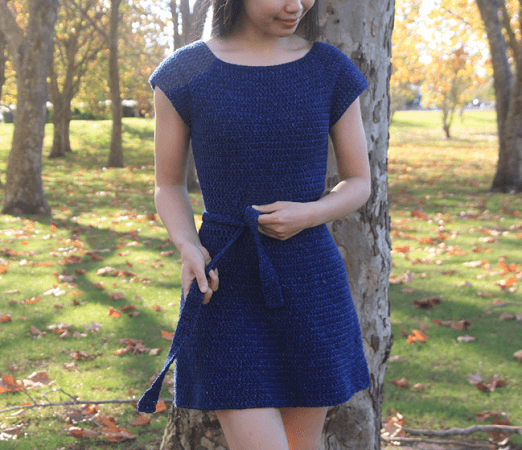 Get the Pattern here

2. Sexy Crochet Dress Pattern by Concept Creative Store
This crochet dress pattern is perfect for those who look for something easy, seamless, and something that can be adjusted to your own figure for the best fit.
The skirt falls from the waist, wrapping around the hips and widening to create a beautiful flow and drape.
The neckline is modest, scooped with a feminine crochet design around the edge. One button at the back allows for a secure fit around your shoulders.
A sexy and elegant crochet dress you can wear at a wedding!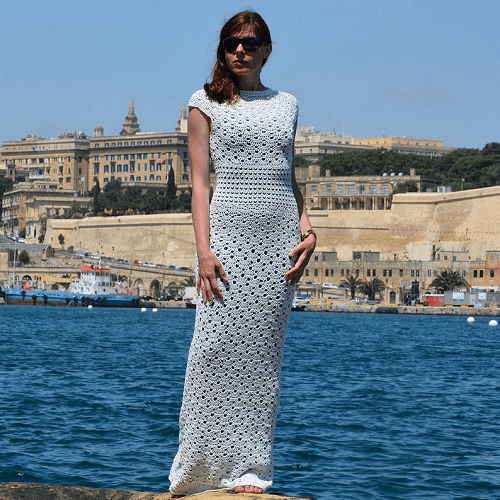 Get the Pattern by Concept Creative Store here

3. Easy Crochet Dress Pattern by Knitting w Chopsticks
This easy dress crochet pattern is the perfect beginner crochet pattern. No increases or decreases, fancy stitch count or anything complicated.
The dress is graded S to 5XL and the detailed step by step pictures make it easy to make even if your not an expert!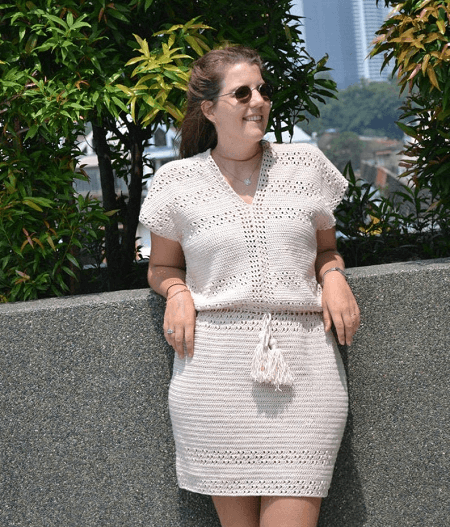 Get the Pattern by Knitting w Chopsticks here

4. Parisian Dress Crochet Pattern by Desert Blossom Crafts
Meet the Parisian Dress—this summer crochet pattern would be the perfect addition to your wardrobe!
This dress features a form-fitting single crochet top, plus a flowy lace skirt.
Another great thing about this dress is that there are lots of ways you can adjust it to fit you perfectly! You can adjust the v-neck, the length of the skirt, and more!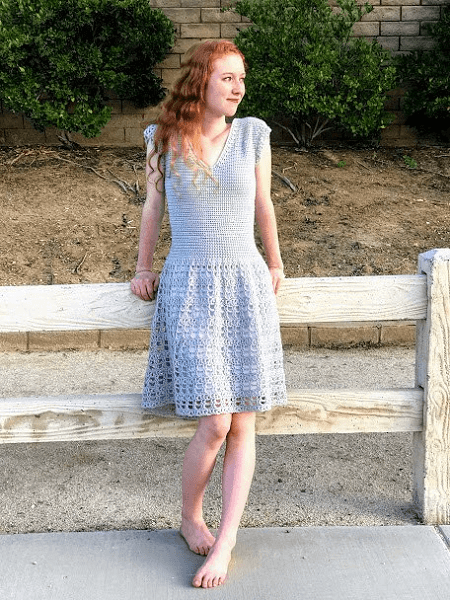 Get the Pattern here

5. Crochet Tunic Dress Pattern by Poppy Shop Yarn
This Crochet Tunic Dress pattern is perfect for any season!
Construct it with cotton yarn for a breezy summer dress that can be worn with a slip or with your swimsuit as a cover-up.
Make it with a cozy yarn for winter weather and pair it with jeans or leggings. The possibilities are many!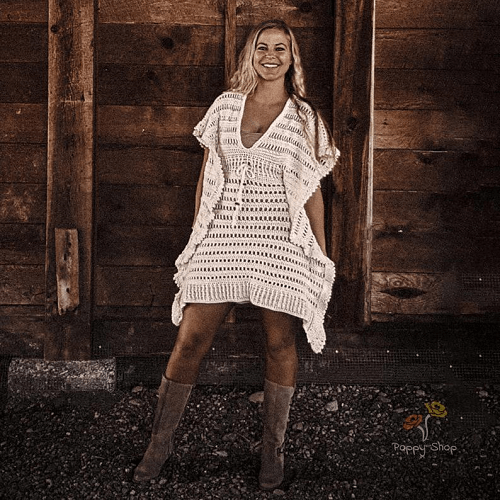 Get the Pattern by Poppy Shop Yarn here

6. Simple Dress Crochet Pattern by Wilmade
This simple dress is a beginner-friendly project and perfect for those who want to give their very first crochet dress a try.
The pattern of this dress is quite simple as well: the dress is made out of half double crochet stitches only.
Every 5th row you'll make the half double crochet stitches in the back loop to create the ribbed rows. It's really that easy!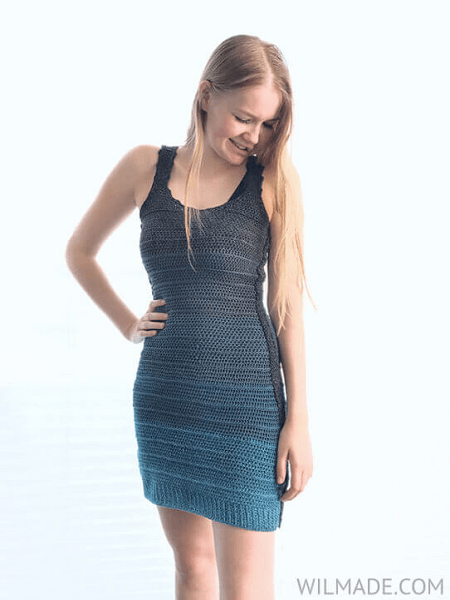 Get the Pattern here

7. Granny Stitch Dress Crochet Pattern by Jenny And Teddy
The granny stitch gives such a lovely lace effect in this crochet dress.
The pattern is very beginner-friendly and made up of basic crochet stitches. It starts from the top-down and made up of 2 rectangles.
Making this dress is perfect for the summer heat because it is so light weight!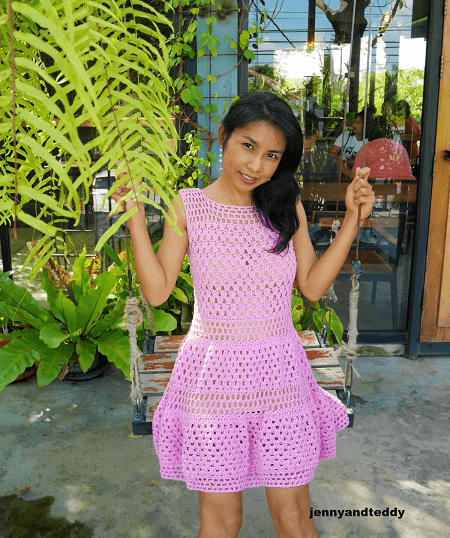 Get the Pattern here

8. Crochet Wrap Dress Pattern by Mon Petit Violon
This is a perfect little summer dress for your little one inspired by classic wrap dress!
The pattern includes sizes from 0-6 months up to 7-8 years. It is easy and fun to make, very comfortable to wear and super cute!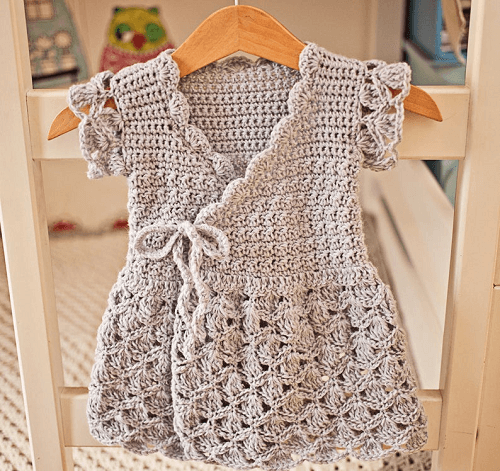 Get the Pattern by Mon Petit Violon here

9. Winter Solstice Dress Crochet Pattern by Dora Does
This super cozy winter solstice dress is made from side to side using a simple ribbing technique.
It falls somewhere between a jumper dress and a body con shape with loose-fitting sleeves and thumbholes in the cuffs.
Made with aran yarn and a 5mm hook, the easy pattern can be adapted to fit any size.
Get the Pattern here

10. Crochet Cover-Up Dress Pattern by Cozy Creative Crochets
This is another crochet dress that was originally designed as a beach cover-up but you can dress it up to create a high-fashion dress.
This crochet cover-up dress pattern is for sizes XS-XXL and can be made with any worsted weight yarn #4.
The fringe adds that extra touch and makes it perfect for summer.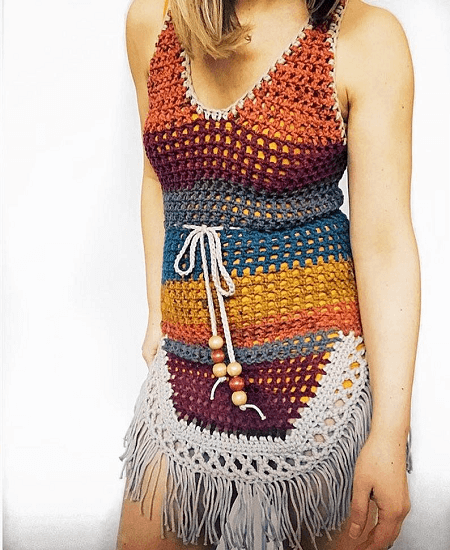 Get the Pattern by Cozy Creatove Crochets here

11. Crochet Summer Dress Pattern by E Claire Makery
Modern, chic, and airy for summer, this crochet dress will be your go-to dress to wear this summer.
Made from cotton yarn, this dress is great for wearing during the hot months or it can be made in a thicker yarn for cooler months.
It's beginner-friendly, and made in one piece so that there is no seaming.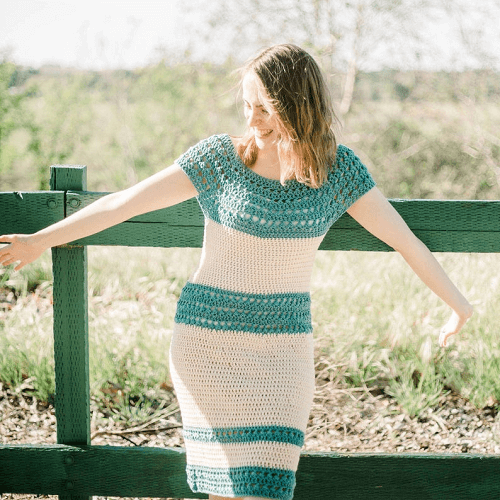 Get the Pattern by E Claire Makery here

12. Nori Dress Crochet Pattern by Lilla Bjorn Crochet
This Nori Dress Crochet Pattern is a great project for a beginner.
Fingering yarn with one long gradient change of color will work best for this pattern. But you can also use solid shade.
You can easily adjust this dress to make a top – simply by leaving out a number of rounds at the bottom.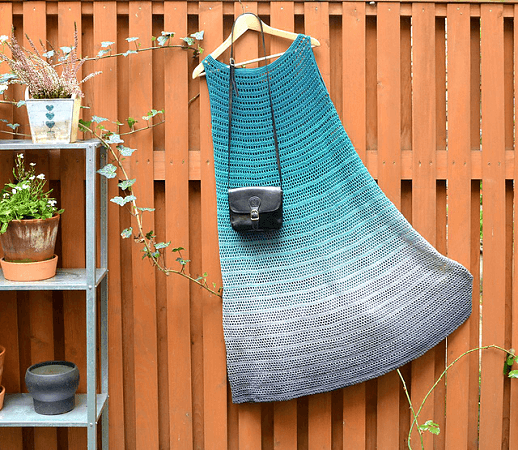 Get the Pattern here

13. Snow Crochet Winter Dress Pattern by If Crochet Patterns
This crochet winter snow dress is the easiest dress you can make with any furry or fluffy yarn in your stash.
It is warm, simple, easy, and beautiful, works quickly and smoothly. This project is great for beginners, but you should know how to double crochet.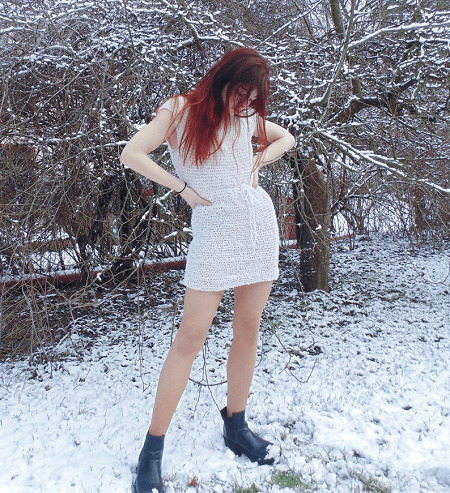 Get the Pattern by If Crochet Patterns here

14. Crochet Summer Dress Pattern by Crochet With Carrie
This wonderfully radiant crochet summer dress is made using DK weight yarn and a 4.00mm crochet hook.
When the dress is finished, you might look at it and think it's far too small, but it will stretch beautifully over your body making it great for both spring and summer.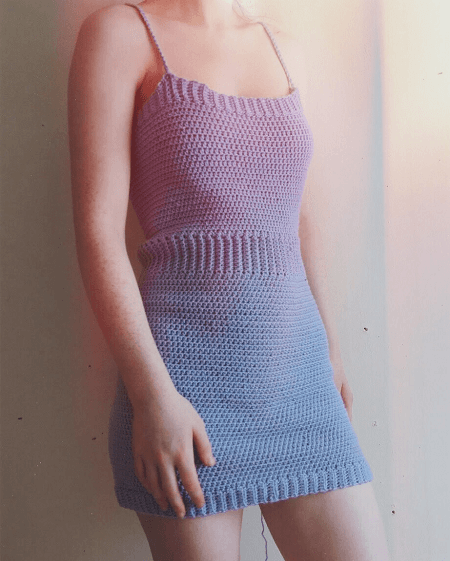 Get the Pattern here

15. Sweater Dress Crochet Pattern by Two Brothers Blankets
This Crochet Sweater Dress is warm and will be a go-to outfit for this winter season. The crochet pattern is worked from the bottom up with no sewing required.
This beautiful sweater dress crochet pattern comes in both children's and adult sizes and is so stylish and trendy!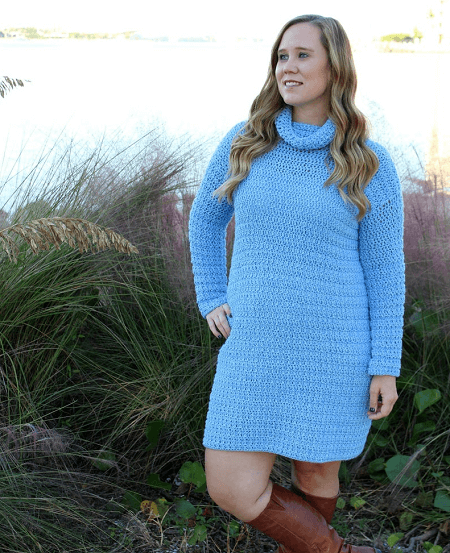 Get the Pattern by Two Brothers Blankets here

16. The Triple Threat Dress Crochet Pattern by Casale Crafts
This stylish and bold dress is a great outfit to wear for Christmas, New Year, and Valentine's day, hence the name The Triple Threat Dress.
This crochet dress pattern is classy and easy to work up. Make it in any color combinations of your liking.
Indeed a perfect outift for so many occasions!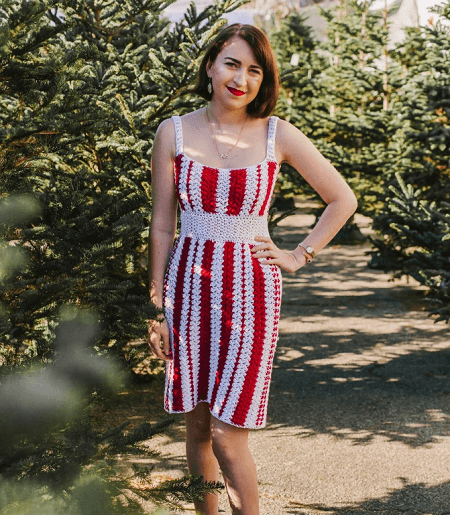 Get the Pattern here

17. Crochet Granny Square Dress Pattern by Snakewood & Grace
This is a really simple crochet dress pattern. It has a granny square tank for the top and then similar granny stitching for the rest of the dress.
However, the graphic pop takes it to that next level that makes it a true crochet fashion.
It is a highly adaptable pattern that you can easily make in any size.
Get the Pattern here

18. Crochet Child Dress Pattern by The Moule Hole
Get her all ready with this adorable crochet dress pattern for frolicking in the sun. This dress can be worn out around town or to a special event such as birthday parties.
With so many sizes, all the girls can have matching dresses, each one in their own favorite color!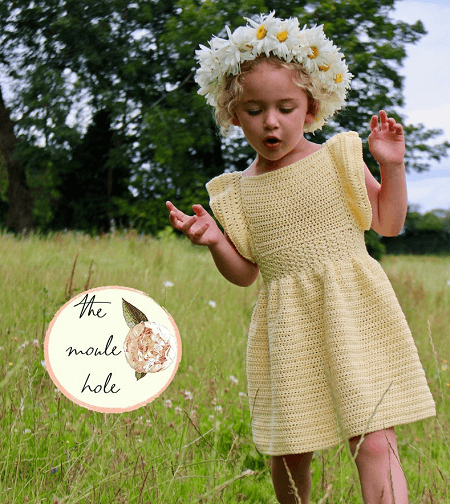 Get the Pattern by The Moule Hole here

19. Crochet Penelope Dress Pattern by Sewrella
This Crochet Penelope Dress is a simple A-line silhouette with easy double crochets throughout.
It's an approachable garment for making with a fitted yoke and flared skirt for easy summer wear.
Whether you're spending the weekend brunching with girlfriends or chasing the kiddos around the park, this Penelope dress has got you covered!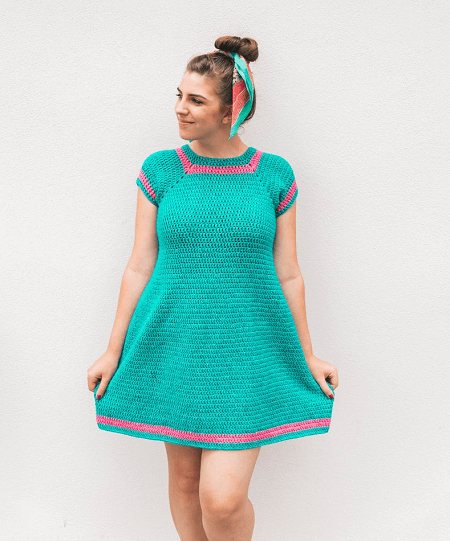 Get the Pattern by Sewrella here

20. Diamond Dress Crochet Pattern by Just DD Design
This crochet diamond dress is such a fresh simple style. It could be worn anywhere as a mini dress.
The simple double crochet stitches but the spacing that creates the subtle diamonds elevates the design. The right decorative cord to emphasize the waist.
This dress could be stunning for weddings, festivals and summer events in the long version.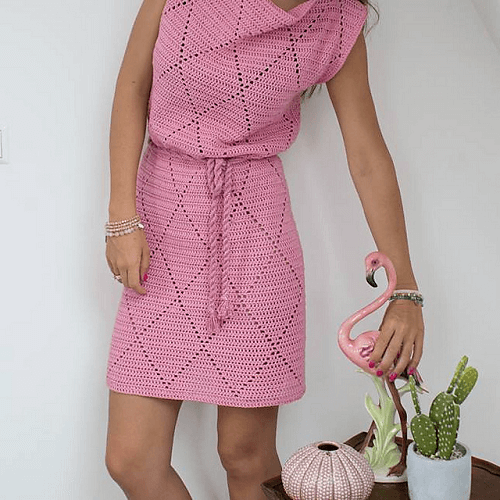 Get the Pattern here

21. Crochet Bodycon Dress Pattern by TCDDIY
This crochet bodycon dress has such a beautiful top and the off the shoulder detail has a subtle flirty-ness to it, where the dress is form-fitting and modern.
The length of the sleeves and dress can easily be adjusted to any size.
The pattern is for a size small, but if you're willing to measure along it can be used for any size.
Get the Pattern by TCDDIY here

22. Crochet Dress With Full Skirt Pattern by High In Fibre Crochet
This dress will be made from the top-down, built up of three different parts; bust, waist, and skirt.
The bust and waist are designed as an adjustable one-size fits all. When reaching the skirt part, you will be able to adjust the stitch count in order to tailor the absolute perfect fit.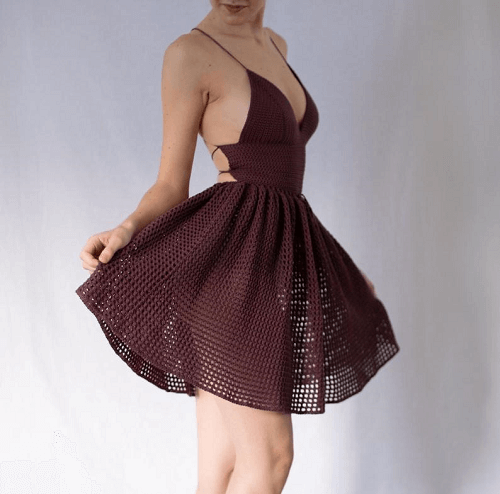 Get the Pattern by High In Fibre Crochet here

23. Crochet Rainbow Dress Pattern by Emily Keenan
This crocheted rainbow dress is darling and absolutely adorable. It is bold and bright, colorful, and inspiring.
Designed for kids age 2-3, 3-5, and 6-8, is perfect for summer play and fun in the sun.
Different color choices will give you different darling little dresses so have fun making some really cute and easy crochet dresses for a special little girl.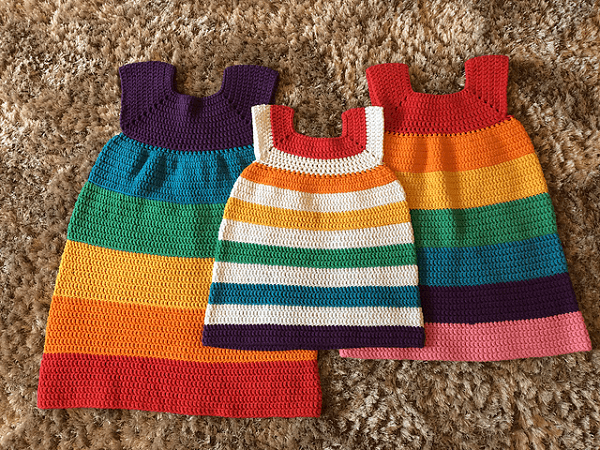 Get the Pattern here

24. Crochet Maxi Dress Pattern by Mermaid Cat Designs
This crochet maxi dress pattern is an excellent example of versatile crochet fashion. You could easily wear it to a wide range of events.
Crochet this beautiful dress for yourself or someone you love. Great as a gift!
You can also modify the length of this dress – make it as long or as short as you want!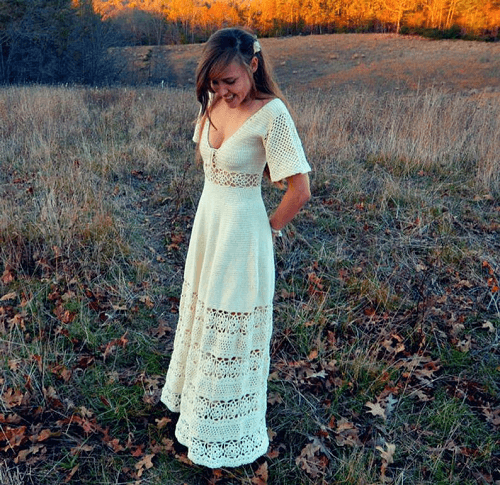 Get the Pattern by Mermaid Cat Designs here

25. Cache Coeur Dress Crochet Pattern by Knitting With Chopsticks
Looking for a cute yet comfortable summer crochet dress? Look no further! This Cache Coeur Dress might not look like it but it is an easy beginner-friendly crochet dress pattern.
Whether you're going to a barbecue, beach party, or date night, this free dress crochet pattern is all you need!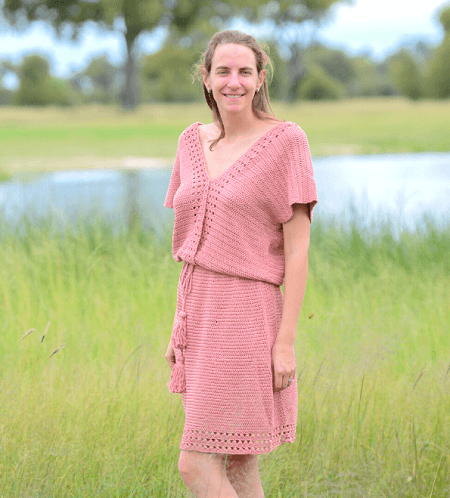 Get the Pattern here

26. Crochet Girls Dress Pattern by Crochet Garden
Crochet this classic dress pattern for all the little darlings in your life!
This simple yet charming crochet pattern starts with a quick single crochet band around the underarms while the body consists of a beautiful closed lace pattern.
This crochet girls dress pattern works from the top-down so you can customize length for the perfect fit!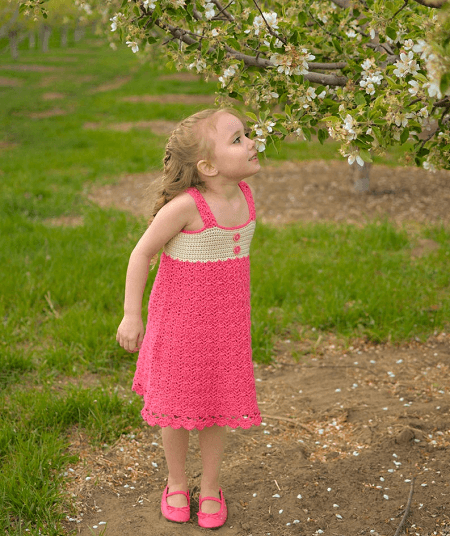 Get the Pattern by Crochet Garden here
Which Crochet Dress Pattern are You adding to Your Wardrobe?
If you make dresses out of these patterns, would you mind sharing your finished works with us, please? Post it on our Facebook Page. We'd love to see your efforts!
And if you're eager to find a lot more crochet clothing patterns (that go beyond dresses), we have a collection here where you can find fashion-forward garments that are all worthy addition to your wardrobe,
Challenge yourself and crochet up your perfect outfit today with these crochet dress patterns!