Love how a kimono polisher off an outfit? Learn to make your own with these 21 Crochet Kimono Patterns then step out in style!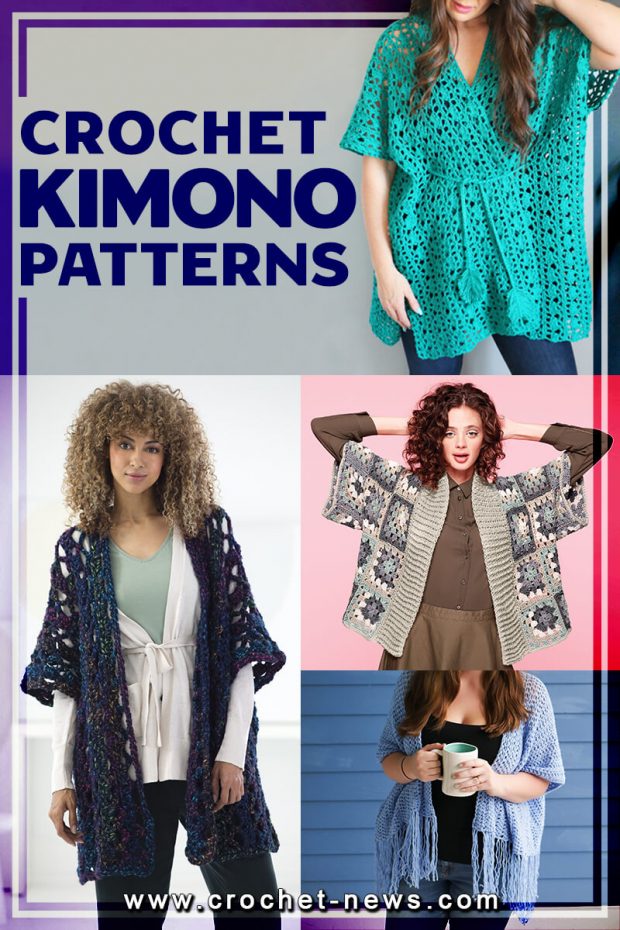 Kimonos make stylish, romantic substitutes for traditional cardigans or other types of top layers. You can wear a kimono with a t-shirt and jeans, as a chic accessory to a simple dress, or cover-up for a bathing suit, or as a sexy lingerie item.

Have you been admiring all those cute kimonos that are everywhere? Well, now with just just a ball of yarn and a hook you can make your own – for probably half to one-third of the cost!

1. Free Crochet Kimono Pattern by Teresa Chorzepa
With openwork Free Crochet Kimono Pattern Ruana for a Laid-back look, look fashionable while working, or complete your quick grocery run look with just one fashion piece!
Nothing compares to the warmth and comfort a kimono gives— especially when it is made by your own hands.

This crochet kimono-like clothing called "ruana" is a thick, openwork, and soft woolen covering for the body to keep warm.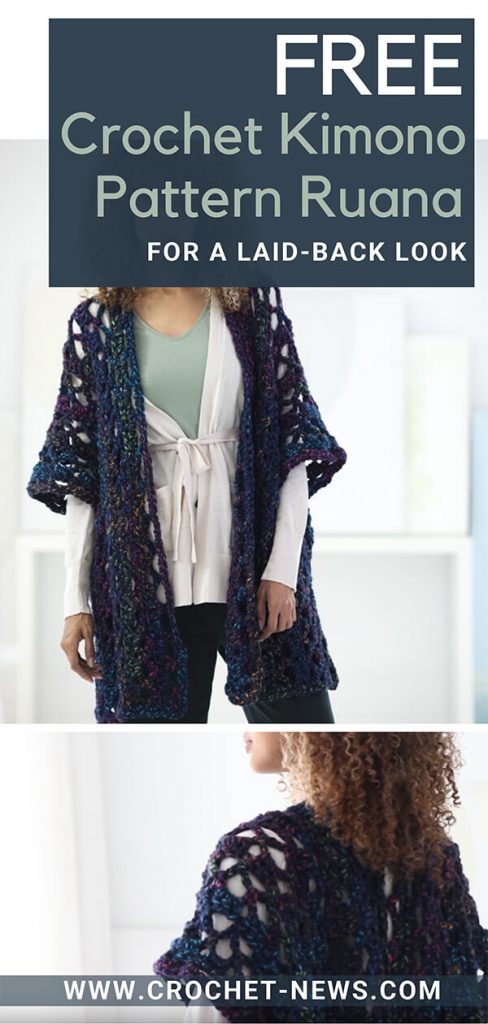 It is like a blanket you can wear, thus it can be styled and worn in different ways.

The good news is— this free kimono pattern you are about to learn is unique since it is designed with openings and holes which make it look more elegant.
It might not provide the usual warmth from a ruana or a kimono, but you can wear it all year round.

CROCHET SKILL LEVEL
To successfully make this Ruana, you can be as new as a beginner in crochet but you need to know how to sew to connect the ruana together.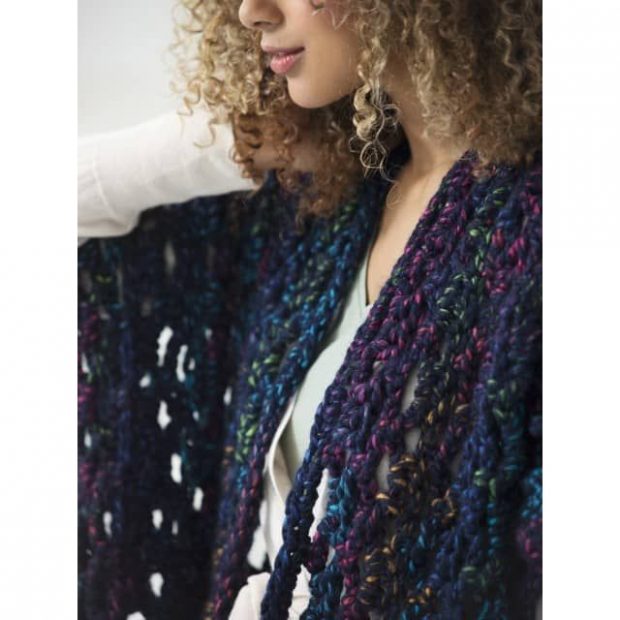 MATERIALS FOR THE FREE CROCHET KIMONO PATTERN
Yarn – 6 super bulky type

Specific yarn used is 3 balls of Wool-ease thick and quick yarn bonus bundle in City Lights 617
Stitch markers
Large-eyed blunt needle
10 millimeter (N or 15) size crochet hook
CROCHET KIMONO PATTERN FINISHED SIZE
This openwork ruana, designed by Teresa Chorzepa creates only a one size ruana so make sure to check the fit on you or your recipient first before you start crocheting.
Finished crochet kimono width is about 76 centimeters (30 inches) and finished length is about 68.5 centimeters (27 inches).

After having your first crocheted ruana accomplished, you will realize how easy and enjoyable it is.
The best thing about free kimono pattern is that one size can fit many bodies, so you do not have to list down all the sizes of the people you plan to stitch ruanas for.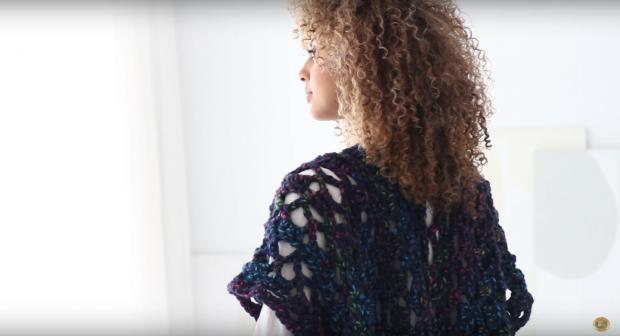 STITCHES USED FOR THE FREE CROCHET KIMONO PATTERN

HOW LONG WILL IT TAKE YOU TO MAKE THIS FREE CROCHET KIMONO PATTERN
If you have much time and decide to do the crochet in just one sitting, then you can surely finish it within the same day you started.

On the other hand, it will take a little longer if you just stitch during your leisure time. It always depends on your availability— but who says it matters?
You are learning, and doing it more often will help you master it.

Be your own designer, and be theirs. Isn't it wonderful to start doing the crochet for your friends and post an instagrammable picture with a hashtag, "FriendshipGoals"?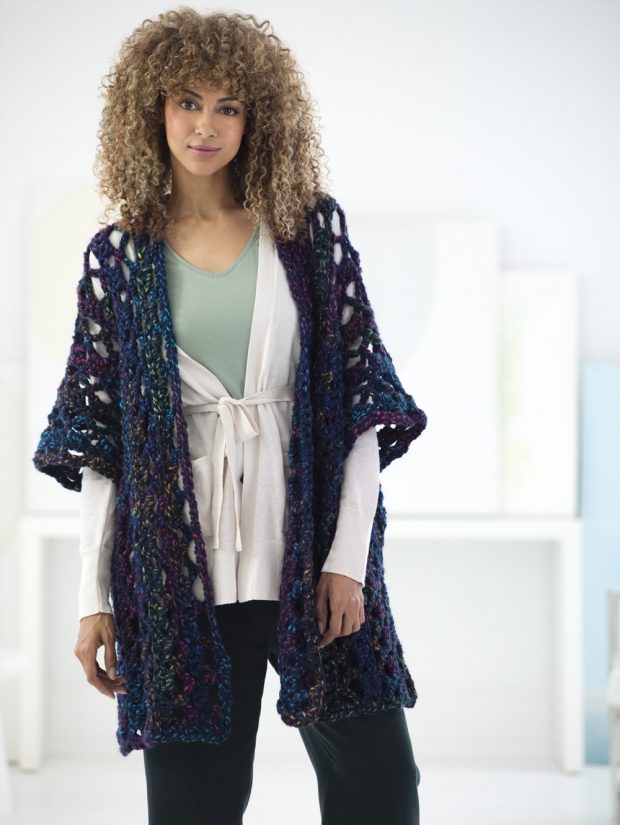 WAYS TO WEAR AND STYLE THIS CROCHET KIMONO
Though there is a typical way to wear a kimono, you can style this one more attractively.

Put the ends of the ruana over your shoulders and pin it with a stylish brooch to make it more comely.
You can also wrap the ruana over your left shoulder, and let it hang loose over your right shoulder (or vice versa).

Do you know that like a kimono, you can, as well, wrap a belt around your waist, outside the ruana? Think and achieve more different styles and be a fashionista!

Be your own designer. Isn't it wonderful to start doing the crochet for your friends and post an instagrammable picture with a hashtag, "FriendshipGoals"?

WAIT, THERE'S MORE!
Make your summer more remarkable. Walk confidently on the beach by partnering your bathing suit with this ever-exquisite crochet kimono ruana.
It can also fit with simple shorts/jeans and a blouse.

It is likewise ideal for date nights, birthday parties, and other special occasions like Christmas, New Year, and Thanksgiving.
So, go anywhere and make their heads turn even in your casual wear!


2. Cascading Kimono Crochet Pattern by Mama In A Stitch
This Cascading Kimono is a beautiful, comfortable kimono cardigan with a generous sized collar that's perfect to throw on during cool days. The various textures created with simple crochet stitches make a cozy and practical sweater. Pair it with jeans or leggings for a fun relaxed look.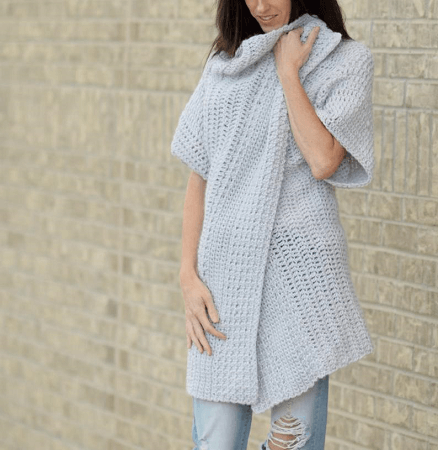 Get the Pattern by Mama In A Stitch here

3. Crochet Moonstone Kimono Pattern by Highland Hickory Designs
This Moonstone Kimono is one of those garments that you can wear year round. When the weather is warmer, you can spice up a simple tee or tank top and when the weather is cooler, you can layer it over a flannel or long sleeved shirt.

This pattern is available in nine sizes from XS to 5XL! And you can decide to add longer sleeves if you wish.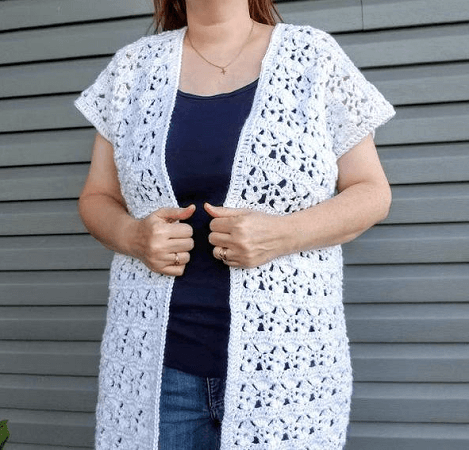 Get the Pattern by Highland Hickory Designs here

4. Free Crochet Kimono Pattern by Crochet Dreamz
The lacy wave stitch used for this crochet pattern is easy to memorize and is perfect for spring or summer. Don't you think? What a delicious cocktail of colors, too! Isn't this beautiful kimono simply vibrating with summer charm?

Wear this with or without the tassels. Either way, it's a great piece to your wardrobe essentials!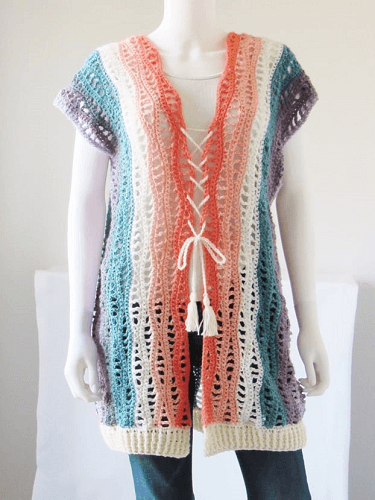 Get the Pattern here

5. Crochet Kimono Pattern by Hooked On Tilly
This short-sleeved kimono cardigan is structural and so cozy. The one of a kind stitch is beginner-friendly and it evidently looks great in this rich brown color.

This crochet kimono pattern uses a textured stitch called the "Soft Cluster" once blocked gives a beautiful drape and gorgeous look.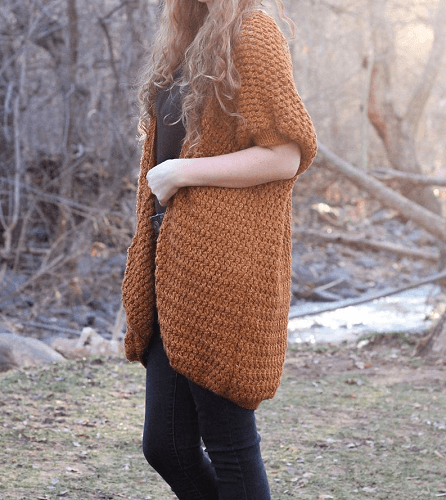 Get the Pattern by Hooked On Tilly here

6. Easy C2C Crochet Kimono Sweater Pattern by Make And Do Crew
Corner-to-corner crochet isn't just for blankets! In this pattern, the easy and speedy diagonal box stitch (C2C) and flatteringly soft and drapy yarn come together for a garment that's surprisingly simple to make.

You'll take advantage of C2C crochet's diagonal nature to almost effortlessly add visual interest to the back of the kimono, while keeping the pocketed front clean and on-trend.

Pair it with a swimsuit, leggings or jeans for a comfortable, relaxed kimono that can transition from season-to-season.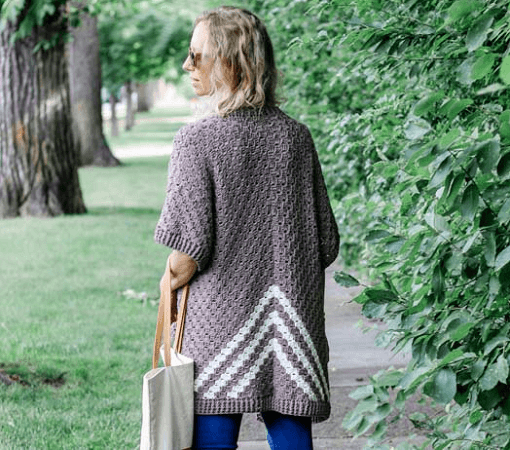 Get the Pattern here

7. Willow Kimono Crochet Pattern by Deni Made Designs
This Willow Kimono Crochet Pattern is the perfect spring/summer sweater. Add fringe or keep it simple – either way this comfortable bohemian staple looks great with jeans, dress, shorts, and everything in between.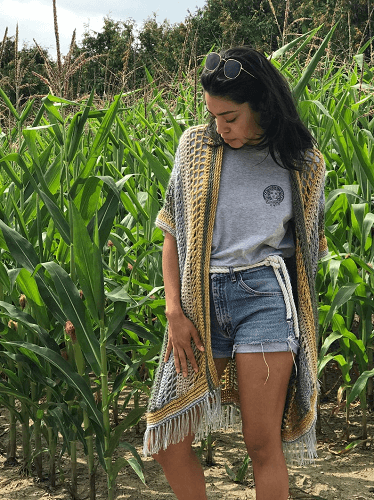 Get the Pattern by Deni Made Designs here

8. Crochet Lana Kimono Pattern by Sewrella
This Lana Kimono is assembled from two large rectangular crochet panels made up of double crochet. That's it! You crochet two rectangles, then sew it up, add some fringe and wear your Lana Kimono around town. This pattern would be great worked up in a cotton yarn for a summery kimono, too!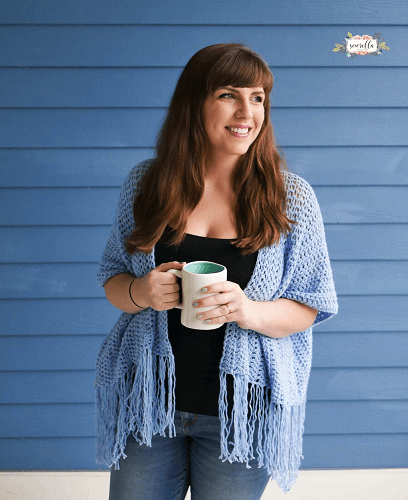 Get the Pattern here

9. Crochet Granny Stripes Kimono Pattern by Ana D Design
What makes this Granny Stripes Kimono so great for your planned vacation is that you can throw it on over most anything – a pair of shorts or your favorite jeans or leggings, over a dress or simply as beach cover up.

The pattern includes sizes for S/M and L/XL but could be easily customized. There are so many possibilities to add your personal signature to this project!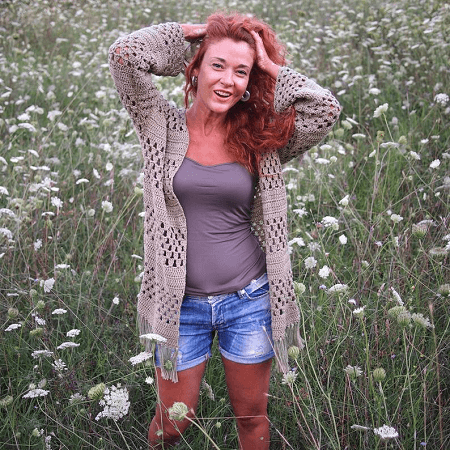 Get the Pattern by Ana D Design here

10. Summer Diamonds Kimono Crochet Pattern by 1 Dog Woof
The finished Summer Diamonds Kimono drapes beautifully, has a nice solid weight to it, yet still feels so light and cool. The simple diamond motif will allow you to focus on the construction of this garment and not on counting complex mat sequences.

Although the pattern is given in only one size, it does provide instructions on how to modify this to any size you need. The sleeves can also be adjusted as you like.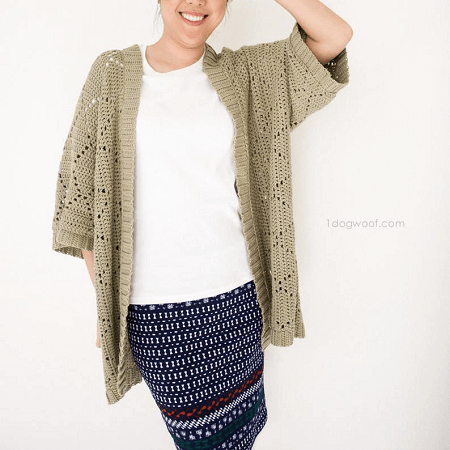 Get the Pattern by 1 Dog Woof here

11. Crochet Kimono Cardigan Pattern by Yarnspirations
A slight twist on the classic granny square motif forms the basis for this unstructured cardigan that's ready for cool autumn days. Crochet as shown or choose another multi-shade option to finish this bold addition to your everyday wardrobe.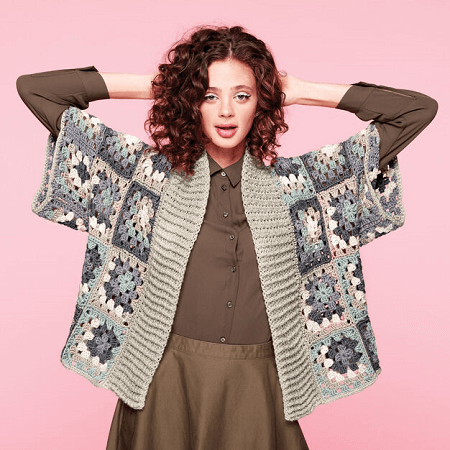 12. Kenzie Kimono Crochet Pattern by Lakeside Loops
This Kenzie Kimono Crochet Pattern is the perfect summer sweater for you and your little ones! Instructions include sizing for toddlers, kids, and adult sizes. Add fringe or keep it simple – either way this comfortable bohemian staple looks great with jeans, dress, shorts, and everything in between.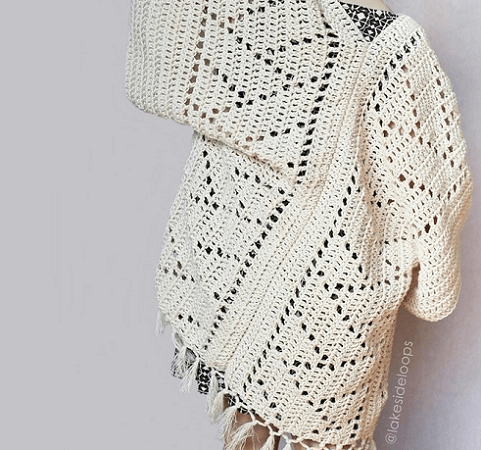 Get the Pattern by Lakeside Loops here

13. Belted Kimono Crochet Pattern by Simply Collectible
You know that one thing you have in your closet that you keep wearing over and over again even though you have other things? That's going to be this Crochet Belted Kimono.

It is crafted in a classic blue so you can pair it with anything year round. What color will you make yours?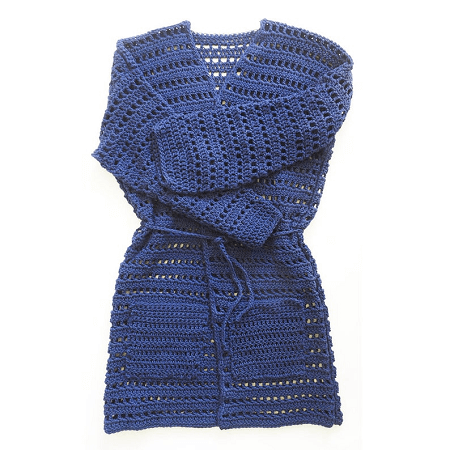 Get the Pattern by Simply Collectible here

14. Crochet Lacy Days Kimono Pattern by MJs Off The Hook Designs
This Lacy Days Kimono is a beautiful versatile piece for Spring/Summer. Easy construction is worked in two pieces from the side across and laced up the back. Sides are seamed leaving arm openings. Gorgeous feather belt finishes off the piece. Leave open and wear as a loose cardigan or use as a beach coverup.
Get the Pattern here

15. Summertime Kimono Wrap Crochet Pattern by Leelee Knits
This Summertime Kimono Wrap was inspired by the love of the '70s and bohemian fashion. Not only does it emit a super chill-peace-love vibe, but this wrap is also incredibly cozy! Perfect for lounging around during warm summer evenings, or even to wear as a swimsuit cover-up.

The stitch design is a combination of V-stitch and Herringbone half double crochet (HHDC) and builds super quickly.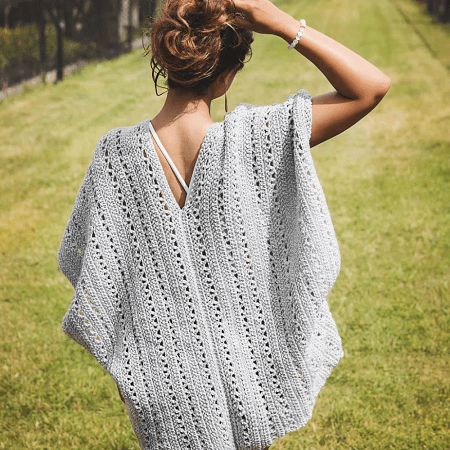 Get the Pattern here

16. Baby Kimono Crochet Pattern by Abigail Haze Designs
This Baby Kimono is sophisticated and sweet for the baby in your life. If you want a buttonless baby pullover that could still slip over big baby noggins, this baby kimono sweater is just the right thing! It works up surprisingly quickly for a sport weight project.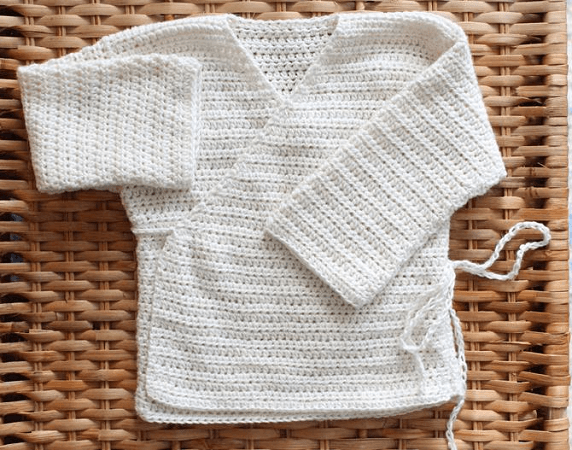 Get the Pattern by Abigail Haze Designs here

17. Boho Goddess Kimono Cardigan Crochet Pattern by Itchin For Some Stitchin
Are you a Bohemian Goddess? You'll feel like one in this Boho Goddess Kimono Cardigan! The cascading sunset colors and flowy feel give this summer cardigan a little touch of paradise.

Plus, it's made from super simple crochet stitches so even the newest of beginners can make it! Whether on the beach or just lounging around the house this stylish kimono is the perfect addition to your boho wardrobe.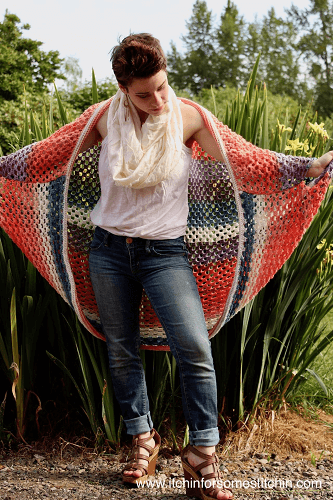 Get the Pattern here

18. XOXO Kimono Crochet Pattern by Gleeful Things Crochet
This kimono is light and airy, perfect for summer nights! It works well with so many outfits and can easily be as fancy or as casual as you like depending on what you wear it with. The loose fit looks great on all body types!

The XOXO Kimono gets its name from the treble cross stitches it's made with. They're shaped like X's and the spaces between them create the O's!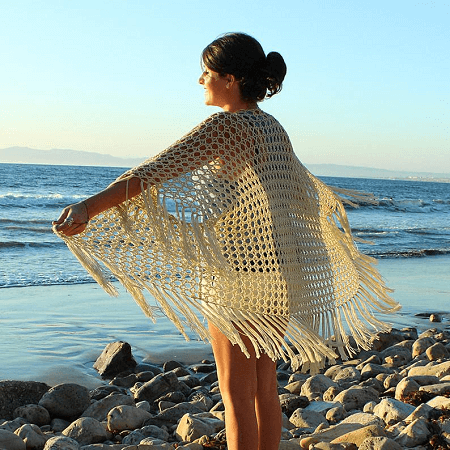 Get the Pattern by Gleeful Things Crochet here

19. Lace Kimono Crochet Pattern by Ksenia Rezepova
This Lacey kimono-style summer cardigan is great to wear on a beach or on a date. The great news is, the cardigan looks nice on any body type. Crochet it to wear at home or to dress up when you are going to spend a night in the theater, just find the yarn that fits your needs.

These laces will surely make you feel and look fabulous! Will you stick with beige? It's so chic!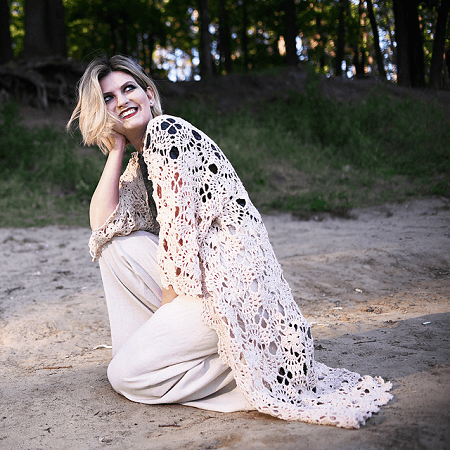 Get the Pattern here

20. Everyday Kimono Crochet Pattern by Mama In A Stitch
This Everyday Kimono is really nice for fall and winter as the stitch creates a warm fabric. In this pattern you will be using the half double crochet stitch. This stitch creates a really cool texture that almost appears to be knit and leaves very few holes in the fabric which you often see with crochet.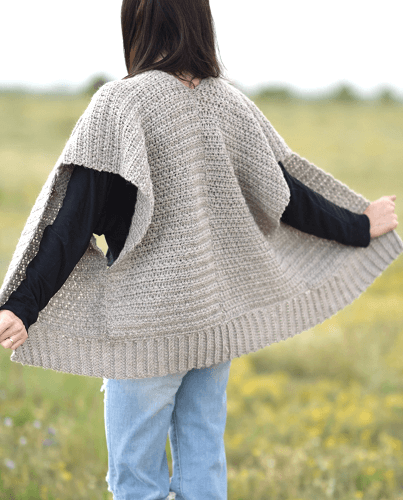 Get the Pattern here

21. Wisteria Drops Kimono Crochet Pattern by Ravin Sekai Designs
Wisteria Drops is a kimono that will look lovely in all bright colors, or with all neutrals. It would even pop if it was crocheted all in one solid color.

It is a great summer garment created with 100% cotton yarn so that it keeps you cool. You can dress it up or down however you like, and also wear it as a coverup with your bathing suit!
Get the Pattern by Ravin Sekai Designs here
If you're anything like us, you're probably a bit surprised at all the different crochet kimono patterns and styles on this list!
Try making your own custom kimono as a gift for a friend or for yourself! Which project will you be making this season? Let us know by sharing a pic of your finished pieces on our Facebook Page.

In my opinion, you can never have too many crocheted wardrobe pieces, so here are more crochet patterns that will keep you busy, stylish, and warm. Wanting to try a Winter crochet poncho or maybe more crochet sweaters and cardigans?

Isn't it amazing? Do not think twice— prepare and use your yarn and hooks and start making these crochet kimono patterns now!