Halloween Amigurumi Crochet 
Halloween Amigurumi Crochet Yikes, Scary.  We'd intended to put together a big list of some great Halloween crochet projects, but goodness – look at the date already!
So if like us, you've not made anything for Halloween, there isn't much time left.
Here are cute and small projects you could run up in no time, make multiples, dot them around in your Halloween décor, and make it look like you were prepared weeks early.
1. Halloween Amigurumi Candy Corn Creatures by Josephine Wu
Use this free crochet halloween amigurumi pattern to make a regular candy corn critter, or follow the variations given in the pattern instructions to make a Frankenstein's Monster or a Zombie or even a Dracula candy corn too!
Sizing / Finished Measurements:
2.5 inches tall, 2 inches wide
Materials: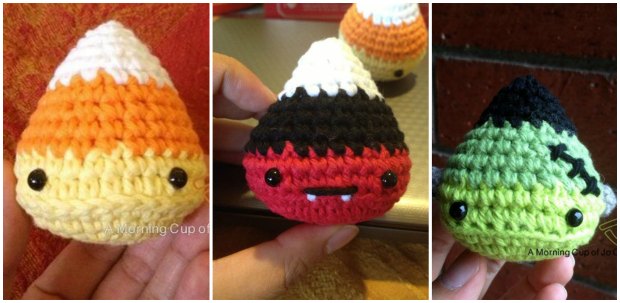 2. H
alloween Amigurumi

Baby Ghost Ornament by Josephine Wu

"BOO!!! Did I scare ya? Tell me, did I scare the bejeezus outta ya, did I?! Awww, oh poop. Mama was right: little ghosts like me never scare people."

This FREE halloween amigurumi pattern won't scare you away, even if you're new to crochet! 🙂 The amigurumi halloween baby ghost is a quick, cute, and easy project and I've designed it so you don't even have to sew on separate arms!

The arms are built right into the crocheted rounds, so this is a no-sew treat just for you. 
Sizing / Finished Measurements:
Materials: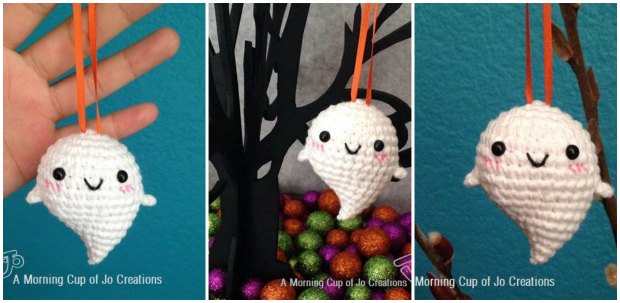 3. Baby Owl H
alloween Amigurumi Pattern by

Josephine Wu

Get ready to make lots of baby owl ornaments! Once you've made one, you'll want to make a few dozen more because these are so quick and easy to crochet. What's your favorite color?

These tiny 2-inch plushies are also great as party favors, stocking stuffers, key chains, and thoughtful gifts!
Sizing / Finished Measurements:
Materials: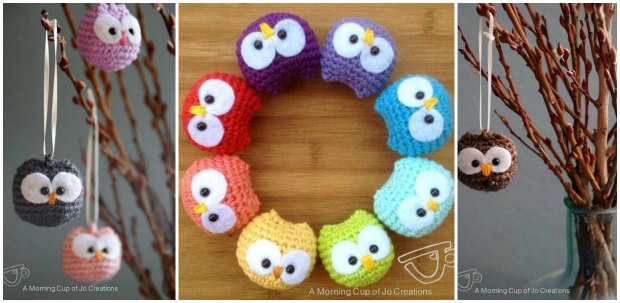 4. Halloween Pumpkin Crochet Amigurumi
Halloween Crochet Pumpkin – BOO! With Halloween is just around the corner so it is time to pick up those crochet hooks and get busy! We absolutely love this little guy.
He will be the star of the show at your place this Halloween. You could even make a few of them and place them around the front door for all the trick-or-treaters to marvel at.
Size
Materials
Orange, brown and green yarn
1.5mm Crochet hook
Stuffing
Yarn Needle, sewing needle
Scissors
Pins
Black embroidery thread to make the mouth.
Emerald green embroidery thread for arms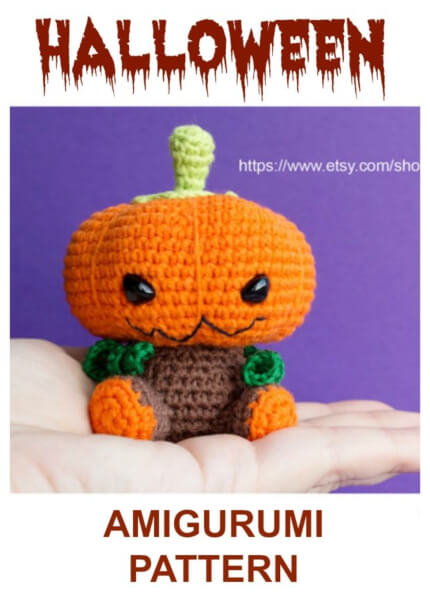 5. Halloween Amigurumi Pumpkin Crochet Kittens Pattern
Trick or treat? Well, the crochet Halloween pumpkin pattern is not a trick, but it is definitely a treat for the eyes. It is among the most revered holidays in the western world but wherever you are you have to love the Halloween decorations.
Hanging up Jacko lanterns and going out trick or treating, dressing up in outrageous costumes; Halloween has to be the most colorful holiday there is. And, it just got better with the crochet Halloween pumpkin pattern.
Your little pumpkin creations will make the perfect gift for the season because they are in line with the theme and they are just so damned cute.
Materials
Acrylic: yarn weight Fingering / four ply (14 wpi) (400 meters/100 gr), e.g., "Detskaya novinka" by Pehorka – orange (red, green, yellow as you like) for pumpkins, pink, black, brown
Hook 2, 0 mm = US Steel Crochet Hook 4
Thin wire or fishing line for whiskers
Padding polyester
Glue (Glue-gun)
2 black beads for eyes
Beginner Crochet Amigurumi
The creator describes the pattern as meant for a beginner level crocheter but some knowledge of amigurumi stitching patterns is required. Some of the legends and stitches that you will need to know are;
Easy To Follow Instructions
The instructions though are given in concise and straightforward English. They are easy to follow, and the PDF and tutorials come with diagram illustrations and pictures. Which guide you in your efforts to make the perfect pumpkin patch.
If you are indeed a beginner, the pattern may take a while to master but once you do you will be crocheting away like you cast a spell.
Halloween Amigurumi Pumpkin Crochet Kittens Perfect Decorations
The Halloween Amigurumi Pumpkin Crochet Kittens Pattern make splendid party decorations for your Halloween party and can be used both inside and outside your home.
They are eye-catching and are bound to be the talk of the night. You can even make a few to give away to friends and family during the season, and they will absolutely love them.
You can make a variety of them in the colors of the season to spice it up and add some flair. Don't limit yourself when it comes to the crochet Halloween pumpkin pattern.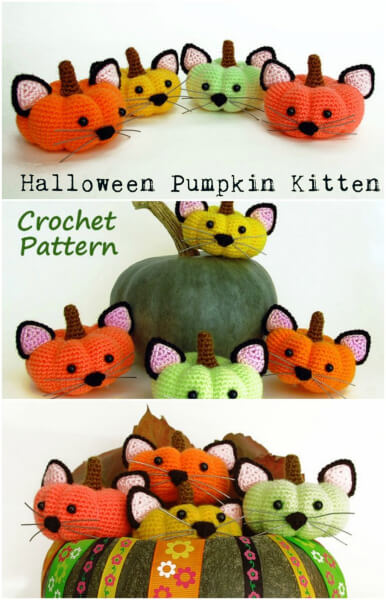 6. Tiny Halloween Amigurumi Monsters Crochet Pattern by Mohustore
If you're thinking that you're betraying Halloween because of your cute decorations, you have to relax! Halloween doesn't have to always be scary.
Just take Mohustore as a great example. They made these tiny creatures that are so adorable yet still fit the Halloween theme!
Aside from using as decoration, you can also give them to trick or treaters along with the usual candies and chocolates. Hang them on your door so they can just pick whatever they want.
For sure, even the grown ups cannot resist the cuteness of these tiny monsters!
About the Yarn
Looking for the yarn to be used on this project is easy! This amigurumi halloween pattern needs small amounts of medium worsted weight yarn in different colors!
A project perfect if you want to use some of your scrap yarns from your other projects.
About the Crochet Halloween Amigurumi Pattern
Would you believe these adorable monsters are beginner friendly? They might seem daunting, but this pattern is actually easy to make.
In buying this pattern, you can make 6 different halloween monsters: a ghost, jack o' lantern pumpkin, skeleton, vampire, witch, and a zombie.
A written crochet pattern will be provided, with step-by-step photos and instructions on how to assemble the creatures.
A lot of details will be provided, plus you can use the step-by-step photos to check if you're on the right track. They also included versions with fewer photos so you can easily print the pattern.
We mentioned this pattern is for beginners right? If you've been worried because you're not sure you have adequate skills to finish these tiny monsters, it's time to forget about those worrying thoughts!
Aside from the details instruction this pattern provides, it also has a beginner's crochet guide! Refresh your knowledge on the basic crochet techniques in making amigurumi.
Skill Level
Mostly for beginners
Materials
Medium (worsted) weight yarn – small amount for each pattern
3.5 mm(E) crochet hook
toy stuffing
yarn neddle
sewing neddle
craft felt
6mm black beads for eyes
Finished size
2 inches tall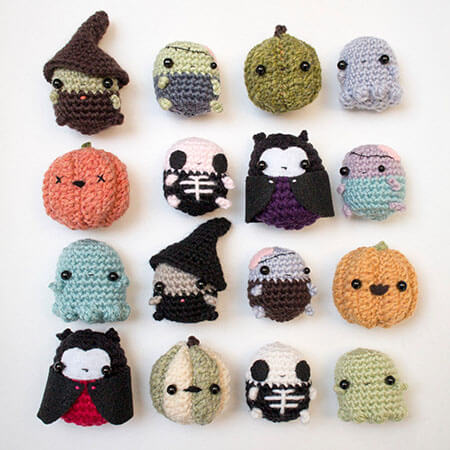 Prepare for Halloween by making this adorable and fun Halloween amigurumi!
Are you ready to make the most adorable twist of your Halloween this year?
Add a little twist to the usual scary Halloween decorations you do every year. It's a fun way to welcome the season and the perfect piece for it.
So get the crochet Halloween pattern now, and I promise you won't be disappointed. Feel free to post some of your finished works on our Facebook Page
Looking for other Halloween patterns to make for this year? Check out Crochet Spider Web Patterns and Skull Crochet Patterns.
Add a twist to your Halloween that your neighbors and friends will truly enjoy! Start working on this Halloween Amigurumi Patterns!