Halloween Amigurumi Crochet – 3 Crochet Minis
Halloween Amigurumi Crochet Yikes, Scary. We'd intended to put together a big list of some great free Halloween crochet projects, but goodness – look at the date already!
So if like us, you've not made anything for Halloween, there isn't much time left. Here are three cute and small projects you could run up in no time, make multiples, dot them around in your Halloween decor, and make it look like you were prepared weeks early 😉
Candy Corn Creatures
Use this free crochet pattern to make a regular candy corn critter, or follow the variations given in the pattern instructions to make a Frankenstein's Monster or a Zombie or even a Dracula candy corn too!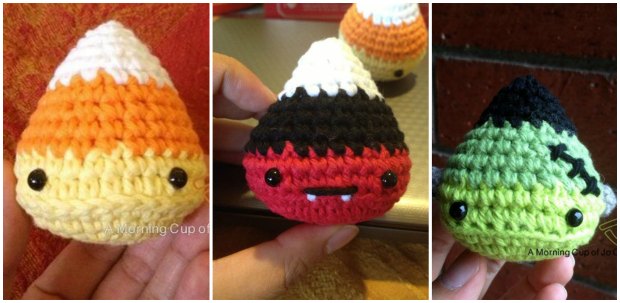 Sizing / Finished Measurements:
2.5 inches tall, 2 inches wide
Materials:
Download the free Candy Corn Pattern here
Baby Ghost
"BOO!!! Did I scare ya? Tell me, did I scare the bejeezus outta ya, did I?! …Awww, oh poop. Mama was right: little ghosts like me never scare people."
This FREE Halloween pattern won't scare you away, even if you're new to crochet! 🙂 The baby ghost is a quick, cute, and easy project… and I've designed it so you don't even have to sew on separate arms!
The arms are built right into the crocheted rounds, so this is a no-sew treat just for you. Enjoy!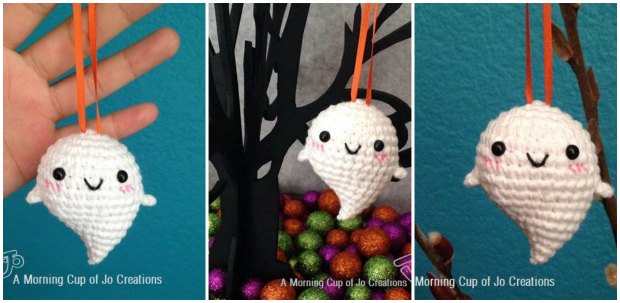 Sizing / Finished Measurements:
Materials:
Download the free baby ghost pattern here
Baby Owl
Get ready to make lots of baby owl ornaments! Once you've made one, you'll want to make a few dozen more because these are so quick and easy to crochet. 🙂 What's your favorite color???
These tiny 2-inch plushies are also great as party favors, stocking stuffers, key chains, and thoughtful gifts!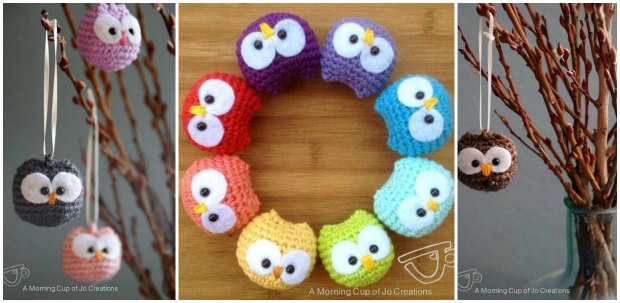 Sizing / Finished Measurements:
Materials:
Download the baby owl crochet pattern here