Autumn and Halloween are the perfect times of year to enjoy making some of these crochet spider patterns. Even if you're not normally a fan of real creepy crawlies, these cute arachnids will have you smiling and wanting to make more, we promise!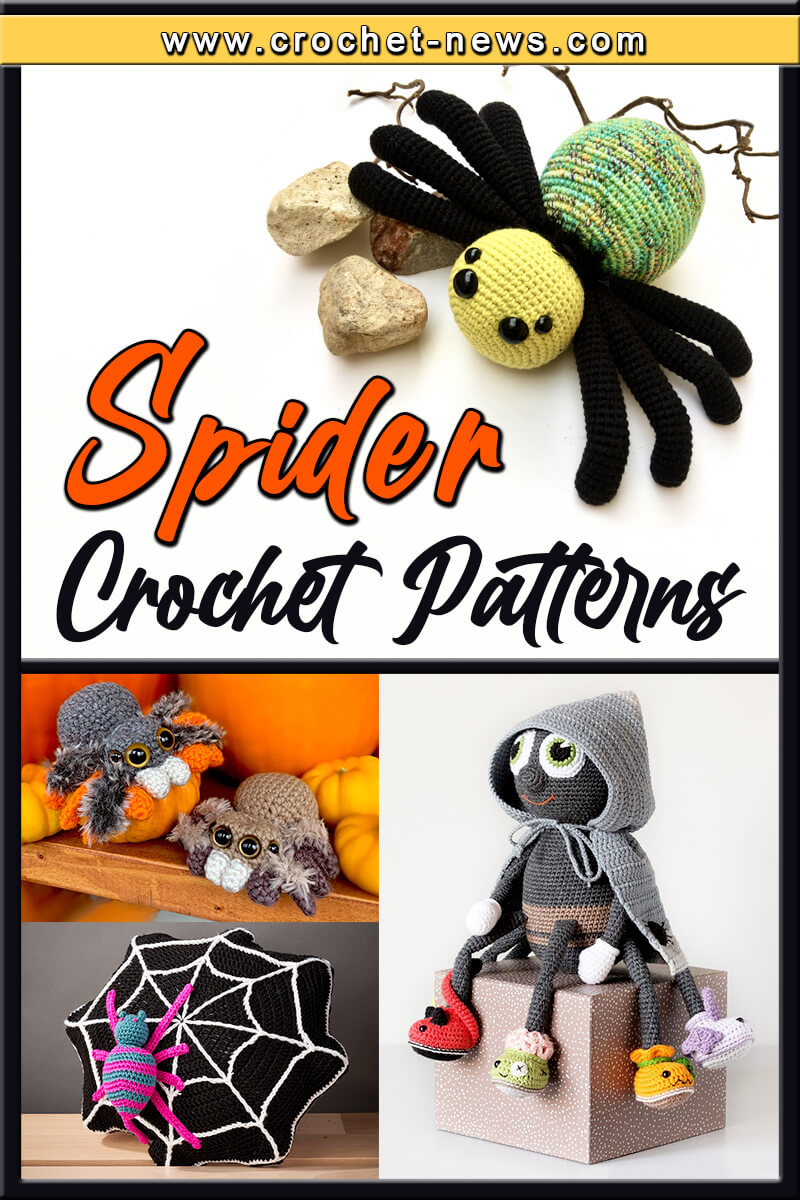 As far as critters go, spiders are pretty versatile. They can be creepy or cute; scary or sweet. And they aren't just for Halloween, either!
20 Crochet Spider Patterns
Crochet the cute ones for yourself or the spookier ones for your Halloween display. They are certain to give great cuddles with all those eight arms!

1. Crochet Halloween Spiders Pattern by Yarnspirations
No Halloween display is complete without a fearsome army of adorable, googly spiders! This pattern includes two sizes of spiders for your crocheting pleasure. With such a playful project, why not call over a friend and work on this one together?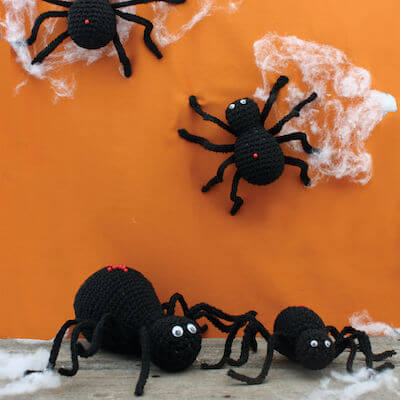 Get the Pattern here

2. African Flower Spider Crochet Pattern by Larrie Crafts NL
This beautiful giant Spider African Flower will be a cool gift for those who love spiders. It can be used as a pillow or to scare friends. The finished size is 50 cm (20 inches) depending on the yarn thickness and used crochet hook.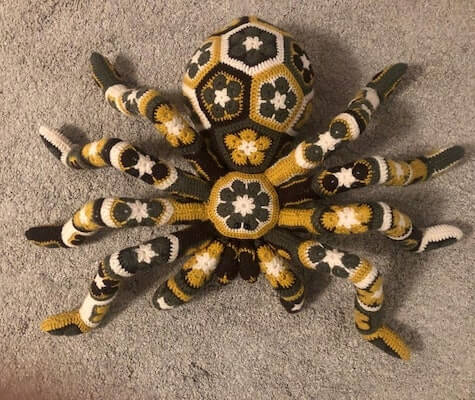 Get the Pattern by Larrie Crafts NL here

3. Spider Pom Pom Hat Free Crochet Pattern by Nicki's Homemade Crafts
What better way to get into the spirit of the season than incorporating giant pom pom spiders on your fall crochet hats? If you know anyone who's always wanted to wear a pom pom spider on their head, then this is the pattern for you!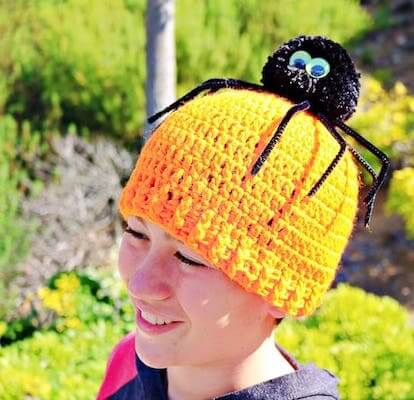 Get the Pattern here

4. Oscar, The Spider Crochet Pattern by Kate's Corner Online
Give your friends a fright with this spooky amigurumi spider crochet pattern! We love the use of pipe cleaners to get those long legs looking perfect!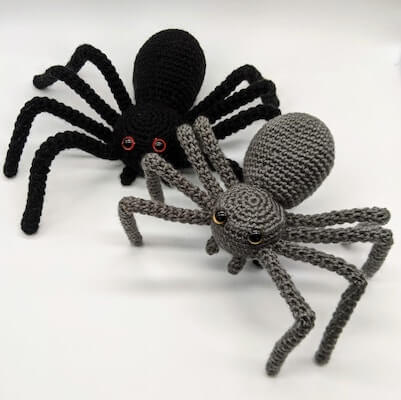 Get the Pattern by Kate's Corner Online here

5. Free Crochet Spider Pillow Pattern by Gathered
This Free Crochet Spider Pillow Pattern uses a host of different techniques that help to make this a frighteningly fun project.
The amigurumi spider pattern is made independently of the spider web pillow pattern so you can always make it by itself – great for if you wanted to know how to crochet a spider to scare your friends with!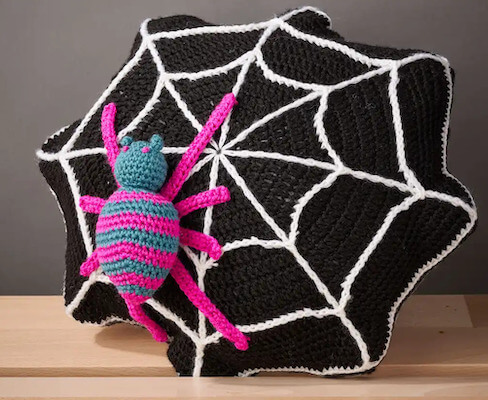 Get the Pattern here

6. Crochet Huggable Spider Pattern by Hook Master Crochet
These crocheted spider plushies are so cute! They would be the perfect surprise for anyone this Halloween season! You could totally buy a bunch of different colored yarn, and make these up for teachers, kids, spider lovers, or even for yourself!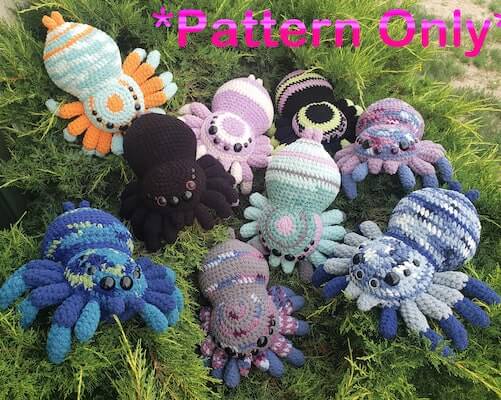 Get the Pattern by Hook Master Crochet here

7. Amigurumi Spider Crochet Pattern by Planet Piu
This Amigurumi Spider Crochet Pattern includes detailed description of crocheting, assembly and decoration of the finished Halloween spider toy with a hooded cloak and six thematic boots – pumpkin boot, zombie, witch, Lucifer, bat and skeleton. He's so cute, isn't he?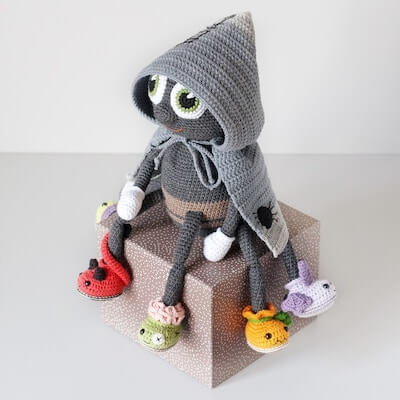 Get the Pattern by Planet Piu here

8. Spooky Spider Jewelry Crochet Pattern by Yarnspirations
Creepy crocheted black spiders on delicate webs are perfect accessories for the Halloween season and to accent a party outfit. These elegant jewelry pieces won't take long to make with black and purple crochet thread.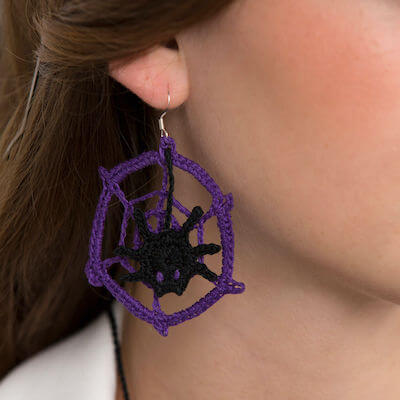 Get the Pattern here

9. Crochet Spider Web Wreath Pattern by Left In Knots
This quick and easy crochet spider web wreath is a fun Halloween door decoration to greet trick or treaters. The wreath cover is just SC stitches and the web is just a few rounds of DC and ch stitches. If you want to get fancy, you could probably figure out a crochet spider!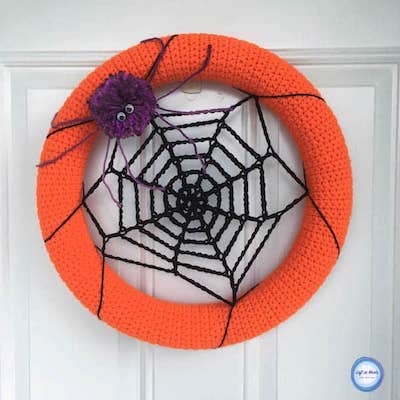 Get the Pattern here

10. Spencer, The Spider And Friends Crochet Pattern by Moji Moji Design
This pattern includes instructions for a large and small spider. Also included is the pattern for the spider web. After all if you can make them a happy home, they're less likely to come and live in yours!

Or maybe you're not scared of spiders and want them to share your house? You've only got to ask and these friendly little creatures will all come scurrying in!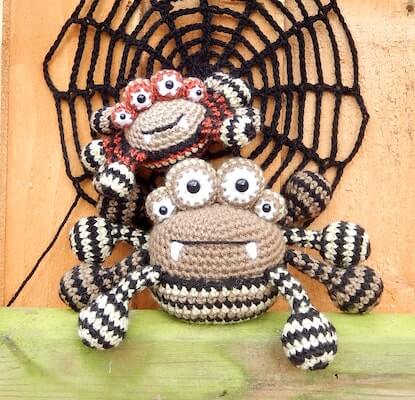 Get the Pattern by Moji Moji Design here

11. Black Widow Mosaic Crochet Pattern by Sixel Home
Create a cute and creepy spider with web, great for Halloween or everyday. This pattern is customizable to change the spacing of the web from narrow to wide, or mix it up for a more organic shape. You can easily use this pattern to create anything from blankets, bags, pillows, apparel and more!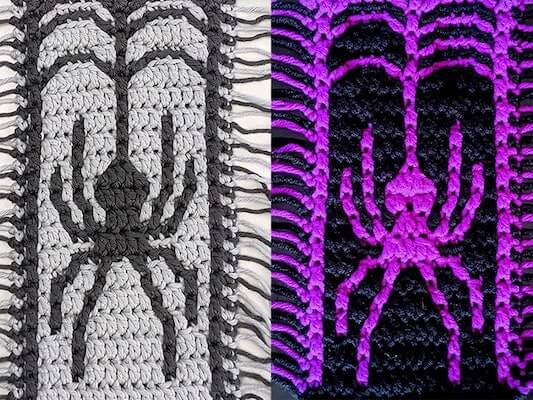 Get the Pattern by Sixel Home here

12. Crochet Spider Garland Pattern by Red Heart
What a wonderfully creepy way to decorate for Halloween! Instructions are for a four yard garland with three large spiders and eight small spiders. But, of course, you can make as many garlands as you need for sufficient creepiness.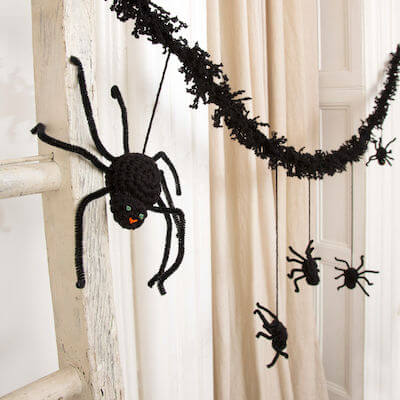 Get the Pattern here

13. Crochet Spider Lovey Pattern by Crochet 365 Knit Too
You are in for a crochet treat, friend! Meet the Spider in a Web Crochet Lovey pattern! A fast and fun crochet project perfect for your next baby gifting occasion – or keep it for yourself – we totally won't tell!
More snuggly crochet lovey patterns here.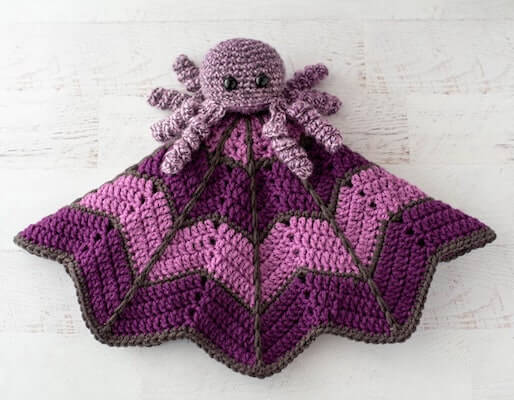 Get the Pattern by Crochet 365 Knit Too here

14. Crochet Spider Pattern by Petals To Picots
This crochet spider pattern works up in no time at all and adds such a cute touch to your Halloween decor! Prop them on a counter, place them around your table, or hang them in the doorway to delight your little ghouls and goblins!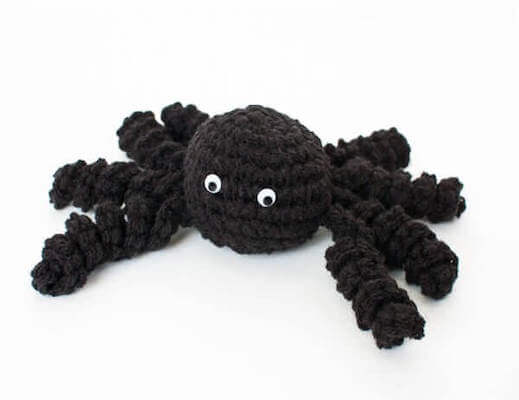 Get the Pattern here

15. Spider Crochet Amigurumi Pattern by Crafty Intentions
Don't you just love spiders with long, spindly legs? No? How about a whole herd of them all over your walls? Create an atmosphere of creepiness with big spiders decorating your walls. They can be made quickly and in your favorite colors!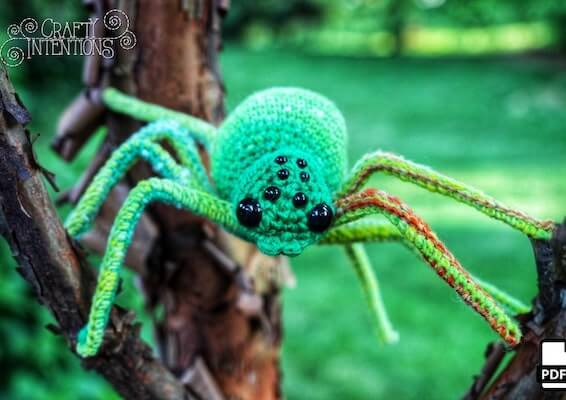 Get the Pattern by Crafty Intentions here

16. Crochet Spider Applique Pattern by Golden Lucy Crafts
This Crochet Spider Applique would be perfect as a Halloween decoration for your clothing, home, table decor, scrapbooking, and more!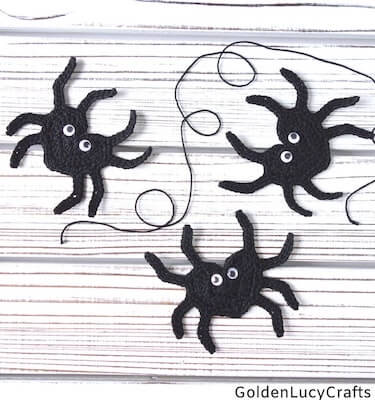 Get the Pattern by Golden Lucy Crafts here

17. Crochet Spider Placemat Pattern by Jessie At Home
What's that under your plate? It's a spider!!Celebrate Halloween with these quick and easy to make Spider Placemats, a fun a creepy addition to your holiday decorations. It was made with an orange background, but you can make a whole set with a different color background for each one!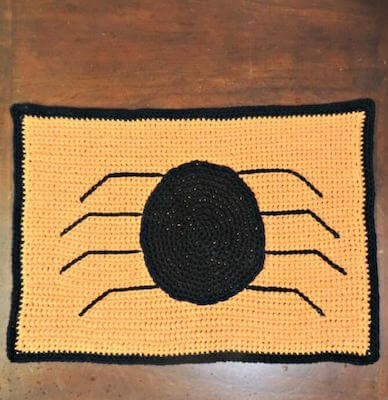 Get the Pattern here

18. Crochet Tarantula Spider Pattern by The Loopy Lamb
Whether you choose to gift him to a child for play or use him as a Halloween decor, this Tarantula is fun to make and great to have around.
He is a big hit with children, being the perfect size to sit on their head, shoulder or even to potentially spook an unsuspecting friend.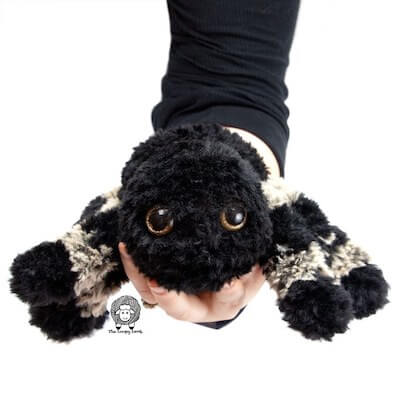 Get the Pattern by The Loopy Lamb here

19. Free Crochet Spider Pattern by Cuddly Stitches Craft
Try this Free Crochet Spider Pattern to make this adorable Amigurumi spider that will make a perfect gift for any child who likes soft cuddles. And with Halloween around the corner, this amigurumi spider can be a nice decoration for your home, too.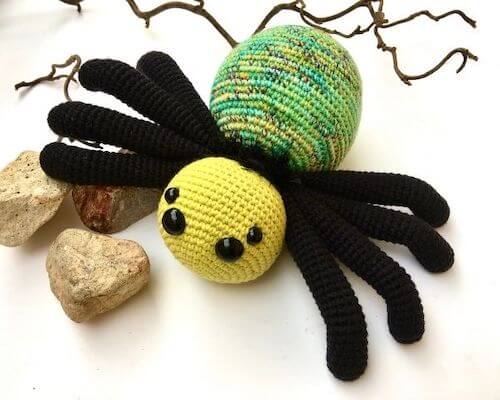 Get the Pattern here

20. Baby Spider Crochet Pattern by Winter Berries BC
Look at these cute little baby spiders! How could you possibly resist making them for Halloween? They're more of the cuddly than scary variety, and will be your Halloween buddies for life!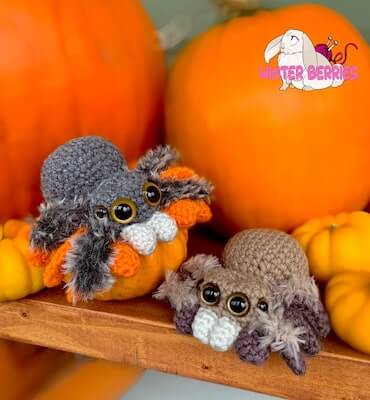 Get the Pattern by Winter Berries BC here
MAKE SOME OF THESE CROCHET SPIDERS FOR HALLOWEEN TO CREEP OUT YOUR FAMILY AND FRIENDS!
If you make some on your own, will you share pictures of your finished projects on our Facebook Page? And once you've hooked up your favorite crochet spider patterns, why not try your hand at some more creepy crafty makes!
You could try these Crochet Spider Web Patterns, Crochet Pumpkin Patterns or these Crochet Voodoo Doll Patterns, or you could always stitch up a spooky show-stopper with our pick of the best Halloween Amigurumi Patterns!

We love a bit of creepy crochet, and these crochet spiders are a must-make for Halloween! Happy crocheting!