Triceratops Crochet Lovey Comforter Pattern
It's time to mesmerize your young one with tales of the pre-historic. Dinosaurs and pterodactyls and huge leviathans that swam the oceans. You can bring home what they've learned at school with this one. It's the triceratops crochet comforter pattern.
If you have a small child or even a handful of them, then you know that's, there is a certain age when they are absolutely obsessed with dinosaurs. This pattern will drive your kids wild with excitement.
If this doesn't get you a finger painting on mother's day, then I don't know what will. So what exactly do you need to start bringing dinosaurs back to life?
Triceratops Crochet Comforter Pattern Here
Triceratops Crochet Lovey Comforter Materials
Worsted weight yarn in blue. Recommended Lion Brand Vanna's Choice.
Worsted weight yarn in light green. Recommended Lion Brand Vanna's Choice.
Bulky weight yarn in cream or white. I used Lion Brand Wool-Ease Thick & Quick in Fisherman color.
Size H Crochet Hook
Tapestry Needle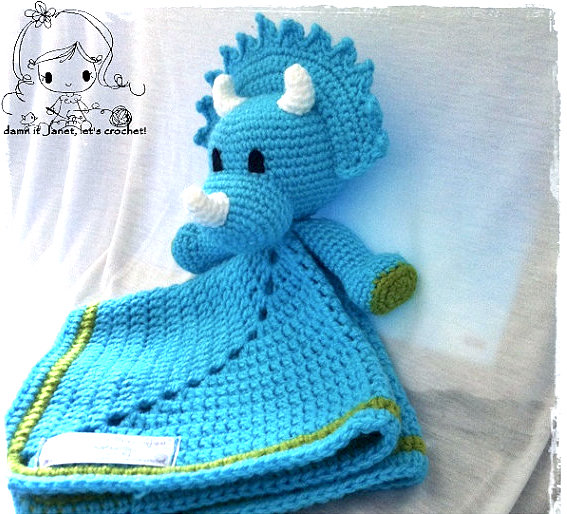 The triceratops crochet comforter pattern is not as complicated as one might think. There are very detailed tutorials and documentation to have you a pro in no time. They are easy to follow with step by step guidance so you won't skip a beat.
This comforter pattern is a beautiful way to show your child that you uniquely love them. You will have them glowing with delight when they come home to a triceratops crochet comforter. Or even better you can involve them in the process. It is definitely a fun way to spend time with your child.
Check out our 18 Best Crochet Dinosaur Patterns of all time.
The Memories You Will Make Will Be The Size Of Dinosaurs
The triceratops crochet comforter pattern will also enable you a perfect baby shower gift for a friend. The cute triceratops is the icing on an already thoughtful gift. You will have them swooning over you. You can also try to make different designs by playing with the colors. Do not restrict yourself.
Personally, I tried some grey and black yarn for the triceratops, and it turned out quite beautiful.  So try out whatever colors tickle your fancy and see the magic come to life.
You can even stitch names into the comforters to add an aspect of uniqueness. It would really be of help when you have more than one toddler, so you know whose is whose. You can also stitch in the name to add a personal touch to a gift.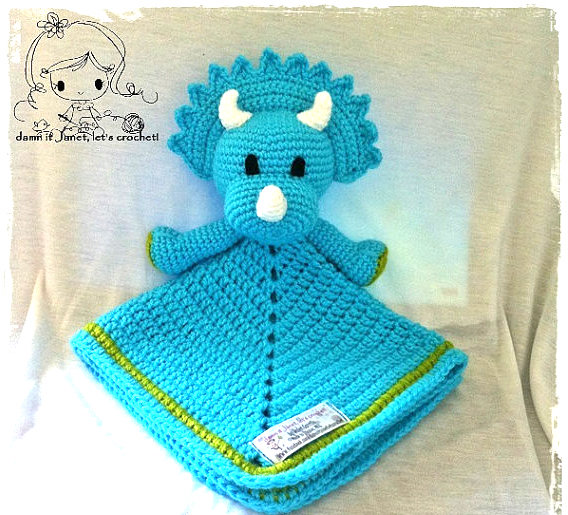 To conclude, the triceratops crochet comforter pattern is one you should try out. And you really should especially, if, you have a kid who is just obsessed with the pre-historic.
This crochet comforter pattern will blow their minds away. It will be like taking them back in time and giving them the experience of touching dinosaurs.
It is also a cute and thoughtful gift to give to a friend, for their baby shower or to a sister's child for their birthday. The thought behind the triceratops crochet comforter is to make a child happy, and I guarantee you it will drive your kid ecstatic.
Triceratops Crochet Comforter Pattern Here
More Adorable Crochet Baby Security Blanket Patterns
Koala Baby Lovey Crochet Pattern
Baby Security Blanket Adorable Bunny Pattern