Have you been looking for a fresh new one-of-a-kind blanket design to crochet? When we spotted these crochet star blanket patterns, we knew we had to share it with you!
You'll be as comfortable as can be with these wrapped around you at night. You can also create them as gift for a baby shower. The choice is yours! After all, you'll ideally want to make your own star blanket as unique as the star you're making it for!

1. Easy Crochet Star Blanket Pattern Grey by Love Crafts
This easy crochet star blanket is a free pattern, with easy to follow, step by step, written instructions with pictures. The pink stars on this blanket make it an Awww crocheting masterpiece.
The best part?
Such a simple and easy pattern to follow and execute, you will confidently have this grey crochet baby blanket completed in no time.
That's not all…
The addition of the colored stars really makes this blanket standard and emit such warmth and comfort.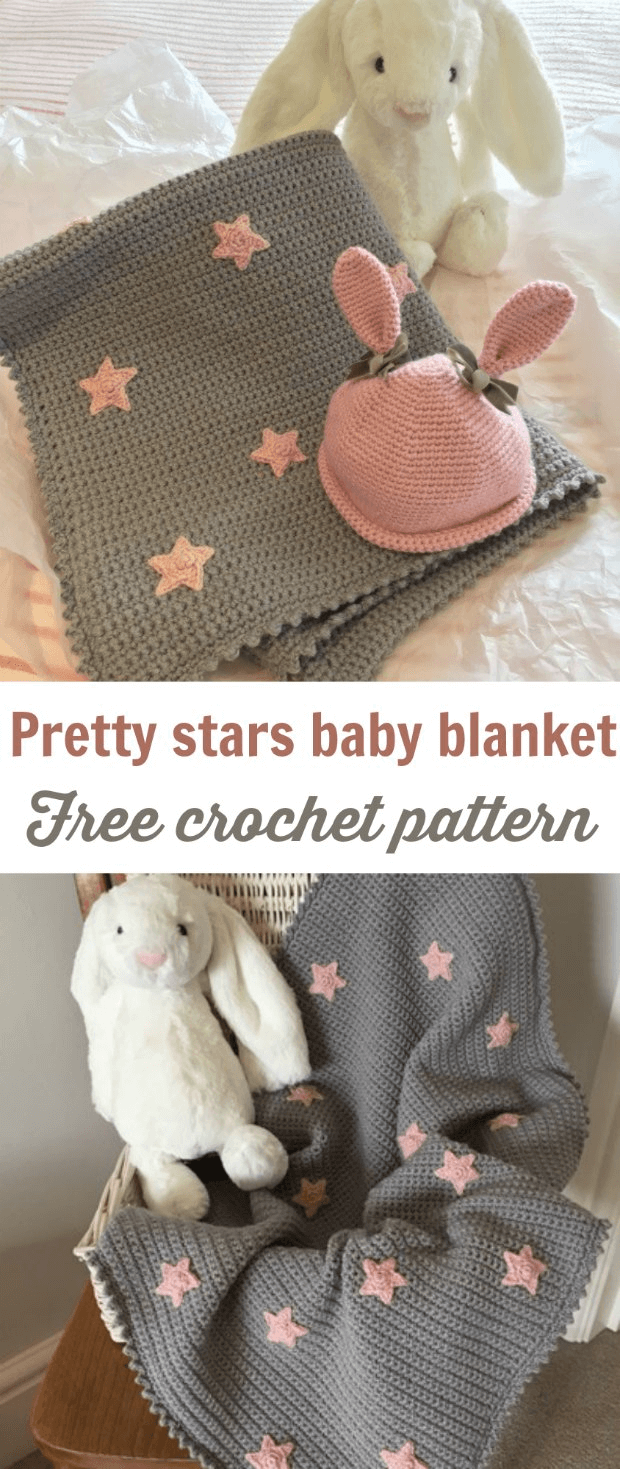 Grey Easy B
aby Star Blanket Crochet Pattern
This Simple Crochet Baby Blanket with stars is a must have for anyone expecting a new bundle of joy. This pretty blanket is a simple and quick crochet project, but then made even more adorable with the addition of the stars.
This grey baby blanket can be made any size. So this fantastic pattern doesn't only have to be made specifically a baby. Make a larger one for a teen or a huge one for snuggling up with your other half on the sofa.
Ideal for a variety of color schemes to suit boys and girls. We think this would look stunning in a rich navy blue with a sparkle yarn in white or yellow for the stars.
This easy crochet baby blanket is a stitched in the simple Double Crochet stitch (US Single Crochet). Make the stars separately then attach them to the baby blanket, making this a beautiful and unique handmade accessory!

Get The Easy Baby Blanket Star Pattern Here
Easy Simple Star Blanket Materials
7 x balls of Debbie Bliss Mia weighted yarn in Silver (22) for the main part of the blanket
1 x ball of Debbie Bliss Mia in Light Pink (11) for the stars.
5 mm hook for the main part and a 3.5mm hook for the finishing edge and border.
The stars are assembled with a 2.5mm hook.
This easy grey blanket is a perfect accessory for you, to throw over a baby car seat or pushchair. It can also be made slightly larger to fit a cot or crib. When keeping your little bundle of joy warm and toasty, this piece of crocheted art is a perfect choice.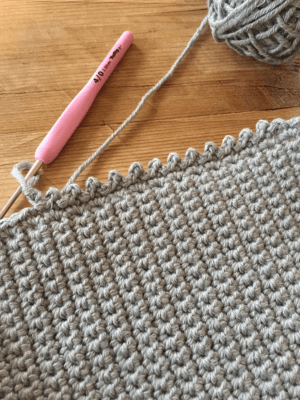 Crochet Techniques And Steps To Make This Easy Crochet Baby Blanket
As mentioned, the blanket is put together using simple Double Crochet techniques known in the US as single crochets. It is, therefore, necessary to be well acquitted and practised with the basic crocheting stitches.
Crochet stitches such as double treble crochets, slip stitches, chain stitches, and half double crochet stitches are needed.
The stars are later stitched and hooked up separately onto the already finished grey baby star blanket. The stars make it one of the most beautiful, unique, and aesthetically pleasing handmade pieces.
While crocheting the grey baby blanket, you will need to work with a 4.5 mm hook for the blankie's main body. Then a 3.5mm hook for the borders and finishing edges.
How To Crochet a
12 Point Star Crochet Blanket
Once you are done crocheting the grey blankie, the next part is the stars. The stars are made using a 2.5mm crochet hook for optimal results.
While edging out the blanket, it is crucial to work 2 or 3 stitches into each corner stitch. This prevents the blanket from losing shape.
When crocheting the baby star blanket, most people prefer to use one color scheme on the main blanket. Then a different color on the stars so as to draw a beautiful contrast between the two.

Crochet Star Baby Blanket A Perfect Gift
Every mother loves to adorn her child with the most beautiful things, and the grey easy crochet baby blanket star pattern should be one of those things at the very top. If not, you need to rethink your life. Seriously.
Other than being the perfect accessory for small toddlers, this blanket can also be crocheted to a bigger size. Even to accommodate the warming needs of teenagers (your emo Rammstein-loving daughter excluded) and adults.
I seriously believe that this is one item that your child will grow rather attached to and for a good reason.
When done well, it is a marvel of art and everything good in life. The detailing and stitch work can be described as nothing less than immaculate.
In conclusion, any crocheting project undertaken with a toddler in mind deserves your best attention and concentration. The grey blankie easy star pattern is a physical manifestation of innocence and perfection rolled up into one.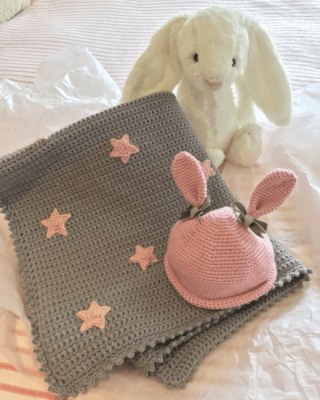 The style is a widely appreciated crocheting style that has been used to create a collection of breathtaking pieces. Grey is a favorite blankie color not only for its ability to accentuate and bring out the life it other colors used, but it is also a neutral color.
It's almost chameleon-like abilities allow it to blend well with both warmer and cooler shades. It's use on this easy crochet baby blanket is therefore only right.
This pattern is just one of the many free crochet baby blankets on our site check out more here.

2. Rainbow Of Stars Crochet Blanket Pattern by Sew Sew Baby Store
This baby blanket crochet is inspired by the love of all things rainbow and stars – hence the colors and design. Using Stylecraft yarn, this Rainbow Of Stars Baby Blanket Crochet Pattern is quick and easy to make.

The finished crochet baby blanket measures approximately 38 inches by 54 inches but you can, of course, make this any size you wish by simply making fewer or more squares.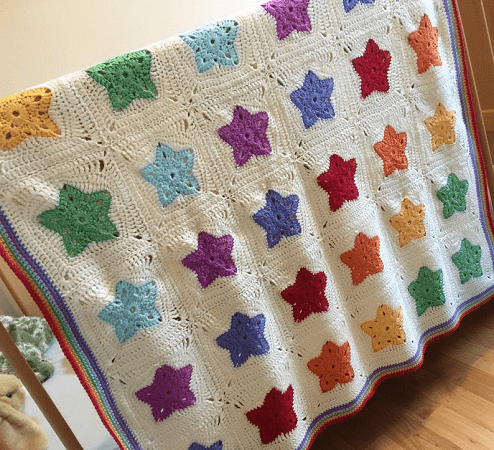 Get the Pattern by Sew Sew Baby Store here

3. 12 Point Star Blanket Crochet Pattern by Pattern Princess Etsy
This 12 Point Star Blanket Crochet Pattern uses the double crochet stitch throughout and works up rather quickly. It has a lovely drape and texture.

This blanket was made using cotton yarn, which makes this light. Yet, it provides just the right amount of coverage for summer or any time of the year.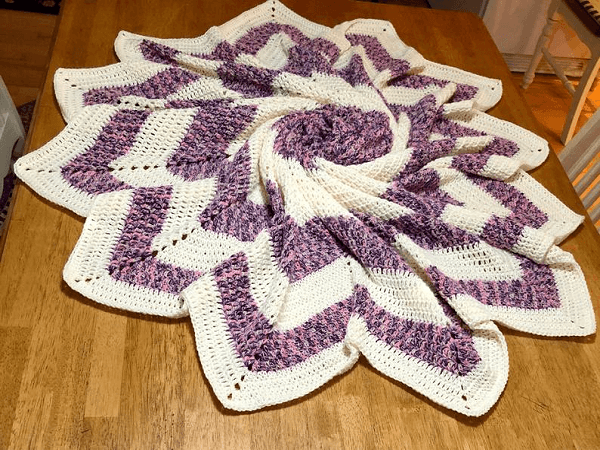 Get the Pattern by Pattern Princess Etsy here

4. Star Of The Show Crochet Blanket Pattern by Yarnspirations
This project is a great way to explore the world of filet crochet! Filet crochet, which is the technique of creating graphic openwork using ch-1 spaces and double crochet, is visually impressive and fun to work on.

Using the softest yarn you have, rows of delightful twinkling lights take shape as you work this one-piece blanket.
Get the Pattern here

5. Twinkle Twinkle Little Star Blanket Crochet Pattern by Avondale Patterns
This cute star blanket with the words of the children's poem "Twinkle Twinkle Little Star" is a beautiful gift for a newborn or young baby. The pattern is very easy for beginners as there are no unusual or difficult stitches to master.

The blanket is made using DK-weight yarn. It uses chains, double crochet, and treble crochet stitches.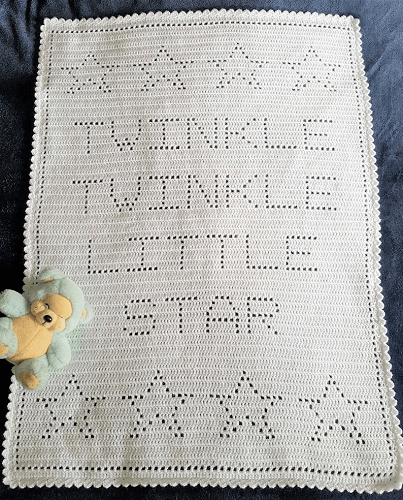 Get the Pattern by Avondale Patterns here

6. Twinkling Stars Blanket Free Crochet Pattern by Crochet Dreamz
This Crochet Twinkling Stars Blanket Free Pattern will be your go-to pattern for spring and summer. Lightweight and airy, it would make your perfect companion while crocheting on the porch.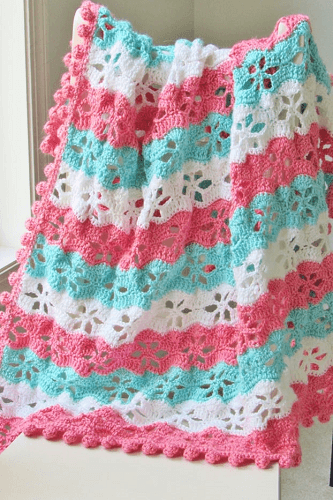 Get the Pattern here

7. Crochet Modern Patchwork Stars Blanket Pattern by Red Heart
Designed in rich saturated shades, this crochet throw features the classic sawtooth star quilt motif worked using a combination of 1-color and 2-color solid granny squares.

The pattern teaches you how to do solid crochet granny squares worked in turned rounds, plus 2-color granny squares techniques. Greens and blues are used for a moody effect, but you can choose any shades you like.
Get the Pattern here

8. Crochet Baby Star Blanket Pattern by My Accessory Box
Just when you think you've already seen all the cutest things on Earth, here we come with another amazing project to show you just how wrong you are!
How could anything look even nearly as sweet as this gorgeous Crochet Baby Star Wrap? This little blanket is sure to keep your little one cozy while snuggling in during the day! Not only that but what a fun project and style!
Get the Pattern by My Accessory Box here

9. 6 Day Star Blanket Crochet Pattern by Betty McKnit
This 6 Day Star Blanket Crochet Pattern can be worked with any yarn of any weight, starting in the center and continuing until the blanket is the size you would like it to be. Use a hook up to an mm larger than suggested on the yarn label to avoid curling.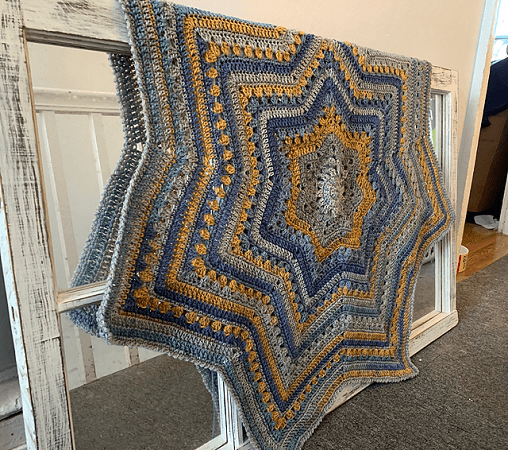 Get the Pattern here

10. Easy Crochet Star Blanket Pattern by My Crochet Place UK
This Easy Crochet Star Blanket is the perfect crochet pattern for a baby blanket, it also includes instructions on how to adapt the size of your blanket so you can make it as small or as large as you like. The featured blanket measured approximately 110 cm by 110 cm when completed.
Get the Pattern by My Crochet Place UK here

11. Chunky Crochet Star Baby Blanket Pattern by Crochet N Crafts
This Chunky Crochet Star Baby Blanket Pattern is perfect for newborns and up. It's the perfect little round blanket for playing on the floor, the car seat or for fun and cute photoshoots. The chunky yarn will act as a nice cushion whether on the floor or in a cute basket for the little ones to pose in.

The only thing is this blanket is worked up with the granny stitch in between the points of the star which leaves big holes. Babies can easily get their tiny little fingers caught in there, thus it's advised to never leave your baby alone while using this blanket.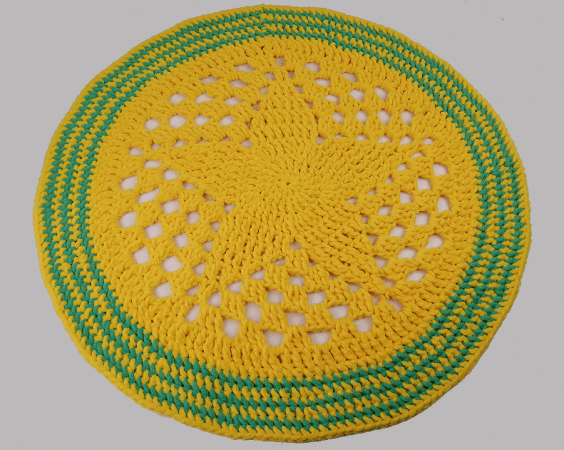 Get the Pattern here

12. Four Points Star Blanket Crochet Pattern by Jessie At Home
This pretty little blanket is made using 4 Four Points Squares. The single crochet join as you go method is used to join them together, then a border is added. This blanket will make a lovely addition to the room of any little star in your life!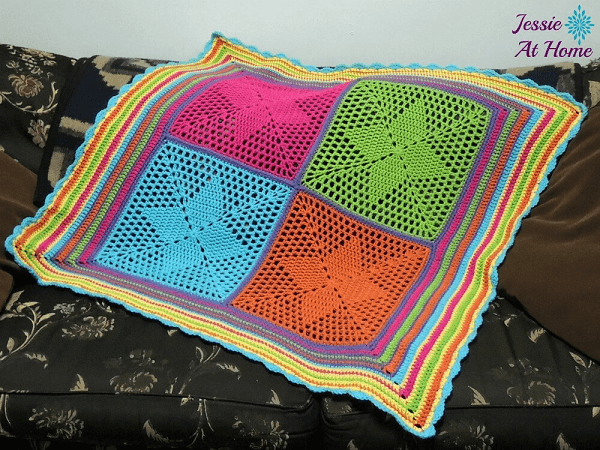 Get the Pattern here

13. Stabby Granny Star Crochet Blanket Pattern by Bright Red Cherries
This Stabby Granny Star Crochet Blanket is the perfect pattern to use up your stash of yarn. It's so much fun to see how the colors come out. Alternatively, you can change colors whenever you want

You could make it as a gift or treat yourself, either way, the finished blanket will be treasured forever.
Get the Pattern by Bright Red Cherries here

14. Rainbow Starlight Blanket Crochet Pattern by KAME Crochet
This Rainbow Starlight Blanket is a gorgeously textured, eight-point star blanket that can be made as a baby/toddler blanket or a nice and snuggly lap blanket.

The pattern itself is using a lot of different stitches to save you from getting bored of repetitive rows and also, they help to give a nice, textured but modern look to the finished product.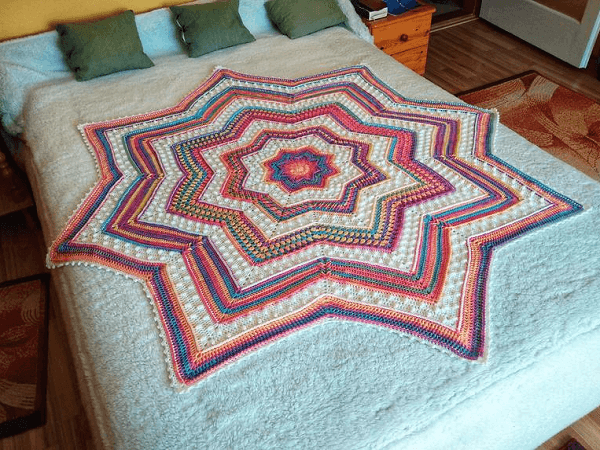 Get the Pattern by KAME Crochet here

15. Starlight Crochet Blanket Pattern by Yarnspirations
Baby really is the star when they cuddle their new blanket! Measuring 38″ across, finish this Starlight Crochet Blanket at a perfect size that looks beautiful in any nursery, or on the go.
Get the Pattern here

16. Super Stars Blanket Crochet Pattern by Catherine Crochets
This is a crochet pattern for a blanket made using tapestry crochet. The blanket is made of hexagons which are joined together using a join-as-you-go method.

The finished blanket, made with DK yarn, measures 106 cm by 117 cm. However, you can easily vary the size of your blanket by making more or fewer rows/columns of hexagons.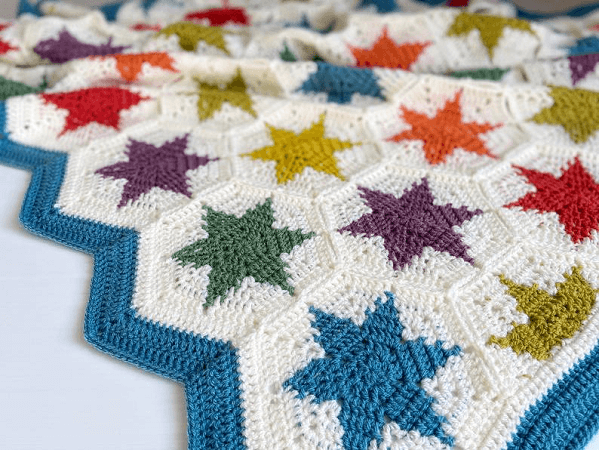 Get the Pattern by Catherine Crochets here

17. Granny Star Blanket Crochet Pattern by Amy O Bespoke Crochet
This Granny Star Blanket is so easy to crochet and yet is so pleasing to the eye. You can make this as big or as small as you like, by adding more or fewer rounds.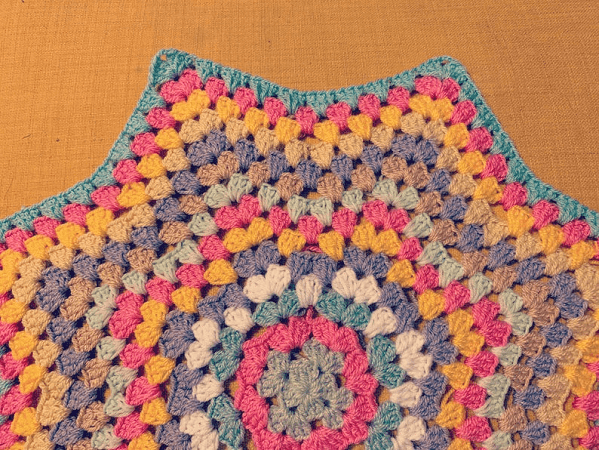 Get the Pattern by Amy O Bespoke Crochet here

18. Amazing Star Afghans Crochet Pattern by By Frenchie
There are 4 different variations of this lovely "starburst" pattern: Small Square, Large Square, Hexagon, and Round. They all call for Worsted Weight Yarn.
You'll be "amazed" by how easy they are to make! And talk about a show stopper! A lot of the fun to this lovely "star" is picking out different colors to make it! Just like a kaleidoscope the different yarn shades you choose can change the look of this motif significantly.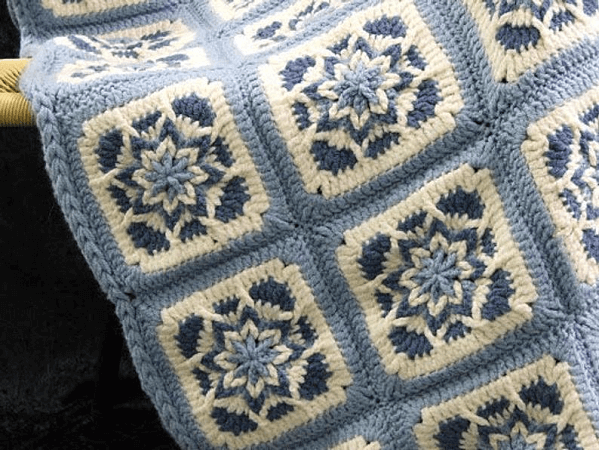 Get the Pattern by By Frenchie here

19. Starburst Blanket Crochet Pattern by Lion Brand
Crochet this gorgeous Starburst Crochet Baby Blanket for a less expected shape! It might look complicated with all those ripples and colors, but Lion Brand's Mandala Baby yarn makes it easy.

You won't need to change colors at all because the yarn takes care of that for you. And the rounds themselves use shell stitches and double crochet, so it's perfect for anyone with minimal crochet experience.
Get the Pattern here

20. Super Star Crochet Blanket Pattern by Sew Sew Baby Store
This Super Star Crochet Blanket Pattern (so named due to its size) is worked using the corner to corner (c2c) crochet method. This is an easy crochet technique that creates a wonderful texture and works up quickly.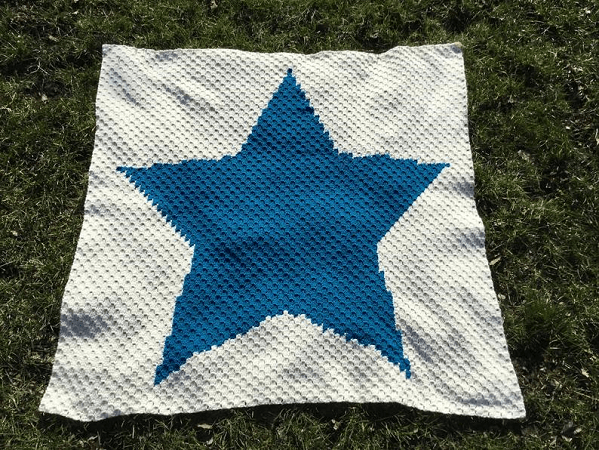 Get the Pattern by Sew Sew Baby Store here
Which of these crochet star blanket patterns shine the most for you?
We love to see your finished projects! Post some pictures on our Facebook Page and show off your stitches.

Are you kinda digging this blanket thing? We've got a lot more for you to make! Check out our Heart Crochet Blanket Patterns, Crochet Owl Blanket Patterns, Crochet Unicorn Blanket Patterns, Crochet Mermaid Tail Blanket Patterns, and so much more!

So don't waste a single minute more and head straight into your favorite crochet star blanket pattern!