We are big Owl fans around here and if you are too, you'll love to decorate your room with these crochet owl blankets! We've seen all sorts of adorable and unique crochet blanket patterns, but this collection is a real hoot!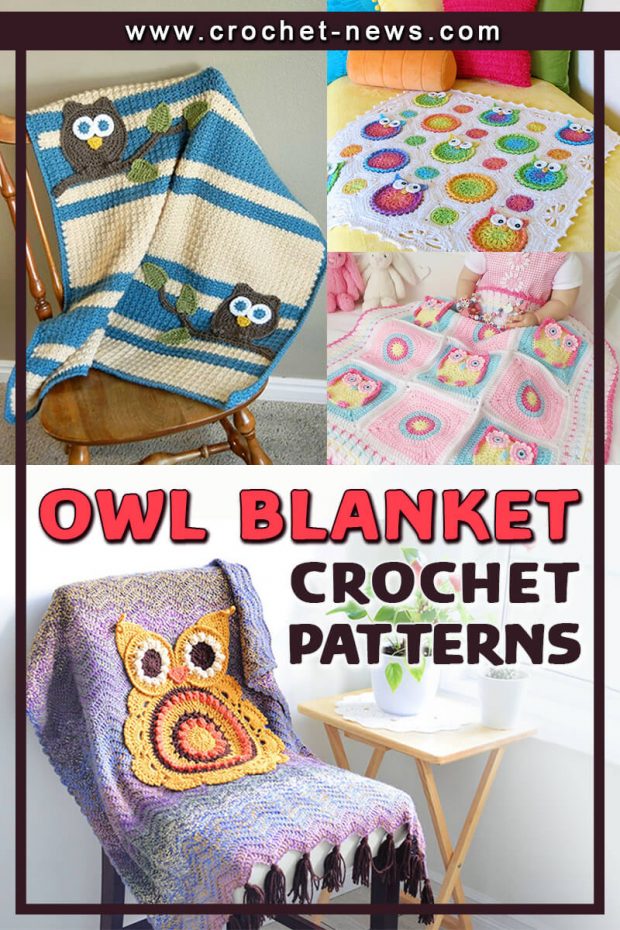 10 Owl Crochet Blanket Patterns
These crochet owl blanket patterns make wonderful baby gifts and a must-have piece for those of you who are owl-obsessed like most of us here. They are too cute to pass by!
1. Hooded Crochet Owl Blanket Pattern by MJs Off The Hook Designs
This owl crochet blanket is designed as a gorgeous hooded fringe throw. Wrap yourself up, forget your worries and be the owl! Or simply lay the blanket over top and admire your cozy owl blanket.

When not in use tuck into a pillow. This fun whimsical owl baby blanket will make any owl fans day and makes the perfect gift!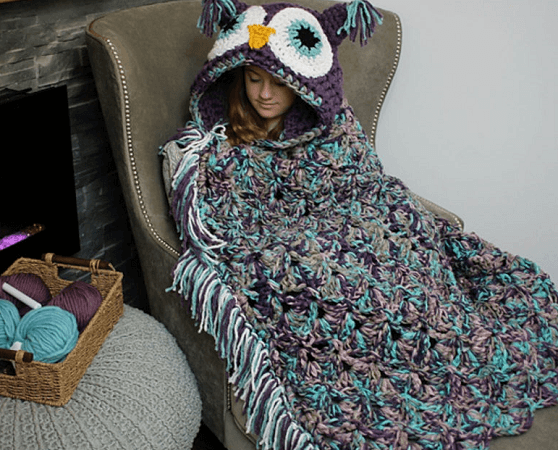 Get the Pattern by MJs Off The Hook Designs here

2. Crochet Owl Blanket Pattern by Owl B Hooked
Simple, modern, and gender-neutral design, this Crochet Owl Blanket makes for an adorable and unique 1st birthday or baby shower gift! The written size allows it to be used as a security or snuggle blanket well into toddlerhood!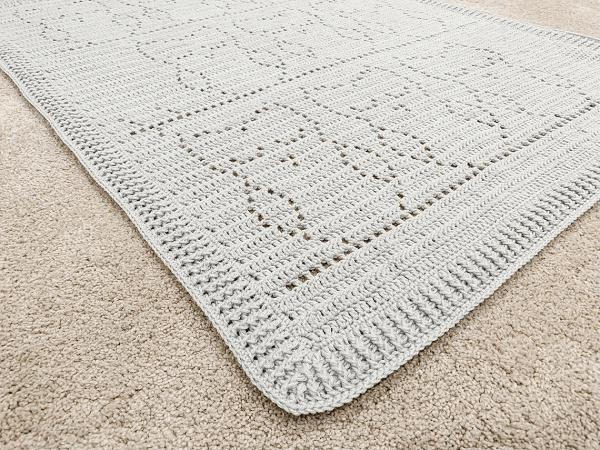 Get the Pattern by Owl B Hooked here

3. Hexagon Night Owl Crochet Blanket Pattern by Nana's Crafty Home
This is a simple blanket to make using the easy to learn hexagon motif, in various colors all joined to create this cute owl. The crochet owl baby blanket pattern free uses the whole hexagon and the two half-hexagon motifs, and the invisible mattress seems to join.

A simple border is added as a finishing touch and this owl is good to go. He makes a bold owl kinda statement and easy to customize with your favorite colors.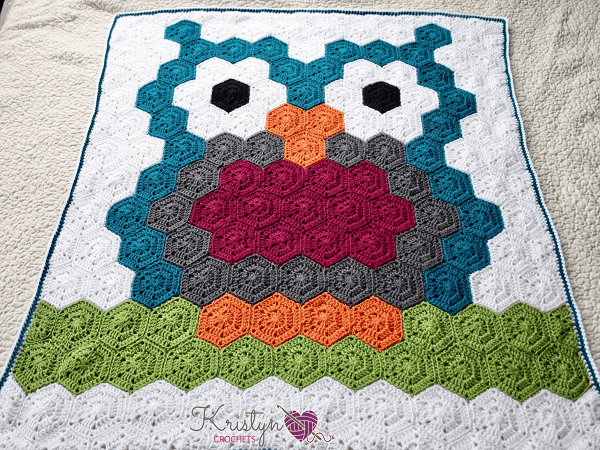 Get the Pattern here

4. Crochet Owl Baby Blanket Pattern by Kerry Jayne Designs
This little Owl blanket is just the right size for a stroller, crib or moses basket. The Owl squares are fun to make, with simple double crochet seam joining them together and a cute dotty border adding the perfect finish!
It can be adjusted and made to any size to fit requirements simply by adding more granny squares.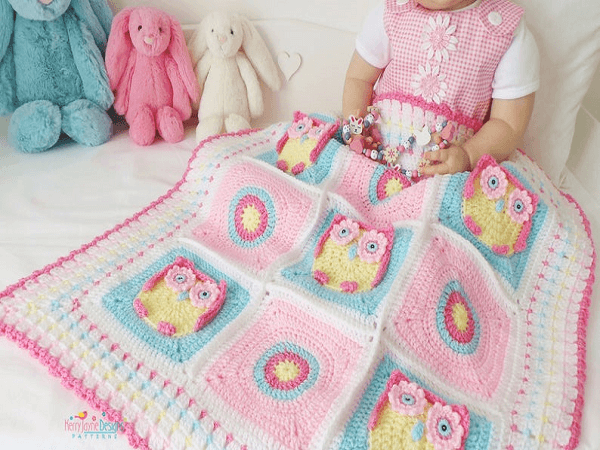 Get the Pattern by Kerry Jayne Designs here

5. Retro Owl Crochet Blanket Pattern by Ira Rott Patterns
Chevron never gets old, neither does a wise owl. In a world where you can be anything, be who you are, and snuggle up in your very own Retro Owl Crochet Blanket. The finished size is approximately 36" (91.4 cm) widthwise X 41" (104.1cm) lengthwise after blocking and including tassels.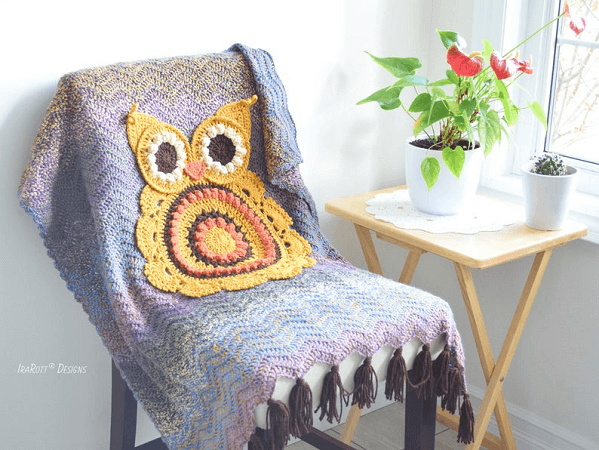 Get the Pattern by Ira Rott Patterns here

6. C2C Crochet Owl Baby Blanket Pattern Free by Repeat Crafter Me
If you've always wanted to give the corner-to-corner technique of crocheting a try, this Crochet Owl C2C Baby Blanket Pattern is a great project to start with!

The owl design is created with consistent lines and minimal color changes, plus a detailed written and photo tutorial is included for you to follow if you are a beginner which includes directions on how to do increases and decreases, how to add new colors, and how to carry yarn.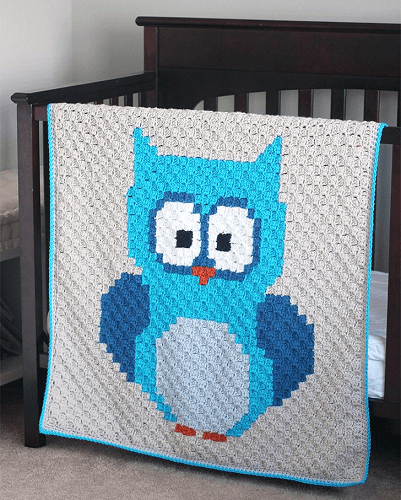 Get the Pattern here

7. Owl Baby Blanket Crochet Pattern by Abby Cove
This darling owl crochet blanket can be made up in any color scheme you wish to. The crochet owl blanket pattern also includes bonus instructions for the lovey size baby blanket too!

The textured stitch provides interest along with stripes and, has a fun corded edge. This would make a beautiful and unique baby shower gift!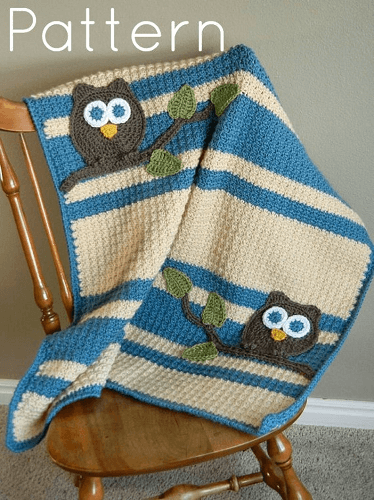 Get the Pattern by Abby Cove here

8. Hooded Crochet Owl Baby Blanket Pattern Free by Petals To Picots
This Hooded Crochet Owl Baby Blanket Pattern Free is so cute and cuddly and makes a great gift for a baby shower or for any new mom. As written, the hooded crochet owl blanket is perfect for babies and toddlers, but the pattern is so easy to customize for any size you desire!

Another plus, this hooded blanket pattern is also so versatile – just a change of yarn turns this pattern from a comfy hooded blanket to a super-absorbent hooded towel!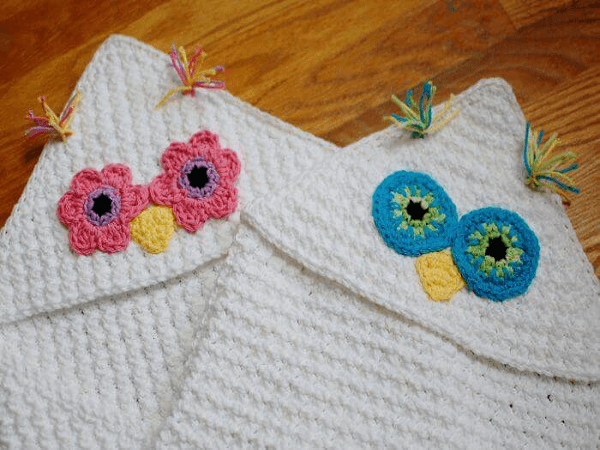 Get the Pattern here

9. Security Owl Baby Blanket Crochet Pattern by One And Two Company
Without question, this is one cute little Security Owl Baby Blanket! It's a blending of both worlds, a blanket and a tiny adorable owl attached to it. Think of what a fantastic gift this would be and the color combinations you could come up with!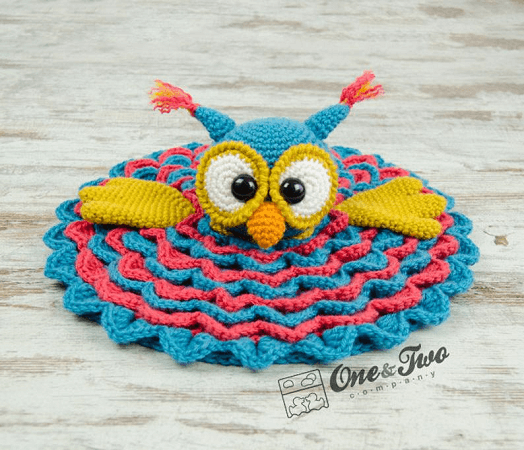 Get the Pattern by One And Two Company here

10. Owl Baby Blanket Crochet Pattern by The Hat And I
How great is the Owl Baby Blanket Crochet Pattern? And who doesn't love blankets? Especially one with tiny owls on it. Its colorful, it's warm and cozy and it's the owl baby blanket crochet pattern!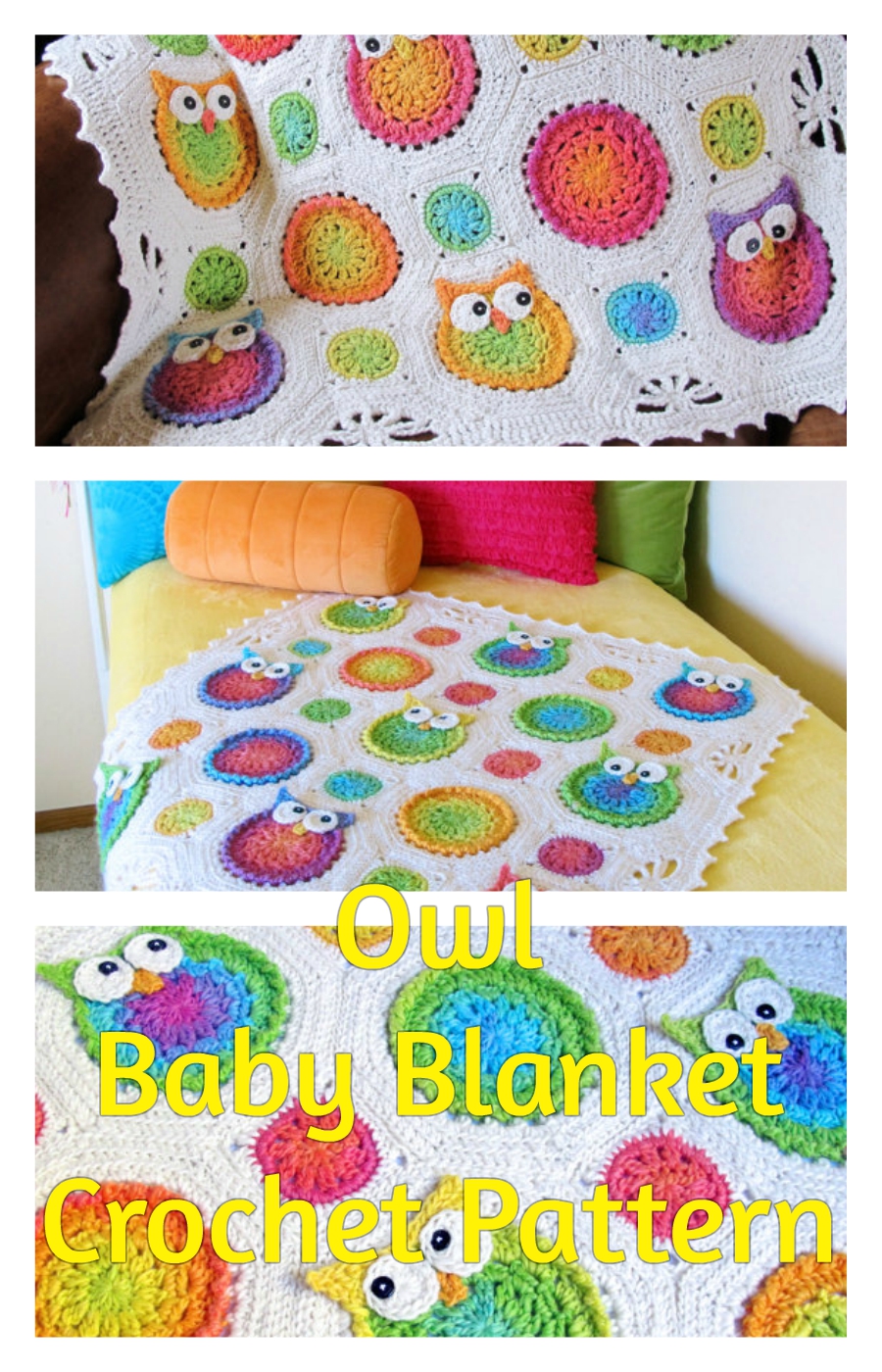 For the most part it serves a utility but it's just so damned cute. The tutorials and documentation on etsy.com will have you a pro-blanket crocheter in no time flat.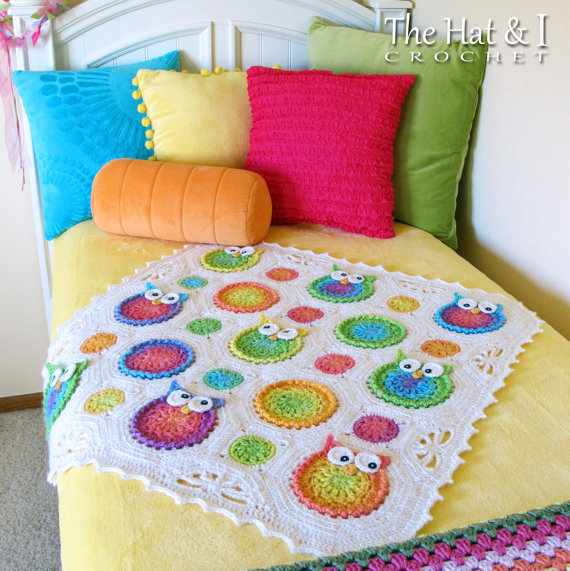 Materials for the Owl Crochet Blanket
So what exactly do you require to make a crochet blanket?
Medium (4) weight yarn – recommended is A self-striping yarn, Knit Picks Chroma Worsted
and groovy colorway yarn of any color for the colorful bits.
Size I-9 (5.5mm) crochet hook
Tapestry needle
18 buttons for eyes (optional). You may choose to crochet black circles in lieu of buttons for a 'baby safe' blanket.
Needle & thread – for sewing buttons to owl eyes
The finished blanket, if you follow the instructions on the PDFs will measure about 32″ X 32″ inches.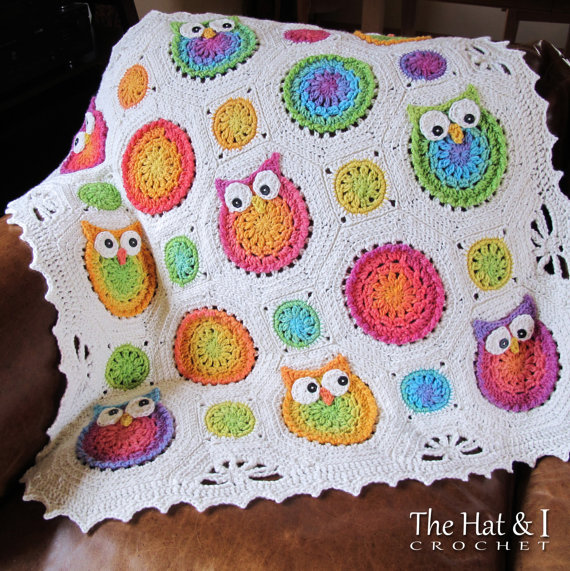 Gifting The Owl Baby Blanket Crochet Pattern
I made a few crochet blankets a while back for my kids and I have to tell you they still love them. And this is for a 12 and 10 year old whose love only lasts as long as you have candy. I guess the blanket must be candy to their eyes because they are adorable.
The owl crochet blanket is a nice addition to your kiddie's room and not only that but it has a myriad of other applications. You can use it as a rug, you can throw it on your sofa to make it a little homier and when the chill sets in you can just pull it over.
You can make one for your grandma to cover the old stove she doesn't use anymore or to cover an old cupboard because old wood doesn't look that good.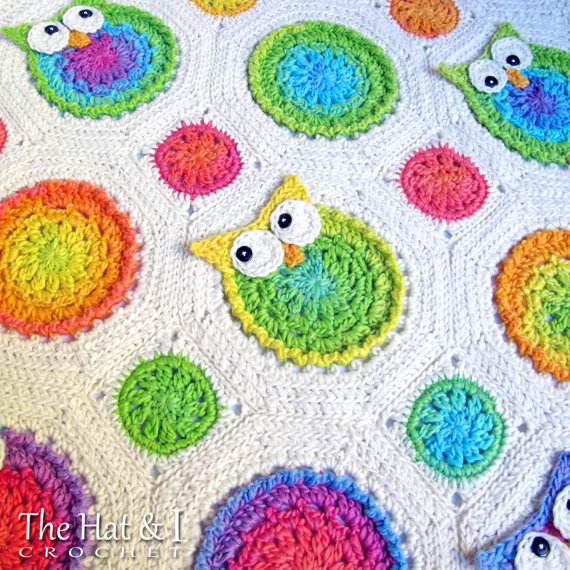 Get Started On The Owl Baby Blanket Crochet Pattern
The owl baby blanket crochet pattern doesn't restrict you. You are free to try out as many different color combinations as you want. You could also try out crocheting different types of animals on the blankets, not just owls. But admittedly I found them easy to crochet.
So it's perfect for your kids, perfect for your living room and also a perfect gift for a friend or loved one.
Let your imagination go and crochet a huge heart smack center of the blanket and give it to your romantic partner. It's sure to melt their heart with the warmth.
The owl baby blanket crochet pattern is an extremely versatile pattern. The only thing that can limit what you can do with this pattern is just how far you are willing to push your imagination.
So take the crochet blanket pattern out for a test drive now and I promise you won't regret a stitch.
Get the owl crochet blanket pattern here
Which of these crochet owl blanket patterns you've decided to make?
We would love to see how it turned out. Share your finished snuggly blankets with us on our Facebook Page. Check these Crochet Owl Patterns if you love owls, and our huge collection of Crochet Blanket Patterns if you love, well, blankets. Be sure to also check them out!
Make one (or all!) of these hoot-worthy crochet owl blanket patterns today and start hooking right away!