Are you ready for a little bit of magic? Obviously! Let into your little ones' bedrooms (or yours!) with this selection of crochet unicorn blanket patterns. Play with pastel shades and textures in order to create a handmade blankie inspired by the fairytale creatures we all love.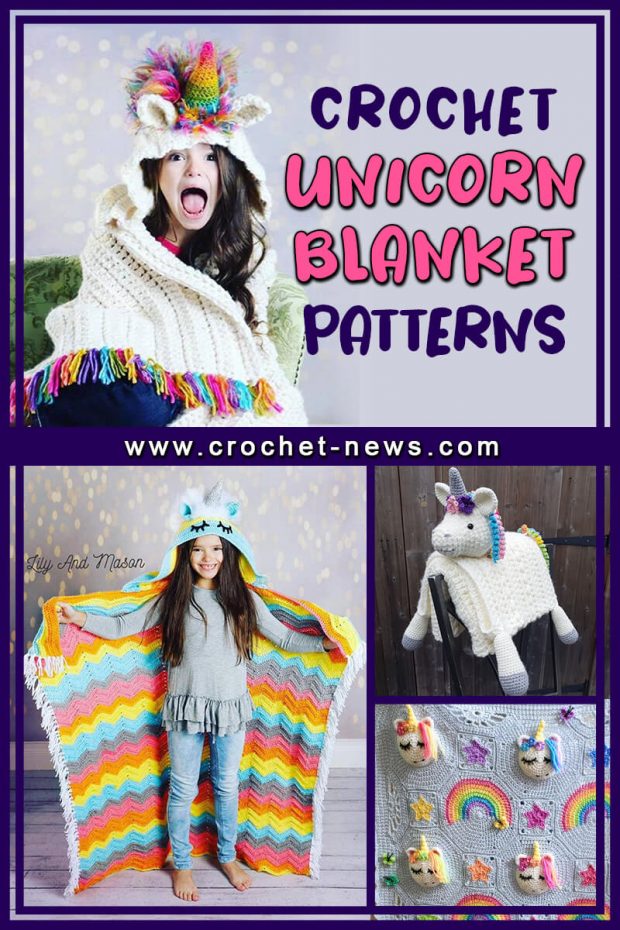 Unicorns are still a big hit with everyone, so why not be one?
10 Unicorn Blanket Crochet Pattern
These unicorn blanket crochet patterns will help you to make a custom fit unicorn blankets so you can live out your best unicorn life!
1. Utopia Unicorn Crochet Blanket Pattern by The Hat And I
Wouldn't this Unicorn Blanket Crochet Pattern make a sweet baby blanket? It would be a perfect gift, for a new little girl.
The finished crochet unicorn blanket measures 32″ X 32″, but you can make it any size you like. This blanket is a mix of pastel and bright shades, with rainbows, stars, and unicorns so you can stay magical & sparkle wherever you go!
It just has a lot of pieces to work on but all worth it!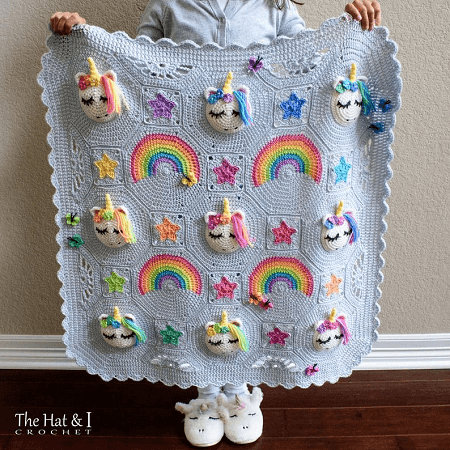 Get the Pattern by The Hat And I here

2. Crochet Unicorn Blanket Pattern by Owl B Hooked
This crochet unicorn blanket features a subtle, peek-a-boo unicorn design with no need for several color changes or ends to weave in. Or add all the color your heart desires!
Simple, modern, and unique, it makes for a special newborn baby or 1st birthday gift. The size allows it to be used as a security or snuggle blanket through toddlerhood as well!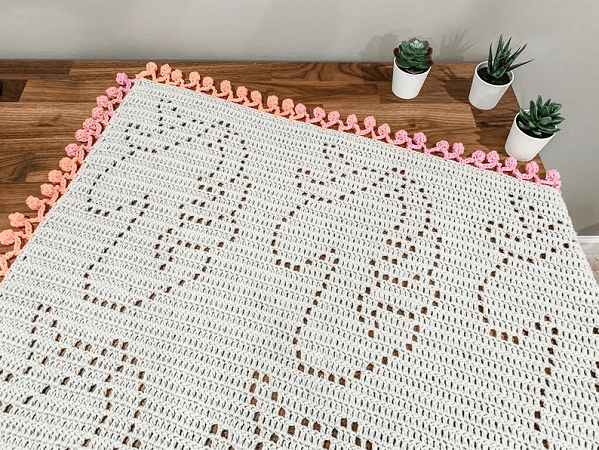 Get the Pattern by Owl B Hooked here

3. Baby Unicorn Blanket Crochet Pattern by Red Heart
Don't let this clever crochet blanket fool you. It doubles as a huggable unicorn pillow too! Start it in any shades you prefer, then practice double crochet, half double crochet, single crochet, and treble crochet techniques to complete a custom original.
Button and loop closures keep this convertible unicorn crochet blanket securely rolled in pillow mode.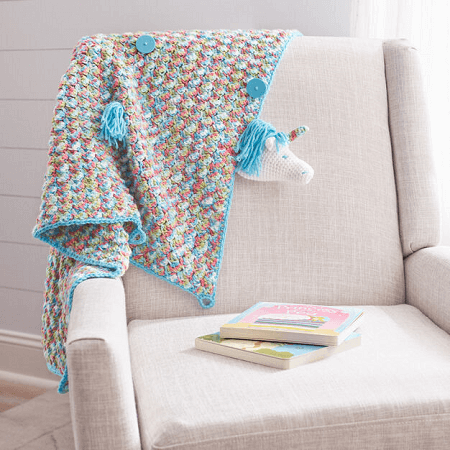 Get the Pattern here

4. 3 In 1 Rainbow Baby Unicorn Blanket Crochet Pattern by Crafting Happiness UK
What a great idea! A cuddly warm blanket that the baby can play with and then it folds into a decorative toy. This unicorn crochet blanket is perfect for a minimalist home, it's gender-neutral and looks gorgeous when folded and rested on the armchair.

Made with chunky/bulky yarn, this blanket is warm and soft and perfect for the cold months ahead. Crochet the mane and tail in the color of your choice to suit your decor and taste.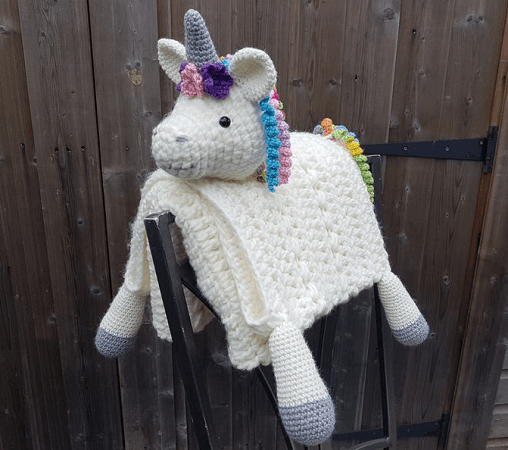 Get the Pattern by Crafting Happiness UK here

5. Cuddle Up Unicorn Hooded Blanket Crochet Pattern by Moogly
This Cuddle Up Unicorn Hooded Blanket features the corner to corner stitch, super cozy styling – and a spiral horn ready for any little one's fairy tale dreams!

Who wouldn't love to cuddle up in such a magical unicorn hooded blanket? Just add the ears and a horn to the hood and if you prefer you could also create a colorful mane.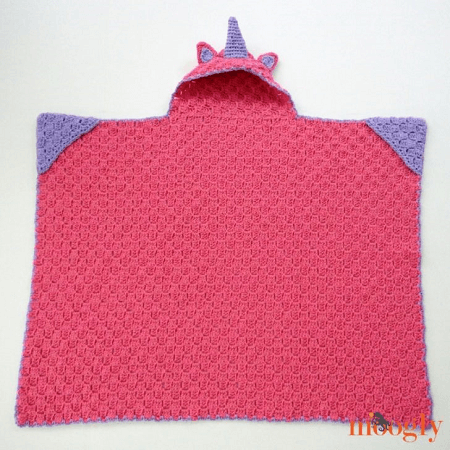 Get the Pattern here

6. Crochet Unicorn Sack Pattern by Yarnspirations
Did anyone say slumber party? Whether a sleepover or for absolutely no reason at all, your kids will love the snuggle factor of this adorably fluffy unicorn.

This Crochet Unicorn Sack is pretty straightforward. The Unicron is a straight shot up from the bottom to the top fringe. There is some minor growing at the bottom. Then you will crochet the nose as a separate unit and sew it on.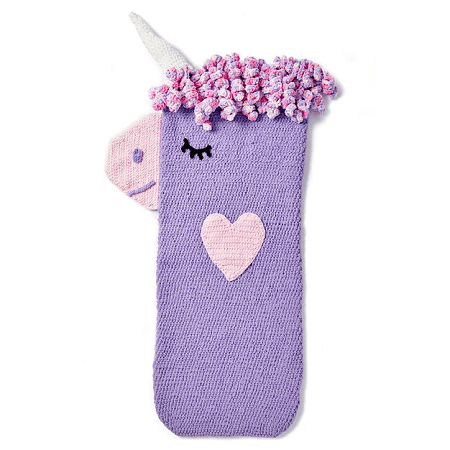 Get the Pattern here

7. Unicorn Hooded Blanket Crochet Pattern by Lily And Mason Boutique
Let your magical dreams come true as you wrap this colorful Unicorn Hooded Blanket around you! Easily adjustable to an adult size blanket because not only kids will love it. Everybody surely would love to snuggle under this blanket, right?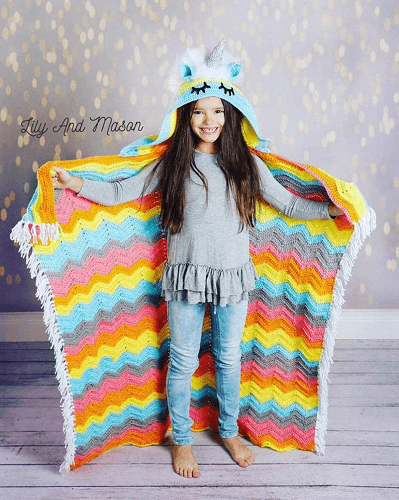 Get the Pattern by Lily And Mason Boutique here

8. Unicorn Dress Blanket Crochet Pattern by Carol Hladik Designs
This crochet unicorn blanket is designed to look like a Unicorn Dress. The pattern comes with instructions for 4 sizes and works up quickly with a large hook and 2 strands of yarn. You will love the brightly colored ruffled skirt and roses, but imagine so many color combinations!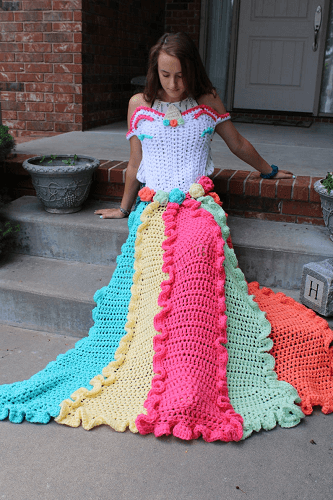 Get the Pattern by Carol Hladik Designs here

9. Unicorn Dreams Afghan Crochet Pattern by Evelyn And Peter
Are you ready for the ultimate c2c unicorn blanket? It uses double-stranded Terryspun in the most perfect array of colors for the unicorn. The bulky yarn works up quickly and the unicorn lover in your life will be snuggling under it in no time!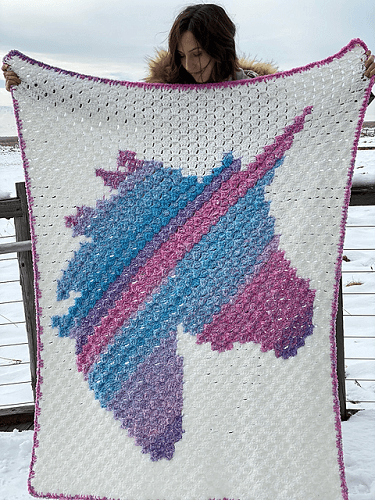 Get the Pattern here
10. Crochet Unicorn Hooded Blanket Pattern by Lily And Mason Boutique
This Crochet Unicorn Blanket Pattern is the perfect way to spoil your children (or your inner child). And we think that the perfect place to start is with this hooded unicorn blanket pattern.
Pretty soon everyone on the block will wanting one of these beauties! It will not only look magical, but will provide all of the warmth and comfort you could hope for at home.
How do you combine the beauty of a unicorn with the warmth and comfort of a crochet blanket? I'll tell you how, the Crochet Unicorn Blanket Pattern. The unicorn blanket crochet pattern is the perfect way to spoil your kids or indulge your inner child!
You might be wondering how the crochet unicorn hooded blanket pattern comes together or how it earns its name and reputation. Well, this item is a hooded blanket with the hood portion having a unicorn horn attached to it. It is the perfect piece to stay warm and toasty while at the same time keeping it fun.
While checking out some popular blanket patterns on Pinterest, I stumbled upon this gem. I was intrigued at first especially considering I just finished putting together a couple of unicorn Amigurumi toys for my kids. Nothing could be more fitting than that pair; a unicorn stuffed toy and a crochet unicorn blanket.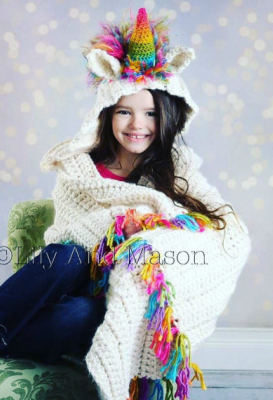 Unicorn Hooded Blanket Materials
Eight to nine skeins of Lions Brand Wool-Ease (thick and quick)- Fishermann.
One skein of Lions Brand Landscape
A Toddler Sized unicorn blanket requires eight skeins
Child sized blanket will need anywhere between 8 to 9 skeins of yarn
A Teenager to Adult size blanket needs nine
Needle sizes 8.0 mm, 5.5 mm, 6.0 mm, and 4.0 mm or U.S sizes J, L, I, and G.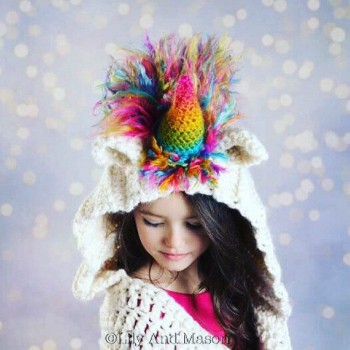 This unicorn blanket crochet pattern is one of those rare crochet patterns you run into every once in a while. I've been reading reviews on how popular this pattern is with people of all ages.
I am surprised I didn't learn of it sooner. I consulted a friend of mine from work who has experience pulling off this kind of project.
She confirmed to me that her daughter went nuts for the crochet unicorn blanket. My two girls and her daughter attend the same school and have similar interests, and I have utmost confidence the project will be a success.
Available Sizes
The finished unicorn crochet blankets are suitable for Toddlers aged between 2 years to 4 years, Children aged between 5 years and ten years, Teenagers and Adults.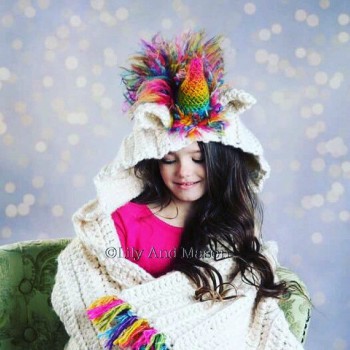 Crochet Skill Level Needed
An intermediate skill level is a great place to start although the pattern doesn't prohibit beginners to try. Armed with the blanket's crotchet instructions and the pictures, almost anyone with a basic understanding of crochet terms and abbreviations can do a great job at it.
This unicorn hooded blanket pattern can be purchased and downloaded in PDF format. The PDF document is accompanied with detailed instructions written in simple American English and using standard American terms and abbreviations. I am confident that everyone on the block will want one of these beauties soon as they're done!
The crochet unicorn blanket does not only look magical but will also provide all of the warmth and comfort a mother can give at home. I'll come clean on the fact that unicorns still intrigue me to this day.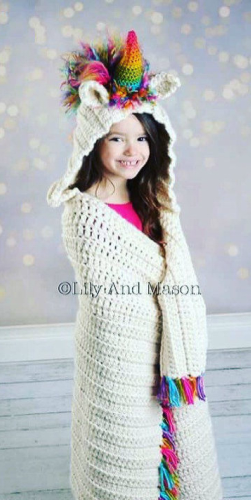 My Final Thoughts On The Crochet Unicorn Hooded Blanket Pattern
How cool would it be if unicorns were real? That aside, the unicorn crochet blanket is the best method I have come up with of indulging my love for all things mythical without giving off a strange vibe. Stuffed unicorns are great and all but I wouldn't want to go shopping with one of those let alone allow my kids to see me play with one, no.
I can, however, stay warm with the adult sized blanket and also keep my little adventurers warm with a couple of these blankets. Am almost done, and the interest my girls are showing in what mommy is doing is quite considerable I must say.
For now, I haven't told them about the unicorn hoodie, but that is going to be part of the surprise.
I can't say that this blanket is technical or that there are any problems or difficulties a beginner would experience for the most part. For individual well versed in crochet terms and instructions, it should be smooth sailing all the way.
I expect to finish the unicorn crochet blanket in a couple of hours so it shouldn't take long.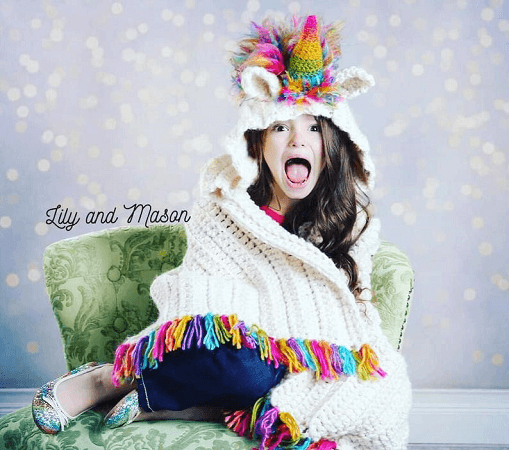 Get The Crochet Unicorn Blanket Pattern Here
Do you know someone who would simply love to snuggle up in these magical crochet unicorn blankets?
We can't wait to see your creativity and all the different colors you folks come up with. When you complete one, please post it on our Facebook Page. We love seeing your work!

If you're not into unicorns (sad), we have all sorts of adorable blanket patterns you can try, including owl, mermaid, and shark.

If you're children and even you have gotten swept up by the Unicorn fever, this list of 10 Crochet Unicorn Blanket Patterns is certainly what you are looking for.