We've rounded up 37 of the most amazing Unicorn Crochet Patterns to help you bring some extra sparkle into your life. From accessories, home decor, and toys (just to name a few), there's sure to be something here to suit every kind of unicorn lover!
They're magical, mythical, and even quite mystical. What creature are we talking about? Unicorns of course! This whimsical animal has been doing the rounds online lately, mainly due to the fact that they're awesome and totally on-trend.
Be warned – this post is overflowing with cuteness!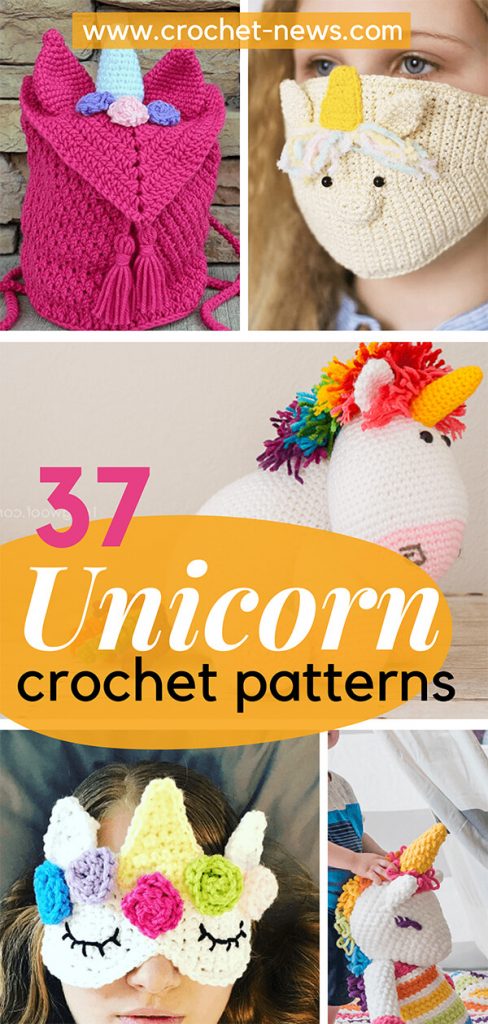 1. Emmie, The Unicorn Crochet Pattern by Kristel Droog
Emmie, the Unicorn Crochet Pattern is an absolute winner! We can't think of any little girl who wouldn't go nuts for her own bright and magical unicorn.
Rainbows and unicorns bring such joy and warmth to a child's heart and if that doesn't move you to tears, nothing else will. To get the pattern right, it is recommended to have the original Horse Piem pattern to pull off the unicorn crochet pattern.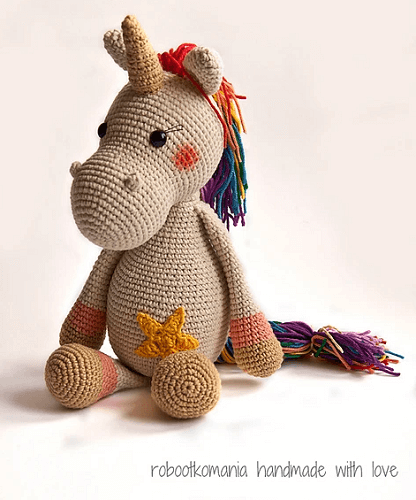 Get the Pattern here

2. Amigurumi Unicorn Crochet Pattern by My Cro Wonders
This Amigurumi Unicorn Crochet Pattern will make you all warm and fuzzy inside. With detailed, step by step instructions, you will make your own adorable amigurumi unicorn.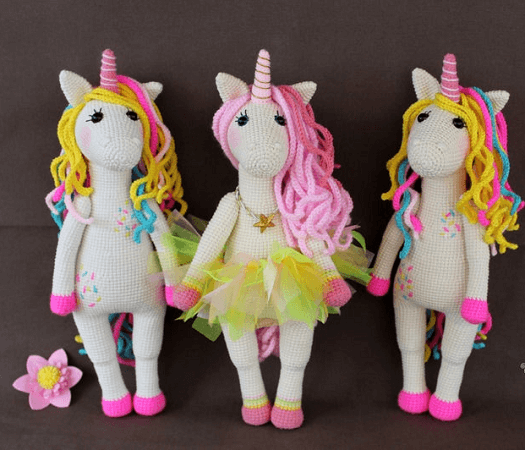 Every detail is perfect from her cute little horn to the long flowing curls and dainty ears. And doesn't she looks so cute in her little tulle tutu?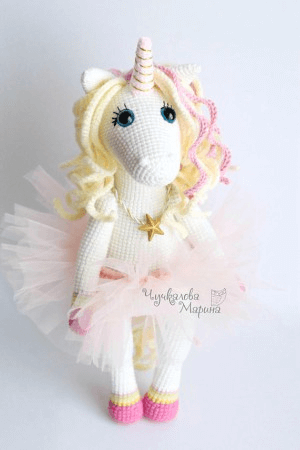 Get the Pattern by My Cro Wonders here

3. Crochet Unicorn Hooded Blanket Pattern by Lily And Mason Boutique
This Crochet Unicorn Blanket Pattern is the perfect way to spoil your children (or your inner child). It will not only look magical but will provide all of the warmth and comfort you could hope for at home.

The finished blankets are suitable for toddlers aged between 2 years to 4 years, children aged between 5 years and ten years, teenagers, and adults.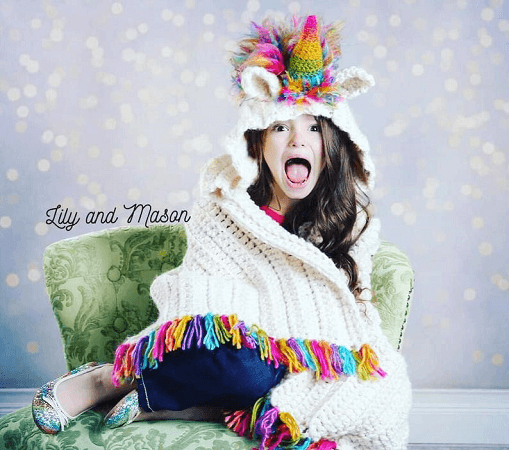 Get the Pattern by Lily And Mason Boutique here

4. My Girly Unicorn Amigurumi Crochet Pattern by My Girly Unicorn
This magical unicorn amigurumi is the pet of a girl's dream. Isn't she so girly with her candy colors?
Her finished size is 9.5 inches in length from the bottom of hooves to top of the head, excluding horn which is 1.5 inches in length. Just the right size for a cuddle buddy!
Make one for every special person in your life – including yourself, of course!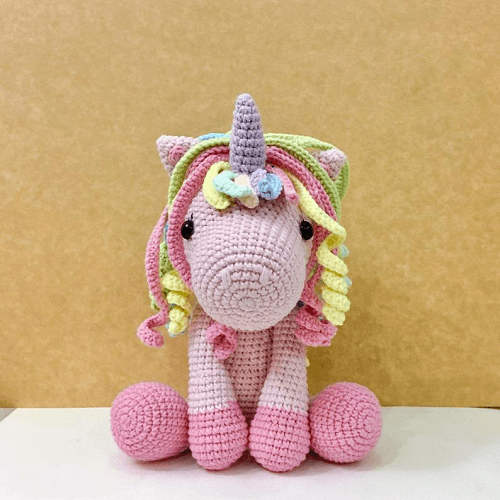 Get the Pattern by My Girly Unicorn here

5. Unicorn Blanket Crochet Pattern by The Hat And I
Wouldn't this Unicorn Blanket Crochet Pattern make a sweet baby blanket? It would be a perfect gift, for a new little girl.
The finished blanket measures 32″ X 32″, but you can make it any size you like. This blanket is a mix of pastel and bright shades, with rainbows, stars, and unicorns so you can stay magical & sparkle wherever you go!
It just has a lot of pieces to work on but all worth it!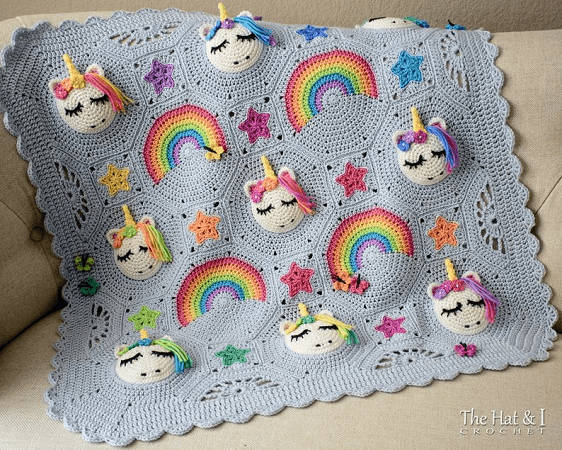 Get the Pattern by The Hat And I here

6. Ragdoll Unicorn Amigurumi Free Pattern by Spin A Yarn Crochet
This Ragdoll Unicorn Crochet Pattern has several separate pieces (13 pieces, not including the mane and tail) so there is a fair amount of sewing, assembling, and attaching. But the result is truly worth it!
The finished measurements are approximately 36 cm (14 inches) tall and the body is about 16 cm (6 inches) wide.
A beautiful ragdoll-style amigurumi unicorn to add a little sparkle to your day!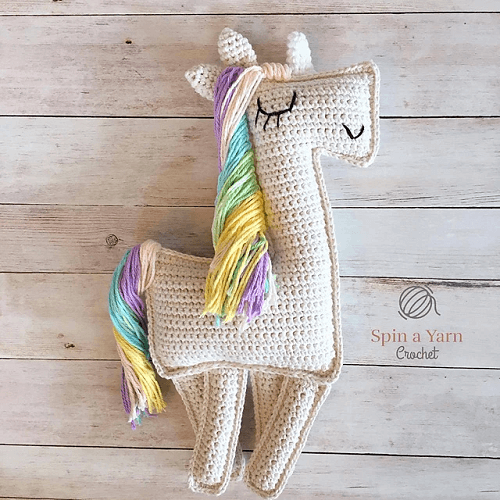 Get the Pattern here

7. Unicorn Applique Crochet Pattern by Fancy Infancy Crochet
The new love of young girls, this Unicorn Applique Crochet Pattern can be made in the same colors as shown here or any colors that you like.
This beautiful crochet unicorn applique would be perfect for anyone who loves this mystical creature!
She is easy to work up and would be perfect for any embellishment – giving your other crochet projects a lovely fantasy look.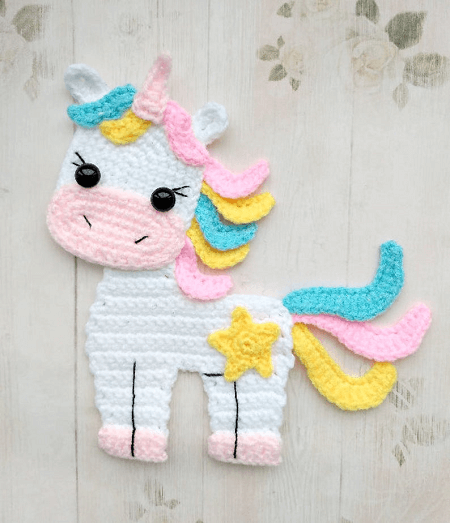 Get the Pattern by Fancy Infancy Crochet here

8. Unicorn Pencil Bag Crochet Pattern by 5 Little Monsters
This adorable unicorn pencil bag is a perfect little bag for holding pens and pencils, or crochet hooks, makeup, or anything else you want to put in it.
A button flap is used to keep the small items safe in the bag. This project is an ideal quick and easy, any time gift, which is so simple to craft.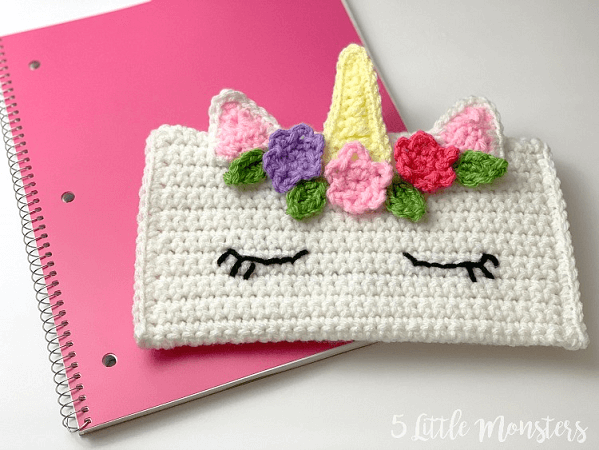 Get the Pattern here

9. Rainbow Cuddles Crochet Unicorn Pattern by One Dog Woof
Make a large, colorful, and totally squishable rainbow unicorn with simple crochet stitches, some yarn, and some stuffing.
You can make the mane, tail, and feet any color you'd like to make it extra special for the recipient.
If you want a large, super cuddly, takes-up-serious-room-on-the-bed stuffie, this Rainbow Cuddles Crochet Unicorn Pattern is worth the try!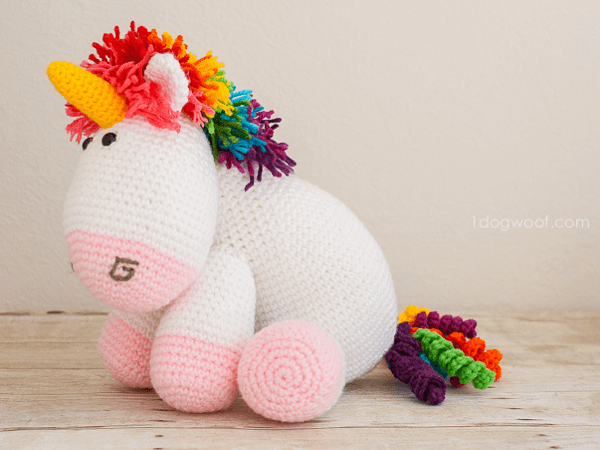 Get the Pattern here

10. Comet The Unicorn Amigurumi Pattern by Projectarian
Comet, the unicorn has a unique body that sets her high above the rest, with oodles of magic to match!
This enchanted babe's body is made all in one elegant piece so there's no sewing except to attach the head, facial features, and hair.
The pattern for this lovely unicorn includes 96 pages of accurate, easy-to-follow instructions and over 550 high-quality images!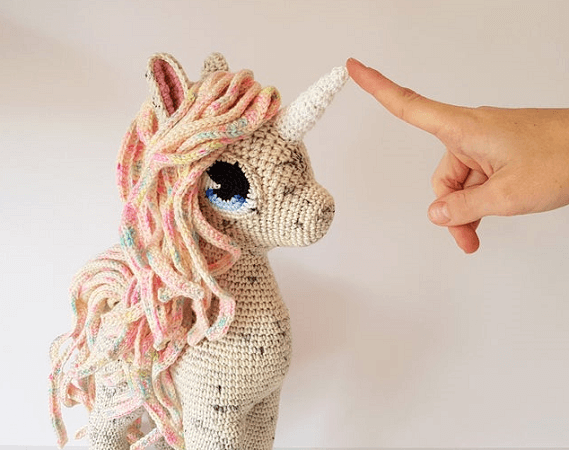 Get the Pattern by Projectarian here

11. Unicorn Pillow Friend Crochet Pattern by Hooked On Handmade Happiness
This sweet Unicorn Pillow Friend Crochet Pattern is the perfect huggable size and looks so pretty sitting on a bed or shelf.
It's a great amigurumi beginner project. It's just 2 rectangles to make the pillow with the additions added!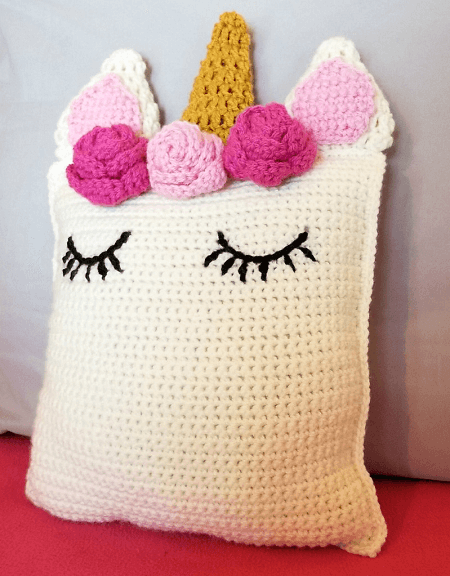 Get the Pattern here

12. Crochet Unicorn Wall Hanger Pattern by A Crafty Concept
This magical crochet unicorn wall hanger is the perfect addition to any unicorn lover's room!
It is a very cheerful, colorful and has a boho look. The design is original and looks great – a project the will surely delight everyone!
The pattern is simple and easy-to-follow. The fun part is, you choose the yarn and the colors!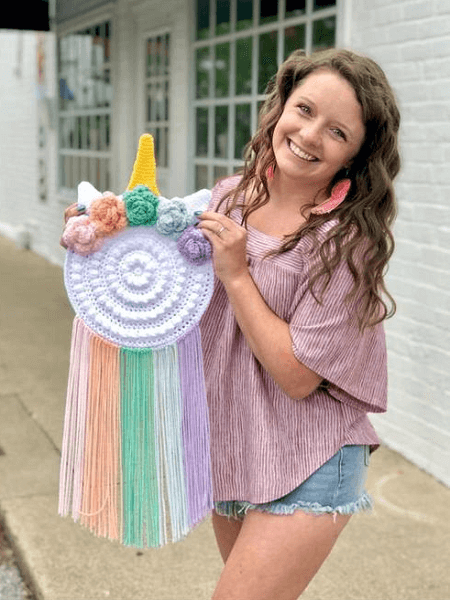 Get the Pattern by A Crafty Concept here

13. Unicorn Hooded Scarf Crochet Pattern by The Velvet Acorn
This unicorn hooded scarf is handcrafted and designed with comfort and warmth in mind.
This piece can be made with or without the ears, horn, and mane. It can be done as just a hooded scarf with or without the fringed bottom pockets if wanted.
This hooded scarf make's a wonderful gift and of course also something great for you or your little one to wrap up in too.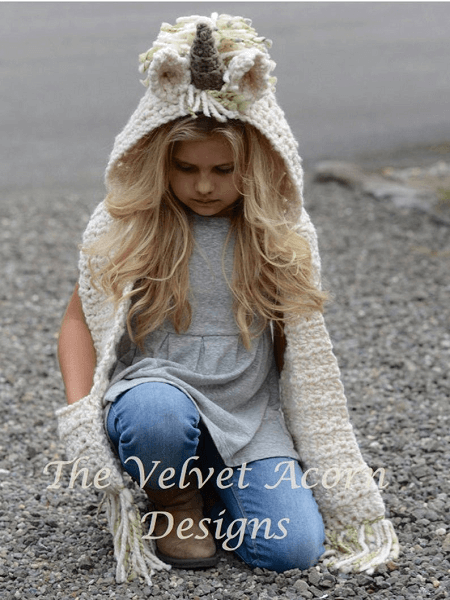 Get the Pattern by The Velvet Acorn here

14. Unicorn Donut Amigurumi Pattern by Minasscraft
If you love unicorns, donuts, and sparkles, this Unicorn Donut Amigurumi Pattern is perfect for you.
These unicorn donuts look super cute as decoration or why not use them as play food for your kids (or yourself).
You may also add squeakers or jingly bells to make a unique unicorn donut baby rattles. Or maybe hang them somewhere as ornaments. Isn't that cute?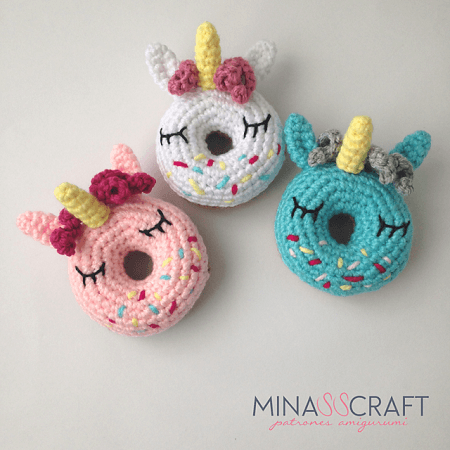 Get the Pattern here

15. Magical Unicorn Headband Crochet Pattern by Chain 8 Designs
Do you have a little girl who loves unicorns and dressing up? You can make this adorable Magical Unicorn Headband for her.
This lovely head accessory can be used as a party favor for a Unicorn Party. It's also perfect for a Unicorn costume or Halloween.
This easy to make headband is the perfect way to make yourself(unicorns aren't just for kids) into a magical unicorn!
Get the Pattern here

16. Lucy, The Unicorn Crochet Pattern by Cutie Me Store
A magical unicorn is descending from the clouds in a rainbow slide directly to you… will you take her with you?
This beautiful unicorn is named Lucy and she measures 9″ (23cm) tall. You can use any weight yarn, just make sure that your hook is appropriately sized for your yarn, so that you get a nice, solid fabric.
Crochet her as a gift so she can share love and luck with everybody!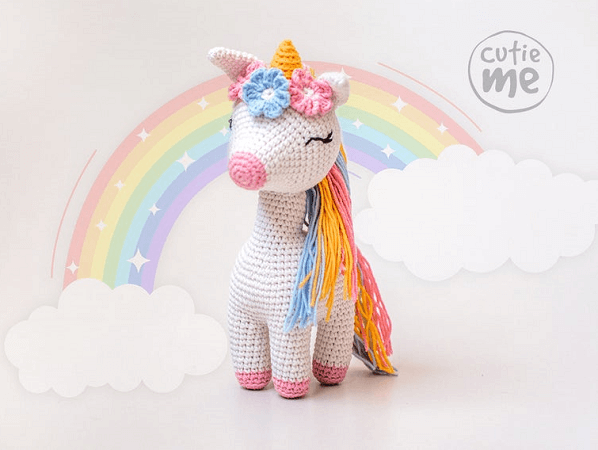 Get the Pattern by Cutie Me Store here

17. Free Giant Unicorn Crochet Pattern by 3am Grace Designs
From her beautiful mane to her regal horn, this project is sure to delight the unicorn lover in your life,
This Free Unicorn Crochet Pattern is a beginner-level pattern. Her finished size is 13″ x 9″ using the recommended hook size.
You are welcome to go up or down a hook size to create a different dimension. You can even hold two pieces of yarn together with a larger hook to create a giant cuddler. The sky is the limit!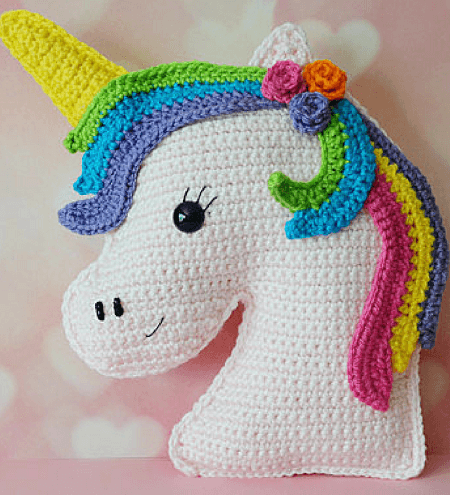 Get the Pattern here

18. Magical Unicorn Backpack Crochet Pattern by Sheepish Stitches
This Magical Unicorn Backpack is super cute and perfect for every little girl or unicorn lover in your life.
This bag features a crocheted cord-like strap in which can be crocheted to the desired length per need.
Although it has a cute tassel drawstring to keep your little items safely inside, the last row of the bag flap adds a bit of extra space to optionally add the perfect bead, gem, or jewel for additional closure.
This lovely backpack pattern s very easy to crochet. It will make some kids smile!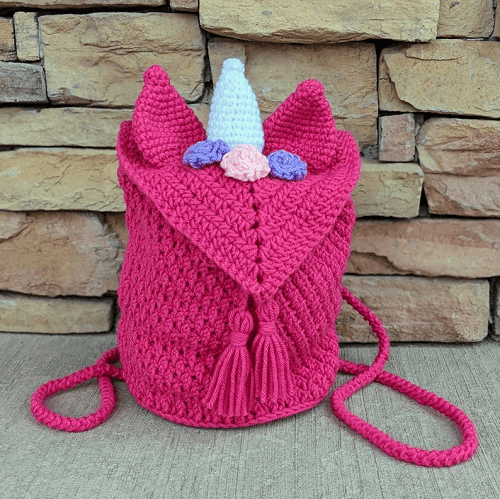 Get the Pattern by Sheepish Stitches here

19. Winged Unicorn Amigurumi Pattern by Craft Passion
This winged unicorn amigurumi is named Aile, it has wings on its back hence the name Winged Unicorn Amigurumi, and Aile is the French word for wing.
Aile is crocheted from 8 ply acrylic yarn using a 2.5mm hook, peach pink for the body, white for wings, khaki for palms, feet, and horns, with rainbow color mane and tail.
It is 15″ tall, total height in standing position, a decent size as a huggable softie.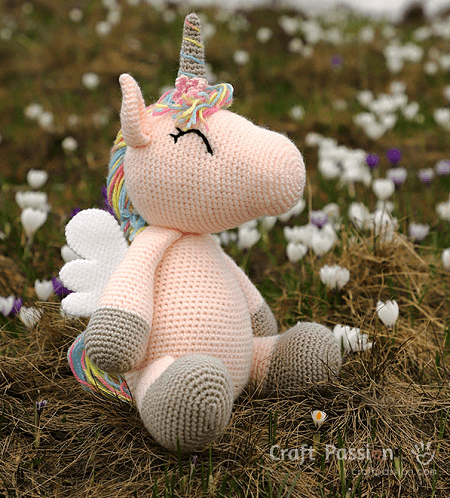 Get the Pattern here

20. Magical Unicorn Crochet Hood Pattern by Mama In A Stitch
If you have a little girl who is enthralled with unicorns. What isn't there to love with magical horned horses with their flowing manes?
This magical unicorn crochet hood has a size that fits approximately 2T-4T and measures 8.5″ front to the back of the hood, and 12.5 " from top of the hood to bottom of the cowl.
This unicorn hood features a horn, flowing "hair-like" mane, and a drawstring which helps secure the hood while it's warm and it's nice because you can adjust it to fit various little faces.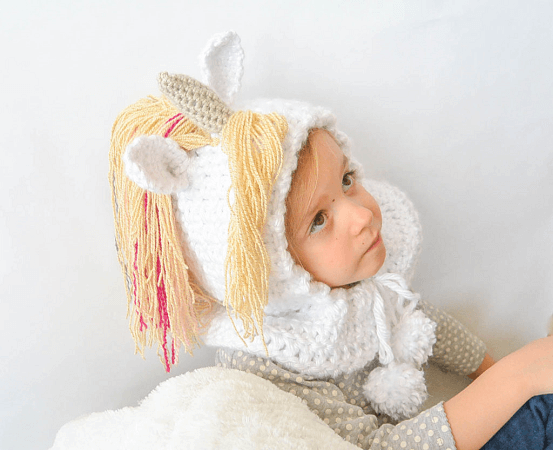 Get the Pattern here

21. Unicorn Plush Baby Rug Crochet Pattern by Clouds By Iris
Add a splash of magic to your nursery or playroom with this fabulous unicorn plush baby rug – and you don't need a hook because this one is made using arm crochet!
Don't worry if you've never tried arm crocheting before, the pattern is very detailed with lots of photographs.
It's best worked up with puffy yarn because the puffier the yarn the softer and more magical looking the finished unicorn!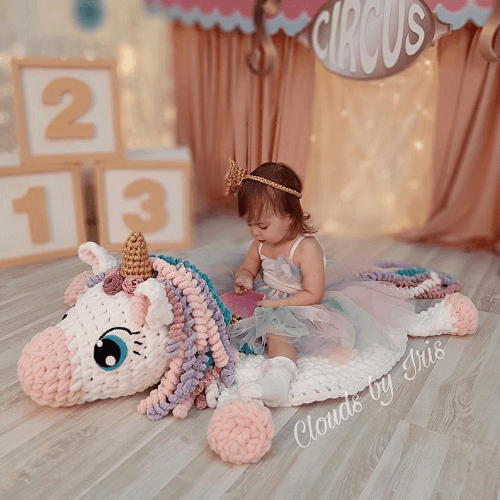 Get the Pattern by Clouds By Iris here

22. Unicorn Face Mask Crochet Pattern by Unicorn Me Shop
You'll make a cute unicorn face mask with a pocket for filter from this crochet pattern!
You can also stop on the usual mask and not add unicorn's face. This mask is not medical, but you can use it with a filter.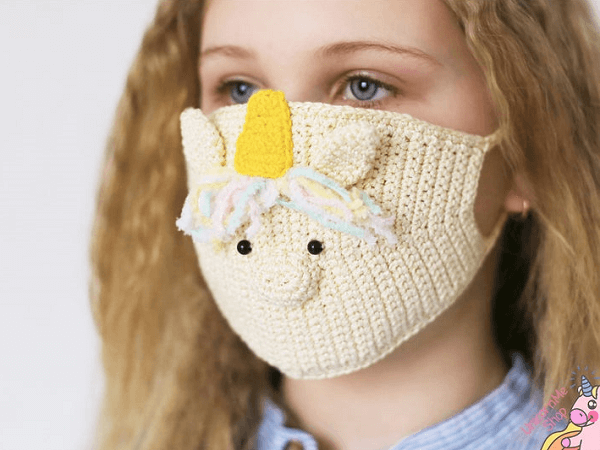 Get the Pattern by Unicorn Me Shop here

23. Crochet Unicorn Hat Pattern by Bri Abby HMA
Crochet the most amazing unicorn hat you'll ever see with this unique pattern. You'll love how beautiful & girly it is!
The perfect costume or winter hat! The gorgeous eyes are unmatched in any other pattern you'll find.
The pattern is very detailed and has pictures throughout to make things easy to understand. With these detailed instructions, even those with little crochet experience can find success in creating their own masterpieces!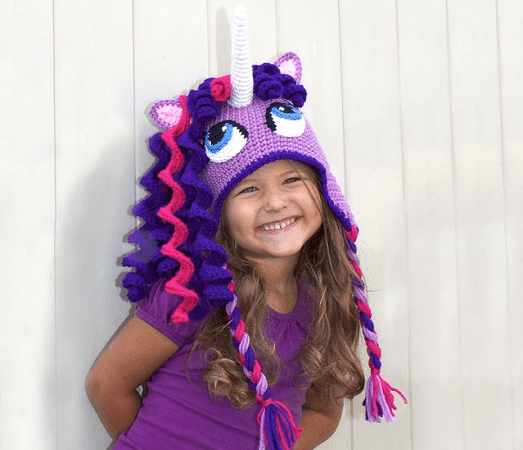 Get the Pattern by Bri Abby HMA here

24. Unicorn Scarf Crochet Pattern by Semi Sweet Crafter
Begin your holiday/fall season by diving into a whimsical fairytale with this free crochet pattern, Unicorn Scarf.
Unicorns are very popular at the moment so I'm sure any child would be happy to be seen snuggled up with this unicorn scarf.
This scarf is fun for children or adults. Since unicorns are magical, they can be made in different colors.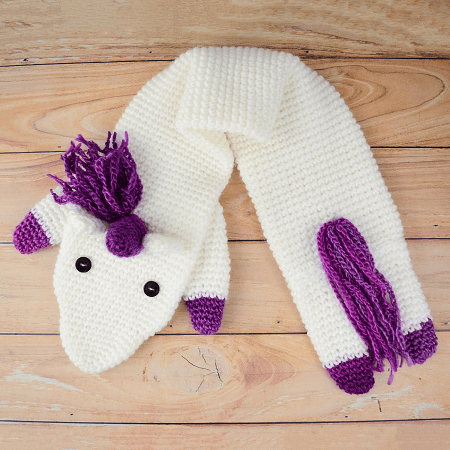 Get the Pattern here

25. Rainbow Unicorn Crochet Amigurumi Pattern by Dinegurumi
This Rainbow Unicorn Amigurumi is the most realistic and detailed out of them all.
Some of you may call it an alicorn, as it has wings in addition to a horn. No matter what you call it, this lovely crocheted creature is sure to bring love and magic wherever it goes!
With his rainbow colors and a look of fantasy, this little guy is sure to please anybody who loves unicorns. Make one for them to brighten up their day!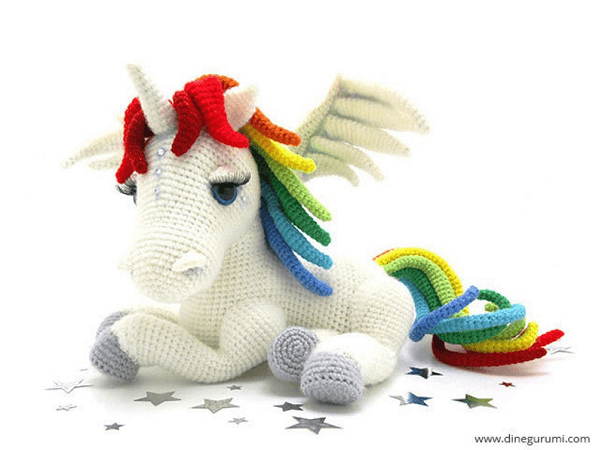 Get the Pattern by Dinegurumi here

26. Unicorn Keychain Amigurumi Pattern by Amigu World
Use this free amigurumi pattern to create cute unicorns that work perfectly as keychains or bag charms.
These adorable little unicorns work up quickly and will also be a wonderful gift for any unicorn lover friend!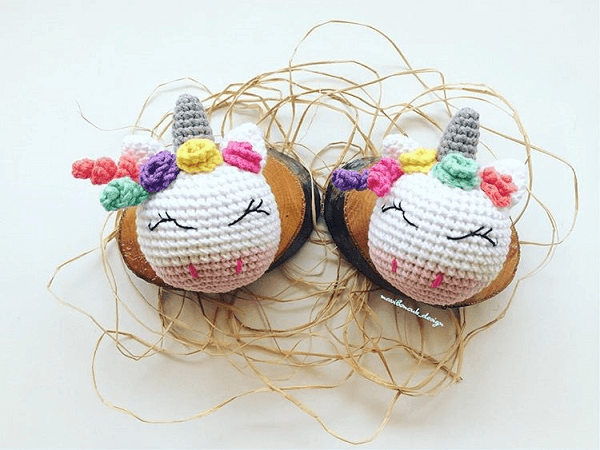 Get the Pattern here

27. Lola, Plushy Giant Unicorn Pattern by Sewrella
This crochet plushy unicorn is named Lola and she is the snuggliest, cuddliest, most colorful friend ever!
Lola is made by simple single crochet stitches and easy amigurumi techniques. She's ridiculously easy to make, even if it's your first time crocheting amigurumi.
If you know how to single crochet and make increases and decreases, you can make your very own Lola!
Get the Pattern here

28. Unicorn Sleep Mask Crochet Pattern by Creative Play Crochet
This pattern will show you how to crochet your own unicorn sleep mask in under 2 hours using any scrap yarn you have!
Perfect for unicorn party favors, slumber party favors, bachelorette parties, travel, and nap time at home.
Customize this sleep mask in any colors to match a birthday party, bridal shower, baby shower, bachelorette party, or everyday use.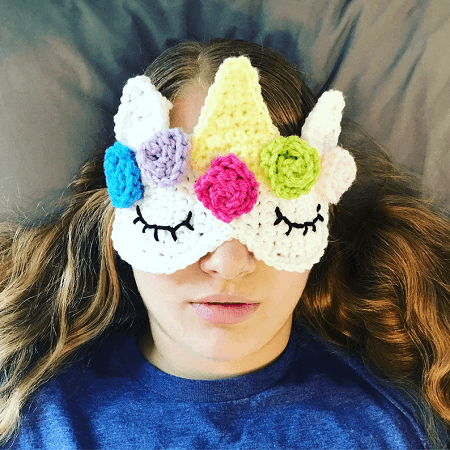 Get the Pattern by Creative Play Crochet here

29. Mimi, The Unicorn Crochet Pattern by Bunnies And Yarn
Mimi, the unicorn is another one of those snuggly-looking amigurumi – with the size of about 15″ (38 cm.) tall when you use worsted weight (medium/4) yarn and a 4.00 mm. crochet hook.
She would make a perfect gift for little ones (even grown-ups) who want a unicorn to cuddle to sleep.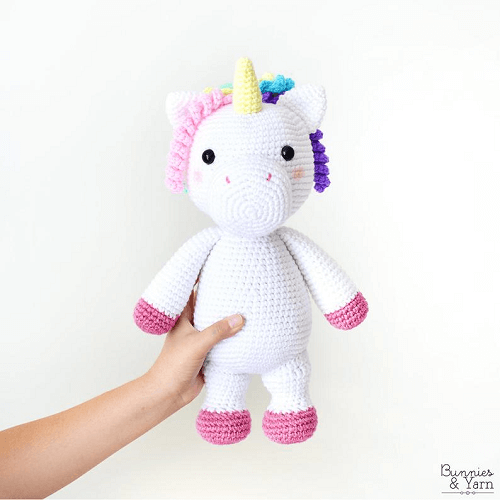 Get the Pattern by Bunnies And Yarn here

30. Unicorn Crochet Wrist Rest Pattern by One Zero Crochet
Most of us spend many hours on the computer and wrist pain can be quite common if you don't have a way to rest your wrist in a comfortable position.
Instead of buying a generic mouse pad from the store, why not make your own wrist cushion. If you love unicorns (who doesn't?!), this would make a cute companion to your mouse!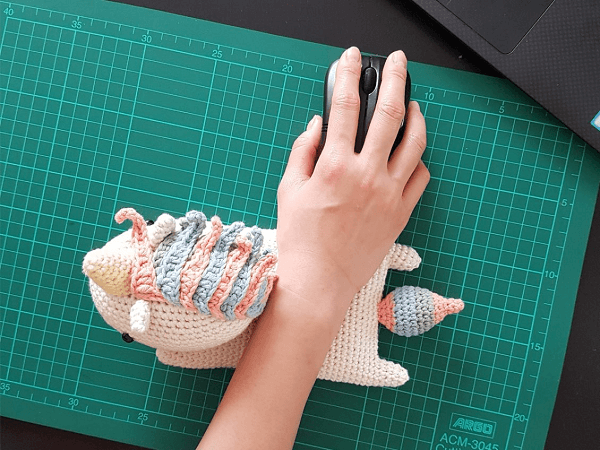 Get the Pattern here

31. Unicorn Pillow Crochet Pattern by Yalis And Yabos Crochet
Meet Ulyses. She is a bubbly Unicorn pillow, who loves to be squeezed and snuggled. She imagines herself lovingly placed in a sweet nursery, playroom, kid's room, or just about any room that has a playful pastel vibe.
Of course you may choose whatever color combo you like!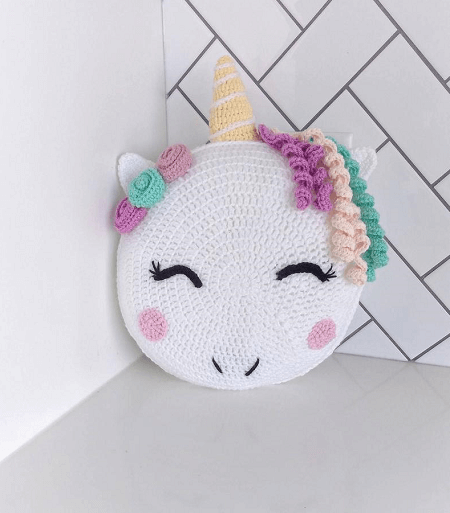 Get the Pattern by Yalis And Yabos here

32. Crochet Unicorn Brooch Pattern by Amalou Designs
Crochet this lovely unicorn brooch so she can settle on your clothes and decorate your everyday image.
If you or your baby wear it, you are sure to become the center of attention and you will be proud to say that you did it yourself.
The pattern works up really fast – perfect for last minute delightful gift!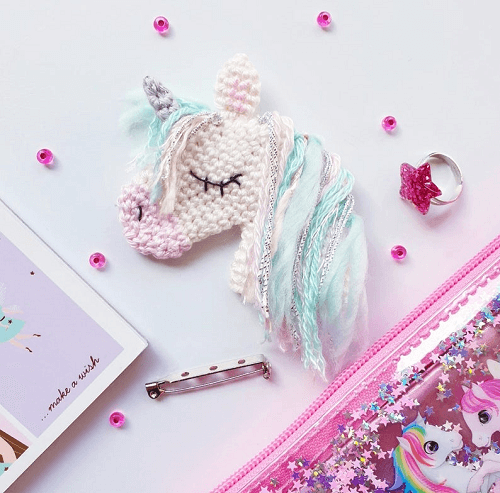 Get the Pattern by Amalou Designs here

33. Crochet Unicorn Hooded Blanket Pattern by Bri Abby HMA
This crochet unicorn hooded blanket is comfy coziness at its best!
This pattern will help you create the perfect gift for girls of all ages (including yourself) and includes instructions to make this hooded unicorn blanket in either chunky yarn or worsted weight yarn.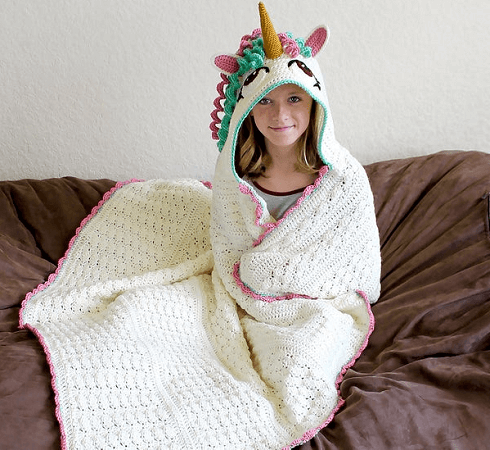 Get the Pattern by Bri Abby HMA here

34. Unicorn Slippers Crochet Pattern by Hooked Strands Crochet
These unicorn slippers are a great way to keep your feet warm and cozy while being super cute!
The pattern is written for women's sizes only. It has options for women's size 5-11. But experienced crocheters may be able to achieve child sizes through changing yarn weights and hook sizes.
These women's slippers are a chunky slipper so they are super comfortable to wear around the house!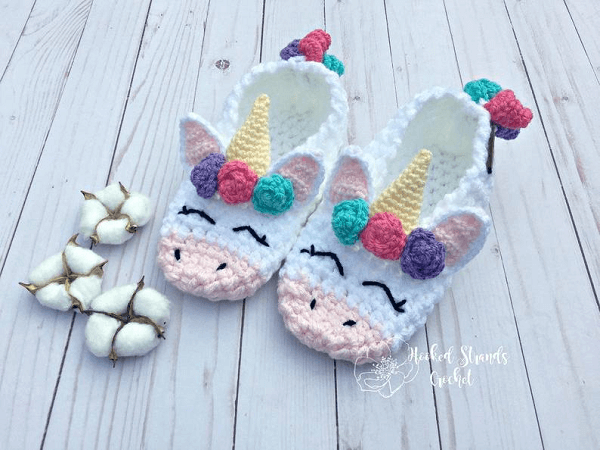 Get the Pattern by Hooked Strands Crochet here

35. Unicorn Crochet Pattern by Sweet Oddity Art
This sweet unicorn is named Jupiter. She is especially magical with her matching pink hooves and horn, and enchanting colorful mane and tail.
The finished size of Jupiter measures 15″(38 cm) tall when using a D(3.25mm) hook and the instructions are detailed and easy to follow if you know the basic stitches and techniques used to make amigurumi.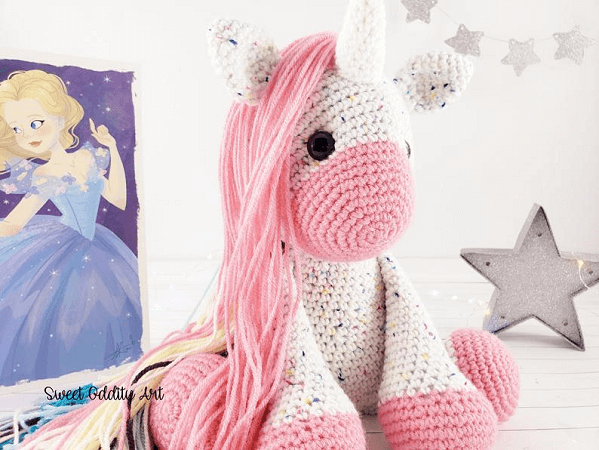 Get the Pattern by Sweet Oddity Art here

36. Unicorn Tote Bag Crochet Pattern by Lady Dust Bunny
This adorable unicorn tote bag will make cute little gifts for your little ones!
The pattern comes with a detailed step-by-step photo-tutorial to make the completion of this project really easy.
Made using basic crochet stitches and colorful fringes, this mini bag with a unicorn motif will be a perfect place for little girls (even ladies) to carry around all of their (your) treasures!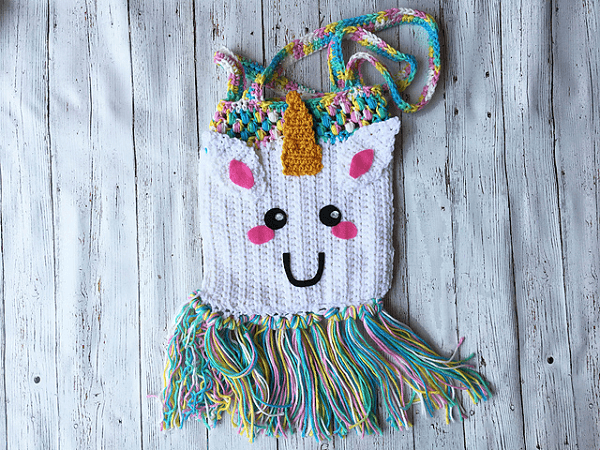 Get the Pattern here

37. Standing Unicorn Amigurumi Pattern by Crafty Intentions
This Standing Unicorn Amigurumi Pattern comes with instructions for a delicate, curvy unicorn and two styles of mane and tail!
The wire is optional, but there are instructions to include it in the legs and neck. The horn does not need wire at all as it stands on its own due to its shape and construction.
This beautiful unicorn would look fantastic in every girl's bedroom.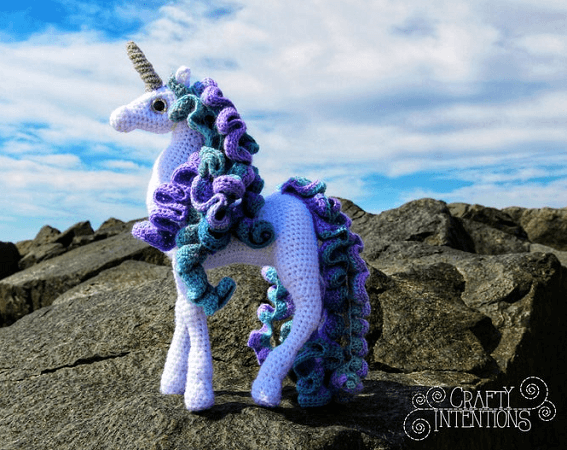 Get the Pattern by Crafty Intentions here

38. Unicorn Poncho And Socks Crochet Pattern by Mjs Off The Hook Designs
Keep your little ones cute and cozy all season long! This enchanting set features a hooded poncho with pockets and matching socks.
The poncho is worked in a textured stitch using single and double crochet stitches. The socks are worked in double crochet stitches with unicorn horn features.
This is a fun, whimsical outfit you can make for your little darlings!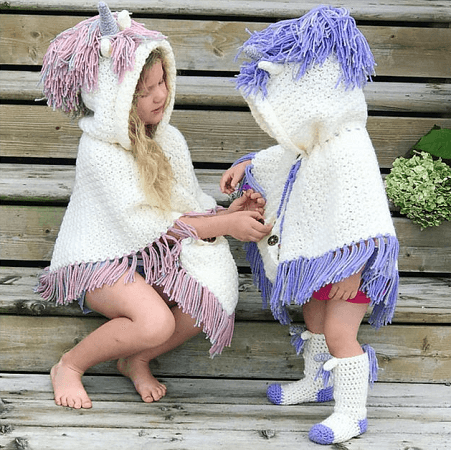 Get the Pattern by Mjs Off The Hook Designs here

39. Crochet Unicorn Slap Bracelet Pattern by Whistle And Ivy
Looking for a fun crochet toy for the kiddos? This darling crochet unicorn slap bracelet is the answer!
Take a regular slap bracelet and add some crochet to make it a treasured toy. Wear in on the wrist or slap it to bike handlebars.
Take this little crochet unicorn bracelet everywhere!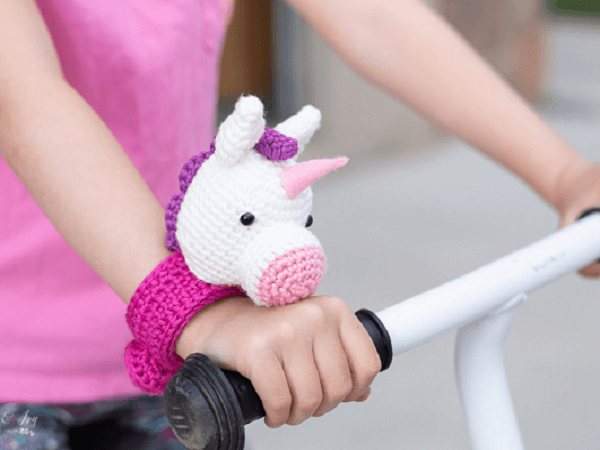 Get the Pattern here

40. Crochet Unicorn Blanket Pattern by Owl B Hooked
This unicorn blanket features a subtle, peek-a-boo unicorn design with no need for several color changes or ends to weave in. Or add all the color your heart desires!
Simple, modern, and unique, it makes for a special newborn baby or 1st birthday gift. The size allows it to be used as a security or snuggle blanket through toddlerhood as well!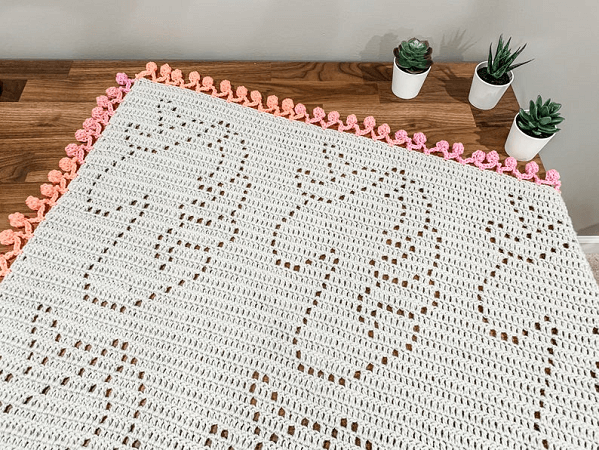 Get the Pattern by Owl B Hooked here
Who wouldn't want a cute and colorful crochet unicorn to call their own? You know you want one!
We can't wait to see your creativity and all the different colors you folks come up with. When you complete one, please post it on our Facebook Page. We love seeing your work!
There are a lot more adorable crochet patterns you can find here. Go check them out!
With all these gorgeous unicorn crochet patterns, there's sure to be at least one or two that tickle your fancy!