Crochet baby cocoons are a popular trend right now. They put a modern twist on traditional blankets by swaddling your little one, and even if the baby starts kicking, they'll keep everything nice and warm.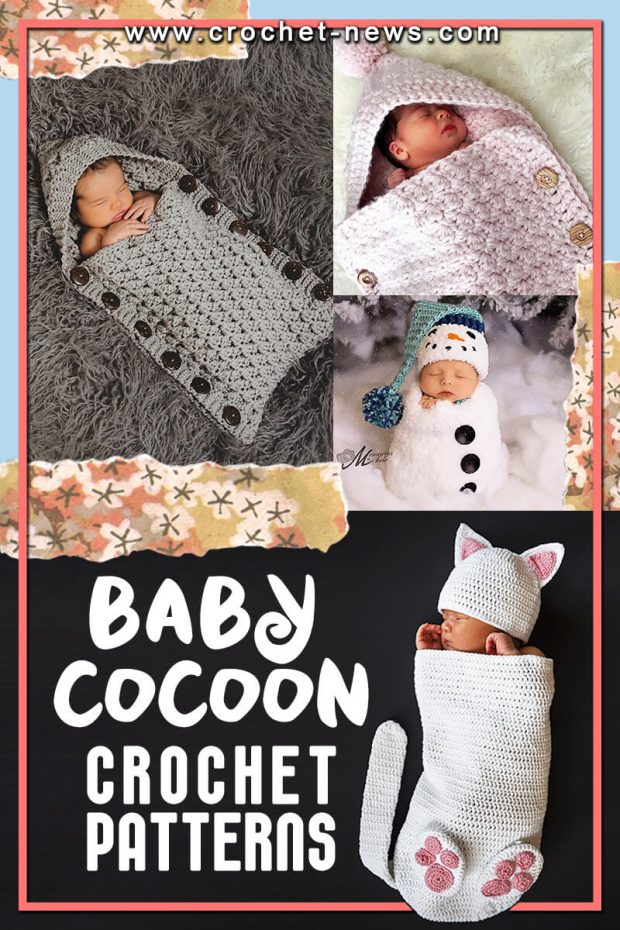 They are especially popular as photo props for newborn babies but are also functional in keeping them warm and cute. And, just so you don't get bored there's plenty of variations to try, from buttoned-up sides to hoods and even matching hats!

1. Easy Baby Cocoon Crochet Pattern by Deborah O Leary Pattern
Keep your baby snug and warm in this little slumber bag. Cute and convenient buttons open up to make a long wrap. It is very simple to make the size larger for a bigger baby.

The pattern is written for Bulky or Super Bulky yarn so it is a very easy and quick project. Fun for a baby shower gift!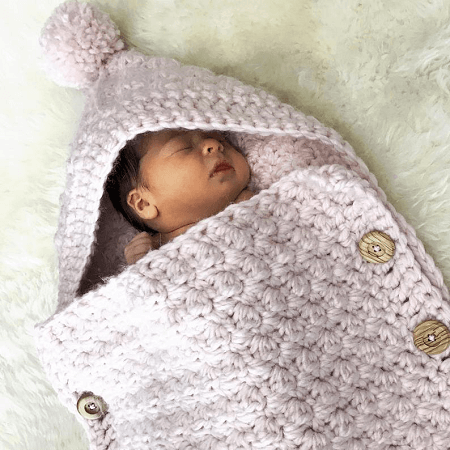 Get the Pattern by Deborah O Leary Pattern here

2. Crochet Baby Cocoon Pattern by Yarnspirations
Crocheted in the round with double crochet stitches and fun bobbles, these dense textural stitches makes this a super cozy project to wrap little ones in comfort.
Get the Pattern here

3. Crochet Santa Baby Cocoon Pattern by The Yarn Conspiracy
This Crochet Santa Baby Cocoon is just too cute! This makes a wonderful baby's first Christmas gift – plus the outfit looks wonderful in photos.

Be sure to make one for the special little one in your life today and make the holidays just got a whole lot cuter!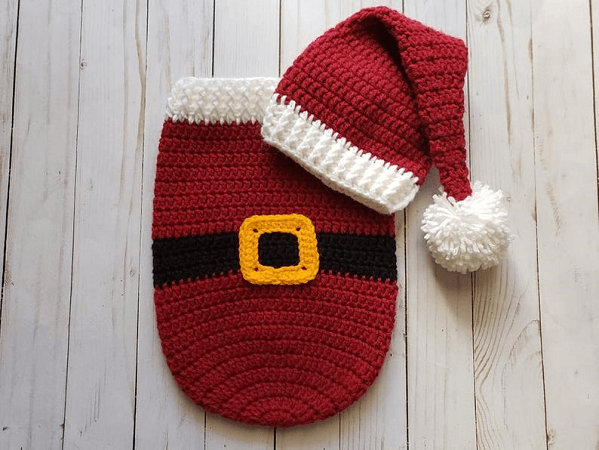 Get the Pattern by The Yarn Conspiracy here

4. Free Crochet Baby Cocoon Pattern by The Spruce Crafts
Learn how to make a crochet baby cocoon using this free pattern. The super bulky yarn choice is perfect. First of all, it means that your sleep sack works up really quickly.

But more importantly, it keeps baby extra cozy since it is so plus. This cocoon pattern only uses double crochet stitches worked in the back loop, so as long as you can work in the round you can complete this project.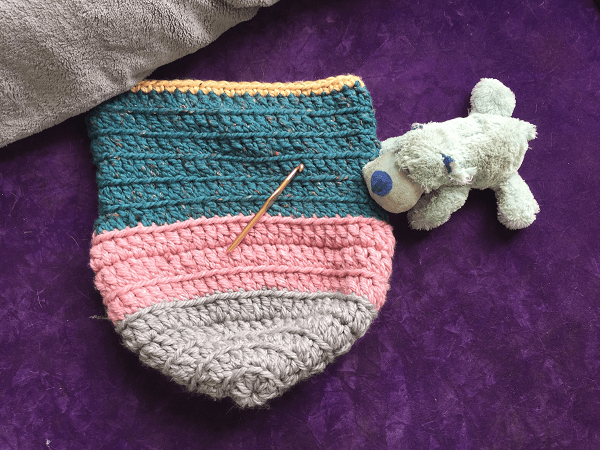 Get the Pattern here

5. Crochet Windchill Baby Cocoon Pattern by Crochet By Jennifer
This Crochet Windchill Baby Cocoon is perfect for keeping precious little ones cozy and secure. The unique construction of this pattern shows a buttoned alternative to many of the slip-on cocoon sacks.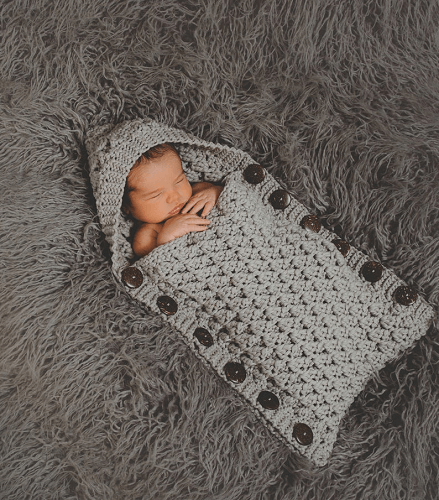 Get the Pattern by Crochet By Jennifer here

6. Ice Cream Cone Baby Cocoon Crochet Pattern by Bee Mine Crochet
Stack your favorite ice cream colors to create a warm little Ice Cream Cone Baby Cocoon that's as sweet as a baby. This pattern is great for beginners with step-by-step photo tutorials for the more challenging parts.

The pattern features a hat and a Cocoon. The cocoon measures 16.5″ long and 9.5″ wide. The hat's circumference is 12″.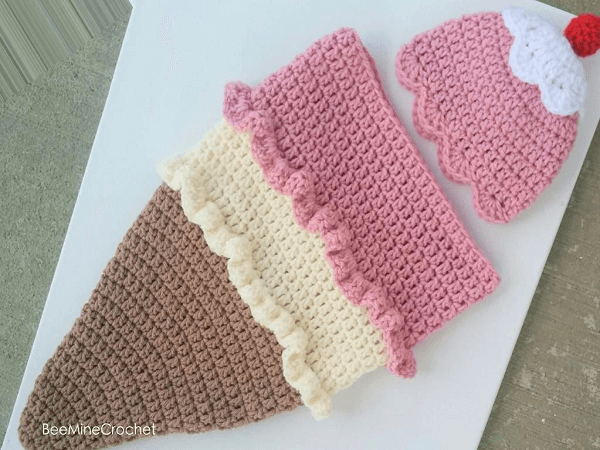 Get the Pattern by Bee Mine Crochet here

7. Crochet Baby Cocoon And Hat Set Pattern by Left In Knots
This Crochet Baby Cocoon and Hat Set is a great, basic pattern to add to your collection for last-minute baby gifts!

Use this simple crochet pattern to make a baby cocoon photo prop perfect for newborns! This unisex pattern includes instructions for both the cocoon and the matching hat.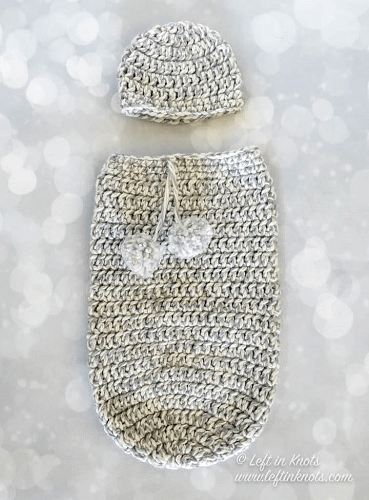 Get the Pattern here

8. Crochet Pumpkin Baby Cocoon Set Pattern by DAC Crochet
Crochet this Pumpkin Baby Cocoon with a matching hat and use it as a cute Halloween costume, photo prop, or just a warm sack to tuck a baby into.

The ridged lines give it a distinct pumpkin look. Feel free to customize the cocoon by sewing or embroidering on your own jack-o-lantern face! You can even omit the pumpkin's stem to create a traditionally baby cocoon set.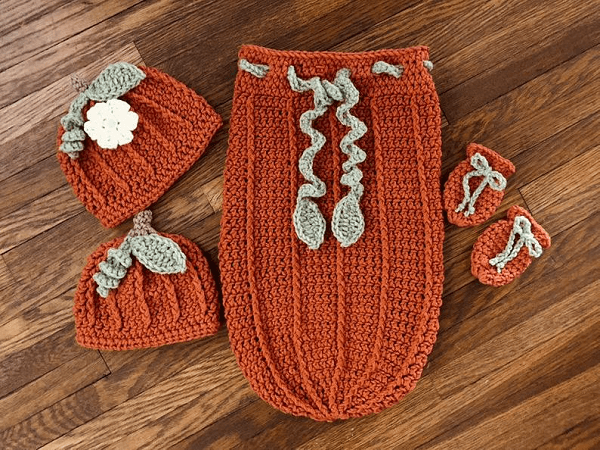 Get the Pattern by DAC Crochet here

9. Crochet Snowman Baby Cocoon Pattern by AMK Crochet
This Crochet Snowman Baby Cocoon Pattern gives you the instructions so that you can make a newborn snowman hat, cocoon, and scarf.
Warm and fuzzy bulky weight yarn to keep baby adorably comfortable for their first photoshoot! A perfect addition to any photo session.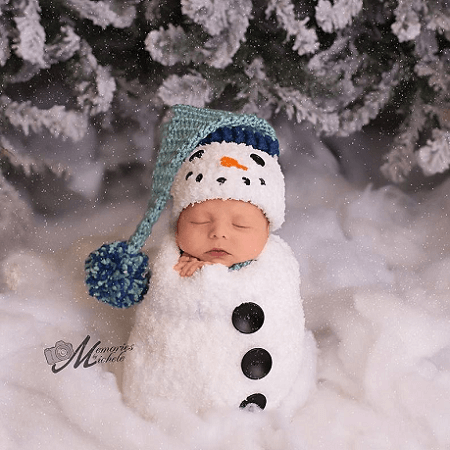 Get the Pattern by AMK Crochet here

10. Free Crochet Plaid Baby Cocoon Pattern by Whistle And Ivy
This darling Crochet Plaid Baby Cocoon and hat set is perfect for a winter and fall baby or a rustic woodland themed nursery or baby shower!

Perfect for keeping baby cozy, warm, and comfortable. It is roomy to fit a baby from newborn to 6 months old, with a little hat to fit a brand new baby.

Doesn't classic buffalo plaid just scream fall? If you have a fall baby coming, you must add this cute buffalo plaid cocoon and hat set to her layette. This set would also make an adorable set for your newborn shoot!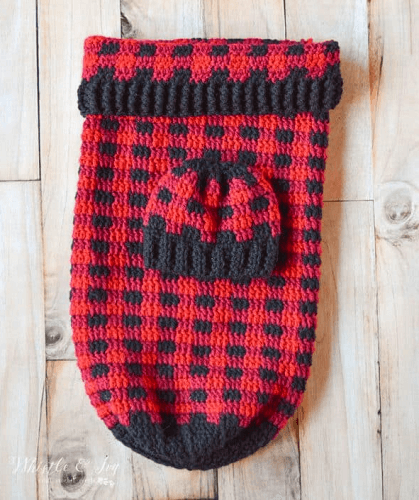 Get the Pattern here

11. Crochet Shark Baby Cocoon Pattern by Wendydae Handmade
This little cocoon measures approximately 23 inches long from the top of the hood to the bottom of the cocoon and about 19 inches in circumference. Crocheted using chunky yarn, this Shark Baby Cocoon is such a fun design for those sharknado's out there!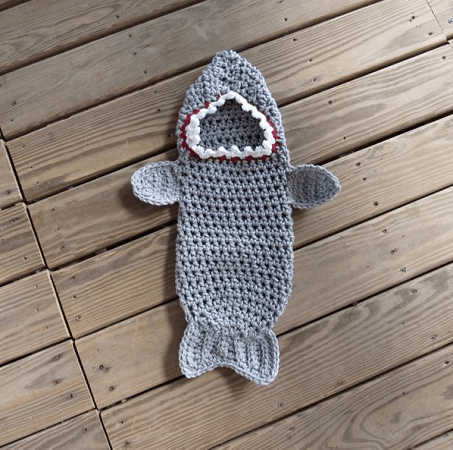 Get the Pattern by Wendydae Handmade here

12. Mermaid Cocoon Crochet Pattern by Red Heart
Baby will be a vision of cuteness in this cocoon with crocheted top and sweet tiara. It's perfect for Halloween or anytime baby needs to look cute while staying cozy.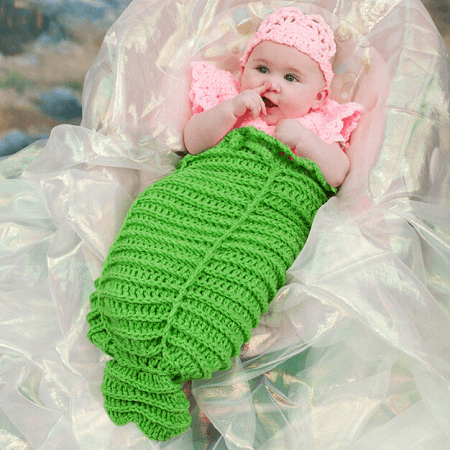 Get the Pattern here

13. Crochet Granny Stitch Baby Cocoon Pattern by Shi Fio
This Crochet Granny Stitch Baby Cocoon is simple enough for beginners the end result is perfect for newborn photos and for right out of baths to keep your baby warm for his/her nighttime snuggle and snack!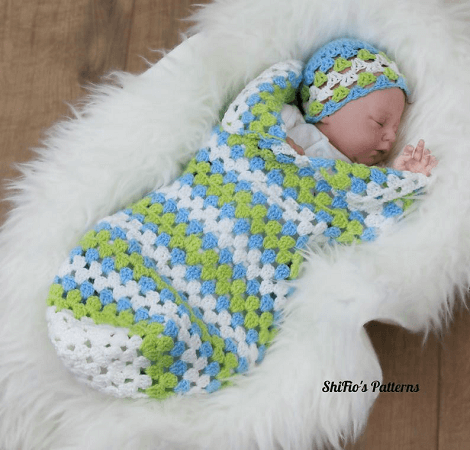 Get the Pattern by Shi Fio here

14. Crochet Butterfly Baby Cocoon Pattern by Whimsy Woolies
This Crochet Butterfly Baby Cocoon is a sweet lil' photo prop for all those sweet lil' luv bugs in your life. This pattern includes 3 separate pieces and I chose gender-neutral colors, for that sweet surprise!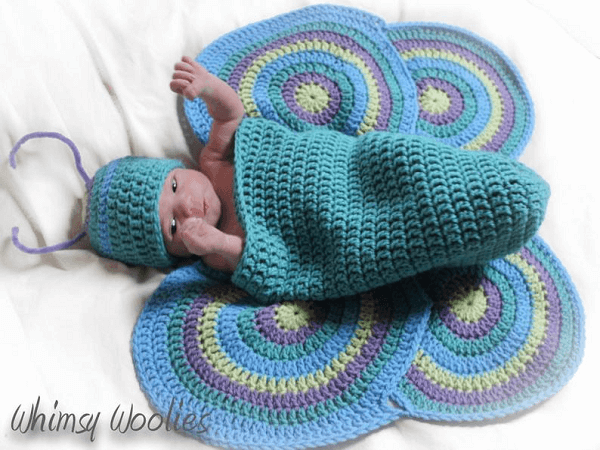 Get the Pattern by Whimsy Woolies here

15. Star Baby Crochet Cocoon Pattern by My Accessory Box
Just when you think you've already seen all the cutest things on Earth, here we come with another amazing project to show you just how wrong you are!
How could anything look even nearly as sweet as this gorgeous Crochet Star Baby Cocoon? This little blanket is sure to keep your little one cozy while snuggling in during the day! Not only that but what a fun project and style!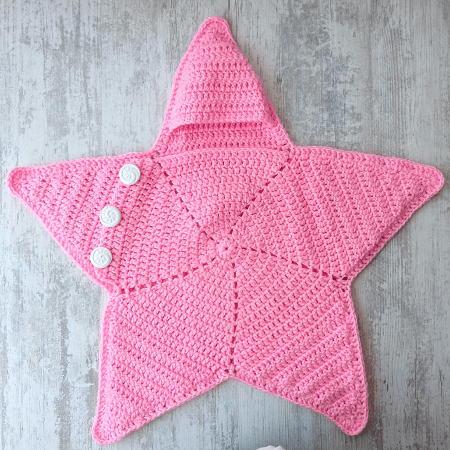 Get the Pattern here

16. Crochet Willows Baby Cocoon Pattern by Yarnspirations
Keep your new, precious baby cozy in this colorful Crochet Willows Baby Cocoon. The super bulky-weight yarn is soft to the touch and you can crochet it quickly!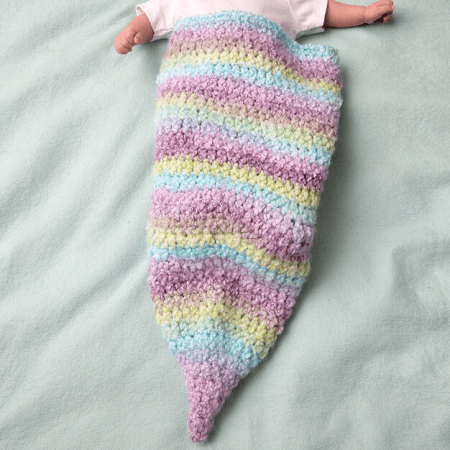 Get the Pattern here

17. Crochet Cat Baby Cocoon Pattern by Chik Designs
This cute Cat Cocoon Set for baby with matching booties that can be attached to the cocoon when not in use. The cocoon, hat, and tail are all worked in spiraled rounds for a completely seamless look.

Use this easy-to-follow, quick and simple pattern to make a cute outfit for your little one or the perfect baby shower gift!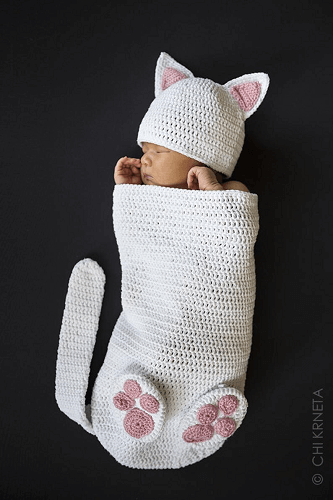 Get the Pattern by Chik Designs here

18. Crochet Ladybug Baby Cocoon Pattern by Red Heart
Baby will be snug as a bug in this sweet Crochet Ladybug Baby Cocoon. Crocheted in soft yarn it's perfect for photo moments and keeping the baby feeling secure and cozy.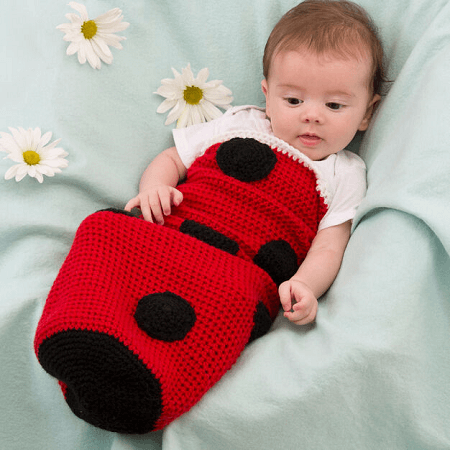 Get the Pattern here
It's time to trade your usual crochet baby blanket for a snuggly crochet baby cocoon instead!
Let us know which crochet baby cocoon patterns you plan to make and if you are done making one, please do share some pictures on our Facebook Page. We'd so love to see it!

Babies need so many things from clothing to diaper covers, toys, and booties. Luckily all of these items are covered in our Crochet Baby collection. Check them out if you love creating adorable things for that little tot.

Bring out those hooks and yarns and work on your favorite crochet baby cocoons today!