Tapestry crochet simply uses traditional crochet stitches but adds in more than one color of yarn, making vibrant and playful patterns easy to create. Your additional color is carried along while you make your stitches, hidden on the inside of those stitches, until you want to switch colors.

Tapestry crochet is done in all single crochet and can be done in the round or back and forth in rows. By working tapestry crochet flat, you can make so many projects, from blankets to hot pads to place mats and more. And by working in the round, it's perfect for baskets, purses, cowl, mittens, etc.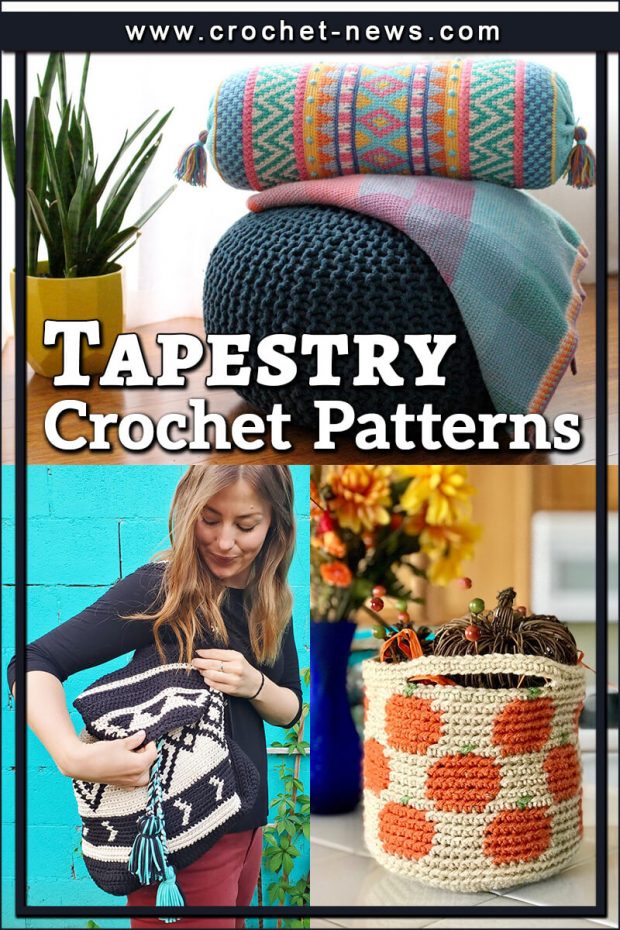 With these tapestry crochet patterns, you will be able to make colorful finished projects that might even make people think it is painstakingly woven instead of crocheted!

1. Crochet Tapestry Pattern by Red Heart
Inspired by the elegant lines of art deco design, this crochet tapestry will add warmth and style to any room. Worked entirely in single crochet intarsia, the project is finished with surface slip stitch crochet lines for a clean, graphic effect.

The bulky weight yarn means this wall hanging stitches up quickly to create a lofty fabric in any shades that inspire your imagination. It's a stunning conversation piece in any home!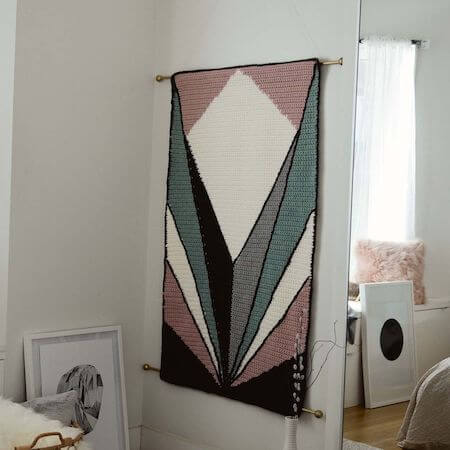 Get the Pattern here

2. Midnight Diamond Blanket Crochet Pattern by Catherine Crochets
This is a crochet pattern for a blanket made using tapestry crochet and would be suitable for an intermediate crocheter looking to try tapestry crochet for the first time. This Midnight Diamond Blanket is made of squares that are joined together to form an attractive tile-like pattern.

The finished blanket, made with DK yarn, measures 88 cm by 113 cm. However, you can easily vary the size of your blanket by making more or fewer squares.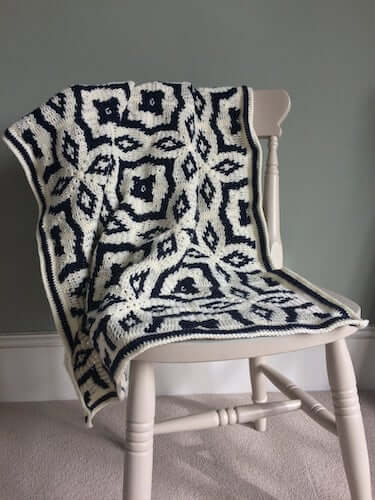 Get the Pattern by Catherine Crochets here

3. Tapestry Crochet Bag Pattern by The Story Of A Mulberry
The clutch is made with tapestry crochet technique. It is an elegant and versatile design that features leaf shapes – a design that will bring a delicate touch to any outfit, but will also look good in any kind of project whether it's a bag, a tablet/laptop cover or even a pillow!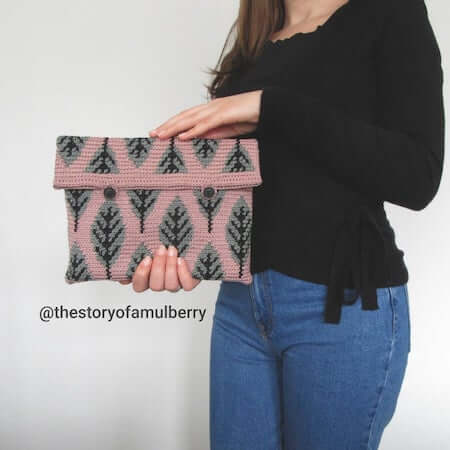 Get the Pattern by The Story Of A Mulberry here

4. Boho Backpack Crochet Tapestry Pattern by Prairie Fox Studios
This Crochet Backpack Pattern is a trendy boho-inspired design using tapestry crochet. The pattern is very easy to make your own. Pick your colors, use tassels or pom-poms, or beads for your drawstrings. You can also make the bag with or without the flap, and there are three-strap design options included in the pattern, chevrons, stripes, or solid!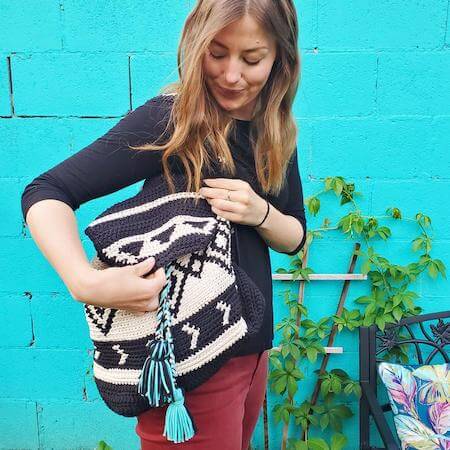 Get the Pattern by Prairie Fox Studios here

5. Free Tapestry Crochet Beanie Pattern by E'Claire Makery
Preppy, bold, and oh so cozy, this super chunky chevron women's crochet winter hat is just the accessory you need for your wardrobe!
The red and gold chevron pattern adds a unique twist to the classic ribbed hat, and the tapestry crochet colorwork creates such a beautiful fabric.
Whether it's to show school spirit, cheer on your favorite team, or you just love the colors, this free crochet hat pattern will quickly become your go-to crochet beanie!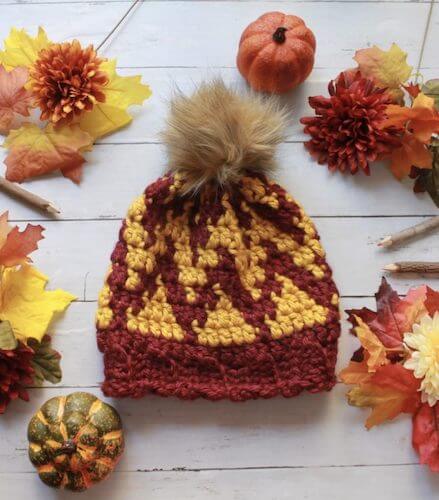 Get the Pattern here

6. Christmas Pillow Easy Crochet Tapestry Pattern by Make And Do Crew
Add a touch of Scandinavian style to your decor with these modern throw pillows. Made using bulky yarn, these pillows work up quickly for a simple introduction to tapestry crochet.

Comprised of individual squares that are seamed together, these pillows can be made as pictured, or squares can be mixed and matched for a customized look. This easy level crochet project uses single crochet stitches throughout, with simple tapestry crochet color changes.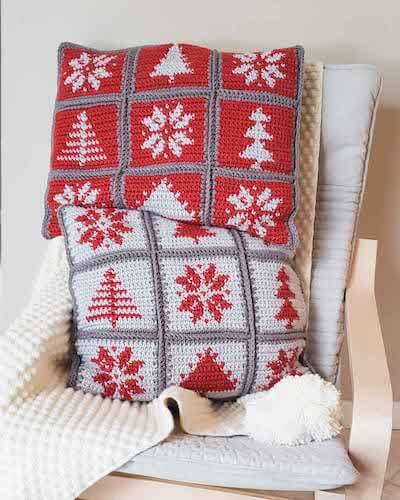 Get the Pattern here

7. Crochet Cactus Wall Hanging Pattern by Thoresby Cottage
Take a dip into the world of tapestry crochet with this gorgeous wall hanging. The particular pattern is great for a beginner. This only uses 3 colors on the panel and so won't get too tangled up. This crochet cactus wall hanging is sure to add an instant desert feel to any room!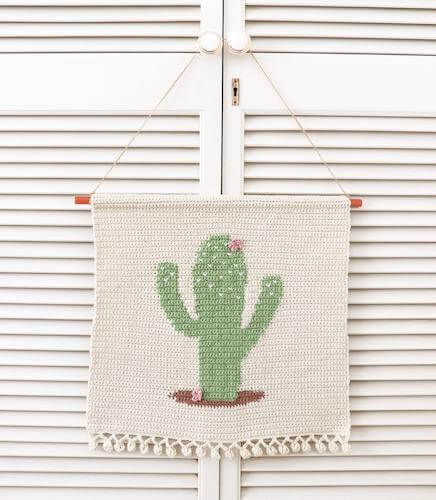 Get the Pattern by Thoresby Cottage here

8. Tapestry Crochet Coaster Pattern by TLB Patterns
This pattern comes for all four crochet coaster designs, a detailed tutorial on Tapestry Crochet, and works up really quickly. This Coaster set has a modern, geometric style that makes a great birthday or holiday gift. They would look great in any color combination and would compliment any contemporary decor.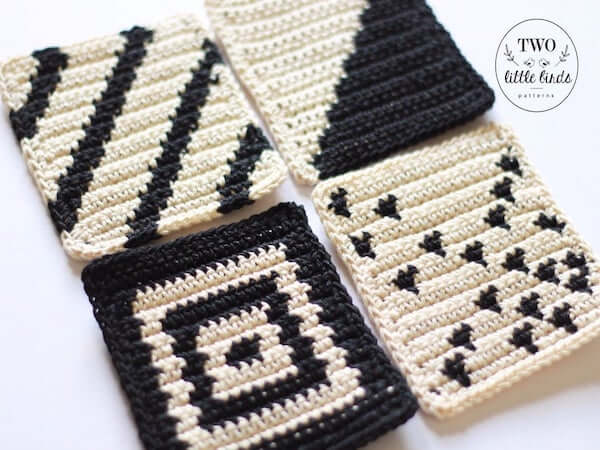 Get the Pattern by TLB Patterns here

9. Tapestry Crochet Sweater Pattern by Zoe Curtis
This Tapestry Crochet Sweater Pattern creates a modern take on the timeless fisherman's sweater. And it's easier than it looks! Beautiful, soft and warm with an element of challenge, this sweater is a satisfying make and will bring the charm of the coast to any wardrobe. Skills required involve single and double crochet and elements of tapestry crochet (tutorial included).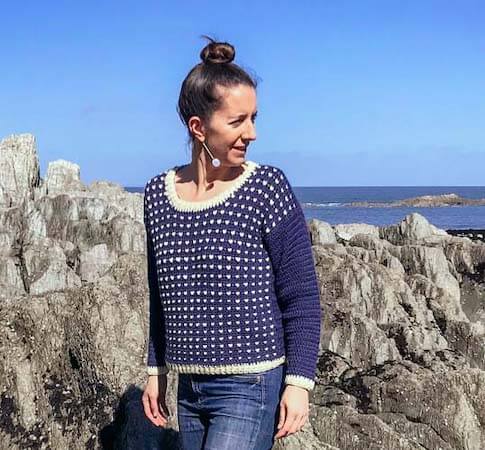 Get the Pattern here

10. Palm Tree Tapestry Bag Crochet Pattern by Creations By Courtney
This Palm Tree Tapestry Bag is a great stash-busting design to create a realistic tree of greens and brown, or you can do your four complimenting colors. It is one way to carry a piece of summer with you wherever you may go and through any weather!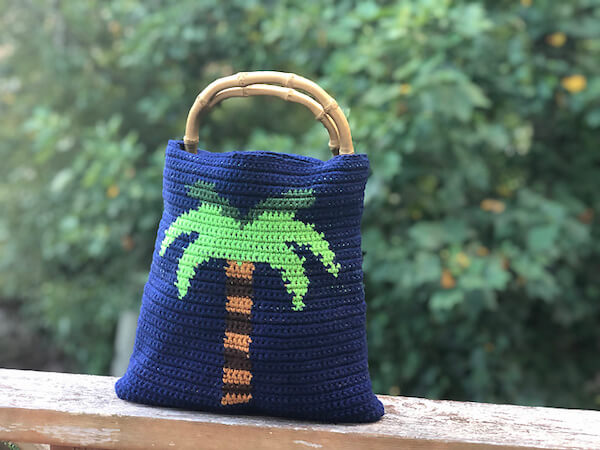 Get the Pattern here

11. Tapestry Flower Pot Cozy Crochet Pattern by Red Heart
Try some simple tapestry crochet color-work for a pot cover that looks great holding anything from a green plant to crochet hooks. Choose a closed or open bottom, depending on your end use. This is a fun way to learn how to crochet a pot cover regardless of what you use it for.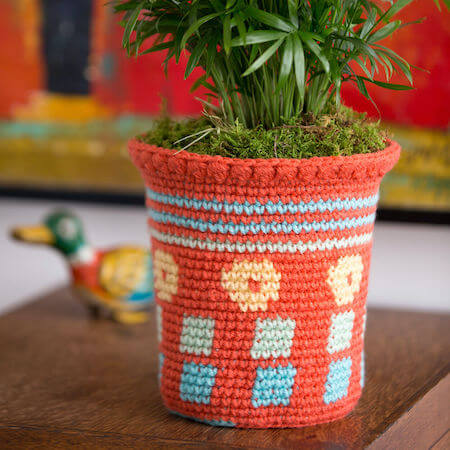 Get the Pattern here

12. Tapestry Heart Cup Cozy Crochet Pattern by You Should Craft
Protect your fingers and use this free pattern to crochet a reusable cotton cup cozy with an adorable heart pattern — perfect for Valentine's Day or any day! Just say no to those cardboard sleeves at the coffee shop!

Of course, this coffee cozy isn't only for Valentine's Day — just pick a different color scheme (gray and yellow perhaps? monochrome blues?) and you're good to go! Next time you're at Starbucks, you can just say no to that cardboard sleeve because you'll have your very own reusable, handmade, crocheted-with-love tapestry cup cozy!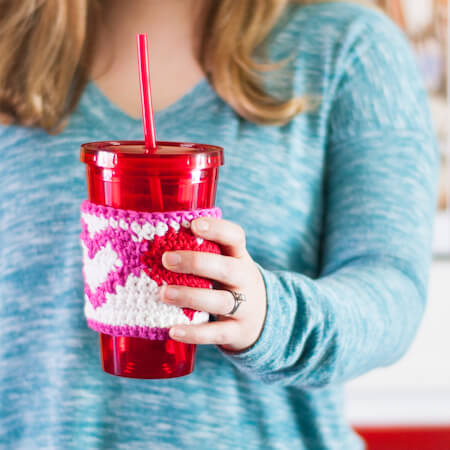 Get the Pattern here

13. Tapestry Crochet Cushion Pattern by Poppy And Bliss
Create a bright, bold and beautiful addition for your home. Inspired by the colorful ethnic textiles from around the world, this stunning cushion is created using tapestry crochet and textured stitches to create the designs.

The pattern is not as complicated as it looks, and each design element is set out in strips with easy to follow short pattern repeats for each section.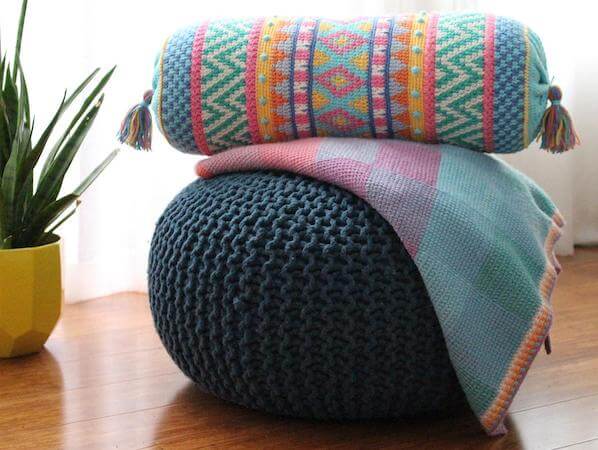 Get the Pattern by Poppy And Bliss here

14. Crochet Mushroom Pouch Pattern by Whistle And Ivy
This darling woodland Crochet Mushroom Pouch features cute little red polkadot toadstools. The design comes to life using the tapestry crochet technique in this crochet pattern.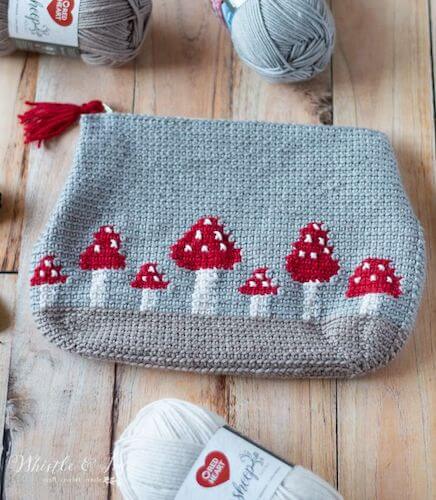 Get the Pattern here

15. Crochet Coffee Cozy Pattern by Lakeside Loops
With 12 original designs plus every letter of the alphabet this crochet coffee cozy pattern will help you create endless gifts for friends and ffamily. Crochet your husband's initials on his coffee jacket or maybe an anchor on a cold summer beverage sleeve for a friend. The possibilities are endless with this twist on tapestry crochet.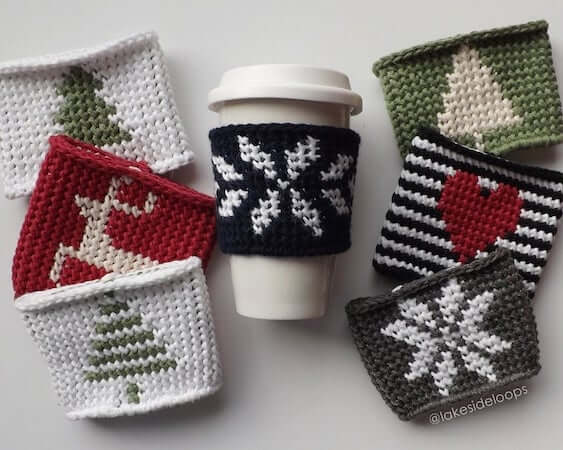 Get the Pattern by Lakeside Loops here

16. Free Tapestry Crochet Cowl Pattern by E'Claire Makery
Looking for a stylish winter cowl to add to your winter wardrobe? The Pinewood Cowl is the winter accessory you need! It's inspired by the mountain pine trees amidst snow, and features a modern pine tree motif design created with tapestry crochet. It makes a beautiful crochet gift to give to your loved ones or to make for yourself.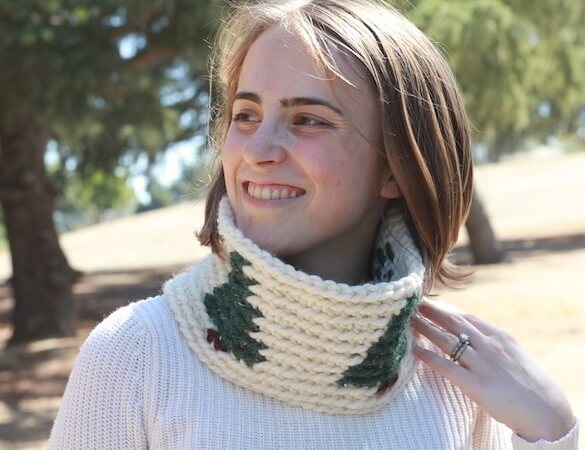 Get the Pattern here

17. Tapestry Crochet Mittens Pattern by Jess Makes A Mess
Try your hand at these marvelous and eye catching tapestry mittens. They have been designed to give lots of visual impact with easy color transitions, and no bobbins used in the colorwork. This pattern is great for those just emerging into the tapestry techniques. But you will already need to know how to work in rounds.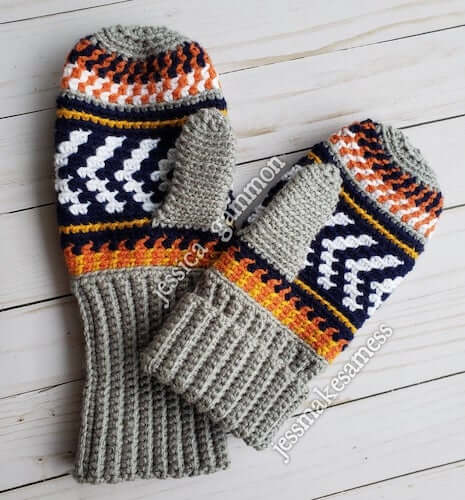 Get the Pattern by Jess Makes A Mess here

18. Tapestry Crochet Pumpkin Basket Pattern by Desert Blossom Crafts
Decorate for Fall with your very own set of Pumpkin Baskets! These baskets are simple to make—made entirely of single crochet—yet the intricate look of Tapestry crochet will impress anyone who sees them!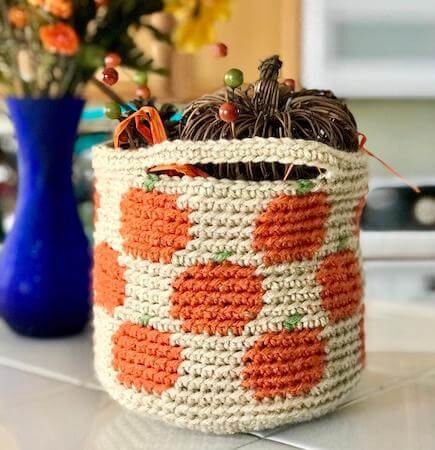 Get the Pattern by Desert Blossom Crafts here

19. Tapestry Crochet Rug Pattern by TLB Patterns
This mud cloth inspired rug design will add a modern, handmade touch to your home. It uses the tapestry crochet designed to use up #6 Super Bulky yarn from your yarn stash. Imagine all the possible color combinations and how beautiful and unique each of your creations will turn out!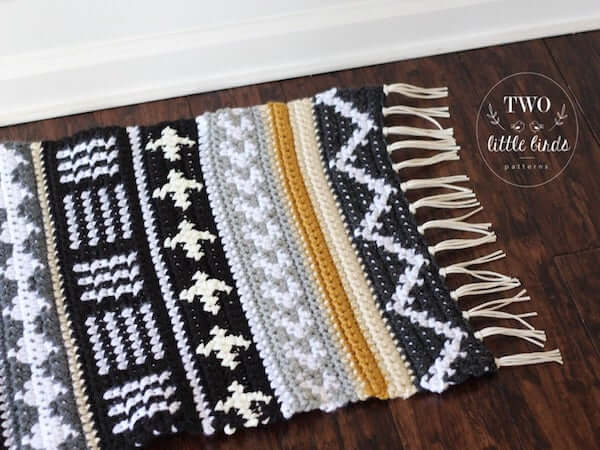 Get the Pattern by TLB Patterns here

20. Little Fluffy Clouds Baby Blanket Crochet Pattern by Eva Cassidy
Give baby the sweetest of sleep and the best of dreams with this Little Fluffy Clouds Baby Blanket which is made with puff stitches and tapestry crochet.

It's a perfect gift for boys and girls alike – just make it in blue, pink, or any color of your choice, and watch little eyes grow wide in delight before baby snuggles into the clouds for a nap!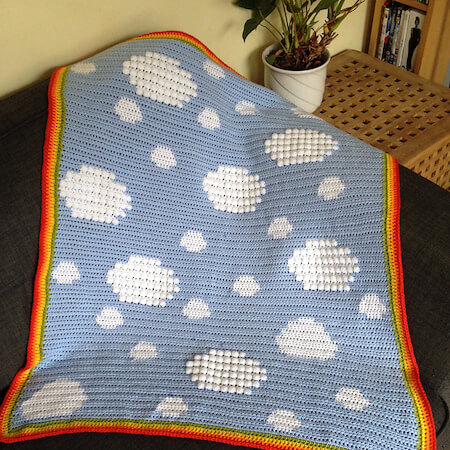 Get the Pattern by Eva Cassidy here

21. Bernard Houndstooth Scarf Easy Crochet Tapestry Pattern by Two Of Wands
This dapper unisex crochet scarf makes a subtle statement with its oversized silhouette and classic houndstooth fabric. The mesmerizing soft striping looks so intricate but is actually achieved with only two simple stitches!

This Bernard Houndstooth Scarf Crochet Pattern is an easy level crochet pattern and the techniques involved are single crochet, double crochet, and working in tapestry crochet to carry along an unused color.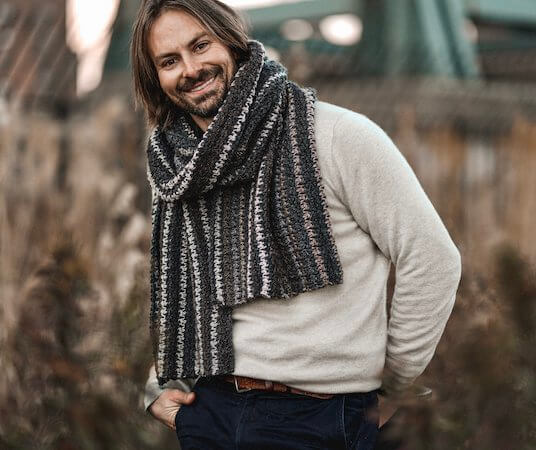 Get the Pattern here

22. Huntsman Sweater Crochet Pattern by Natasha Robarge
Create this unique crocheted sweater pattern using tapestry crochet colorwork. Fall in love with the layering piece that makes it fit-able for any guy in your life! Its loose fit makes it a fantastic layering piece!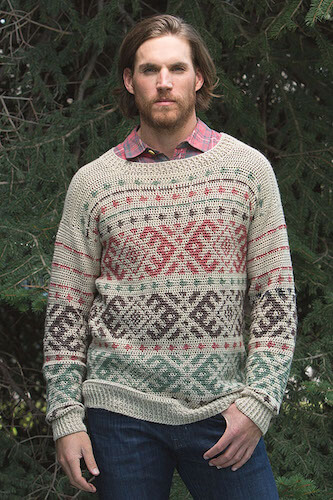 Get the Pattern here

23. Tapestry Crochet Cactus Garment Pattern by E'Claire Makery
Bring some desert vibes into your wardrobe, with the Desert Cactus Top and Dress! This tapestry crochet garment pattern comes in both top and dress options, and can be customized to you! It's perfect for beginner crocheters, and cactus lovers. You'll want to wear it through all of the warm weather!

The pattern has so many ways to customize it! It comes in sizes XS-5XL, and can be made as a crochet tank top, a crochet peplum top, or even as a crochet dress! You can adjust the fit, length, and colors to be exactly what you want it to be.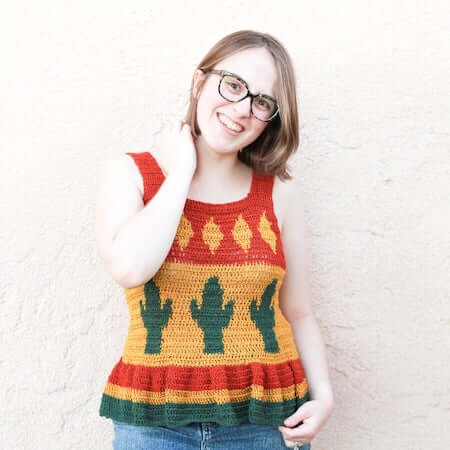 Get the Pattern by E'Claire Makery here

24. Tapestry Crochet Ear Warmer Pattern by Loopingly Made
This Tapestry Crochet Ear Warmer Pattern is a bold mix of colors inspired by the native American headdress. It is designed to not only keep your ears warm but to also brighten your day. The colours can be simpler, of course. You decide on the final look.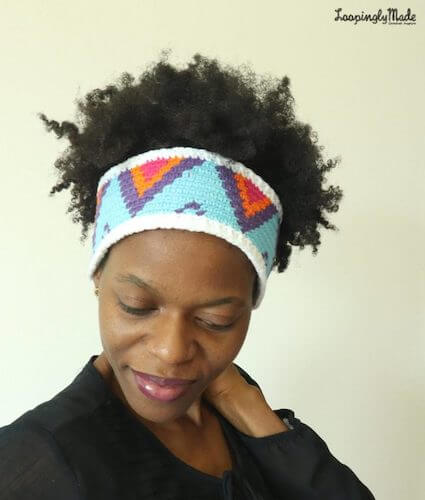 Get the Pattern here

25. Marguerite Crochet Blanket Pattern by Mobius Girl Design
This Marguerite Blanket is a study in color, texture, and geometry. Its modern design complements a wide range of decor styles.
The materials needed include approximately 3500 m of DK weight yarn. You will also need 5.5 mm and 4.5 mm crochet hooks, a tapestry needle, and scissors. The crochet level is intermediate based on the use of tapestry crochet and joins as you go techniques.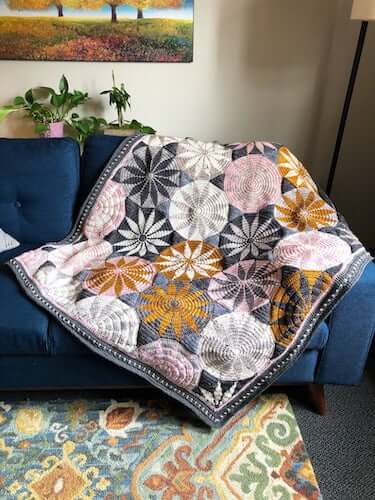 Get the Pattern by Mobius Girl Design here

26. Hearts Clutch Tapestry Crochet Pattern by Chabe Patterns
Make a cute medium size clutch with a classic print and take tapestry crochet to the next level by working more than two colors at a time. The repetitive pattern makes it easier to follow and the three contrasting colors give it a fun modern look.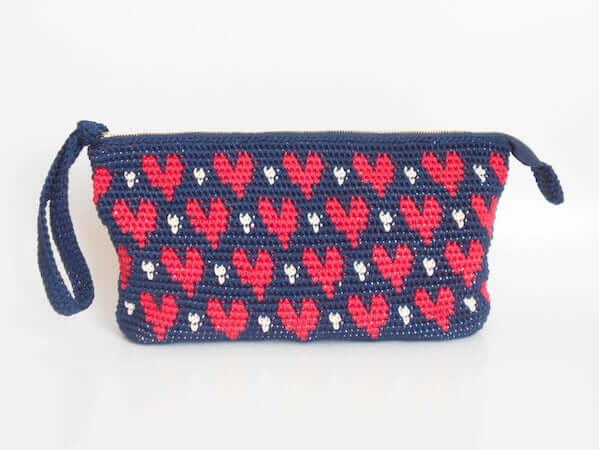 Get the Pattern by Chabe Patterns here

27. Free Tapestry Crochet Shawl Pattern by Claire Goodale
Though this crochet shawl pattern might look intricate and complicated, it's actually super simple! The tapestry crochet motifs are made with half double crochets, and only involve using two colors at a time that you switch between.

It is made with a basic crochet triangle scarf pattern, that is made more intricate with the color work patterns. This makes a great advanced beginner tapestry crochet pattern, and it is a great sampler to practice your skills!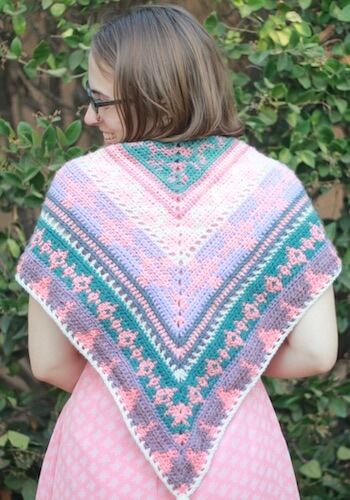 Get the Pattern here

28. Snowflake Present Sack Crochet Pattern by Dabbles And Babbles
This Snowflake Present Sack is a creative and fun project for the holidays. Just pile in all your thoughtful gifts and go. It's a great way to have everything in one place so you don't leave any presents behind.

The sack is crocheted using the half double crochet stitch with the decorative tapestry stitch to achieve the snowflake design. It has a chain stitch cord with mini pom-poms to tie the sacks closed too.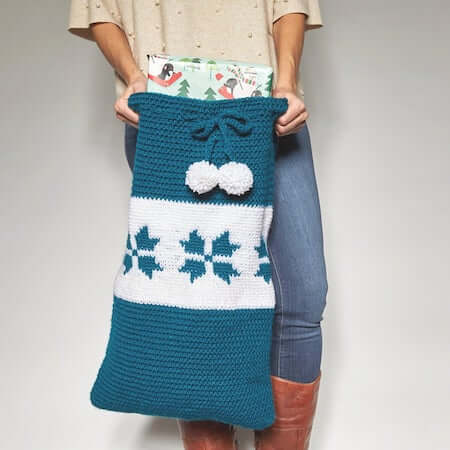 Get the Pattern by Dabbles And Babbles here

29. Free Tapestry Crochet Rug Pattern by E'Claire Makery
Get ready for bath time with the Splish Splash Bath Mat. Made from durable yarn, this crochet rug pattern is perfect for bath time with your little ones. It's a beginner friendly tapestry crochet rug pattern that is a great first time tapestry crochet pattern. You can totally customize the colors to match your bathroom too!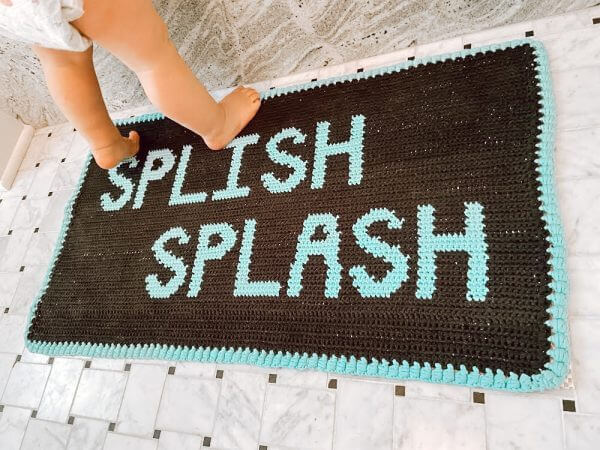 Get the Pattern here

30. Salem Ear Warmer Crochet Pattern by Hook Yarn Carabiner
Easy tapestry crochet techniques create a black cat head motif on a cozy, comfy crocheted ear warmer with a button to secure it. This Salem Ear Warmer is great for fall and Halloween or any time of the year!
The tapered ends connect with a button, and the wide top keeps your head and ears warm while allowing you to wear a ponytail or a bun. This is a very quick crochet project – you'll be wearing your ear warmer by the end of the afternoon!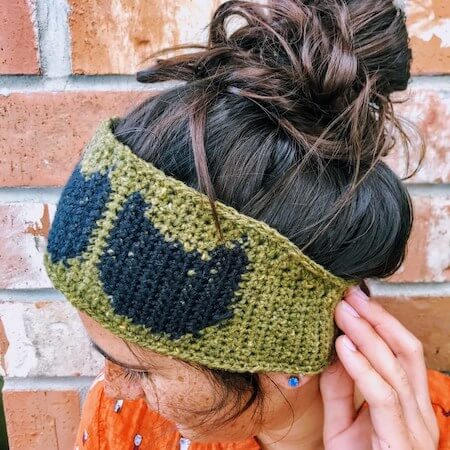 Get the Pattern here
SO WHAT DO YOU THINK, WOULD YOU LIKE TO GIVE TAPESTRY CROCHET A TRY?
These brilliant patterns are only a few of the many projects you can make with tapestry crochet. With so many possibilities, you'll be able to create any fabulous design once you learn how to master this technique.

Give it a try and make up something fun! Make sure to post all of the amazing pieces you crochet to our Facebook Page. Pretty sure everyone else would love to see them.

And if you're looking for other challenging stitches to take on, we have lots of other stitches in store for you! Or you can go through these patterns: Crochet Lace Patterns, Mandala Crochet Patterns, Crochet Star Patterns, Crochet Square Patterns, Crochet Oval Patterns, Log Cabin Crochet Patterns and Crochet Snowflake Patterns.

If you've crocheted a few of these tapestry crochet patterns, you are on your way to designing your own!