There is nothing more delicate and dainty than lace. No matter your crochet level, you can add crochet lace to your repertoire with these 30 crochet lace patterns ranging from hats and shawls to tops and socks.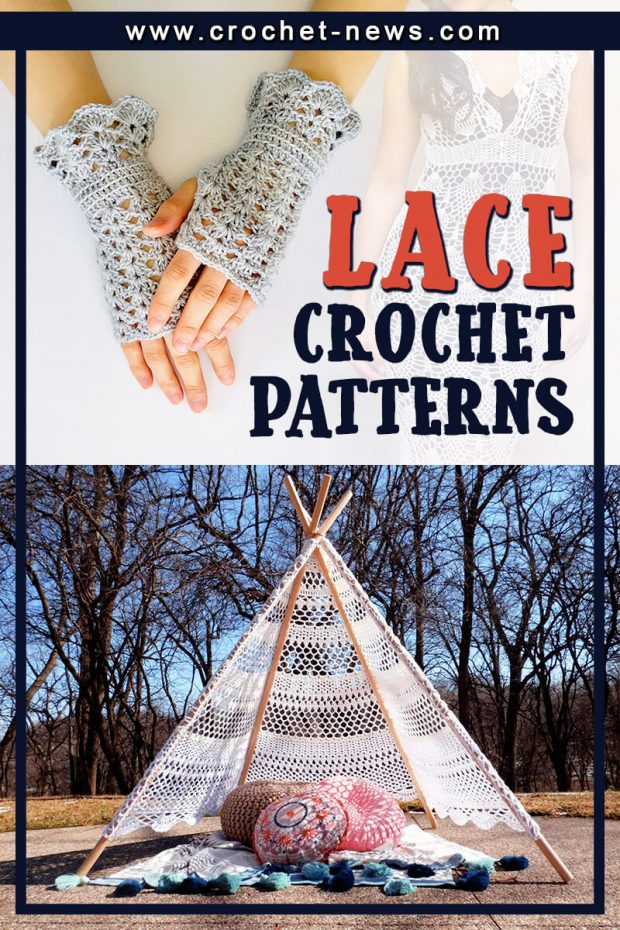 This stunning collectionincludes 30 chic and wearable lace garments, accessories, and home decor. You'll find a wardrobe's worth of lace designs from shawls and scarves, to cardigans and tunics, to stylish dresses, T-shirts, and bags.
30 Lace Crochet Patterns

The designs include simple, allover openwork patterns, as well as more intricate crochet lace patterns and motifs, which are worked in a variety of yarn weights and in a glorious range of colors from elegant jewel tones to earthy neutrals. If you're fascinated by the art of crocheting lace, this collection of patterns is a must-have!

1. Crochet Lace Top Pattern by Freaky For Yarn
Light and fresh, this lovely crop top is perfect to pair with jeans or a cute skirt. Inspired by the 90's trend, it ties in the front with 2 bows and the shell stitch, gives it a beautiful lace effect for a romantic and flirty look.

It can easily be made longer, shorter, tighter or looser. The instructions are written for a size small, from which you can then adapt to your own size following the chart for the size L option.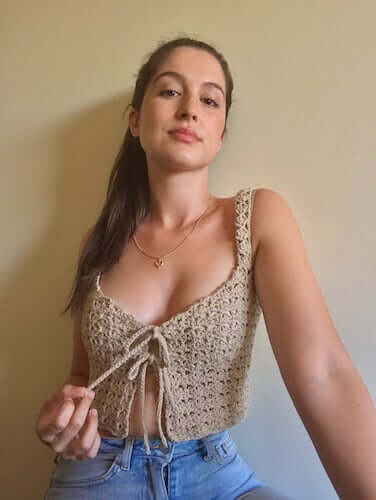 Get the Pattern by Freaky For Yarn here

2. Crochet Lace Scarf Pattern by Annie Design
An easy open lace pattern is used to create this delicate crochet scarf. Perfect for draping as a light evening wrap, or winding around your neck as a statement scarf.

This lace crochet pattern uses lace-weight yarn, and a 3.5mm crochet hook to keep the pattern open and loose, but you may prefer to use a 3.00mm hook – make a swatch and see what works best for your tension.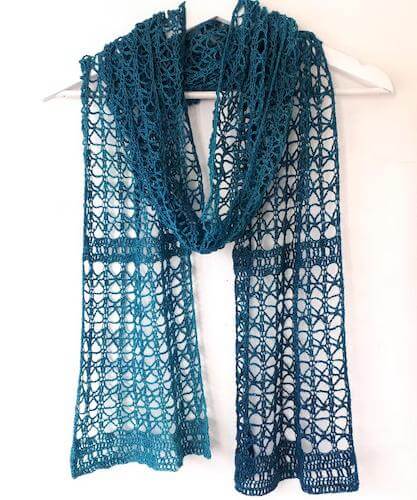 Get the Pattern by Annie Design here

3. Free Crochet Lace And Popcorn Bag Pattern by Crochet For You
This Crochet Lace and Popcorn Bag is super fun and easy to crochet market bag you can finish in a couple of days. This bag is made in 3 colors of cotton yarns and worked in button-up.

You can also make this tote in a solid color or self-striping yarn. Chevron popcorns on a simple mesh pattern give a lightweight and modern texture to the bag.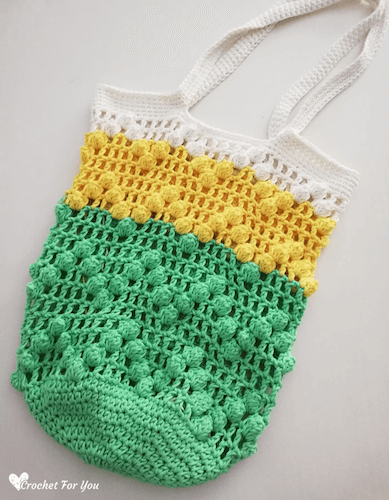 Get the Pattern here

4. Cardigan Lace Crochet Pattern by Okozaoko
This Cardigan Lace Crochet is great to wear on a beach or on a date. Great news is, the cardigan looks nice on any body types. Crochet it to wear at home or to dress up when you are going to spend a night in theater, just find the yarn that fits your needs.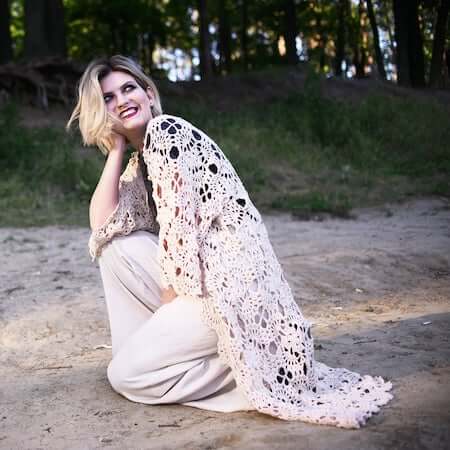 Get the Pattern by Okozaoko here

5. Table Placemat Free Crochet Lace Pattern by Red Heart
Protect your table with this pretty crochet placemat that's ideal for everyday use. The cotton yarn makes it sturdy and beautiful with a lovely lace pattern. Select shades for your table setting, or begin with the version shown.
It's a project that impresses, but only you'll know how easy it is to complete!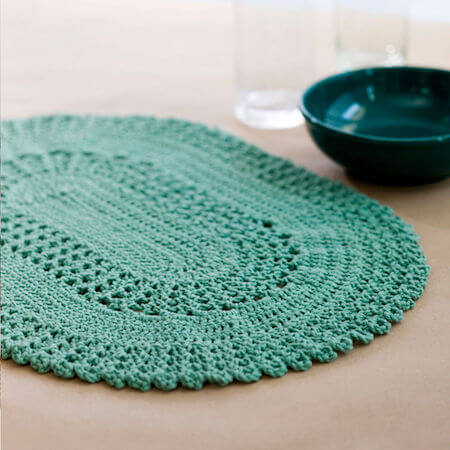 6. Mermaid Pants Lace Crochet Pattern by The Curly Vine
Hand crochet lace motifs in 3 different designs are linked together to create these one-of-a-kind flare pants. The unique design on the flare of the pants creates a train on the back of each leg which drags gracefully behind you as you walk.

The flares have a thick decorative border with scalloped edges and the waist of the pants is secured with a long sheer ribbon sash.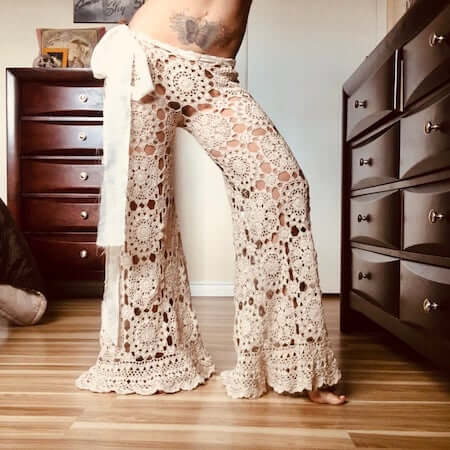 Get the Pattern by The Curly Vine here

7. Crochet Lace Round Doily Pattern by Olga Poltava
Create an elegant lace doily with this Crochet Lace Round Doily Pattern. This delicate beauty will look great with photos and candles just about anywhere around the home from the kitchen to the living room and bedrooms.

The design looks a bit intriguing, but the pattern is fairly easy to master. The finished doily measures about 15 inches in diameter after blocking.
Get the Pattern by Olga Poltava here

8. Lacy Shells Crochet Baby Blanket Pattern by Annie Design Crochet
This is a vintage-inspired squishy soft baby blanket using a lace shell repeat pattern. A light and airy baby blanket that is suitable for Summer but also for keeping a small baby cozy and swaddled.

You can use any DK Weight/Light Worsted Weight yarn to make this blanket. You can also use a different yarn weight to make a smaller or larger blanket, using a matching hook but keep in mind your yardage requirements will vary.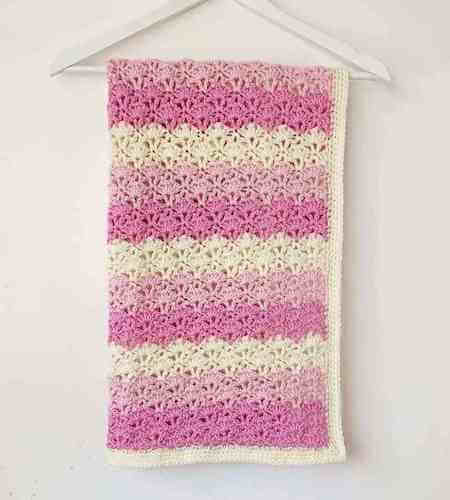 Get the Pattern here

9. Cami Lace Crochet Pattern by Hooked Homemade Happy
This Cami Lace Crochet Pattern is a simple 2-row repeat! It looks so cute layer with a jacket for spring and summer. It's perfectly lightweight for hot days and can be layered with ease. This camisole will add a touch of lace to your favorite summer outfits!
Get the Pattern by Hooked Homemade Happy here

10. Vintage Bag Free Crochet Lace Pattern by Yarnspirations
Made up of pretty lace motifs, this sac is the perfect way to add a retro touch to your look. Stitch it using red crochet thread, or maybe there's a different kind of beautiful waiting to be revealed by your imagination. At a finished 13″ x 14 1/2″ size, it's ready to become your go-to summer bag.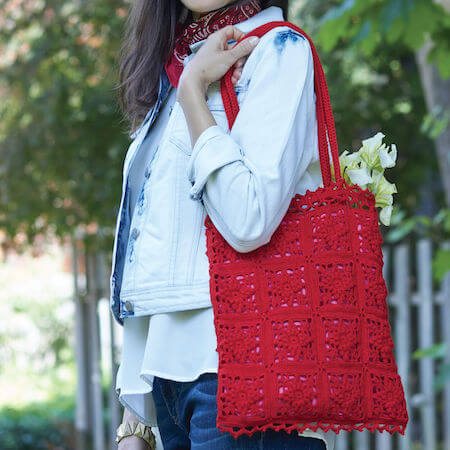 Get the Pattern here

11. Meadow Lace Crochet Shrug Pattern by My Crochetory
Simple lightweight Meadow Lace Shrug made from one rectangle with zero shaping, increasing and decreasing. This casual and stylish summer cardigan is perfect complement to wear in many occasions.

The floral pattern keeps the crocheting interesting and the ribbing gives the shrug a knit-look. It will be your favorite crochet item to wear in summer.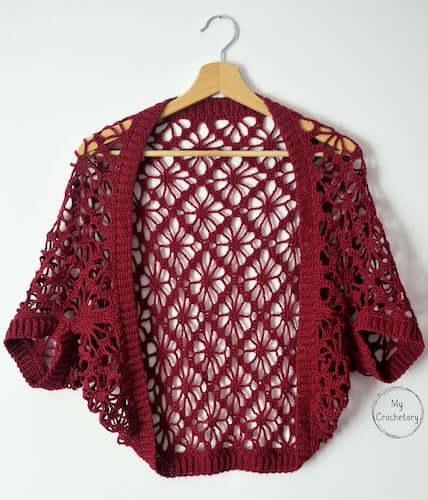 Get the Pattern by My Crochetory here

12. Fingerless Gloves Lace Crochet Pattern by Yaarnen
This is a very detailed pattern for lovely crochet fingerless gloves with easy mesh pattern. These adorable crochet mittens are lightweight and delicate, a perfect finishing touch to every bride's look. Also a great gift for women of any age.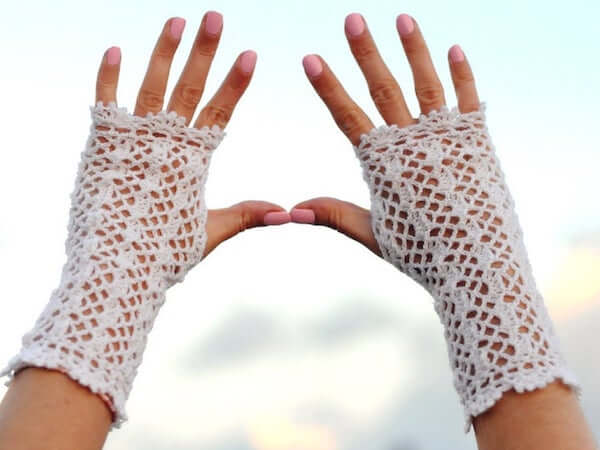 Get the Pattern by Yaarnen here

13. Crochet Lace Summer Hat Pattern by Kirsten Holloway Designs
This beautiful Boho Crochet Lace Summer Hat is a crochet pattern fit for all your warm-weather adventures. It's made using a wool/nylon blend sock yarn, which is unusual for summer, but it is so lightweight and comfortable you'll hardly know you're wearing anything on your head!

The boho style hat pattern is meant to embody the loveliness of a garden with the free-spirit of a field of wildflowers. It's filled with delicate floral accents, including a sunny floral motif at the top, and uses a variety of stitch patterns. You won't get bored making this captivating crochet design!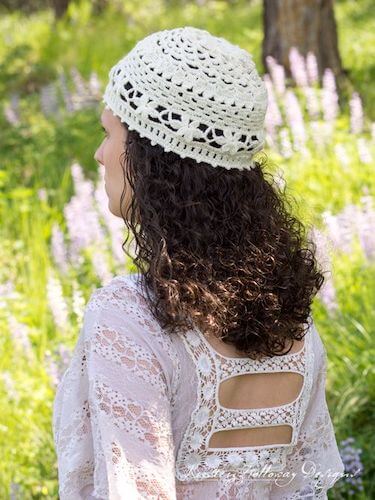 Get the Pattern here

14. Crochet Lace Messy Bun Hat Pattern by It Was Yarn
The messy bun hat is a fun variation on the beanie. There is a ​hole in the top to put your ponytail or bun through, so you can have an updo and wear a beanie at the same time.

This crochet beanie pattern is a particularly lacy design. It is intended as a summer hat, more for decoration than to keep you warm.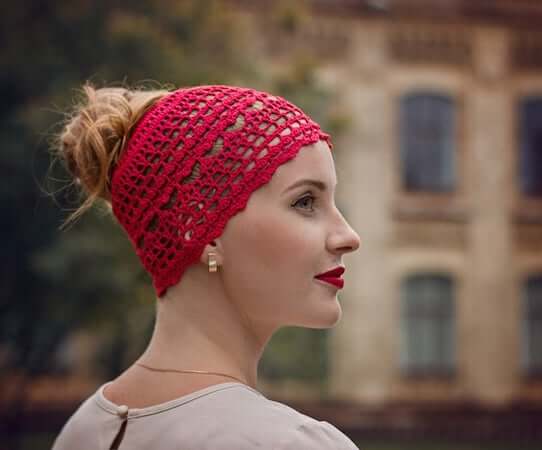 Get the Pattern by It Was Yarn here

15. Pretty Lace Crochet Bookmark Pattern by Petals To Picots
Keep your place with this Pretty Lace Crochet Bookmark Pattern. This easy crochet bookmark pattern gives such an elegant outcome for a super quick and easy project. It would look great in many different colors!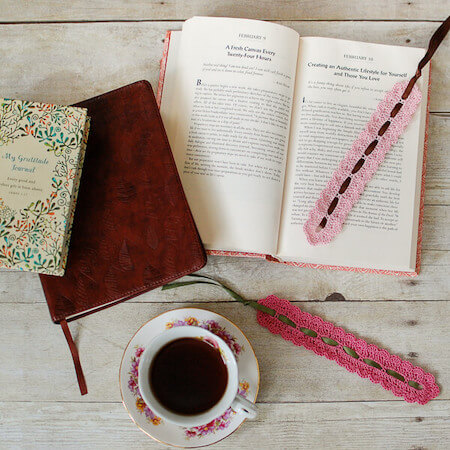 Get the Pattern here

16. Crochet Lace Table Topper Pattern by Red Heart
Add softness to space with this Pineapple Crochet Lace Table Topper. When placed over a solid color tablecloth, the natural tone shows off the lovely stitchwork. Or, display it atop a bare wood surface to bring out the natural wood tones. It's versatile as designed but would look just as impressive in any shade that matches your space.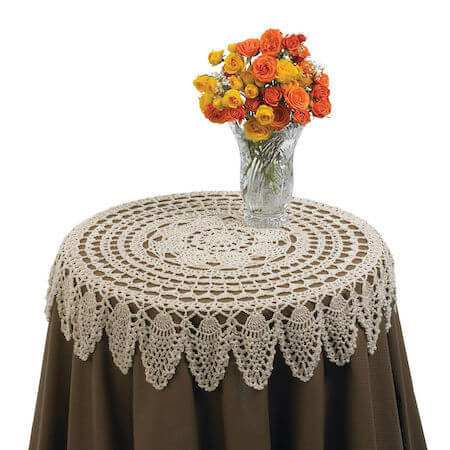 17. Crochet Lace Table Runner Pattern by Etty 2504
Just imagine how attractive this table runner will look with a large candle centerpiece and some green foliage. You can use it from one season to the next to dress your table stylishly! Make this table runner with two or more colors and you will be surprised how it will add extra depth to the look.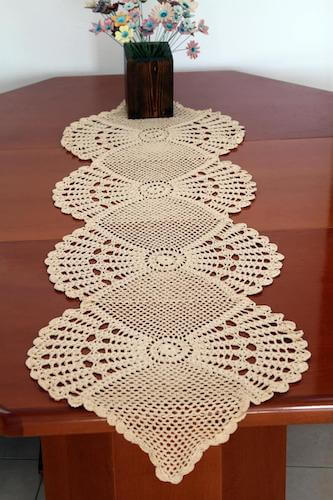 Get the Pattern by Etty 2504 here

18. Crochet Lace Dress Pattern by ChiK Designs
The pattern uses an open lacy stitch that creates a light delicate fabric when worked in a lace or fingering weight yarn. When worn fitted with negative ease the dress can create a figure-flattering silhouette. You can wear the dress with different colored linings underneath for different looks that would be perfect for any occasion.

You can make several different garments from this pattern by making some simple modifications: Stop short of the dress and you have a tunic. Keep going on the skirt and you have a full-length gown fit for a wedding dress. Leave the belt unjoined, omit the skirt entirely and you have a shrug.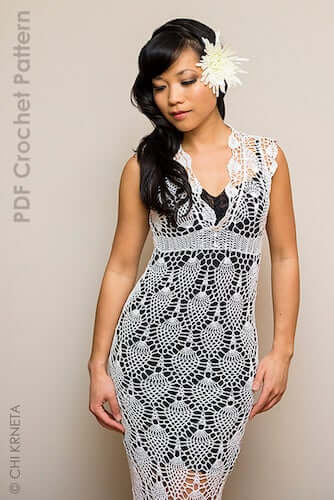 Get the Pattern by ChiK Designs here

19. Canyonlands Boho Crochet Top Pattern by Make And Do Crew
This Lacy Boho Crochet Top has a slightly cropped look which makes it BBFs with warm nights under the stars and higher waisted jeans. Throw it on over a cami or a bandeau for a breezy summer vibe.

It's made from the bottom up using basic stitches (chain, single crochet, double crochet, treble crochet) in a four row repeat. Once you have the basic repeat down, the shaping of the garment is extremely simple. Work additional rows before the sleeves to make a longer tunic-length top.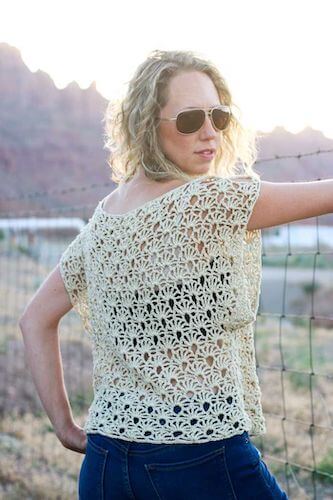 Get the Pattern here

20. Lace Baby Blanket Crochet Pattern by Red Heart
Create years of memories around a timelessly styled crochet blanket that's a precious keepsake. This project combines sweet lace and cable textures with a pristine look that has classic appeal. Stitch in white, or customize it with a modern shade that adds a contemporary look to the nursery.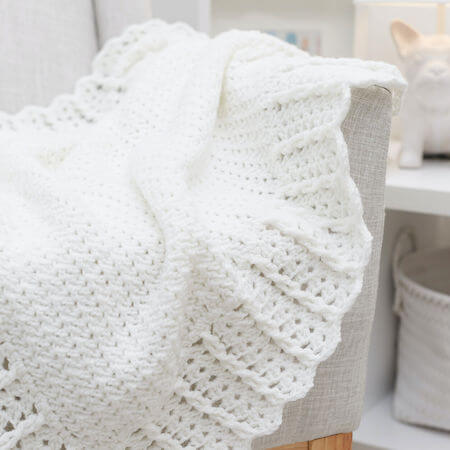 21. Pineapple Lace Parasol Crochet Pattern by Ira Rott Patterns
Let your talent shine when you finish your very own Pineapple Lace Parasol. Use it to create lasting memories for special events or just take it out to the sun to provide some shade. Your friends and family will go "wow" once they see what you have made from thread!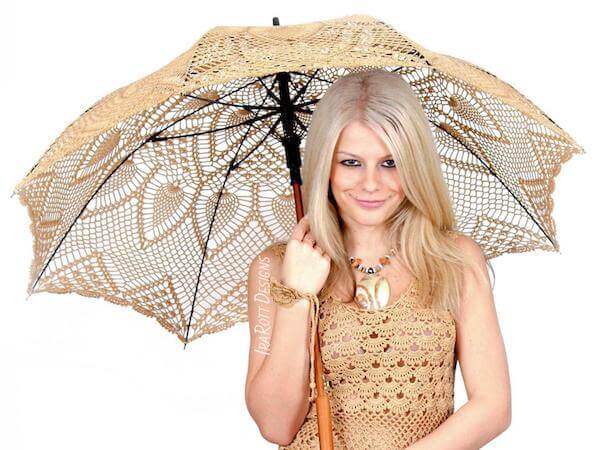 Get the Pattern by Ira Rott Patterns here

22. Lace Tent Crochet Pattern by Speckless
This beautiful Lace Tent has so many uses: a little reading nook, a unique photo shoot setting, a place to gather gifts for a wedding or baby shower, a little bit of shade at the beach.

The finished size of this tent is a bit less than four feet square at the bottom, and about five feet tall to the tops of the poles. It is collapsible for storage or transport.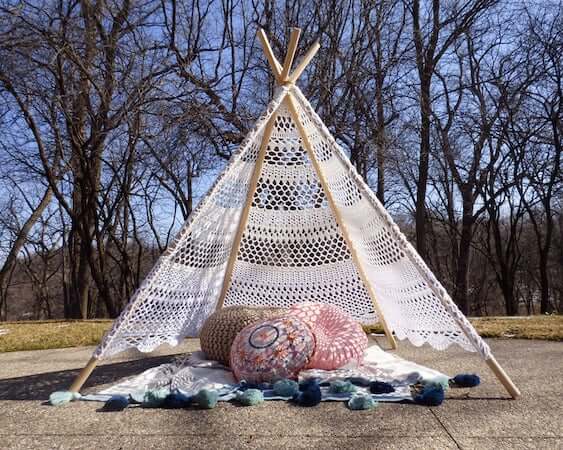 Get the Pattern by Speckless here

23. Love Is In The Air Poncho Free Crochet Pattern by The Purple Poncho
This Love Is In The Air Poncho is a very lacy and delicate looking cover up. This open lace work is made in the Love Knot or Solomon's Knot and is finished off with a beautiful shell border. Great to wear with casual clothes, at the beach as a cover up, or dressy enough for a wedding.
Get the Pattern here

24. Crochet Sunny Lace Cowl Pattern by My Crochetory
Light and airy, a great beginner lace crochet project that is simple to memorize and quick to finish. Treat yourself to a bit of luxury with an elegant Crochet Sunny Lace Cowl. Made with one hank of yarn, it makes a great gift for your loved ones. As simple to crochet, as it is to wear. It's great crochet design for your first laceweight project.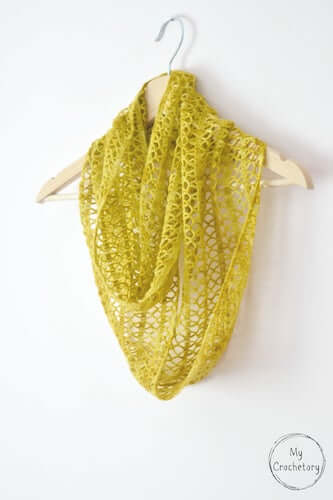 Get the Pattern by My Crochetory here

25. Lace Angel Crochet Pattern by Petals To Picots
This sweet Lace Angel Crochet Pattern is perfect to work up for the holidays or any time you feel that heavenly inspiration. And don't be intimidated by the delicate design – this crochet angel pattern is easier to work up than it looks!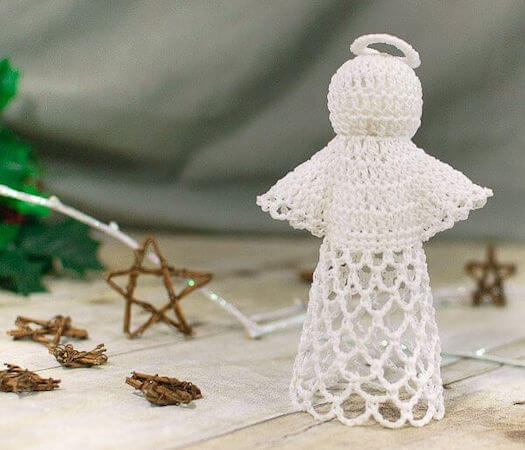 Get the Pattern here

26. Wildflowers Lace Tunic Top Crochet Pattern by 1 Dog Woof
This Wildflowers Tunic Crochet Pattern makes a gorgeous lacy-but-not-too-lacy spring/summer top. Both the width and the length are dictated by stitch patterns repeated at specific intervals, so it's hard to really create a custom size.

That's okay though because this top is meant to be a loose-fitting tunic top worn over a camisole. You can even make it extra large to use as a swim cover-up!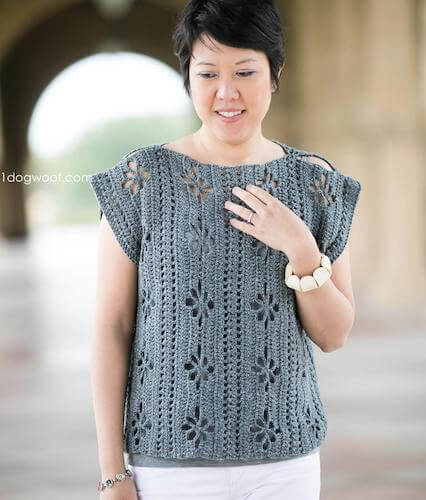 Get the Pattern by 1 Dog Woof here

27. Lace Hand Warmers Crochet Pattern by Valerie Baber Designs
These elegant Lace Hand Warmers features an elegant lace design with a modern essence in the ribbed stripe accent on the wrist area. Two sizes are available including a regular length and a longer length. Designed with sock/fingerling weight yarn so you can wear it in most seasons.

The hand warmers can also be made in a solid color, multiple colors on each row, two toned colors, hand painted yarns or a solid colored yarn to suit your wardrobe and style.
We have quite the collection of crochet hand warmers so be sure to check it out, there's over 20 patterns you can choose from.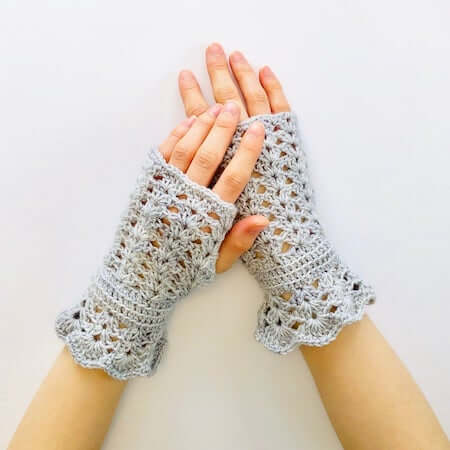 Get the Pattern by Valerie Baber Designs here

28. Wrapped In Lace Wedding Choker Crochet Pattern by Kirsten Holloway Designs
Sometimes, when it comes to wedding accessories, a simple crochet choker can add so much to the over-all look. This DIY Lace Crochet Bridal Choker Pattern is elegant without being over done, and the best part is that you can crochet it in an evening!

Crochet adds a personalized touch to any wedding and the sky's the limit when it comes to customizing this delicate lace choker. Weave the ribbon tie through in the color of your choice to either match the crochet thread used, or to match the bridesmaids dresses.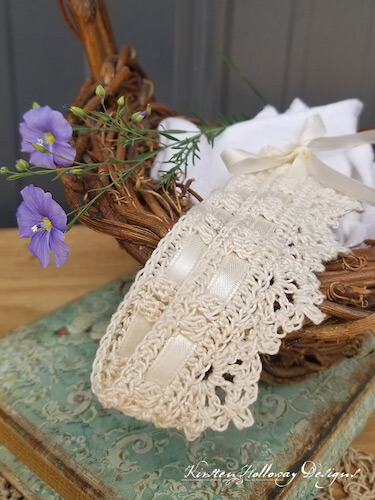 Get the Pattern here

29. Lace Panel Crossbody Bag Crochet Pattern by Kathy's Crochet Closet
This lacy, lined crossbody bag is crocheted with sturdy mercerized cotton yarn in panels that are seamed with slip stitch. The front and back panels are done in an easy lace pattern of shells and v-stitch. The stitches used in this project are chain, double crochet, single crochet and slip stitch.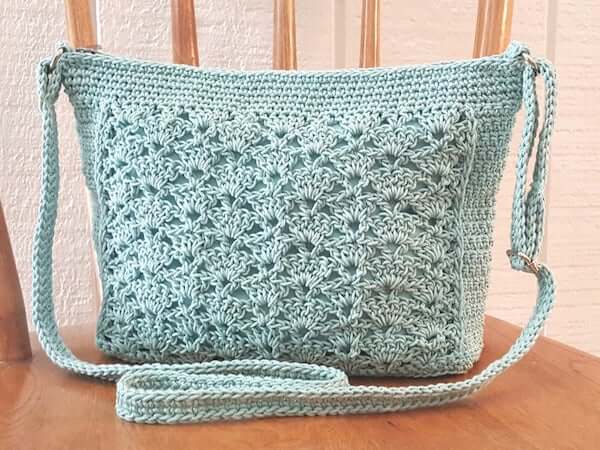 Get the Pattern by Kathy's Crochet Closet here

30. Trailing Lace Socks Crochet Pattern by Vicki Brown Designs
These pretty socks are worked top-down, starting at the cuff, which is worked from side to side before joining and turning to work in the round for the remainder. These Trailing Lace Crochet Socks add a touch of grace and elegance to your sock collection.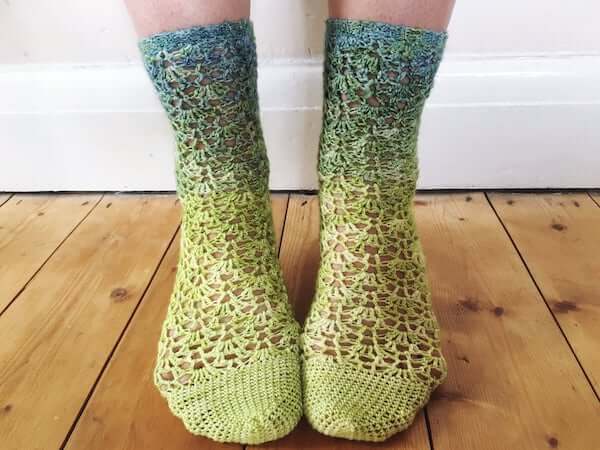 Get the Pattern by Vicki Brown Designs here
SO WHETHER YOU COVET A VINTAGE LOOK OR DESIRE A MORE CONTEMPORARY FEEL, THESE CROCHET LACE PATTERNS WILL GIVE YOU THE SKILLS–AND THE INSPIRATIONS!
Go ahead and decide the one you want to work on first and get started. For more patterns, also see our collection of Mandala Crochet Patterns and Filet Crochet Patterns. When you're done, be sure to post some finished pictures on our Facebook Page. We'd love to see how it turns out!

If you're unsure of what to crochet this summer season, then we're here to help you out. From lacy crochet patterns like lightweight shawls to summer tops and hats, we have something that will wow you!

Once you've found the perfect crochet lace pattern for your skill level, the rest is history!