With no heavy yarns to sit in your lap on warm summer nights, lace shawl crochet patterns are the perfect summer projects.
These 32 lace shawl crochet patterns are openwork designs that add that elegant handmade touch to your spring and summer outfits.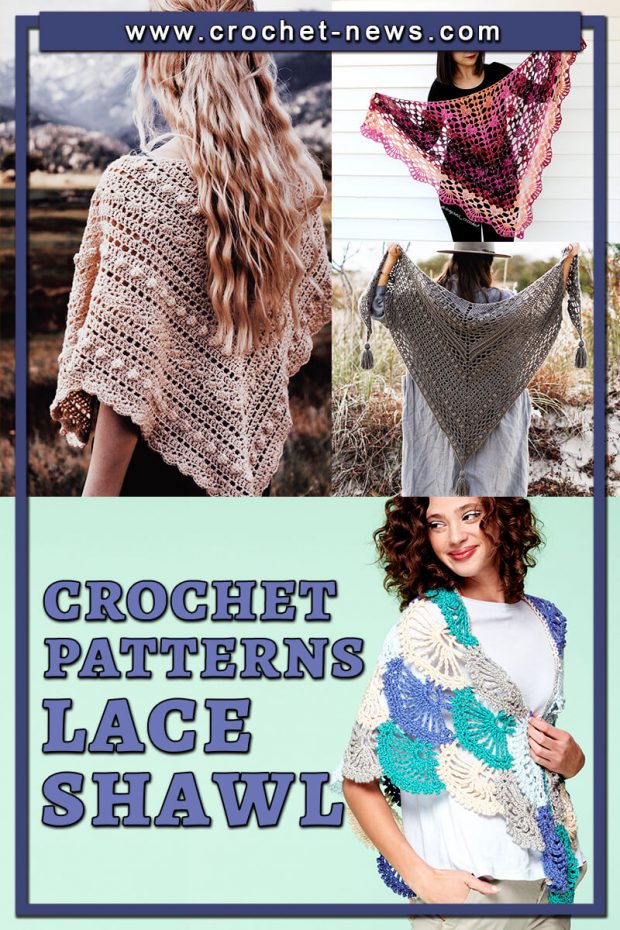 In the springtime, and even on summer evenings, temperatures can drop, so a lightweight, lacy shawl that you can pop around your shoulders to keep the chill off is just what you need.
An eye-catching, delicate shawl brightens up any look, and because the pieces are crocheted, they work up quickly, so you'll be enjoying your new shawls before you know it!

1. Pineapple Lace Crochet Shawl Pattern by Red Heart
A popular pattern takes a modern turn on this lovely crochet shawl featuring a lacy pineapple design. So easy to create, you'll love how the self-striping yarn reveals gentle tones that perfectly bring out the pattern.

On this project, you'll practice crochet, single crochet, chain and more, to complete a stunning shawl. You could make it neutral for a touch of sophistication, but feel free to customize using a more vibrant color.
It's a gift that pleases any lucky lady.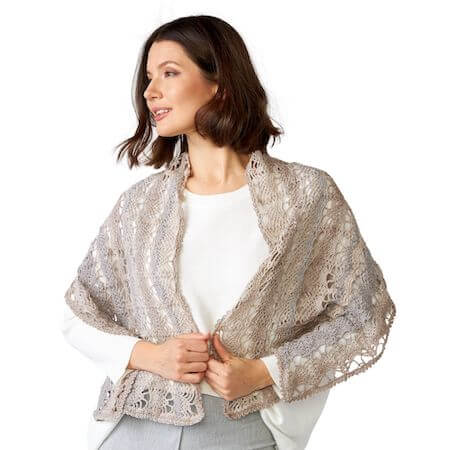 Get the Pattern here

2. One Skein Lace Shawl Crochet Pattern by Annie Design
This is a beautiful asymmetric lace shawl crocheted with only one skein of fingering weight yarn. When you are finished, only 2 ends to weave in! Perfect for that precious skein of Indie Dyed yarn you have been saving.
The pattern repeat is an easy 4-row repeat with basic stitches, so once you have the repeat established, you can relax and crochet!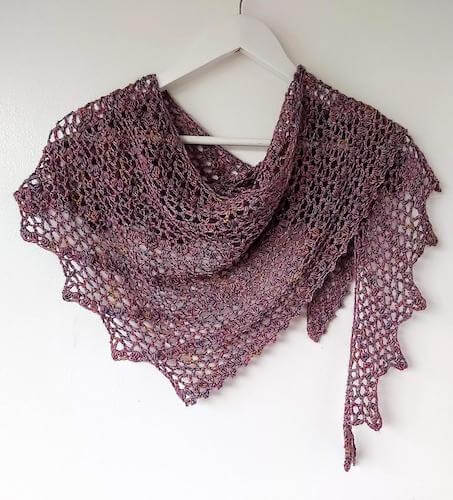 Get the Pattern by Annie Design here

3. Crochet Nightfall Shawl Pattern by My Crochetory
Nightfall Shawl is a wonderful, gentle triangle shaped shawl that has been designer to be crochet in lace weight yarn. Delicate lace pattern work to give an airy, light and elegant shawl perfect to dress up anything you wear it with.

It will fit not only to daily clothes but also to wedding dress (just make it in white/ecru). The shawl is worked in rows in one piece with continuous border added in the round. Because the shawl is worked bottom-up, its length is easily adjusted.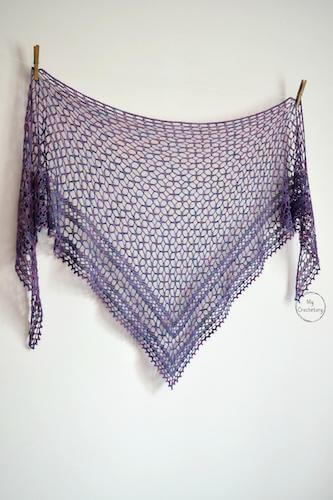 Get the Pattern by My Crochetory here

4. Victoria's German Shells Shawl Crochet Pattern by Jonna Martinez Crochet
This royal lacy shawl is designed using the German shells or virus stitch and a V stitch. It is lovely in many different colors and has repeats to easily make it bigger. This shawls finished size is 68 inches across straight edge by 35 inches from middle to tip.
Again, You can make this shawl bigger by just continuing with the repeats.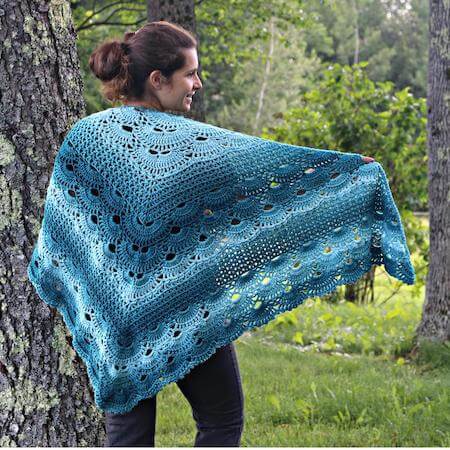 Get the Pattern by Jonna Martinez Crochet here

5. Seafoam Crochet Lace Shawl Pattern by Bella Coco Crochet
This Seafoam Crochet Lace Shawl is a wonderful mix of lace and geometry. You will adore the lace panels that are inspired by the marble lattice designs of one of the world's most beautiful wonders, the Taj Mahal.

The lattice patterns are intricate yet so simple. Worried the pattern may be too complex? Don't be. The lace pattern is easy to master, uses basic stitches and works in repetitions.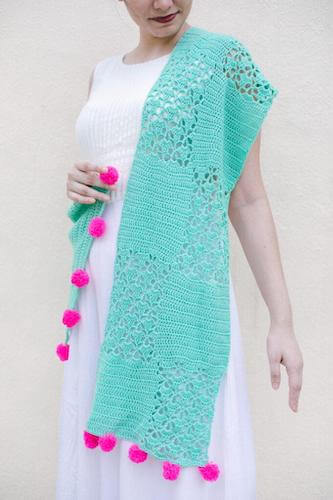 Get the Pattern here

6. Lace Shawl Crochet Pattern by Darling Jadore
"Gorgeous, vintage-inspired, and romantic" are the three words used to describe the elegance of this shawl — a fun crochet pattern perfect for advanced-beginner/intermediate crocheters that allows you to crochet a lacy, triangle scarf shawl.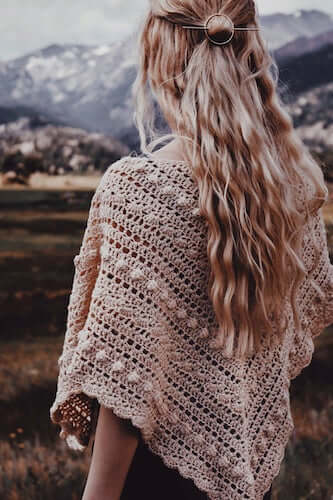 Get the Pattern by Darling Jadore here

7. Light And Lacy Shawl Crochet Pattern by Red Heart
Breezy and beautiful, this lightweight crochet shawl is comfortable enough to wear any time of the year, day or night. Simply select the 3 shades that complement your look, or take the guesswork out and go with the designer's picks.
It's an easy-level project and a delightful gift for the lady who has it all!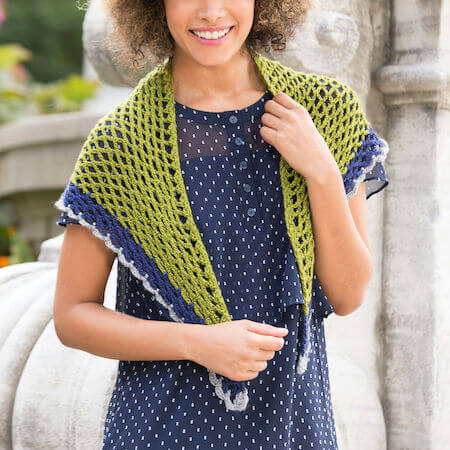 Get the Pattern here

8. Sea Glass Shawl Crochet Pattern by Knot Sew Cute
This Sea Glass is a light weight, carefree, shawl edged with lacy pineapples that roll and crest just like the waves of the sea. The entire shawl is worked sideways with the edging worked at the same time.
Shorter stitches along the top edge give the shawl a slightly crescent shape which allows it to drape beautifully around the neckline.
Get the Pattern by Knot Sew Cute here

9. Falling Blossoms Shawl Crochet Pattern by Ana D Design
This Falling Blossoms Shawl is simple and elegant, in a slightly asymmetrical triangular shape. It's fun play of basic crochet stitches used to make a delicate falling blossoms motif.

It can be worn in a multitude of ways. Wrap it around your neck as scarf, wear it like a cowl or bandana, or just throw it over one shoulder to give a pop of colour.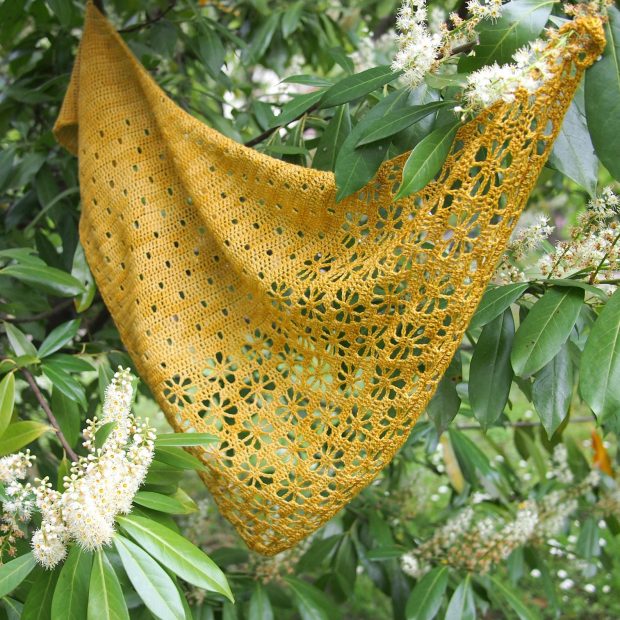 Get the Pattern by Ana D Design here

10. Lace Fans Crochet Shawl Pattern by Yarnspirations
A colorful fan motif on this textured shawl adds playful personality to any look. Crochet using your favorite colored yarn, which combines 5 complementary shades in one braid, making it effortless to achieve a beautifully coordinated finish.
Choose from 2 variations on this airy piece that's both machine washable and dryable.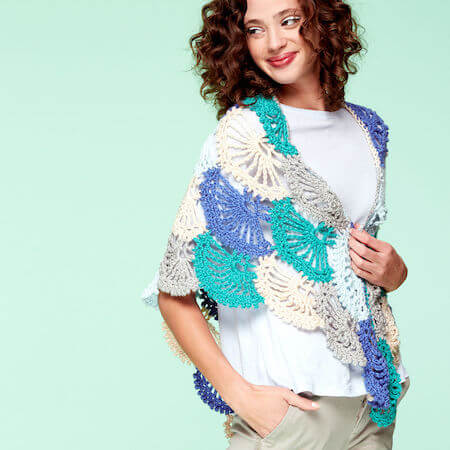 Get the Pattern here

11. Crochet Serrate Shawl Pattern by My Crochetory
This Crochet Serrate Shawl has such an unusual construction, worked from the centre top down in one piece. With its lace leaves central panel and plain sides, it is simple enough for a lace beginner to crochet, not boring for crocheters with more experience.
This is a relatively quick and relaxing project that has been found to be completely addicting.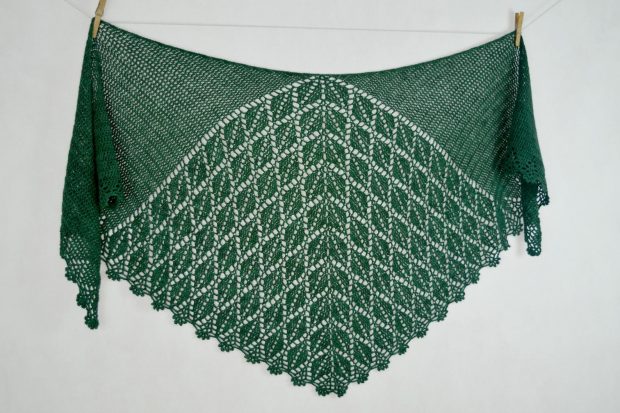 Get the Pattern by My Crochetory here

12. Lace Crochet Shawl Pattern by Rachy Newin Designs
This Lace Crochet Shawl Pattern is quick to work up and uses only simple stitches, making it accessible even to newer crocheters. Worked in one piece from the top down, it's a wide and shallow triangle with a neck that curves upwards for easy wearing and styling.

The pattern can end on any 4th row and the edging is incorporated into the stitch pattern so you can easily work the shawl to size or use up every scrap of yarn.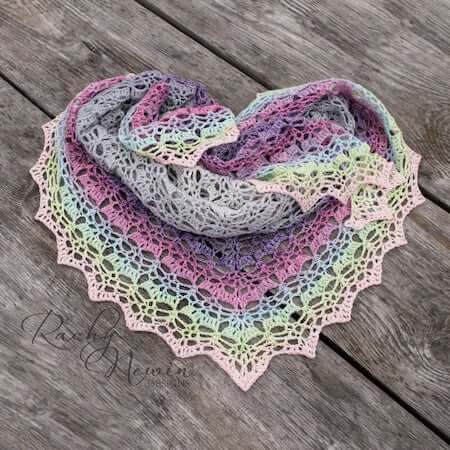 Get the Pattern by Rachy Newin Designs here

13. Free Crochet Lace Shawl Pattern by Gathered
If you're looking for a super-stylish shawl to complete your outfit, then look no further! This free crochet shawl pattern is a gorgeous accessory that works equally well wrapped over an evening dress or just thrown over your everyday clothes!
It features a beautiful repeating diamond design, and uses clever treble shaping to create a perfect triangular shape.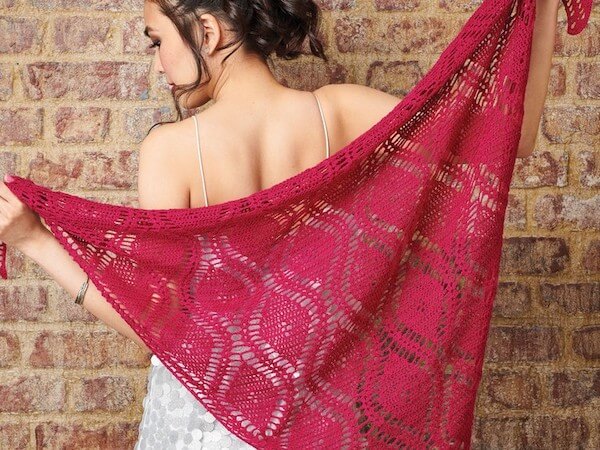 Get the Pattern here

14. Rising Tide Asymmetrical Shawl Crochet Pattern by Make And Do Crew
This elegant four-season shawl is much simpler than it looks. You'll have the stitch pattern memorized before the sun sets behind the sea! Basic puff stitches combine with a lace trim to make for a shawl that's a perfect mix of squish, fluff and fancy.
Whether you're headed to the beach, a wedding or just need protection from some overzealous air conditioning, this asymmetrical crochet triangle shawl is the perfect go-to way to wrap up this summer–and for the rest of the year!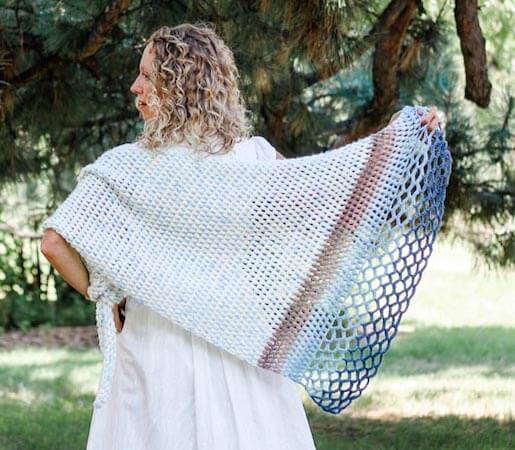 Get the Pattern here

15. Crochet Lace Shawl Pattern by Crochet Garden
This country maiden crochet shawl pattern will sing like the songbirds and radiate like the waking sun. Whether you are in your cowboy boots for an evening walk or taking in the morning sun with your coffee, this Crochet Lace Shawl will take you home to the country with its airy lace and graceful rustic edging.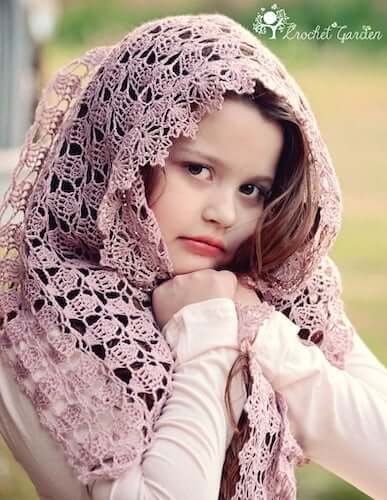 Get the Pattern by Crochet Garden here

16. Golden Rod Shawl Free Crochet Pattern by My Crochetory
This delicate and feminine bottom up crochet triangle shawl pattern is easy to memorize and fun to make. Perfect for beginners wanting to improve their skills or any crocheters that enjoys an easy project!
Goldenrod is a lightweight spring/summer shawl, made from the bottom up with beautiful diagonal lace sections throughout. Increases are placed along the edges forming a wide triangular shape.
The easy construction and basic stitches make The Goldenrod Shawl suitable as a first lace project.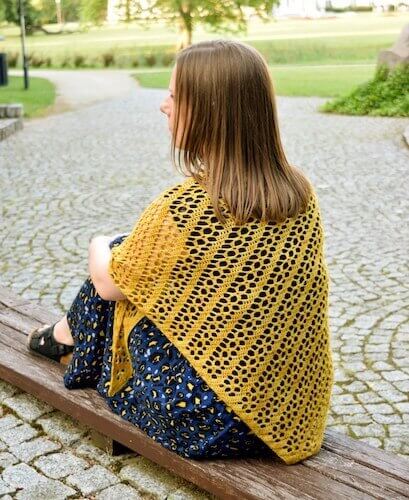 Get the Pattern here

17. Awana Lace Shawl Crochet Pattern by Dada's Place
This Awana shawl is light and airy, a perfect accessory for a summer night out. It can also be a wedding accessory. Just leave out the tassels. This crochet shawl pattern is a triangle-shaped shawl, worked back and forth in rows.
When blocked, the shawl measures approximately 142 cm (56") x 74 cm (29").
Get the Pattern by Dada's Place here

18. Lace Shawl With Beading Edging Crochet Pattern by Petals To Picots
This gorgeous lace shawl is so modern and trendy but yet has an elegant vintage vibe. Wear it to dress up your favorite pair of jeans or for a classy night out. The pattern features a beautiful beaded edging that adds a bit of fun and sparkle.
This is a classic piece that will be sure to become a staple in your wardrobe for years to come.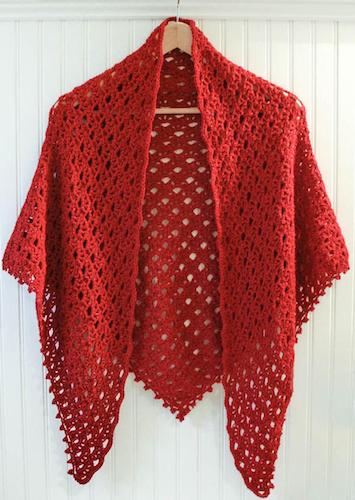 Get the Pattern by Petals To Picots here

19. Crochet Amore Shawl Pattern by Desert Blossom Crafts
This Amore Shawl is a simple yet elegant crochet pattern! This shawl features a lace crochet pattern that resembles hearts. The stitch pattern is repetitive and easily memorizable, making it perfect to work on while watching your favorite Netflix show!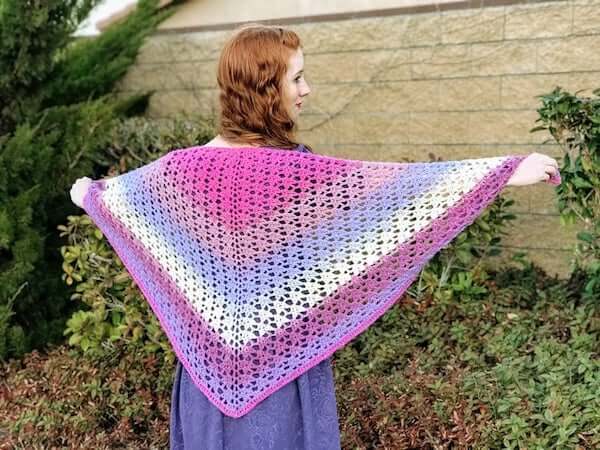 Get the Pattern by Desert Blossom Crafts here

20. Tea Flower Shawl Crochet Pattern by Johanna Lindahl
This Tea Flower is a soft and airy triangular shawl that drapes very well, perfect for the summer. The edge of the shawl is made of little flowers that gives it an even more summery feeling.
If the flower edge is nothing for you, this pattern also provides you with a description of an alternative picot border. This shawl can be made in any size.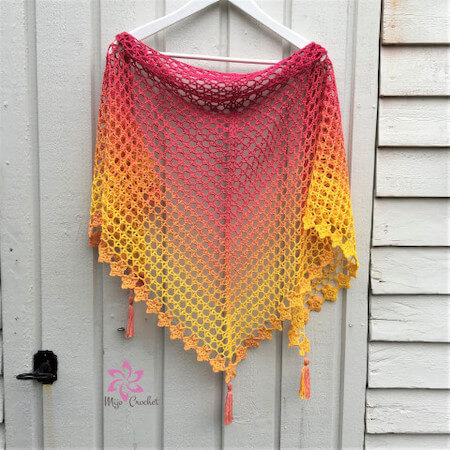 Get the Pattern here

21. Pebble Lace Crochet Shawl Pattern by Moxie Lace
Make yourself a beautiful, airy summer shawl with this simple, adaptable pattern. The design features a section of pebble lace that creates an unique textured center section. This is then surrounded by a lattice edging and fringe secured with an elegant, vintage knot.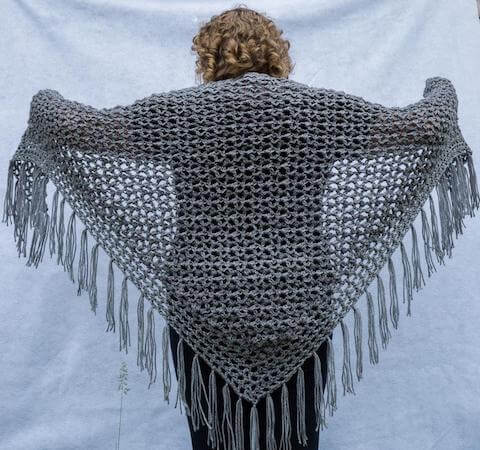 Get the Pattern by Moxie Lace here

22. Sweetheart Lace Shawl Crochet Pattern by Planet June
This Sweetheart Lace Shawl is a triangular shawl with an elegant curve along the top edge so it hugs your neck and won't fall off your shoulders. Using only basic stitches, the lace grows from the center top so you can keep crocheting until the shawl is the size you want, then add the picot border as the finishing touch.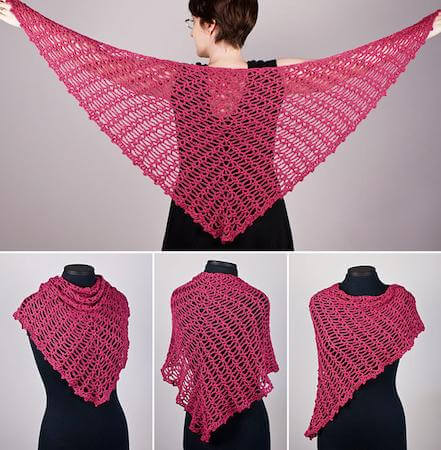 Get the Pattern by Planet June here

23. Flora And Fauna Shawl Crochet Pattern by Fiber Flux
This Flora and Fauna Rectangle Lace Shawl is a rectangular wrap crocheted in an all over fan stitch. Easy stitches and gorgeous yarn work up beautifully and pretty on-trend fringe gives it a bohemian festival look.

This piece celebrates springtime in fabulous crochet lace and fun fringe to finish it off. This is a perfect piece to compliment any outfit, both casual and formal alike!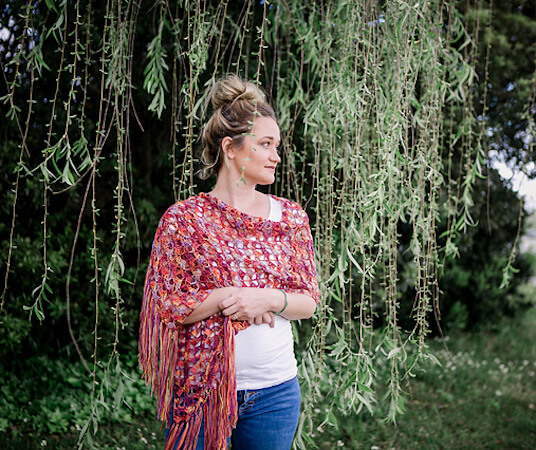 Get the Pattern here

24. Wrapped In Lace Shawl Crochet Pattern by Knot Sew Cute
Sheer elegance describes this delicate triangle Wrapped in Lace Shawl. From row 4 until the edging the pattern is a simple 2 row repeat that is quick to memorize. The pretty beaded border adds a touch of glimmer and enhances the drape of the shawl.
Despite the intricate look of the fine fabric the shawl is relatively simple to make and you will be surprised at how fast it actually works up.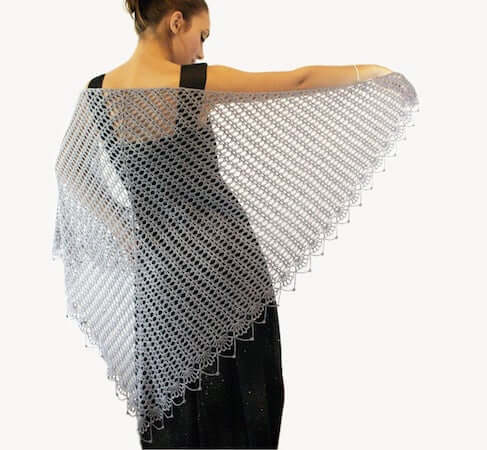 Get the Pattern by Knot Sew Cute here

25. Light Shawl Crochet Pattern by Mama In A Stitch
Wrap yourself in this airy, oversized shawl featuring open stitchwork and beautiful drape. Super cute paired with a tank or maxi dress yet versatile enough to wear with just about anything! The various stitches and textures will keep you interested as you crochet while also creating a modern, feminine accessory.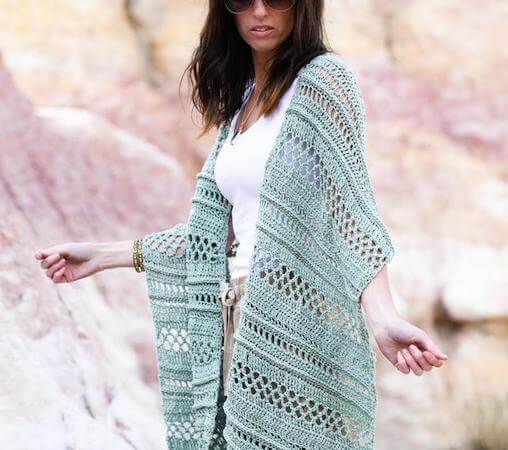 Get the Pattern here

26. Dancing Lights Shawl Crochet Pattern by Ala Sascha
The beautiful lace pattern, combined with the eye-catching border of this Dancing Lights Shawl, make it an absolute joy to both make and wear! The pattern is not hard to make and once you get it, it will ll be easy to memorize.
You can wear it as a scarf or drape it around you to look more like a poncho!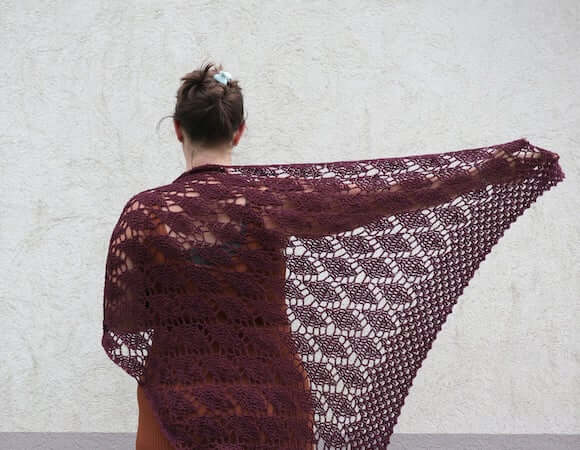 Get the Pattern by Ala Sascha here

27. Lace Bobble Triangle Shawl Crochet Pattern by Two Of Wands
Add a touch of romance to your wardrobe with this shawl. Simple lace stitches and bobbles come together to make this easy level design look like a stunning masterpiece. Wear it over the shoulders like a shawl or wrap it with the point in front like a scarf – either way it will accent your look with elegance.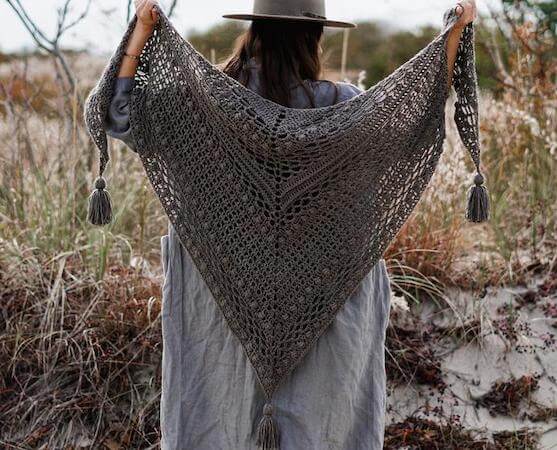 Get the Pattern by Two Of Wands here

28. Broomstick Lace Shawl Crochet Pattern by Yarnspirations
Practice the broomstick lace technique, which finishes this wrap with intricate texture. Plum is the selected shade for this project, but use your imagination to fashion yours in whatever color you prefer.
Finish this soft, lightweight accessory in a generous 80″ length for so many stylish ways to look fabulous.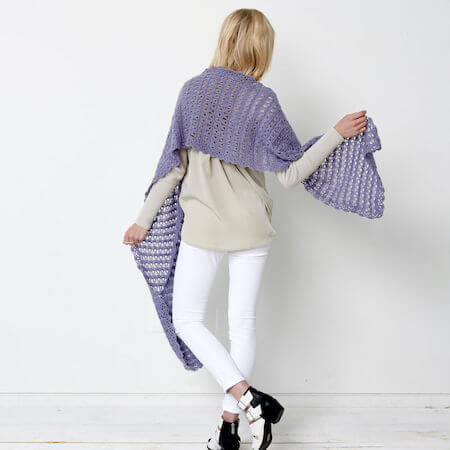 Get the Pattern here

29. Crochet Lace Heart Shawl Pattern by Lenysea Crochet
This Crochet Lace Heart Shawl is enjoyable to make and features simple and delicate lace in a heart motif. The pretty shell edging adds a beautiful detail to this crochet shawl with a wonderful drape. It looks gorgeous just in any color and type of yarn, without a doubt.
Use a solid color, variegated or self-striping yarn for different effects.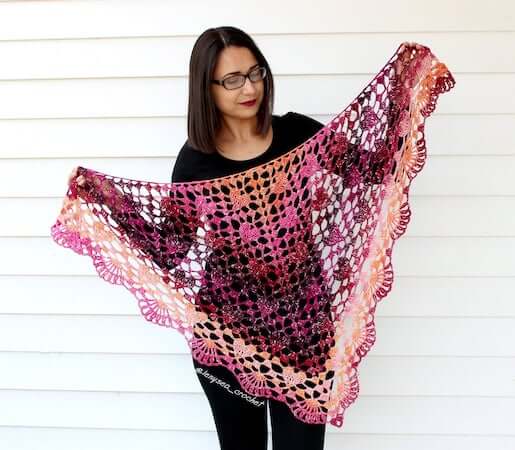 Get the Pattern by Lenysea Crochet here

30. Scallop Falls Shawl Crochet Pattern by Crochet Instinct
This Scallop Falls Shawl is crocheted from the top edge to the final scallop at the point of the triangular shawl. This would be a perfect shawl for a wedding, for your Mom, for your daughter, for your friend, for yourself!
It is also very pretty with the triangle in the front as a pretty cowl-style as well.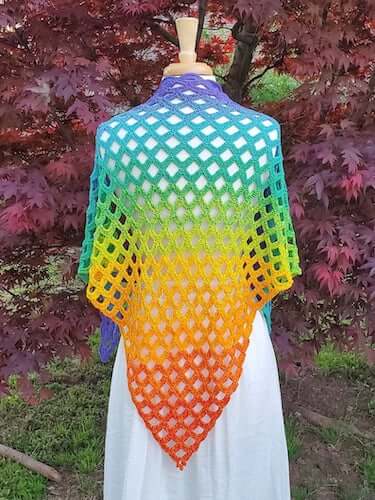 Get the Pattern by Crochet Instinct here

31. Hairpin Lace Shawl Crochet Pattern by Red Heart
Invigorate your look with fresh style that's perfect for warmer days with this airy, hairpin lace, crochet shawl. Created using a hairpin lace loom and soft yarn, it's a delicate layer over a strapless or wedding dress.
Gorgeous in white, you'll soon discover that it would look just as pretty in another shade to match your look.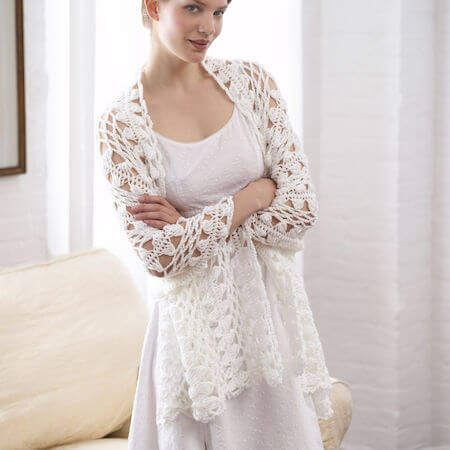 Get the Pattern here

32. Lace Shawl Crochet Mediterranean Pattern by Make My Day Creative
Lace Shawl Crochet Mediterranean pattern is absolutely exquisite is worked from the centre top out, and the pattern results in an arrowhead shape ideal for wrapping and draping over the shoulders without slipping.

Because of the design, gauge is not critical and you can just keep crocheting until your shawl is the desired size (or you run out of yarn). The example shown is worked in lace weight yarn with a 2.5mm hook.
You could size up yarn and hook up to a 4mm and dk if you prefer though the effect will be different and you may want to modify the scalloped edge border if you so size up.  
We recommend any yarn which has some stretch (e.g. a yarn with at least 30% animal fibre content), as you will need to block this lace shawl quite strongly once you're done.
Materials:
655m (84g) Debbie Bliss Rialto Lace (Shade shown: Royal (19))
2.5mm hook
Stitch marker for centre loop (optional)
Downloadable pdf patterns and charts:
2. Mediterranean Lace Shawl UK
3. Mediterranean Lace Shawl Main Stitch Pattern
4. Mediterranean Lace Shawl Edging
More Crochet Shawl Patterns Here
MODERN PATTERNS WITH A RETRO VIBE, THESE LACE SHAWL CROCHET PATTERNS ARE ALWAYS IN STYLE!
We love to see your projects! Please post pictures of your finished shawls on our Facebook Page to show off your stitches!
Now that you are on a roll, you might also enjoy prayer shawl crochet patterns, dragonfly shawl crochet pattern, lace crochet patterns, crochet clothing patterns we have on our site. We also have Shawl Pin Ideas for keeping your shawl in place
Your to-crochet list is about to get really long! When you need to make something with just the right impact to complete an outfit or a little wrap for the beach, you can count on this list of lace shawl crochet patterns!