Check out these 22 twinkly crochet star patterns which will have you making anything from ornaments, stuffed toys, garlands, home decor, and even accessories!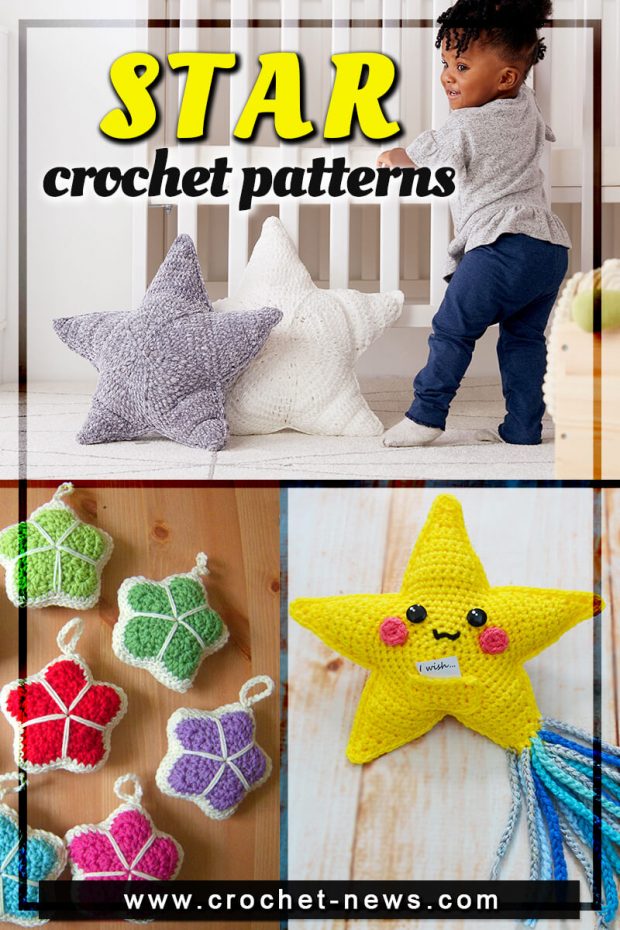 What's not to love about crochet stars? Use them for Christmas, present toppers, bunting and more or just make them for fun!

1. Crochet Christmas Star Pattern by Slumber Spun
These simple Crochet Christmas Stars make a fun and easy holiday project! The pattern is incredibly easy to make – just two short rounds and your star is done!

You can make some to hang on your Christmas tree, attach them to special gifts, or work up a whole constellation and string them onto a starry garland.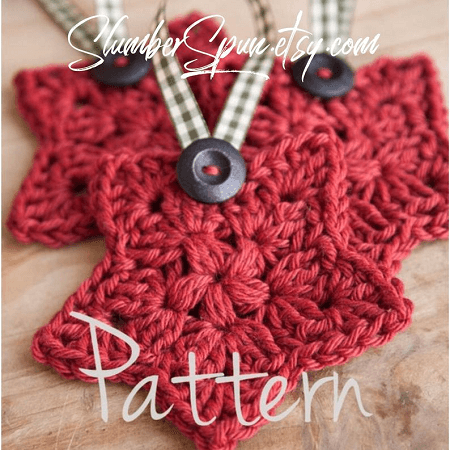 Get the Pattern by Slumber Spun here

2. Holiday Star Scrubby Crochet Pattern by Red Heart
Even your kitchen sink will feel festive with this Holiday Star Scrubby! Crochet one for each bathroom as well, or pair them with soap or hand cream for a nice hostess gift.

Check out these Crochet SCrubbie Patterns for more ideas!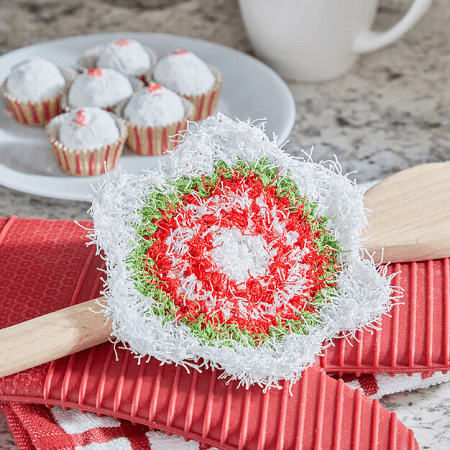 Get the Pattern here

3. Crochet Star Baby Blanket Pattern by Owl B Hooked
Whether for carriage or crib, you know this Crochet Star Baby Blanket won't go unnoticed. Choose your colors and create something fun for any bundle of joy.

Simple, modern, and gender-neutral design, it makes for an adorable and unique 1st birthday or baby shower gift!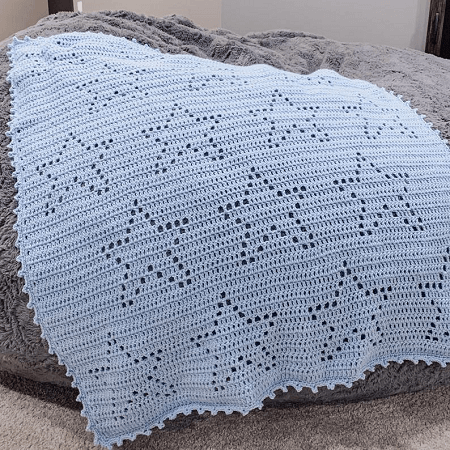 Get the Pattern by Owl B Hooked here

4. Teeny Tiny Crochet Stars Pattern by Repeat Crafter Me
Is it just me or do you sometimes find the need for some Teeny Tiny Crochet Stars?! These little cuties are about 1 inch wide and a great replacement for a button. They only take a couple of minutes to make and add a nice little flair to your crochet projects.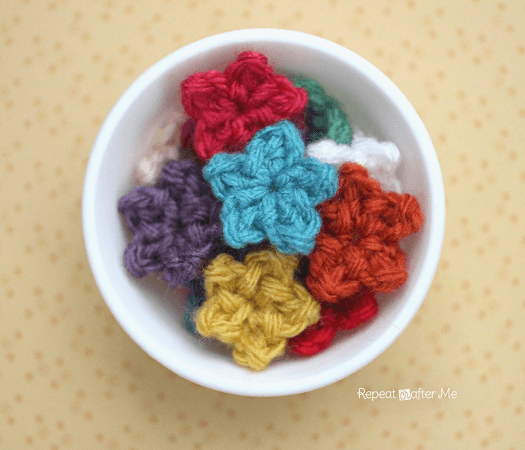 Get the Pattern here

5. Crochet Star Pattern by ATERG Crochet
This Crochet Star Pattern is the base and the fun part for you to make your own color combinations. It's easy and quick to make and you can use it as an ornament, in place of a bow on a gift, or as an embellishment on hat or really anything.

Best of all, it uses hardly any yarn, so you can make it out of stash yarn. Who doesn't love that?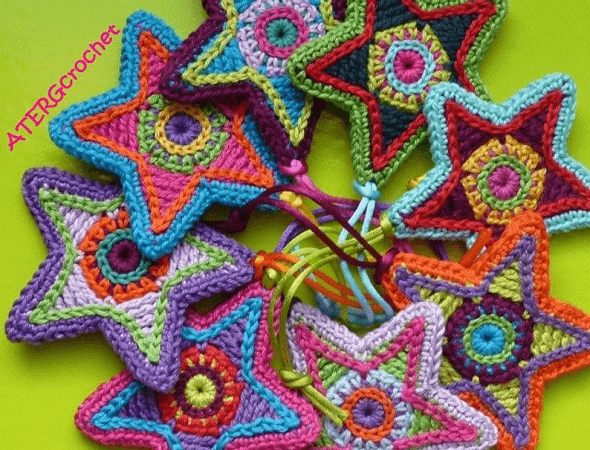 Get the Pattern by ATERG Crochet here

6. Granny Star Coaster Crochet Pattern by Island Style Crochet
This solid and multi-purpose Granny Star Coaster could be used all year long. Plus, they are also the perfect applique for decorating a variety of projects like gift bags, totes, baby clothes, and banners. The opportunities are endless!

Here are Crochet Coaster Patterns for more ideas!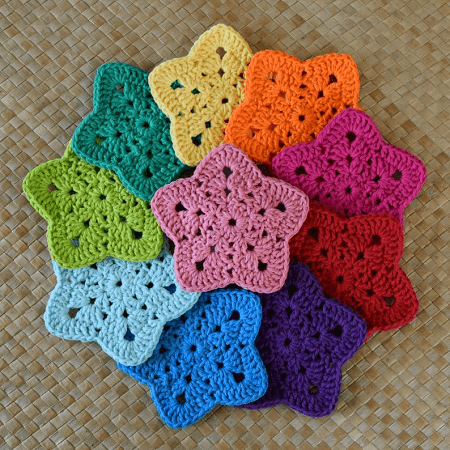 Get the Pattern by Island Style Crochet here

7. Dangling Star Earrings Crochet Pattern by Yarnspirations
Add dangling beads to these stunning crocheted earrings and give them extra appeal! Make a pair in every color to match with your outfits! You just need some thread, a small hook, and a few additional supplies to get started.

These make great gifts for the holidays. If you crochet for friends, they'll love these earrings. If you're a seller, try them out for your holiday markets.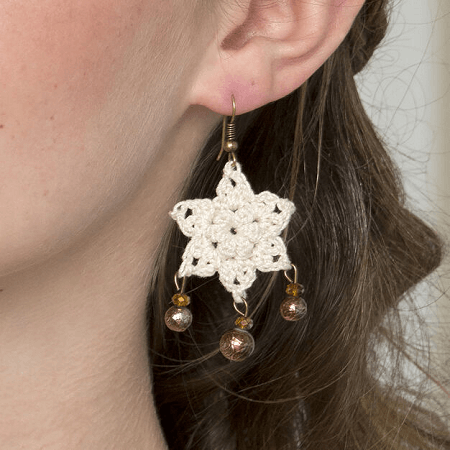 Get the Pattern here

8. Crochet Star Ornament Pattern by Lilla Bjorn Crochet
These stars are ideal as hanging ornaments for a wall, decorations for a Christmas tree, or motifs for a garland. They can be also used as cute additional ornaments attached to Christmas gifts.

You can make a one-sided star or crochet two stars, join them together, and stuff to get a 3D hanging ornament.

You can add cloves and cinnamon along with the stuffing or any other herbs or spices that remind you of Christmas.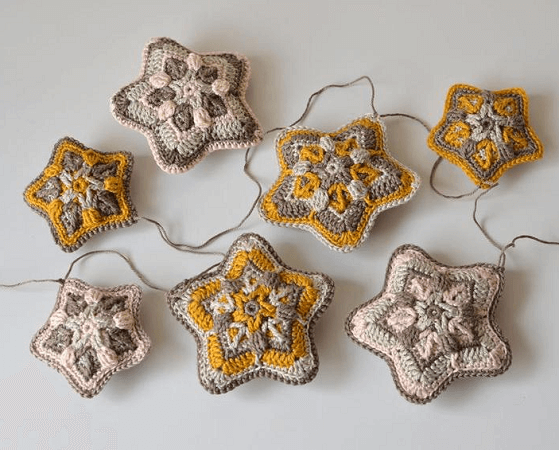 Get the Pattern by Lilla Bjorn Crochet here

9. Crochet Star Pillow Pattern by Yarnspirations
Crocheted from the center-out, these cuddly stars are sure to shine in any nursery or playroom. Work using front post stitches (double crochet front post) to shape your pillow into its final form.

Customizing a set that sparkles with any décor is a cinch by simply selecting your favorite colors of plush yarn!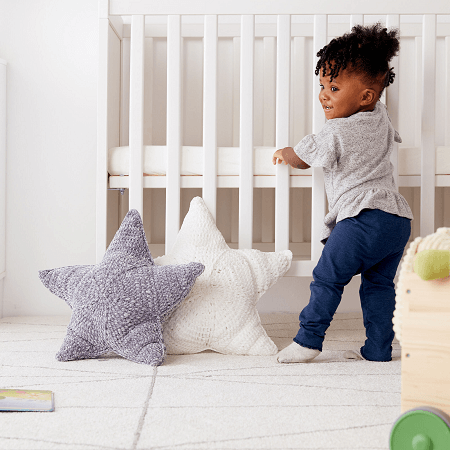 Get the Pattern here

10. Simple Crochet Star Pattern by Stitching Together
Quick and easy Simple Crochet Star Pattern perfect for using up scraps and using to decorate for your favorite holidays.

String them together to make a garland, add a hook to make an ornament, or hang them like in the stars wall hanging.

The pattern includes instructions for the single crochet version and the double crochet version. The stars are similar but by varying the start and using different yarn and hook sizes you can make a variety of crochet stars.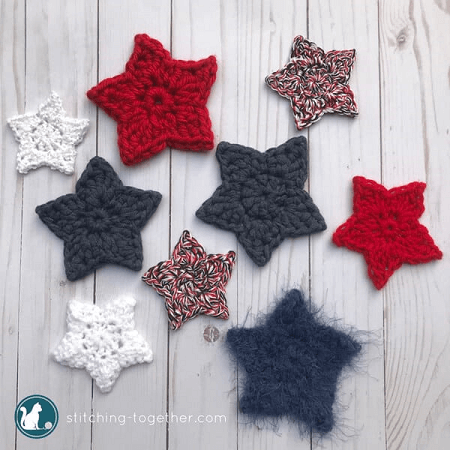 Get the Pattern here

11. Star Ball Crochet Pattern by Look At What I Made
This Crochet Star Ball is based on the traditional Amish puzzle ball and, as such, comes apart into 3 segments or "rings" that have to be assembled to form the ball.

Despite how it looks, there are only 3 tiny bits of actual sewing involved in making this ball.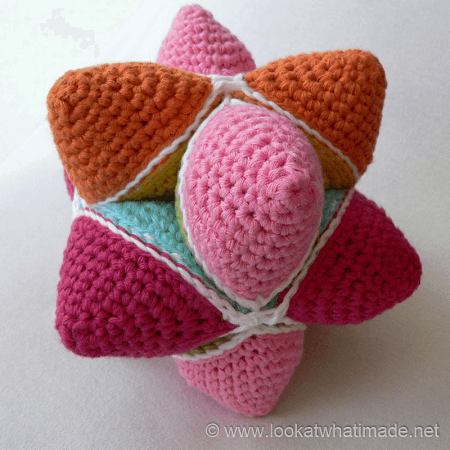 Get the Pattern here

12. Crochet Stuffed Star Pattern by Wool N Hook
This Crochet Stuffed Star is a great addition to the nursery! You can choose whether to have a hanging loop on your star or, you can make it without for a cute, plush toy.

The pattern works well in any type of aran/worsted weight yarn. You can also pop in a rattle or squeezy to give baby hours of fun!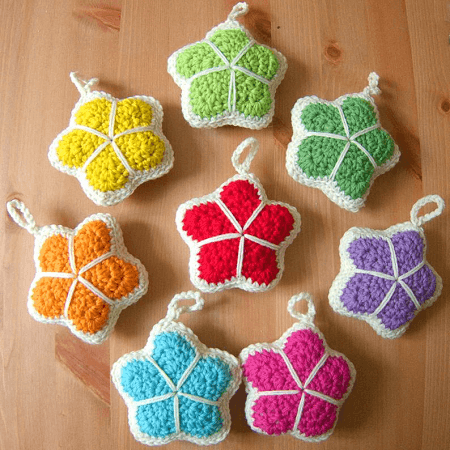 Get the Pattern by Wool N Hook here

13. Crochet Star Posy Table Runner Pattern by Lulu Loves UK
This beautifully simple Crochet Star Posy Table Runner is made up of motifs which are joined as you go, making it easily adjustable for any size table. Perfect for Christmas or party tables.

You can use any DK weight cotton to achieve a similar effect, mix and match the colours of the centre or simply create the stars in one colour.

Looking for more gorgeous table runners to whip up? You'll love these Crochet Table Runner Patterns!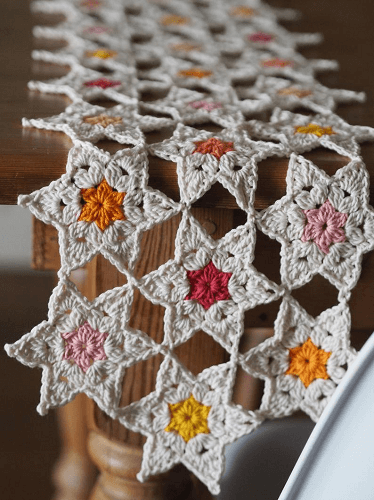 Get the Pattern by Lulu Loves UK here

14. Star Tree Topper Crochet Pattern by Cara Engwarda
This Star Tree Topper will make the cutest tree topper ever. It will be the perfect sparkle atop your Christmas tree this year! The yarn thickness and hook size used will affect the size of the finished item. The finished size is approximately 15cm tall (6 inches).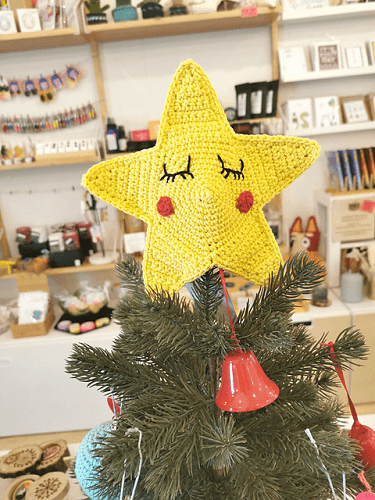 Get the Pattern here

15. Crochet Star Applique Pattern by One And Two Company
You can make these as individual Crochet Star Applique or add a hanging loop to use on your Holiday tree or mantle.

You could also combine several to make a crochet garland! Include one in your Christmas cards, or add as a lovely touch to embellish your gifts.
Get the Pattern by One And Two Company here

16. Free Wishing Star Crochet Pattern by Crochet Verse
This little cutie is really quick to make and would be such a cute gift for just about anyone; babies, kids, and wishful adults alike!

This kawaii style amigurumi star pattern has a special pocket on it's tummy. Just write your wish and tuck it inside and then wait. Maybe your wish will come true!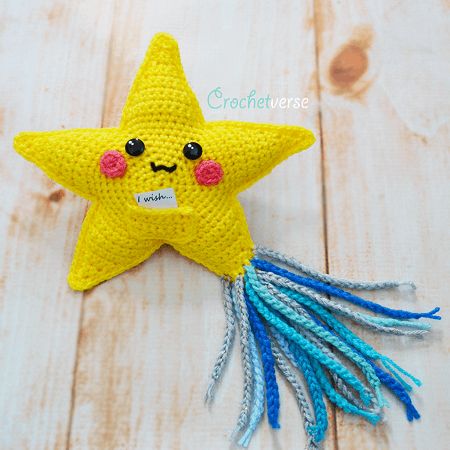 Get the Pattern here

17. Crochet Star Wall Hanging Pattern by Truly Crochet
Make this Crochet Star Wall Hanging in under an hour with some super chunky yarn and hook, with three easy rounds you will have this worked up in no time, what color will you make yours in?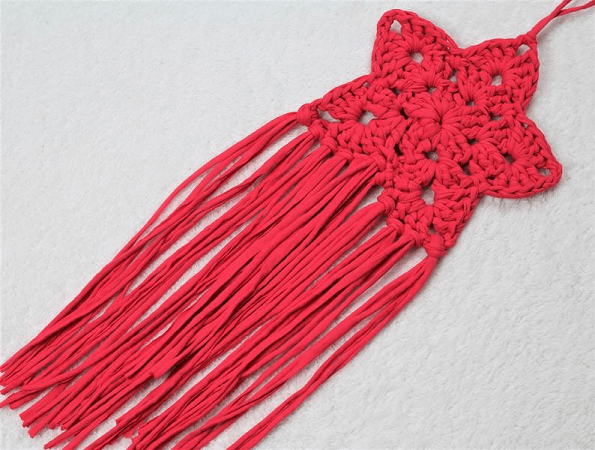 Get the Pattern by Truly Crochet here

18. Little Stars African Flower Crochet Pattern by Heidi Bears
These Little Stars African Flower Crochet Pattern is an excellent stash buster project, as you only need to use very small amounts of leftover yarn to make a motif.

The little stars that have been crocheted for this pattern were made using sock weight/fingering/#1 weight yarn. Using this weight yarn will give you a star measuring approximately 8.5cm measured across.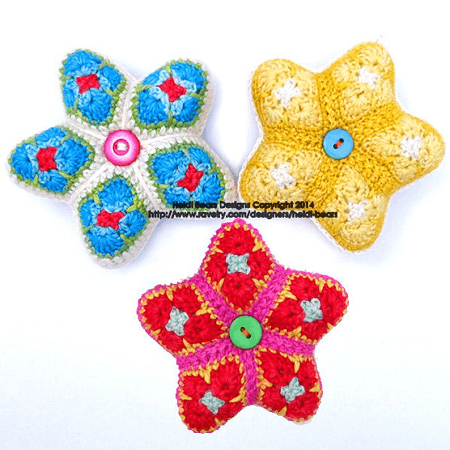 Get the Pattern by Heidi Bears here

19. Crochet Star Table Mat Pattern by Red Heart
Ideal for Hanukkah entertaining or any winter event, this Crochet Star Table Mat keeps furniture protected from nicks and scratches.

It's easy to crochet in your favorite shades, whether completing as shown or stitching with a different trio of colors that spark your imagination. It adds a warm, homemade touch to any table setting.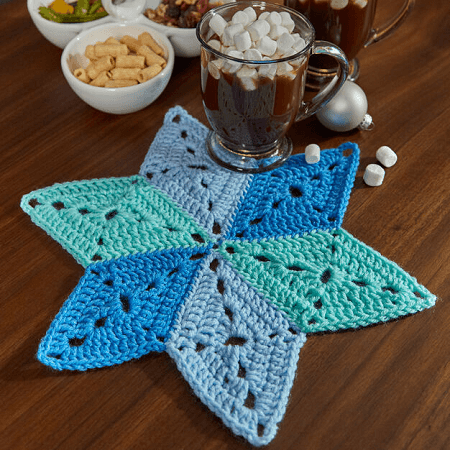 Get the Pattern here

20. Christmas Crochet Star Pattern Free by Annie Design Crochet
These Christmas Crochet Stars are not traditional perhaps, but their bold beautiful colors will brighten up any home!

This free crochet pattern uses only small scraps of cotton yarn, to make these unconventional Christmas crochet decorations.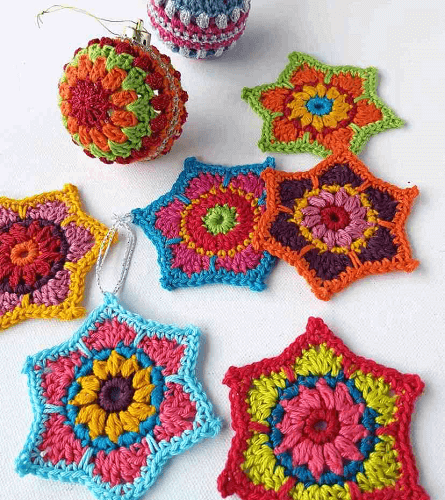 Get the Pattern here

21. Sea Star Crochet Pattern by Vliegende Hollander
Now you can make your very own Starfish or Sea Star with this clear and easy to follow Sea Star Crochet Pattern!

When made with a 4.0mm crochet needle and light worsted weight yarn, the Starfish will become approximately 27cm/11″ in diameter.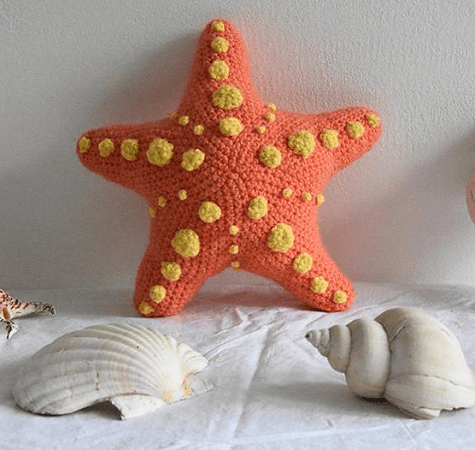 Get the Pattern by Vliegende Hollander here

22. Crochet Baby Star Wrap Pattern by My Accessory Box
Just when you think you've already seen all the cutest things on Earth, here we come with another amazing project to show you just how wrong you are!

How could anything look even nearly as sweet as this gorgeous Crochet Baby Star Wrap? This little blanket is sure to keep your little one cozy while snuggling in during the day! Not only that but what a fun project and style!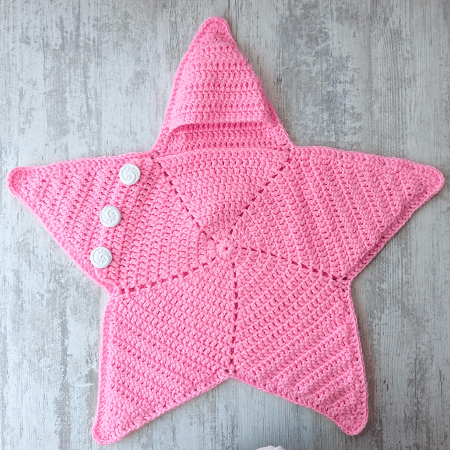 Get the Pattern here
These crochet star patterns are all super simple and easy – so get started now!
If you're done making your own stars, we'd love for you to share your projects on our Facebook Page. And to check all our other toy patterns like our Star Wars, Spider-Man, Batman, and so much more!

We hope you enjoyed these crochet star patterns. We'd love to hear how you plan to use them!