Log cabin crochet pattern concept builds onto each other either from a mitered or straight across. Each time a section is added, the new edge will get bigger. For you quilt lovers, this might be a familiar design to you, but we are crocheting it up.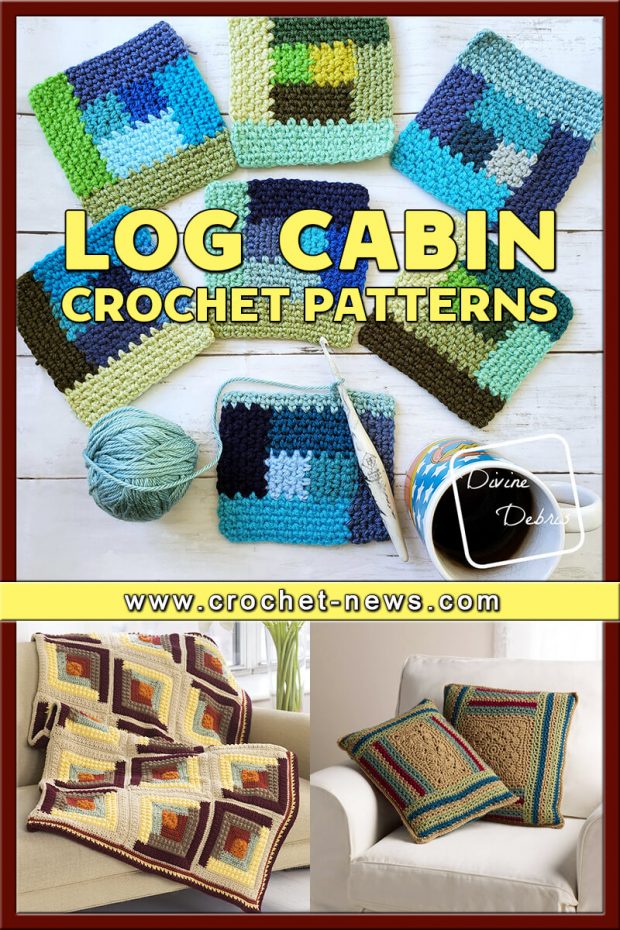 What a great concept in these log cabin designs, which builds blocks of color as you go. Discover the versatility of these patterns, since you only need to swap out shades to create something different, each time you make it. Make a small square or a large blanket!

1. Autumn Log Cabin Throw Crochet Pattern by Red Heart
Colors of the season combine with contemporary style to complete this crochet throw that's perfect to celebrate autumn.
This log cabin crochet blanket is a lovely accent in the family room and looks right at home at the cottage. Swap out shades to create a whole new blanket when the season changes again!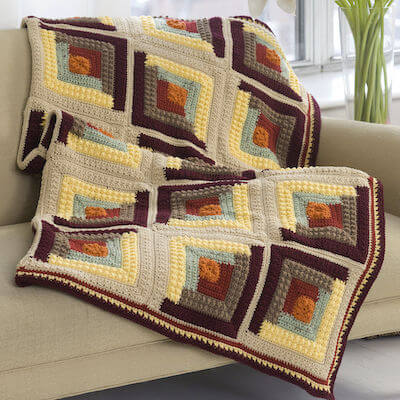 Get the Pattern here

2. Linen Log Cabin Crochet Pattern by Divine Debris
Do you love quilting and crochet? Because you're in luck with this Linen Log Cabin Square. It's a combination of a very classic design, the Log Cabin, but uses the linen stitch to give it a little more texture and dimension.

This design is a quick and fun way to use up the many odds and ends of yarn you have all over the place.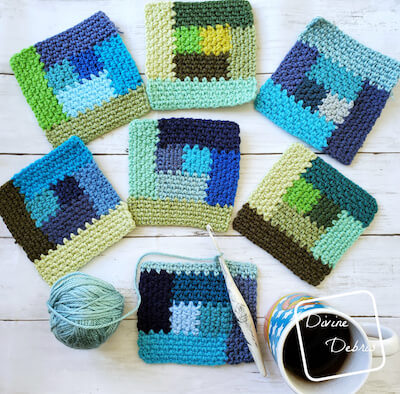 Get the Pattern here

3. Tote Bag Log Cabin Crochet Pattern by Stellar Dreams
Reminiscent of a favorite quilt block, this wonderful little tote bag is crocheted with two log cabin squares, one for the front and one for the back.
The squares are put together with a gusset and finished with a top edging, a button and a strap.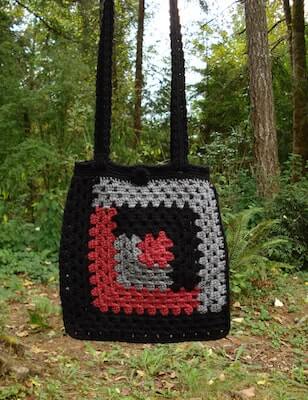 Get the Pattern by Stellar Dreams here

4. Dishcloth Crochet Log Cabin Pattern by Knit Picks
Play with colors, use up scraps with this fun and quick log cabin inspired dishcloth. Each new color is built off of the squares created before, turning the piece clockwise and working into the ends of each row. Weaving in ends as you go will save time at the end!
Click here for more colorful crochet dishcloth patterns.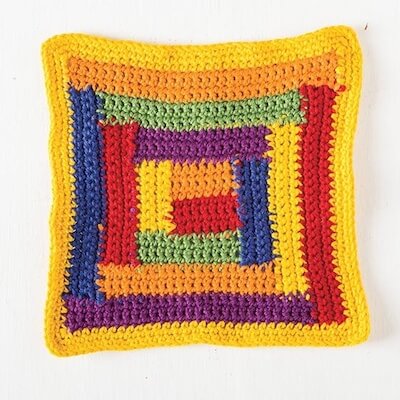 Get the Pattern here

5. Log Cabin Pillows Crochet Pattern by Yarnspirations
Add a warm inviting touch to your surroundings with these hand-crocheted pillows. We've included a square and rectangle version that together make an attractive pair.
Covering your pillow forms with tan felt makes sure that white doesn't show through.`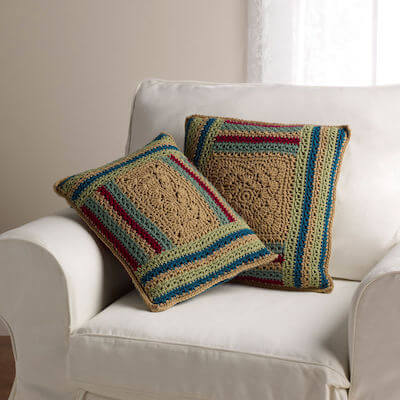 Get the Pattern here

6. Tunisian Crochet Log Cabin Sampler Blanket Pattern by Underground Crafter
This Tunisian log cabin crochet blanket guides you through all the basic Tunisian crochet stitches while you make a cozy blanket in the classic log cabin pattern.

This blanket comes out super cozy and lush. It's perfect for cuddling under in cold weather or protecting yourself from the air conditioning in the summer.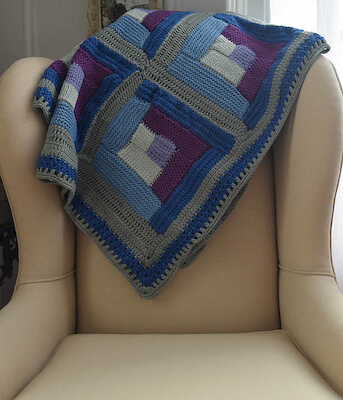 Get the Pattern here

7. Log Cabin Blocks Crochet Scarf Pattern by Yarnspirations
While typically reserved for knitting, the log cabin motif is crocheted in this free pattern through strategically placed colors worked in granny squares. This crochet scarf's graphic design is created with the use of multi-colored yarn.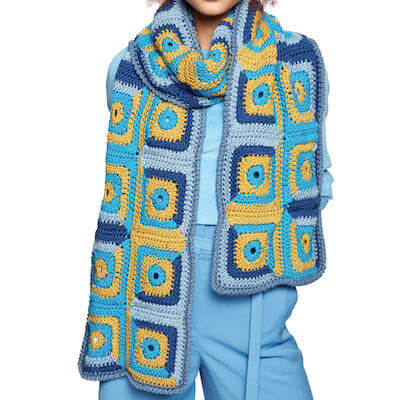 Get the Pattern here

8. Log Cabin Blanket Crochet Pattern by Princely By Marilyn
Grab all your leftover worsted weight yarns and crochet yourself this easy to make blanket. Done entirely in HDC, this simple but elegant stitch pattern creates a squishy texture that you want to snuggle up in, and it's reversible.
The log cabin crochet pattern starts in the center and works outward, allowing you to create a blanket any size you want.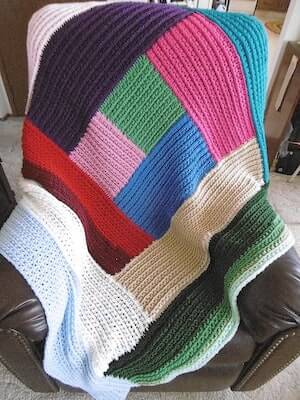 Get the Pattern by Princely By Marilyn here

9. Mod Log Cabin Throw Crochet Pattern by Red Heart
This crochet throw design is reminiscent of popular log cabin quilts. Presented here in a cool palette of colors, it is perfect for relaxing on a sofa or to have ready for extra warmth at the foot of your bed.
More Crochet Throw Blanket Patterns here.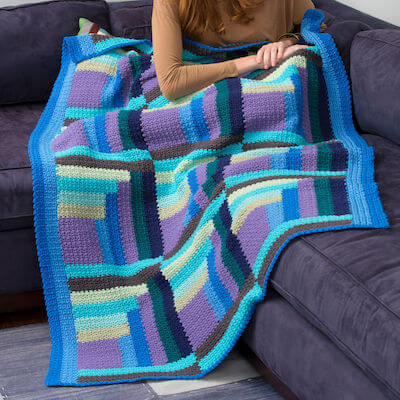 Get the Pattern here

10. Mountain Lodge Log Cabin Crochet Blanket Pattern by Sweet Potato 3 Patterns
Crochet this gorgeous Mountain Lodge Blanket inspired from the tradition of the Log Cabin Quilt. Creating the warmth (pink/red center) resembles the warmth of the home then the sides are created to give a beautiful building block look.
Be creative with your colors to make this crochet masterpiece set the mood with your other home decor.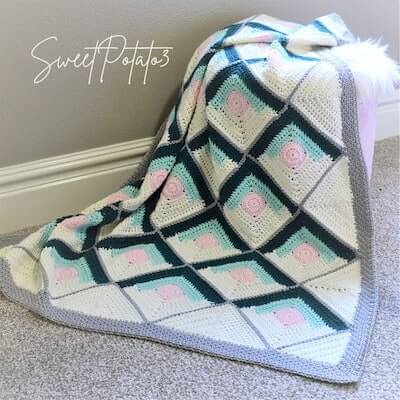 Get the Pattern by Sweet Potato 3 Patterns here
START YOUR NEXT PROJECT WITH THESE LOG CABIN CROCHET PATTERNS AND CREATE A BLOCK THAT WILL INSPIRE YOUR NEXT CROCHET MASTERPIECE!
Share your progress and connect with the community by posting your pics on our Facebook Page. We can't wait to see what you make!

For more enjoyable patterns, also check our collection of Spiral Crochet Patterns, Log Cabin Crochet Patterns, Crochet Oval Patterns, Mandala Crochet Patterns and Filet Crochet Patterns. And if you're looking for other challenging stitches to take on, we have lots of other stitches in store for you!

We hope you enjoy crocheting these log cabin crochet patterns!