Here we are with 25 Skull Crochet Patterns for Halloween, Day of the Dead, Rock Stars, Gothic Princesses and whoever else might like to use them, and for whatever else you might like to use them for.
These designs would be fabulous for wearing to rock concerts, horror movies, pirate parties, or — if this is your style — just around town living your life.
If you love crochet patterns that are different from the "normal" cute and pretty we're all used to seeing — we dare you to scroll down!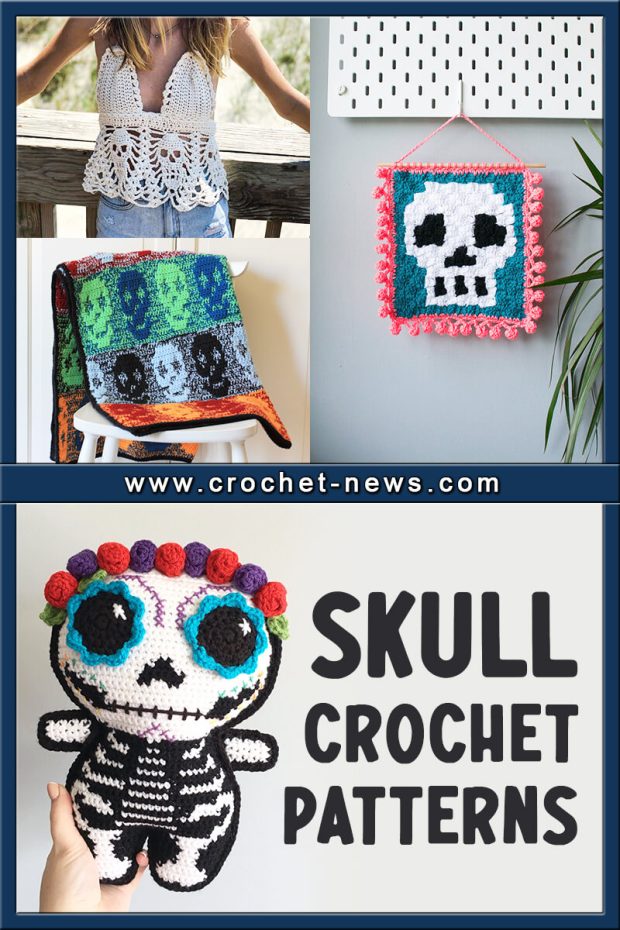 1. Sugar Skull Amigurumi Crochet Pattern by Spin A Yarn Crochet
This Sugar Skull pattern is a unique amigurumi made in the ragdoll-style; separate pieces worked in flat rows and joined together to give it that charming and distinctive 2-D appearance.
Big eyes, a skeleton body, and fancy flower garland – you can make it easily, just by using basic stitches and different colors of yarn. This free skull crochet pattern is a great project for beginners!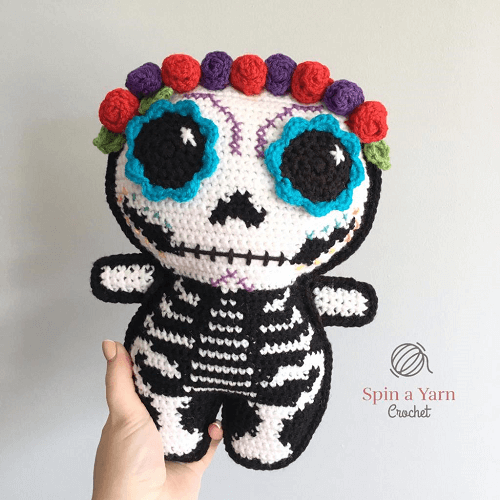 Get the Pattern here

2. Crochet Skull Earring Pattern by Crochet Knit Jewelry
Who doesn't love a pretty skull? These skull earrings are absolutely adorable! These are unique and memorable and are a great accessory for wearing to work, or any time you want to be festive and can't wear a whole costume.
They would be perfect for Halloween or even just cause you like skulls!
Get the Pattern by Crochet Knit Jewelry here

3. Amigurumi Crochet Skull Planter Pattern by Lulu's Little Shop
Here are 2 easy-to-follow crochet patterns for Skull Planter and Pointy Leaf Succulents. If you have no green thumb but like plants everywhere in your house, you would love this succulent growing out of a tiny human skull. It's a lot cuter than creepier!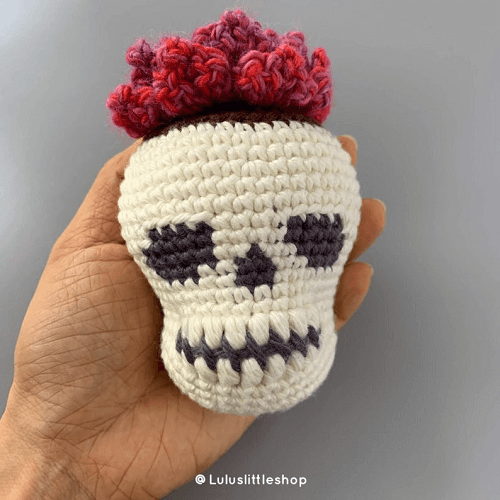 Get the Pattern by Lulu's Little Shop here

4. Crochet Lace Skull Bag Pattern by Stitches And Supper
For someone who is fascinated by skulls, this bag is absolutely fabulous to wear every day of the year not only for Halloween. With this crochet skull pattern, you can create an amazing and creepy piece of art. Great for either Halloween and or even for whenever!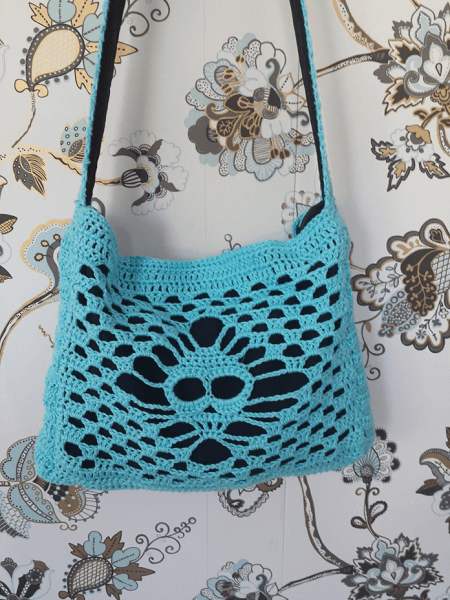 Get the Pattern here

5. Halter Top Crochet Skull Pattern by Creative Works By Annie
You will absolutely be unique and fabulous on any beach or pool party with this skull halter top. This top would add spookiness to every casual outfit and a fun little piece to add to your summer wardrobe. Make it in a neutral color for that bohemian look!
Also see: Crochet Halter Top and Crop Top Patterns
Get the Pattern by Creative Works By Annie here

6. Free Skull Crochet Pattern by Persia Lou
This sugar skull pattern can be totally customized and used in lots of different ways.
A whole bunch would make a really cool garland, or sew one onto a pillow or tote. Or pop it into a frame for Halloween decor – like the one pictured below.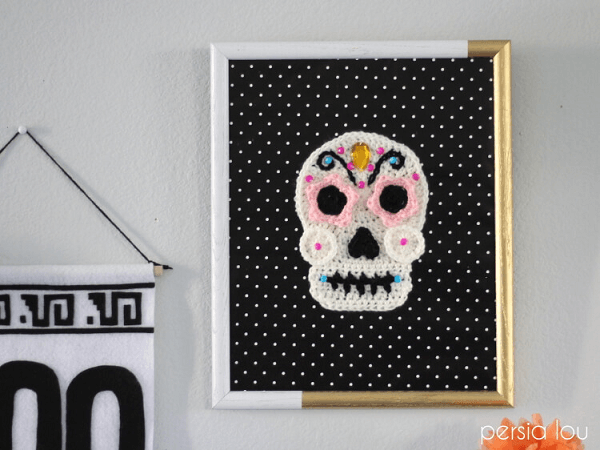 Get the Pattern here

7. Crochet Skull Pattern by Lilou Mariposa
Make fun colorful crochet skull with this crochet pattern. Decorate these skulls as desire – use the motif to make scarfs, attach them to hats, etc. These can be used for a wide variety of craft projects including card making and scrapbooking.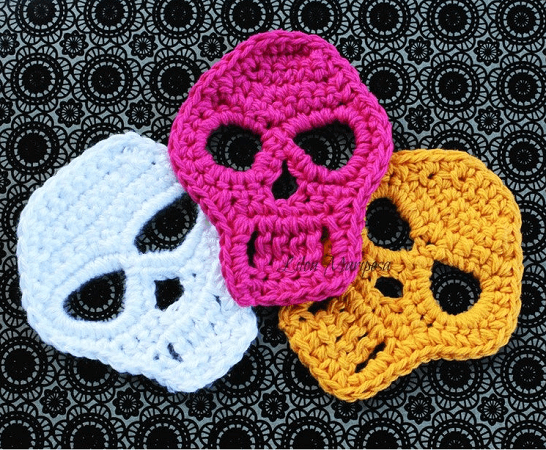 Get the Pattern by Lilou Mariposa here

8. Skull Doily Crochet Pattern by Lekden
This Doily free skull crochet pattern by Lekden is a masterpiece. With 6 large skulls as the central design, this doily is a great addition to your Halloween, or year-round, decor.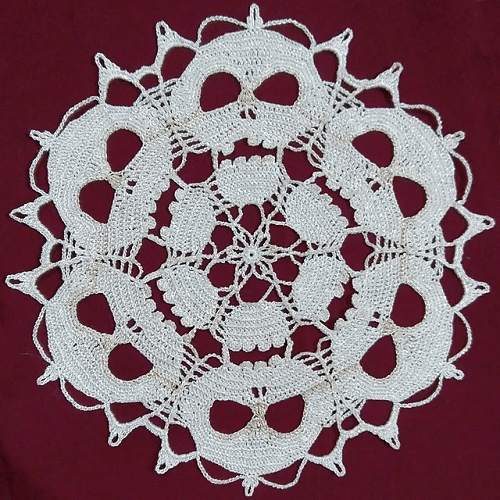 Get the Pattern here

9. Placemat Skull Crochet Pattern by Crochet Couch
Set a scary table with these Crochet Skull Placemats! Celebrate Halloween with this placemat made in Corner to Corner Stitch, a fun a creepy addition to your holiday decorations. You can even make the perfect number of skulls to make a table runner that fits your table!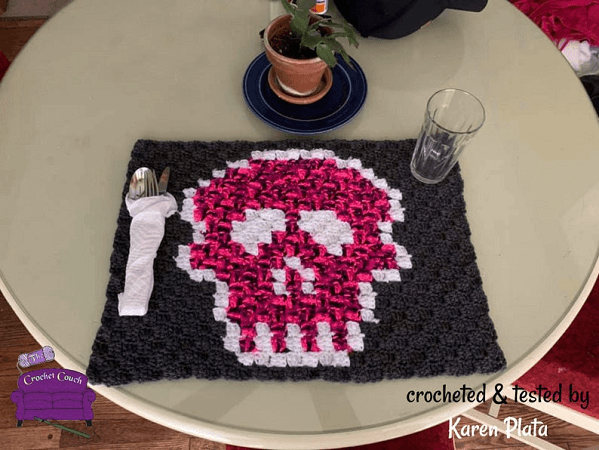 Get the Pattern by Crochet Couch here

10. Shawl Skull Crochet Pattern by Etty 2504
This beautiful Shawl Skull Crochet Pattern would be a stylish addition to your closet, ideal for cool days and evenings. The subtle skull crochet pattern is handcrafted in luxuriously soft acrylic yarn. This is great to throw on a costume or wear on cold evenings out. This makes a fantastic gift!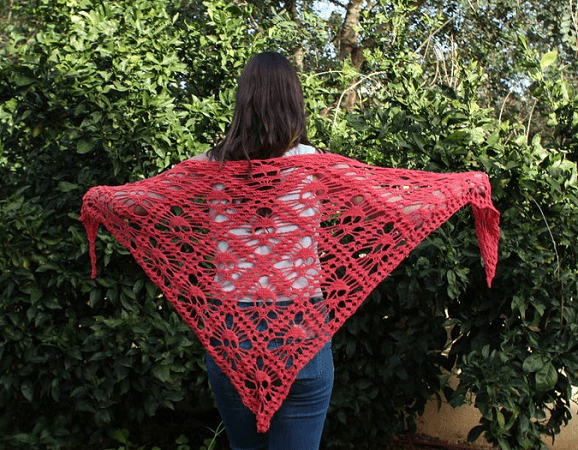 Get the Pattern by Etty 2504 here

11. Bracelet Skull Crochet Pattern by The Bittiest Baubles
Get yourself or someone you love a Crochet Skull Bracelet. Great for a Halloween accessory or just wearing year-round. The length of your cuff is determined by how many skulls you make. Instructions are included for making an adult small at 7" / 18 cm and an adult medium-large at 8.5" / 21.5 cm.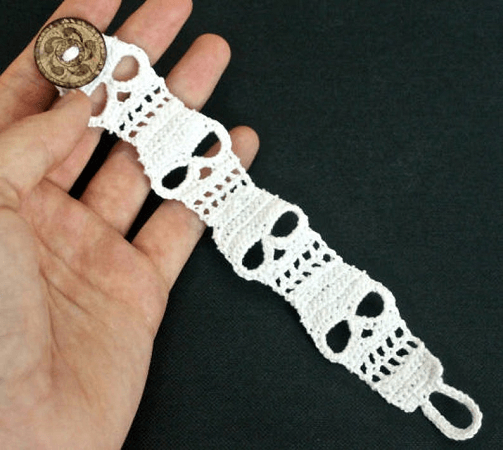 Get the Pattern by The Bittiest Baubles here

12. Skull Slipper Shoes Crochet Pattern by Glamour 4 You
Feeling cozy yet a bit badass? These Skull Slipper Shoes have a stylish skull on the top, and a comfortable doubled sole!
The Toe (where the Skull's Teeth are) are open to allow your feet to breathe. The color combinations are endless!

Crochet Slipper Patterns for Beginners here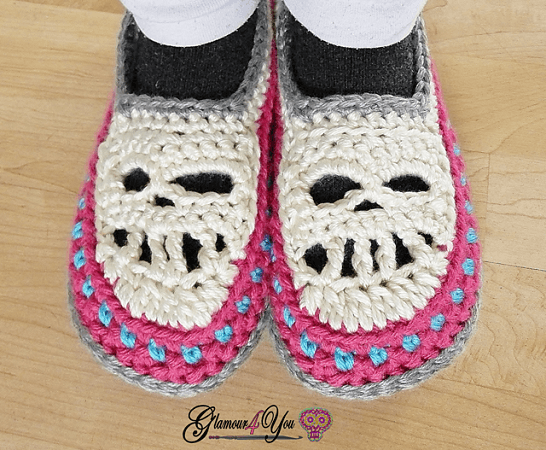 Get the Pattern here

13. Wall Hanging Skull Crochet Pattern by Disco Sloth Designs
This crochet skull pattern will enable you to create your own skull wall hanging. It uses the corner to corner crochet. You could use the super chunky size to make a cushion instead of a wall hanging or you could make lots of squares and turn them into a blanket.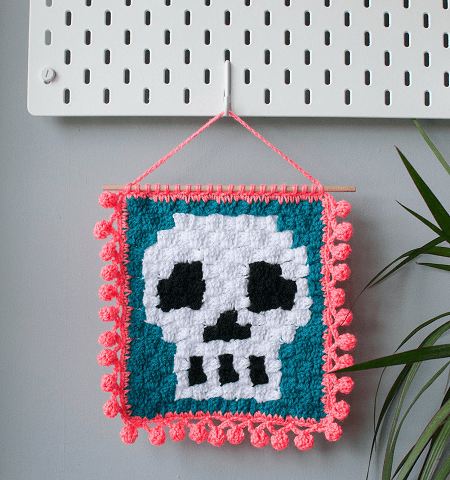 Get the Pattern by Disco Sloth Designs here

14. Sugar Skull Kawaii Cuddler Crochet Pattern by 3am Grace Designs
Beautiful and colorful this Sugar Skull Kawaii Cuddler is the perfect addition to your Halloween decor. Normally, I don't like to see skulls but this free skull crochet pattern is quite huggable.
This skull kawaii cuddler can be used as a pillow which will add a fun look to your space. The color combinations are endless!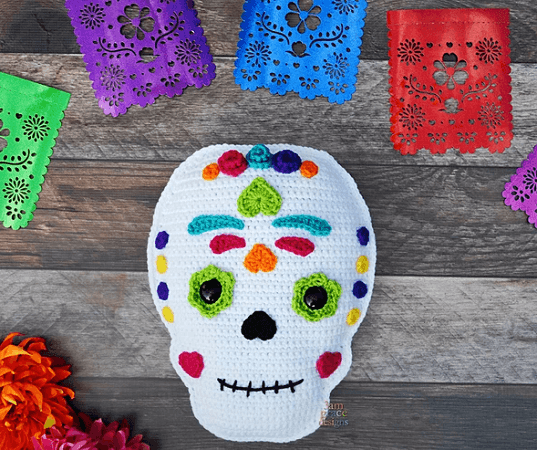 Get the Pattern here

15. Leg Warmers Crochet Skull Pattern by Lovin You Homemade
These leg warmers are laced up in the back and perfect to layer over pants, stockings/leggings or even comfy enough on bare skin. They will keep you warm and spooky cute. This skull crochet pattern is relatively simple and can be completed in a day by an advanced beginner.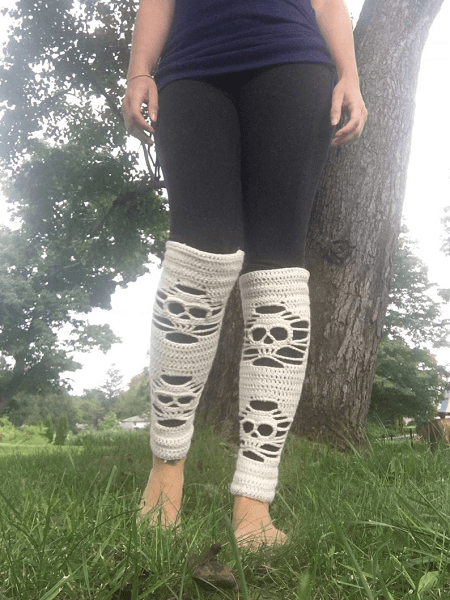 Get the Pattern by Lovin You Homemade here

16. Parasol Skull Crochet Pattern by Creative Works By Annie
This large doily will be a great head-turner for your normal decor or at Halloween. But if you're looking for adventure, you can turn this into a parasol!
When you wish to create something fun and unique that makes people stop in their track – this one will do it. You will find skulls aplenty on this happy little go-round with full skeletons! Make it in any color you like!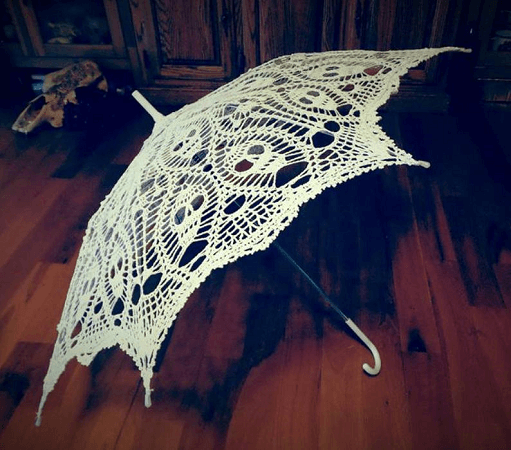 Get the Pattern by Creative Works By Annie here

17. Skull Scarf Crochet Pattern by Karin Kaufmann
This cute skull-motif scarf is the perfect addition to your accessories-wardrobe! This is a great scarf to wear around the Halloween season, or even whenever it strikes your fancy! Crochet it in any color you can imagine.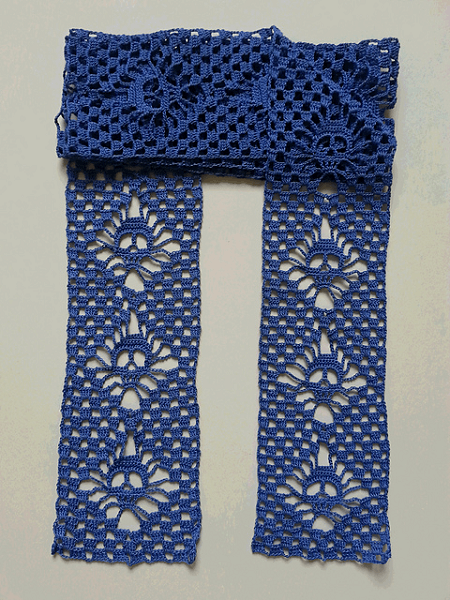 Get the Pattern here

18. Crochet Skull Blanket Pattern by Knot Yourself Out
Aren't these colorful, smiling skulls adorable? This crochet skull pattern would also be great for a little girl (in the same vibrant colors, or using more traditional ones). This design would also be very suitable for adults (as a throw), adding color to any room in the house.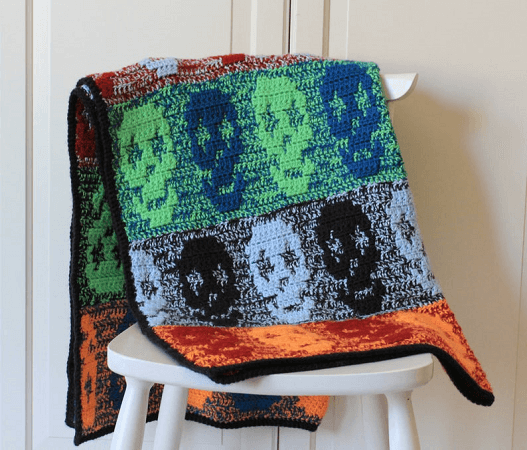 Get the Pattern by Knot Yourself Out here

19. Crochet Skull Top Pattern by Pony McTate
Looking for an edgier crochet project? Try this street-inspired top with its cool skull design. It's a straightforward make even if you're new to garments or filet crochet. Worked in breezy cotton, it has a loose fit for relaxed summer wear. And it's reversible!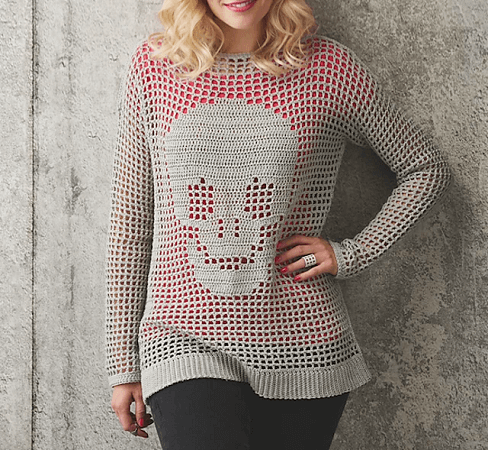 Get the Pattern here

20. Applique Crochet Skull Pattern by Nellagold's Crocheting
These crochet skull appliques are perfect for all sorts of things. I mean, whatever you have that could use a little skull on it: go ahead!
Depending on the thickness of the yarn you can make these any size you want. If you follow the designer's suggested yarn size, you'll end up with finished skulls that have these approximate dimensions: 8,5 x 7cm.
They do make a cute Halloween couple, there's no doubt about that!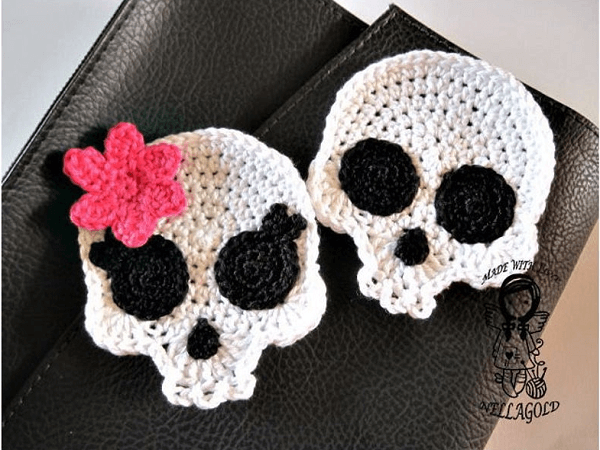 Get the Pattern by Nellagold's Crocheting here

21. Beanie Skull Crochet Pattern by Knit And Crochet Evr Aft
This pattern is great for any skull lover. It's super minimal design is great for a man, woman, child, heck, the whole family! Using the Fair Isle technique this beanie will fit all ages and can be made in all colors.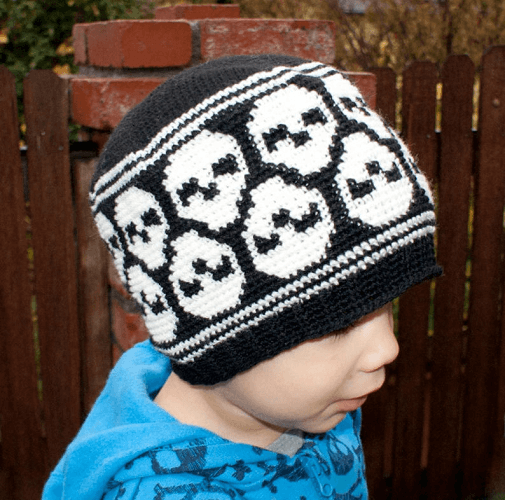 Get the Pattern by Knit And Crochet Evr Aft here

22. Skull Sweater Crochet Pattern by Serendipity As Always
The pattern is written for you to be able to create women's size S, M, L, and XL. This V-neck sweater has a subtle skull design at the back of it. This doesn't look spooky to wear as a costume for Halloween party. You can wear it any day you like!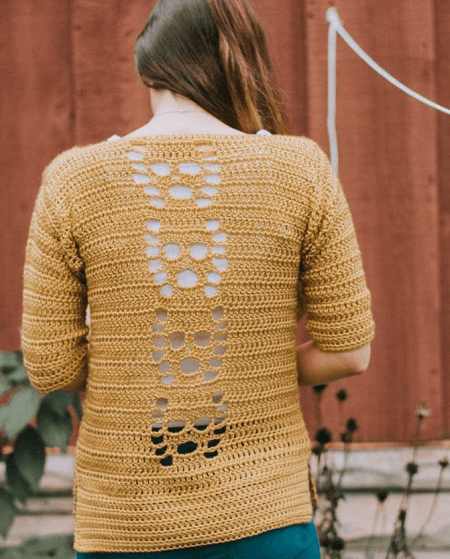 Get the Pattern by Serendipity As Always here

23. Skull Mandala Crochet Pattern by Dolly Daydream Crochet
This Skull Mandala crochet pattern contains step by step instructions and photos for making the skull motif, the surrounding background to make it into a circle, and the expanding mandala design. This makes the perfect gothic home decor, a unique wedding gift or a housewarming gift.
Get the Pattern by Dolly Daydream Crochet here

24. Skull Crochet Dishcloth Pattern by Weird Sheep
The pattern for this dishcloth uses single crochet and puff stitch to create the skull and crossbones. This measures approximately 9″ square using size a 4.5mm hook – this depends on whether you crochet loose or tight. This would be the coolest dishcloth for all the rock stars out there!
Get the Pattern by Weird Sheep here

25. Sir Amigurumi Skull Crochet Pattern by Design Shop
Aptly named "Sir Skull" by its designer, this wonderfully detailed crochet skull is a true masterpiece. How cool would it be to crochet this skull for a doctor friend or someone else in the medical field for them to display in their office?
Or, in fact, crochet this skull to decorate your house for Halloween. It'll be a lot of work, but the end result is definitely worth it!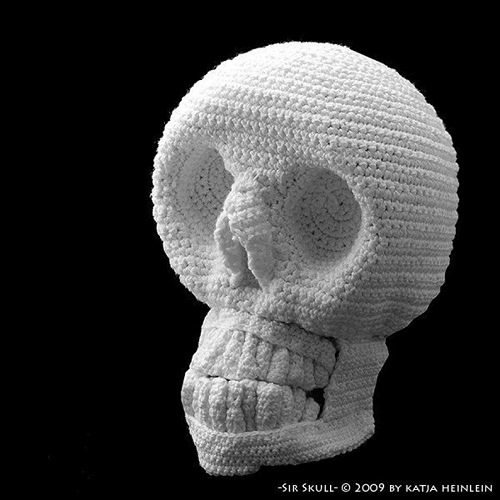 Get the Pattern by Design Shop here
Skull Crochet Pattern is certainly a bit unusual. But then again, we all need a little bit of weird and unusual in our lives, don't we?
We hope you found some great patterns to work on or add to your pattern archives from this list. When you're done making some, please share your finished creations on our Facebook Page.
We also have patterns for Crochet Monster Patterns and Halloween Amigurumi Patterns. You know, in case the skull just by itself isn't enough for your needs!
So let's get ready for that spooky vibes by making our favorite skull crochet patterns!