They're hiding under the bed. And in the closet. And anywhere else you've stashed yarn. They're friendly little monsters, and they're ready to come out and play! Are you ready? Here, you will find the most adorable crochet monster patterns ever to climb off your crochet hooks!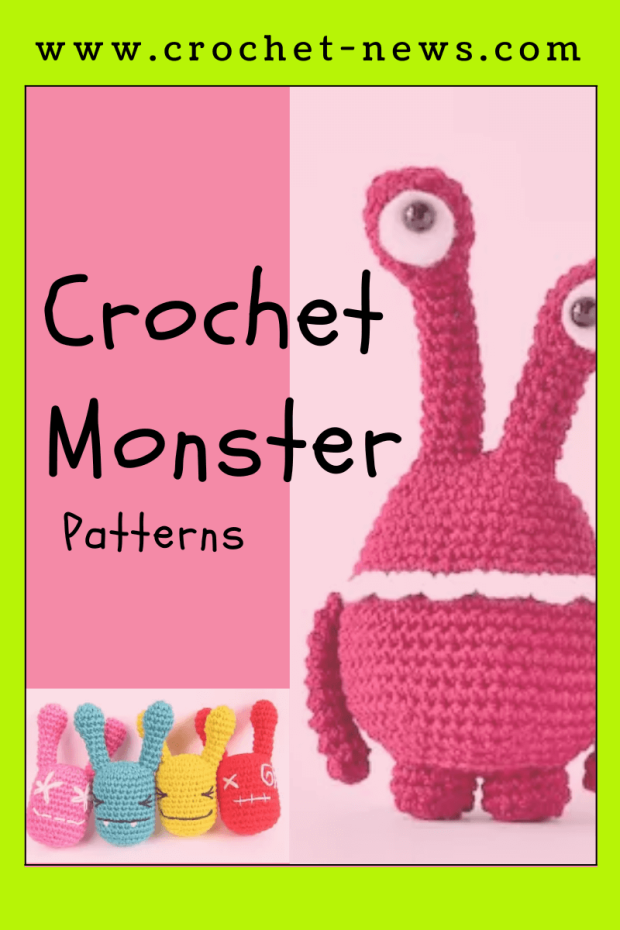 The word 'monster' used to be a scary thing for kids, but not so much anymore. There are so many colorful monster crafts for kids these days — you can even theme an entire party with monsters!
I love making them because there are just so many creative possibilities. From one giant eye to a face full of tiny eyeballs, their personalities are all so different!

1. Crochet Monster Amigurumi Pattern by Crafty Intentions
These small, easily customizable Monsters are the perfect gift for just about any one!! They might teeth on wall trim, and I wouldn't recommend feeding them after midnight — but all-in-all they're adorable and harmless.

This crochet monster pattern is for an Amigurumi-Style Choose-Your-Own-Adventure Adorable Monster. These Monster amigurumis have many interchangeable or combinable options to create over 64 different end-creations!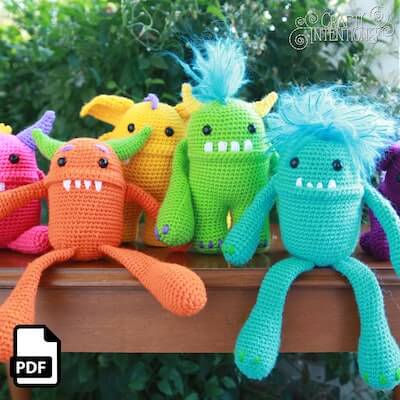 Get the Pattern by Crafty Intentions here

2. Crochet Monster Pillow Buddy Pattern by Darling Maple Designs
Meet the Monster Pillow Buddies! Mix and match your way to your own unique, fun and huggable friend. The patterns includes instructions for 4 different sized eyes, 3 mouths, 2 types of horns, spikes, curly cues, plus many more pieces to choose from to create your own one of a kind Monster!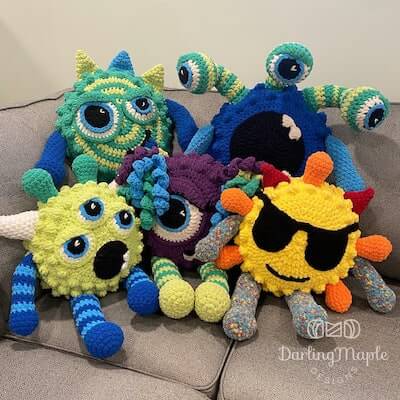 Get the Pattern by Darling Maple Designs here

3. Free Crochet Monster Pattern by Red Heart
They may be monsters, but they're the most lovable little toys around! The pattern features crocheting in rounds, single crochet and slip stitch techniques. Offered in playful colorways, these lovable toys can be enjoyed as featured, or use colors that give them kooky personalities you imagine!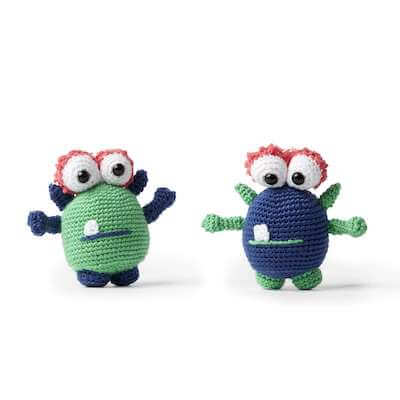 Get the Pattern here

4. Little Monster Free Crochet Pattern by Elisa's Crochet
If you know a kid fascinated by monsters, this spooky little one will be a great addition to his or her toy box! Two long tentacles with eyes on their tips and a big long mouth make it looks a bit funny, don't you think?!

It's such an easy and quick crochet project that you'll want to make more than just one little monster! Use different colors, yarn and hook sizes to create an army of spooky monsters!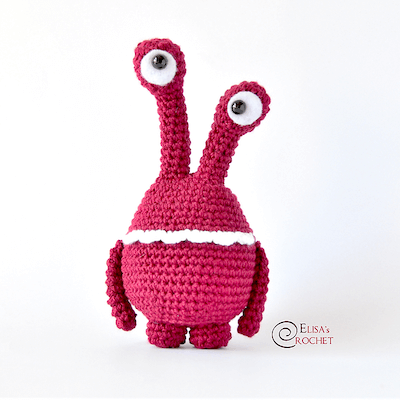 Get the Pattern here

5. Monster Crochet Pattern by Sigoni Macaroni
These monsters would be really great gift ideas for the kids in your life! If they're scared of monsters being under the bed or in the closet, they won't be once they see how goofy monsters can be!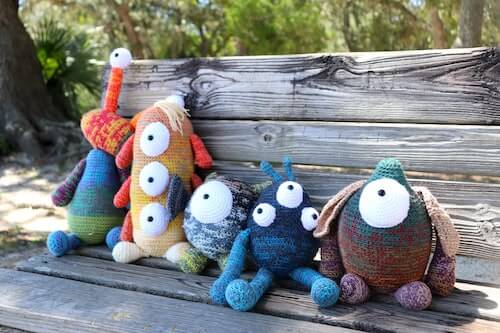 Get the Pattern by Sigoni Macaroni here

6. Crochet Baby Monster Beanie Pattern by Raffamusa Designs
Keep your baby warm while trick-or-treating with this cute Baby Monster Beanie! The crochet monster pattern comes in sizes from newborn to toddler.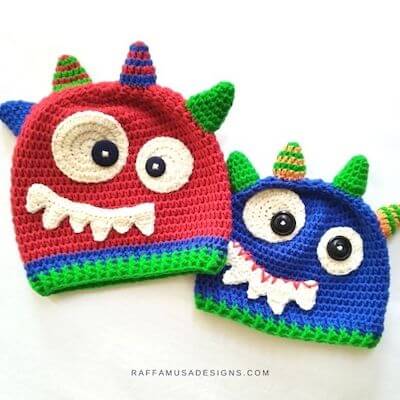 Get the Pattern here

7. Rattle Monster Crochet Pattern by Kristi Tullus
These small monster amigurumis are crocheted around a rattle made of a plastic egg from a Kinder Surprise chocolate egg filled with small glass beads. But you can always use fiberfill to stuff the body. Long antennae are perfect for grabbing with small hands.

Their size will be about 8,5 cm (3 1/3″) tall, including the antennae, when crocheted with fingering weight cotton yarn and a 1,75 mm crochet hook.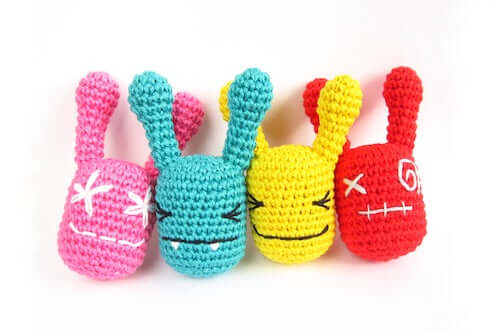 Get the Pattern here

8. Crochet Monster Container Pattern by Crochet Spot Patterns
Here's a fun storage container for kids. This container with attached lid is shaped like a cute monster! The head folds back so that you can store small objects or craft supplies, such as crayons as shown in the photo.

Crochet this monster container in your child's favorite colors. You can even crochet a bunch of them to create an entire set. Although not required, the container can be stiffened or starched if desired.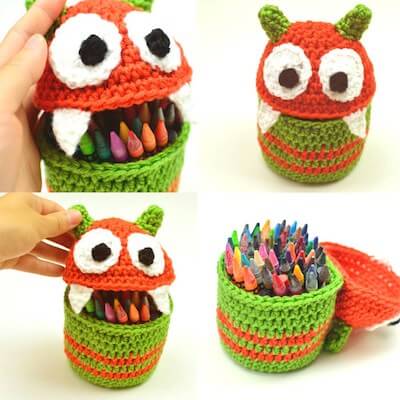 Get the Pattern by Crochet Spot Patterns here

9. Tippy Toe Monster Crochet Pattern by Moji Moji Design
Can you hear that strange shuffling and scuttling noise? Well that's the sound of the Tippy Toe Monsters twirling around on their twelve tiny toes. This mad maelstrom of mischief making monsters will certainly keep you on your toes as you try and keep them out of trouble.

Those big bug eyes have a way of melting your heart. No matter how naughty they are It seems that Tippy Toe Monsters can get away with anything!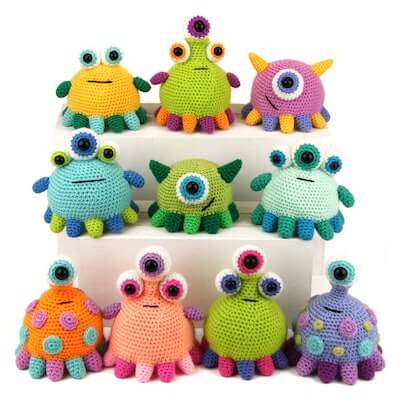 Get the Pattern by Moji Moji Design here

10. Blinky Love Monster Crochet Pattern by Spin A Yarn Crochet
Do you know about Love Monsters? They're voraciously lovable and loving! And since Valentine's Day is just around the corner, a Love Monster is also a fun little way to show some love to a little one, a friend, or family member! Just the right amount of quirkiness, fuzziness, and cuddliness!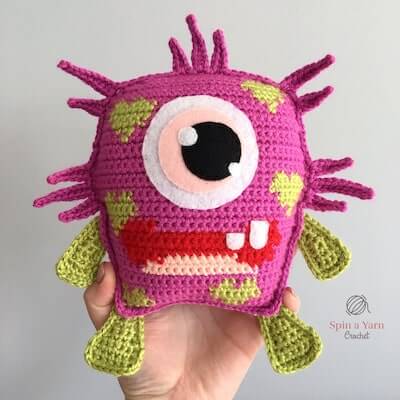 Get the Pattern here

11. Crochet Monster Baby Bibs Pattern by Repeat Crafter Me
These Crochet Monster Baby bibs are perfect for your baby not only during the month of October, but all year round. The bibs would be a cute gift for a baby shower, especially if the parents are waiting to know the sex of the baby.

These bibs can be customized with colors, teeth number, and googly eye position. Any combination will look adorable as your own little monster is munching away.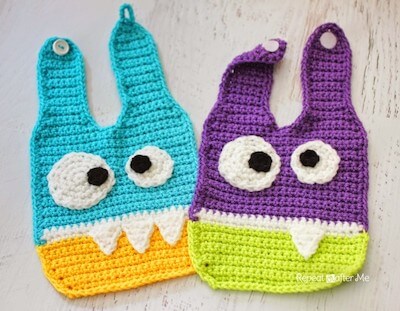 Get the Pattern here

12. Crochet Monsters Pattern by Monoxa Crochet Toys
If you are a child of the 90th, no description for these toys is needed: you probably already gave them a piece of your heart.
"J" Monster is a horrendous and beautiful creature. Hairy Meatball is a smelly, funny, and shy one.
Pink Mosquito is the nervous bunny-like monster with feet in the shape of an elf's shoe.

These patterns will not only help you to make your own amazing copies of these characters, you will also learn some of the unique techniques for shaping the crochet details.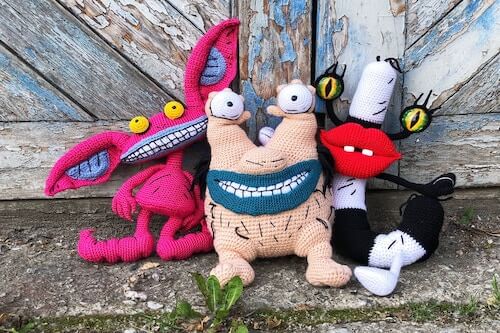 Get the Pattern by Monoxa Crochet Toys here

13. Crochet Monsters Pattern by Crafty Is Cool
Do you want to crochet a monster but you are worried that you do not have enough experience? No stress! Here's a pattern for absolute beginners. This is an easy, quick, and fun project to make. On top of that, it is a genius stash-buster too!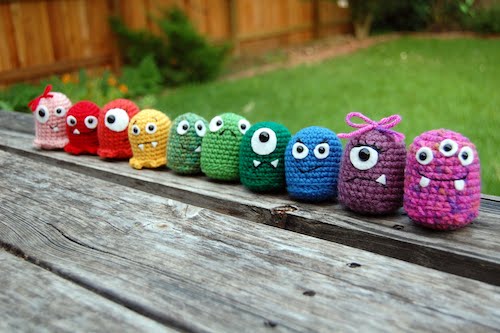 Get the Pattern here

14. Sweet Treat Eaters Crochet Monster Pattern by KCACOUK Designs
Meet Lisa Lollipop and Lynda Liquorice — the Sweet Treat Eaters! These pair of monsters never miss a trick (or treat) when it comes to candy! They love it, and will often be found cramming as much into their mouths as they possibly can — these guys should defiantly be handled with scare!

These cute little monsters are a combination of storage and amigurumi pattern that would make a fun addition to Halloween or for a little (or big) monsters bedroom.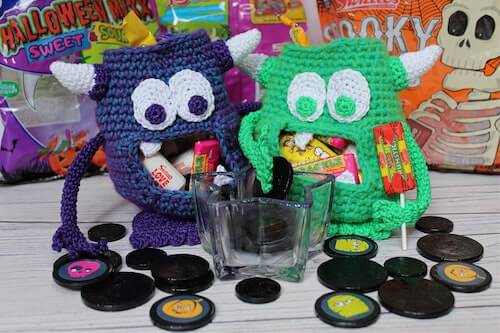 Get the Pattern by KCACOUK Designs here

15. Crochet Huge Monster Head Pattern by Cottontail And Whisker
Meet Ludo, a free spirit in the movie Labyrinth. Not bewitched by the evil Jared, Ludo finds a Friend in Sarah who rescued this oversized teddy bear from the goblins! This do it yourself home decor monster wall art can be displayed by a mighty crochet conquering warrior hunting their trophy head.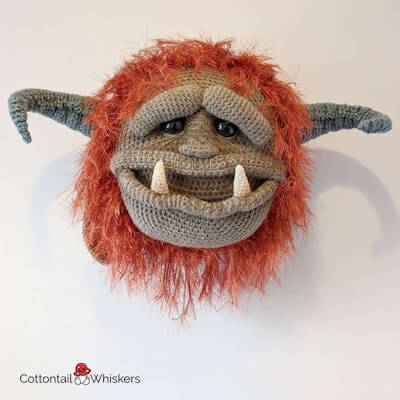 Get the Pattern by Cottontail And Whisker here
THESE CROCHET MONSTER PATTERNS ARE JUST WAY TOO CUTE! WHICH ONE WILL YOU MAKE FIRST?
Keep in touch on our Facebook Page and feel free to post and share pictures of your finished crochet pieces!

If you're looking for more crochet projects inspired by Halloween, try these Halloween Amigurumi Crochet Patterns, Skull Crochet Patterns, Crochet Voodoo Doll Patterns, Crochet Spider Patterns, and Crochet Bat Patterns. Or, if you're on the good side, try making these Crochet Toy Patterns for your children to play with!
From cute monster toys to adorable monster accessories, these crochet monster patterns will win over you and your kid's heart! Happy crocheting!