Crochet Toy Forest Spirit Amigurumi Pattern
Forest spirits are part of an extensive list of nature deities whose primary task is to preserve all things good in nature. The Forest Spirit crochet toy pattern is a guardian of the forest and is sure to bring you tons of good luck, prosperity, and good health. Well OK, maybe not, but this amigurumi toy is still worthy of your time and effort.
The crochet toy forest spirit amigurumi is such a beautiful creation and is bound to astound anyone you crochet it for. You don't necessarily have to crochet it for anybody else; you could create one of these for display among your collectibles.
Forest Spirit Amigurumi Materials
Yarn in 5 colors of similar weight
A 2mm or U.K size 14 crochet hook
Fiberfill
Tapestry needle
Sewing needle and thread
Red beads
Dark green embroidery floss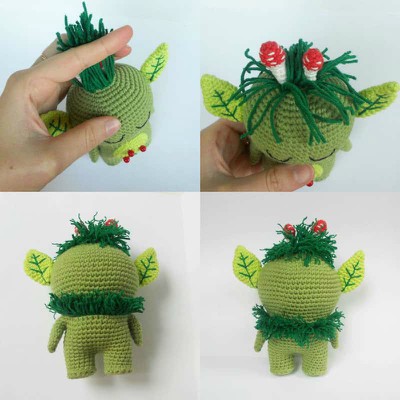 Finished Amigurumi Toy Size
This project is an excellent basic crochet pattern for a fantastic amigurumi toy that you can customize. The finished amigurumi figure stands at about 11 to 12cm tall. What you'll love most about this project is that you can start and finish it in one sitting; it won't take you long to crochet it.
Pick up these supplies and give the crochet toy forest spirit amigurumi a try. The pattern is another free stuffed toy pattern. It can be purchased and afterward downloaded as PDF document.
The PDF file is accompanied by detailed instructions that guide you through every step of the process up until completion. The crocheting skill level needed to take on this forest spirit crochet toy project efficiently is anything between intermediate and advanced level.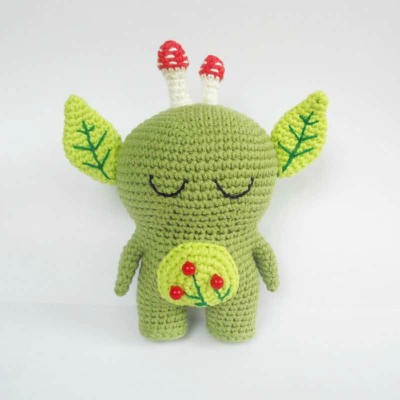 Of Forest Spirits And Mythological Creatures
Do you or your loved ones believe in mythological creatures? I mean the likes of the cyclops, hydra, unicorns, Pegasus, sky spirits and what not. A couple of the mentioned mythological creatures would be a nightmare to have in your house.
The crochet toy forest spirit, on the other hand, is a cute little amigurumi figure that is not scary at all. This crochet toy is embellished with beautiful mushrooms and delicate crochet patterns that make it look amazing. The forest spirit as mentioned is the guardian of the forest and looks after its inhabitants.
The crochet toy will most assuredly bring a charming, colorful atmosphere in your living room. This enchanting crochet toy Forest Spirit Amigurumi makes for an interesting conversational piece, and you can put it on display to the delight and captivation of your guests.
It also makes for a sweet and quirky gift for your nature-loving friends and family.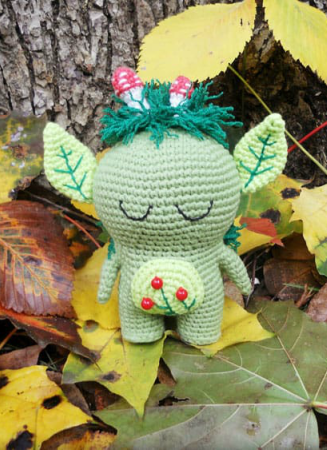 Putting The Amigurumi Forest Spirit Together
The crochet toy's parts are crocheted in a spiral without slip stitches and a chain at the end of every round. The head, arms, body, and legs can be crocheted as a single piece and afterward stuffed using Fiberfill. It is important not to stuff the arms while lightly stuffing the head and the neck.
To be sure that the final finished item looks as you would want it, you should know how to crochet in the round, decrease and increase, work in back loops, half double crochet, and double crochet. With that, there's no way you can go wrong with the crochet toy forest spirit.
I recently crocheted up a couple of these crochet toy forest spirits for my sister's kids. The reception was quite interesting. Both love nature and everything to do with forests and trees. The fact that I mentioned what the forest spirit crochet toys were, made them even more intriguing. The awe I picked up from them was off the charts.
I can sell a convincing story now and then, but the crochet toy is perhaps by most successful yet. Am not sure how that would go with an adult but hey, the amigurumi toy looks great, and that is all that matters. If there ever was a fitting mascot for forest conservation efforts, I bet it would have to be the forest spirit crochet toy.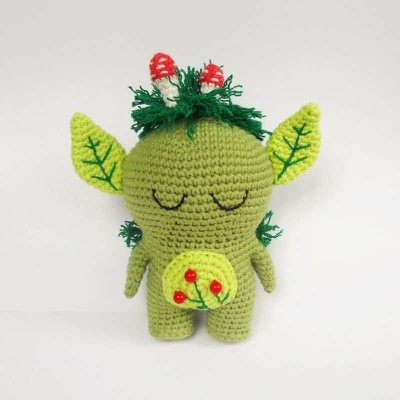 Gather the supplies and get to work on your first and probably not last crochet toys amigurumi. Thank me later when lady luck smiles on you.
Get the free forest spirit crochet pattern here