You don't have to go all the way to the South Pole to see these fuzzy friends. With these penguin crochet patterns, you can crochet one for your own home!

Those black and white birds that inhabit icy places are absolutely everywhere lately. In movies, books — even in their own animated shows! What is it about penguins that makes these cold-weather feathered friends so irresistible?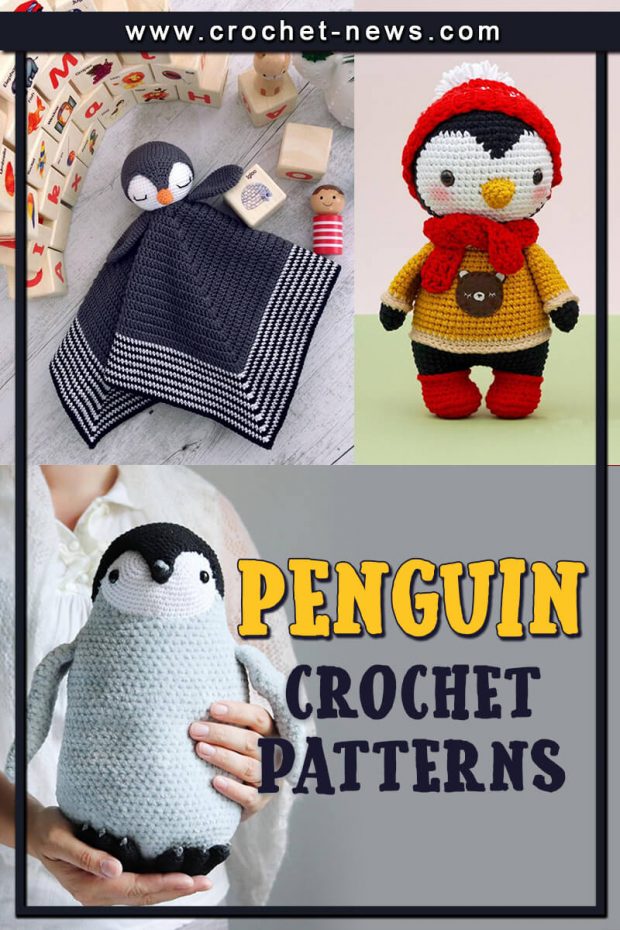 Perhaps it's the funny way they waddle when they walk. Maybe it's their tuxedo-like coloring. Or it could be their songs, the way they slide into the water, or how well they protect their eggs.
Whichever reasons you have for obsessing over penguins, one of these 15 penguin crochet patterns listed below will surely delight and amuse you.

1. Little Pip Crochet Penguin Pattern by Irene Strange
Little Penguin Pip is here to welcome the first snow! Emperor penguins chicks have got to be the fluffiest and cutest of all penguins, with a soft fluffy grey body that's just asking for a cuddle – but got to catch (or crochet) one first!

The body is made in chunky chenille-type fluffy yarn with a 4.5mm hook, with the DK-weight cotton details added over the top. Made in matching yarn and hook the finished penguin will measure about 28cm/11 inch tall.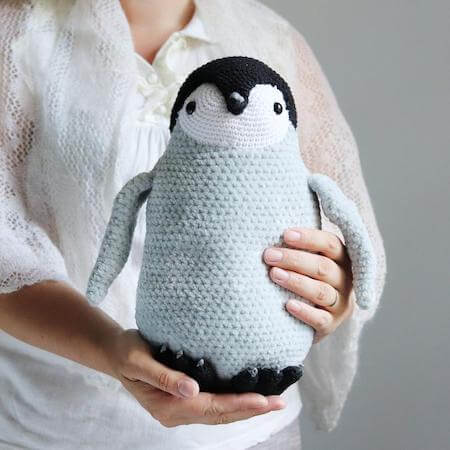 Get the Pattern by Irene Strange here

2. Baby Penguin Amigurumi Crochet Pattern by Storyland Amis
Meet Danny the Baby Penguin! Danny is a sweet baby penguin who will be devoted to you for life if you just give him plenty of love (and fish). He's ready for all the cuddles, and thankfully for you, he's not hard to whip up!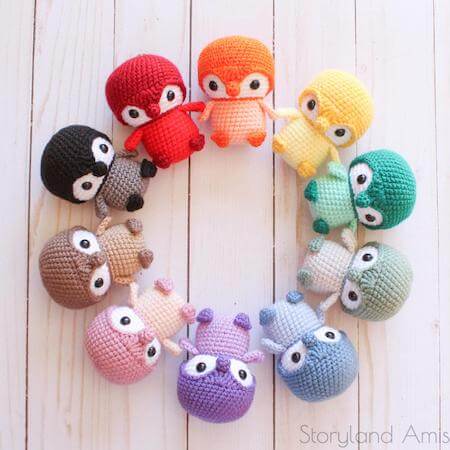 Get the Pattern by Storyland Amis here

3. Penguin Amigurumi Crochet Pattern by Spin A Yarn Crochet
This Penguin Amigurumi is a quick make with maximum adorable factor! Make the bow tie in any color of your choice to personalize it for someone special. This penguin pattern is a unique amigurumi made in the ragdoll-style.
Separate pieces worked in flat rows and joined together to give it that charming and distinctive 2-D appearance, and incorporates the tapestry (or intarsia) crochet technique and has a little bit of color-work involved.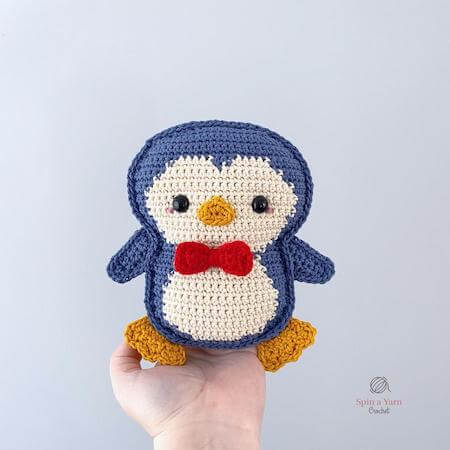 Get the Pattern here

4. Penguin Baby Toy Crochet Pattern by Toys Crochet Studio
These Crochet Baby Penguin Amigurumi are an ideal baby shower, birthday, Christmas, or anytime gift both for a child and adult-dreamers. These toys don't include any stiff parts, so it's a perfect gift for babies.

This 2 in 1 pattern includes full instructions for making the penguin as well as the knitting hat and scarf, headphones, and crochet scarf.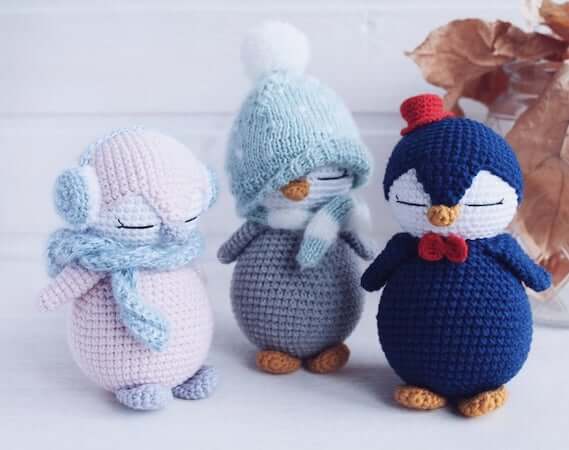 Get the Pattern by Toys Crochet Studio here

5. Baby Penguin Amigurumi Crochet Pattern by 1 Dog Woof
What's cuter than a baby penguin? Two baby penguins! See how one crochet pattern can make 2 completely different, yet equally adorable penguins just by using different yarns. This baby penguin amigurumi is a ball of fluff, oozing coziness with his festive red scarf and ready to hand out warm hugs on cold winter days.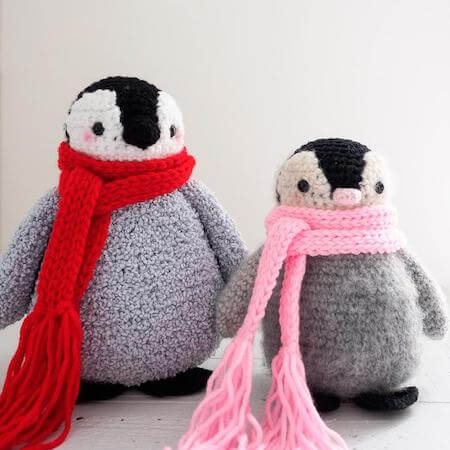 Get the Pattern here

6. Ragdoll Penguin Crochet Pattern by Ala Sascha
This little Penguin Ragdoll will melt anyone's heart! Even though the body is flat like a lovey, this animal will leave much more room for imagination and be a best friend to toddlers and even older children. This is an easy pattern which works up rather fast.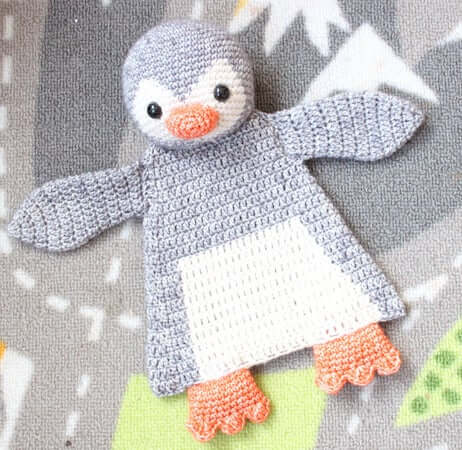 Get the Pattern by Ala Sascha here

7. Penguin Pillow Crochet Pattern by Crochet Spot Patterns
Are you a penguin lover or know someone who is? This pillow is a full size round pillow that's designed to be a cute, chubby penguin. The pillow is crocheted in large, thick stitches making it fairly quick to work up for its size. The face, wings, and feet are then sewn on.

The wings and feet are moveable, making the pillow fun to play with. The pillow can be filled with polyester fiberfill to make it as soft or as firm as desired. A pillow insert can be used instead of fiberfill if desired.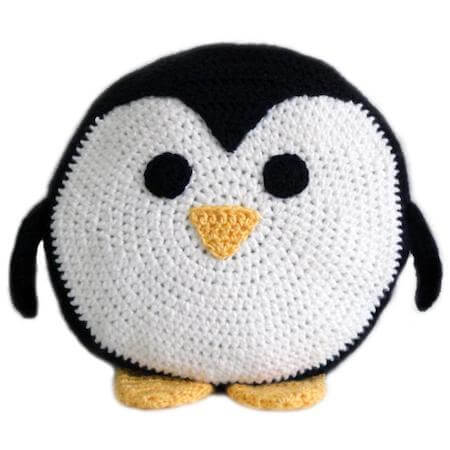 Get the Pattern by Crochet Spot Patterns here

8. Po, The Playful Penguin Lovey Crochet Pattern by Theodore And Rose
Po is a playful penguin who loves tummy time and cuddles! He will make any little person a great companion. Loveys are great little gifts for babies. They're small enough for little ones to hold onto and carry around, and they're a great mix of toys and blankets.
Things like this penguin lovey pattern don't take very long to make either which make it perfect for that last-minute present!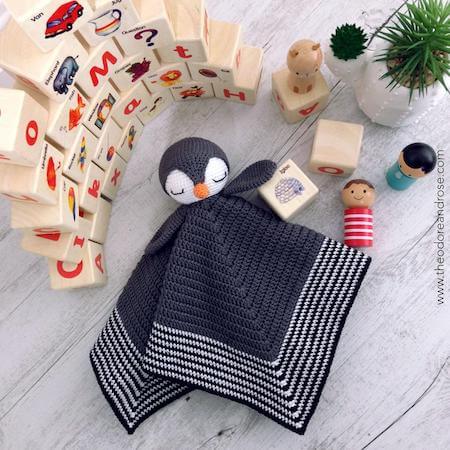 Get the Pattern by Theodore And Rose here

9. Penguin Buddy Crochet Pattern by Briana K Designs
Isn't this little crochet penguin buddy a cute winter companion? You don't have to be little to enjoy this penguin stuffy! He is cute for holiday decor or to just have around. And of course he makes a great gift for all ages.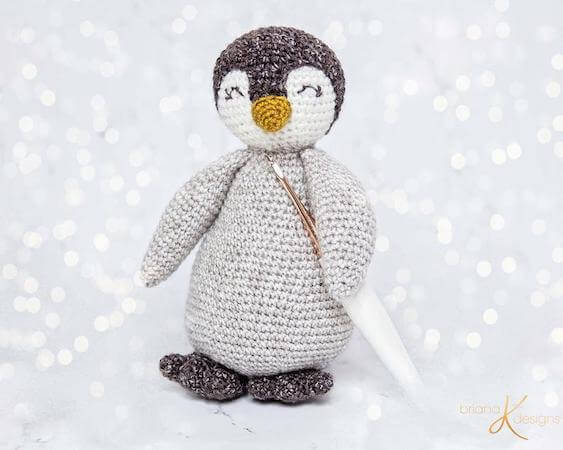 Get the Pattern here

10. Penguin Gift Basket Crochet Pattern by Crafty Kitty Crochet
Looking for a cute, handmade way to gift things to your friends and family this holiday season? Then you will love this quick, easy, and fun Penguin Basket Crochet Pattern!

It represents the arctic chill of winter in the cutest way possible, and would make a great place to start with a themed gift basket (i.e. hot cocoa, cozy accessories, etc.). And it's not just for Christmas – this would be so cute in a baby nursery or kids' room as fun storage / decor! The possibilities are endless!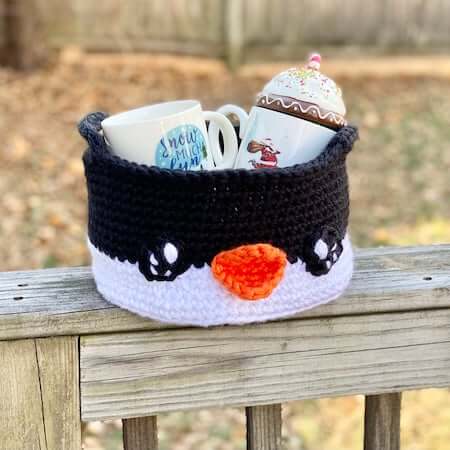 Get the Pattern by Crafty Kitty Crochet here

11. Crochet Penguin Blanket Pattern by Owl B Hooked
Stimulate imagination with a penguin blanket that's perfect for keeping a newborn warm and comforted. Make it in any shades, or take the guesswork out and create it as designed. This blanket will be enjoyed from baby to toddler years, and be just as cherished by moms.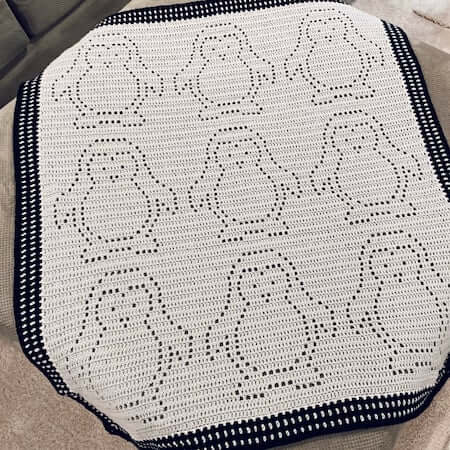 Get the Pattern by Owl B Hooked here

12. Snuggles, The Penguin Crochet Pattern by All About Ami
Who can resist Snuggles the Penguin with his sweet face all bundled up in his removable scarf? Crochet your very own snuggly amigurumi penguin and he'll make a great friend every season of the year!
Make a full family of these lovely creatures or turn them into fun keychains.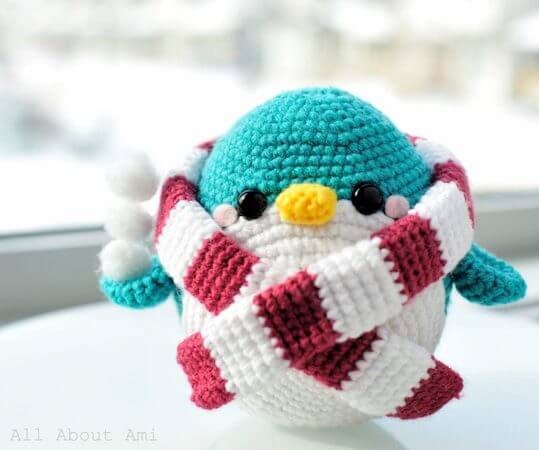 Get the Pattern here

13. Christmas Crochet Penguin Pattern by Tites Mains De Khuccay
A sweet little penguin amigurumi pattern that is perfect for the holidays! These sweet little guys would be great package toppers and Christmas ornaments then live on as the cutest stuffies!
They would also be a perfect gift for your little one or would make a cute mantle decoration.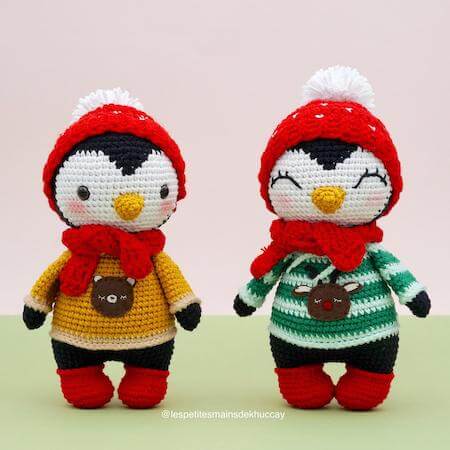 Get the Pattern by Tites Mains De Khuccay here

14. Crochet Penguin Hat Pattern by Red Heart
This Penguin Hat Crochet Pattern will be a hit with pretty much everyone because who doesn't love penguin?! Be ready for cold and snowy days with the perfect hat! This penguin is ideal for boys and girls and has earflaps for extra warmth and cool factor. Crochet it in a choice of three sizes.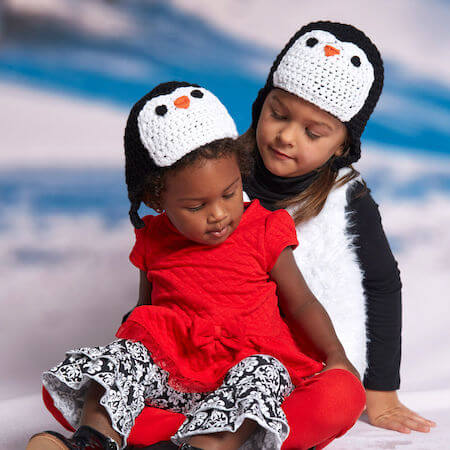 Get the Pattern here

15. Scrubby Free Penguin Crochet Pattern by Yarnspirations
Whatever the cleaning job, having this cute crochet penguin scrubby around helps make the time more fun! Use this cheerful helper in the kitchen or bath. Of course, it washes by machine and air dries quickly, just like the original Scrubby.
It's a playful and imaginative project, so whip up a few for gifting!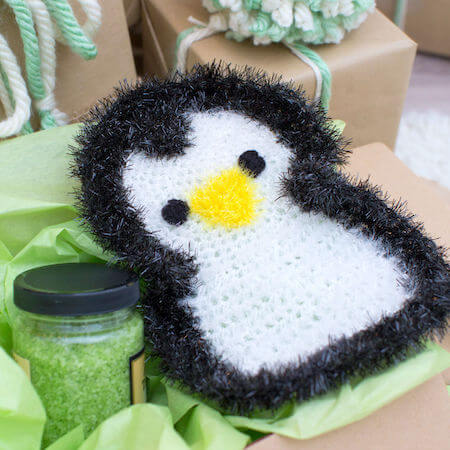 Get the Pattern here
CROCHET UP CUTE AND CUDDLY TOY PENGUINS OR TEENY AMIGURUMI-LIKE DESIGNS FOR THE CROCHET PENGUIN-LOVERS IN YOUR LIFE.
They'll be much warmer in your arms than in their winter wonderland. When you have finished your own penguin, please feel free to send along pictures of your creation or post on our Facebook Page for all to enjoy!

And for more crochet animals, check our patterns for dolphins, squid, seal, narwhals or head to our crochet animal patterns.

With 15 crochet penguin patterns to try, even the most hardcore penguin enthusiast will find ways to fulfill their penguin wish!