Crochet up some of our under-the-sea friends with these crochet squid patterns. They are sure to cause a splash for the kids – they will love them! For a playroom, bedroom, or nursery, these creatures make a perfect little crocheted toy to cuddle or display on a shelf.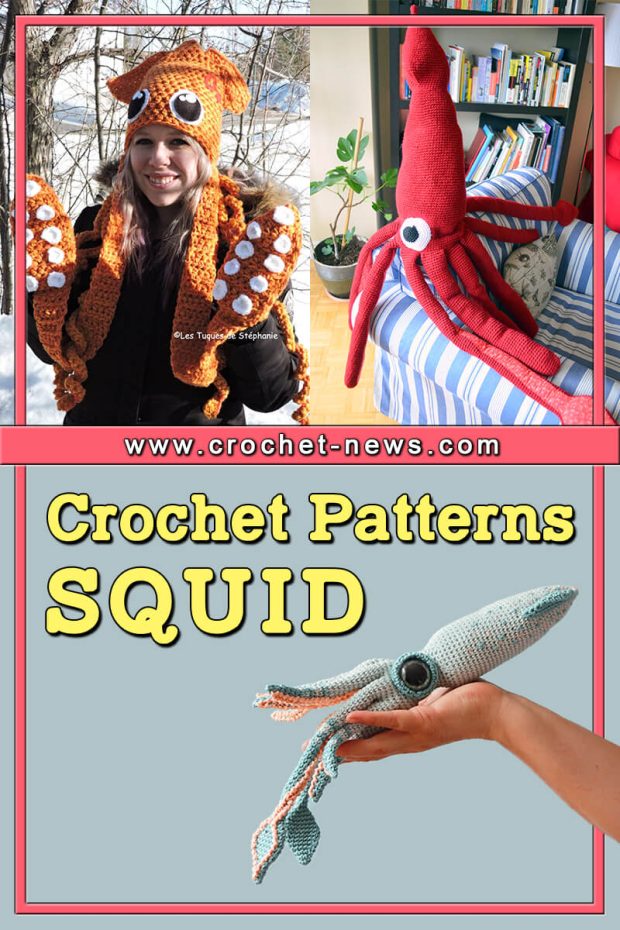 Sea critters are an uncommon but enjoyable crochet theme. Squids are great subjects because of their unusual and convoluted shapes that will be a fun challenge to take.
So, take your crochet on another under-the-sea adventure because you won't see squids on your dinner plates this time!

1. Squid Amigurumi Crochet Pattern by Crafty Intentions
This Squid Amigurumi comes with many different options! You can make the head with 3 distinctly different fin options, and you can make the tentacles in a simple way or a more complex way with suckers!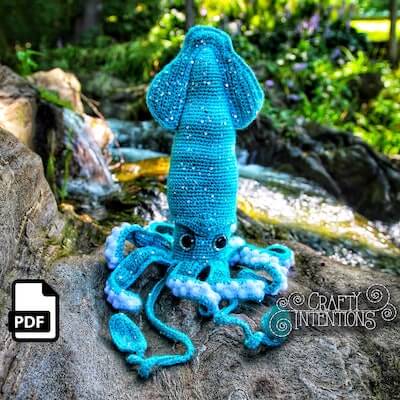 Get the Pattern by Crafty Intentions here

2. Percy, The Squid Amigurumi Pattern by Irene Strange
Percy, the Squid is a gentle and curious creature, with great big eyes full of wonder. Your little ones will adore this quirky cephalopod, with so many arms to hold when going on an adventure!

When made with DK weight yarn and 3.50mm hook the finished squid will measure about 40cm long from top of the body to longest tentacle.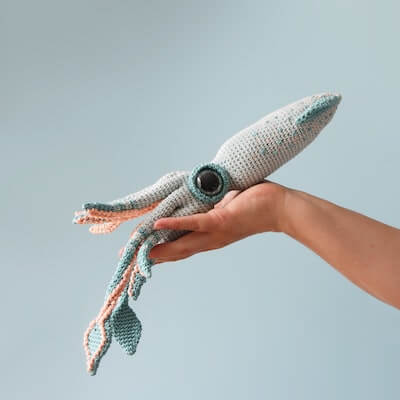 Get the Pattern by Irene Strange here

3. Crochet Squid Squish Pattern by Moogly
This Squid Squish is filled with a microbead bolster pillow. It's just the perfect size, and so very huggable! You will use a thick blanket yarn, so it's a quick project to make, taking just an evening or two. Of course, if you prefer, you can fill it with Fiberfill.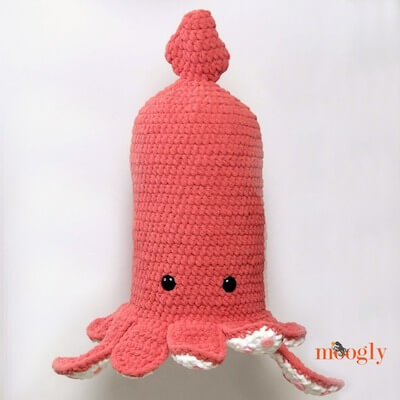 Get the Pattern here

4. Hubble, The Squid Crochet Pattern by The Projectarian
Hubble os an easy-peasy pattern with almost no sewing. He's crocheted together in one piece and all you have to sew is the eyes, which can be substituted with safety eyes if you're highly allergic to sewing!

Hubble, the squid is a great make for premature babies. He can't replace a loving human embrace but in the time confined to an incubator he's a fabulous stand-in!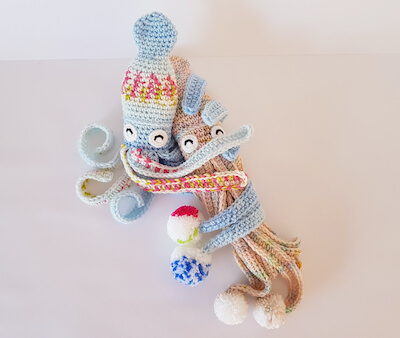 Get the Pattern here

5. Crochet Squid Pattern by Sundot Attack
If you love fast and quick makes, you'll this one! Here is an amigurumi that you can whip up in no time! This project looks great in all different yarn colors, including solids, ombre, self-striping, and variegated yarn.
Customization is easy by adding crocheted appliques, bows, beads, buttons, eyes and facial features, and more.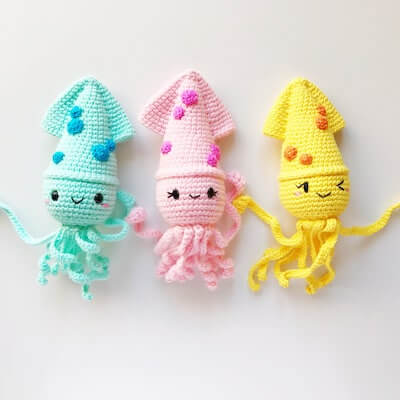 Get the Pattern by Sundot Attack here

6. Amigurumi Sparkling Squid Crochet Pattern by Bubblegum Belles
This Amigurumi Sparkling Squid would look great as a desk ornament or keychain charm. It also serve as a fin kids toy or nursery decor, and is also ideal for selling at craft fairs. This 9.5 inches tall plush makes a great friend – children and adults alike will love it!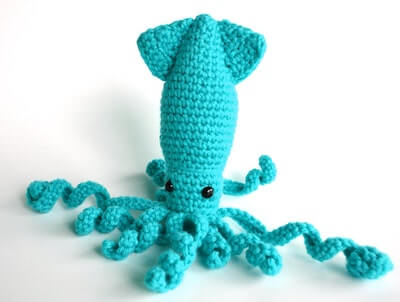 Get the Pattern by Bubblegum Belles here

7. Crochet Coraline Squid Pattern by Morbidly Madee
This crochet Squid is based off of the small creature in Coraline's bedroom from the film Coraline. This little guy is adorable and easy to squeeze and love, or spice up a cabinet in need of some other-worldly decor. He sits up on his own, and can be semi-posed.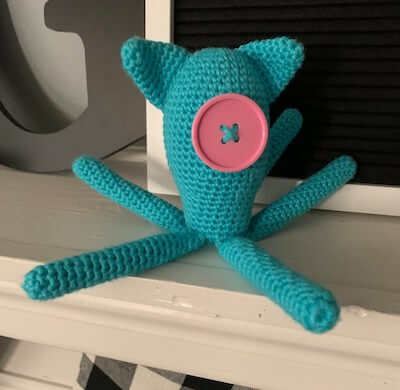 Get the Pattern by Morbidly Madee here

8. Seymour, The Squid Amigurumi Crochet Pattern by Davey Dreamer
Introducing Seymour, the Squid – Humboldt squid to be exact! Even though his nickname (the Red Devil) sounds intimidating, Seymour is all cuddles! Measuring roughly 20 inches from tail to tentacles, this pattern is a unique, exciting project for beginners.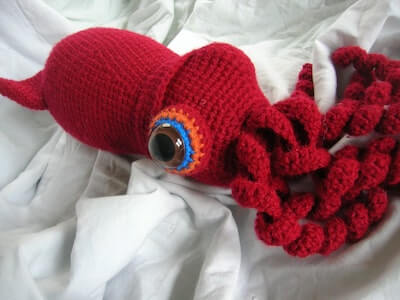 Get the Pattern by Davey Dreamer here


9. Crochet Squid Scoodie Pattern by Les Tuques De Stephanie
This squid hat, scarf and mittens all at once, can be used countless ways! Put a touch of magic in your life, this scoodie guarantee it will make head turns!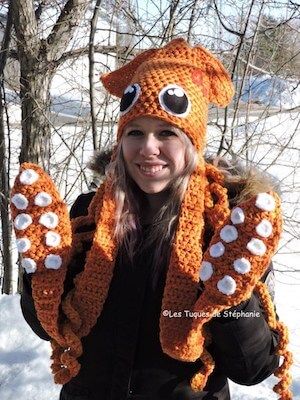 Get the Pattern by Les Tuques De Stephanie here

10. Crochet Happy Little Squid Pattern by Happy Crochet Lady
This happy little sea creatures will make the perfect gift for your friends, because it works up really fast. You can easily make them with yarn scraps, so be sure to use any leftovers. This pattern is really easy to crochet. Make a bunch of them in different colors!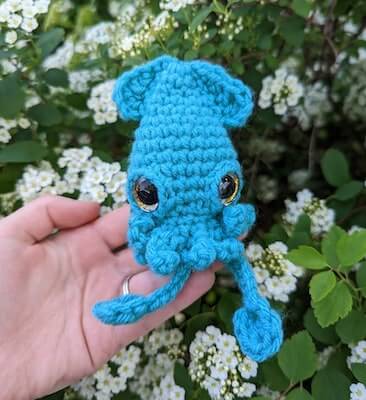 Get the Pattern by Happy Crochet Lady here

11. Crochet Squid Applique Pattern by Moogly
As an homage to our aquatic neighbors, whip up this Crochet Squid Applique. Perfect for purses, cute on kid's clothes – the applications for this applique are endless! Jaunty, nautical, and sweet, you can rest assured that this creature is only looking for hugs, not sailor snacks.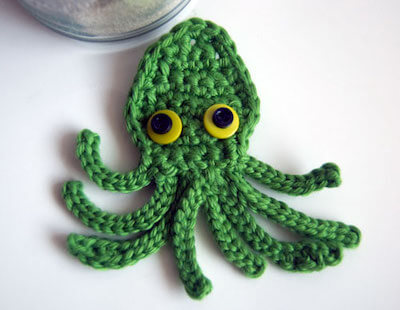 Get the Pattern here

12. Inky, The Squid Free Crochet Pattern by Spin A Yarn Crochet
This little crochet squid is a perfect sized for keychains, or as a little backpack friend. Very quick, this will become a fun favorite for when you need a quick make!
Get the Pattern here

13. Preemie Crochet Squid Pattern by Winding Road Crochet
A crochet octopus/squid is fun to make and offers comfort to babies. Maybe you want to crochet a squid for preemies, crochet one for a young child, or make a squid amigurumi for yourself! Let's be honest, weaving fingers into those curly tentacles is delightful – even if you're not a baby!
Get the Pattern here

14. Butters, The Corn Squid Crochet Pattern by Croutons Crochet
Meet Butters, the adorable corn squid! He is extremely unique and the perfect size for cuddles!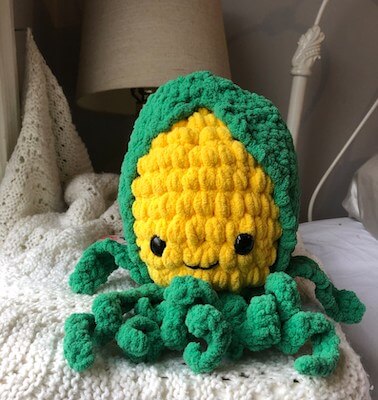 Get the Pattern by Croutons Crochet here
CROCHET A LOVABLE COLLECTION OF CROCHET SQUIDS FOR EVERYONE, EVERY ROOM.
We can't wait to see your creativity. When you complete one, please share it on our Facebook Page. We love seeing your work!
Once you've made your crochet squids, why not make some more crochet sea creatures to complete your aquatic friends with patterns for crochet octopus, turtles, whales, sharks, fishes, jellyfish, crabs, seashells and so much more! Come to the surface and find more animal crochet patterns to crochet next!
What are you waiting for? Make all of these crochet squid patterns today, perfect for a seaside-loving home!