Crochet moustaches are just plain fun. How cute are these things? And children as well as adults will appreciate these humorous designs. If you are looking for a unique gift idea, you can be positive your recipient will not have one of these. Try a few of the crochet moustache patterns we have listed.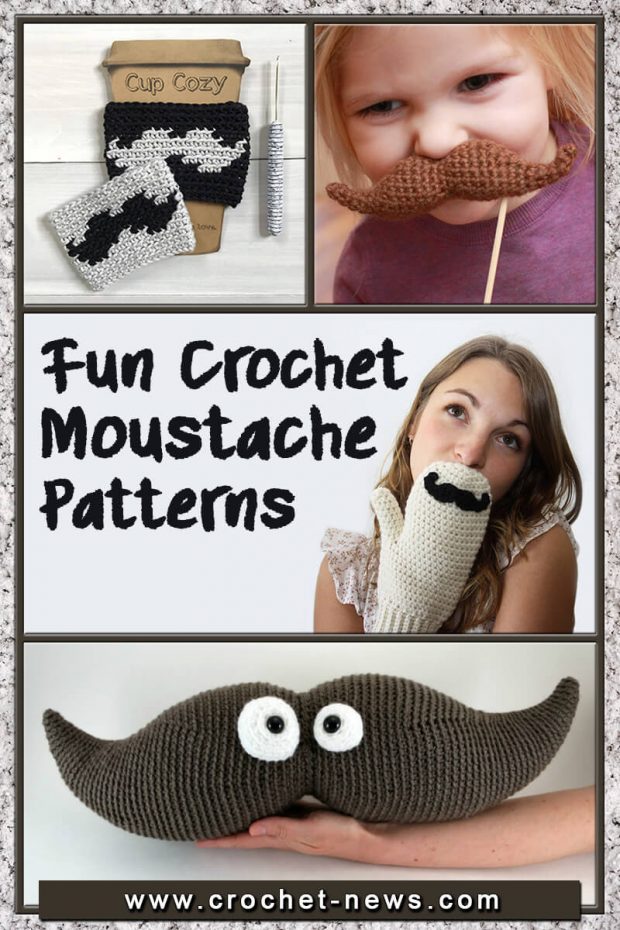 You can never have too many crochet moustaches on hand. Give them as gifts, use them as appliques or have a bunch ready for a fun kid's birthday party. We can promise you; people will love these and you will make a lot of people smile.
10 Mustache Crochet Patterns
Below are 10 of the cutest crochet mustache patterns we could find. We have included moustaches for dress-up, appliques, pillows and coffee mug cozies. You can bet there is something that your moustache loving friends will adore.
1. Mustache Crochet Pattern by VliegenderHollander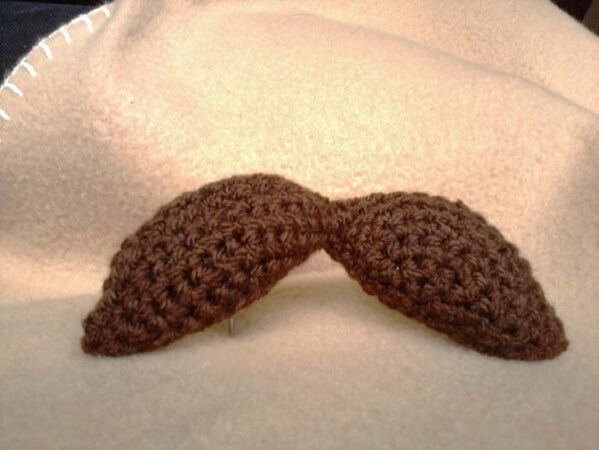 Use this crochet moustache as a fun prop or add it to one of your handmade amigurumi dolls.
This crochet mustache pattern is for an advanced beginner. You will need to know how to make a magic ring, single crochet, increasing stitches and basic sewing skills.
Using the suggested yarn and needles, the finished moustache will measure approximately 4" wide.
Get the Pattern by VliegenderHollander HERE
2. Crochet Moustache Pillow Pattern by Hookbee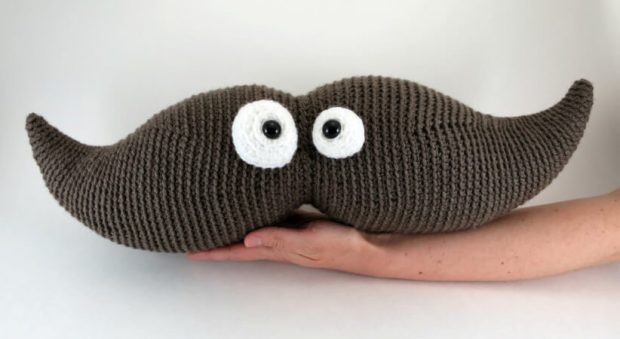 Here is an adorable amigurumi plush moustache pillow. Your recipient will love this oversized moustache with goofy eyes. Or leave the eyes off. The choice is completely up to you.
The pattern includes step-by-step photos and detailed instructions. This is an easy pattern that is started with a magic ring. You will also need to know single crochet, slip stitches, increasing, decreasing, and how to attach pieces.
Get the Pattern by hookbee HERE
3. Crochet Mustache Cup Cozy Pattern by SimplyHooedbyJanet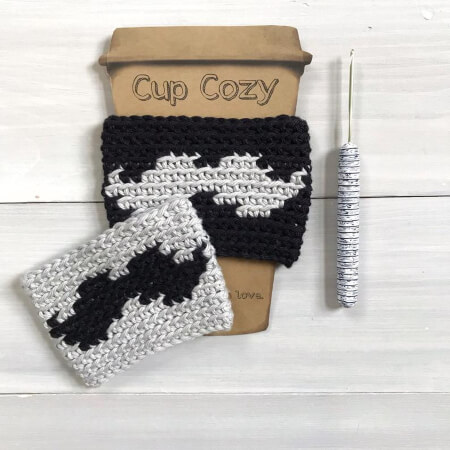 This is a fun masculine coffee cup cosy. It is a perfect gift for Father's Day, a birthday or any day.
We would recommend this easy-to-follow pattern for an advanced beginner. You will need to have some knowledge of tapestry crochet.
The pattern can be a little confusing, so you should read through it once before you begin.
Get the Pattern by SimplyHooedbyJanet HERE
4. Crochet Mustache Pattern Free from Craft Foxes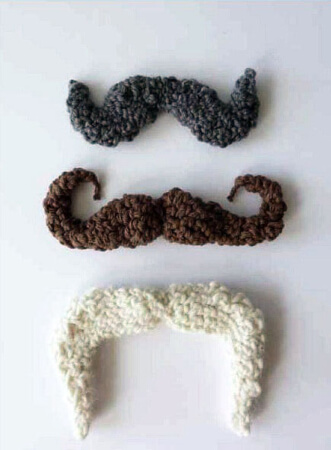 This crochet moustache does not require any filling material. It is a simple crochet mustache pattern that is free. And it can be completed in no time at all.
The moustache is made in two halves then sewn together with a yarn needle. To complete this pattern, you will need to know chain, slip, single crochet, increase, decrease and double crochet.
Get the Pattern from Craft Foxes HERE
5. Face Mask with Mustache Crochet Pattern from CrochetPatternHook
Like it or not, masks have become the new normal. But they do not have to be plain and boring. You can have fun with them This crochet moustache mask will surely get you some laughs. And it will help keep your face warm too.
There is no sewing involved in this pattern. It is a very easy pattern that can be completed by a beginner in about two hours. It is sized for an adult.
Get the Pattern from CrochetPatternHook HERE
6. Crochet Mustache Mittens Pattern from Knotsewcute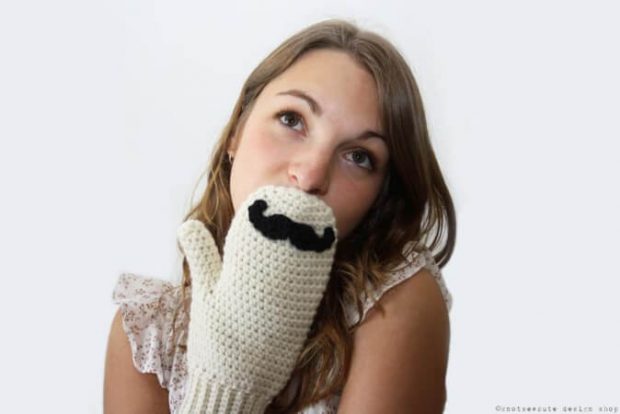 These crochet moustache mittens will surely bring a smile to your face. They are fun and unique.
The instructions are for ladies S/M and M/L. There are also options for narrow and wide width. The pattern uses double adjustable ring, single crochet, half double crochet, double crochet, treble crochet, and half double crochet 2 together.
Get the Pattern from knotsewcute HERE
7. Crochet Mustache Pattern Free from Mamachee Crochet Patterns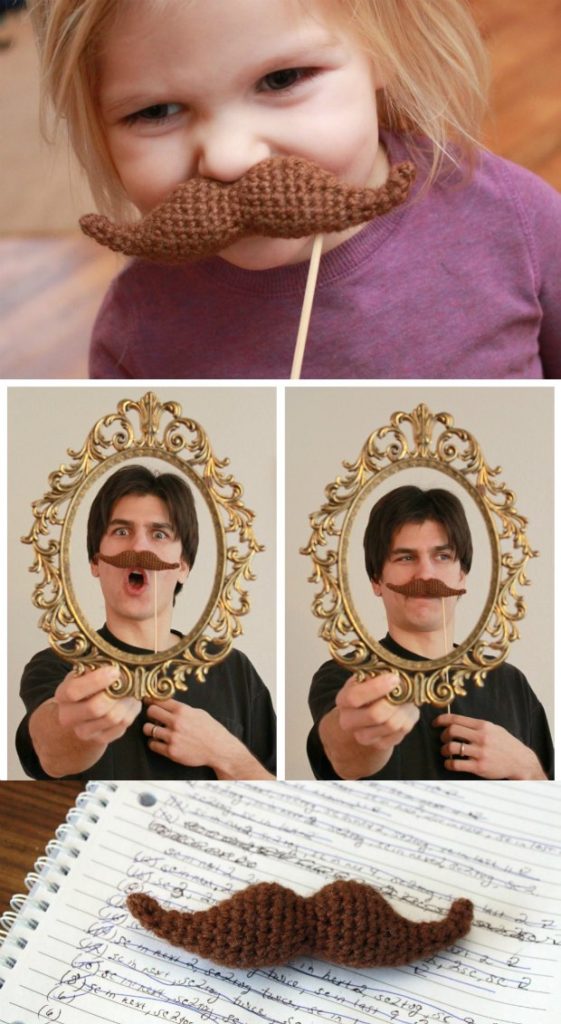 This crochet mustache pattern is free. Add pipe cleaners into the moustache to add curls to the tips. Use brown wool yarn and brush it to make it look furry. This mustache is easily customisable. When you are done, insert a dowel rod to create a classic costume piece.
The crochet moustache pattern is worked in the round. The finished moustache measures about 5 ½" wide and 1 ¼" tall.
Get the Pattern from Mamachee Crochet Patterns HERE
8. Bunch of Stanche's PDF Pattern by TheNeedleNerd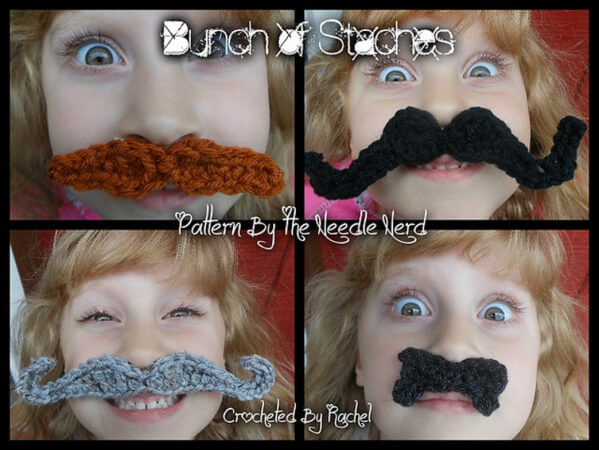 There are 4 separate mustache crochet patterns included in this purchase. These moustaches can be used for dressing up or as appliques. They are a fun idea for children's birthday parties.
The patterns are extremely easy to make. You can complete them all in less than an hour. If you are throwing a party, make a bunch of these so the guests can choose their favourite style.
Get the Pattern by TheNeedleNerd Here
9. Santa Mustache Coffee Cozy Crochet Pattern by HCCrochets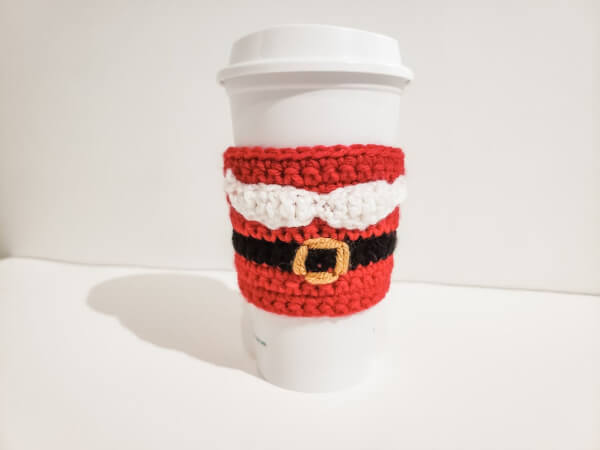 This is the perfect coffee cup cosy for your hot chocolate on Christmas morning. Add a festive touch to your drinks at home or at the office. You can bet your coworkers will want one too.
The Santa crochet moustache coffee sleeve base is crocheted flat in rows. The moustache is made separately and attached with a tapestry needle. The base is then seamed together to create the sleeve.
Get the Pattern by HCCrochets HERE
10. Mustache Crochet Pattern by 3rdHousefromtheend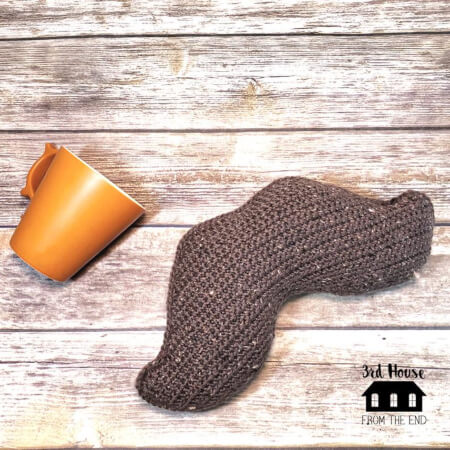 Here is a whimsical crochet moustache throw pillow. It would make the perfect gift for any moustache lover. And it will look cute sitting on their favourite chair or lounge.
The finished crochet mustache pillow measures approximately 14" long and 7" tall.
Find the Pattern by 3rdHousefromtheend HERE
CROCHET MOUSTACHES ARE FOR THOSE THAT LOVE TO HAVE FUN. MAKE A PILLOW, USE THEM AS APPLIQUES, OR ADD TO THE HOLIDAY FESTIVITIES.
Life is not always about being serious. These crochet moustache patterns will help liven up a room. You can always count on bringing a smile to someone's face with a fake moustache.
Can't get enough of fun crochet patterns? Then check out our Star Crochet Patterns. We also have action packed patterns for Star Wars, Spider-Man, and Batman fans!
Our list of crochet moustache patterns includes a variety of comical designs. We hope we have included a crochet moustache pattern that you will love to make.