Making crochet sushi is fun. And crochet sushi patterns are great for using up your stash yarn. When people see your little pieces of sushi, you know they are going to smile.
Crochet sushi patterns take very little yarn and are easy to customise. If you are new to the art of Amigurumi, these whimsical little pieces of food are a great way to start. Most of the patterns we listed are beginner-friendly.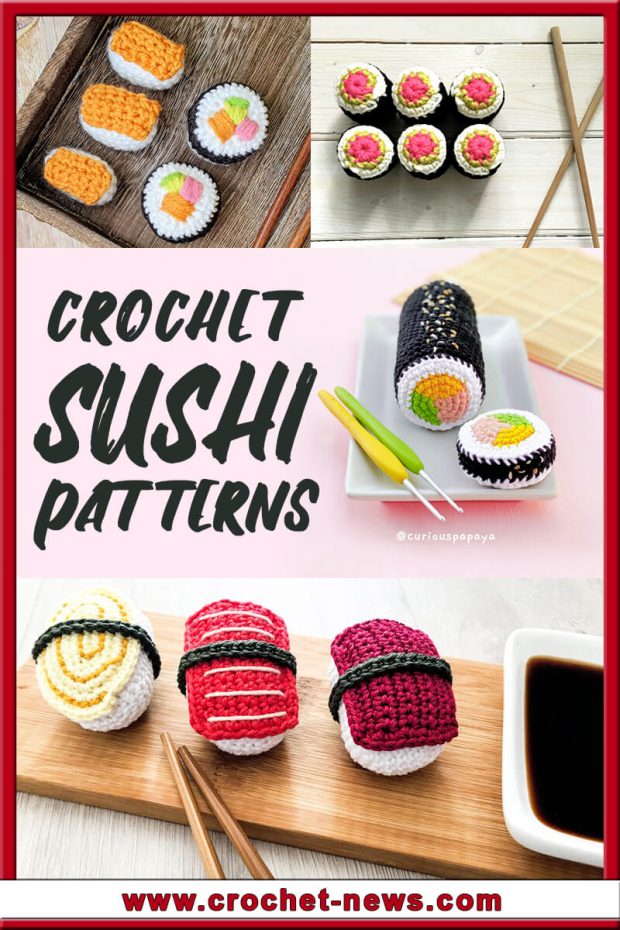 Below are 10 fun crochet sushi patterns. Once you make one piece, you will want to make more.
1. Crochet Sushi Pattern by Just Be Crafty Shop
This is a beginner/intermediate level pattern that produces a single piece of sushi. Crochet several of these for a child's play set or make them as a quirky decor items for your table.
To make these cute little amigurumi crochet sushi pieces you will need the knowledge of chain stitch, single crochet, increase and decrease.
You will need a 4 mm crochet hook, worsted weight acrylic yarn, fiberfill, scissors and a yarn needle.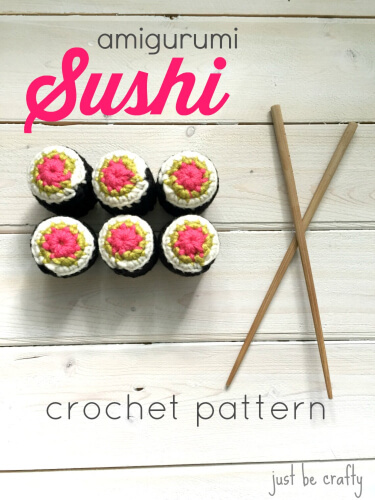 Find the Pattern by JustBeCraftyShop HERE
2. Amigurumi Sushi Play Foods Set Pattern by Skymagenta
Amigurumi Sushi Pattern Play Foods Set shows that if you set your mind to it, you can crochet pretty much anything. If they could make yarn where oil and gas wouldn't leak out through the stitches I swear someone would crochet a car!
Here is a fun project that caught our eye – why not crochet your own sushi platter! What a laugh. Crochet yourself a fantastic colorful platter that will look amazing. I am not to sure on the taste though.
Amigurumi Sushi Play Foods Set Patterns include:
– California Roll
– Corn Tofu Bag
– Salad Tofu Bag
– Salmon Sushi
– Prawn Sushi
– Egg Sushi
– Octopus Sushi
– Eel Sushi
– Baby Octopus Sushi
– Fish Eggs Sushi
– Big Sushi Roll
– Cucumber / Crab stick Roll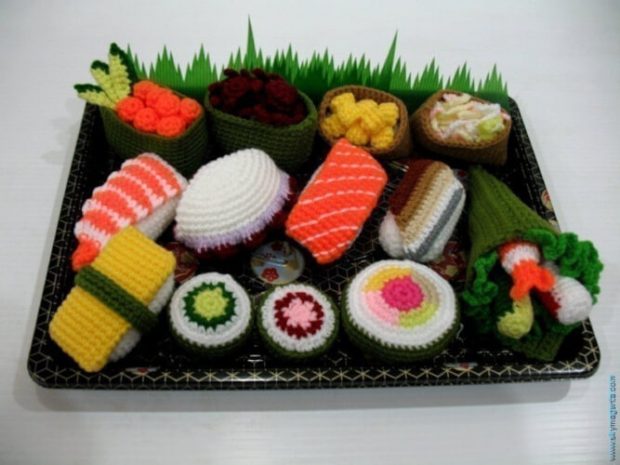 Get the sushi crochet pattern here

3. Amigurumi Dinner Sushi Crochet Pattern by Yarnspirations
This free pattern has instructions for 3 types of sushi. And to make them even cuter, they have tiny little faces. These amigurumi sushi plush dolls are perfect for children since they are soft and washable.
To complete these intermediate level patterns, you will need to know the following abbreviations: Beg, Ch, Hdc, Hdc2(3)tog, Rem, Rep, Rnd(s), Sc, Sc2(3)tog, Sl st, St(s), WS and Yoh.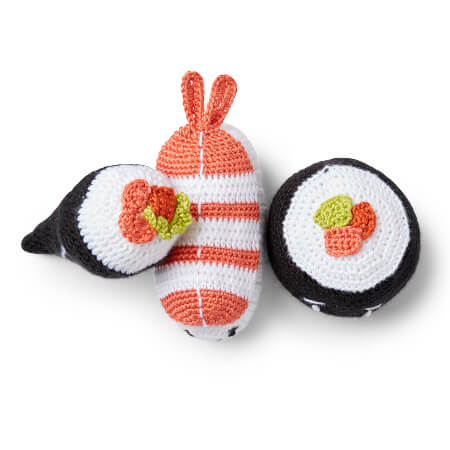 Find the Pattern from Yarnspirations Here

4. Amigurumi Sushi Set Pattern by Little World Of Whimsy
This whimsical amigurumi sushi pattern includes instructions for the maki roll and nigiri. The detailed, 5-page pattern includes detailed instructions and lots of pictures.
To make these quirky plush sushi pieces you will need basic crochet knowledge of magic rings, single crochet, chains, increasing, decreasing, and finishing off.
You will need sport weight yarn, 3.5 mm crochet hook, tapestry needle, polyester fiberfill stuffing, and stitch markers.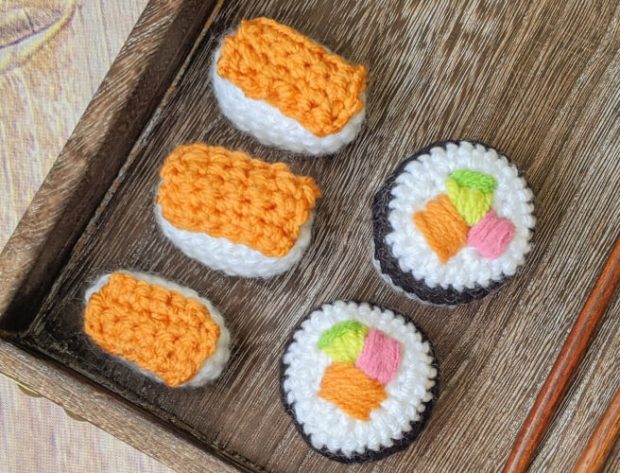 Find the Pattern by LittleWorldofWhimsy HERE

5. Crochet Sushi Roll Pattern by 3am Grace Designs
Cuddle up with this large sushi roll. Using the suggested yarn and hook, the cuddly amigurumi sushi will measure approximately 12″ x 16″.
This is an easy beginner level crochet pattern.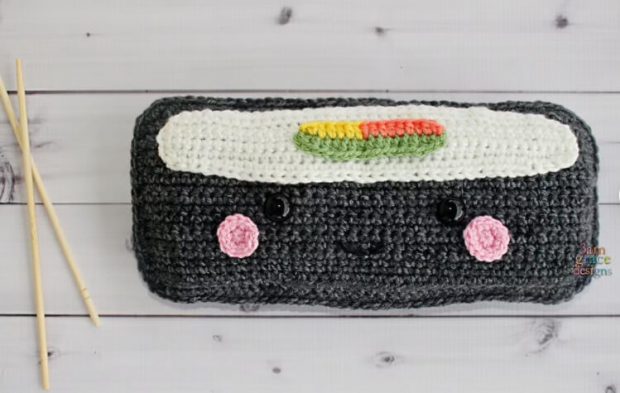 Find the Pattern by 3amgracedesigns HERE

6. Sushi Crochet Pattern by Nerd With Yarn
Add some whimsy to your dining room decor or kitchen counter with these fun amigurumi sushi pieces. Or add a split ring to make a keychain.
To complete these sushi pieces, you will need to know slip stitch, single crochet, chain, turning chain, increase and decrease. This pattern can be purchased in either English or Dutch.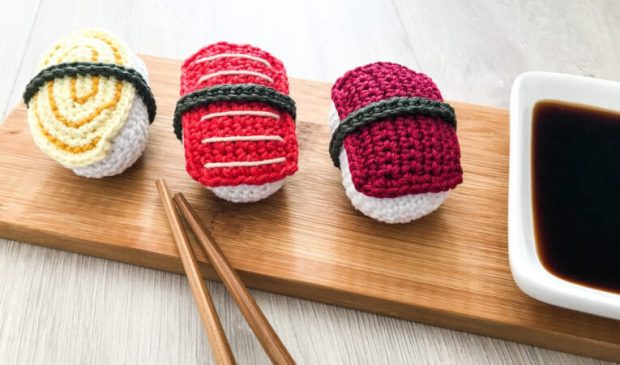 Find the Pattern by NerdWithYarnNL Here

7. Bento Sushi Set Crochet Pattern by Happy Berry
This free pattern set includes maki rolls, uramaki, nigiri and tempura. The pattern would be great for creating plush toys for a child.
You can either download the free amigurumi sushi pattern that includes ads, or you can pay for an add free version.
These playful pieces of plush food require the knowledge of single crochet back post stitch, double crochet front post stitch, bead stitch and Tunisian crochet.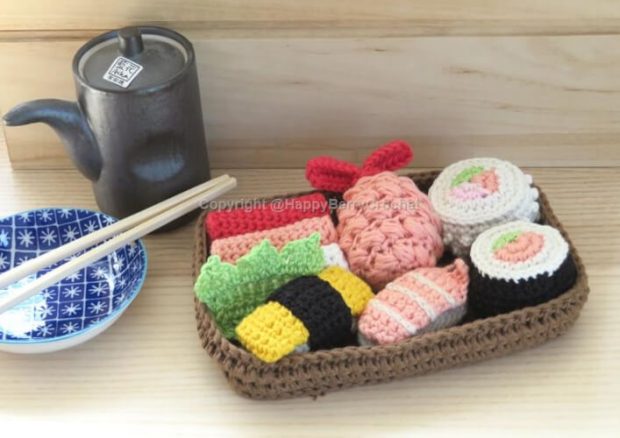 Find the Pattern by Happy Berry Here
8. Crochet Sushi Set Pattern by Amigurumisnl
Why stop at making sushi when you can make the soy sauce, chopsticks, dipping bowl, plate, wasabi and pickled ginger too? This amigurumi sushi pattern has everything.
We would recommend this pattern for an advanced beginner. It uses st (stitch), ch (chain stitch), sl (slip stitch), sc (single crochet), and dc (double crochet). For size reference, the soy sauce bottle measures approximately 5.5" tall.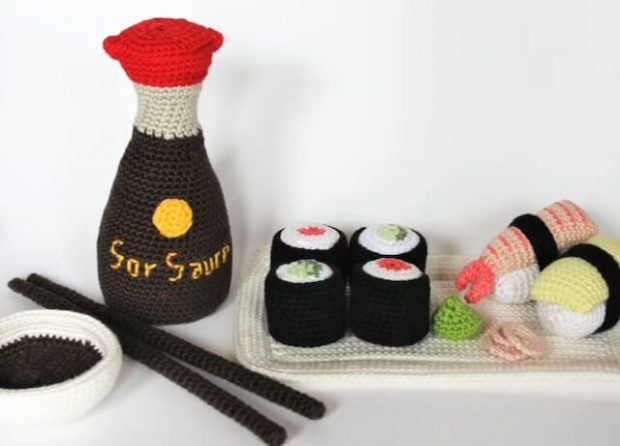 Find the Pattern by Amigurumisnl Here
9. Kimbap Crochet Pattern by Curiouspapaya
Make this full-size sushi roll with extra pieces with this beginner-friendly pattern. The circumference of the finished project is approximately 2.5" in diameter.
This pattern mainly uses the single crochet stitch. You will also need to know the basics of amigurumi.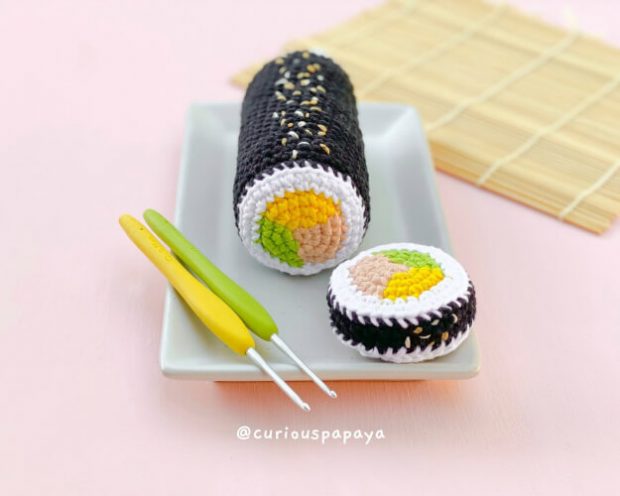 Find the Pattern by curiouspapaya Here
10. Amigurumi Sushi Rolls Free Crochet Pattern from Elisa's Crochet
Here are 4 free amigurumi sushi roll patterns. You will be able to make tuna rolls, salmon rolls, avocado rolls and California rolls. These would make fun little toys, magnets or keychains.
These are beginner-level patterns. You will need medium weight cotton yarn, polyester fibre filling, and a 2.75 mm crochet hook. The sushi pieces are worked in the round and joined with a slip stitch and chain 1 at the end of each row.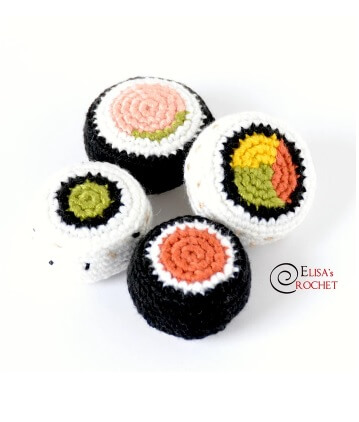 Find the Pattern from Elisa's Crochet Here
ARE YOU LOOKING FOR A FUN PROJECT TO USE UP YOUR STASH YARN? TRY ONE OF THESE CROCHET SUSHI PATTERNS.
Get out your yarn, crochet hook, fibre filling, and get busy. You will have so much fun creating these whimsical little plush toys. Make some as a decoration for your table. Or make a whole set of sushi for a child to play with.
Here are patterns to even please your palette, Crochet Donut Patterns, Felt Food Patterns, Crochet Vegetable Patterns, and Crochet Fruit Patterns.
What are you waiting for? These sushi pieces work up quickly. You will have a blast working on these crochet sushi patterns.