If you are looking for Halloween crochet patterns or just want to make an adorable bat, we have the perfect crochet bat patterns for you.
Whether you love bats or hate them, they are an important part of our ecosystem. Bats can be celebrated year-round. However, most people only think about bats during Halloween.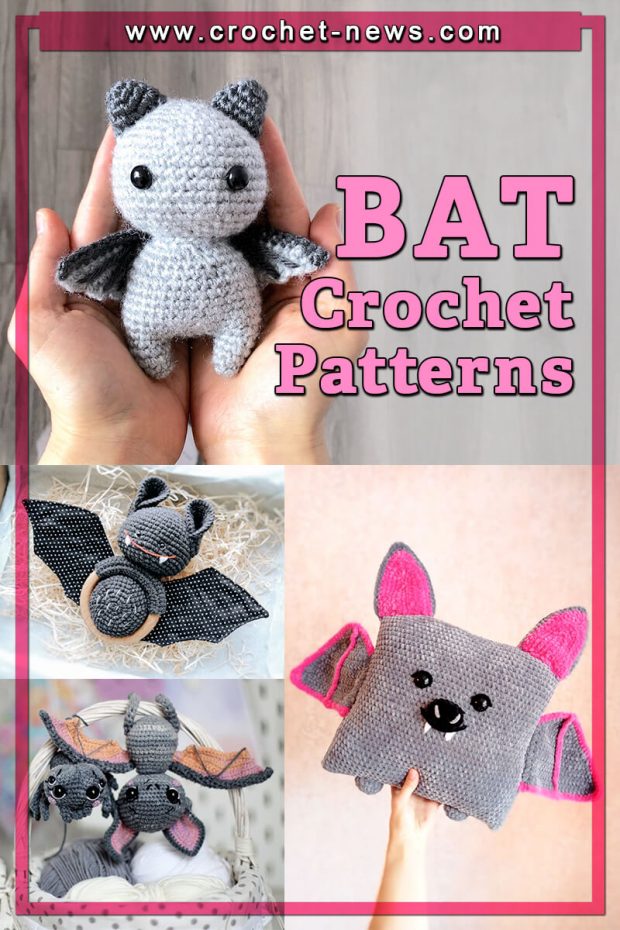 Check out our list of 14 crochet bat patterns below. There are beginner-friendly patterns as well as advanced patterns.
1. Halloween Amigurumi Bat Crochet Pattern by LoopyPattern
You will get both an amigurumi bat and amigurumi spider with this 2 in 1 Halloween pattern set. These two are the best of friends. Make this set to help children learn about the importance of both bats and spiders.
The pattern includes detailed instructions on how to crochet toys and a lot of step-by-step photos. This pattern is suitable for an advanced beginner who has the knowledge of magic ring/circle, crocheting in spirals, loop, single crochet, double crochet, half double crochet, slip stitch, increase and decrease, basic sewing, and embroidery techniques.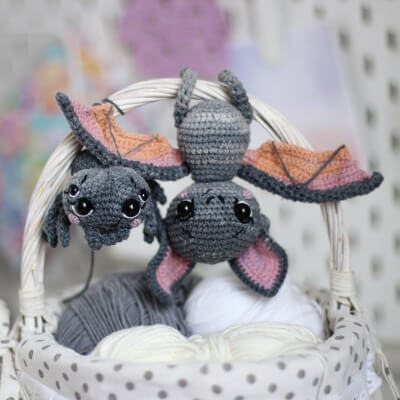 Find the Pattern by LoopyPattern HERE
2. Crochet Large Flying Fox Pattern by NataliSkill21
If you really want to spook your guests, hang up this crochet bat. This thing looks real. There is no doubt this crochet bat will make people take a second look.
The bat is crocheted from mohair yarn. The body is stuffed with fiberfill. Its legs and wings are set on a flexible wire frame. It is an intermediate level pattern.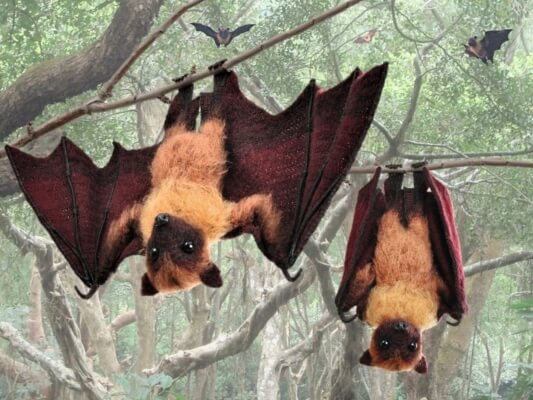 Find the Pattern by NataliSkill21 HERE
3. Shadow the Amigurumi Bat Crochet Pattern by MochaStitch
If you are looking for a whimsical amigurumi crochet bat pattern, check out this cutie. Kids will absolutely love this bat. You can make it using black, grey, or any other colour of yarn you choose.
This intermediate level crochet pattern includes a list of materials, instructions to create each piece, and a few tips for assembly. There are pictures to help you through the process.
The pattern uses magic ring, single crochet, increases, invisible decreases, crocheting in the round, crocheting an oval, and slip stitch.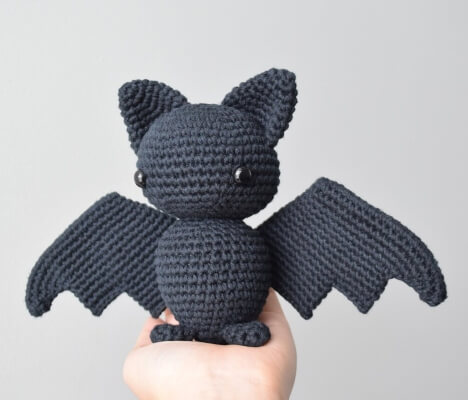 Find the Pattern by MochaStitch HERE
4. Sir Batwington Free Crochet Bat Pattern by Sweet Softies
Here is another super cute amigurumi free crochet bat pattern. Sir Batwington is an adorable little bat that thinks he is scary. But there is no way this little guy will scare anyone.
Completed, Sir Batington measures 5 inches (13 cm) tall. To make this plushie you will need worsted weight yarn, 2.75 mm crochet hook, fiberfill stuffing, 10 mm plastic safety eyes, a yarn needle, and scissors.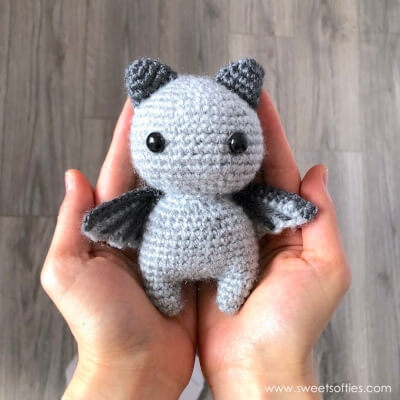 Find the Pattern by Sweet Softies HERE
5. Halloween Amigurumi Bat Crochet Pattern by OutlawHeartCreations
This bat will definitely make you smile. It is comical and cute. It has large eyes and a huge smile. It is a great choice for those that like to decorate for Halloween but are not into spooky.
Each bat is made using traditional amigurumi techniques. They have felt wings for the perfect look. There are 2 patterns included for the wings. The pattern uses chain, single crochet, bobble stitch, magic circle, increase, and decrease.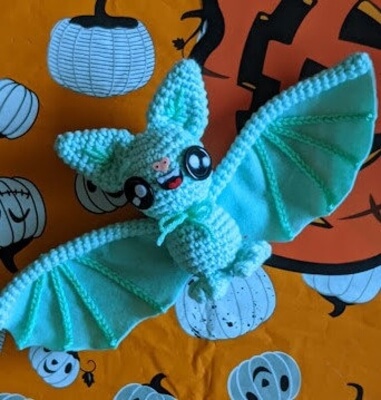 Find the Pattern by OutlawHeartCreations HERE
6. Crochet Bat Pillow Pattern by Toysbyhvatik
Cuddle up with this crochet bat pillow. You could use this pattern on a sofa, chair, or toss it on a child's bed. The pattern includes 16 pages of detailed instructions and step-by-step photos. The completed pillow measures approximately 24.80 inches x 11.81 inches (63×30 cm). It can be made smaller or larger by using a different yarn, hook size, and tension.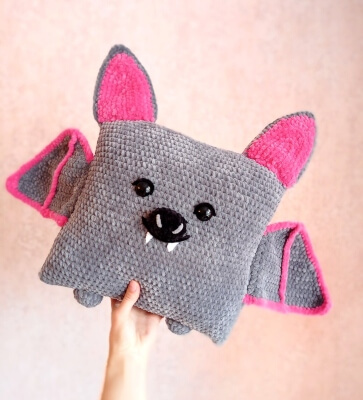 Find the Pattern by Toysbyhvatik HERE
7. Crochet Halloween Bat Applique Pattern by Golden Lucy Crafts
Bat appliques are excellent for adding to cushions, blankets, and costumes. Here is a free crochet bat pattern that includes a small and large pat applique pattern.
The small bat measures 3.5 inches (9 cm) wide. The large bat measures 6 inches (15 cm) wide. Once completed, you can add eyes if you choose.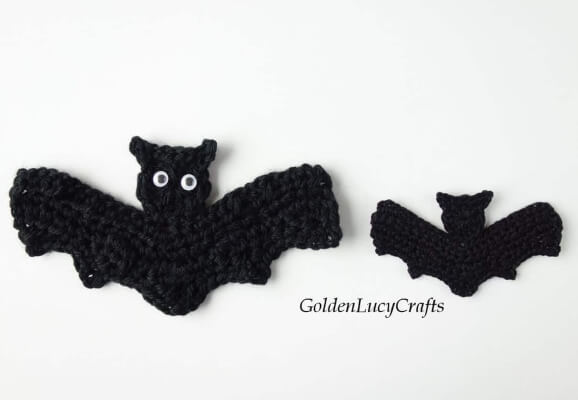 Find the Pattern by Golden Lucy Crafts HERE
8. Crochet Bat Pattern by BBadorables
This little bat is great for decorating your mantle or tabletop for Halloween. You can set it up with its wings spread outward or wrap the wings around the body. You can also hang the bat by its feet.
Only basic crochet stitches are used to make this crochet bat. These include single crochet, magic circle, double crochet, increases and decreases. Along with the yarn and 3 mm crochet hook, you will need one pair of size 6 mm safety eyes, fiberfill and a tapestry needle.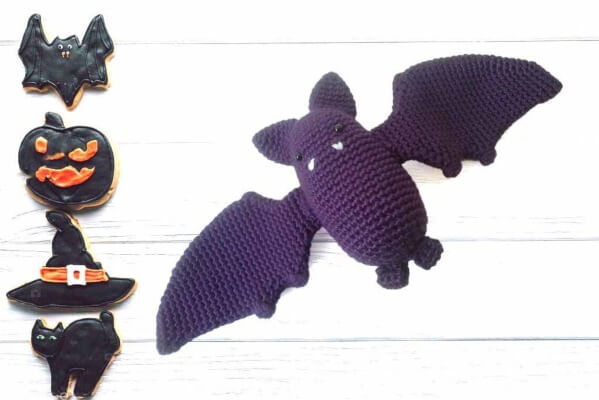 Find the Pattern by BBadorables HERE
9. Animal Square Crochet Bat Pattern from ThoresbyCottage
You can use this crochet bat square to make blankets, cushions, or other decor items. This is a PDF pattern that includes a chart and written instructions. Using the suggested hook size, the finished square will measure 5.12 inches (13 cm) square. It is an easy, beginner-friendly pattern.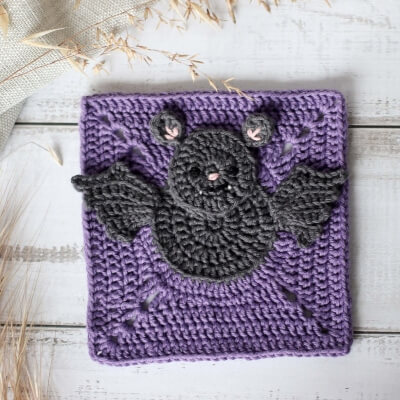 Find the Pattern from ThoresbyCottage HERE
10. Bat to the Bone Crochet Hat Pattern by JennifersStitchedUp
Show your love of Halloween by wearing this crochet bat and skull winter hat. The hat looks as though it was knitted. When in actuality it is crocheted using the waistcoat stitch.
Included with the written pattern is a graph. You will need to know how to colour change and carry yarn. The pattern is written to create a hat that will fit a 19 to 22 ½ inch head size.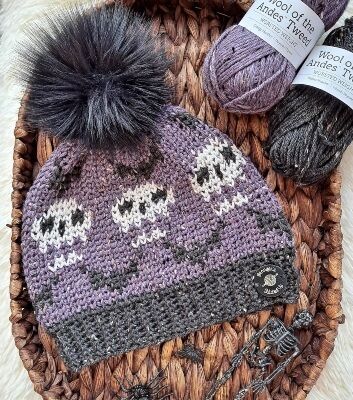 Find the Pattern by JennifersStitchedUp HERE
11. Baby Rattle Bat Crochet Pattern by BoxByFox
Use this beginner-friendly crochet bat pattern to make this adorable baby rattle. This would be the ultimate accessory for your baby's Halloween costume. The pattern combines crochet, sewing and embroidery.
Here's more Crochet Baby rattle for your little one.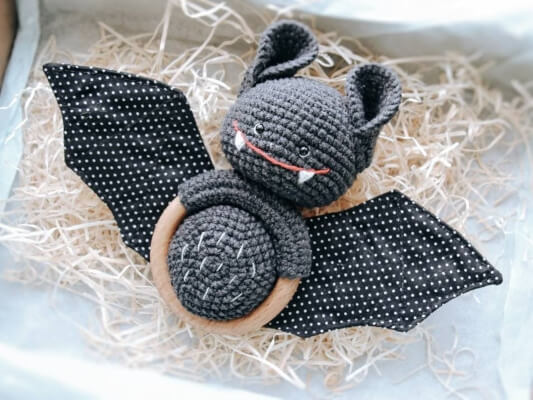 Find the Pattern by BoxByFox HERE
12. Itty Bitty Bat Free Amigurumi Pattern by Lucy Ravenscar Crochet Creatures
Here is a free crochet bat pattern that is in both English and German. These little bats are the ideal size for creating a garland for your Halloween party. These bats work up quickly. They measure approximately 2 inches tall x 5 inches wide.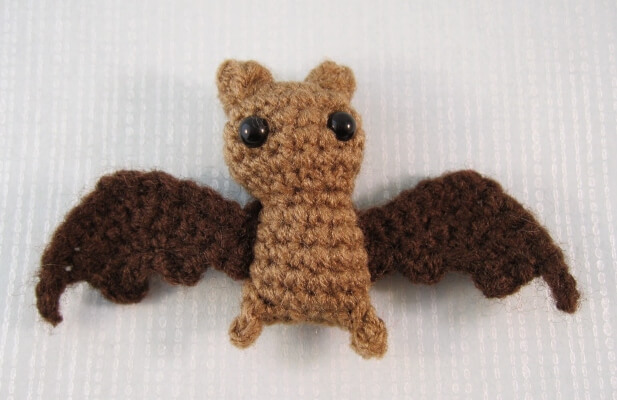 Find the Pattern by Lucy Ravenscar Crochet Creatures HERE
13. "Halloween – Buffy the Bat" Mosaic Crochet Square Pattern by CBirdCrochetPatterns
You can use this crochet square pattern to create a variety of items. You can use it to make a pillow, blanket, bags, placemats, etc.
This digital pattern includes written instructions and a chart. The final size of the completed square will vary depending on the yarn and hook you use.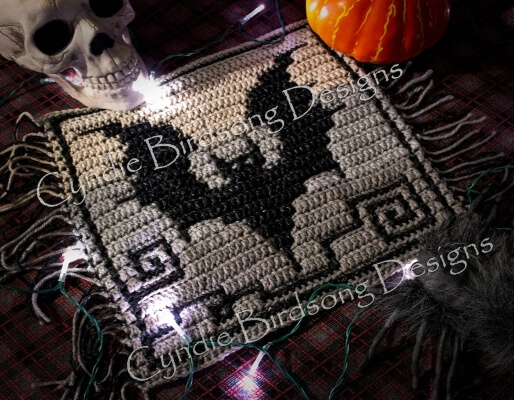 Find the Pattern by CBirdCrochetPatterns HERE
14. Stained glass Halloween Bats Pattern by GraphsBy2CraftyNerds
Here is an excellent pattern to crochet a Halloween themed blanket. The blanket features 3 bats in front of a beautiful gothic arch window.
This pattern only uses 2 colours of yarn. To complete this blanket, you will need to know how to follow a corner to corner chart. Once complete, the blanket measures approximately 48 inches wide x 60 inches long.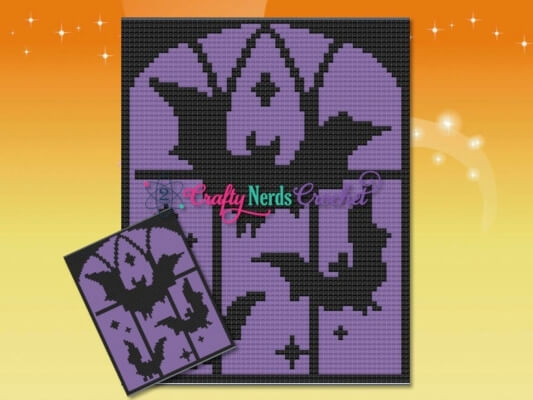 Find the Pattern by GraphsBy2CraftyNerds HERE
Crochet bat patterns can be cute as well as creepy. They are the ideal project for creating Halloween decor.
Bats are intriguing creatures that are either loved or hated. But no one can argue that they are not perfect for Halloween.
Looking for more Halloween patterns to make? Check out these Halloween Amigurumi patterns, Crochet Spider Web Patterns, Crochet Spider Patterns and Skull Crochet Patterns.
Whether you are looking to create ornaments or large realistic bats to scare your friends, these crochet bat patterns will be sure to please.