Here you will find a collection of all of the best Pineapple Crochet Patterns celebrating the cutest, sweetest, and most summery of fruits – the pineapple! Work up a fun amigurumi pineapple or use the pineapple stitch to add pineapples to shawls, bags, blankets, and pillows.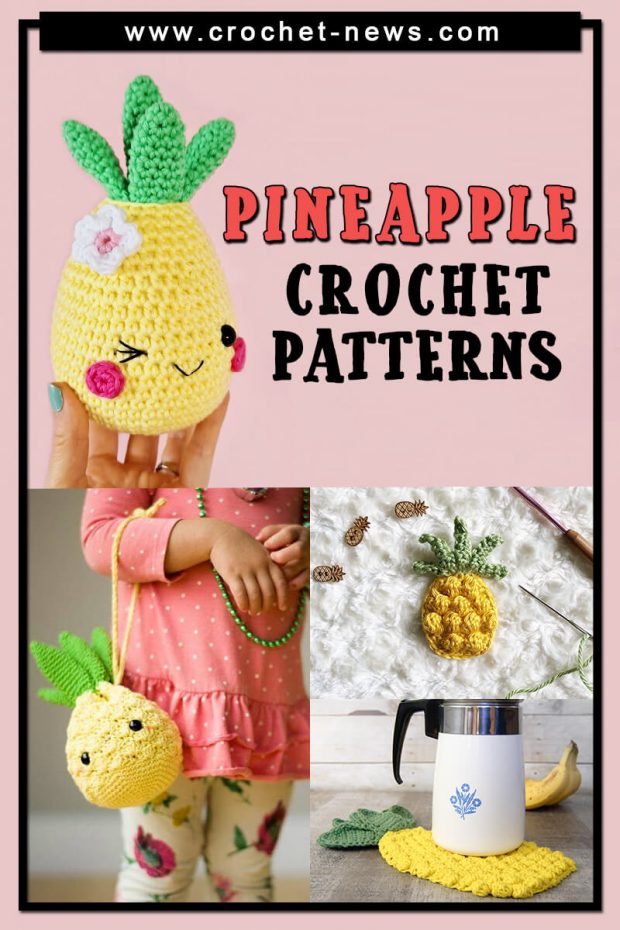 22 Crochet Pineapple Patterns
Pineapple makes people think of sunny days at the beach, warm breezes, and tropical music. Bring that island vibe home with one (or more!) of these fun patterns below!
1. Free Pineapple Crochet Pattern by Yarn Plaza
This adorable stuffed pineapple is a realistic design incorporating shell stitches with contrasting edging. This fashionable crocheted pineapple is the perfect item to cheer up your living room!

The free tutorial recommends filling it whit stuffing but adding some weighted filler in the bottom to keep it upright would also make it into an adorable doorstop.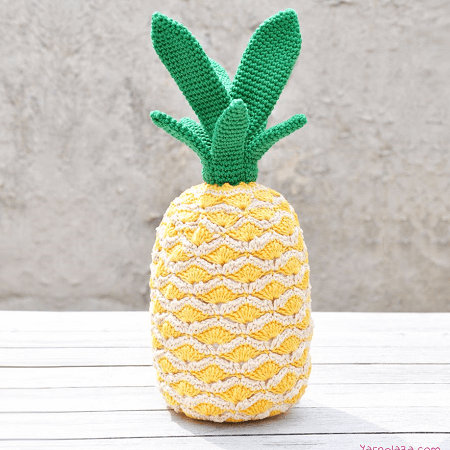 Get the Pattern here

2. Pineapple Purse Crochet Pattern by All About Ami
Crochet this sweet and adorable pineapple purse to hold your essentials! This functional amigurumi is sure to bring a smile to everyone's faces!

Instead of becoming a toy, the top opens so it can carry essentials. With its adorable face, kids will love it, but so will adults who have a playful fashion style.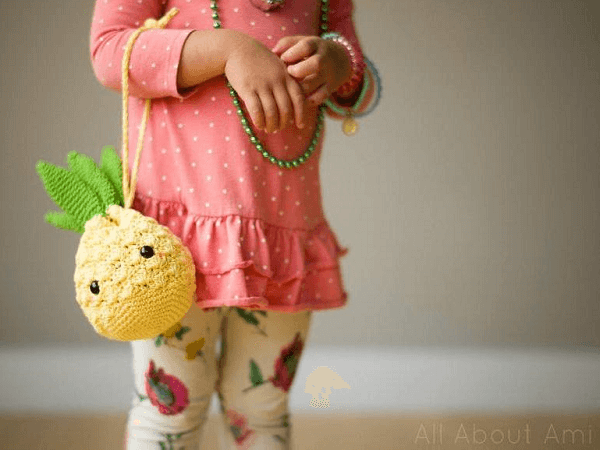 Get the Pattern by All About Ami here

3. Pineapple Wall Hanging Crochet Pattern by A Crafty Concept
Bring some of the tropics to your walls with this happy Pineapple Wall Hanging. The crocheted hibiscus and a rainbow of yarn fringe complete the island-style look of this piece. The wall hanging measures approximately 26′ including the fringes.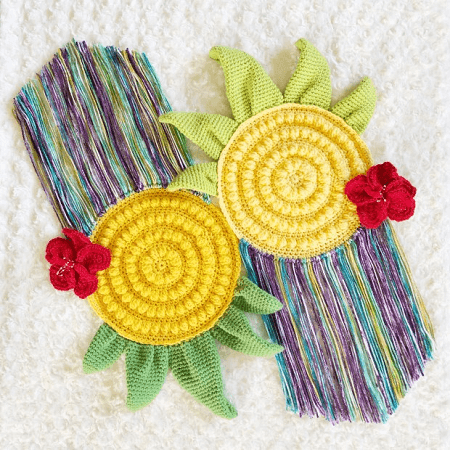 Get the Pattern here

4. Crochet Pineapple Placemat Pattern by Yarn Godess
In this reversible Pineapples Crochet Placemat, three pineapple motifs are joined, and then a small border added.
While the pineapples themselves are fairly simple, the motif border is a bit complex. This is definitely a project for an experienced crocheter.

We have collected more Crochet Placemat Patterns for more ideas on setting up your tables!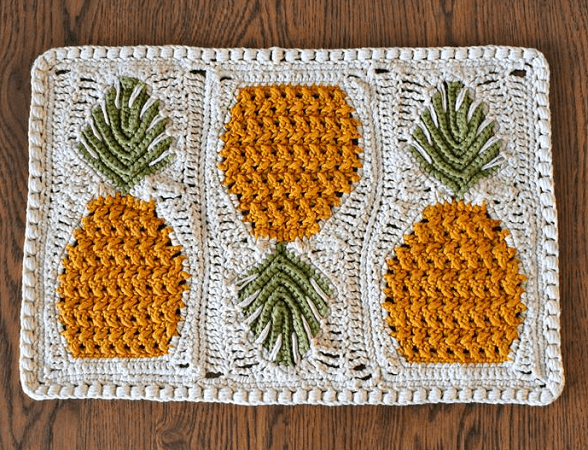 Get the Pattern by Yarn Godess here

5. Pineapple Blanket Cocoon Crochet Pattern by MJs Off The Hook Designs
Use this Pineapple Blanket Cocoon as a sun tanning mat by the pool or snuggle up on the patio after a swim. It's a sleeping bag style cocoon that is perfect to cozy up in regardless of the season! Due to the thick texture, you can use this piece as a decorative rug.

The pattern is written for child size pictured but includes notes on how to make it larger for a teen or adult. You can also make a baby size cocoon by working this pattern in worsted weight yarn and a 5 mm crochet hook.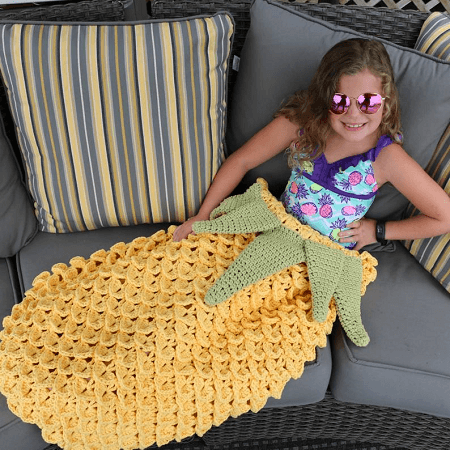 Get the Pattern by MJs Off The Hook Designs here

6. Pineapple Squares Throw Crochet Pattern by Red Heart
The subtle pineapple motif is delicate on this throw – whether made to enhance a tropical decor or not. Stitch motifs and sew together to create an elegant addition for the home.

It's an impressive project that can easily become an heirloom quality gift to be passed down from generation to generation.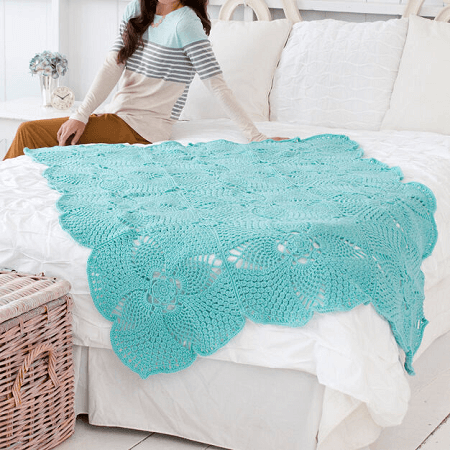 Get the Pattern here

7. Pineapple Keychain Crochet Pattern by Spin A Yarn Studio
You won't handle how tiny and adorable these little pineapples are. They would make the perfect little bag charm or accessory for a fun summer outfit. The best part about these is how quickly you can whip them up.

The pattern uses the diamond stitch to create the pineapple-y texture and made in ragdoll-style, separate pieces worked in flat rows and joined together to give it that charming and distinctive 2-D appearance.

For more keychain patterns, check out our roundup of crochet keychains for more options.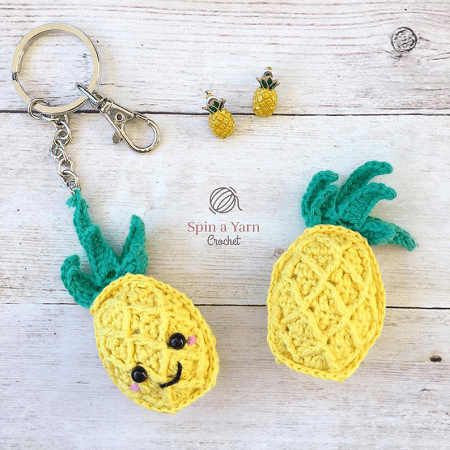 Get the Pattern by Spin A Yarn Studio here

8. Pineapple Lace Parasol Crochet Pattern by Ira Rott Patterns
Let your talent shine when you finish your very own Pineapple Lace Parasol. Use it to create lasting memories for special events or just take it out to the sun to provide some shade. Your friends and family will go "wow" once they see what you have made from thread!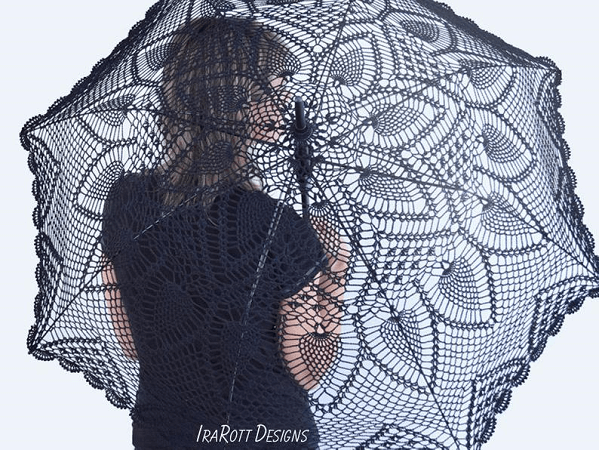 Get the Pattern by Ira Rott Patterns here

9. Pineapple Crochet Hot Pad Pattern by Petals To Picots
This Pineapple Crochet Hot Pad Pattern makes for an easy and portable project as well as a bright and cheery addition to your decor. The pineapple has long been using as an expression of welcome and a symbol of hospitality and friendship. What better adornment for your dining table or to gift to a friend!

The cluster stitches used in this hot pad pattern produce a beautifully thick and textured fabric that is perfect for protecting your table from hot dishes.

Here are Crochet Potholder Patterns for more amazing ideas!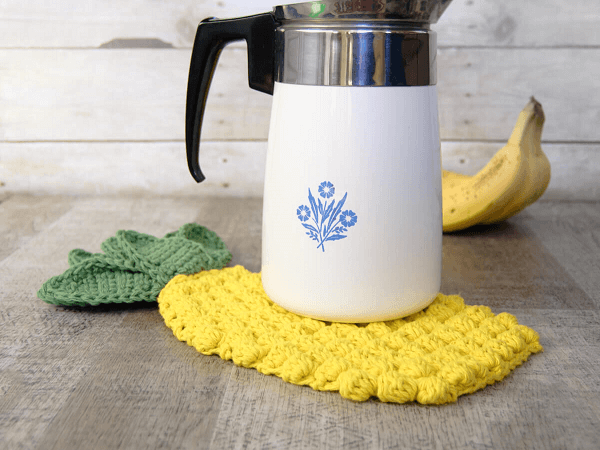 Get the Pattern here

10. Pineapple Crochet Wrap Pattern by Morale Fiber
The apparent intricacy belies the ease of a classic and simple lace pattern: the crochet pineapple. With just a few basic crochet stitches and a set of intuitive repeats, massive webs of beautiful lace can be woven easily!

This wearable lace piece is convertible from skirt to shawl/wrap, includes instructions for resizing for different yarns and gauges with optional lengths of Short, Midi, and Long – and features the Pointed Pineapples technique, which creates a charming tattered silhouette that gives the wrap a romantic vintage feel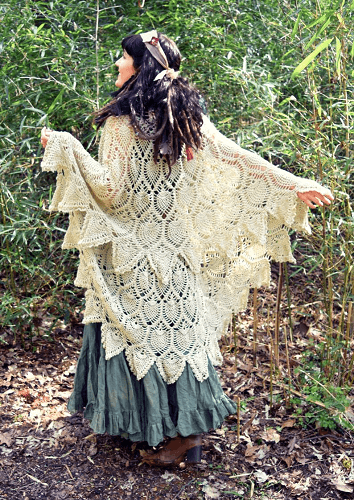 Get the Pattern by Morale Fiber here

11. Pineapple Booties Crochet Pattern by Mama Zady Stitches
Feeling tropical? These brightly colored Pineapple Booties are sure to stimulate baby's vision and encourage them to find their feet! These are a gorgeous, unique gift for a new baby.

Craving for more? Check out this adorable collection of Crochet Baby Booties Patterns.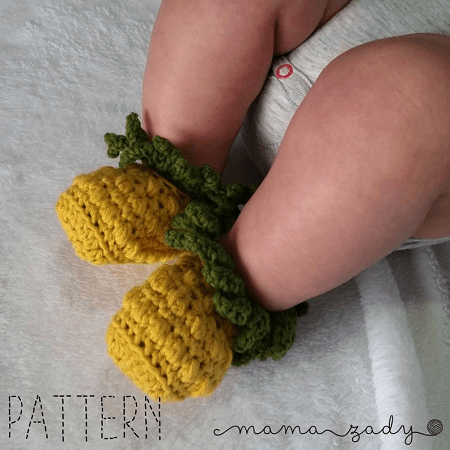 Get the Pattern by Mama Zady Stitches here

12. Pineapple Crochet Top Pattern by Hooked On Homemade Happiness
This fruity top is a perfect summertime piece for kids. The shell stitch gives the body of the top a delightful texture. To complete the look, the crocodile stitch creates the leaves or crown of the pineapple for a modesty panel.

The fabric these stitches creates is solid, so your girl doesn't need to wear anything underneath. It's so cute with a pair of shorts!
Get the Pattern here

13. Tropical Bunting Pineapple Crochet Pattern by By Hand London
Welcome summer by hanging this fruity Tropical Pineapple Bunting on your wall, picture frames or whichever place needs a spice of summer.

Each pineapple shape works up quickly. Attach each to green yarn or twine to combine it all into a garland for a sweet swag for your walls.

Here are Crochet Bunting Patterns if you're looking for more!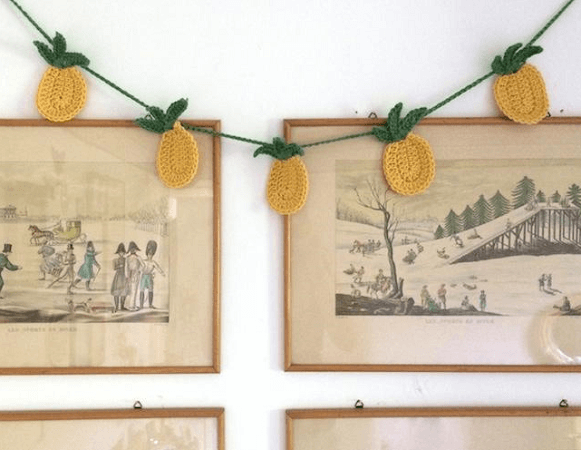 Get the Pattern here

14. Pineapple Crochet Bag Pattern by Crochet Dress Patterns
This Pineapple Crochet Bag holds everything you need, whether you're heading to the market to pick up a pineapple or heading to the beach to lounge around. This bag pattern is an example of the classic pineapple stitch.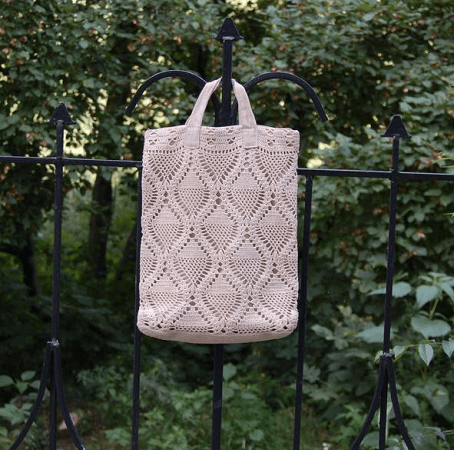 Get the Pattern by Crochet Dress Patterns here

15. Pineapple Crochet Baby Rattle Pattern by Crochet Feelings Toys
Crochet this cute Amigurumi Pineapple Baby Rattle so your baby will feel automatically refreshed! With this whimsical crochet toy, summer will follow you anywhere you go!
The pattern uses 1.75 crochet hook and yarn which meterage is 197 yards (180 meters) for 1.76 oz (50 g) and wooden ring diameter is 2.1 inches (5.4 cm).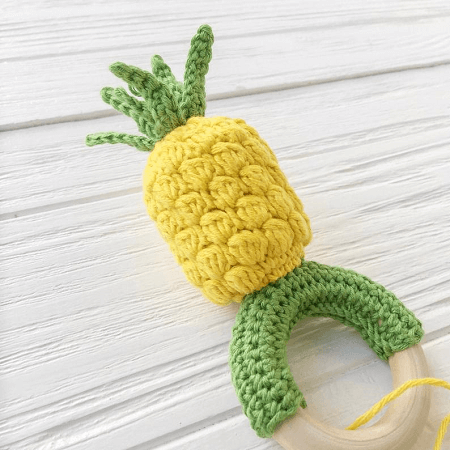 Get the Pattern by Crochet Feelings Toys here

16. Pineapple Doily Free Crochet Pattern by Craft Passion
The favorite pineapple motif gets spiced up with adorable puff stitches in this beautiful design. The puff stitches give it a more exquisite texture presence.
This Pineapple Doily is well adaptive, you can make puff stitches in any round at the middle of the doily, you can also replace the puff stitch with other similar stitches– bobble and popcorn stitch.
You will love the heirloom look that this doily gives, it simply brightens up the table gracefully and tastefully.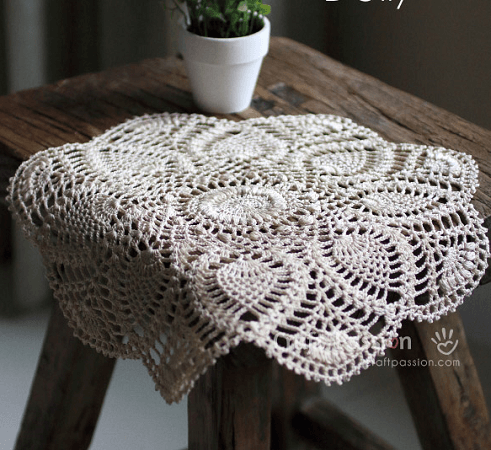 Get the Pattern here

17. Pineapple Hat Crochet Pattern by Crochet Milie
This Baby Hat Pineapple Crochet Pattern includes sizes for babies 0-10 years old toddler.
It has a nice puff textured design and the top of the hat is accented with green spiked leaves that resemble the appearance of a pineapple.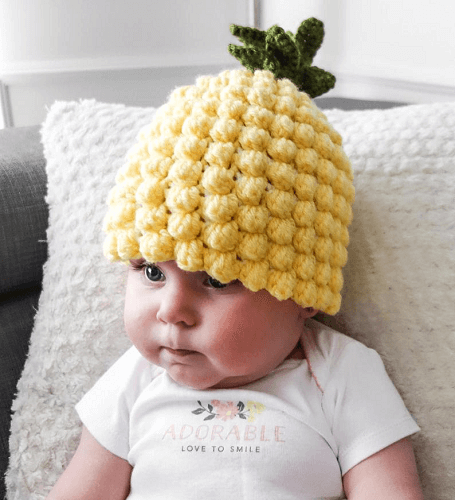 Get the Pattern by Crochet Milie here

18. Pineapple Stitch Dress Crochet Pattern by Interunet
Is the pineapple stitch actually one of your very favorite designs to make and hoping to find a pattern that uses it heavily? Then this Pineapple Stitch Dress is perfect for you!

The pattern shows you step by step how to make the pineapple pattern happen all along the hem. This is a design that will look fantastic in any color!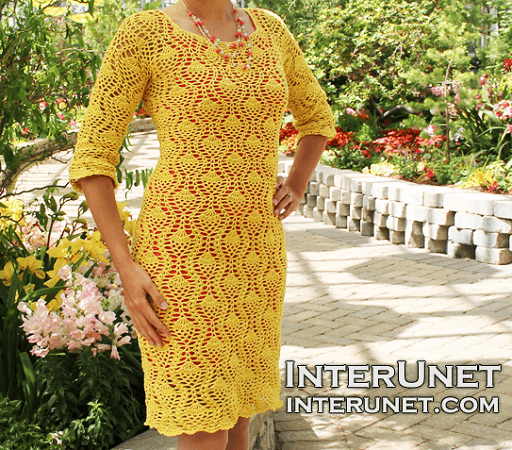 Get the Pattern here

19. Tablecloth Pineapple Crochet Pattern by Pearl Shore Cat
The fantastic oversize Heirloom Pineapple Tablecloth Crochet Pattern is sure to be a masterpiece in your home! A traditional symbol of warm hospitality, the pineapple pattern is a favorite choice for tablecloth and doily designs. The finished tablecloth is 72″ inches in diameter.

We have more Crochet Tablecloth Patterns to choose from. Check them out as well!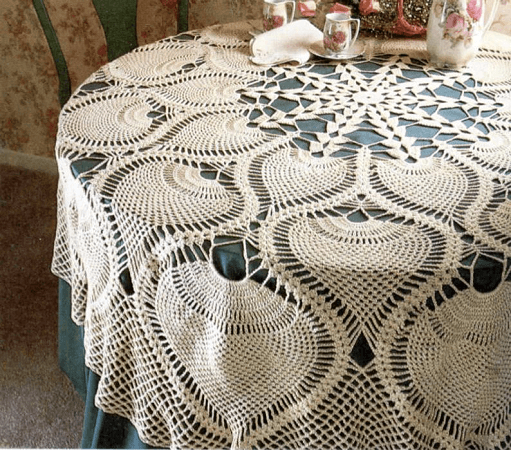 Get the Pattern by Pearl Shore Cat here

20. Happy Crochet Pineapple Pattern by Super Cute Design Shop
Are you longing for summer as much as we are? Get some summer feeling with this Happy Pineapple! At just over 17 cm tall, it's a precious little make that's sure to bring a smile to everyone's face.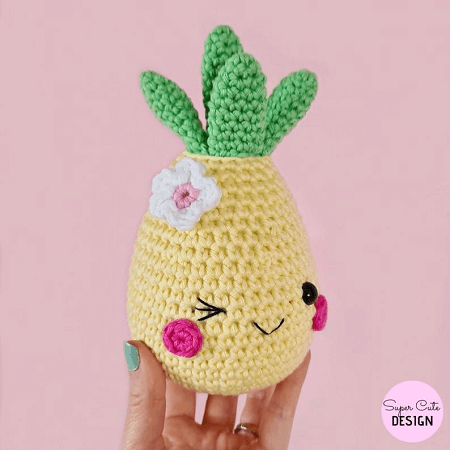 Get the Pattern by Super Cute Design Shop here

21. Plush Applique Pineapple Crochet Pattern by A Plush Pineapple
Make an adorable Plush Pineapple Applique with an amazing texture that can be added to any project. It's so adorable that you will want to start slapping it on everything! It can be added to a bag, headband, sleeve of a garment… the possibilities are endless!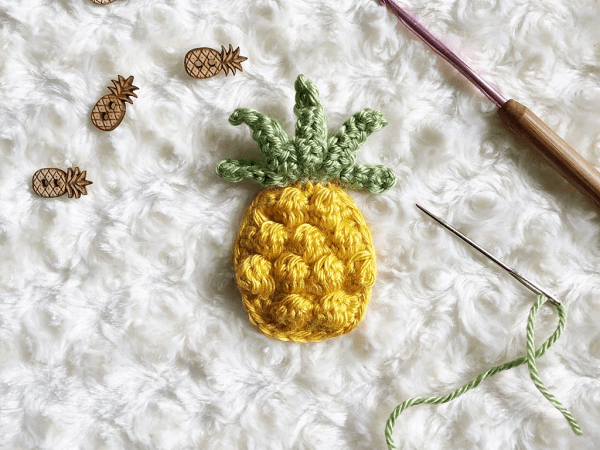 Get the Pattern here

22. Juicy Pillow Pineapple Crochet Pattern by Yarnspirations
This Juicy Pillow Pineapple Crochet Pattern is a fun addition to any kids' room! Crochet shell stitches worked in the round mimic a pineapple's unique motif, while crocheted in chunky yarn makes this project quick to complete.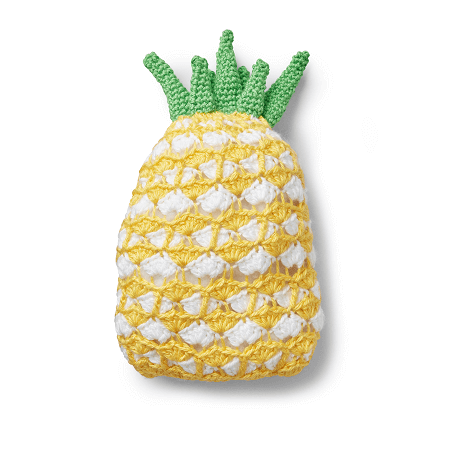 Get the Pattern here
You're going to go crazy for these pineapple crochet patterns, you'll be crushing to make them this summer!
Are you going to be tackling some pineapple crochet patterns this weekend? Tell us which are your favorites and share a pic of your finished ones on our Facebook Page.

Want to crochet more things tropical? Take a look at these Crochet Cactus Patterns!

Grab your crochet hook and get ready to make something that's both classic and on-trend with these beautiful pineapple crochet patterns!