Are you looking for a new, exciting crochet pattern to work on? Are you tired of making the same things over and over? In this article, I have included a wonderful collection of crochet hammock patterns. From fruit hammocks to adorable toy hammocks, there is a crochet hammock pattern for everyone.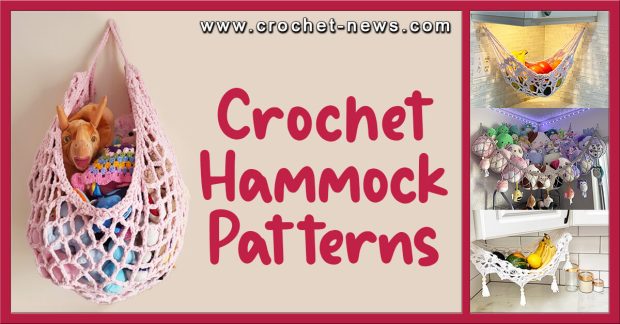 Different Types of Crochet Hammocks
When you think of a hammock, you probably picture a traditional hammock strung up between two trees. But that is only one type of crochet hammock you can make. There are many other kinds.
These include:
Rope Hammocks
Chair Hammocks
Produce Hammocks
25 Crochet Hammock Patterns
Below are 25 crochet hammock patterns for you to explore. From classic designs to fun and colourful creations, there are patterns that will suit your style
1. Boho Corner Hammock Crochet Pattern by MiramarWoods
The Boho Corner Hammock is a beautiful and practical storage solution. It was designed to add charm to any space. It can be used to neatly organise and display your yarn stash or serve as a playful storage option for stuffed animals in your kids' room,
It is a simple and quick project that requires only one skein of the Bernat Maker Home Dec yarn. Or you can use up any bulky or worsted weight yarns you may have in your stash. The pattern is flexible and easily adjustable to fit into any space.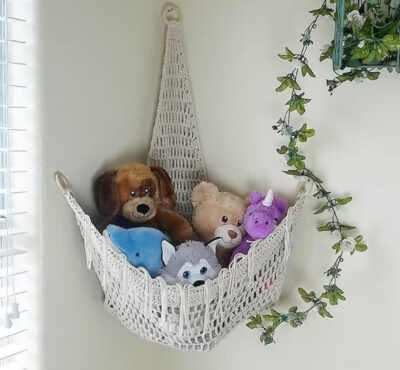 Find the Pattern by MiramarWoods Here
2. Crochet Toy Hammock Pattern by CrochetnCrafts
This toy hammock is a handy solution for small spaces. With a finished size of 21 inches (53.34 cm) x 13 inches (33.02 cm), it offers plenty of space for your child's favourite plushies.
This pattern is perfect for beginners. You can quickly create a crochet hammock using your stash yarn.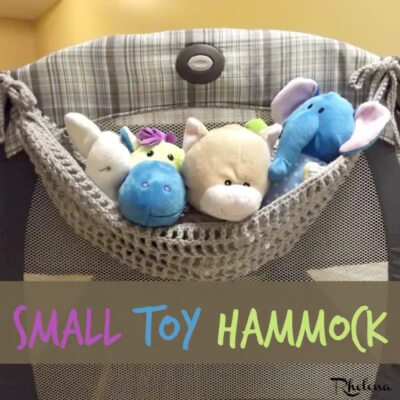 Find the Pattern by CrochetnCrafts Here
3. Hanover Mini Crochet Hammock Pattern by DaysCrochetNC
The Happy Hammock has a lacy and dainty appearance. This delightful crochet hammock is a fantastic solution for using your vertical space. It would make a great addition to small rooms, offices, nurseries, and RVs.
To make this hammock, you will need approximately 120-130 yards of worsted weight size 4 cotton yarn, along with 2 wooden rings (size 40 mm) and 13 wooden beads (size 10 mm). The pattern includes clear instructions. There is also an option to create crocheted loops instead of using the wooden rings.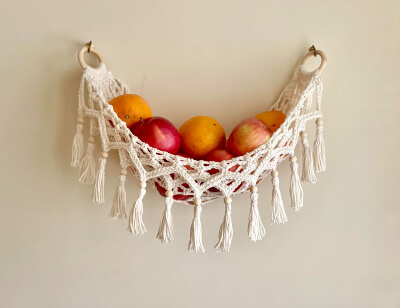 Find the Pattern by DaysCrochetNC Here
4. Crochet Fruit/Vegetable Corner Hammock Pattern by LooperScooper
This adorable crochet hammock will serve as a delightful addition to your kitchen. It is both practical and beautiful. It is a wonderful way to display fruits and vegetables while freeing up valuable counter space.
The PDF pattern can be downloaded immediately, so you can get to work on the hammock right away. Use a colour yarn that matches your decor, or have fun and create a hammock that will add a pop of colour to your kitchen.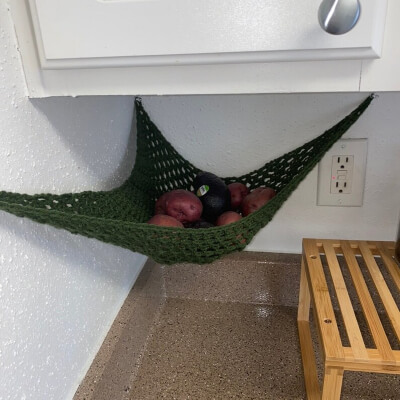 Find the Pattern by LooperScooper Here
5. Newborn Hammock Crochet Pattern by PoshPatterns
This adorable newborn hammock crochet pattern is designed to create a unique newborn photo prop. It would be a delightful way to capture precious moments with your little one.
To make this crochet hammock, you will want to work with a big, soft, bulky yarn and a large crochet hook. It is a quick and easy project that is perfect for busy parents or photographers.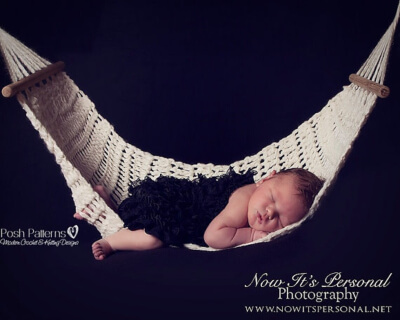 Find the Pattern by PoshPatterns Here
6. Crochet Toy Hammock Free Pattern by Traverse Bay
Make a cute crochet toy hammock using this free pattern. It is perfect for organizing your child's stuffed toys in a cute and practical way.
The crochet hammock is made with basic crochet stitches. It is easy to complete and works up quickly. You can easily complete the project in an afternoon.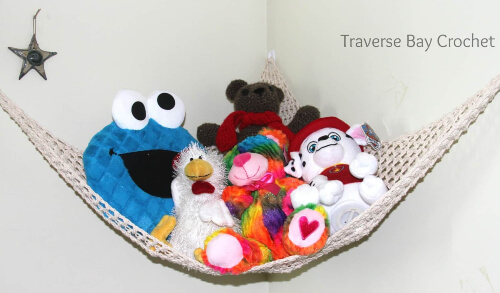 Find the Pattern by Traverse Bay Here
7. My Hammock Crochet Hanging Chair Pattern by JoAnne Leonard
Once completed, the My Hammock will provide a comfortable and functional space ideal for relaxing. Whether you prefer lounging outdoors or indoors, this hammock provides a delightful escape from daily stress.
The pattern for this crochet hammock is free. It includes written instructions. You will need 5 lbs of 12 ply twine, a size US 7 crochet hook, and two 5 foot dowels.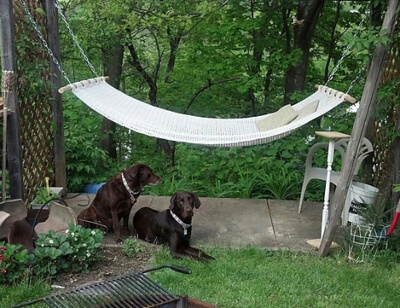 Find the Pattern by JoAnne Leonard Here
8. Mermaid Toy Hammock Crochet Pattern by CraftyCrochetDesign1
Here is the perfect toy storage solution for children obsessed with mermaids. This delightful corner crochet hammock will add a touch of whimsy to any space. The pattern features a mermaid tail design and bright colours.
The mermaid tail hammock is made using basic, beginner-friendly crochet stitches. All you need is cotton aran yarn and two hook sizes, 5 mm and 4 mm.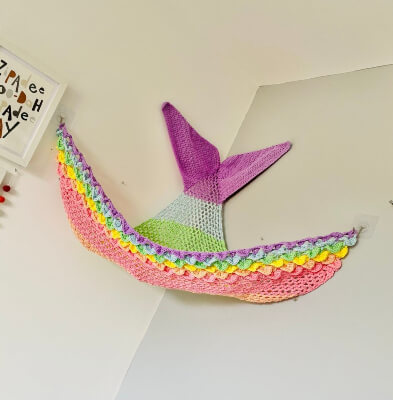 Find the Pattern by CraftyCrochetDesign1 Here
9. Aesthetic Crochet Hammock Chair Pattern by SheTriedItPatterns
The Crochet Hammock Chair is a cosy and versatile seating option. The pattern is perfect for creating a relaxing and inviting space. The crochet hanging chair is designed to be suspended from the ceiling or a sturdy frame. It would be the ideal spot to unwind after a long day.
This crochet swing chair is suitable for both beginners and intermediate level crocheters. It is crafted with a 6 mm crochet hook and Big Twist Classic yarn. The pattern is written in standard US terms. The size of the chair is customisable, allowing you to use any size body pillow.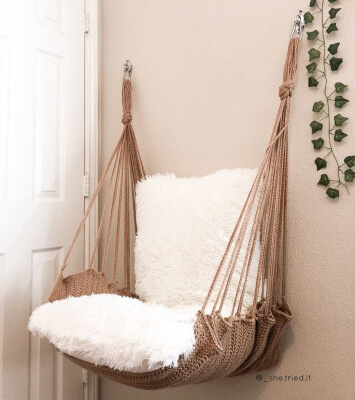 Find the Pattern by SheTriedItPatterns Here
10. Crochet Toy Hammock
This free crochet hammock pattern is a brilliant toy storage solution. It combines cuteness and functionality. It provides an excellent way to keep stuffed toys organised and off the floor.
This free pattern includes two video options. There are both right-handed and left-handed instructions. You will only need to know chain and double crochet.
Find the Pattern by DIY From Home Crochet Here
11. Thick N' Quick Crochet Hammock Pattern by Calleighsclips
This Crochet Hammock is designed for newborn photography shoots. It combines visual appeal with practicality. It will allow you to capture heartwarming moments in a unique way. The pattern is written in American English. It is a simple project that works up quickly.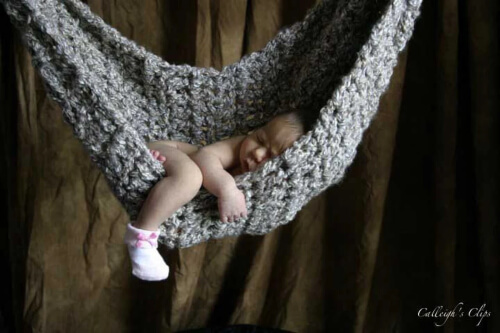 Find the Pattern by Calleighsclips Here
12. Fruit Hammock Crochet Pattern by Adriana R Baiocco
The Fruit Hammock is a versatile and practical accessory. It will provide an efficient and charming way to display and store fruits in your kitchen or dining area. It has a simple yet eye-catching design that keeps your fruits organised.
It has an open and breathable structure which allows for air circulation. This helps to keep the fruits fresh for longer. The crochet hammock pattern is an easy project that can be completed in just an hour. And there is no sewing involved.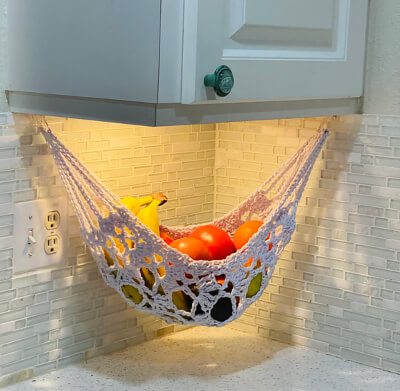 Find the Pattern by Adriana R Baiocco Here
13. Soft Hanging Toy Storage Crochet Pattern by LiveSlowCrochetCo
Crochet stuffed animal hammocks are a wonderful solution for decluttering a child's room. This crochet stuffed animal hammock is incredibly versatile. It can be easily personalised, making it a perfect gift for kids and parents alike.
The crochet hammock pattern includes step-by-step instructions and helpful close-up photos. It is a very simple pattern that can be completed in just a couple of hours.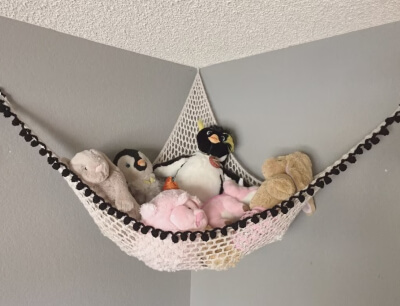 Find the Pattern by LiveSlowCrochetCo Here
14. Toy Hammock Crochet Pattern by VickyStaden3
The unique design of this crochet hammock features 2 hanging points instead of the normal 3. It is perfect for freeing up floor space and keeping your kids' toys and stuffed animals within sight.
Made with cosy blanket yarn, the hammock works up quickly and has ample storage space. There are clear instructions, making the project suitable for beginners.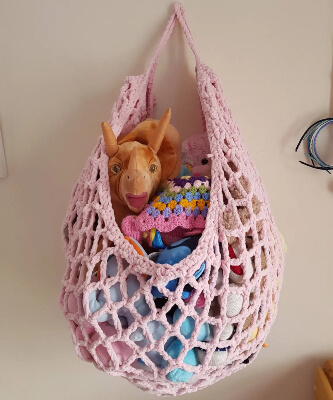 Find the Pattern by VickyStaden3 Here
15. Kitchen Fruit Hammock Crochet Pattern by OrchidandBees
The Kitchen Fruit Hammock crochet pattern is a convenient solution for keeping your fruits organised. With its stylish and functional design, this hammock allows for proper air circulation.
The pattern provides everything you need to create this lovely kitchen essential. With clearly written instructions and helpful diagrams, crocheting the fruit hammock is easy.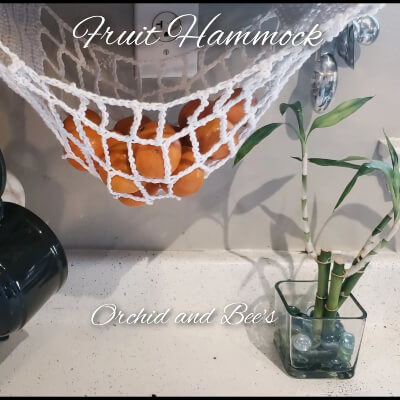 Find the Pattern by OrchidandBees Here
16. T-Shirt Yarn Hanging Basket Crochet Pattern by One Dog Woof
Here is a modern and clean-looking T-shirt yarn hanging basket that is stylish. The storage solution can be used to store various items in your home.
Unlike typical crochet hammocks, this design features a unique shape. It is a cylinder with a semi-circle bottom. The back is threaded through with a dowel for additional support.
The pattern for this crochet hammock basket was designed with simplicity in mind. It is a super easy pattern to follow making it suitable for crocheters of all skill levels.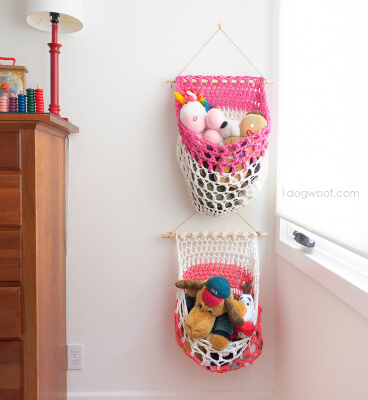 Find the Pattern by One Dog Woof Here
17. Crochet Fruit Hammock Pattern by BossyStuff
The crochet hammock features a charming design that is perfect for farmhouse decor. It exudes boho vibes thanks to its wooden beads and tassels.
Completed, the crochet hammock will measure 16 inches (40.64 cm) wide, not including the rings. You have the option to choose between wood or heavy-duty metal rings. Once completed, you can hang the hammock using cup hooks or nails.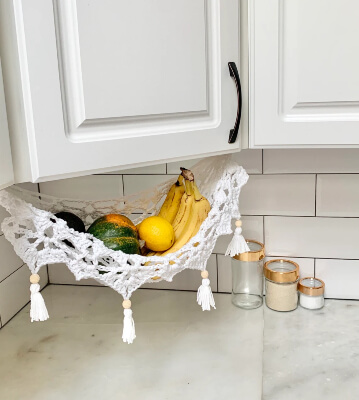 Find the Pattern by BossyStuff Here
18. Crochet Toy Hammock Pattern by KerensaCrochet
The Toy Hammock crochet pattern is perfect for storing all those soft and cuddly toys.
This is a beginner-friendly pattern. It works up quickly and is suitable for crocheters of all skill levels. For this crochet hammock, you only need 1 cake of Retwisst Chainy cotton and an 8 mm crochet hook.
Once completed, the hammock will measure 39.37 inches (100 cm) along the diagonal and 33.46 inches (85 cm) across the other edges.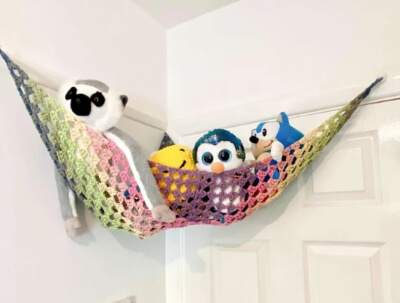 Find the Pattern by KerensaCrochet Here
19. Fruit Hammock Crochet Pattern by StitchedByJoanna
Create a versatile kitchen hammock with this super quick and easy crochet pattern. You can adjust its size to fit any space.
The pattern is beginner friendly. The PDF is just 3 pages long. The pattern is written on 1 page for easy printing.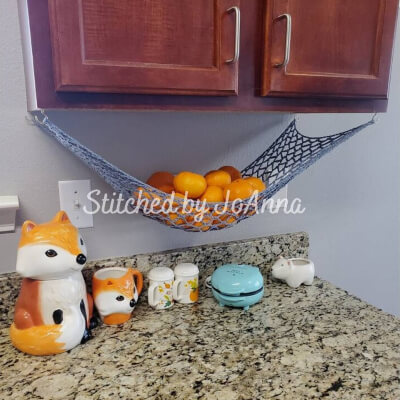 Find the Pattern by StitchedByJoanna Here
20. Lazy Afternoons in the Hammock Crochet Swing Chair from MessyMama
The free crochet hammock pattern provides a foundation for creating your own crochet hammock. Depending on your preference, you can adjust the width and length to suit your needs.
The hammock follows a basic pattern of chains, single crochets, and double crochets. You have the flexibility to make it as wide or as long as you desire.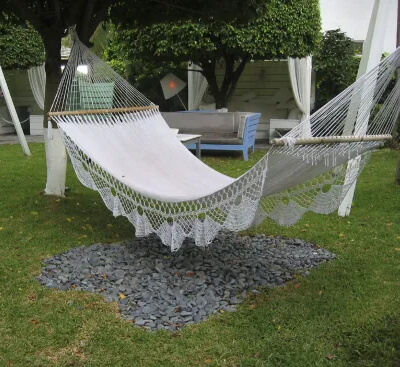 Find the Pattern from MessyMama Here
21. Crochet Triangle Toy Hammock Stuffed Toys Pattern by DaintyBouquet
Maintain a tidy playroom and keep stuffed toys off the floor using this toy hammock. The pattern is easy to follow and stretches when toys are added.
You can use any acrylic yarn in your preferred colour and a K hook to create this crochet hammock.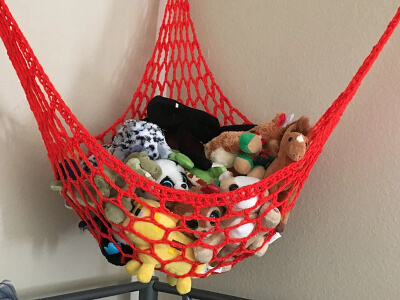 Find the Pattern by DaintyBouquet Here
22. Happy Hammock Boho Wall Hanging Pattern by DaysCrochetNC
The Happy Hammock can be used as a fruit hammock and boho wall hanging. It is a mini hammock that is both stylish and functional. It is perfect for wall organization in the kitchen, dorm room, nursery, bathroom, or RV.
The pattern includes English and Dutch translations. There are clear instructions and a link to a video tutorial.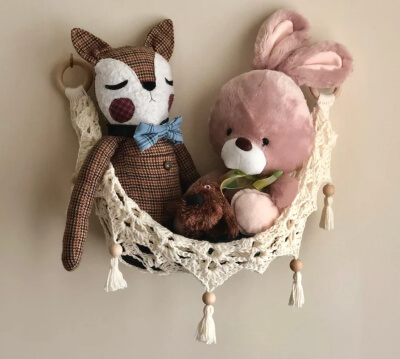 Find the Pattern by DaysCrochetNC Here
23. Newborn Crochet Swing Chair Hammock by StitchedByKimmy
Capture the adorable cuteness of your little one using this newborn hammock photo prop. This charming hammock features a simple design with an open pattern. It will be a comfortable space for your baby to lie during a photo session.
The pattern is designed for intermediate level crocheters. The instructions guide you through the process of making the hammock. There are instructions for making a special stitch.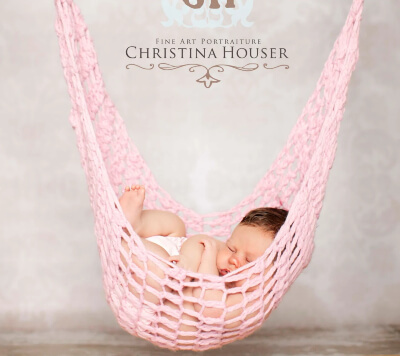 Find the Pattern by StitchedByKimmy Here
24. Extra Large Stuffed Animal Corner Hammock Net by ManicChangeling
The Extra-Large Stuffed Animal Hammock is a fantastic pattern. It allows you to create spacious and functional hammocks, perfect for storing and displaying a wide array of stuffed animals.
This is a versatile crochet project. You can use any size hook and type of yarn you want. To make the hammock you will need to know slip knot, chain, slip stitch, single crochet, double crochet, square knot, and weaving in ends.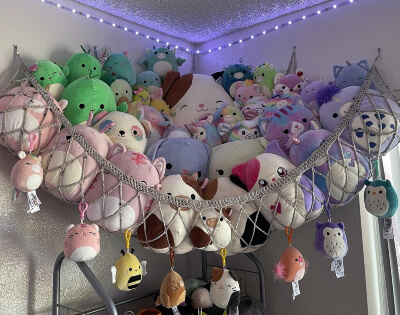 Find the Pattern by ManicChangeling Here
25. Reptile Bridge Crochet Hammock Pattern by Toxic Witch Weavery
Here is the perfect solution for reptile owners who cannot find hammocks to fit their enclosures. This crochet hammock is designed specifically for reptile habitats. The bridge provides a comfortable spot for your friends to relax and bask.
The pattern includes instructions for different sizes of bridge hammocks. There is also guidance on customizing it to suit your reptile's specific enclosure dimensions.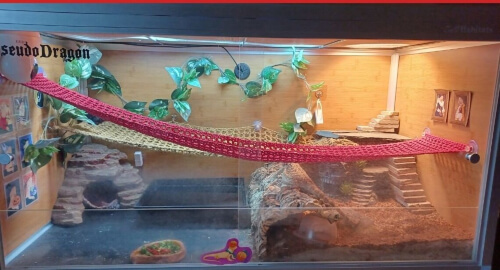 Find the Pattern by ToxicWitchWeavery Here
Frequently Asked Questions About Crochet Hammocks
Is it difficult to crochet a hammock?
The difficulty of a crochet hammock will vary depending on the pattern and your level of crochet experience. However, most crochet hammock patterns are fairly straightforward and suitable for beginners.
How do I hang a toy crochet hammock securely?
To hang a toy crochet hammock securely, choose a strong wall location and use plastic or metal wall hooks or screw-in eye hooks. Measure, mark, and insert the hooks appropriately.
Once the hooks are installed, hang the hammock and adjust the tension as needed. Test the stability of the hammock by inserting lightweight toys.
Are toy hammocks safe for children?
Yes, toy hammocks can be safe for children when used appropriately and installed correctly. You want to make sure the hammock is hung at an appropriate height and away from any potential hazards. Additionally, regularly inspect the hammock and its hooks for damage.
What are the benefits of a fruit hammock?
A fruit hammock offers various benefits, including space-saving storage, improved fruit visibility, and better air circulation to keep fruits fresh. It will also prevent bruising and adds a decorative touch to your kitchen.
How do you make a toy crochet hammock?
To make a toy crochet hammock, you can choose a pattern or create your own design. Start crocheting by chaining stitches for width, then follow the pattern for stitches and length. Edges are often finished with single crochet stitches.
Transform your space with a delightful and functional crochet hammock.
You might also want to make these Macrame Hammocks, Macrame Hanging Chairs, Hanging Storage Baskets and a lot more home decor patterns on our Facebook Page.
There are so many types of crochet hammocks you can make. You can make a hammock to store your produce, declutter your child's room, or relax. With their versatility, crochet hammocks are not only practical, but also fun and unique.