Are you tired of picking up your children's stuffed animals? If they are always lying around, hang them up. This is easy to do with a crochet toy hammock. Hammocks are the ideal choice for keeping toys off the floor.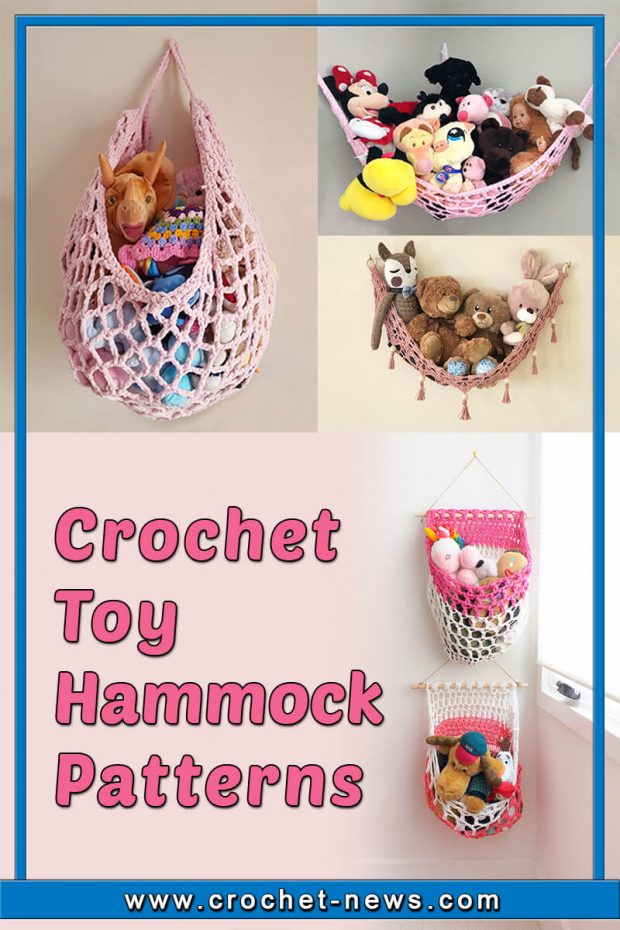 You can hang crochet toy hammocks up high, so the kids cannot reach them. Or hang them low, so they can get the toys out whenever they want to play with them.
10 Crochet Stuffed Animal Hammock Patterns
Below are 10 crochet toy hammocks that will help you get organised. You can also use these hammocks for additional storage around the house.
1. Toy Hammock Crochet Pattern from Stitch11Crochet
This toy hammock is a cute and colourful sling that is perfect for displaying your child's stuffies. The rainbow inspired hammock will add a fun pop of colour to their room.
You can also make the hammock in a single colour, or your child's favourite colours.
To make this hammock you will need medium weight worsted yarn, a 5 mm crochet hook, and a yarn needle for weaving in the ends.
The pattern uses foundation single crochet, chain, single crochet, and half double crochet.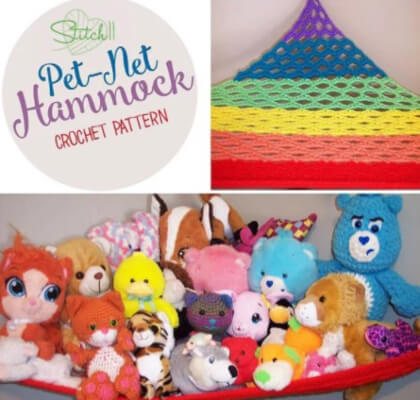 Find the Pattern from Stitch11Crochet HERE
2. Toy Hammock Crochet Pattern from CosyCrochet3
Most toy hammocks have 3 hanging points. If you are searching for a sling with only two, this one is ideal. You can hang this hammock anywhere, not just in a corner.
This toy hammock crochet pattern uses blanket yarn and works up really quickly.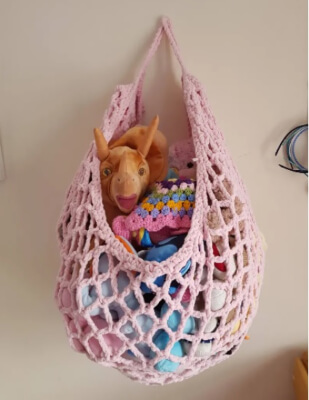 Find the Pattern from CosyCrochet3 HERE
3. T-Shirt Yarn Crochet Toy Hammock Free Pattern from One Dog Woof
Unlike other crochet toy hammocks, this one is half a cylinder. And instead of having hooks to hand it directly to the wall, it uses a dowel rod. The rod helps the hammock basket lay flat against the wall.
This is a crochet toy hammock free pattern. You will need t-shirt yarn, a 15 mm crochet hook, a wooden dowel, twine, scissors, and a tapestry needle.
The techniques used include stitch, slip stitch, chain stitch, and double crochet.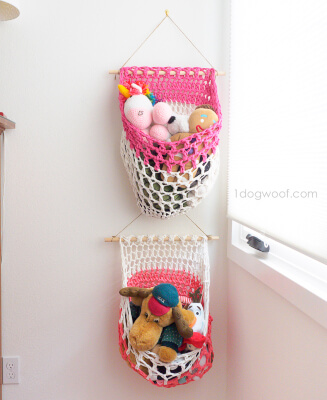 Find the Pattern from One Dog Woof HERE
4. Happy Crochet Stuffed Animal Hammock Pattern from DaysCrochetNC
This mini hammock is cute and fashionable. It would look adorable in a nursery. And since it is small, you can also use it as a fruit hanger and bathroom storage. The lacy stitch pattern gives an incredible amount of stretch, and the tassels make it unique.
Included in the download are 2 sizes. You will need cotton sport weight yarn, a crochet hook of your choice, 15-20 mm wooden beads, scissors, measuring tape, a yarn needle, and wooden rings. This is an intermediate level crochet pattern.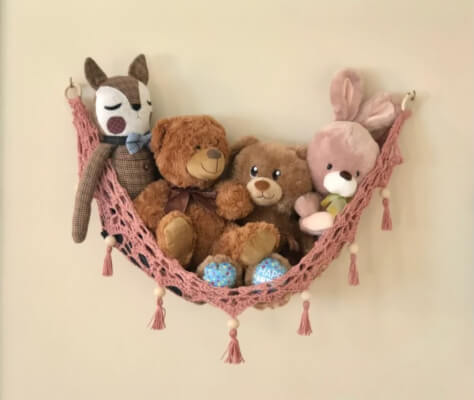 Find the Pattern from DaysCrochetNC HERE
5. Crochet Stuffed Animal Hammock Pattern from TogetherInLove
You can store a lot of toys away with this crochet toy hammock. It is a cute and simple design that would work well with any decor.
The pattern includes step-by-step instructions, close up photos, a materials list, crochet abbreviations, how to change colours, and even how to add the optional pom pom border.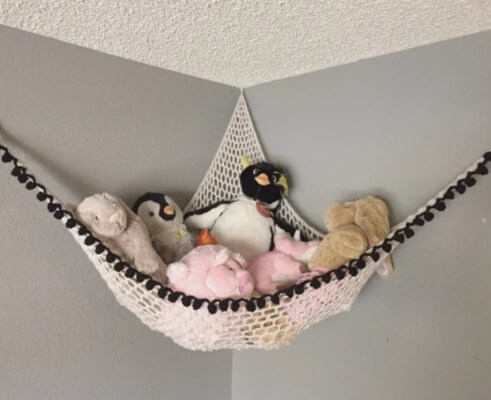 Find the Pattern from TogetherInLove HERE
6. Toy Hammock Crochet Pattern from Crystal Benoit
This free crochet toy pattern is crazy easy to make. It works up quickly, and you can use virtually any kind of yarn. So, you can make a solid coloured hammock or use up your scraps and make a mutlti-coloured hammock.
It is a one size fits all crochet pattern. You can easily can be made longer or shorter.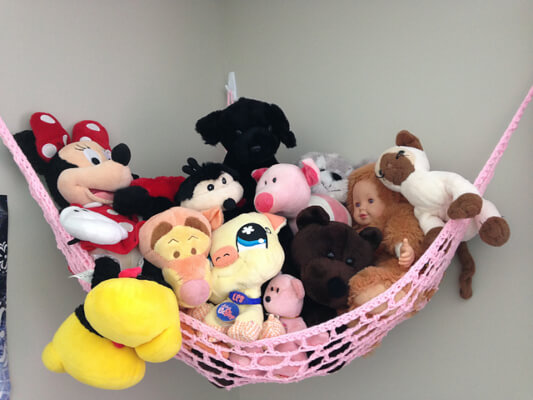 Find the Pattern from Crystal Benoit HERE
7. Mermaid Toy Hammock Crochet Pattern from CraftyCrochetDesign1
Does your child have a nautical themed bedroom? If so, this mermaid inspired crochet toy hammock would make a great addition.
You can use a rainbow of colours to make a mermaid tail, or use a solid colour to make a fishtail.
This corner hammock pattern is made using basic crochet stitches. It is suitable for beginners. You will need cotton Aran yarn, a 5 mm crochet hook, and a 4 mm crochet hook.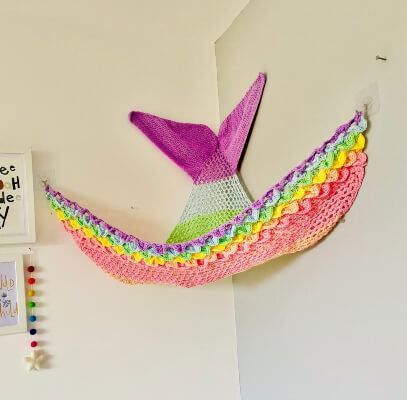 Find the Pattern from CraftyCrochetDesign1 HERE
8. Squishmallow Corner Crochet Stuffed Animal Hammock Net from ManicChangeling
If you have a lot of stuffies, and need a large sturdy crochet toy hammock, this one will definitely secure the toys. Instead of 2 or three hooks, it has 5. This pattern would also make a fun spiderweb design at Halloween.
You can make this hammock with any size hook or type of yarn. It is an advanced beginner pattern. You will need knowledge of slip knot, chain, slip stitch, single crochet, double crochet, square knot, and weaving in ends.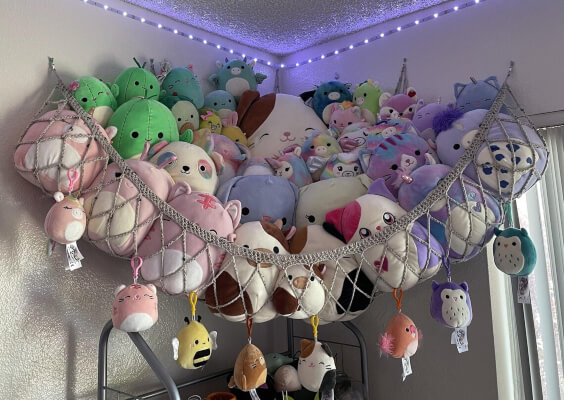 Find the Pattern from ManicChangeling HERE
9. Boho Corner Toy Hammock Crochet Pattern from MiramarWoods
The Boho Corner Hammock is a lovely storage solution. You can use it to hold your children's toys. Or hang it in your craft room to keep your yarn stash.
This crochet toy hammock pattern works up fast and uses only one skein of the Bernat Maker Home Dec yarn. It is also a good pattern for using up your stash yarn. The design can be customised to fit into any space.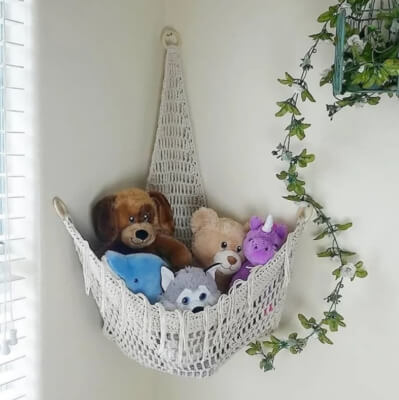 Find the Pattern from MiramarWoods Here
10. Crochet Stuffed Animal Hammock Pattern from HappyTwists
Are you looking for a simple, beginner-friendly crochet toy hammock pattern? This one is super easy, and it works up quickly.
The crochet pattern is written in American standard terms.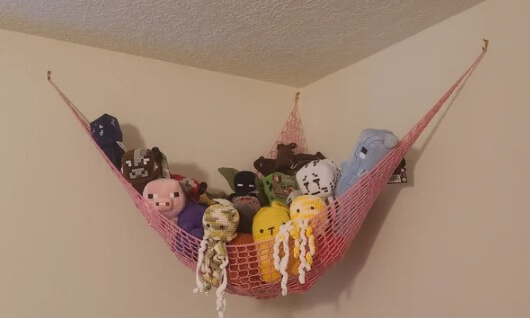 Find the Pattern from HappyTwists HERE
Crochet toy hammocks are a great way to store stuffed animals while keeping them visible.
Do you need more toy storage? Stuffed animals seem to multiply, and the numbers can get out of hand. Instead of putting them in storage or throwing them away, display them in a crochet toy hammock.
Looking for more ways to stay organize? Check out our Crochet Owl Baskets, DIY Window Storage Bench Ideas, Crochet Square Baskets and a lot more here.
Enjoy making these crochet toy hammocks and start organizing your kid's toys.