Cars have been a popular toy since their invention, and you can crochet them as well! Live life in the crochet fast lane with these super cool crochet car patterns for all ages to enjoy!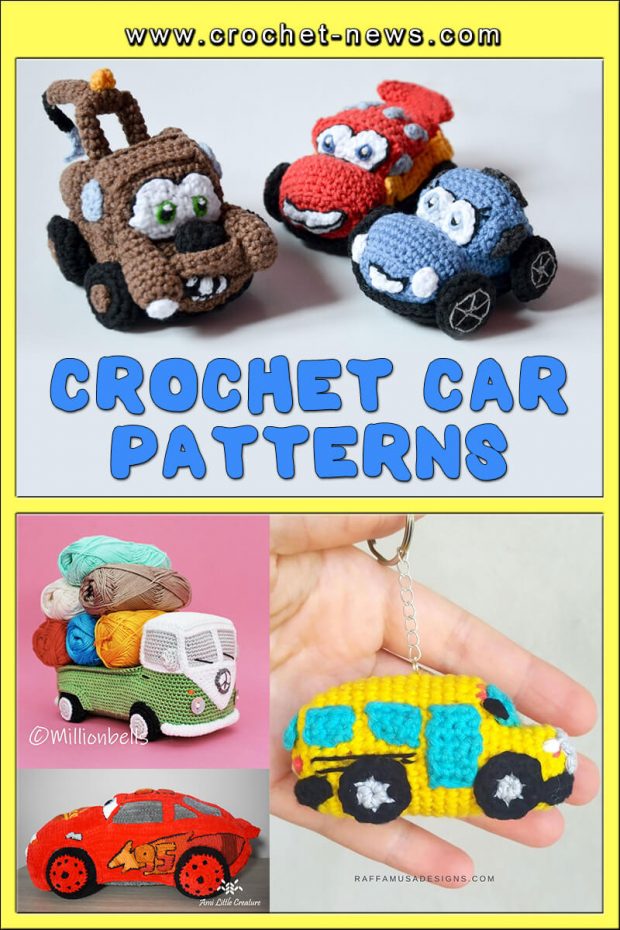 Wave goodbye to little metal vehicles being driven into furniture and painful feet from treading on small metal parts, and say hello to these wonderfully soft, squishy four wheelers.
Create a variety of cars, including a police car, taxicab, camper van, and school bus.

1. VW Beetle Amigurumi Volkswagen Crochet Car Pattern
The Volkswagen Beetle is perhaps one of the most iconic cars ever made, and the crochet VW Beetle is simply spectacular.
This amigurumi toy would be a lovely gift for your little ones, or you could also crochet it as one of your collectibles and put it on display.

The finished crochet VW Beetle is 9 inches or 23cm long, 4.3inches or 11cm tall, and 4.7inches or 12cm wide. These dimensions are achieved using DK/8 ply acrylic yarn and a U.S size 4 hook.
However, you can make the amigurumi toy larger or smaller by the thickness of the working yarn.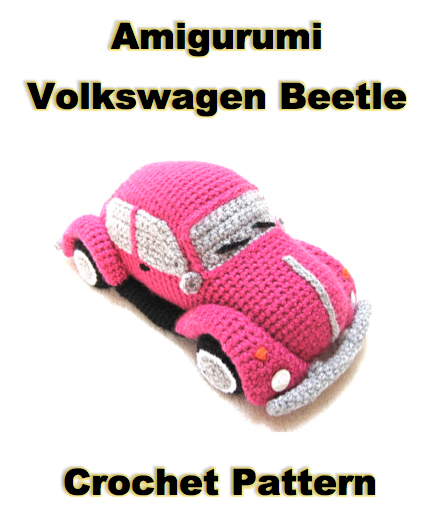 .
Crochet VW Beetle Materials
2 mother of pearl buttons with a diameter of approximately 0.5inches or 1.2 cm
A stitch marker, one tapestry needle, and pins.

2. Amigurumi Crochet Classic Car Pattern by Delicious Crochet
16 valves engine, aluminum auto body, airbags, this would be some of the features any modern car has to offer you nowadays.

Nevertheless, this all times classic doesn't have any new technologies to offer you. Just a yarn skein as airbag and your heart to start him up.
Take a ride across all tracks of your imagination with this creative amigurumi car.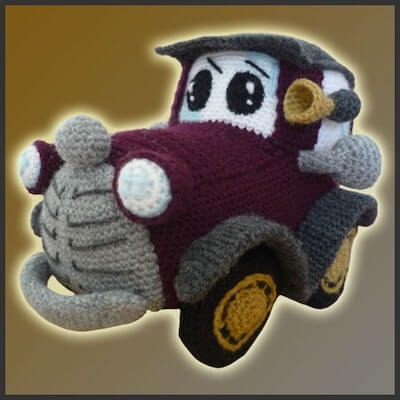 Get the Pattern by Delicious Crochet here

3. Crochet Race Car Pattern by Crochet Spot Patterns
This Crochet Race Car will go crazy in the hands of a child with a wild imagination! This race car is a fun challenge to crochet but is not intended for beginners.

Crocheters should be comfortable changing colors while crocheting to create the race stripes and windows. Prior experience with sewing and shaping crocheted pieces together is recommended.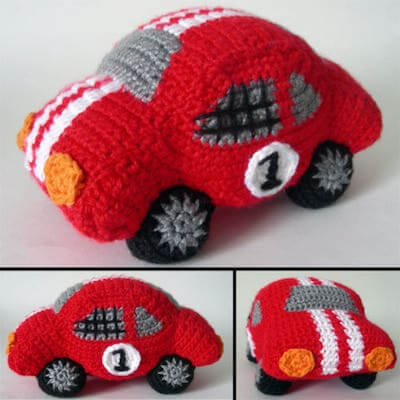 Get the Pattern by Crochet Spot Patterns here

4. Mini Cooper Crochet Car Pattern by Lau Loves Crochet
This Mini Cooper Crochet Car is perfect for the little fans not old enough to own the "real thing". It will be a great addition to your toy car collection.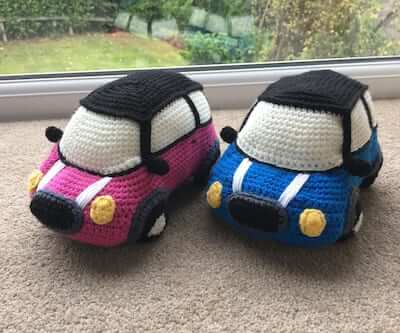 Get the Pattern by Lau Loves Crochet here

5. Crochet Toy Amigurumi Car Pattern by Lucinda Ganderton
Every little boy will look back in fondness at the toy cars they had as a child, so why not create one from scratch?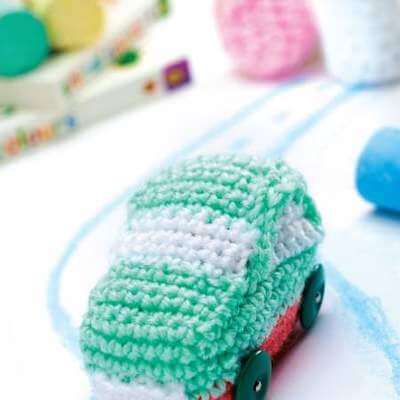 Get the Pattern here

6. Amigurumi Car Crochet Pattern by Krawka
Sure, you could schlep down to Walgreens or TG&Y and pick up a $2 matchbox or carbgfftrd lookalike, but wouldn't it be a lot more fun to spend $20 on yarn and stuffing, then spend another couple of days crocheting one from scratch?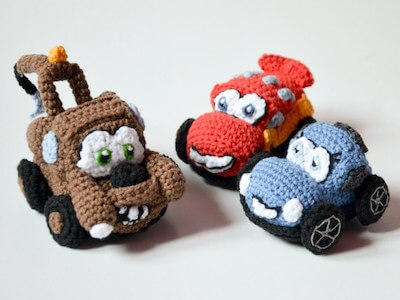 Get the Pattern by Krawka here

7. Police Car Crochet Pattern by Amigurumisnl
Little boys and girls can spend hours playing with fire trucks and police cars. And when it's time to go to bed, they even want to take them with them.
With this Crochet Police Car Toy, you can now make this dream come true!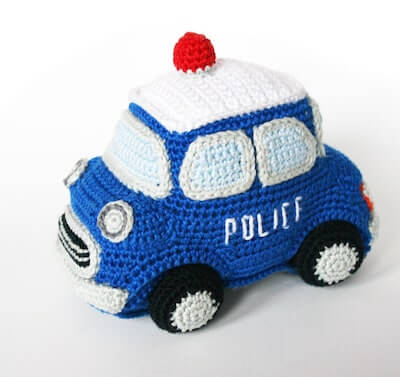 Get the Pattern by Amigurumisnl here

8. Amigurumi Camper Van Crochet Pattern by Million Bells
Summer is the start of camping season so why not take on your next trip fun projects such as this Amigurumi Camper Van.
This is easy to crochet and make a lovely gift for children and older camper lovers too. You can use colorful scraps because they will look extra adorable in many colors!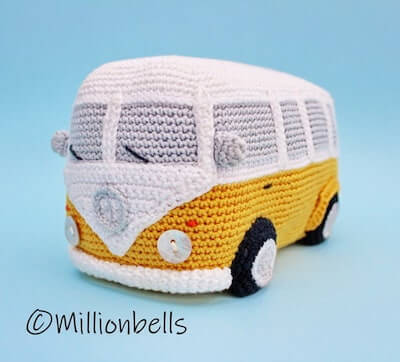 Get the Pattern by Million Bells here

9. Amigurumi School Bus Crochet Pattern by Raffamusa Designs
This School Bus Amigurumi is a fun little project that is perfect as a back to school gift. Given the small size of the amigurumi, it can be easily made into a keychain holder or backpack decoration.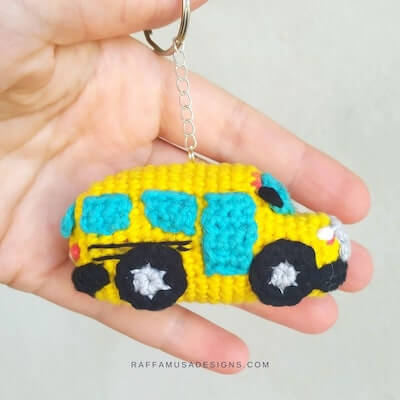 Get the Pattern by Raffamusa Designs here

10. Crochet Race Car Playnket Pattern by Repeat Crafter Me
This Crochet Race Car Playnket is a crochet play mat and lovey blanket all in one! Snuggle with it or lay it flat on the floor and race the cars on the track.
Perfect for sick days on the couch but also a soft activity toy that is a great size to take on the go!

Of course you could alway double, triple, or quadruple the pattern to make an even larger blanket. The one I made measures about 23 inches long by 19 inches wide. The small size works up extremely quickly making it an easy gift idea.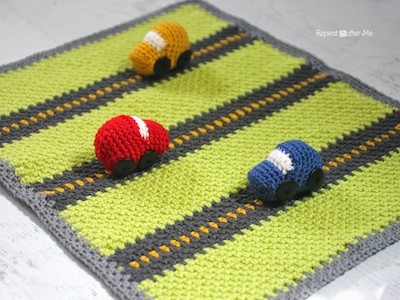 Get the Pattern here

11. Lightning McQueen Crochet Car Pattern by Ami Little Creature
Do you and your child fans of the movie Cars? If so, then you're familiar with the speedster Lightning McQueen. They'll have an absolute blast recreating scenes from the movie and setting up their own races!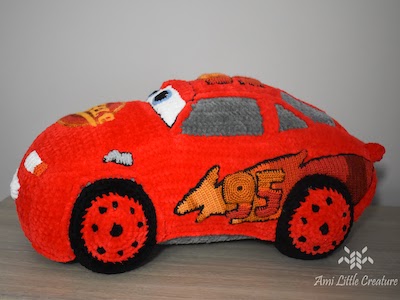 Get the Pattern here

12. Volkswagen Crochet Pattern by Traverse Bay Crochet
Create this cute crochet Volkswagen bus with this easy to follow pattern! The crochet bus is worked up in 6 pieces and sewn together and stuffed. Fun to make in a variety of colors. Makes a great gift for any VW lover!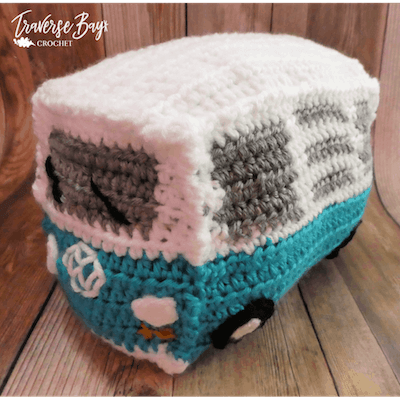 Get the Pattern here

13. Crochet Little Car Pattern by Delicious Crochet
This cute little car is the perfect gift for your Little Prince and it will look fabulous in any color you like! You can have it done in a couple of hours and your kid will enjoy it forever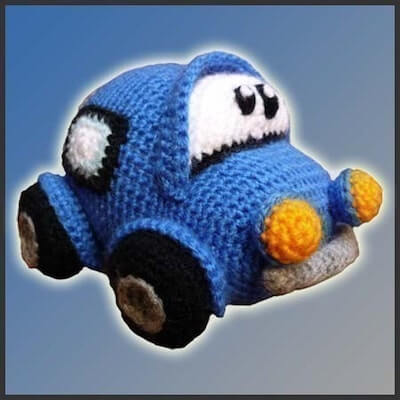 Get the Pattern by Delicious Crochet here

14. Flash, The Race Car Crochet Pattern by Holly's Hobbies Ptbo
Flash the Race Car has zoomed his way into our hearts! Soft and snuggly, he is the perfect addition to your favourite car lovers collection (big or small!).
Flash works up to roughly 12 inches in length and 8-10 inches in height (depending on tension and yarn used).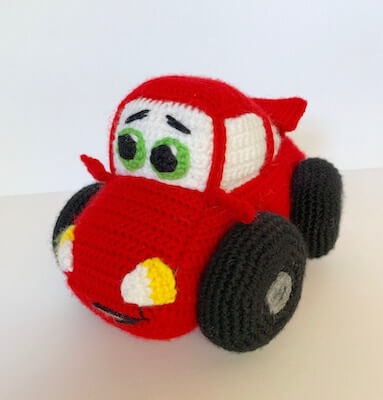 Get the Pattern by Holly's Hobbies Ptbo here

15. Beetle Tissue Holder Crochet Pattern by Million Bells
Crochet tissue holders are the perfect way to style up the standard packaging and make them a fun item. Have a look at this Beetle Tissue Holder as an example!
Finished size will be approx. 10,6" (27 cm) long, 4,3" (11 cm) tall, 4,7" (12 cm) wide, crocheted using acrylic yarn (8 ply / DK), with hook size E (3.5 mm).
The Beetle has an opening-flap at the bottom, to insert/refill the package of tissues.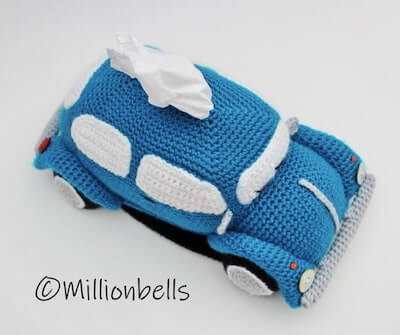 Get the Pattern by Million Bells here

16. Amigurumi Jeep Car Pattern by Plush Fairytale Shop
This Amigurumi Jeep Car is an awesome jeep model inspired from the dynamic car maker jeep, so it's a brilliant piece for any die cast collector!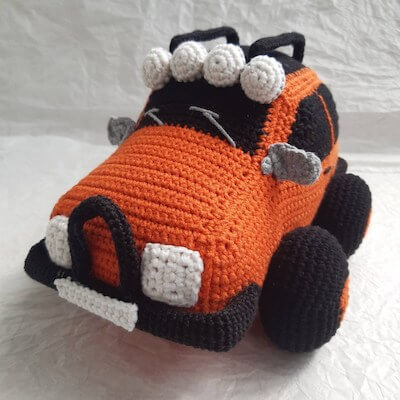 Get the Pattern by Plush Fairytale Shop here

17. Amigurumi School Bus Pattern by She Knows
Get your little ones in the back-to-school spirit with this cute bus. Check out these step-by-step instructions on how to make your own amigurumi school bus!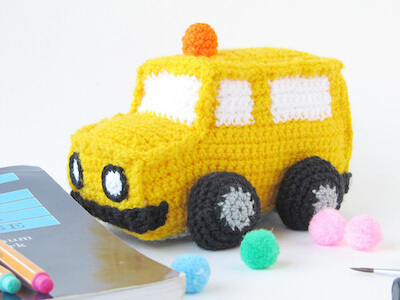 Get the Pattern here

18. Crochet Tiny Cars Pattern by Dedri Uys
These Tiny Crochet Cars work up in a jiffy. They are perfect for stocking-stuffers and take-along toys. You can customize the tiny crochet cars in any way you fancy.

You could add wipers, numberplates, a little bumper, maybe? Or what about racing stripes or little cartoon faces? Whichever way you choose to make them, they will go down a treat!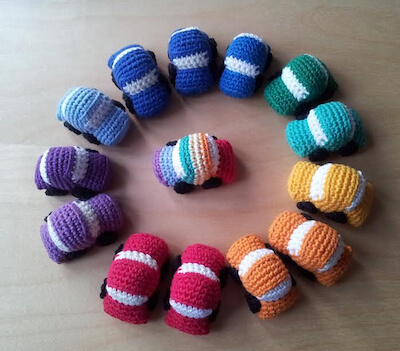 Get the Pattern here

19. Crochet Cool Cars Pattern by Handy Crafting Supply
This fab crochet pattern to make a VW Beetle and Mini Cooper style toy car. Crochet them using 2.5mm size crochet hook, yarn, and polyfibre stuffing.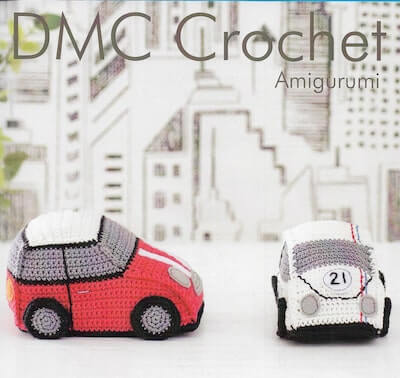 Get the Pattern by Handy Crafting Supply here

20. Classic Single Cab Crochet Pattern by Million Bells
Work becomes a joy with a classic single cab like this! The finished size will be approx. 20 cm long, 4.3" (11 cm) tall, 4.3" (11 cm) wide, crocheted using sport weight cotton yarn, with hook size C (2,5 mm).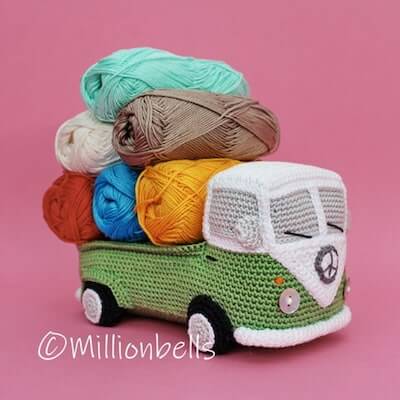 Get the Pattern by Million Bells here
MAKE ENOUGH OF THESE AMIGURUMI CROCHET CAR PATTERNS FOR YOUR KIDS AND THE BIG ONES TO ENJOY!
Stuffed toy cars are way better than your average, run-of-the-mill plastic toys. Just think of all the love an effort you'd be putting into every crochet cars you create.

As always, we love seeing your works! Feel free to post your finished crochet toys on our Facebook Page. And for more crochet toys, we have other crochet toy patterns even for the smallest fingers to play with!

Whether for kids to play with or for the adults to add to their collection, these fabulous crochet car patterns are must-makes this weekend!