Babies drool – sometimes a lot. If you don't want to have to change their clothes every time they gurgle up some spit, it's best to outfit them in a bib. Store-bought bibs will do just fine, but if you want to go the extra mile, these crochet baby bib patterns are the way to go!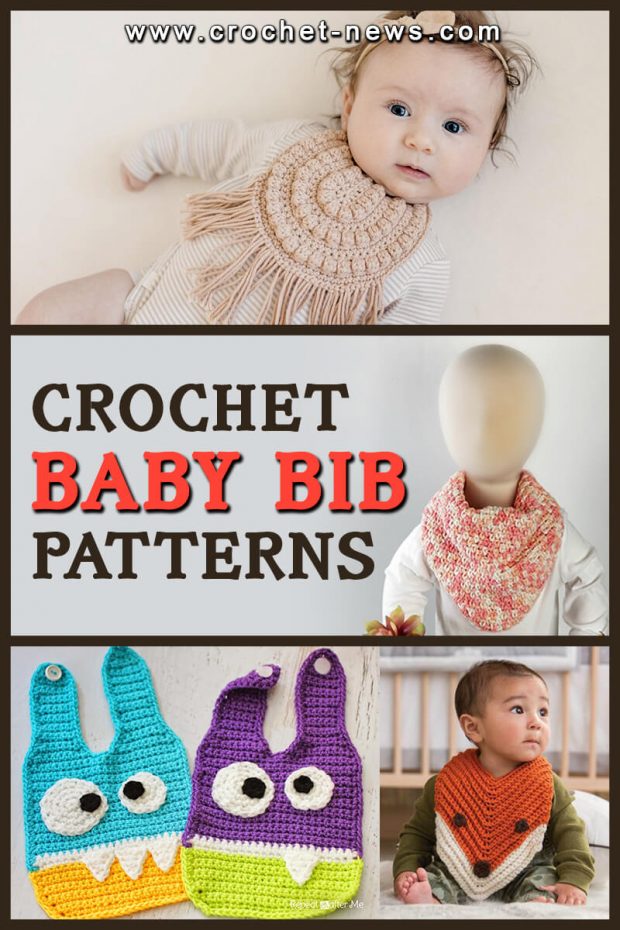 20 Baby Bib Crochet Patterns
They're also fairly easy to make, so you can try your crocheting skills at one or several if you have time. If you have a baby or a toddler, you definitely need some bibs – there just can't be enough of them!
1. Bitty Boho Baby Bib Crochet Pattern by A Crafty Concept
With its fun texture and stylish fringe, this bib is great for everyday wear, but it's also a great accessory to any boho outfit or baby photo shoot! They also use very little cotton yarn and work up fairly quickly, its a great go-to crochet pattern for baby shower gifts, birthday gifts, Easter gifts, Valentine's day gifts, or Christmas gifts.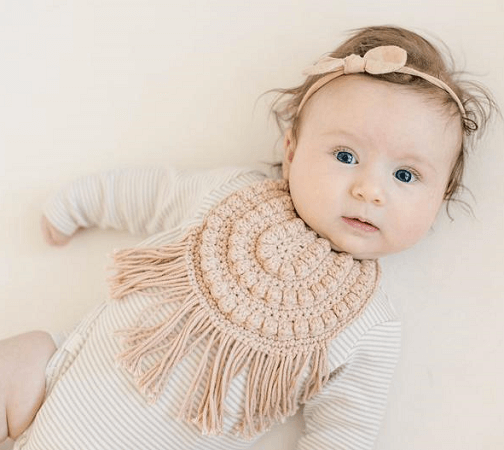 Get the Pattern by A Crafty Concept here

2. Crochet Baby Bib Pattern by Red Heart
Shape a set of these Crochet Baby Bib for every day of the week with this easy crochet pattern. Parents can never have too many bibs, so craft them this easy-crochet bib pattern offered in 2 colorways.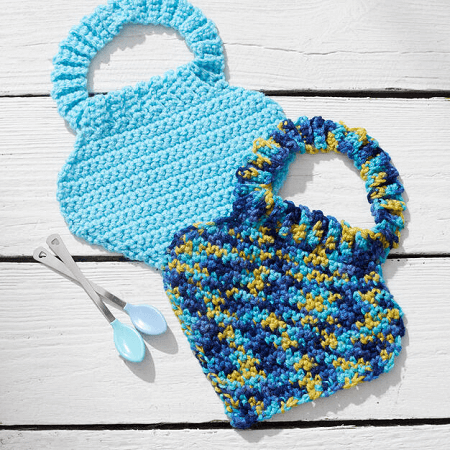 Get the Pattern here

3. Bunny Baby Bib Crochet Pattern by Torreya Treasures
Make a baby gift that will bring smiles and lasting memories. This Bunny Crochet Bib Pattern is easy and quick to stitch. Give as a gift for Easter or for a baby shower. The crochet baby bib is intended to fit babies 0-6 months.
For more, check out super cute Crochet Bunny Patterns here.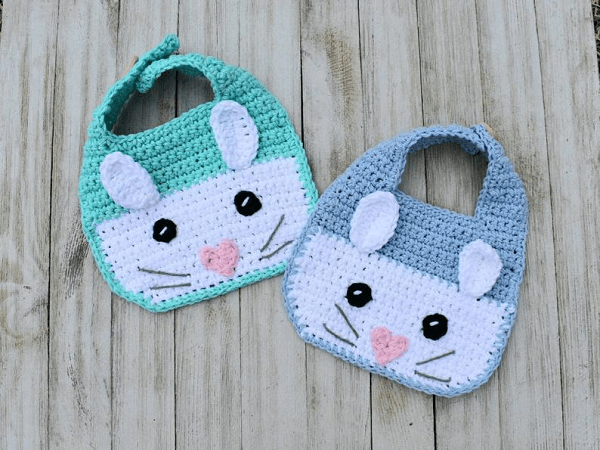 Get the Pattern by Torreya Treasures here

4. Full Coverage Baby Bib Crochet Pattern by Winding Road Crochet
This crochet baby bib is sure to keep your baby or toddler clean while they are feeding themselves. This crochet baby bib will cover the entire front of your baby as well as their shoulders.
Get the Pattern by Winding Road Crochet here

5. Finley, The Fox Bib Free Crochet Pattern by Petals To Picots
Keep little ones looking cute and smart with this sweet Finley, the Fox Bib! It's not just for mealtimes – this funky cover up is designed to be worn as an all-day accessory, keeping clothes clean and mucky faces wiped and dribble free.

The adjustable neckline allows baby to keep wearing it as he grows! This baby bib crochet pattern features a ribbed collar with button closure at the back, so it will fit a little baby or an older toddler.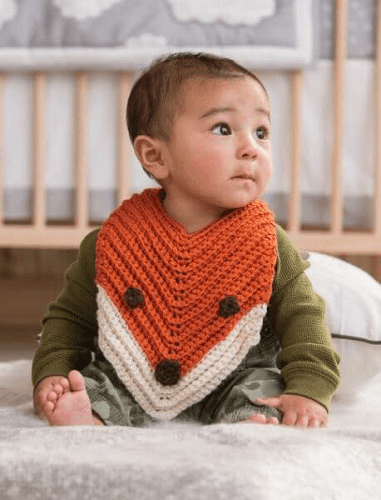 Get the Pattern here

6. Bandana Crochet Baby Bib Pattern by Peach And Paige Designs
This highly detailed and illustrated crochet baby bib pattern will take through every step to make a gorgeous textured crochet bandana dribble bib in an absorbent cotton yarn. This crochet baby bib pattern is for the following sizes – 0-12m and 1-3 years. A perfect baby shower gift or christening accessories.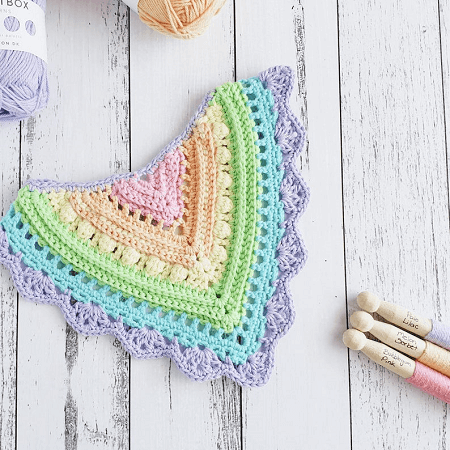 Get the Pattern by Peach And Paige Designs here

7. Modern Baby Bib Crochet Pattern by Whistle And Ivy
This darling Modern Crochet Baby Bib is perfect for your little drooler or your messy toddler. These bibs are for the modern mama and will make an "oooh"-worthy baby shower gift.

The crochet bib pattern pack includes a toddler-sized boho fringe bib, a baby-sized triangle bandana chevron bib, and a baby-sized triangle bandana cactus print bib.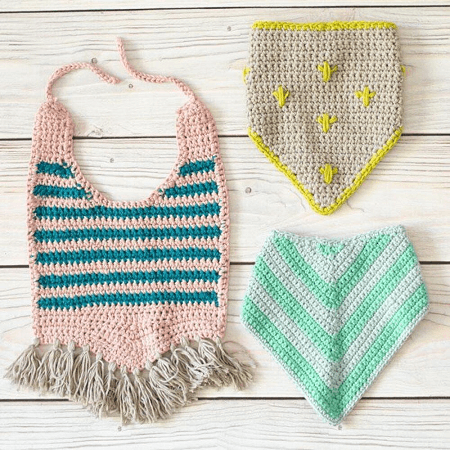 Get the Pattern here

8. Easy Crochet Baby Bib Pattern by Traverse Bay Crochet
Create these cute baby bibs with this quick Easy Crochet Baby Bib Pattern. These are simple, quick to work up, and make excellent baby gifts so crochet several to keep for future showers.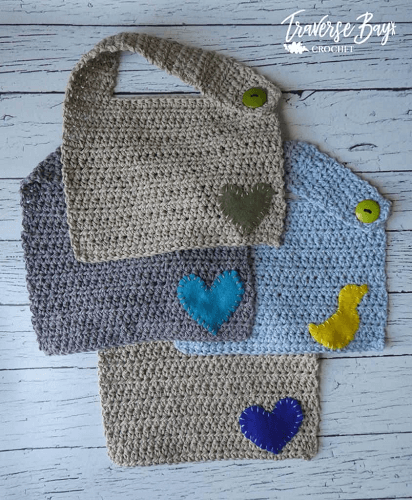 Get the Pattern here

9. Baby Dribble Bib Crochet Pattern by Sarling Crochet
Practical and trendy, this Baby Dribble Bib will soon become the go-to accessory for your gorgeous little ones. Ideal for use during teething (5 months+) to catch and wipe the dribbles and to keep chins, necks and clothes dry.
Worked in one piece, this crochet bib pattern works up quickly and only has one end to weave in!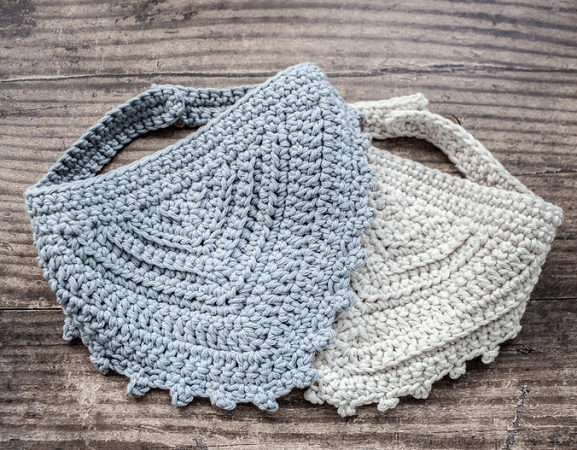 Get the Pattern by Sarling Crochet here

10. Crochet Plaid Bandana Bib Pattern by Whistle And Ivy
This darling Crochet Plaid Bandana Bib is perfect for your drooling, messy bundle of joy. Baby will also enjoy mouthing the squishy fabric, which is totally fine because this bib is made from cotton.

Whip out a couple of these crochet plaid bandana bibs and your drooler will meet her match. It would make a darling baby shower gift too!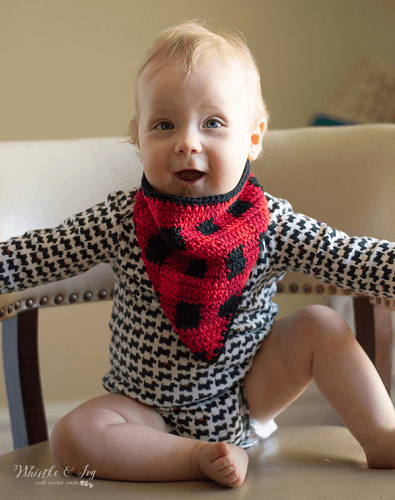 Get the Pattern here

11. Baby Bib Crochet Pattern by Yarnspirations
It's hard to imagine a baby gift basket without a few adorable bibs tucked inside. This crochet bib pattern lets you complete a lacy trimmed bib that's not only striking, but 100% cotton, so it's durable through all sorts of mealtime adventures!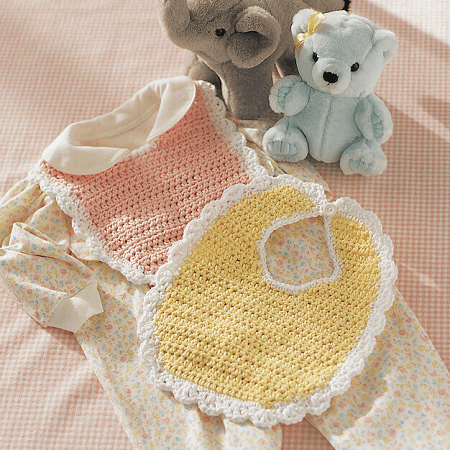 Get the Pattern here

12. Watermelon Baby Bib Crochet Pattern by Crocheting In Canada
You'll love hooking this Watermelon Baby Bib for all the little loves in your life. Whether for a baby shower or your very own little bundle of spit-up, this bib will catch all the mess babies make as they nosh, especially when it's a juicy snack like the one that inspired this accessory!

You can work the beads in the pattern to create the seeds or you skips the beads and embroider the seeds on. Or you can leave off the seeds and change up the colors for a different look.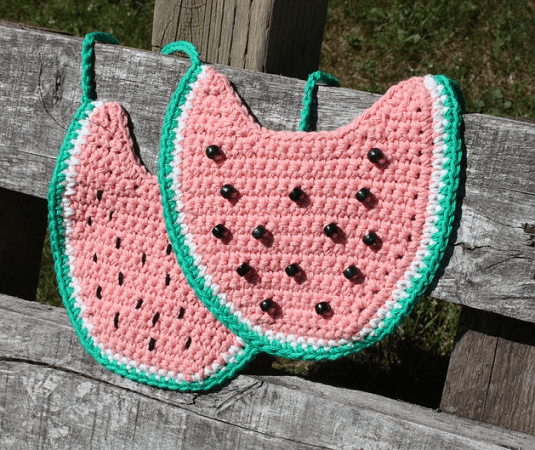 Get the Pattern by Crocheting In Canada here

13. Unicorn Baby Bib Crochet Pattern by Nella's Cottage
This is an absolutely adorable and fashionable Crochet Unicorn Baby Bib for the special little girl in your life. Great for themed gifts and unique, one-of-a-kind birthday or shower gifts. Feel free to play with colors!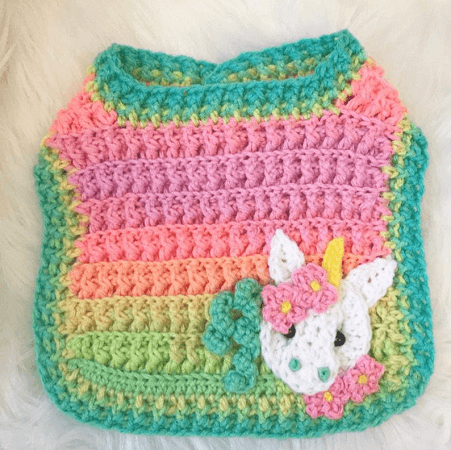 Get the Pattern by Nella's Cottage here

14. Blossom Baby Bib Crochet Pattern by Red Heart
This pretty crochet bib is bright and happy – the perfect addition to a shower gift including other handmade goodies for baby! Create a sweet crochet bib in a pink shade, making it as designed, or go with a gender-neutral color.

The bib is embellished with a pretty 5-petal, I-cord flower that's securely applied at the end. This fun crochet bib pattern can be made ahead of time so it's ready for giving!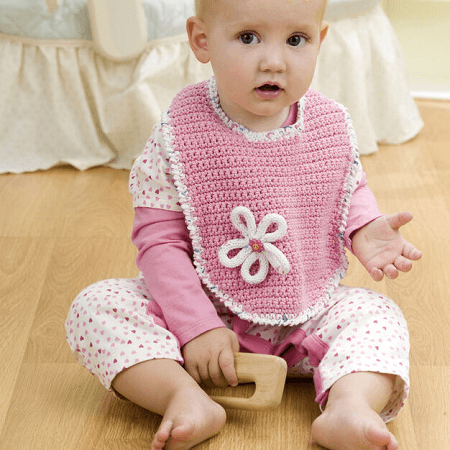 Get the Pattern here

15. Blue Whale Baby Bib Crochet Pattern by Yarnutopia
Save those cute outfits and protect the front of your baby's clothing with this Blue Whale Baby Bib! This cotton crochet baby bib uses a graphing technique to create this fun aquatic themed infant accessory,

This would be cute in any combination of pastel colors! Whether you create this for your own little one or for someone special, this is perfect for baby showers, a celebration of birth, or just to fill a need when you have a newborn.
Get the Pattern by Yarnutopia here

16. Animal Friends Crochet Baby Bib Pattern by Pattern Paradise
These Animal Friends Crochet Baby Bib are perfect for spring. You can make a chick, lamb, and bunny but the basic pattern is so easy to adapt to almost any animal. Use your imagination and have fun coming up with your own creations.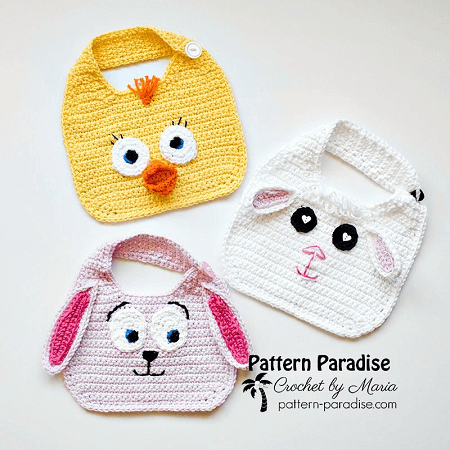 Get the Pattern here

17. Bandana Scarf Crochet Bib Pattern by Moogly
This Bandana Scarf Bib is a multi-use drool bib that is soft cotton and double thick for extra protection. And it's multi-use too – unfold it into a burp cloth or wipe cloth to clean up spills and spit up on the go! Make a bunch of trendy bibs for baby.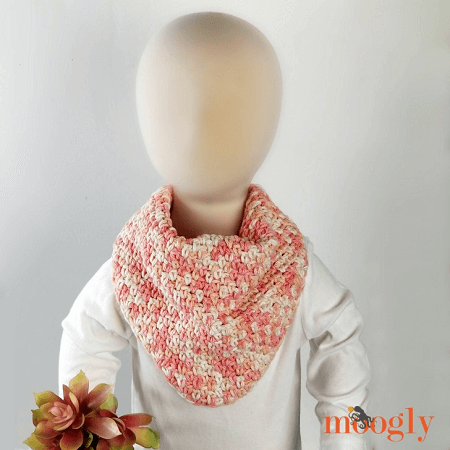 Get the Pattern here

18. Crochet Monster Baby Bib Pattern by Repeat Crafter Me
These Crochet Monster Baby Bibs are perfect for your baby not only during the month of October but all year round. These would be a cute gift for a baby shower, especially if the parents are waiting to know the sex of the baby,

These bibs can be customized with colors, teeth number, and googly eye position. Any combination will look adorable as your own little monster is munching away.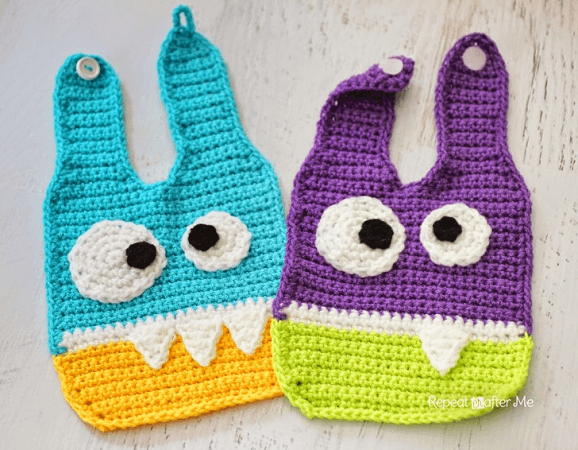 Get the Pattern here

19. Owl Baby Bib Crochet Pattern by Lion Brand
This adorable crochet bib pattern would be perfect for a photo prop or just for every day. This is quick too – which means a set of pretty bibs is a perfect handmade baby shower gift! Another amazing crochet owl pattern which you can try using different yarn colors.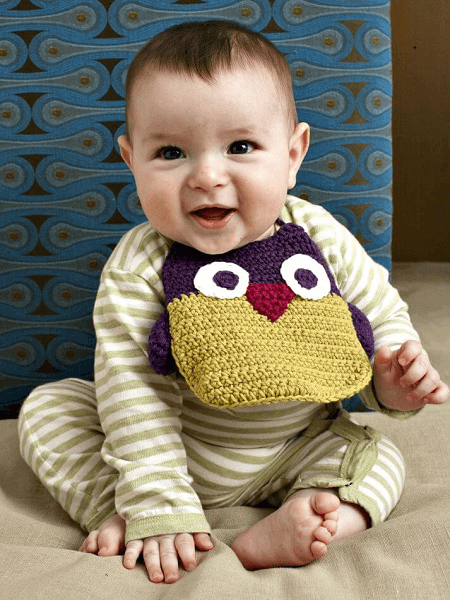 Get the Pattern here
You may also want to check more Crochet Owl Patterns here.

20. Tuxedo Crochet Baby Bib Pattern by Crochet By Darleen
Dressing up your little one can be so much fun and easy with the help of this Tuxedo Crochet Baby Bib Pattern designed by Darleen Hopkins. It can serve as both formal-wear and a protective covering.. for your baby's fancy outfit.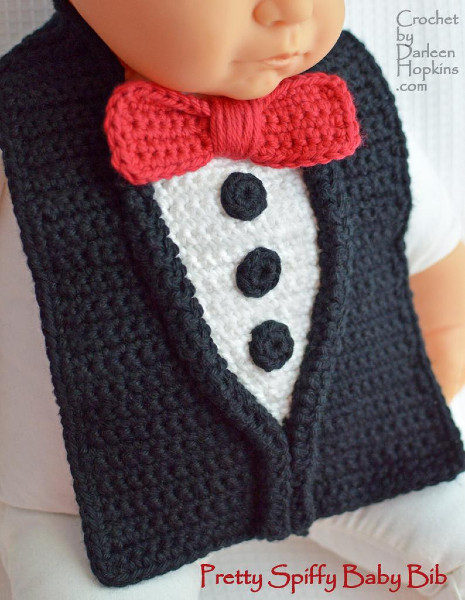 Avoid the worry about getting your baby's outfits ruined by burps, drools and spits. This crochet baby bib pattern will do it's magic by quickly absorbing these unwanted fluids!

Your cute little munchkins can even wear this tuxedo bibs during their first formal events such as weddings, holiday dinners and any other occasions. It keeps your babies clean and spiffy all day long.


EVENTS WHERE YOU CAN WEAR THE TUXEDO BIB
In styling little ones using this tuxedo baby bib, the only thing you need to put in mind is the casual mix and match colors with their fancy outfit and the kind of event you will attend with your baby.
For formal dinners, holidays and events:
The typical black and white mix. Of course, black is a neutral color that matches all of the other colors. Black shows complete elegance and it could never go wrong for a formal event.
For casual dinners, birthday parties:
For a not so formal event or a casual type event such as family gatherings, birthday parties. You can go for a different color such as green and white.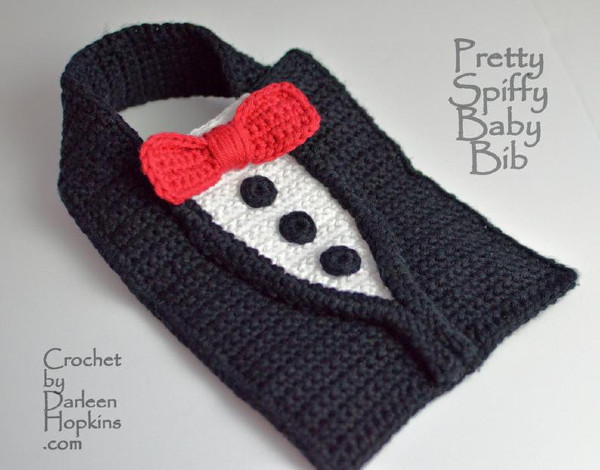 TUXEDO BABY BIB MATERIALS:
Yarn
Specific yarn used is Love this Cotton! It's 100% cotton, 180 yards, 100 grams worsted weight (4):

White 17 yards [16 meters]/.33 ounces [9 grams]
Black 86 yards [77 meters]/ 1.67 ounces [46 grams], separated into two balls
Red 8 yards [7 meters]/ .15 ounces [4 grams]

Note: It's still up to you on what kind of colors you want to mix and match for your little ones. Don't forget to use soft cotton or cotton blend yarn to keep your baby dry!

Hook

US size G (4 mm) or size needed to obtain correct gauge

1″ square Velcro (hook and loop closure)
Stitch markers
Yarn needle
Matching thread
Gauge

Exact gauge is not that important as long as it's close or almost the same as the stated gauge it will be closed to the stated size.
17 stitches and 18 rows = 4" [10 cm] in single crochet (sc)
CROCHET BABY BIB MEASUREMENTS
Approximately 6.5" wide, 7" long plus 10" strap
STITCHES USED IN THE BABY BIB CROCHET PATTERN
You don't have to be an expert in crocheting to make the Tuxedo Baby Bib Crochet Pattern. All you have to know is the basic stitches in crocheting and you're good to go. Here are some of the basic stitches you need to know:
Start making your baby's tuxedo bib and they will be very thankful for making them look clean and spiffy.
Once you've learned to master these six basic stitches in crochet, you can now crochet the Tuxedo Crochet Baby Bib Pattern. Mixing and matching the bib's color is the key for amazing results.
Whether they're for your own bundle of joy or you want to give them as a gift, you can rest assured that these crochet baby bibs will come in handy!
Be sure to make your crochet baby bibs out of soft cotton yarn so they are perfect for your baby to drool and chew on! And please don't forget to share your crocheted bibs on our Facebook Page. We really love seeing your works!
Now that you have a bib for your kid, it's time to check our collection of Adult Bib Patterns for your elderly companion. We all know, dressing a baby is loads of fun.
Check out our collection of patterns for crochet baby outfits and diaper covers. You'll be going to love them, as well!
What are you waiting for? Fun and smiles are ahead with these fantastic crochet baby bibs!