Outfitting your ever-growing child can be expensive so learn how to make clothes for your little one with these amazing Crochet Baby Outfit Patterns!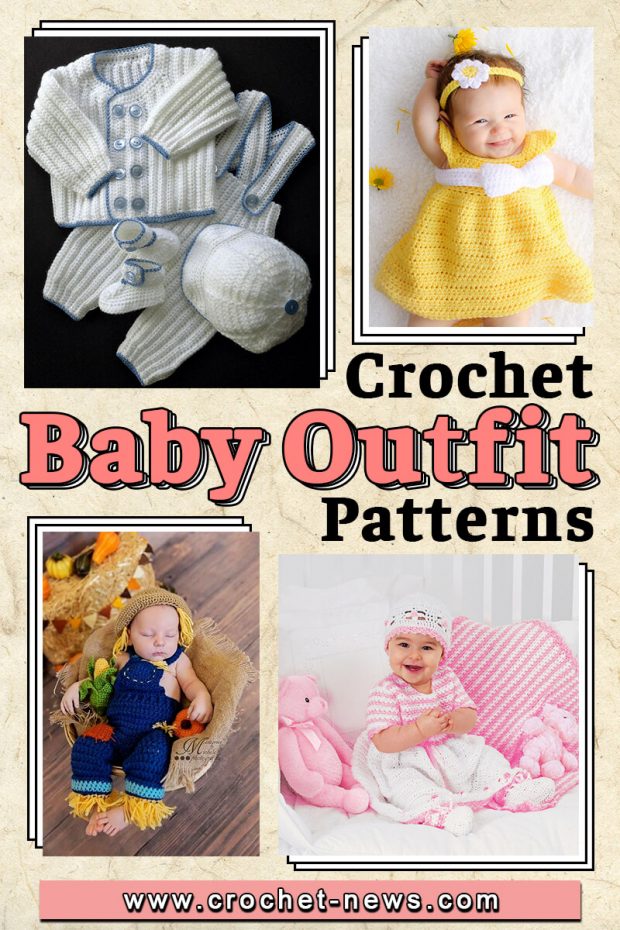 Let's face it–your little one's only going to be this small, cuddly, and willing to be dressed in whatever you choose for so long, so why not make the most of it?

Whether you want to DIY your baby's Halloween outfit or just simple everyday wearables, the ideas below will help you make stylish clothes for your infant without spending much money. Check out our crochet baby costumes!

1. Crochet Baby Romper Pattern by Banana Patterns
These rompers look adorable on any baby or toddler. They are the perfect outfit for busy little ones since they are easy to put on and take off.

This Crochet Baby Romper Pattern is easy and quick to crochet and you can customize it in any color you like.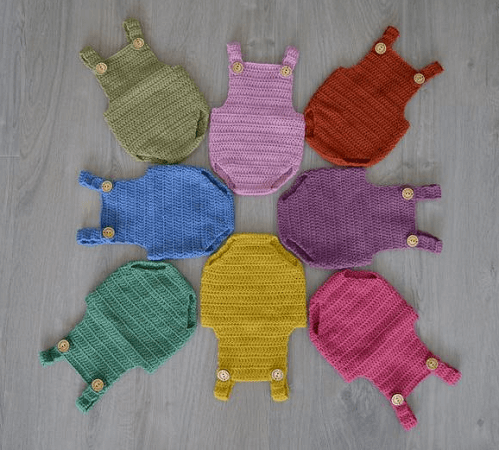 Get the Pattern by Banana Patterns here

2. Baby Policeman Crochet Newborn Outfit Pattern by Sue Stitch
This super cute Crochet Baby Policeman Outfit Pattern includes instructions for the outfit with a police hat, vest, diaper cover, donut, and handcuffs! This pattern includes newborn size newborn (0-3, 3-6, 6-9) months are also included.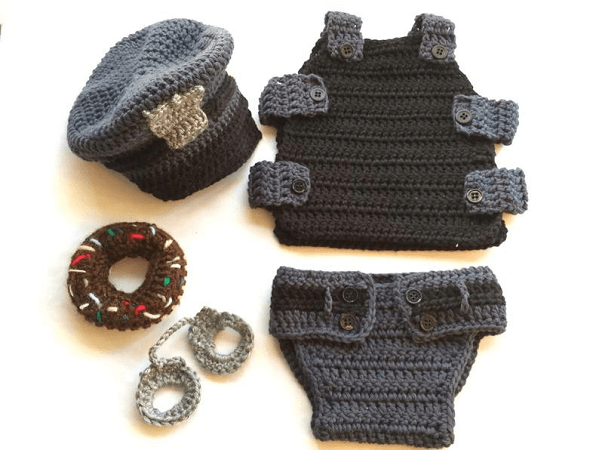 Get the Pattern by Sue Stitch here

3. Simply Spring Crochet Baby Dress Pattern by Winding Road Crochet
This Simply Spring Baby Dress Free Crochet Pattern is designed to make the little girl in you life look adorable while not making you lose your hair with an overly complex crochet pattern.

The pattern provides sizes newborn through 18 months. You will find a bonus pattern for the headband as well! This outfit will make a perfect last-minute baby shower gift!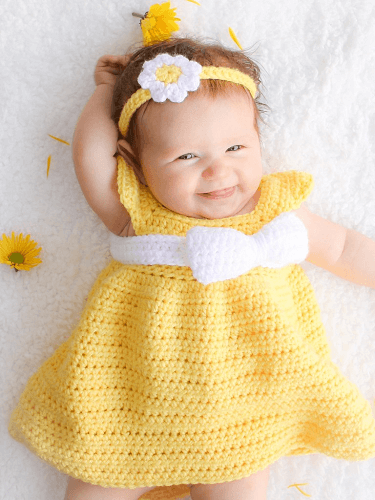 Get the Pattern here

4. Crochet Baby Outfit Pattern by Knitsy Crochet
This crochet baby outfit pattern is for Tinkerbell inspired baby outfit! Sweetheart neckline bodice flares out into a skirt made from individual leaves!

The pattern also includes slippers with fluffy pom poms and a headband with one large pom. Perfect for baby shower gifts and photography sessions!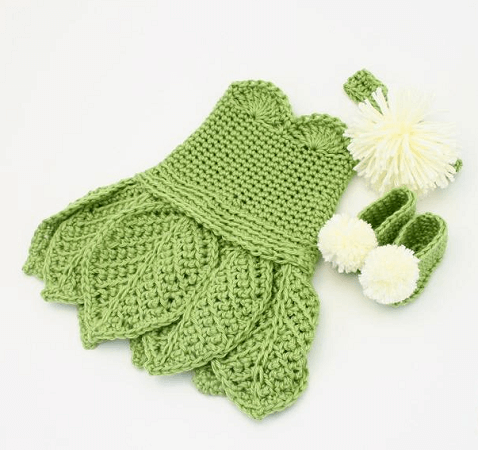 Get the Pattern by Knitsy Crochet here

5. Little Hula Girl Outfit Crochet Pattern by Gramma Beans
This Little Hula Girl Outfit Crochet Pattern includes a hula skirt/diaper cover, bikini top, and tieback headband.

Sizes included newborn to 6 months. Great for photo props, easy to make, and works up quick! Great for a baby shower gift or nice warm weather photos.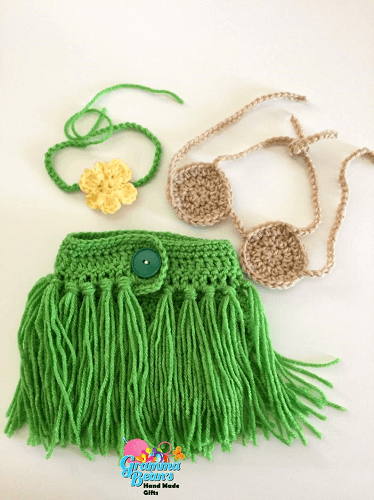 Get the Pattern by Gramma Beans here

6. Crochet Baby Baseball Outfit Pattern by DAC Crochet
This cute little baseball outfit is gender-neutral. The pattern is a 5 piece set so you can mix and match.

The pattern includes written instructions for the jersey, pants, shorts, ball cap, and ruffle brim hat. It's a quick and easy pattern using basic crochet stitches.

Choose your favorite baseball team and create a baseball uniform designed in your team colors!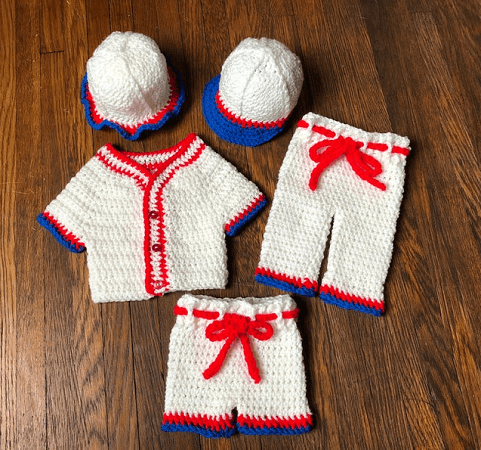 Get the Pattern by DAC Crochet here

7. Sweet Baby Outfit Crochet Pattern by Yarnspirations
Babies love sweet ensembles like this Sweet Baby Outfit, that combine comfort and style! Crochet this adorable dress, cap, and bootie set with the softest yarn, so it's always safe to enjoy. This set makes a sought after gift of style that any parent loves.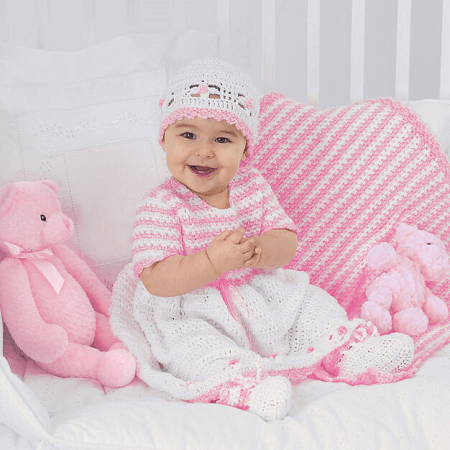 Get the Pattern here

8. Baby Halloween Outfit Crochet Pattern by AMK Crochet
This crochet pattern gives you the instructions, so you can make a scarecrow hat, overalls, and little amigurumi corn and pumpkin prop. Perfect photo prop for every little boy and girl and great for any newborn photo session!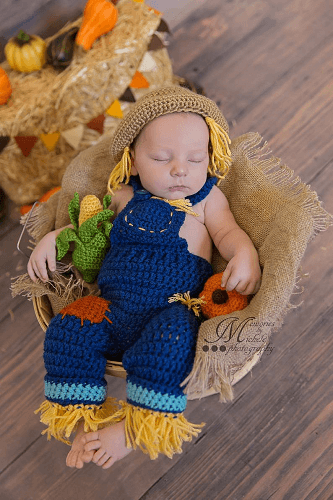 Get the Pattern by AMK Crochet here

9. Crochet Fox Baby Outfit Pattern by Crochet Courtesan
This pattern is for a crochet fox hat and diaper cover with tail in size 0-3 months only. This pattern is for the complete crochet fox outfit.

The newborn fox set uses single and double crochet, half-double crochet, single crochet decrease, and half-double crochet decrease.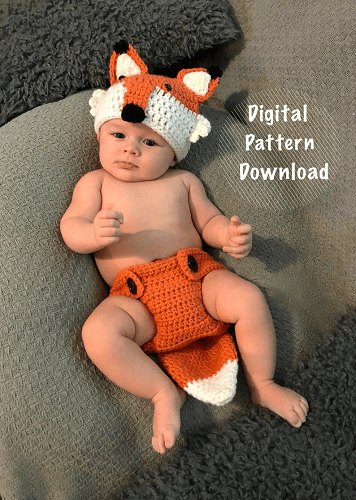 Get the Pattern by Crochet Courtesan here

10. Crochet Unicorn Baby Outfit Pattern by Heathers Boutique US
This adorable unicorn baby outfit is perfect for a newborn photoshoot, a little one's first birthday party, or a baby shower gift for your favorite unicorn lover.

The pattern is for a newborn size crochet unicorn outfit, but the pattern can be easily adjusted for larger sizes.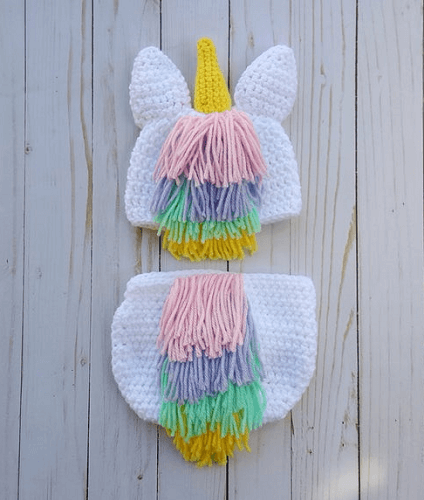 Get the Pattern by Heathers Boutique US here

11. Crochet Elephant Baby Outfit Pattern by Captain f The Hooks
This Crochet Elephant Baby Outfit Crochet Pattern includes how to make the hat and ears, diaper cover and tail, and booties. These finished products will fit a baby from size Newborn to 3 Months.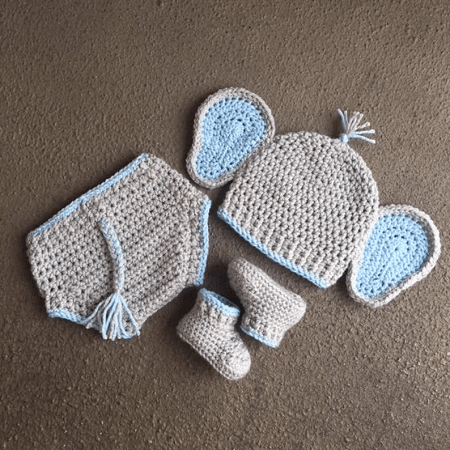 Get the Pattern by Captain Of The Hooks here

12. Butterscotch Baby Onesie Crochet Pattern by Megmade With Love
If you're in the market for an adorable handmade baby wearable, then grab a skein of your favorite DK yarn and check out this Butterscotch Baby Onesie Crochet Pattern.

The pattern is available for sizes newborn through 12 months. It features a button closure bottom for easy changes, and the straps are buttoned along the top as well.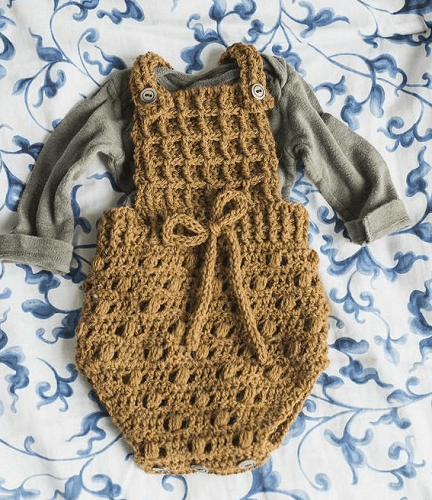 Get the Pattern here

13. Crochet Mickey Mouse Baby Outfit Pattern by Handmade In Doncaster
This Crochet Mickey Mouse Baby Outfit will look great on your little one for Halloween or any time of the year. It would be perfect for that first trip to Disneyland as well!

The pattern uses the spike stitch and also requires color changing on the hood if you want to make the hood stripy.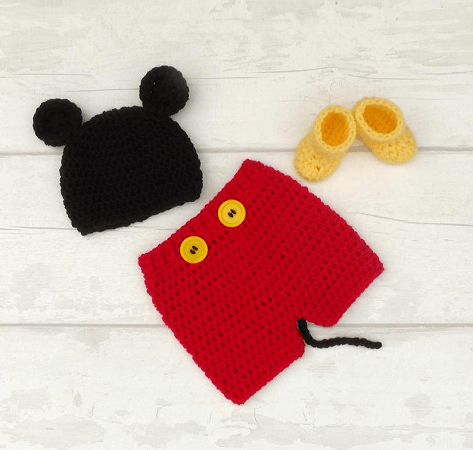 Get the Pattern by Handmade In Doncaster here

14. Crochet Baby Boy Christening Outfit Pattern by The Best Dressed Baby
This Crochet Baby Boy's Christening Outfit Pattern is designed to fit a 4-6-month-old infant. Use specific yarn and crochet hooks to produce the exact size you need.

This pattern includes instructions for making all the pieces shown: a double-breasted sweater jacket, pants with suspenders, a baseball-style cap
and button-strap booties (in two sizes).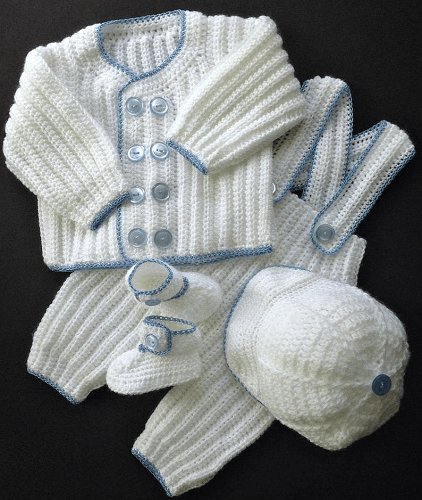 Get the Pattern by The Best Dressed Baby here

15. Crochet Baby Overall Outfit Pattern by Croby Patterns
Here's another very cute Crochet Baby Overall Outfit that is nice and easy and has a lovely button detail. The pattern gives instructions for sizes newborn up to 12 months. Make one in any color you can imagine for your little one's everyday wear.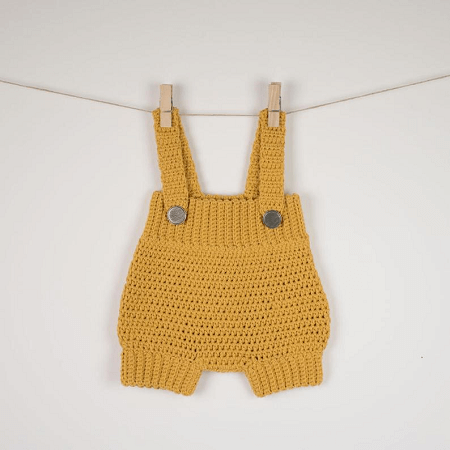 Get the Pattern by Croby Patterns here

16. Crochet Ruffle Yoke Baby Dress Pattern by Yarnspirations
Your tiny princess is sure to take the spotlight in this exquisite crochet dress with pretty lace valances around the yoke. Stitched in rounds, the flared body features a zig zag A-shape pattern, while the yoke is done in broomstick crochet technique.

It's a picture-perfect dress for all of baby's upcoming social events! Pattern is given for 6,12 and 18 month sizes.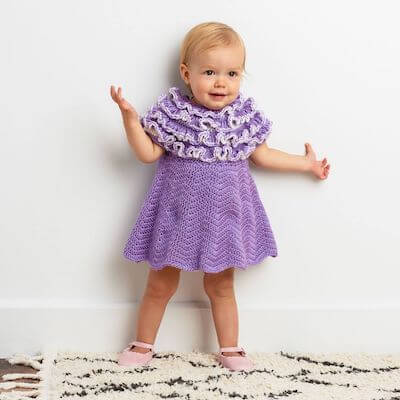 Get the Pattern here

17. Crochet Baby Santa Outfit Pattern by Traverse Bay Crochet
Create this cute Baby Crochet Santa Outfit for a special little someone! The pants is written up in all 6 sizes and uses elastic for the waist (so easy to do!) for an easy and comfortable pull on fit.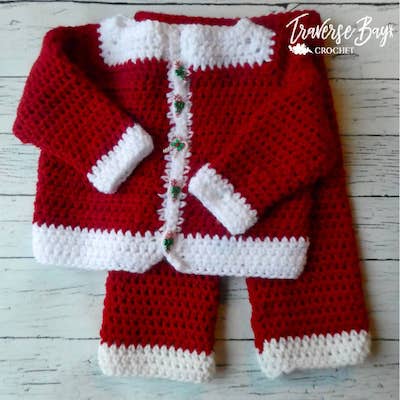 Get the Pattern here

18. Crochet Baby Boy Romper Outfit Pattern by The Best Dressed Baby
The open stitch in this baby boy's crocheted romper outfit makes it a good choice for warm weather.
Made of size 3 crochet cotton, the outfit is sized to fit a 4-6 month infant.

The romper slips on easily and buttons across the shoulders. The hat is also slip on, and the baby loafers feature buttoned straps.
Get the Pattern by The Best Dressed Baby here

19. Sophia Heirloom Dress Crochet Pattern by Briana K Designs
This Newborn Sophia Heirloom Dress uses a medium 4 weight yarn for the yoke and a fine 1 fingering yarn for the bottom of the dress. It's quick to work up, yet stunning and elegant. Perfect for a baptism, blessing, or newborn princess.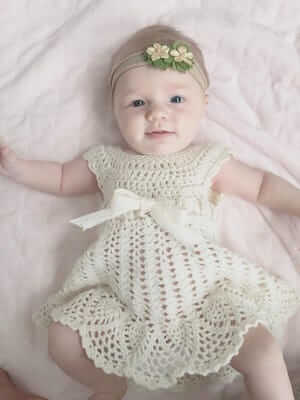 Get the Pattern by Briana K Designs here

20. Crochet Baby Overalls Pattern by Knitting With Chopsticks
This baby romper crochet pattern will look adorable on any little one. With classic stripes and a vintage vibe, it will make a wonderful outfit for a gift, photoshoot, or just lounging around.

Customize your design with colors and buttons of your choosing, and you've got a wonderful set of crochet overalls for any boy or girl.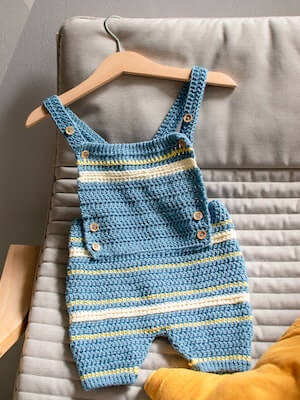 Get the Pattern by Knitting With Chopsticks here

21. Baby Boy Christening Outfit Crochet Pattern by Annie's Catalog
Made using sport weight yarn, this adorable set can be made with out the bear applique as a christening outfit or change the color and add the sweet little bear to wear it anytime! Instructions fit sizes 4-6 months and includes a sweater jacket, big overall, cap and booties and bear applique.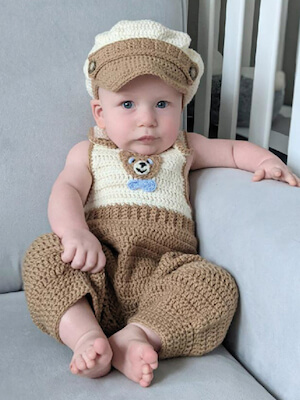 Get the Pattern here

22. Crochet Newborn Baby Outfit Pattern by Crochet N Create
Beautiful three-piece outfit, ideal for your own little one or as a gift for a family or friend's baby. The set consists of rompers, helmet and short jacket.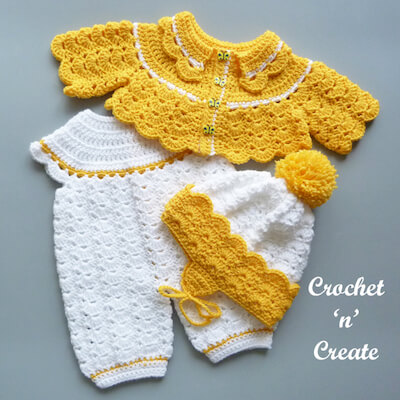 Get the Pattern here

23. Crochet Bayleigh Bear Baby Suit Pattern by That Girls Patterns
You probably already call them your little cuddly bear, and now the romper will make them look the part! Snaps along the front and legs make it easy to take on and off, and the thicker braid makes it super warm and cozy.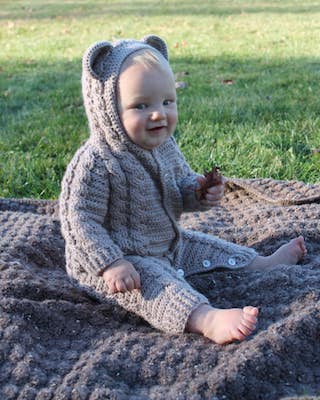 Get the Pattern by That Girls Patterns here

24. Hope Baby Romper Crochet Pattern by Annie's Catalog
Rainbows represent hope and the promise of good things to come. Which is also what children represent. This Hope Romper is the perfect way to remind yourself of that when you look at your little one!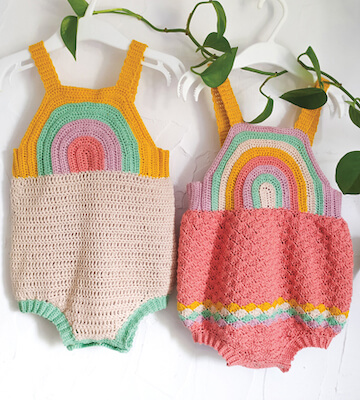 Get the Pattern here

25. Spring Party Girl Dress Crochet Pattern by Crochet Kim
Such a perfectly sweet baby dress suitable for family photos and special occasions. The set-in sleeves have a beautifully executed gather at the top for a little bit of "poof". The skirting of the dress features tiny little bobbles throughout.

It includes the perfect understated accessory with a little bow in front. All this in an easy-to-read pattern with easy stitches. You'll have a beautiful garment which will rival even the large department store chains.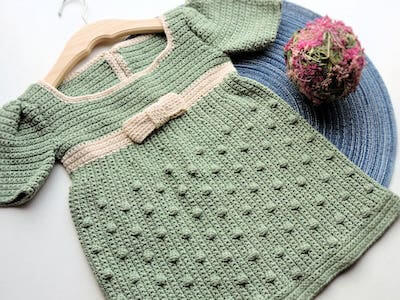 Get the Pattern here
With all these adorable crochet baby outfit patterns, don't you want to make them all?
Do please share your finished pieces with us over on our Facebook Page if you make some, bonus points if a baby is in it!

Craving for more for that little darling? We have a huge collection of crochet patterns for babies and kids – from clothes to blankets, from toys to booties, we got your precious one covered!
Happy hooking with your favorite crochet baby outfit patterns and give something special to the newest bundle of joy in your life!