If you happen to know a scientist whose cells were contaminated by gamma rays and now turn into a green, imposing monster when someone touches a nerve, look no further. These Hulk amigurumi patterns and crochet Hulk patterns will surely make them feel less alone.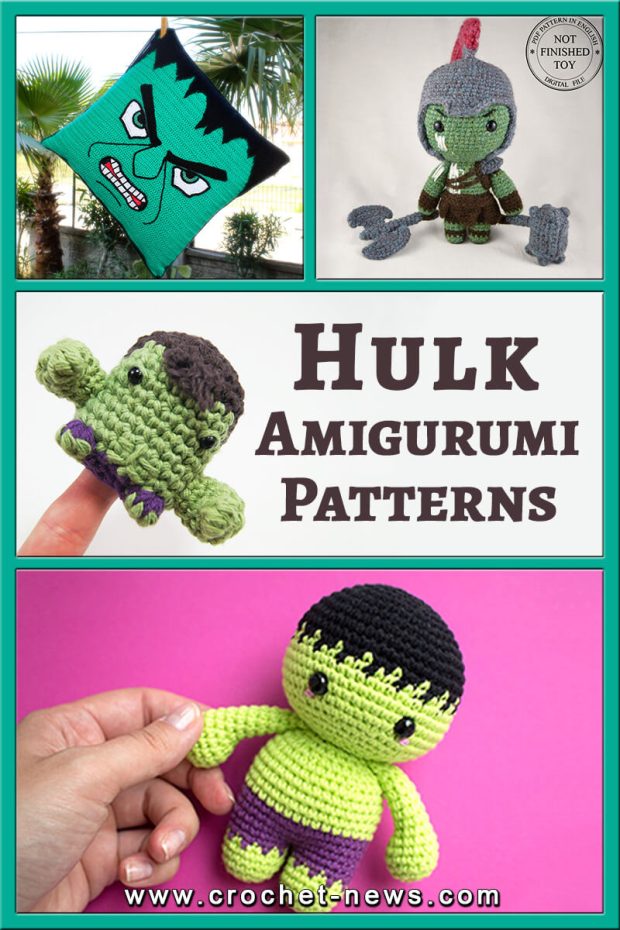 These ideas below are all great ways to show a little bit of love for the man in green and the Hulk fan in your life (even if that fan is you). We've rounded up 15 of the best Hulk-inspired crochet patterns so you can pay tribute to your favorite Marvel superhero! And whatever you do, don't make them angry!

1. Amigurumi Hulk Crochet Pattern by Supergurumi
If you want your little Hulk that doesn't throw tantrums and causes destruction, then you can easily crochet him yourself with this pattern. This crochet Hulk is crocheted with single crochet stitches and loop stitches in spiral rounds and is easy to crochet.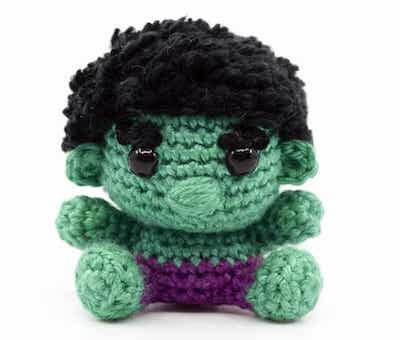 Get the Pattern here

2. Mini Hulk Amigurumi Crochet Pattern by Pocket Yarnlings
This Mini Hulk Amigurumi is crocheted using sport yarn and crochet hook 2.5mm size, with 3 colors: green, black and purple. It's a quick crochet project and can be done in under an hour.

You will use some techniques like bobble stitches to make the limbs and whip stitch to seal the bottom magic ring to the main body.The final little guy is about 6 cm tall, so create for hanging as a Christmas ornament or as a keychain on your bag.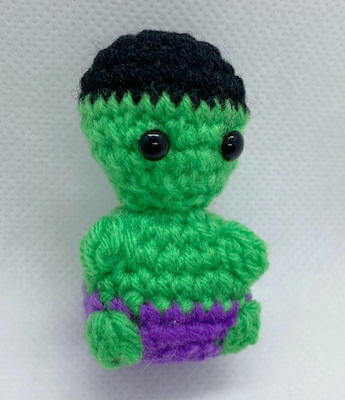 Get the Pattern here

3. Hulk Amigurumi Finger Puppet Pattern by Louies Loops
Have your own crocheted Hulk sitting safe and sound on your dresser or hanging on your back pack! This little Hulk from Marvel's The Avengers miniature amigurumi measures about 3 inches tall when finished and includes 5 unique video tutorials to help you get through the tough parts!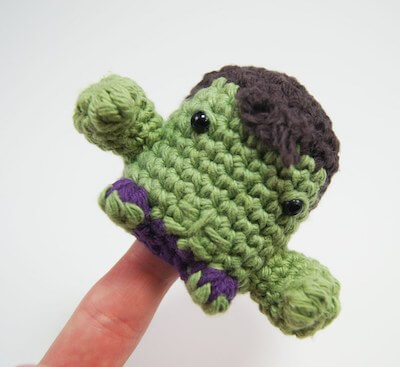 Get the Pattern by Louies Loops here

4. Hulk Pillow Crochet Pattern by Dilek Design
Update the look and feel of any kids bed, couch or lounge area with this Hulk Pillow featuring Hulk's face. It's a fun room accessory for any superhero fan.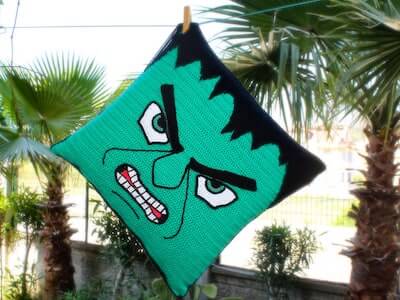 Get the Pattern by Dilek Design here

5. Crochet Hulk Hat Pattern by Yarn Creations Galore
Take the Hulk with you wherever you go with this Crochet Hulk Hat. It has earflaps and is guaranteed to get everyone's attention!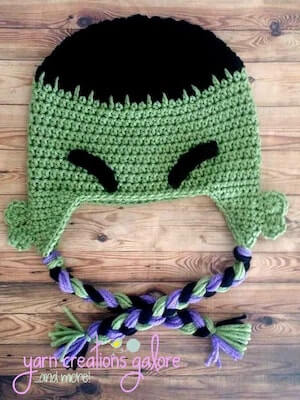 Get the Pattern by Yarn Creations Galore here

6. Hulk Amigurumi Free Crochet Pattern by Spin A Yarn Crochet
This Hulk Amigurumi Pattern brings the action of the movies to life with this huggable pal. Not only is this lifelike buddy ideal for playtime adventures, but he is soft for bedtime, as well. He has a realistic shape with muscles, facial features, and black hair just like the Hulk character. It makes an excellent addition to a plush collection!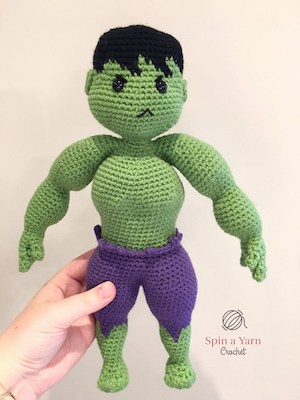 Get the Pattern here

7. Incredible Hulk Crochet Gift Card Holder Pattern by It's So Corinney
Do you want to make giving a boring gift card into a little bit cuter? Then, this easy Incredible Hulk Crochet Gift Card Holder is the perfect project! Have a fun way of giving a gift card to the Marvel fan in your life!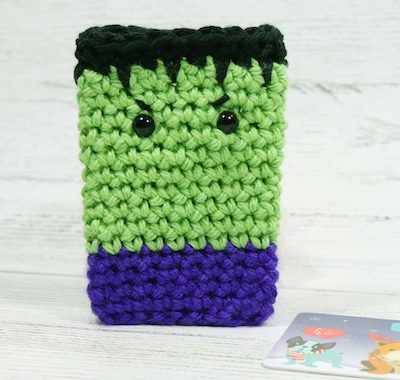 Get the Pattern here

8. The Hulkster Blanket Buddy Crochet Pattern by Spicy Tuesday
Here's another for your Super Hero collection – The HULKster! With his ripped, raggedy purple cut-offs and fists of fury, The HULKster is ready to smash!
This blanket buddy works up to a nice lap-blanket size, perfect for dragging behind a toddler on all their adventures or to be squished up and snuggled with at bedtime.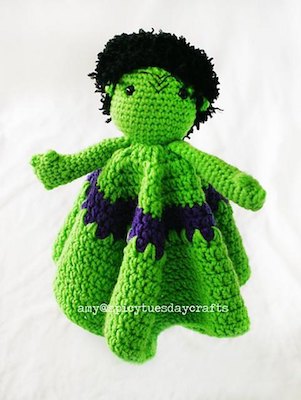 Get the Pattern by Spicy Tuesday here

9. Hulk Amigurumi Pattern by Dilek Design
Hulk is a mountain of sheer destructive force with strength beyond anything the world has ever seen! Towering in at 25 inches tall, this Hulk Amigurumi is a bulked-up, gamma-powered force to be reckoned with!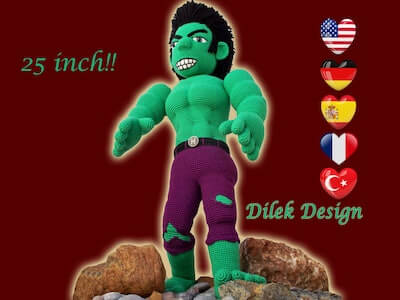 Get the Pattern by Dilek Design here

10. Incredible Hulk Baby Set Crochet Pattern by Crochet Hero Designs
When a pint sized hero just won't do – make your baby as smashing as can be in this adorable hulk set! The gloves are long enough for "smashing" and the beanie can be made with or without ear-flaps and ties to secure it onto a young one's head. To make it "real", special "fur" yarn is used to make the hat look like it really has hair! A purple diaper cover completes the costume.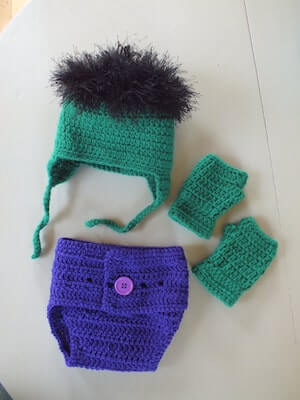 Get the Pattern by Crochet Hero Designs here

11. Hulk Inspired Hand Mittens Crochet Pattern by Creeks End Inc
Hulk smash – and you can too, with these Hulk Inspired Hand Mittens! Put one on each hand and then you'll feel just like your favorite smashing superhero. They grip, they grab – they smash! Hulk up for awesome superhero adventures with this crochet pattern!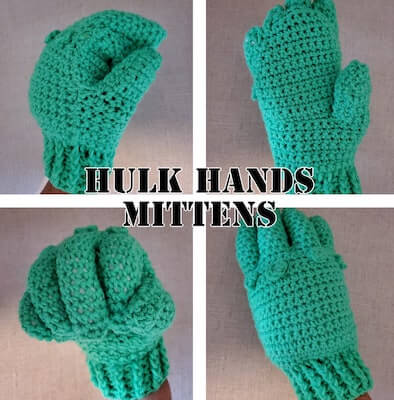 Get the Pattern by Creeks End Inc here

12. Mini Hulk Amigurumi Pattern by Blue Rabbit Toys
This 4.9 inches tall plush is just too cute to pass up. Being minifigure-sized is a fantastic novelty and charm – this tiny Hulk looks incredibly adorable!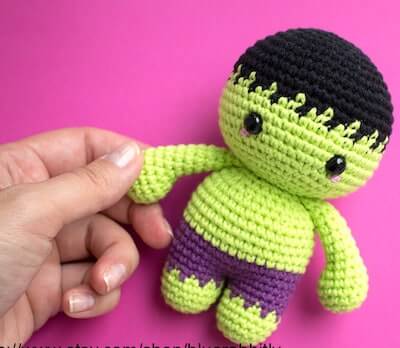 Get the Pattern by Blue Rabbit Toys here

13. Hulk Amigurumi Pattern by Yazminasscraft
How could you be scared of this green little fellow? Look how squishy he is! This Hulk amigurumi superhero pattern creates an adorable 28cm tall Hulk.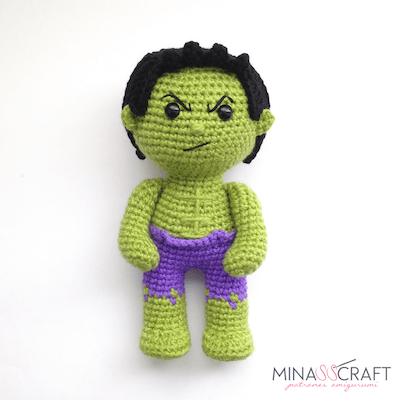 Get the Pattern here

14. Crochet Hulk Pattern by Happy Stitch CA
Use this Crochet Hulk Pattern to make a little Hulk doll. Measuring 11 cm when crocheted, he would make a great Christmas ornament or stocking stuffer.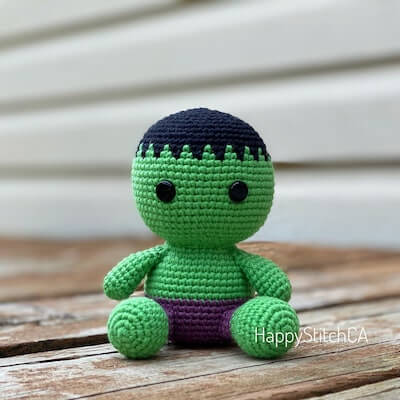 Get the Pattern by Happy Stitch CA here

15. Hulk Crochet Amigurumi Pattern by My World Amigurumi Shop
This is not your average Incredible Hulk. This Marvel amigurumi pattern is based off Hulk from Thor: Ragnarok. It is an immediate level crochet pattern. When finished, your Hulk will measure close to 6″ tall.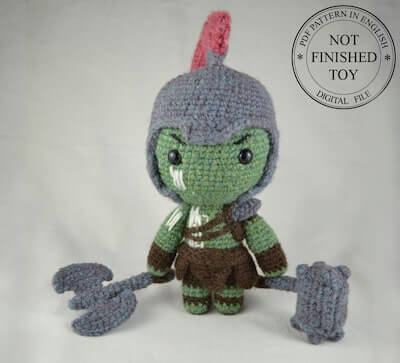 Get the Pattern by My World Amigurumi Shop here
HAVE SOMEONE IN YOUR LIFE THAT IS GOING TO ENJOY MAKING THESE HULK AMIGURUMI PATTERNS? CONSIDER SHARING THIS LIST WITH THEM!
Create your own fun squishy superhero amigurumi dolls with more superhero character patterns to choose from: Thor Amigurumi Patterns, Captain America Amigurumi Patterns, Superman Amigurumi Patterns, and Crochet Batman Amigurumi Patterns. When you're finished making your own favorite superheroes, please take a moment to share your works on our Facebook page.

Proving that you can never have enough Hulk in your life, definitely give these Hulk amigurumi patterns a go next time you're in the mood for handmade fun. Happy crocheting, friends!