For the Thor fan in your life, or for your own treasure trove of all things Thor, we've rounded up the worthiest Thor amigurumi patterns to declare their (or your) allegiance to one of the earth's mightiest defenders.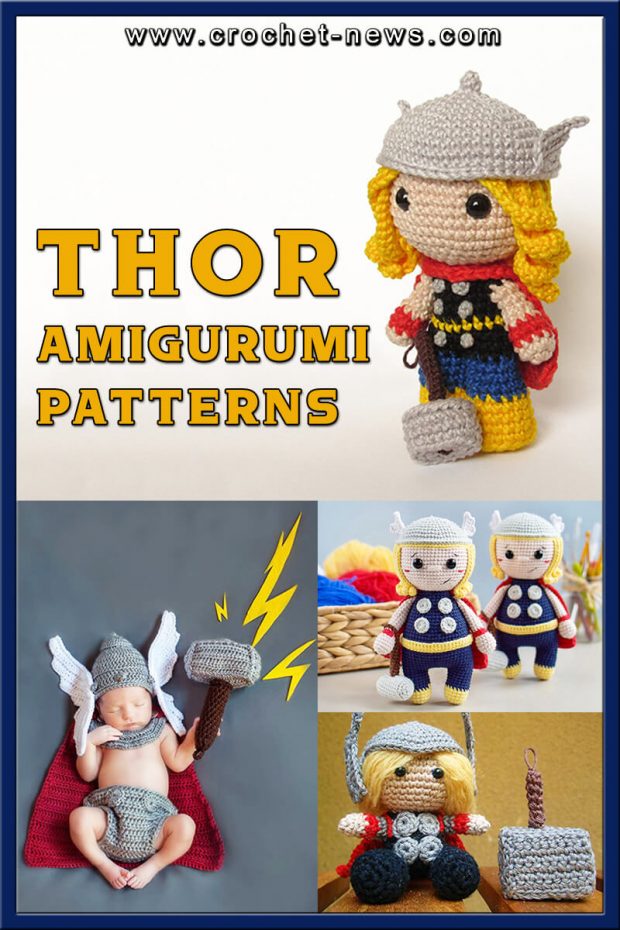 With hammer in hand, Thor harnesses all his godly powers to wipe out anyone in his path. The Thor fan-base is pretty huge owing to extra charming Chris Hemsworth who truly bring out the essence of this superhero convincing you that no one else could have portrayed the god of thunder better than Chris himself.

1. Hammer Of Thor Crochet Pattern by One Funny Moose
With this Hammer pattern, you can make a toy Hammer of Thor that can be a nice gift for any Thor and viking fans.
You may not be able to pick up Thor's hammer, but surely you will be able to lift this one. However, I do not think that it will be able to do as much damage!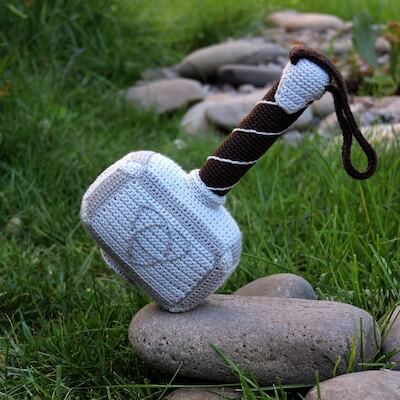 Get the Pattern by One Funny Moose here

2. Newborn Outfit Thor Crochet Pattern by Briana K Designs
A classic Norse Mythology Character, Thor the God of Thunder is a cute addition to every newborn that comes into this world with a bang.
More adorable Crochet Baby Outfit Patterns here.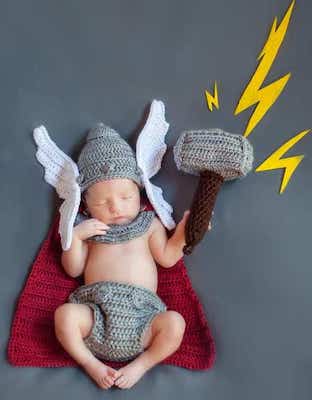 Get the Pattern here

3. Thor Amigurumi Pattern by Crochelandia
This Thor Amigurumi inspired crochet pattern will surely please any Thor fan. The completed Thor doll will measure approximately 12 cm tall.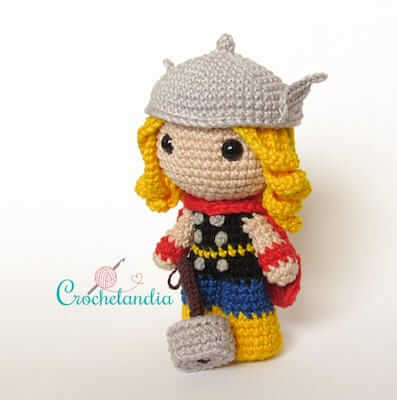 Get the Pattern by Crochelandia here

4. Thor Baby Set Crochet Pattern by Crochet Hero Designs
By Asgard, your baby will be as tough as Thor in this mighty baby ensemble! Thor's helmet, hammer and a diaper cover fashioned in the same colors and style as Thor's pants complete this costume.

The hammer is made of soft materials and light enough a baby can wield it like Thor! The diaper cover is adjustable in 3 sizes. Instructions included to make this set for sizes: 0-3, 3-6, 6-12 months and 2-4 years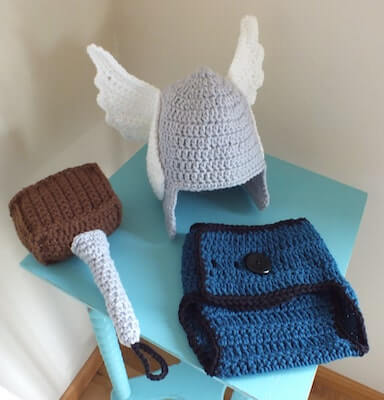 Get the Pattern by Crochet Hero Designs here

5. Thor Inspired Crochet Blanket Pattern by Abigurumi
Crochet a gorgeous Marvel blanket for the perfect gift for a little special person. This pattern is the perfect size to use as a patch blanket or even use two to create a beautiful pillow case.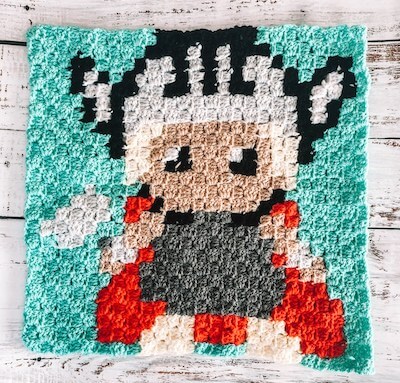 Get the Pattern by Abigurumi here

6. Crochet Thor Amigurumi Pattern by Magic Friends Toys
The God of Thunder never fails to make an impression–and a mighty one at that! With his powerful hammer and amazing abilities, Thor doesn't know how to surrender in a fight against evil.
Make sure to crochet this cute and cuddly Thor toy for your little superhero fans.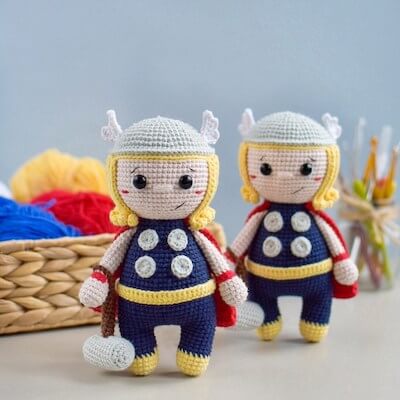 Get the Pattern by Magic Friends Toys here

7. Thor Amigurumi Pattern by Clare Heesh
When finished he stands at approximately 6.5 inches tall (17cm), his helmet is removable and he balances on his own! Also included is the pattern for his hammer.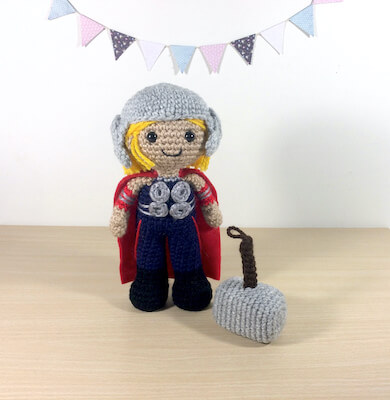 Get the Pattern here

8. Crochet Thor Amigurumi Pattern by Minasscraft
The classic Thor look is always in demand among kids and adults. This amigurumi toy with the iconic red cape, black armor, six metal-like plates, helmet, and Mjonir is based on the classic Thor look.

You can put him on your workspace to have Thor by your side or it can also be a gift for your kids so they can go on a superhero adventure with their favorite superhero toy.
Get the Pattern here

9. Pocket Crochet Thor Amigurumi Pattern by Over The Bifrost
Take Thor with you wherever you go with this Pocket Thor Amigurumi Pattern. This Thor is so tiny, it will fit as a keychain as well.
Get the Pattern here

10. Ragnarok Thor Crochet Pattern by Irem Design
We just love the delightful design on this crochet Thor Ragnarok. With his complete costume and facial features, what's not to love about him?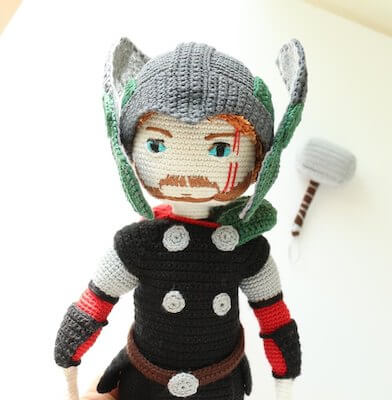 Get the Pattern by Irem Design here
ANY THOR FAN IS BOUND TO LOVE THESE THOR CROCHET PATTERNS AS THEY REPRESENT THOR IN EVERY WAY!
With Marvel's ever-growing popularity, there's no shortage of superhero-themed gifts out there perfect for the comic book fan in your life.
Here are more crochet patterns for your favorite Marvel superheroes: Spiderman Amigurumi Doll Patterns and Captain America Amigurumi Patterns. Once finished, please have a moment to share your works on our Facebook Page.
If you're a big fan of Marvel and Thor movies, then you will want to crochet these marvelous Thor amigurumi patterns today!