If your kids are crazy for superheroes, partner is mad for DC characters, or you're a super-fan yourself, there's something for everyone in this world of Superman projects.
We've rounded up 10 of the best Superman Amigurumi Patterns so you can pay homage to your fave superhero in super style!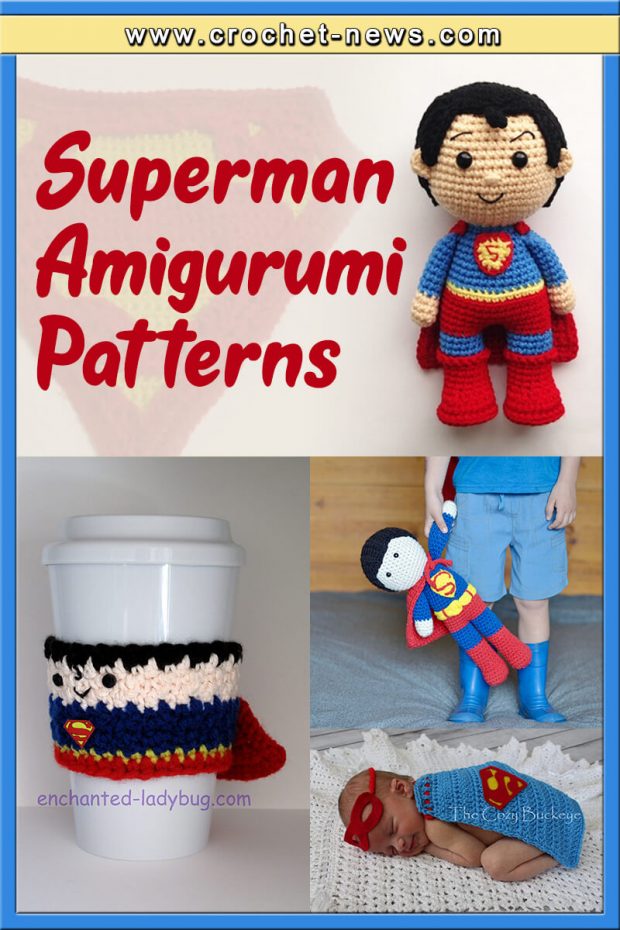 With great yarn comes great super heroes! These entertaining patterns below includes amigurumi ones and simple crochet patterns that will help you remember that there's a hero in all of us!

1. Superman Amigurumi Lovey Pattern by Yarns Truly Co
Forget about sweet bunnies and puppies. This bad ass lovey is for the smallest Superman fans!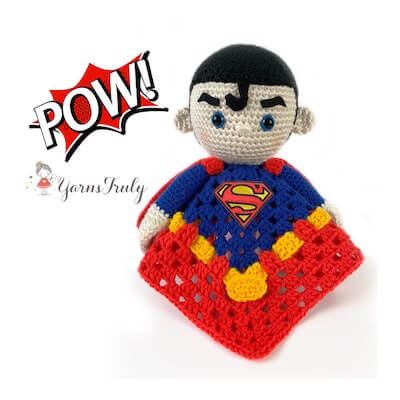 Get the Pattern by Yarns Truly Co here

2. Superman Amigurumi Pattern by Mama Mea Crochet
Get ready for high-flying adventures with this itty bitty Crochet Superman Doll. The stylized version of the Man of Steel stands to spring into action, wearing his signature red-and-blue suit.

Standing 40cm tall when finished, this plush figure would work well as an action figure for younger Superman fans who are not old enough for action figures made of hard plastic.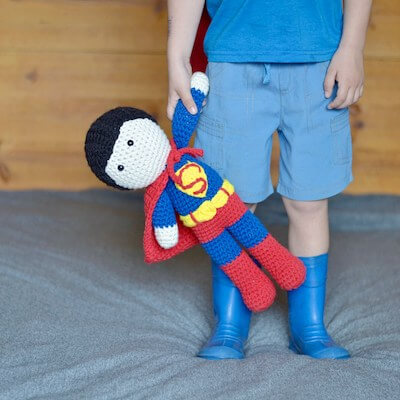 Get the Pattern by Mama Mea Crochet here

3. Superman Amigurumi Crochet Pattern by Minasscraft
Add this Superman Amigurumi Crochet Pattern to your tot's collection of Superheroes. He is a great replica of the character and kiddies will adore him!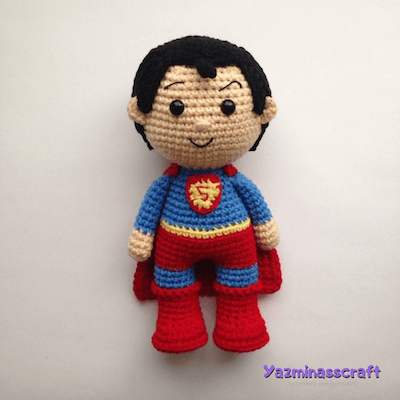 Get the Pattern here

4. Coffee Cup Cozy Superman Crochet Pattern by The Enchanted Ladybug
This cute little Superman cozy would make a great gift for the Superman fan in your life! It fits most standard coffee house cups.
The emblem is printed on a paper and then can be laminated to make it water proof.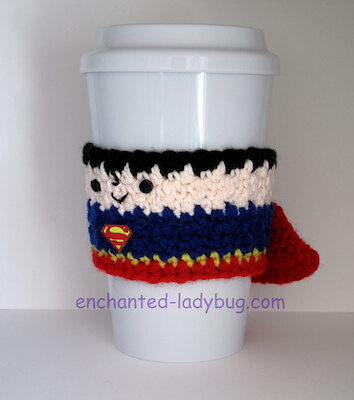 Get the Pattern here
More Crochet Cozy Patterns here.

5. Crochet Superman Doll Amigurumi Pattern by Crown Country Crochet
Who doesn't love a classic Superman action figure? This figure is a whopping 12 inches and is quite posable. This Superman doll will allow children to use their imaginations to the fullest extent.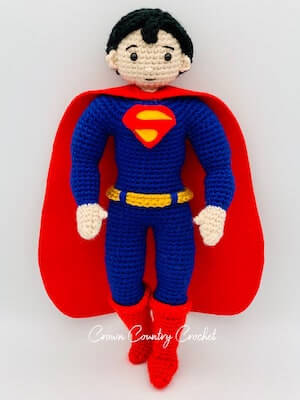 Get the Pattern by Crown Country Crochet here

6. Superman Logo Crochet Pattern by Samantha Goodheart
Superman Logo Crochet Pattern to please you and your kids in all aspects! Get hold of this excellent design to decorate your kid's area or their jackets, shirts, hats, pillow covers, etc.
This Superman Logo is the perfect way to customize your DIY creations and feel like a real superhero!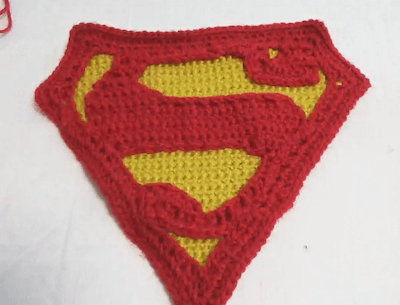 Get the Pattern here

7. Crochet Superman Doll Pattern by Happy Stitch CA
The cutest Man of Steel we ever did see! When finished using recommended yarn and hook, the size of your superman doll will be approximately 11 cm (4.3 in). Such a cutie!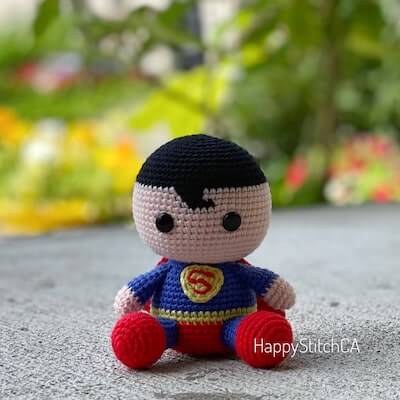 Get the Pattern by Happy Stitch CA here

8. Crochet Superman Amigurumi Pattern by Dilek Design
Perfect for fantasy play, this Superman Amigurumi Crochet Pattern will spark a child's imagination. This crochet superman doll measures a little over 15 inches tall is cute enough to impress any superhero lover and a perfect playing size!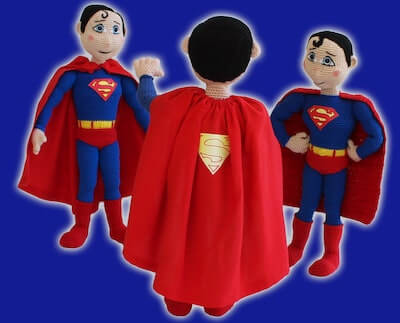 Get the Pattern by Dilek Design here

9. Superman Crochet Costume Pattern by The Cozy Buckeye
This wonderful set of Superman costume can be made into a gift or photography prop. This set is made for sleeping newborn babies to be transformed into a magical superhero for beautiful photographs.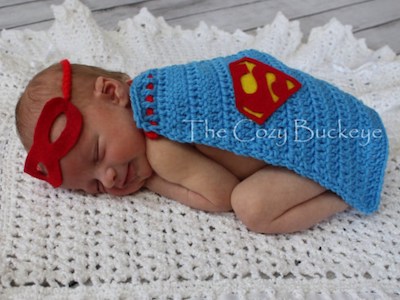 Get the Pattern by The Cozy Buckeye here

10. Amigurumi Crochet Superman Pattern by Dolores Voglesonger
Crochet this cute little Amigurumi Superman Crochet Pattern for the Superman lover in your life. It's perfectly sized o fit nicely into your collection or used as a fun decor for any DV fan!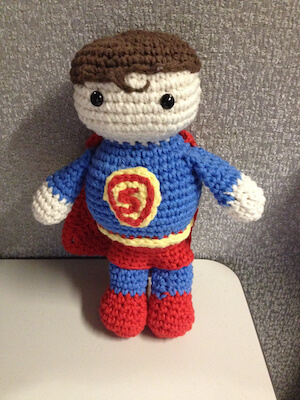 Get the Pattern here
HAVE A HAPPY TIME WITH THESE SUPERMAN AMIGURUMI PATTERNS!
Once finished, please have a moment to share your works on our Facebook Page.
As the whole generation was raised on superhero movies, it's easy to assume that our kids (and us!) will want toys of popular characters. For more crochet ideas, check out our collection of patterns for Crochet Batman Amigurumi Patterns, Hulk Amigurumi Patterns and Spiderman Amigurumi Doll Patterns.

If you love crocheting and a DC fan at the same time, these Superman amigurumi patterns are totally for you! Start making them today!