For years now, Minions-inspired crocheting has been a mainstay, and if you're on the lookout for a new Minion project to complete, do check out these crochet minion patterns! Bright yellow, potato-shaped, gibberish-speaking creatures that are easily excited. What's not cute about that?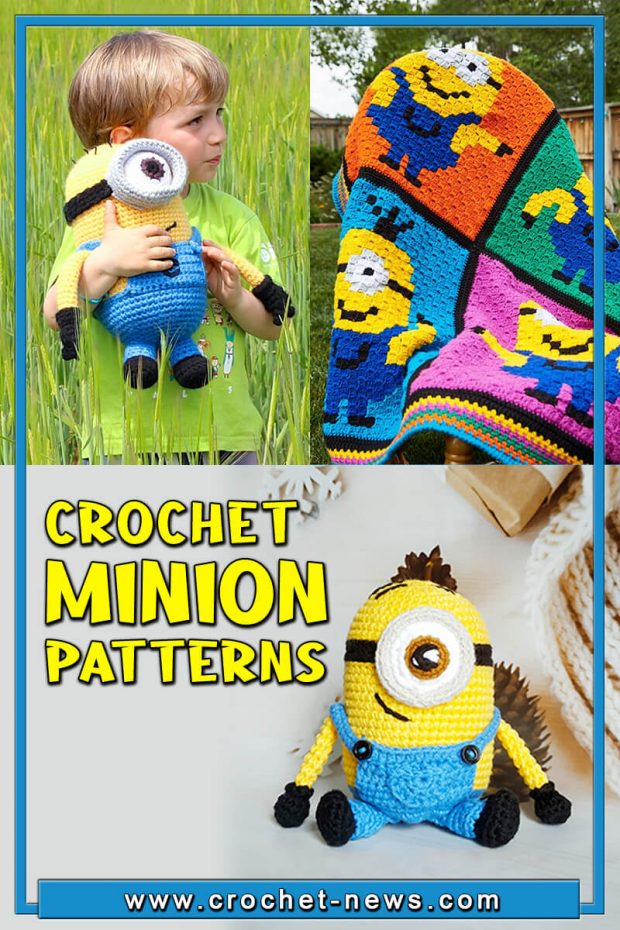 These hilarious small, yellow creatures that we've all come to know and love from the big screen. What more needs to be said? Let's get stuck into these awesome minions inspired projects that are perfect for all Despicable Me lovers.
1. Free Hawaiian Minion Crochet Pattern by Amigurumi Today
Introducing another crochet toy – the hero of popular cartoon! Little yellow guy likes to draw attention, and achieves this by all means, for example, by hawaiian dress
. Now you don't need to look for a toy in a store or order online, because you can crochet minion by yourself!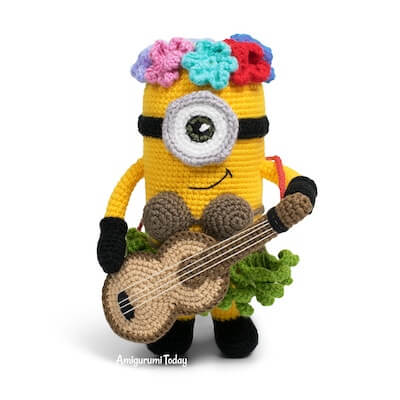 Get the Pattern here

2. Crochet Minion Pattern by Tremendu
Funny, crazy, playful, tender, spontaneous, brave, cheerful – everyone loves Minions! So grab your yarn and crochet hook and start making your very own one!
This minion is 12 inches (30 cm) tall, using bulky weight yarn (size 5) on a J (6 mm) crochet hook.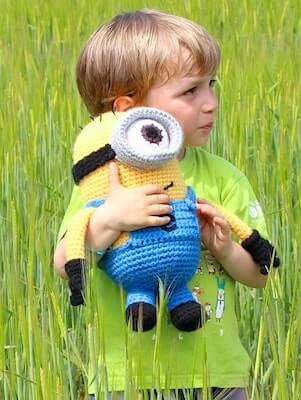 Get the Pattern by Tremendu here

3. Minion Fingerless Gloves Crochet Pattern by Mon Ami Creationz
Make your own Minion army with the crochet pattern for these Despicable Me Minion inspired fingerless gloves! Perfect for villains everywhere, these Minion gloves will help you steal the moon!
Great for use while playing with friends, planning your next big heist or just expressing your enthusiasm for these cute creatures!
If you love the idea of a fingerless gloves, check out these wonderful crochet fingerless gloves here.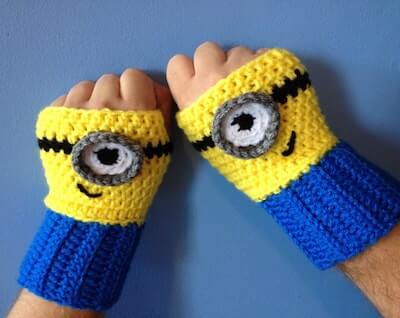 Get the Pattern by Mon Ami Creationz

4. Crochet Minion Amigurumi Pattern by Finger Epiphyte
Are you a fan of the movie "Despicable Me" and want your own army of minions? With this fun amigurumi pattern, you can make a one eyed yellow minion, two eyed yellow minion, and purple minion. This would be a perfect gift for kids who love minions.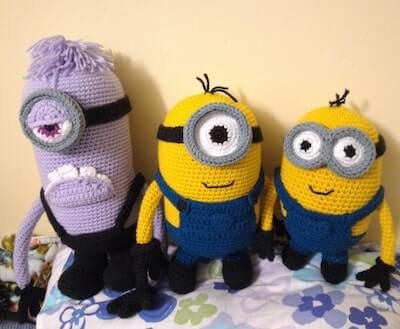 Get the Pattern by Finger Epiphyte here

5. Pencil Case Free Minion Crochet Pattern by Petals To Picots
Saying goodbye to summer might not be so hard if your kids have awesome school supplies like this to use every day. Kids of all ages will love using this one-of-a-kind classroom accessory when they go back t school.
Complete this using worsted weight yarn and a cardboard paper towel tube.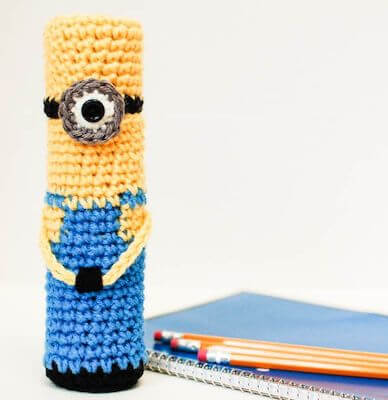 Get the Pattern here

6. Crochet Minion Granny Squares Pattern by Repeat Crafter Me
Feel free to make this minion granny square to a two-eyed minion as well! And the fun part about this minion square is that if you are careful, you could easily sew a face on both sides to make it reversible!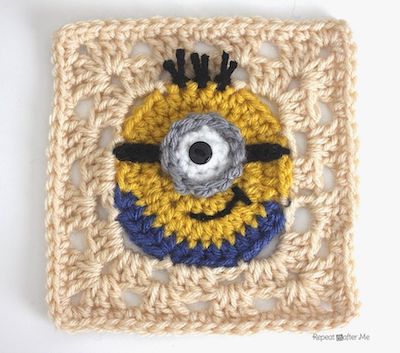 Get the Pattern here

7. Crochet Minion Bookmark Amigurumi Pattern by Supergurumi
The Minion Bookmark, the definitive most mischief-free way to keep a Minion and actually helping to remember you last read page.
Reading should never be drag, but this little guy will perk you up when you hit a dry passage. The finished bookmark has a length of approximately 29 cm.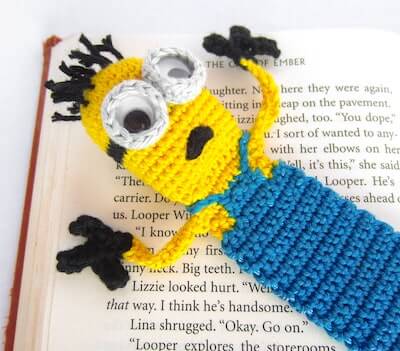 Get the Pattern by Supergurumi here

8. Despicable Me Minion Crochet Pattern by All About Ami
Who doesn't love the minions from "Despicable Me"? Make your very own detailed minion with removable goggles and removable overalls.
What's amazing is that he can also stand by himself! His boots have a wide enough base to give him support. Wouldn't you be surprised if you walked into a room and were greeted by this minion?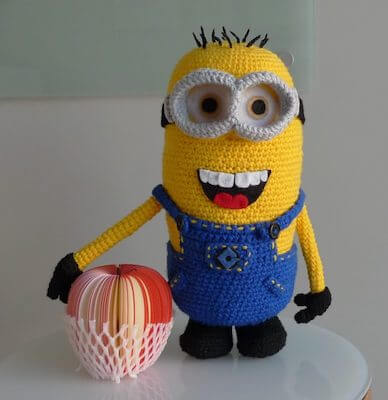 Get the Pattern here

9. Minion Stuart Free Crochet Pattern by Amigurumi's Fan Club
This Minion Stuart makes a great homemade gift for all your Minion-loving family and friends. This Minion Free Crochet Pattern uses the Amigurumi technique with cotton yarn and a 3mm crochet hook.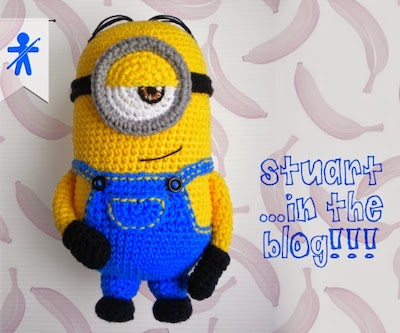 Get the Pattern here

10. Minion Baby Booties Free Crochet Pattern by Croby Patterns
Minions have been a huge hit for years now and they bring a smile on every child's face. So, why not create these adorable little Minion-inspired baby shoes for your little darling? They are available in two sizes: 0-6 months and 6-12 months.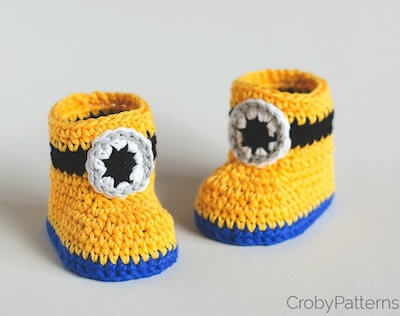 Get the Pattern here

11. Minion Amigurumi Pattern by Mon Ami Crochet AU
This amigurumi pattern with pictures detailing parts and instructions is for a minion inspired character in a unicorn one-sie. The hood of the one-sie has been designed so that it can be pulled up and down.

The pattern has 2 options: fluffy chenille with acrylic, or add an extra glimmer touch by using metallic thread.
This fella is a big boy, just the right size to be cuddled.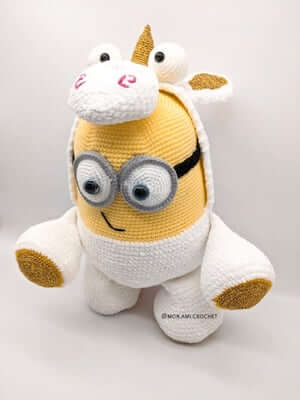 Get the Pattern by Mon Ami Crochet AU here

12. Crochet Minion Beanie And Diaper Cover Pattern by Gramma Beans
This is a crochet pattern to make a minion beanie and diaper cover with straps. The beanie instructions include sizes newborn to adult, the diaper cover is for sizes newborn to 6 months only. The beanie also has instructions for earflaps and braids if desired. Great pattern, works up quick and easy!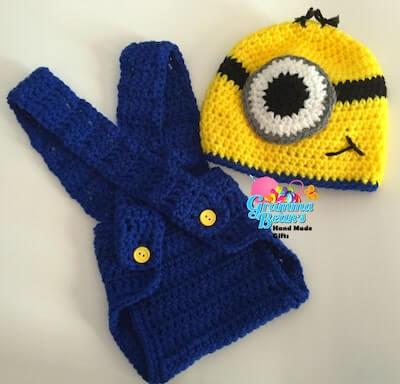 Get the Pattern by Gramma Beans here

13. Easter Egg Minion Crochet Pattern by The Lazy Hobbyhopper
If you are looking for a fun, last-minute Easter egg crochet idea, this is it. It's very quick and you can create many variations in expression using the same pattern.
Make them without the overalls or if you want a little more detailing add the overalls. If you are a fan of minions you'll certainly love this pattern!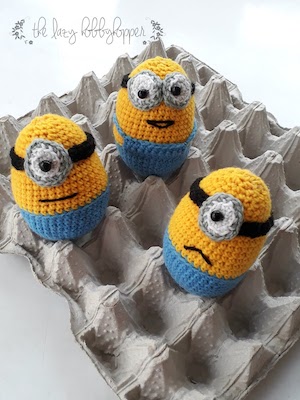 Get the Pattern here

14. Minion Beanie Free Crochet Pattern by Loganberry Handmade
This pattern works in rounds using double crochet throughout and single crochet at the end. You may use any color you would like but if you want this exact look, just follow the yarn colors in the tutorial.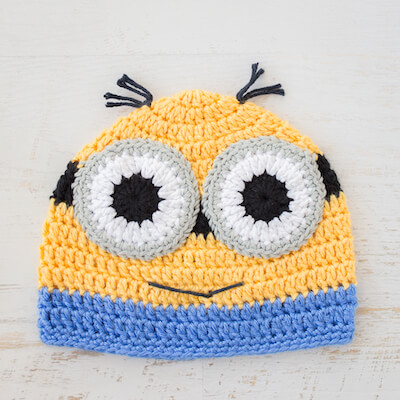 Get the Pattern here

15. Free Minion Crochet Pattern by Swish And Stitch
Perfect for your favorite Minions fan, this C2C Crochet Disco Minions Afghan is a quick-to-stitch child size blanket or lapghan. It is is stitched in standard corner-to-corner crochet using 3 chain stitches and 3 double crochet stitches for each pixel square.

Each finished Minion block measures about 17.5 inches by 19 inches and stitches up in about 6 hours for the experienced crocheter. The pattern includes 4 free unique dancing Minions blocks and instructions for the colorful border.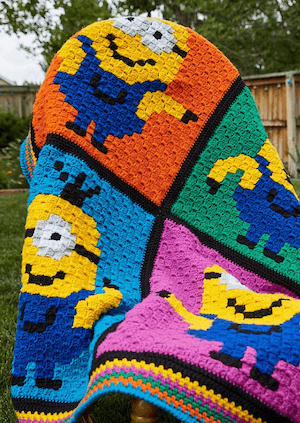 Get the Pattern here

16. Minion Bob Amigurumi Crochet Pattern by Olka Novytska
Add this Crochet Minion Bob and Bear Tim to your Minion collection. A quick reminder – he has two different colored eyes. Isn't he so cute?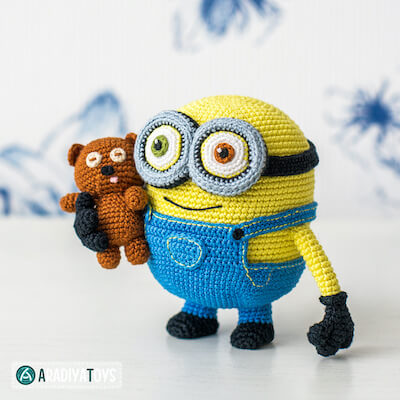 Get the Pattern here

17. Minion Kevin Amigurumi Crochet Pattern by Amigurumi's Fan Club
As Minion mani continues to develop, fans are beginning to fall for individual Minion characters. One of the most popular characters is Kevin, so why not make him yourself?

this adorable Kevin amigurumi is perfect for young fans of this movie franchise. It's soft, making it great fir cuddling, yet it could also double as a doll for creative play.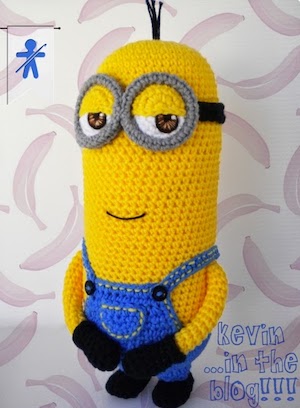 Get the Pattern here

18. Dave The Minion Crochet Pattern by Pops De Milk
Do you love Minions? Here's a crochet version of Dave, who is approximately 8.5 inches tall and comes with a cupcake!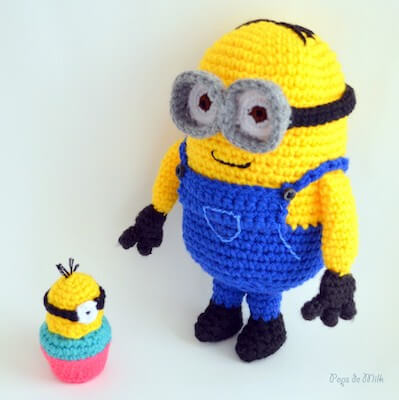 Get the Pattern here

19. Sitting Minion Amigurumi Pattern by Febby Pranajaya
Stuart is a one-eyed minion who loves playing and laughing. He is sitting patiently, waiting for you to play with him.
The doll size is about 10 cm if using fingering weight yarn and 2.0 mm hook. The pattern begins by crocheting the head and body, together with the overall. The bibs are added next. The legs, arms, and eye are made up separately and attached on to the main pieces.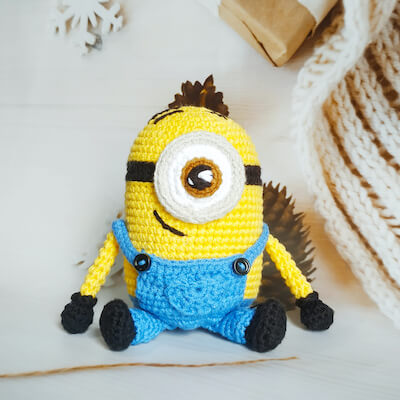 Get the Pattern here

20. Amigurumi Frenchie, The 2-Eyed Minion Crochet Pattern by Sweet N' Cute Creations
This minion is quite different from the usual ones you see because it's in a french maid outfit and the pattern even contains the step by step guide on how to make the duster!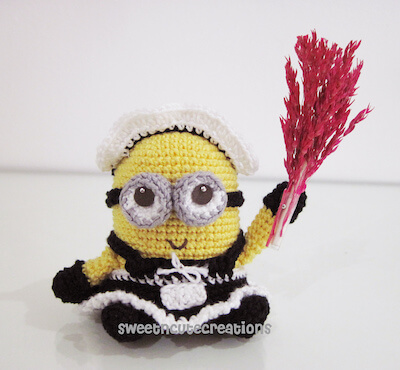 Get the Pattern here

21. Minion Keychain Crochet Pattern by Caits Crocheted Dolls
This little minion is approximately 6.5 cm tall, a perfect size to make into a keychain or a cute decoration at home. This project takes no time at all, so you can make a bunch at once.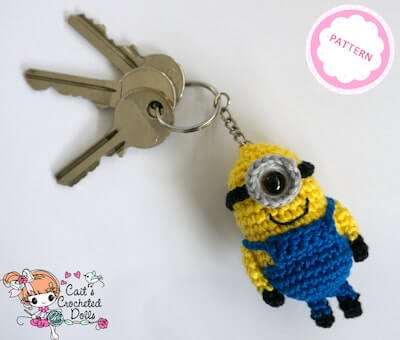 MAKE A WHOLE ARMY AND HAVE YOUR OWN PERSONAL CROCHET MINIONS YO DO YOUR BIDDING!
Once finished, please have a moment to share your works on our Facebook Page.

Are you a movie fan? You might want to check these patterns, as well: Crochet Star Wars Patterns, Crochet Totoro Patterns, Elmo Crochet Patterns, Crochet Frozen Patterns, Crochet Batman Amigurumi Patterns, and Spiderman Amigurumi Doll Patterns.

From crochet minion-inspired projects to minion amigurumi – there is something here for everyone. Have fun!