If your kid is crazy about all things Paw Patrol, then you've come to the right place! These are the ultimate crochet paw patrol patterns that are fun for everyone!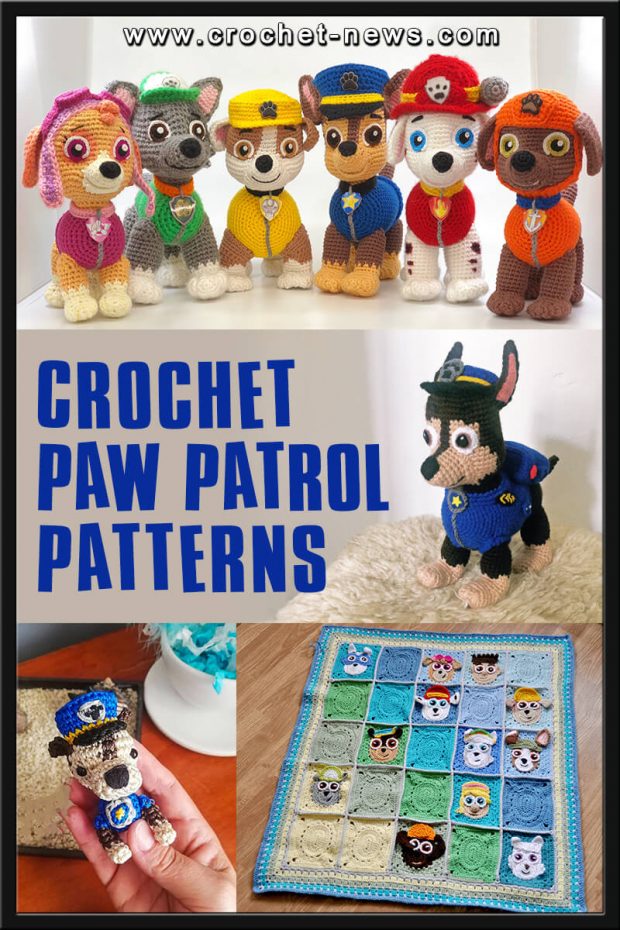 If you have already shopped the basics: figures, storybooks about their adventures, maybe even a Lookout of you kid's own; and still dealing with a fearsome Paw Patrol fan in your house, don't worry: find your favorite crochet paw patrol pattern here to gift your rescue-minded tot!

1. Ryder, Amigurumi Paw Patrol Toy Crochet Pattern by Nipiti
Ryder is a 10-year-old boy who is the leader of the Paw Patrol crew. He is very smart and he leads the pups on missions to help the citizens of Adventure Bay.
How about crochet Ryder by yourself as a best friend for your kid?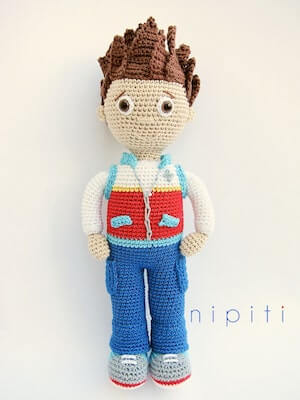 Get the Pattern by Nipiti here

2. Paw Patrol Crochet Pattern by Tinker And Heart
This Paw Patrol logo is perfect for incorporating a blanket, pillow, or hanging on a bedroom wall! The graph is easy to follow and features written row by row stitch counts and a tutorial!

There are also two different styles of written patterns and the option to turn it into a cross-stitch if you would rather!
It's perfect for beginners or more advanced crocheters and comes packed full of handy tips and tricks!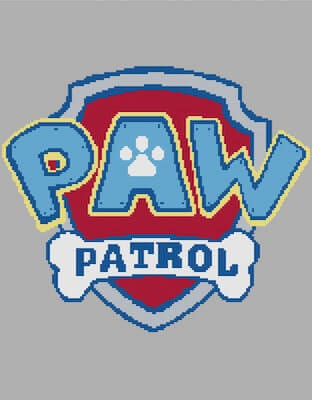 Get the Pattern by Tinker And Heart here

3. Crochet Paw Patrol Inspired Granny Square Pattern by Passionate Crafter
Such an adorable and easy way to add a little pop of pup to a bed! This easy paw patrol crochet pattern has everyone from Paw Patrol featured – no pup left behind!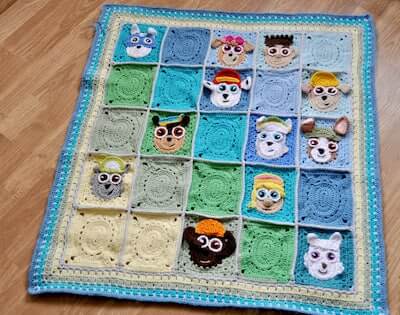 Get the Pattern by Passionate Crafter here

4. Paw Patrol Amigurumi Pattern by Amber Craft Store
Ready for action? Nap time, playtime, anytime is more adventurous with patterns for various Amigurumi Paw Patrol characters! Standing at 8.5-10″ tall, these pups are the ideal pals for any little fan!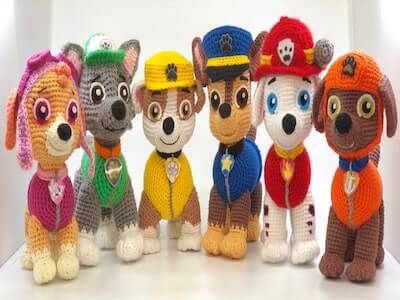 Get the Pattern by Amber Craft Store here

5. Chase Paw Patrol Amigurumi Pattern by Karina Reinoso
Little Paw Patrol fans can curl up and dream of adventure with their favorite pup, Chase! This 28 cm high pup stands upright all by himself, ready for action!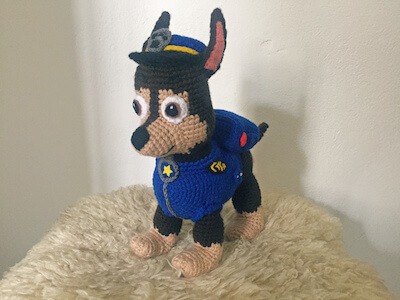 Get the Pattern here

6. Skye Crochet Paw Patrol Hat Pattern by Laura Louise Creations
Do you have a paw Patrol Lover in your house?! Have your little pup "Ready for Action!" with this cute crochet hat pattern. This hat is handcrafted and designed with comfort and warmth in mind.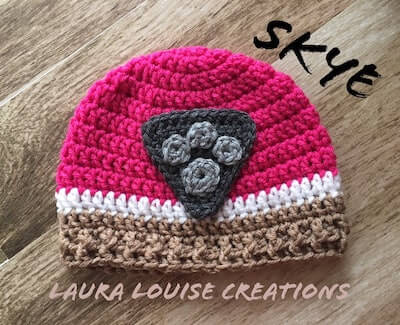 Get the Pattern by Laura Louise Creations here

7. Crochet Paw Patrol Appliques Pattern by Nella's Cottage
These Crochet Paw Patrol Appliqués will make your projects that much more exciting. They look so cute and stitches out beautifully. You can use them in so many fun crochet projects.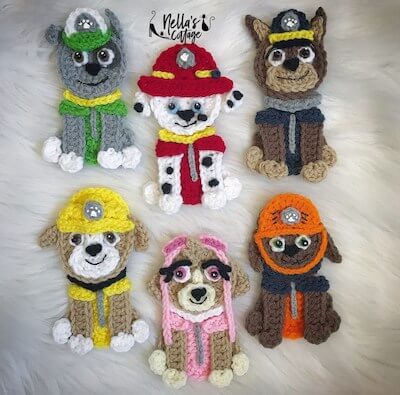 Get the Pattern by Nella's Cottage here

8. Amigurumi Paw Patrol Keychain Pattern by Lovely Craft
This little Amigurumi Paw Patrol is a perfect size to make into a keychain or a cute decoration at home. This project takes no time at all, so you can make a bunch at once.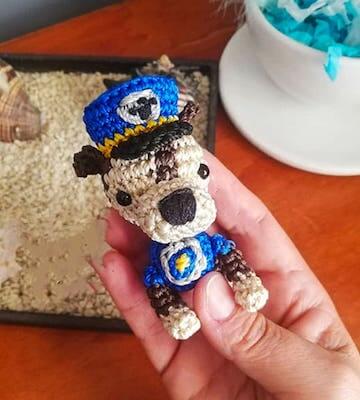 Get the Pattern here

9. Paw Patrol Outfit Crochet Pattern by Meredith May
This cute outfit will be loved by all little Paw Patrol fan! Fun for your child to wear, it's an easy and quick pattern to make! The crochet paw patrol free pattern includes the vest, hat, and badge.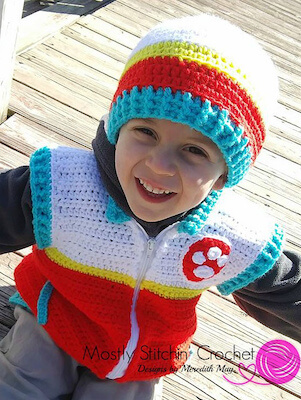 Get the Pattern here

10. Paw Patrol Chase Crochet Graph And Pattern by Tinker And Heart
This Chase Crochet Graph and Pattern can be added to clothing, blankets, or wall hanging. The specifications will allow you to create Chase the size of a toddler's blanket, although it could be attached to larger works if you wish.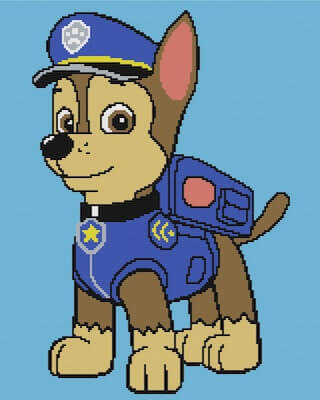 Get the Pattern by Tinker And Heart here

11. Crochet Chase Paw Patrol Set Pattern by Traverse Bay Crochet
Little ones will love going out to play in this Chase Paw Patrol weather accessory set. Includes pattern for a hat and mittens in Chase-inspired, so staying cozy and looking great will be a cinch!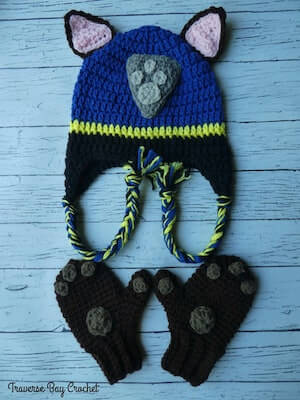 Get the Pattern by Traverse Bay Crochet here

12. Crochet Marshall Paw Patrol Amigurumi Pattern by Amber Craft Store
If your child is obsessed with this Paw Patrol character, you can't go wrong by crocheting them this plush puppy version. It's soft, snuggly, and the perfect size to hang out in bed or take along on trips.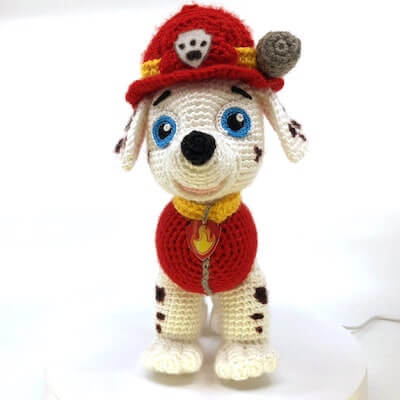 Get the Pattern by Amber Craft Store here
MAKE YOUR KID THEIR FAVORITE CROCHET PAW PATROL PATTERNS WHEN THE HOLIDAYS OR KIDDO'S BIRTHDAY ROLL AROUND!
There are characters we all know and love so much from books, movies, and cartoons. Who wouldn't want to have a little plush version of their favorite characters?
Check out our collection of patterns for Winnie The Pooh Crochet Patterns, Crochet Snoopy Patterns, Elmo Crochet Patterns, Crochet Frozen Patterns, and Hello Kitty Crochet Patterns.
Show off your versions by posting your crocheted pieces on our Facebook Page. We love seeing your creations!

Whether you choose a blanket-inspired Paw Patrol or the cute amigurumi ones, these crochet Paw Patrol Patterns will delight kids(and kids at heart!) who live and breathe the Nickelodeon show!