This list of 10 Crochet Mickey Mouse Hat Patterns also features patterns for some of the Disney Characters: Minnie Mouse, Disney Princesses, Olaf, Winnie The Pooh and a few more!
All the Disney characters hold dear to kids, especially Mickey and Minnie mouse are having a vast number of fans.

So, why not crochet some lovely crochet hat patterns inspired by Disney Mickey mouse just to make your kids feel super excited!
Grab a cuppa, scroll through and enjoy!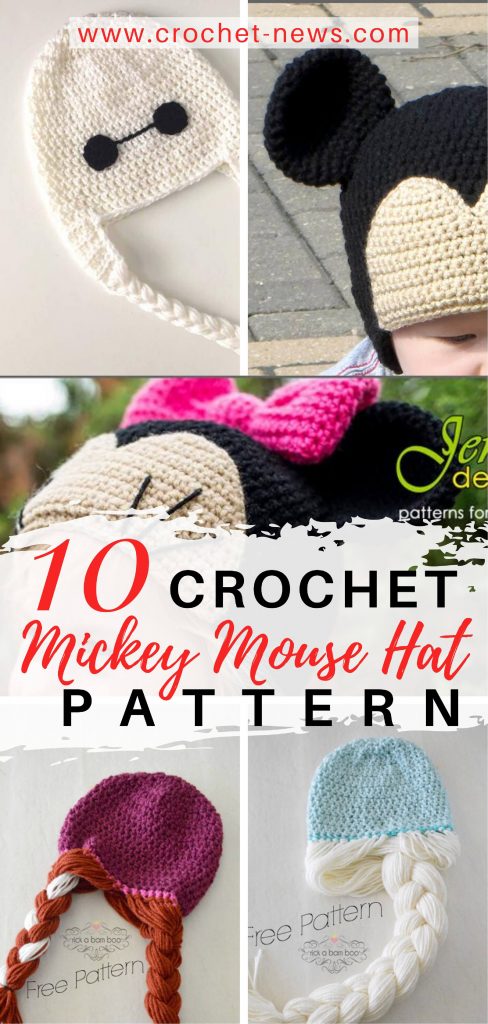 1. Mickey Mouse Crochet Hat Pattern by Lizzziee
You won't believe how easy it is to make this adorable hat! This pattern includes complete instructions to make both a Beanie with fold-up brim and Earflap hat with braids or ties and includes 6 sizes from babies to adults. Rated easy so it is perfect for beginners!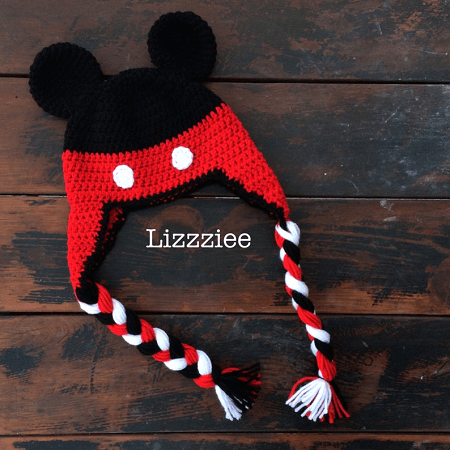 Get this Pattern by Lizzziee here

2. Mickey And Minnie Crochet Hat Pattern by Jenia's Designs
Perfect for a Disney fan in your life (small or big) will fall in love with these adorable Mickey Mouse and Minnie Mouse characters! A great gift idea that is perfect for chilly days, picture time and back to school.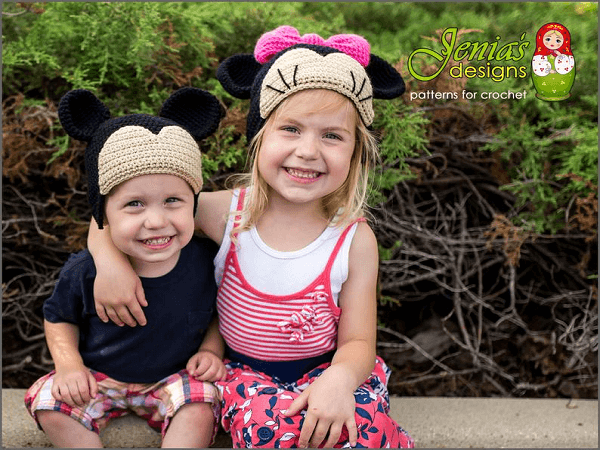 Get this Pattern by Jenia's Designs here

3. Mickey And Minnie Mouse Crochet Hat Pattern by Repeat Crafter Me
Dress your newborn in Mickey and Minnie Crochet Hats. The crochet instructions are specifically for newborns, but gives tips on how you can make them bigger. Baby crochet hats like these are great for photo props for baby's first photo shoot. The white buttons are perfect embellishments to complete the hats.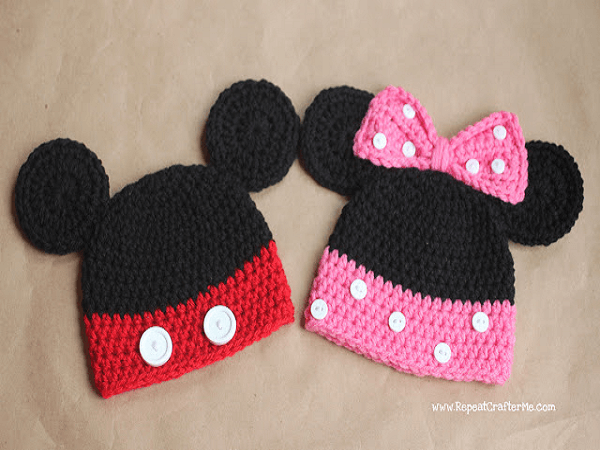 Get this Pattern here

4. Crochet Olaf Hat Pattern by The Cozy Buckeye
Do you want to build a snowman (hat)? This hat can be made into a wonderful gift that will melt your heart and is handcrafted and designed for style & lots of fun. Turn a crocheted beanie into an amazingly accurate depiction of Olaf from Disney's "Frozen" with this pattern!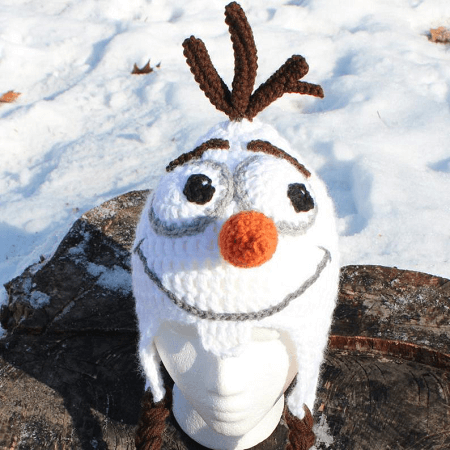 Get this Pattern by The Cozy Buckeye here

5. Anna And Elsa Crochet Hat Pattern by Amber Simmons
This crochet pattern for Anna and Elsa braided hats inspired by Disney's Frozen will make your favorite little princess's day a little more magical. How cute are these? Is there a little girl in your life who would love these? Or a big girl like you who would?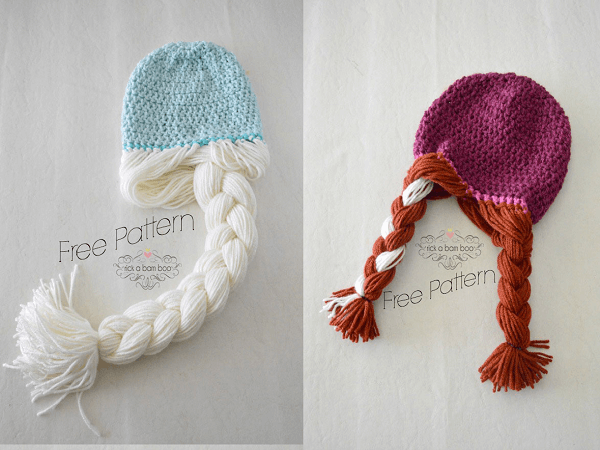 Get this Pattern here

6. Crochet Winnie The Pooh Hat Pattern by Amanda Maciel
This is a simple earflap hat that is worked in super bulky weight yarn and worsted weight yarn is used for some of the details. This pattern is actually a fairly easy crochet project and works up pretty fast. You will be sporting your own Winnie the Pooh crochet hat in a short amount of time.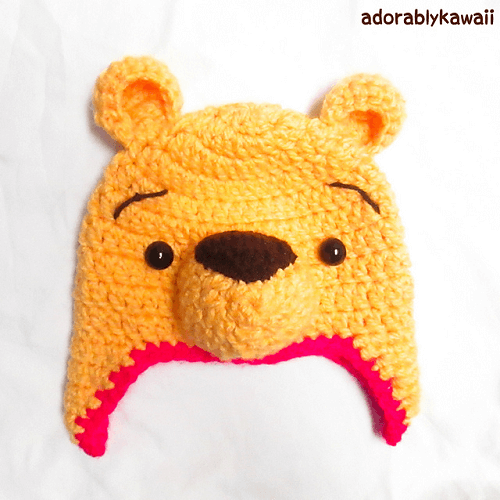 Get this Pattern here

7. Daisy Duck Crochet Hat Pattern by Beauty Crochet Pattern
This Daisy Duck Hat pattern includes 5 sizes: 0-3 months; 3-6 months; 6-12 months; 1-2 years; 3-5 years; 6-10 years.
Each size is described in detail and STEP-BY-STEP photo tutorial so, it's easy to follow even from beginners. Get in touch with your inner cutie pie with this adorable Daisy Duck Crochet Hat pattern!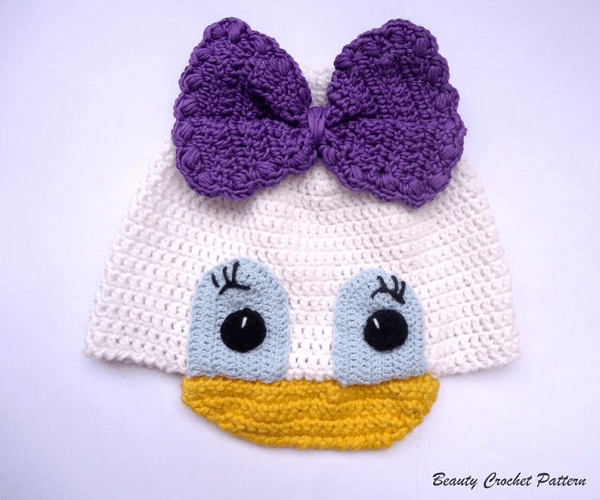 Get this Pattern by Beauty Crochet Pattern here

8. Crochet Disney Princess Hat Pattern by Hooks And Yarn Studio
Celebrate your love of Disney with these adorable baby hats. This includes patterns for Ariel, Belle, Jasmine, and Snow White. Have the love for a princess? Want to show off your princess spirit? This is a crochet pattern for a child and an adult. Perfect for all Disney princess lovers!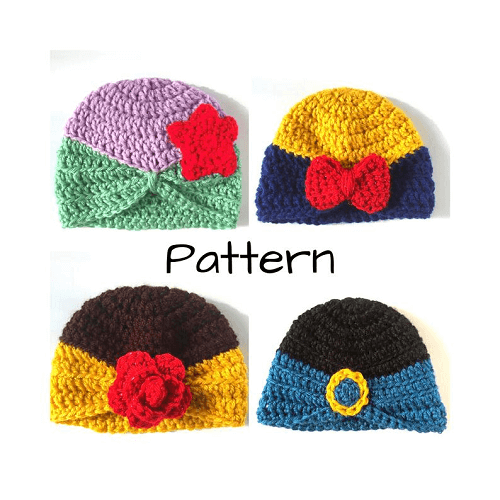 Get this Pattern by Hooks And Yarn Studio here

9. Crochet Tinkerbell Hat Pattern by Nataliya Knitting
This Tinkerbell Inspired beanie is not a difficult pattern but you will need to be familiar with basic techniques and stitches to make one. This adorable hat pattern includes sizes for infants to adults. Planning a costume party? Wear this Tinkerbell hat and all the magical powers become yours!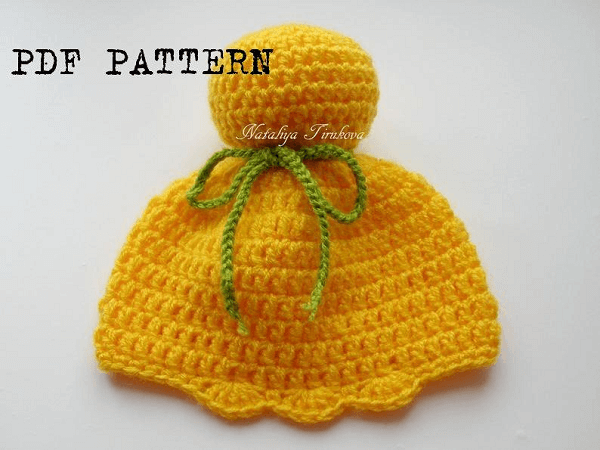 Get this Pattern by Natalia Knitting here

10. Baymax Crochet Hat Pattern by Hooks And Yarn Studio
Your "personal healthcare companion" hat is here! Create your own Baymax inspired hat with this intermediate pattern that requires you to have knowledge in crab stitch and single crochet decrease. This pattern is in PDF format with 10 pages of detailed instructions to guide you through the process of creating your hat.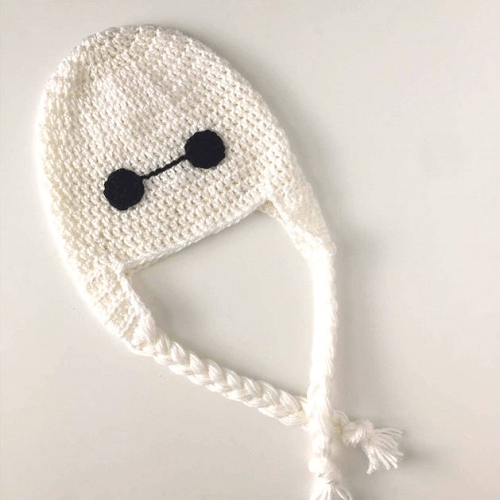 Get this Pattern by Hooks And Yarn Studio here
We Hope You Have Enjoyed Our 10 Favorite Disney and Crochet Mickey Mouse Hat Patterns
We have hand-picked and put together this collection of our favorite 10 crochet Disney character hat patterns. They are by brilliantly talented designers, from all around the world.
Not only kids are a massive Disney fan, I know a lot of grown-ups that love the movies, the parks, the characters, the shows…….just everything!
Thank you for stopping by! It's time to hook your kids and friends on all ten of these adorable mickey mouse hat patterns along with other Disney characters!