Thanksgiving is just around the corner, and crochet pumpkin hat patterns are a staple during the Autumn months for parents wanting to visit the local pumpkin patch with their babies and kids.
So, for all the mothers, get ready to present bright crochet pumpkin hats for the whole family!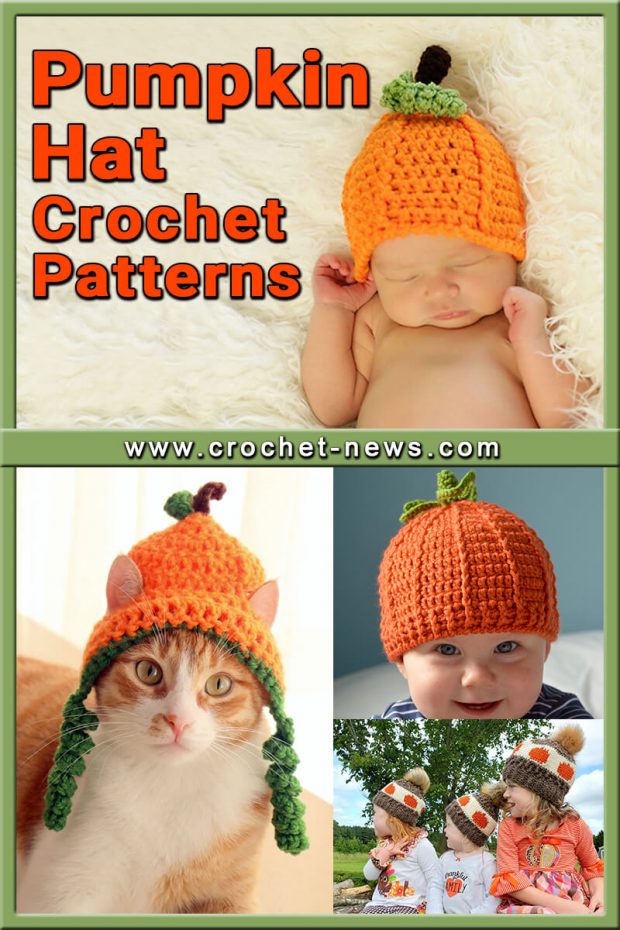 Rock the squash-inspired attire for your trip to the pumpkin patch, slip it on to go leaf-peeping, or wear it while carving jack-o-lanterns with the kids.
When paired with an orange outfit, these beautiful hats can even be double as an easy Halloween costume that will keep you warm.
Follow these simple crochet pumpkin hat patterns to make adorable hats just in time for fall.

1. Crochet Pumpkin Hat For Cats Pattern by Pawsome Crochet
This fun Crochet Pumpkin Hat For Cats would be perfect for your fall festivities. This crochet cat hat pattern works up quickly and is an excellent stash buster. And of course the finished hat makes an adorable photo prop (or gift!) for Halloween or Thanksgiving.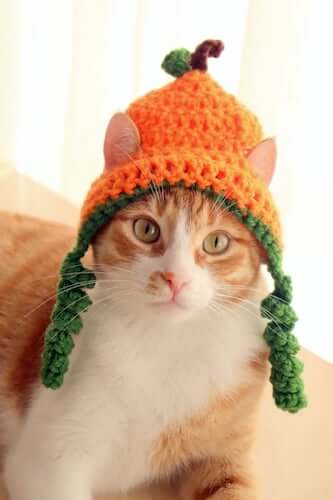 Get the Pattern by Pawsome Crochet here

2. Crochet Pumpkin Hat Pattern by HanJan Crochet
Who doesn't need a pumpkin beanie hat complete with stalk and leaf? It's an absolute must have whatever age you are. Easy to make, the perfect gift and a great little project for post stitch practise.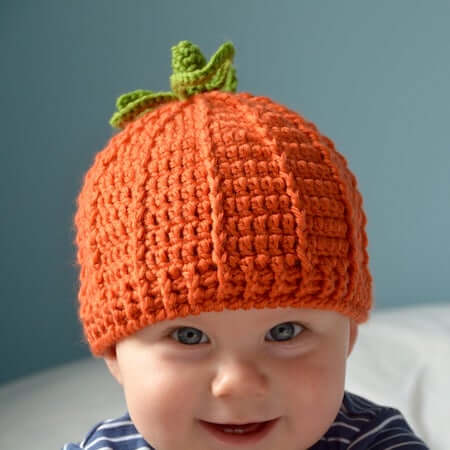 Get the Pattern by HanJan Crochet here

3. Easy Pumpkin Beanie Crochet Pattern by Hooked Homemade Happy
This Pumpkin (inspired) Slouchy Beanie is the perfect fall accessory for the little one in your life! It's a quick and easy beanie, using the colors of the season!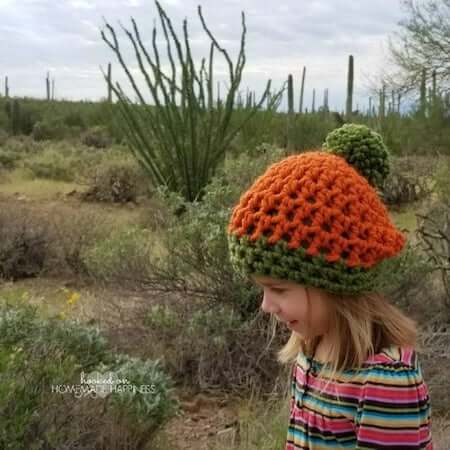 Get the Pattern here

4. Autumn Waves Hat Crochet Pattern by R Crafty Creations
This Autumn Waves Hat is the perfect pattern for transitioning from summer to fall. Whether you take a trip to the seaside, a jaunt through the pumpkin patch, or go apple picking, this is the only pattern you will need for fall!
The style and options look wonderful on any baby or child and works great for either boys or girls!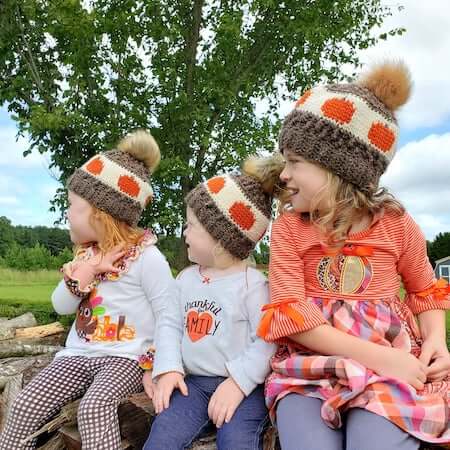 Get the Pattern by R Crafty Creations here

5. Free Crochet Pumpkin Hat Pattern by Kirsten Holloway Designs
This beautiful and unique Thanksgiving Pumpkin Crochet Hat Pattern is bursting with delightful texture! 3 different crochet stitch patterns are patched together to create the look that makes this beanie stand out from the typical crochet pumpkin hats you see this time of year.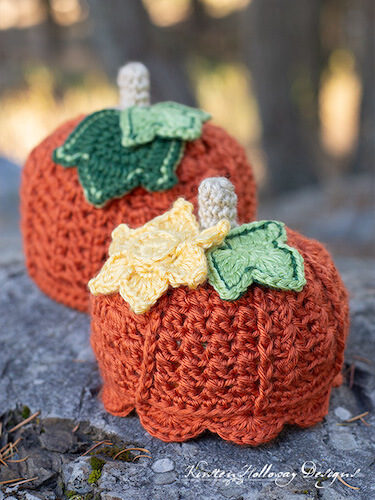 Get the Pattern here

6. Pumpkin Beanie Crochet Pattern by Loganberry Handmade
This crochet pattern teaches you how to make this adorable little pumpkin beanie, finished with a scallop trim, flower, leaf, and swirly vine. Sizes included are 6M to 12M. Soft, sweet, and extremely cute, it's the perfect handmade gift for your little pumpkin!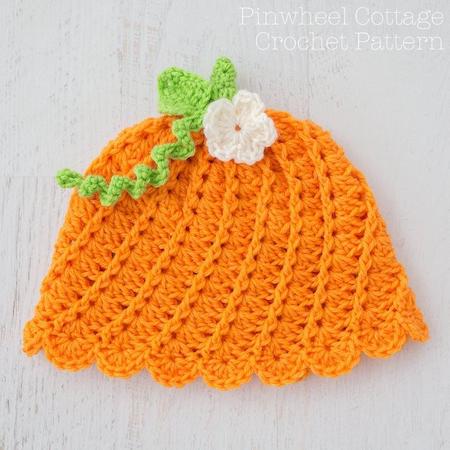 Get the Pattern by Loganberry Handmade here

7. Spider Pumpkin Hat Free Crochet Pattern by Nicki's Homemade Crafts
This Spider Pumpkin Hat is a free crochet pattern and ideal for a quick costume idea for Halloween. It's fun and easy to make. The spider pom poms on each corner of the hat plus the Jack-o-lantern face make the whole costume complete.

In fact, you could even use glow in the dark yarn, glitter foam or googly eyes to make the Spider Pumpkin Hat extra spooky and special for Halloween.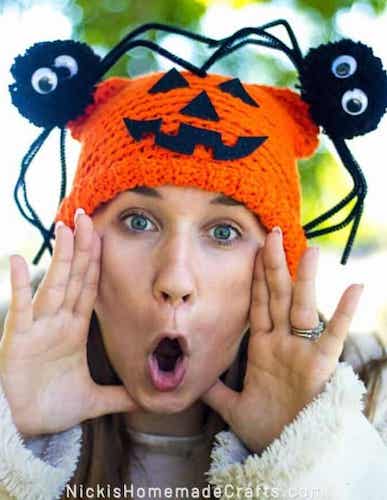 Get the Pattern here

8. Pumpkin Spice Messy Bun Hat Crochet Pattern by Standing Stones Yarn
This adorable designed messy bun beanie hat is textured to resemble a pumpkin. Easy to crochet and available in toddler to adult large sizes. This bun beanie is perfect for fall weather, sitting around the bonfire, going to the Apple Orchard/Pumpkin Patch/Corn Maze or Trick or Treating.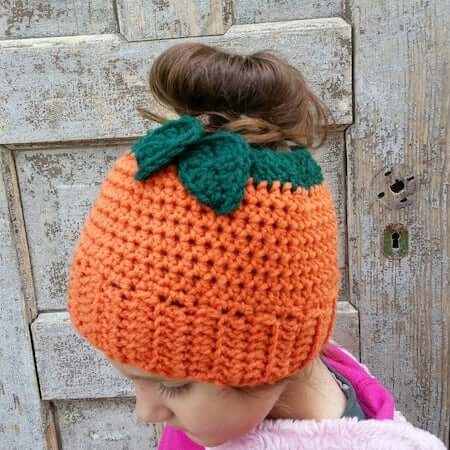 Get the Pattern by Standing Stones Yarn here

9. Pumpkin Jack-o-lantern Slouchy Beret Hat Crochet Pattern by Twinkie Chan
This is a crochet pattern to make your own Pumpkin or Jack-o-lantern Slouchy Beret Hat for women/small adults. It's perfect for fall, and you can personalize the jack-o-lantern face in so many ways!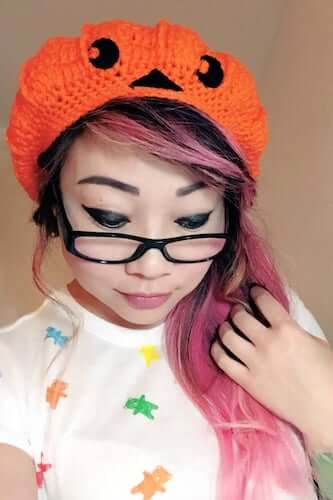 Get the Pattern by Twinkie Chan here

10. Free Crochet Pumpkin Hat Pattern by Sweet Potato
The Free Halloween Pumpkin Hat Crochet Pattern creates a hat that is perfect for Halloween and photo-shoots for newborn babies to adults. Spruce up your little angel's wardrobe for Halloween with this Free Crochet Pumpkin Hat Pattern.
This pattern, made and designed by Christine of Sweet Potato 3, is available for FREE and it comes in a format that makes it easier for crocheters to understand.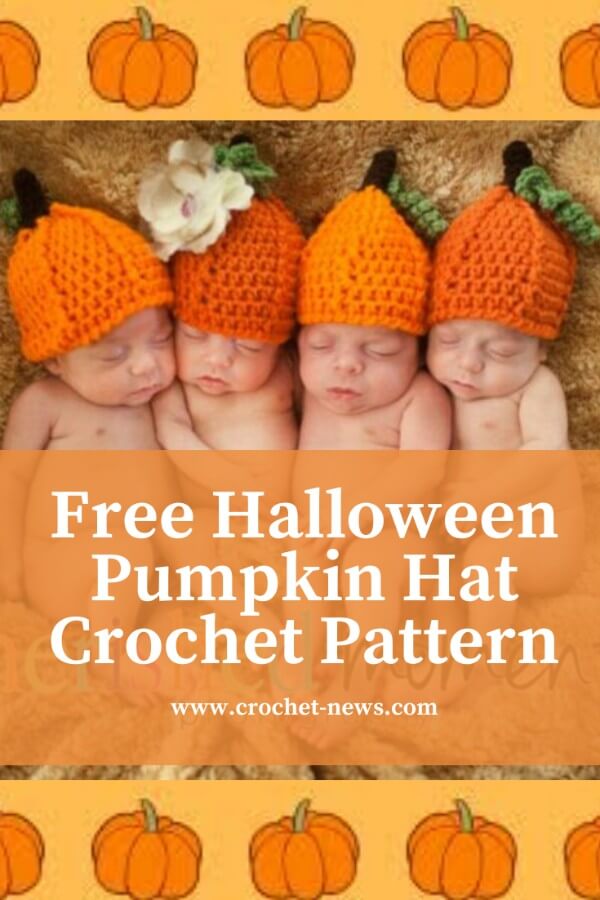 Get the Pattern by Sweet Potato Here
This Free Halloween Crochet Pumpkin Hat is a splendid way to showcase your little one's festive spirit. With the traditional orange pumpkin design of this hat; it will keep your baby's head warm, cozy and fab, all at the same time.
SUITABLE AGE FOR THE CROCHET PUMPKIN HAT
This crochet pumpkin hat pattern is also suitable for those families who are fond of having matching outfits during holiday seasons, for this free crochet pattern comes in various sizes; from newly born to adult sizes.
Each member of the family can now show their festivities by wearing their very own, hand-made crochet pumpkin hat!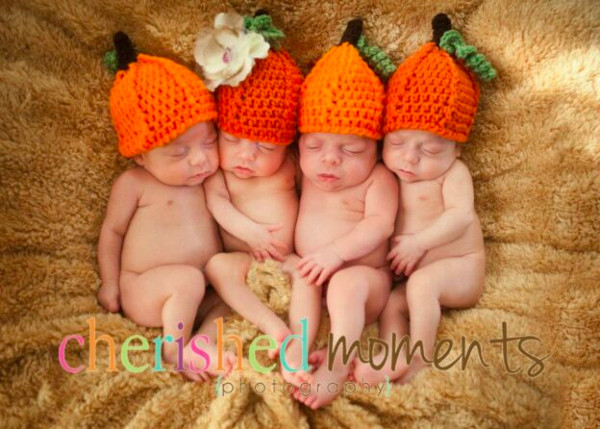 MATERIALS USED IN CROCHETING THE HALLOWEEN HAT
Crochet Hook size I (5.50 mm)
Crochet Hook size K (6.50 mm)
Worsted Weight Yarn #4 – 50-150 yards depending on size making
Yarn Needle
Scissors
Any worsted weight yarn will do to make your very own pumpkin crochet hat. You can give a different appeal to your hats by using other shades of both oranges for the pumpkin body and green for the top.
STITCHES USED IN MAKING THE PUMPKIN HAT
PUMPKIN HAT SIZING
Newborn (12 ¼ " around & 5" high – fits up to 14" circumference)
3 to 6 Months (14" around & 5 ½ " high – fits up to 15″ or 16″ circumference)
6 to 12 Months (16″ around & 6" high – fits up to 18″ circumference)
12 to 24 Months (17″ around & 6 ½ " high – fits up to 19″ circumference)
Child (18" around & 7 ½ " high – fits up to 20″ circumference)
Note that the sizes excludes the stem.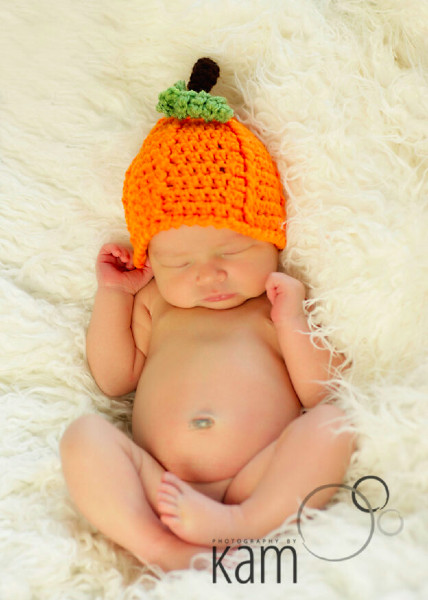 REASONS TO MAKE YOUR VERY OWN PUMPKIN CROCHET HAT
Aside from the stylish look and functionality of the crochet pumpkin hat, you can make this pattern without spending a dime for we are providing free copies of the Pattern. Start now and make this Halloween an unforgettable one by wearing your matching crochet pumpkin hat with your family.
It is also very rewarding to make these Free Halloween Pumpkin Hat Crochet Pattern for them. Imagine them wearing the pumpkin hats you've made especially for each one of them. It is very heart warming to be the reason for their warmth and comfort during this chilly season!
Get the Pattern by Sweet Potato Here
CHOOSE YOUR FAVORITE CROCHET PUMPKIN HAT PATTERNS, GRAB YOUR HOOKS, AND CAST ON SOME AUTUMN FUN!
If you make some on your own, will you share pictures of your finished projects on our Facebook Page? We have a lot more crochet hat patterns for kids, adults, and pets that you may also like to add to crochet line-up. Check them out too!
But if you are planning to dress up as a witch this year, then you may want to create your own crochet witch hat.

How could you possibly resist casting on one of these crochet pumpkin hat patterns for everyone you know? Make one today and you'll probably find yourself making all ten!