Are you on the hunt for a collection of amigurumi patterns? Amigurumi books are always a good choice. Beginners and experienced crocheters alike can find inspiration in a book.
Amigurumi books typically feature a collection of related patterns. This allows you to create cohesive sets of charming characters and designs.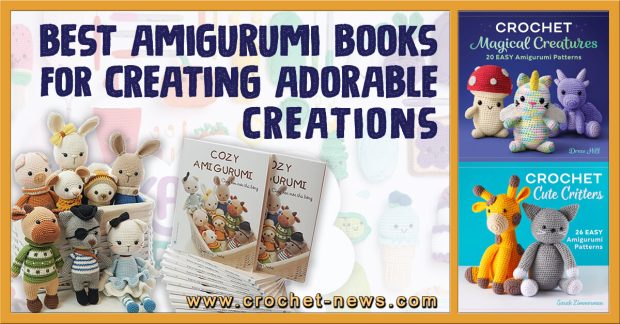 What is Amigurumi?
Amigurumi is a Japanese crafting technique that is meant to crochet or knit small stuffed animals, creatures, dolls, and other plushies.
The word "amigurumi" is a combination of two Japanese words. "Ami," which means crocheted or knitted, and "nuigurumi," which means stuffed doll or toy.
Amigurumi creations often have a cute and whimsical appearance. Amigurumi can vary in size, complexity, and design. The technique has gained popularity worldwide. It allows individuals to bring their favourite animals, creatures, and characters to life.
What Kinds of Items Can You Make with Amigurumi
You can create a wide variety of items with amigurumi, including:
Stuffed Animals
Dolls
Fantasy Creatures
Cartoon Characters
Food
Plants
Keychains
Charms
Holiday Decor
Baby Mobiles
Fashion Accessories
… and More
Why are Crochet Amigurumi Books a Good Investment?
Amigurumi books are a great investment because they can help you improve your crochet skills. They give you the ability to create all sorts of cute characters, making it a fun and creative hobby. Plus, when you are finished with a project, it can be a special gift for a loved one.
15 Best Amigurumi Books
Below is a collection of 15 amigurumi books. Each book is filled with a delightful variety of patterns, ranging from foods and plants to stuffed animals and pirates.
1. Kawaii Crochet Amigurumi Ebook by DavidandCharles
Get ready to crochet the most adorable Kawaii amigurumi figures using these 40 super-cute patterns. From fruits and veggies to ice cream and pancakes, there is something adorable for everyone.
The amigurumi ebook includes amazing photos that are laid out in eight cool colour themes. It is the perfect crochet guide for crafting your own cuddly Kawaii creations.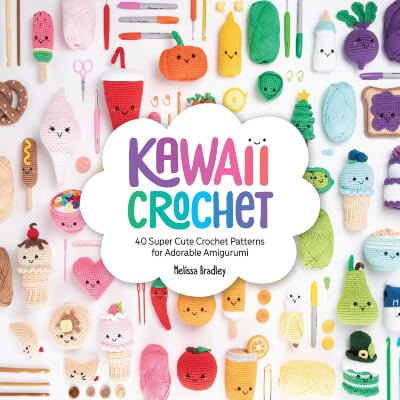 Get the Book by DavidandCharles Here
2. Cuddly Toys Amigurumi Book pdf by Amigurumicom
Inside this amigurumi book, you will discover 15 charming animal toy patterns. They combine amigurumi techniques with the beloved teddy bear tradition cherished in Europe.
These cuddly companions are perfect for babies, toddlers, and school children. They make wonderful gifts for little ones. Whether you are a beginner or an advanced crocheter, this ebook is filled with patterns to ignite your creativity.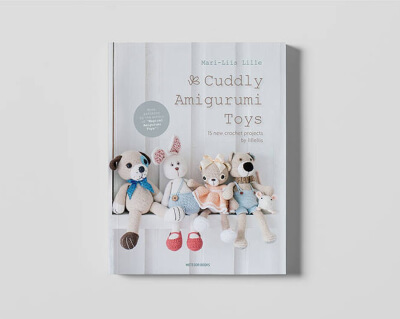 Get the Book by Amigurumicom Here
3. Mini Kingdom Tiny Royals Crochet Amigurumi Book by Olka Novytska
Are you ready to crochet a magical adventure in a bustling little kingdom? Then these 36 themed cuties are sure to capture your heart. Included are a variety of patterns from the King and Queen to the Astronomer and Joker.
With this amigurumi book, you can create a whole village of people, animals, plants, and more. You can even mix and match hairpieces and hats to craft your own unique amigurumi characters.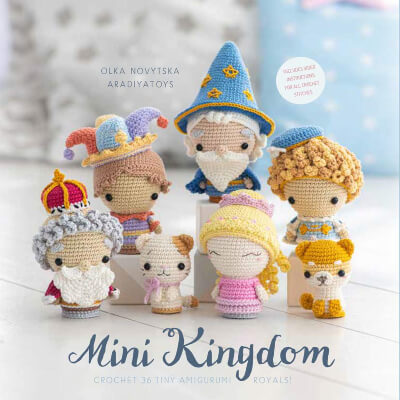 Get the Book by Olka Novytska Here
4. Crochet Magical Creatures: 20 Easy Amigurumi Patterns by Drew Hill
Get ready to enter a whimsical world of enchanting creatures with this crochet amigurumi book. In this book, you will find easy-to-follow patterns for both beginners and experienced crocheters alike.
The book includes 20 patterns that allow you to bring dragons, mermaids, and more to life. This amigurumi book is available as a paperback, spiral-bound, or in Kindle format (free with Kindle Unlimited).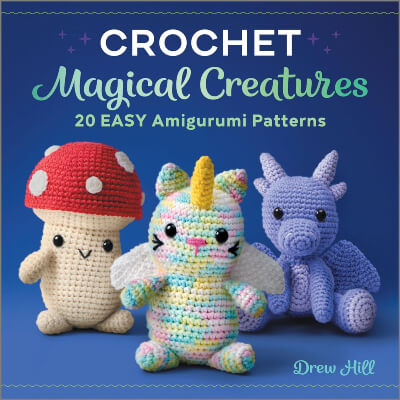 Get the Book by Drew Hill Here
5. A Crochet World of Creepy Creatures and Cryptids by Rikki Gustafson
This amazing amigurumi book has 40 patterns for super cute, creepy creatures. You will be able to make monsters like Cthulhu and Nosferatu and mythical creatures like Medusa and Mothman.
This book is perfect for those looking to make fun gifts to surprise horror fans. You can get this book in paperback, spiral-bound, or Kindle format.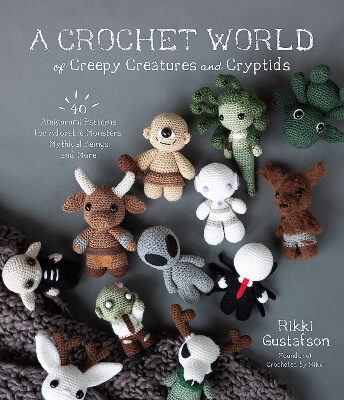 Get the Book by Rikki Gustafson Here
6. KnotMonsters Amigurumi Book for Beginners by KnotMonster
This downloadable amigurumi ebook is a plant lover's dream. It features 12 crochet potted plants that are just waiting for you to craft. From cute little succulents to elegant sansevieria, this collection has it all.
The patterns are beginner-friendly and include basic stitch tutorials to guide you through the process. All the patterns are worked with worsted yarn.
Get the Book by KnotMonster Here
7. Crochet Amigurumi Patterns to Make with Blanket Yarn by Michael Davison
If you have been wanting to work with blanket yarn, check out these adorable chunky amigurumi projects. Included are patterns for owls, octopuses, jumbo waffles, giant jellyfish, narwhals, jumbo turkeys, mushroom stuffies, and oversized strawberries.
This amigurumi book is available in both paperback format and Kindle (free with Kindle Unlimited).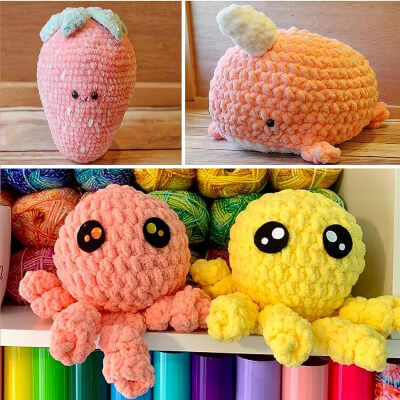 Get the Book by Michael Davison Here
8. Amigurumi Book PDF book by DIY Fluffies
With crystal-clear instructions, step-by-step images, and user-friendly video tutorials, you will become an amigurumi pro. Included in the amigurumi book are 16 charming patterns.
By making these adorable plushies, you are sure to impress your friends and family. And the completed amigurumi projects make wonderful handmade gifts.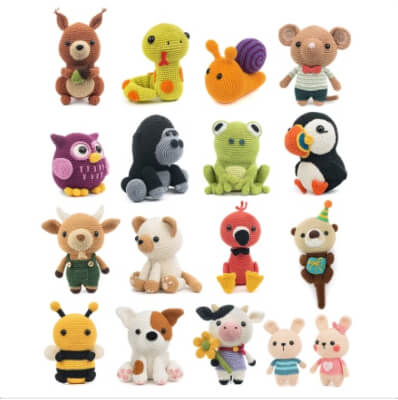 Get the Book by Amigurumicom Here
9. The Woobles Crochet Amigurumi Book by Justine Tiu of The Woobles
The Woobles started to make crocheting easy. And with this book, you can craft over 20 charming patterns. Some of these include Pippa the Octopus, Sam the Sloth, and Cornelius the Bee. These adorable creations are waiting for you to bring them home.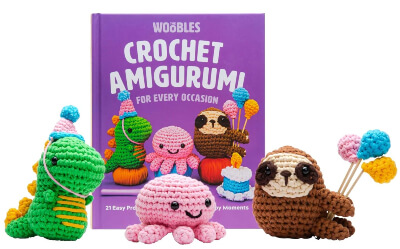 Get the Book by Justine Tiu of The Woobles Here
10. Mabel Bunny and Co Crochet Amigurumi Book by Claire Gelder of Wool Couture
You will fall in love with these big, cuddly amigurumi animals. They are super adorable and great for hugging. And the best part is, you can learn to crochet them even if you are a beginner.
There are clear instructions and pictures to help you. The book includes cute animals like Mabel Bunny, Lilly the Polar bear, Ruby the Elephant, and lots more.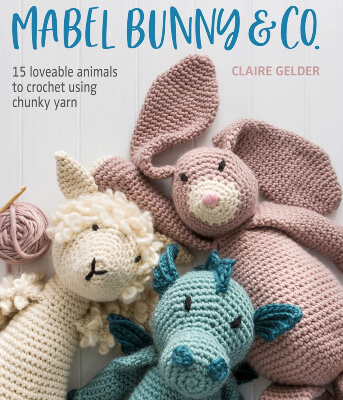 Get the Book by WoolCoutureCompany Here
11. Crochet Cute Critters Amigurumi Patterns by Sarah Zimmerman
Create your own colourful collection of critters using this crochet amigurumi book. This how-to book features a variety of simple crochet patterns for creating adorable snails, whales, rabbits, unicorns, and more.
Each easy design is perfect for crochet beginners and more advanced amigurumi enthusiasts. Most of the amigurumi patterns use the same head and body shapes, so you can feel confident making project after project.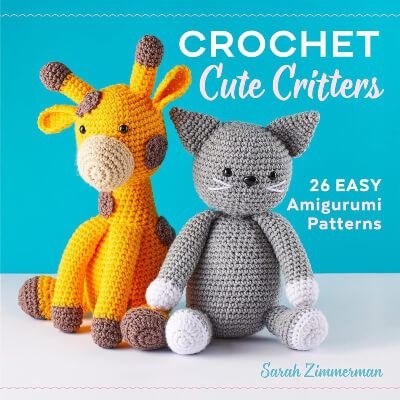 Find the Book by Sarah Zimmerman Here
12. Enchanted Woodland Amigurumi by Erinna Lee
Craft a magical world where yarn animals and fairies live peacefully together. This amigurumi book gives you the ability to create an enchanted woodland with 15 friendly characters.
You can make Jules the Mushroom, Piper the Badger, and Blaze the Sun Fairy. These little creatures can teach young ones the importance of friendships and working together.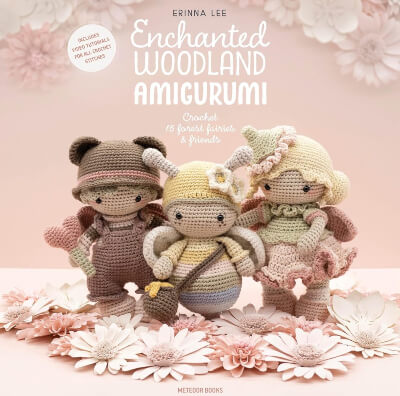 Get the Book by Erinna Lee Here
13. Treasure Island from Mini Kingdom Collection by AradiyaToys
Explore the high seas with this Treasure Island collection. These amigurumi patterns are advanced level. The book is 76 pages long and includes an impressive 433 step-by-step pictures.
Using these patterns, you will be able to make a pirate, parrot, treasure chest, and a majestic ship. They are perfect for children and encourage imaginative storytelling.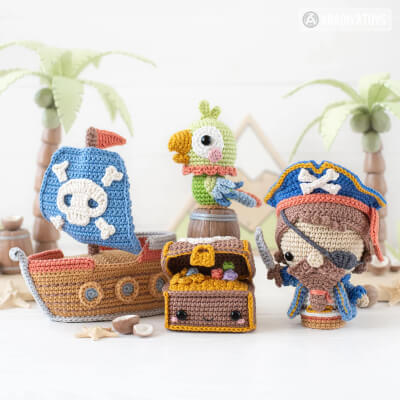 Get the Book by AradiyaToys Here
14. Cozy Animals Crochet Amigurumi Book by GreenFrogCrochet
Perfect for beginners, this amigurumi book is divided into two parts. The first section covers essential stitches and techniques. The second contains 8 delightful crochet patterns. These patterns include a polar bear, mouse, pig, wolf, cow, cat, bunny, and a bunny.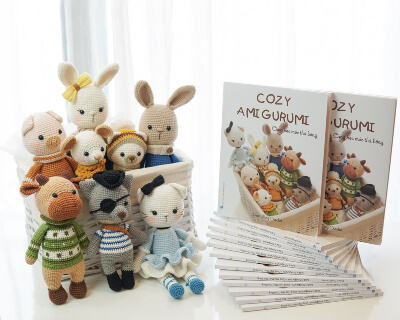 Get the Book by GreenFrogCrochet Here
15. Mini Cactus Garden Amigurumi Book PDF by KnotMonsters
This amigurumi book contains 12 cactus crochet patterns. You can create your very own cute miniature cactus garden. These cacti are perfect for adding a touch of coziness to your home decor.
This book is beginner-friendly, and it will walk you through making all ten adorable amigurumi creations. Plus, there are simple stitch tutorials to help you along the way.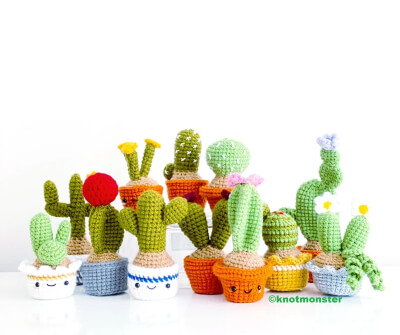 Get the Book by KnotMonster Here
Frequently Asked Questions About Amigurumi Patterns
What is amigurumi?
Amigurumi is a Japanese crafting technique used to make plushies. These creations are known for being cute and whimsical and come in various sizes, complexities, and designs.
What kind of yarn is best for amigurumi?
The type of yarn needed for amigurumi will depend on your preference and the project you are working on.
What size crochet hook should I use for amigurumi?
The specific hook size needed for an amigurumi project will vary depending on the yarn size and your tension.
Do I need to know advanced crochet stitches for amigurumi?
For most amigurumi projects you do not need to know advanced crochet stitches. Basic crochet stitches like single crochet (sc), increase (inc), and decrease (dec) are often sufficient for creating beginner level amigurumi patterns.
Is there a difference between crochet and amigurumi?
Crochet is a crafting technique that uses a hook and yarn to create various items. Amigurumi is a specific type of crochet that specialises in making small stuffed animals and plushies. So, crochet is the technique, and amigurumi is the style.
Is amigurumi suitable for beginners?
Yes, amigurumi can be suitable for beginners. There are a lot of beginner-friendly patterns that only use basic crochet stitches.
Is amigurumi hard?
Amigurumi can initially be challenging for beginners. However, with practice and patience, beginners can quickly build their skills. Start with simple patterns and gradually progress to more complex ones to build confidence.
Amigurumi books open the doors to a world of cute and cuddly creations. They are perfect for sparking your imagination.
Are you ready to start a new crafting journey? With an amigurumi book, you will have several possibilities for creating adorable plush toys and characters.
Below, find crochet amigurumi patterns for your next project and a lot more on our Facebook Page:
Amigurumi books are a fantastic resource for both beginners and experienced crocheters alike.