Pikachu is one of the most beloved characters of this era. And these Pikachu Amigurumi Patterns are even more adorable! Take him with you everywhere you go, or give it as a gift to the Pokemon lover in your life!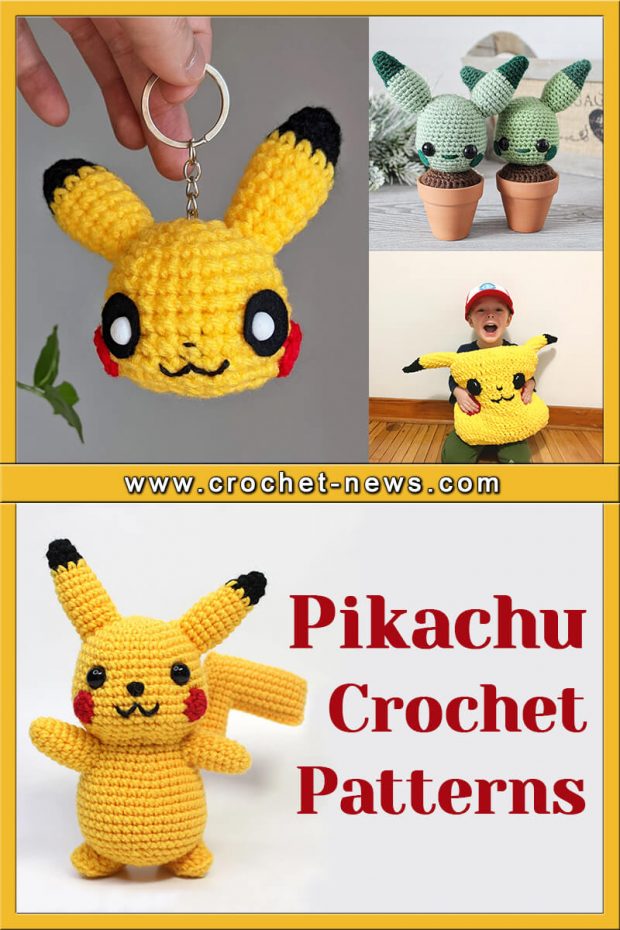 He is Ash's best friend and most loyal companion, and he can now be yours as well! If you've gotta catch them all, you must begin with Pikachu, and these adorable patterns below will help you get started!

1. Mini Pikachu Amigurumi Pattern by Supergurumi
If you still miss a crocheted Pikachu in your collection, you can catch up on that and crochet this little Pikachu yourself quickly and easily. This Pikachu Amigurumi is crocheted with chain stitches, slip stitches, and single crochet stitches in spiral rounds and in rows and is easy to crochet.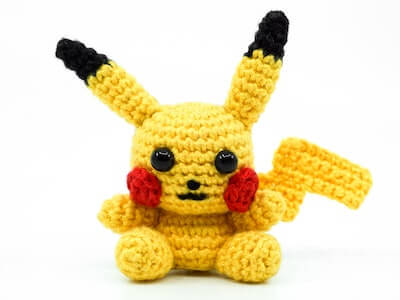 Get the Pattern by Supergurumi here

2. Crochet Pikachu Keychain Amigurumi Pattern by Sir Purl Grey
Crochet a Pikachu Keychain and have the cutest Pokemon travel with you everywhere! Enjoy a great way to decorate your keys, tote, backpack, purse, and many more!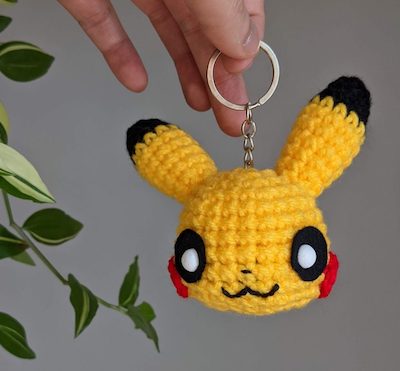 Get the Pattern here

3. Pikachu Amigurumi Pattern by Chonticha Design
Cute and cuddly 22″ Pokemon Pikachu is a must have for all Pokemon fans! This soft plush figure is great to take wherever you go! Pikachu doesn't get bigger or better than this suer-sized plush!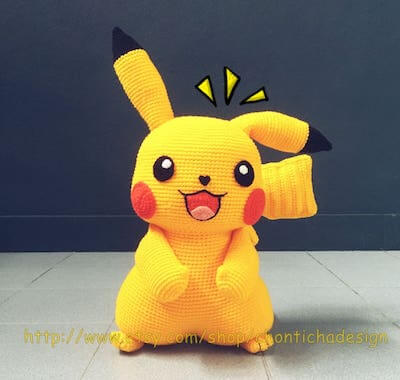 Get the Pattern by Chonticha Design here

4. Pikachu Amigurumi Crochet Pattern by Jiyoun Handmade
Pikachu is one of the most popular Electric type Pokemon and now you can take it with you on all of your adventures! With incredible detail that looks like it has jumped right from the Pokemon TV show, this Pikachu Amigurumi is the perfect gift for fans of all ages!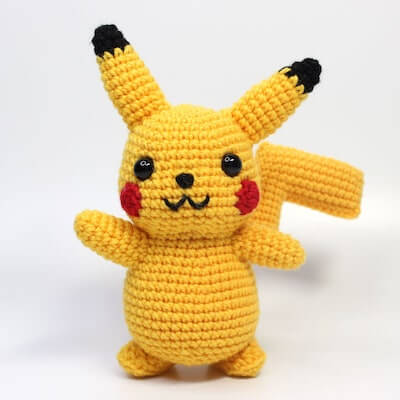 Get the pattern by Jiyoun Handmade here

5. Mini Crochet Pikachu Amigurumi Free Pattern by Strings Away
This cute crochet Pikachu plush toy is perfect for Valentine's Day, or any occasion to surprise a special someone with a unique gift! This little Pikachu amigurumi stands only 4 inches tall (to top of ears) and 2 inches wide.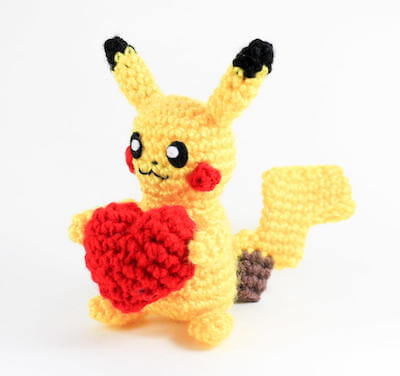 Get the Pattern here

6. Pikachu Pillow Crochet Pattern by Clickety Sticks
Make their bedroom a place of comfort and fun with this Pikachu Pillow. This cuddle character pillow brings Pikachu to life with fun character details that include dimensional ears and embroidered face details.
A great travel accessory for use in home, car, camping, and sleepovers for napping and cuddling. This pillow is stuffed lightly and it's kind of intentionally squarish shaped so it is flat enough and comfortable for little heads to sleep on.
Get the Pattern here

7. Pikachu Crochet Pattern by Spin A Yarn Studio
This Pikachu Amigurui is perfect for kids who love Pokemon and are looking for a snuggle buddy. It's soft, cuddle, and will make any child happy to have it as their bedtime friend.

This Pikachu pattern is a unique amigurumi made in the ragdoll-style; separate pieces worked in flat rows and joined together to give it that charming and distinctive 2-D appearance.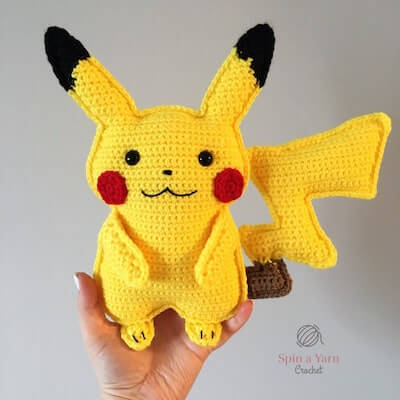 Get the Pattern by Spin A Yarn Studio here

8. Pikachu And Pokeball Pod Crochet Pattern by Ami Amour
What better way to catch a Pikachu, but with a functional Pokeball! It's a tool that every Pokemon trainer must carry, and also functions as quite a lovely and comfy home for your Pokemon.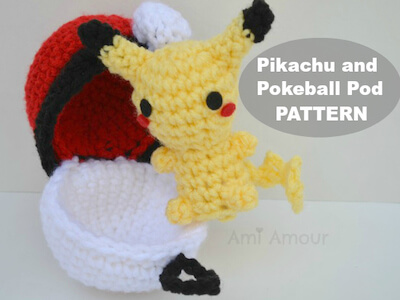 Get the Pattern here

9. Chubby Pikachu Amigurumi Pattern by The Bunny Studio
So chubby and perfect in every way! You will love this little amigurumi because it's a quick work-up project that makes the best little Pikachu for someone that wants something mini.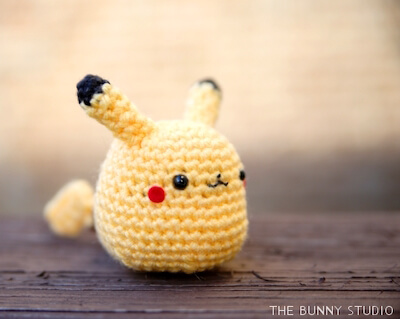 Get the Pattern here

10. Detective Pikachu Amigurumi Pattern by Sundot Attack
Do you need a world class detective? Look no further! Pikachu is ready to solve any crime, and you can carry him in your pocket! But don't worry if there's no crimes on hand, he's just as adorable with or without the hat!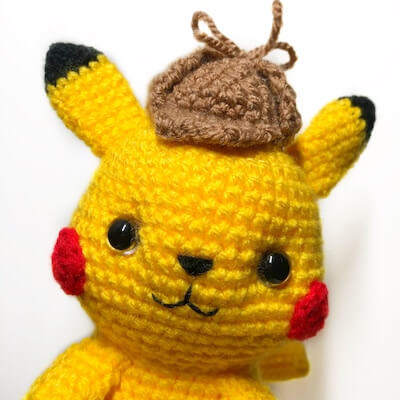 Get the Pattern by Sunday Attack here

11. Pikachu Lovey Crochet Pattern by Forgotten Fox Designs
Give your new Pokemon trainer their first starter Pokemon with this soft Pikachu Lovey Blanket. Pikachu is the most famous Pokemon and has something that makes both children and adults fall in love, that's why this blanket is perfect to give as newborn gift!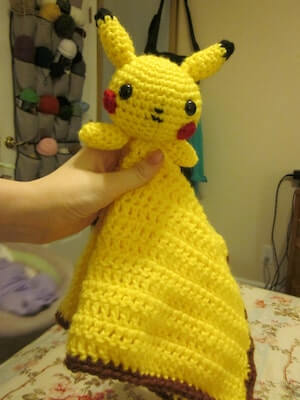 Get the Pattern by Forgotten Fox Designs here

12. Little Pikachu Amigurumi Free Pattern by Left Hand Crocheters
Pikachu is a favorite amongst Pokemon lovers. Whip up a couple of crocheted Pikachus, and they're sure to be a hit. Made with worsted weight yarn, this finished doll measures approximately 7 inches tall, with his ears.
Get the Pattern here

13. Pikachu Amigurumi Pattern by Clare Heesh
This Pikachu Amigurumi doll is approximately 3.5 inches (9cm) tall from the bottom of his body to the top of his head when finished.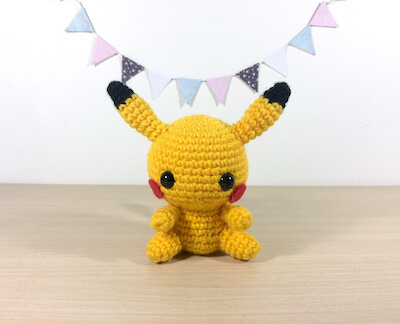 Get the Pattern here

14. Pikachu Amigurumi Crochet Pattern by Azelia Crochet
You can crochet your own cute little Pikachu toy. Pikachu measures roughly 36 cm (about 14 inches) and has movable arms, making him a perfect gift for someone else or yourself!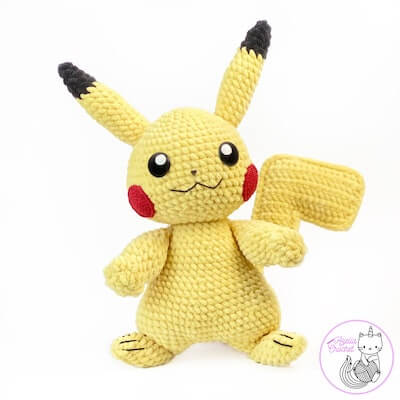 Get the Pattern by Azelia Crochet here

15. Pikachu Cactus Amigurumi Pattern by Crocheted By Rikki
Here's a twist to a normal Pikachu toy. With the plant pot, he can be added to any household as an adorable decorative piece!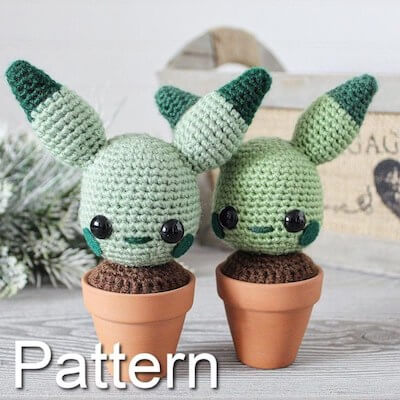 Get the Pattern by Crocheted By Rikki here
PUT YOUR CROCHETING SKILLS TO TEST AND CHEER UP YOUR LAD WITH THESE PIKACHU AMIGURUMI PATTERNS THAT ARE SURE TO AMAZE THEM!
Just when you thought Pikachu couldn't get any cuter—he was crocheted! Remember to share your finished cuties on our Facebook Page. We'd love to see how you crocheted yours!
Pokemon are fictitious characters having unique powers, commended by their owners. If your child is really a huge fan of them and wants one of every character, here are Crochet Pokémon Amigurumi Patterns that is going to come in handy! You can also try making these Mario Bros Amigurumi Patterns and Mini Amigurumi Patterns.

Bring the most famous Pokemon character to life with these Pikachu Amigurumi Patterns! Happy crocheting!