If you have a penchant for cute, pocket-sized amigurumis, you're in for a treat! There isn't anything quite as cute as these mini amigurumi patterns.
In this collection, you'll find a variety of adorable critters to crochet for your little ones. Even if you don't have kids around, these patterns are so cute, we won't judge you if you make one for yourself!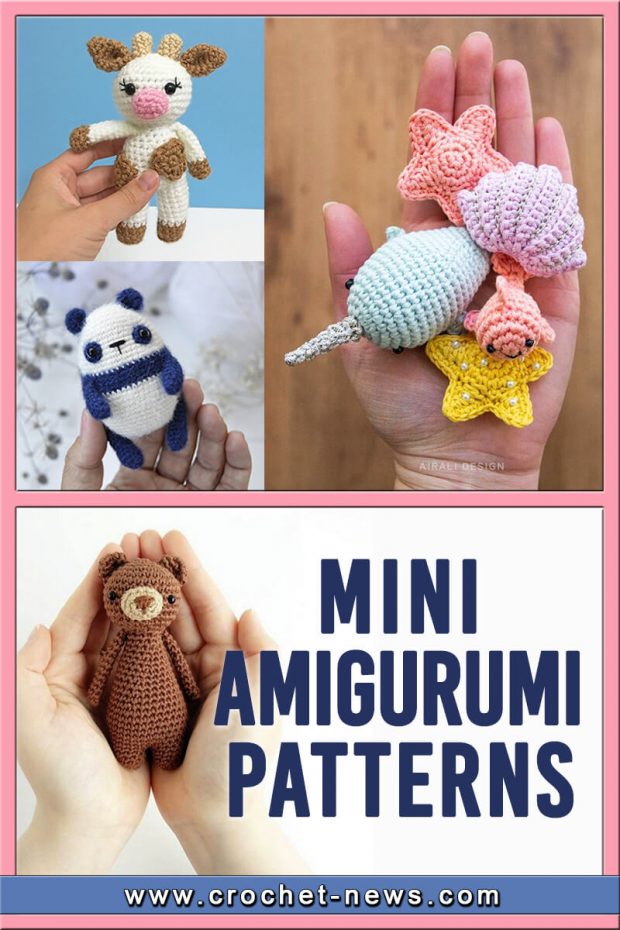 29 Mini Animal Crochet Patterns
Besides being cute, these amigurumi patterns are also great projects for using up leftover yarn. So bust out your old yarn stash, browse through below, and crochet a cutie with our range of crochet patterns including amigurumi animals, crocheted dolls, and so much more!

1. Crochet Pug Mini Amigurumi Free Pattern by Mohu Mohu
Since these pugs are so easy to make, they're a great project for beginners. They only take about an hour to crochet, and require less than 15 meters (16.4 yards) of yarn, so they're good for using up leftovers too.

This mini amigurumi pug's body is crocheted from top to bottom, with two little bobble stitches for feet. The ears, hands, and tail are crocheted separately and sewn in place, along with a little felt snout and some cute beady eyes.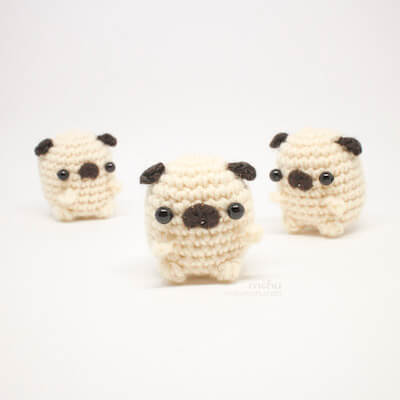 Get the Pattern here

2. Tiny Seahorse Mini Amigurumi Free Pattern by Amigurumi Today
You never know when you will need a little companion so it's best to keep this amigurumi seahorse nearby at all times!
With the small stature of this amigurumi seahorse, that is really easy to do. It will fit right in your pocket!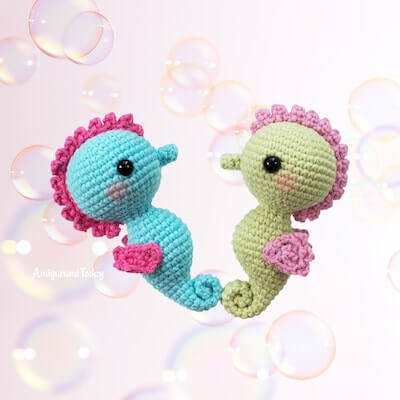 Get the Pattern here

3. Undersea Friends Miniature Amigurumi Pattern by Cat Lady Crochet Shoppe
Crochet these adorable little crochet sea creatures for yourself or a friend! They are cute as is, and there are so many fun things you can do with them!

Make the entire set and arrange them in a fish bowl for an adorable mini aquarium! Or, you can add hangers to them for ornaments, or add magnets for the cutest little refrigerator magnets.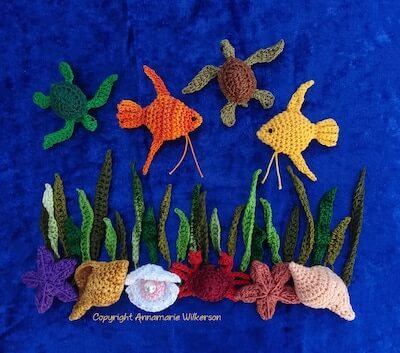 Get the Pattern by Cat Lady Crochet Shoppe here
4. Tiny Baby Ice Cream Cone Amigurumi Pattern by Sweet Softies
This Tiny Baby Ice Cream Cone is super quick to work up, beginner-friendly, and perfect for your amigurumi doll or stuffed animal to hold!

It can also make a pretty darn cute little keychain, necklace/bracelet charm, bag/purse charm, or even a food photo prop as well. The possibilities are endless with flavors and toppings.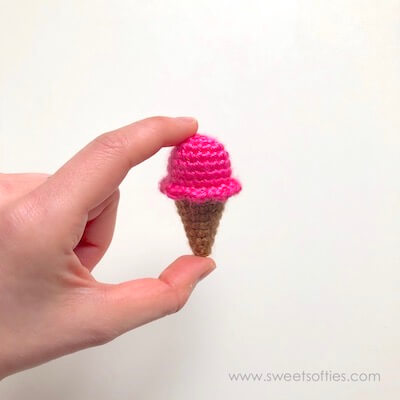 Get the Pattern here

5. Backpack Crochet Mini Amigurumi Free Pattern by One Dog Woof
Wouldn't this adorable backpack look great hanging from a real bookbag? And you can make it with customized designs to match your favorite bag!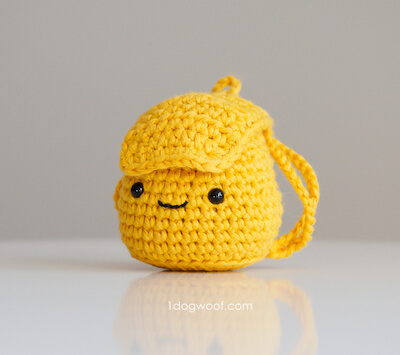 Get the Pattern here

6. Mini Mermaid Doll Amigurumi Pattern by Sleepy Sheep Patterns
This mini mermaid doll is crocheted from the bottom of her mermaid tail to the top of her head as one piece, even the arms are joined. You will sew the fins and starfish hair accessory, the hair is glued and the shirt is removable.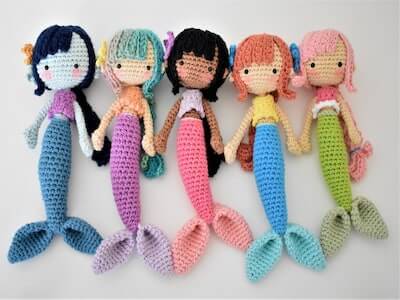 Get the Pattern by Sleepy Sheep Patterns here

7. Little Lucy Doll Amigurumi Pattern by Sylemn
Little Lucy is a mini amigurumi doll that has two cute pigtails, a flower in her hair, and a pretty dress with lace edging. She can sit upright and is only 3 inches in height, making her small enough to be made into a keychain.

Customize her with different yarn colors or with embellishments such as buttons and bows. She makes a great birthday or holiday gift for little girls and kids alike!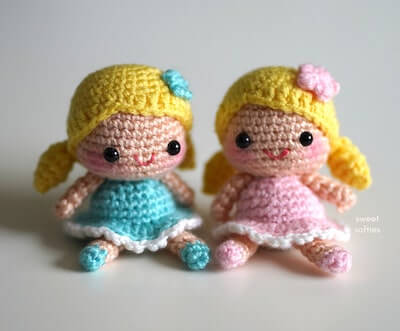 Get the Pattern by Sylemn here

8. Mini Apple Free Amigurumi Pattern by Stella's Yarn Universe
This fun little crochet apple is the perfect project for Amigurumi beginners! But even if you are a pro you can have lots of fun with this: turn them into jewelry, make a whole miniature basket full of apples, a little crochet apple garland, or whatever you feel inspired to!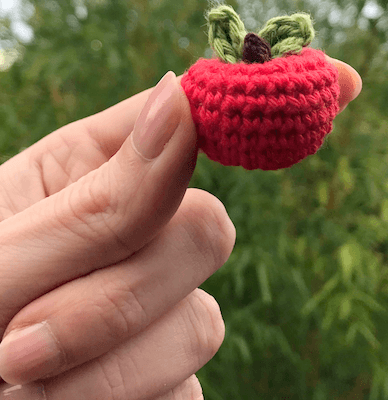 Get the Pattern here

9. Cats Mini Animal Crochet Patterns by Red Heart
These little crochet kitties are fancied up and ready for the circus! This pattern is a joy to do, featuring single crochet, half double crochet, slip stitch and chain techniques
. Offered in 3 colorways, you can make your cats as featured, or use shades that give them personalities all their own. They're perfect for giving, or add them to your collection!

More Crochet Cat Patterns here!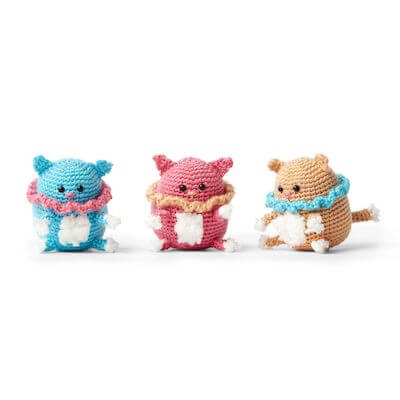 Get the Pattern here

10. Mini Pocket Octo Amigurumi Pattern by Handmade By Hennek
This Mini Pocket Octo Amigurumi Pattern is perfect for a cute and tiny item that works up super quick with blanket yarn scraps. Plus it's no-sew and there are 2 options for you to choose from for the tentacles!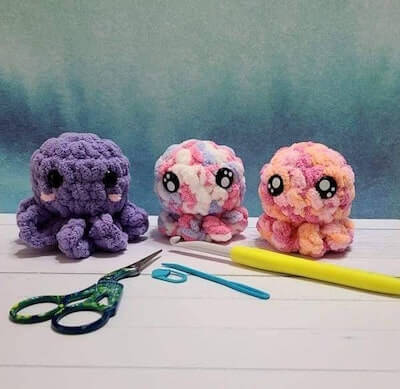 Get the Pattern by Handmade By Hennek here

11. Mini Turtle Amigurumi Pattern by Yana Toys Pattern
These sweet little fellows will make the cutest little toys for kiddos, don't you think? What's more, you don't have to do any sewing while making them!
They're about 6 cm (2.4 inch) long, 3 cm (1.18 inch) wide, 2,5 cm (0.98 inch) tall, and will surely steal your heart!

More Crochet Turtle Patterns here!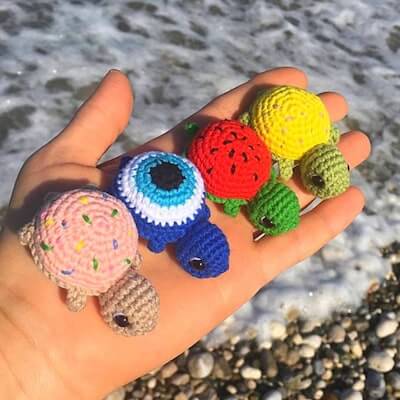 Get the Pattern by Yana Toys Pattern here

12. Little Panda Amigurumi Pattern by Lucy Rozonova
This mini little panda fits in the palm of your hand and is oh-so-cute. There are minimal color changes and only a few easy pieces to crochet.
You could make this in traditional black and white, but seeing a blue and white panda mights just inspire you to try other colors, too!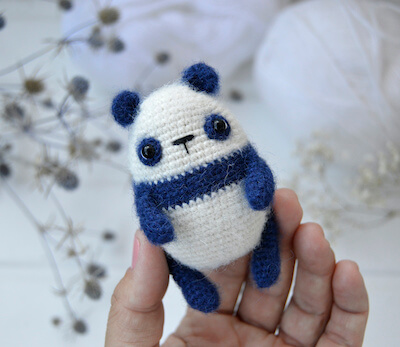 Get the Pattern here

13. Spring Chicks Mini Amigurumi Free Pattern by A Menagerie Of Stitches
These super cute, round spring chicks are the perfect quick project for spring. They're mainly made from a super chubby ball base and just have two extra wings and a beak to sew on that are also worked in the round so that you don't have to learn any new skills.

They're completely adorable and amazing beginner-friendly project to build your confidence. You can whip up a whole roost of these in no time at all!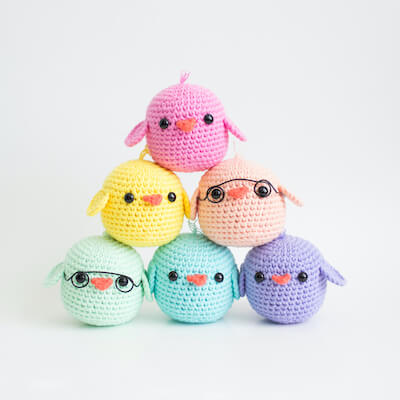 Get the Pattern here

14. Shark Mini Animal Crochet Patterns by Outlaw Heart Creations
These little guys are beyond Jawsome! So cute and quick to whip up, these little sharkies make the best companions for watching creature features of any type or tucking into those Shark Week classics!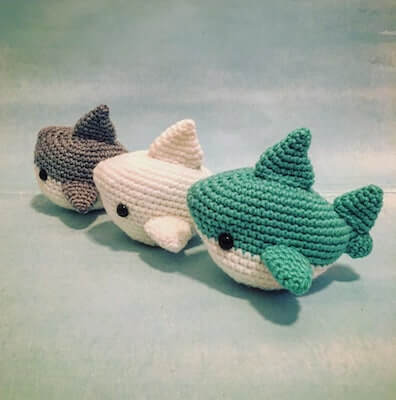 Get the Pattern by Outlaw Heart Creations here

15. Crochet Snake Mini Amigurumi Pattern by Obscurely Small
This Mini Snake Amigurumi will grab love and attention automatically due to its cute look and small size. It's easy and fast to work with, so you will not have to spend much time and yarn on its construction.
Choose any color that suits your mind or home decoration and add a lovely decor piece of crochet or little stuff to your kid's toys.

More Crochet Snake Patterns here!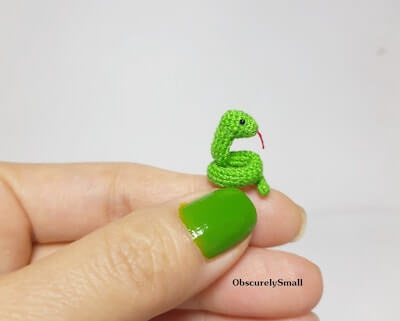 Get the Pattern by Obscurely Small here

16. Catnap Kitties Free Amigurumi Pattern by Sweet Softies
These Catnap Kitties are the cutest little mini dolls that you'll have the pleasure of making! They come with their own pint-sized bed so that your little one can have fun "tucking" these kittens to sleep at night.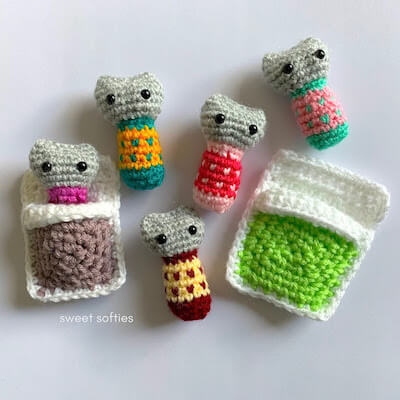 Get the Pattern here

17. Mini Amigurumi Eggs Pattern by Planet June
Make miniature crocheted eggs that are still perfectly egg-shaped despite their diminutive size. Decorate for Easter with a bowl of calorie-free 'chocolate' eggs – just don't eat them!
Get the Pattern here

18. Baby Ghost Mini Amigurumi Pattern by Ami Amore
Looking for a fun, easy, and quick crochet project to whip up for this Halloween season? Look no further! This tiny, baby ghost could be the perfect little one to make!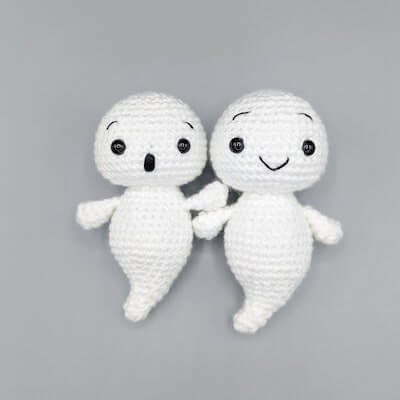 Get the Pattern by Ami Amore here

19. Mini Bear Crochet Amigurumi Pattern by Little Bear Crochets
This Mini Bear Amigurumi is so pretty and just 4.7 inches from toes to top of head. The perfect size for little hands! The pattern also works up fast, so you can make a sweet bear for your kiddo in no time!

More Crochet Bear Patterns here!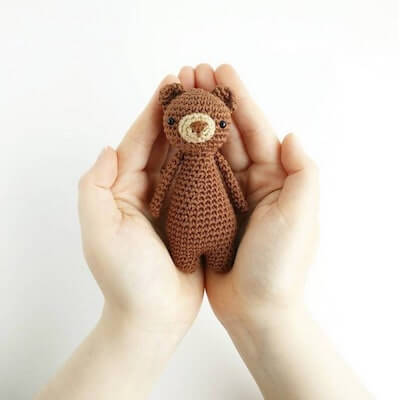 Get the Pattern by Little Bear Crochets here

20. Mini Cloud Amigurumi Pattern by Asmi Handmade
Bust that stash of yours with these cute little Amigurumi clouds perfect to use up those yarn scraps. These are very simple and easy to make as they require only basic crochet and Amigurumi skills.
Use these tiny fluffy clouds as a keychain accessory or as birthday party favours for your kids.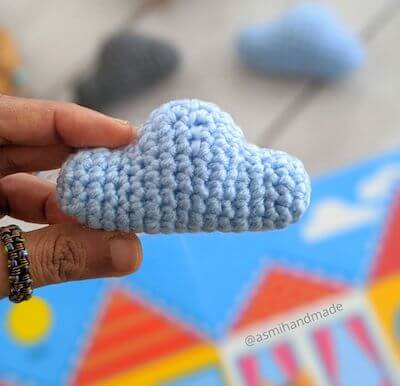 Get the Pattern here

21. Mini Monster Free Amigurumi Pattern by Yarn Society
Mini Monster is the perfect partner. She's willing to tag along wherever you go, and is always eager to offer an extra set of hands to help hold your goodies – especially the sweet variety.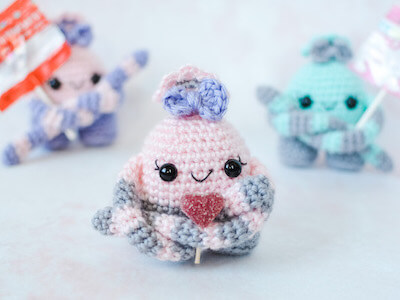 Get the Pattern here

22. Tiny People Amigurumi Pattern by The Wandering Deer
Each doll is quick to work up and can easily be customized to look like you by using different yarn colors, hair attachment methods, accessories, and embellishments!

This mini custom doll is a heartfelt and personalized gift for children, family, friends, and loved ones, and can make a wonderful holiday surprise!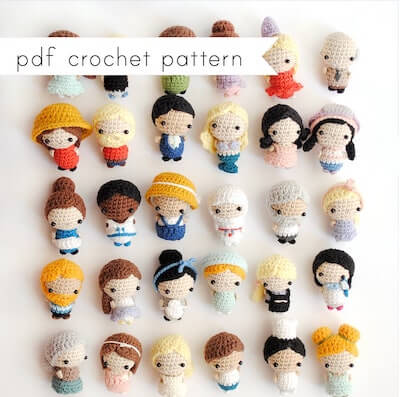 Get the Pattern by The Wandering Deer here

23. Baby Squirrel In Acorn Mini Amigurumi Pattern by Sylemn
This Baby Squirrel in Acorn Mini Amigurumi Pattern includes instructions for a miniature, newborn squirrel and his acorn home. The Acorn is large enough for the little critter to hide within, making this a fun pretend play toy set for young children.

This is a very small but quick amigurumi project. It makes a wonderful gender neutral (unisex) gift for boy sand girls alike, and is great as decor for woodland themed nursery rooms.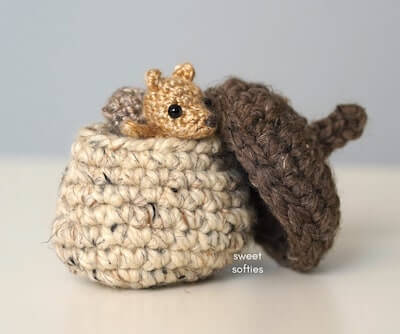 Get the Pattern by Sylemn here

24. Mini Dinosaurs Amigurumi Pattern by Mohu Store
Use one basic crochet pattern to make three different amigurumi dinosaurs – a stegosaurus, tyrannosaurus, and triceratops.
These miniature dinosaurs are the perfect project to use small amounts of yarn, and in no time, you can create a whole bunch of little dinos.
Check out our compilation of Crochet Dinosaurs for more patterns to choose from.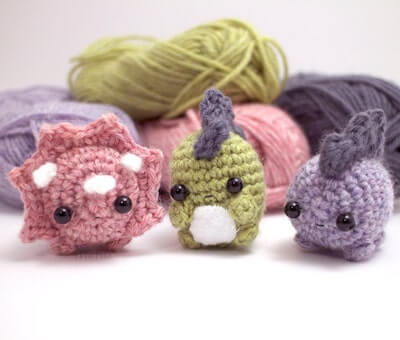 Get the Pattern by Mohu Store here

25. Amigurumi Piggy Free Crochet Pattern by Craft Passion
Learn how to create Pupu and her siblings with the free crochet pattern and detailed instructions! Not sure what to use it for? Make them into keychains, desk decoration, hang on baby mobile and stroller.

By following the piglet crochet pattern, you will end up with a lovely 4" Amigurumi piglet. The pattern chose to crochet these piglets with two colors to give them some contrast. However, feel free to use a single color if you prefer!

More Crochet Pig Patterns here!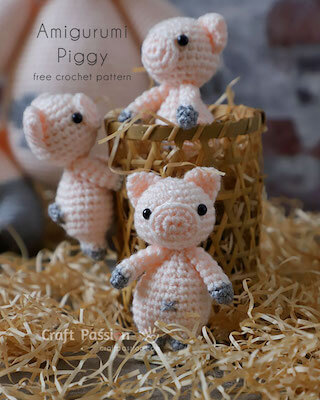 Get the Pattern here

26. Mini Crochet Pumpkins Pattern by Heather Corinne
This free pattern whips up quickly using the single crochet stitch throughout the base of the pumpkin and the stem is only a handful of stitches.

It's easy to whip up a cute pumpkin army while watching your favorite show and sipping coffee! If you're an amigurumi beginner, this pattern is perfect for you to practice and hone your amigurumi skills!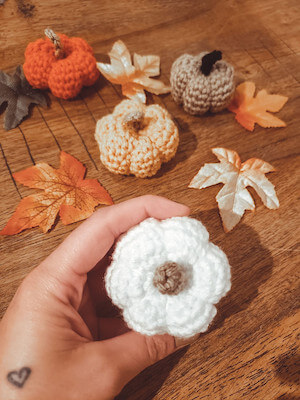 Get the Pattern here

27. Percy, The Elephant Amigurumi Pattern by Irene Strange
Meet Percy, the most friendly miniature amigurumi elephant ever! Percy the elephant is super cute, small and very easy to make! It takes about 1 and a half hours or so, and can be done in any yarn.

More Crochet Elephant Patterns here!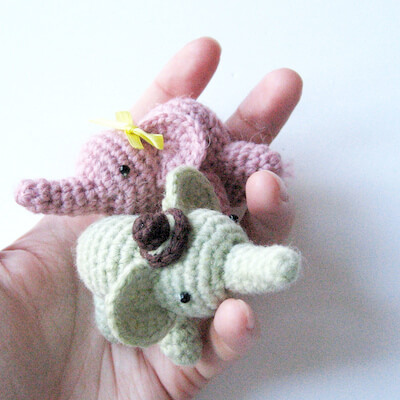 Get the Pattern here

28. Mini Sea Friends Amigurumi Pattern by Airali Design
Sea Friends is a collection of 4 mini amigurumi characters: a narwhal with silver horn, a cute little fish, a simple starfish and graceful shell.
Their size is between 5 and 12 cm (2 and 4.75 in) which make them quick to crochet and perfect as little gifts, keychain charms or party favors!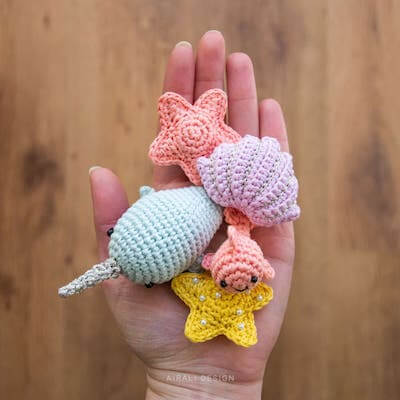 Get the Pattern by Airali Design here

29. Mini Amigurumi Cow Free Crochet Pattern by Grace And Yarn
Create your own mini amigurumi cow with this easy to follow pattern! Using the yarn and hook specified, this mini cow measures about 7 inches tall, making it a super fast make!

More Crochet Cow Patterns here!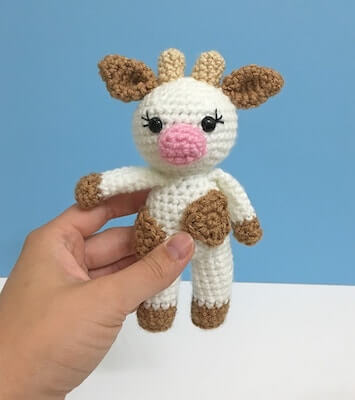 Get the Pattern here
WE HOPE YOU HAVE FOUND SOME QUICK AND EASY MINI AMIGURUMI PATTERNS FOR YOUR NEXT PROJECT HERE!
If you make any of these sweet mini amigurumi patterns, feel free to share them on our Facebook Page. We would like to see your creations!

If you love cute stuff, you'll love these crochet amigurumi patterns we have listed on our site. From animals, dolls, toys, and so much more! You can also try crochet on a micro scale with this collection of micro crochet patterns.

Once you go crazy crocheting these mini amigurumi patterns, you may find that these little creatures are slowly taking over your home!