Snakes seem to get a lot of bad press and most of the time, we don't think it's justified. It's one thing to have a phobia, but that doesn't mean hate needs to be spread!

Snakes are just trying to live and exist like the rest of us and we quite personally think they can be so cute. So today we present you, these 12 Crochet Snake Patterns!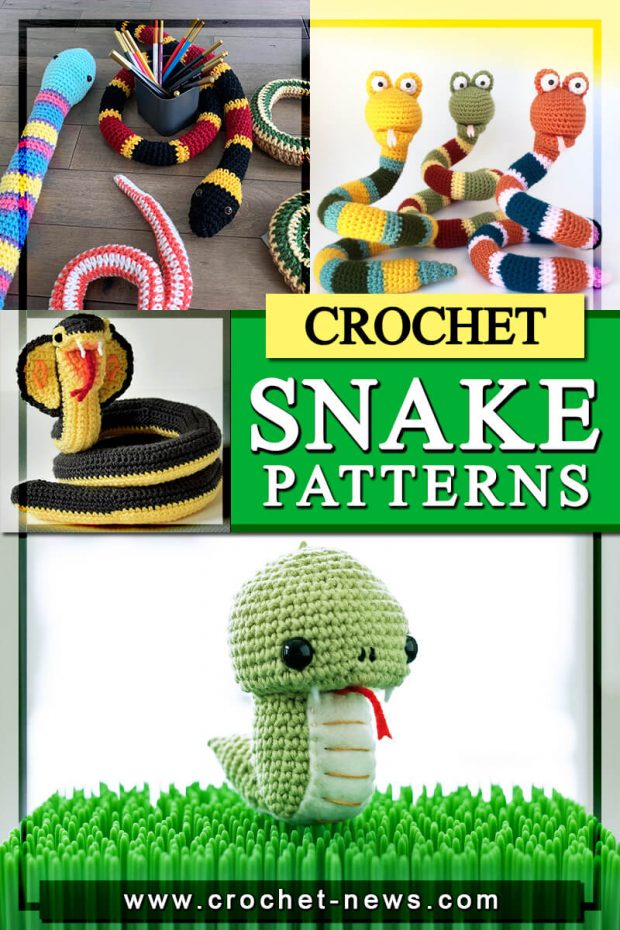 They are so interesting and there are a few crochet artists who actually have their own pet snakes. And now, you can be one of them!

1. Crochet Snakes Pattern by Tiger Road Crafts
What is more fun and easy than crocheting realistic-looking snakes? (as well as a mythical magical rainbow snake) To give variety, some of the snakes in this pattern are worked in the round, and some are worked in rows. They also vary in size, from 22″ long to 52″ long.

If you don't have a ton of experience with crochet, don't worry – these patterns are easy!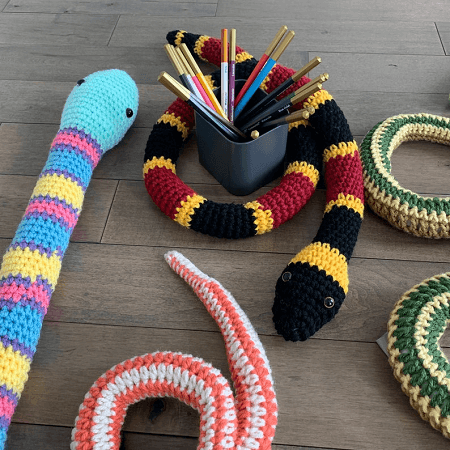 Get the Pattern by Tiger Road Crafts here

2. Crochet Snake Pattern by Repeat Crafter Me
Summer is a good season to whip up some quick amigurumi projects. These crocheted snakes are simple to make and fun for the kids to play with!

These snakes are made with one of our favorite brands of yarn: Red Heart with Love. You will love the soft texture of the yarn and its vibrant colors. The variegated colors are perfect for a snake body.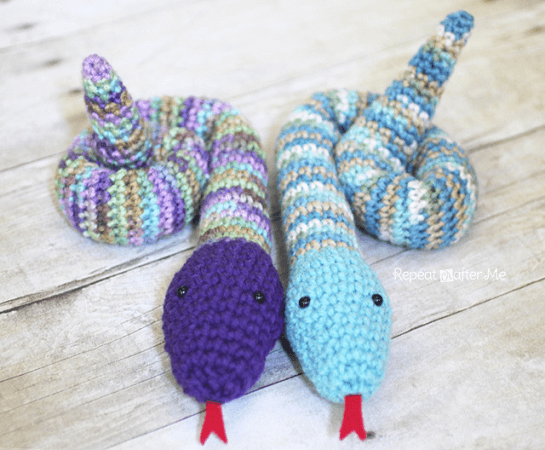 Get the Pattern here

3. Crochet Realistic Snake Pattern by Tota Ksusha Dolls
What is more fun and easy than crocheting realistic-looking snakes? This amazing snake looks very realistic. He has a frame in his whole body.

The snake is almost 42 cm (16 inches) long, but you can make it shorter or longer. Make his body and his eyes in your own choice of colors!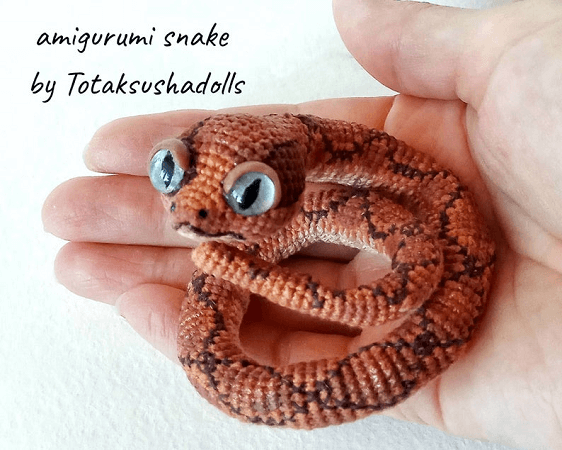 Get the Pattern by Tota Ksusha Dolls here

4. Winged Snake Crochet Amigurumi Pattern by Crafty Intentions
This pattern comes with instructions to make a Winged Snake Cobra!

There is one body that you can customize with a number of options. There are two heads – one Danger Noodlehead and one adorable Boop Snoot head. There are wings and an optional Cobra hood included.

The snake from this pattern is 9.5 inches tall from the ground to top of the head, 21 inches long from tip of the nose to tail, 35 inches long from tip of the nose to the tail, and 2.5 inches wide from side to side.

The wings measure approximately 12 inches from tip to tip.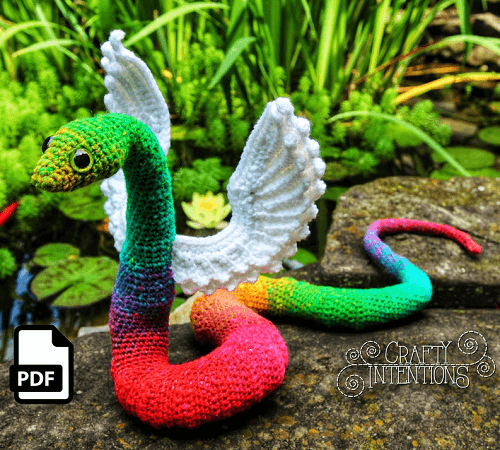 Get the Pattern by Crafty Intentions here

5. Crochet Rainbow Snake Free Pattern by Golden Lucy Crafts
Rainbow is mostly everyone's favorite, so this time try this Crochet Rainbow Snake Free Pattern. This can be used as amigurumi or decorative accessory or whatever the way you want.

You just need a worsted weight yarn in different colors (the leftover threads from other projects are also applicable) and H sized crochet hook.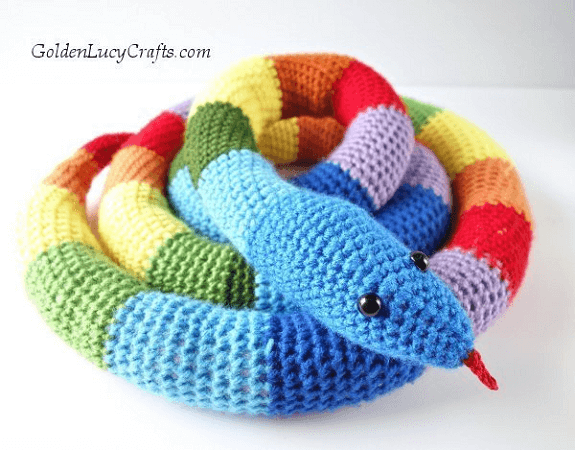 Get the Pattern here

6. Cobra Amigurumi Pattern by Vliegende Hollander
Revered and feared, but always attractive, the Cobra snake has always captivated humans. Its unique look and personality are never unnoticed.

There are many emotions you may feel when faced with a Cobra. Fear or panic may be one of them. But with the necessary precautions, you would have no problems.

Yet there is something you cannot escape from and it's the irresistible temptation to whip up this Cobra Snake Crochet Pattern!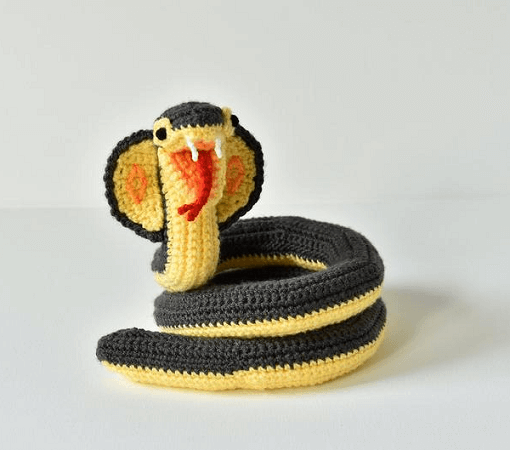 Get the Pattern by Vliengende Hollander here

7. Chinese New Year Snake Crochet Pattern by All About Ami
Crochet this cute and friendly Chinese New Year Snake complete with fangs, a slithery tongue, and scaled body! Snakes typically have a bad rap as sinister villains, but this little guy is determined to break the stereotype!

There are other amigurumi snakes out there (your typical long, slithery snakes), but why not make a cute chibi version that looks different?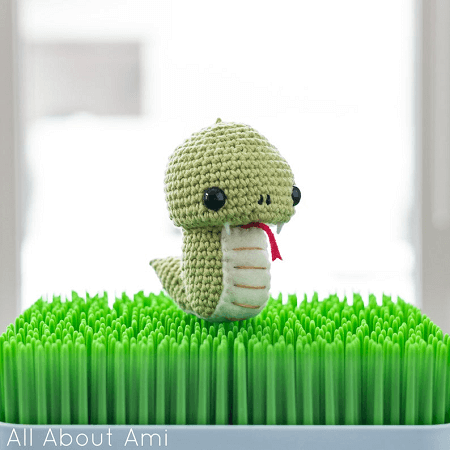 Get the Pattern by All About Ami here

8. Chain Stitch Snake Crochet Pattern by Make And Takes
One of the easiest projects for crochet has got to be this cute little Chain Stitch Snake. You can't mess it up.

And it's a great way to practice your chain stitching, helping you feel confident in your crocheting, producing something that resembles a real thing!

And even if you only sort of following the instructions, you'll still end up with something similar and you'll have yourself a fun playful snake. The kids will love playing with them. Or making them along with you!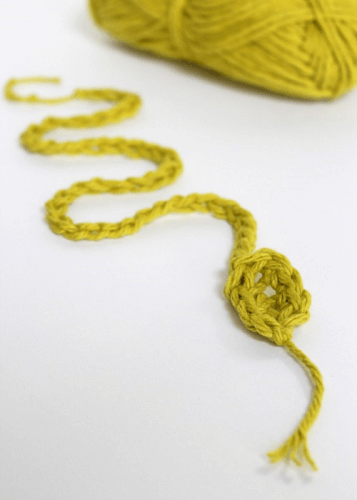 Get the Pattern here

9. Crochet Snake Amigurumi Pattern by Knot Bad Ami
This Crochet Snake Amigurumi Pattern is the right choice if you want to surprise someone with an unusual gift made all by yourself!

Using any worsted weight yarn, your finished snake will measure 7 inches tall and 4 inches wide, but you can make them any length you would like!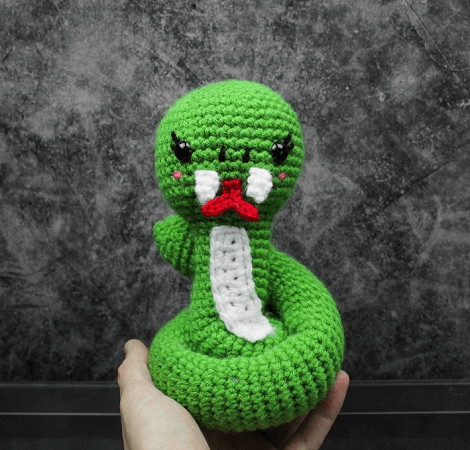 Get the Pattern here

10. Snake Bookmark Crochet Pattern by Supergurumi Shop
This Snake Bookmark is a completely harmless snake that is not toxic at all and primary interested in spending her time in libraries and reading books.

But this snake is not only a great bookmark but can take many other forms and shapes. Thanks to two easy applicable patterns the final step and curving of the snake can easily be modified and can even turned into a snake scarf when crocheted with bigger yarn and/or hook.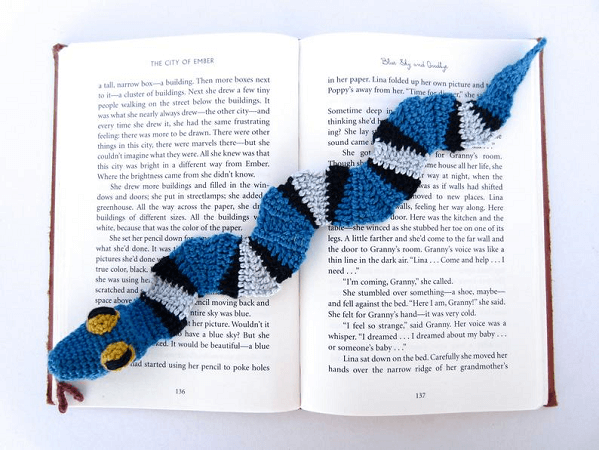 Get the Pattern by Supergurumi Shop here

11. Amigurumi Snake Pattern by Miss Crochet Gourmet
The colorful stripe pattern of these Amigurumi Snakes is irresistible to little ones, & that ssssssssssnake tongue is ready for ssssssssssssssloppy kisses.

The finished size of the snake is 27 1/2'' (70cm) long when using a 4mm crochet hook. You can make the snake in multiple colors (instructions in the pattern), but if you just want to use one color, you can leave the color changes out.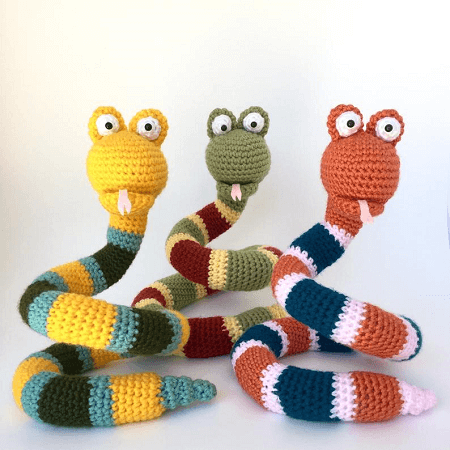 Get the Pattern by Miss Crochet Gourmet here

12. Heart Free Crochet Snake Pattern by Iris F.
Two snakes come together as one to create a heart with their tails. This can be a cute gift to tell someone that "we belong together". This Snakes Heart Crochet Pattern is offered as a video tutorial.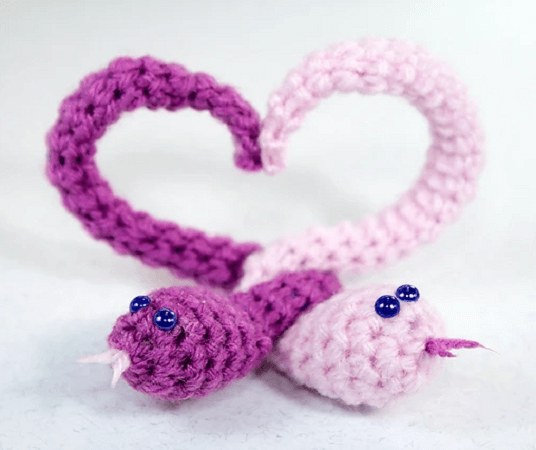 Get the Pattern here
Create your own pet snake with these slithering crochet snake patterns!
When you have finished your own snake, please feel free to send along pictures of your creation or post on our Facebook Page for all to enjoy!

If you enjoyed these, you may also like our collection of crochet lizard patterns, crochet turtle patterns, crochet crocodile patterns, crochet giraffe patterns, crochet elephant patterns, and more! Don't go far because more gorgeous animal roundups are just around the corner!
It doesn't take long to crochet a zoo, let's begin with a crochet snake pattern today!