This free crochet market bag pattern makes the strongest bag I have ever seen.
With a free easy to follow written tutorial you are guided, step by step, to making your own super strong crochet market bag.
That's not all…
You will have more confidence and less stress throughout your crocheting process.
The best part?
Now you have another reason to go shopping, it's time to show off your new bag.
Crochet Market Bag Pattern
I'm not the only individual who is tired of looking for a new bag every time I go grocery shopping or just to pick something up at the store. Sometimes I find it the most tedious part of my week. And, I'm a fancy girl, so I still want to look stylish even when I'm grocery shopping.
You can imagine my joy when I stumbled upon the crochet market bag pattern on Pinterest. So, here is a pattern that guarantees I get a stylish and useful bag. And, you already know that I'm nuts about crocheting, so you already know what happened next.
I had to make one of my own. Looking at it now hanging from a hook in the kitchen I must say it's the best thing I've made so far this year.
So what exactly do you need to make your very own market bag?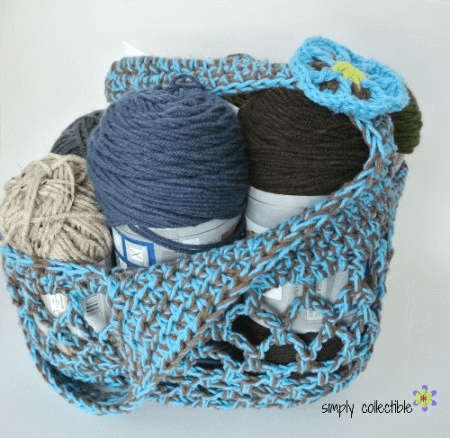 Crochet Market Bag Materials
Size H Crochet Hook
10 oz Sugar n Cream Cotton or another worsted weight cotton in any color
Intermediate Pattern But Beginners Can Try
The crochet market bag pattern is meant for the more intermediate as it will involve working with two strands of cotton. For the more experienced you already know that working with two strands of cotton can be somehow taxing on the wrists and hands.
But, this should not deter any beginners from trying out this pattern as the results are worth it.
Detailed PDF And Illustrated Tutorial
So, the instructions in the PDF's and tutorials are very detailed and are explained in simple English that is easy to understand. They are also rich in illustrations and pictures depicting every step of the process, so you don't get lost.
Even if you are a beginner if you follow the instructions strictly, I guarantee you will end up with a stunning market bag.
Honestly, I can't tell you how many times other women have stopped me to ask me where I got my bag and they almost never believe that I did it myself just following tutorials.
There are quite a number of things that you can do with the market bag crochet pattern to make it your own. You do not have to limit your imagination especially when it comes to the colors. You can try mixing up different colored cotton like I did to give it that unique aspect.
Use Different Size Yarn For Different Strength Bags
Mine looks more like a beautiful rainbow than a bag, but I like it that way. I like it more colorful, so play around with yours and create something that you will like. You could also try different weights of cotton.
Use lighter cotton to crochet market bags for lighter shopping use and heavier cotton for heavier duty bags.
Whatever you fancy about a bag, you can make it with the market bag crochet pattern. An idea I want to try out is adding buttons to the rim, so that I can be able to close it.
The applications for this crochet pattern are endless. If you wanted a bag that can serve you anywhere and anytime then the crochet market bag pattern is just what you need. And if it's what you need, need I say more? So go on, get the pattern right now and make your market bag.
Get The Crochet Market Bag Pattern Here
More Crochet Bag Patterns Here