Going on a day trip soon? Looking for an on-the-go purse that you can keep close that isn't too heavy? Consider making any of these 27 crochet crossbody bag. Also known as shoulder bags, these type of purses are ideal for days out and about!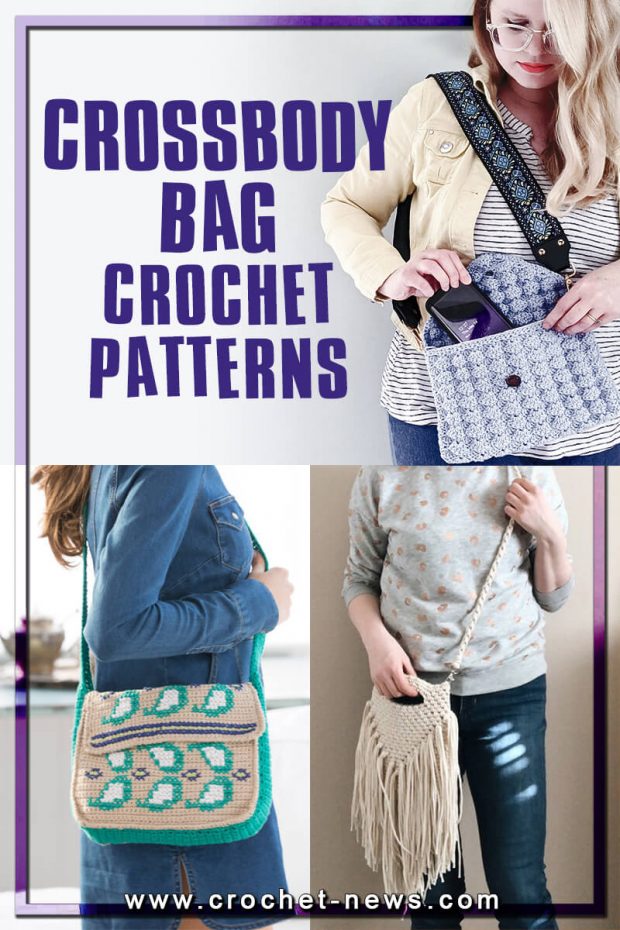 Because they sling across your body and rest at your hip, they stay close without being too bulky. The balanced weight also helps give your shoulders a rest! Take a look at our favorites ahead and get ready to crochet the bag of your dreams!

1. Boho Crochet Crossbody Bag Pattern by Yarnspirations
This fun crochet bag is a must-have for the free-spirited gal. Inspired by classic boho styles, this option features a lace overlay and generous fringe for fun. The pattern is great for practicing shell stitches, single crochet and fringe techniques.

We love it in the golden color featured, but the pattern would look amazing in any solid shade that lets the stitchwork really stand out. Set off your summer style with this great everyday bag!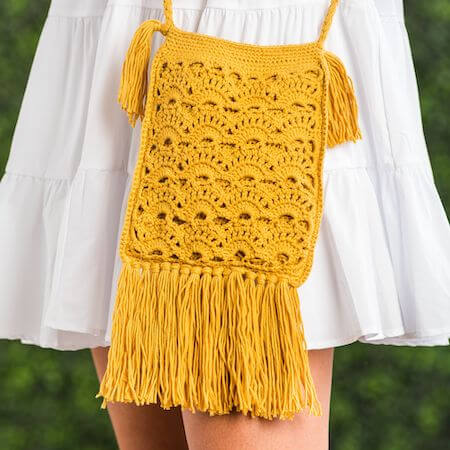 Get the Pattern here

2. Crochet Crossbody Canteen Bag Pattern by Two Of Wands Shop
Take your ensemble to the next level with this fashion-forward circular Crossbody Canteen Bag! This bag is designed to fit all of your essentials for your next adventure. The round shape is this season's "it" bag, and with an adjustable strap, front pocket, and tongue closure, your friends will be shocked you made it yourself!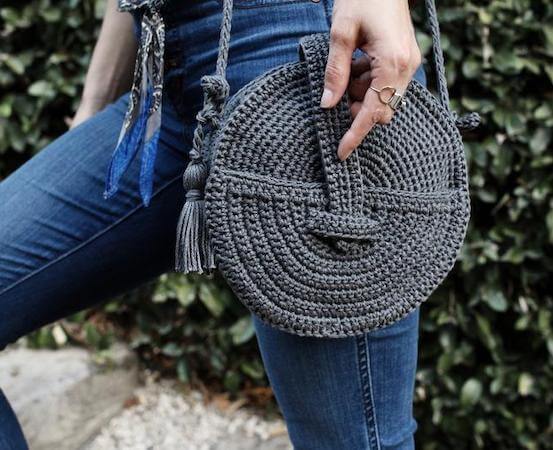 Get the Pattern by Two Of Wands Shop here

3. Free Crochet Cross Body Bag Pattern by Megmade With Love
This Cross Body Bag is made up of using the waistcoat (or knit) stitch and creates a super simple texture that you will love. And the fact that it's made with super bulky yarn means incredibly fast work-up.

It's the perfect cross-body purse and pairing it with beautiful suede leather and antique brass notions? It will possibly be your favorite combo!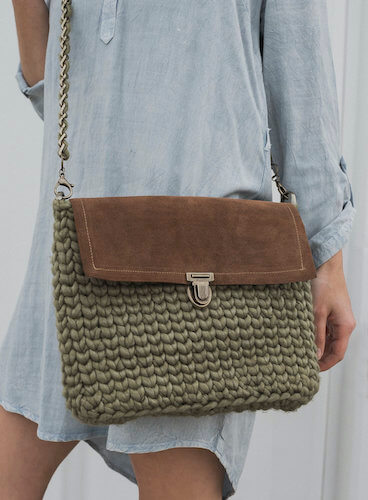 Get the Pattern here

4. Crochet Cool Crossbody Bag Pattern by Yarn And Colors Shop
Keys, wallet, phone, lipstick – these are all essentials you want to take with you when you are leaving the house. This cool Crossbody Bag can store those essentials for you and will make sure you'll look on-trend this spring/summer.

It's nice and sturdy because you'll crochet using two to three strands at a time. So, choose your favorite color of Zen and get your crochet hooks ready!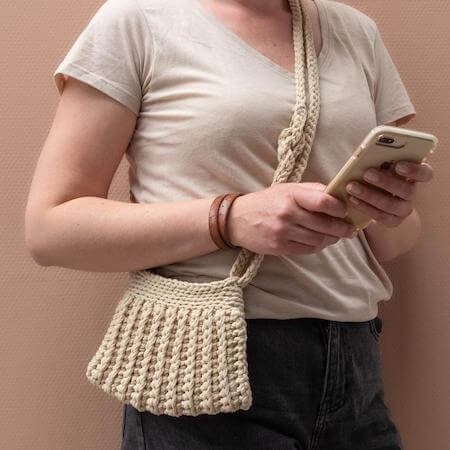 Get the Pattern by Yarn And Colors Shop here

5. Crochet Cross Body Bag Pattern by Red Heart
The easy-wear style of this crochet bag is cool with a touch of elegance. This creatively constructed, and amazingly sturdy sac is designed in nylon thread, using shades that show your individuality. Fall in love with the optional jeweled tassel cap embellishment that adds a hint of glam. It's an easy gift item for the fashionista in your life.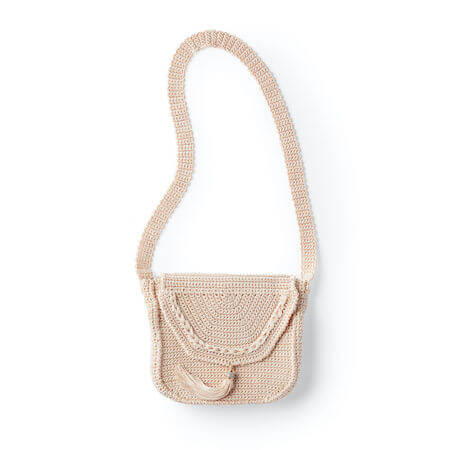 Get the Pattern here

6. Crochet Rover Circle Bag Pattern by Sewrella
This Easy Crochet Crossbody Bag is small and compact, and super easy to make. The pattern is quick and easy – you can make one in under an hour!

This is an easy level crochet pattern, and the techniques you will need to know are single crochet, double crochet, working in the third loop only, working in the round, and slip stitch.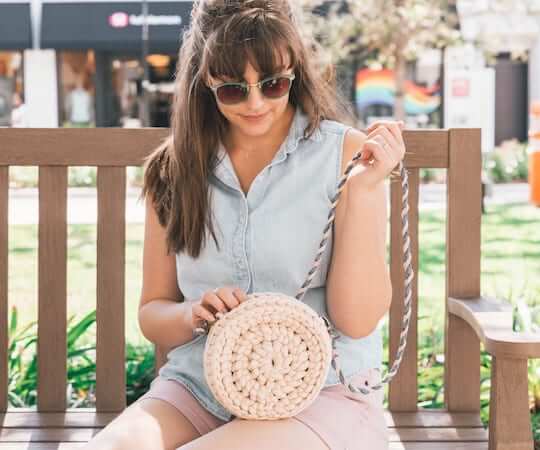 Get the Pattern here

7. Sassy Sunflower Crochet Crossbody Bag Pattern by Crochet 365 Knit Too
Sometimes a girl needs a tiny bit of cuteness to brighten up an otherwise dreary day. Something small and sweet to carry phone and keys. Maybe a bit of cash. This Sassy Sunflower Crochet Crossbody Bag is just the thing!
The bag is approximately 6.5″ wide by 29″ tall (including the strap). The bag portion (without the strap) measures 6.5″ wide by 7.5″ tall.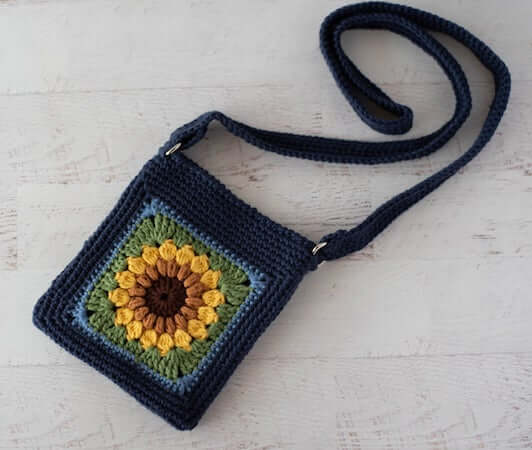 Get the Pattern by Crochet 365 Knit Too here

8. Every Day Crossbody Bag Crochet Pattern by Moogly
This Every Day Crossbody Bag is ready to go with you on every adventure, leaving your hands free to deal with everything else life throws at you. And it's quick enough to make one for every day!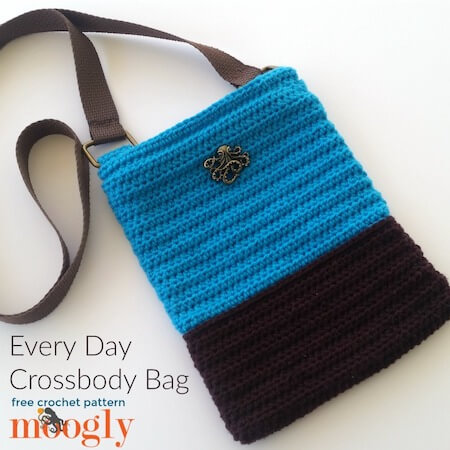 Get the Pattern here

9. Kagan Boho Crossbody Bag Free Crochet Pattern by Life And Yarn
This Modern, yet vintage crochet pattern is designed to be simple using only single crochet and bobbles! How fun is that? It looks more intricate than it is, but this urban crochet bag is really made with 4 of the same exact squares creatively placed to give it is signature look!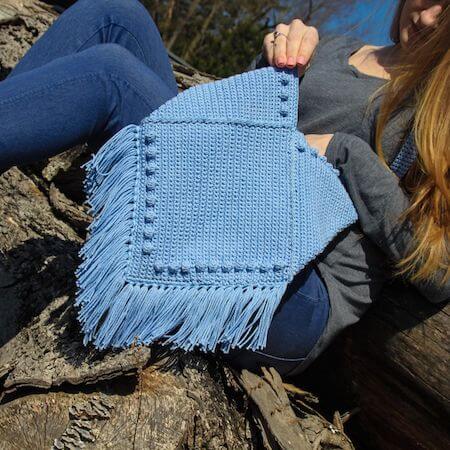 Get the Pattern here

10. Strawberry Crossbody Bag Crochet Pattern by Hello Happy
Make an adorable strawberry crossbody bag with this crochet pattern! This cute bag measures about 7 x 7 inches. You can make the strap as long or as short as you like! You could get clever and make it a bum bag/fanny pack, too.

The bag has a button closure and can fit a small wallet, phone, keys, and a couple other small things (like chapstick and a necessary feminine product or two!).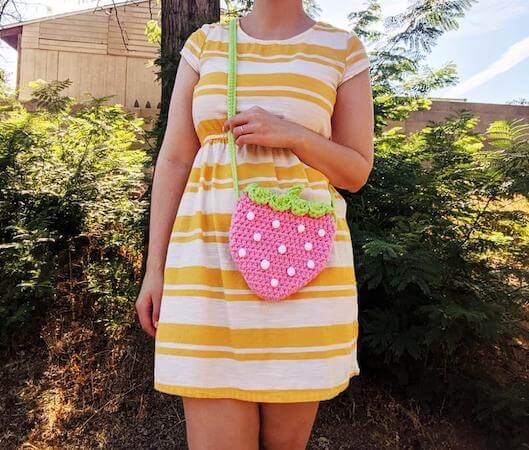 Get the Pattern by Hello Happy here

11. Free Crochet Crossbody Bag Pattern by Traverse Bay Crochet
This bag has it all! Texture, floral and button detail and cute straps that can be interchanged. Very versatile and works up in 1 piece. Don't you just love the flower detail? This is where you can get creative with buttons and make it your own!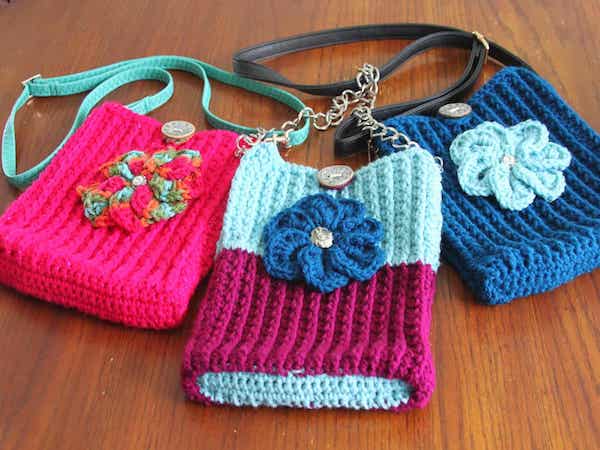 Get the Pattern here

12. Marigold Cross Body Bag Crochet Pattern by 1 Dog Woof
Two identical mandala panels meet in the middle to form the Marigold Cross Body Bag. An over-the- shoulder leather strap and classic button and string closure adds personality and practicality.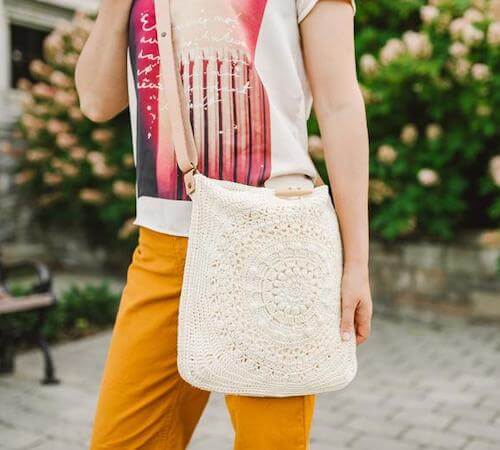 Get the Pattern by 1 Dog Woof here

13. Easy Foldover Crossbody Bag Crochet Pattern by Heart Hook Home
This has got to be the easiest crocheted bag ever. For this Foldover Crossbody bag, you will use simple half double crochet, then decide whether or not to add the lining, pocket, pouches and zipper. So simple and so sleek!

It has a zippered pocket, a cellphone pocket, a pen (or crochet hook!) pocket, and then the zipper at the opening of the bag. All of these are optional! If you'd rather just crochet the shell of the bag, and throw a strap on it, that would be perfect too! If you've got a sewing machine, and you're up for a challenge, the possibilities are endless!
Get the Pattern here

14. Crochet Monstera Crossbody Bag Pattern by Kathy's Crochet Closet
This Monstera Crossbody Bag is perfect for all your summer adventures! It's crocheted with sturdy, mercerized cotton yarn and features a raised Monstera leaf design. The stitches used in this project are chain, double crochet, half double crochet, single crochet and slip stitch.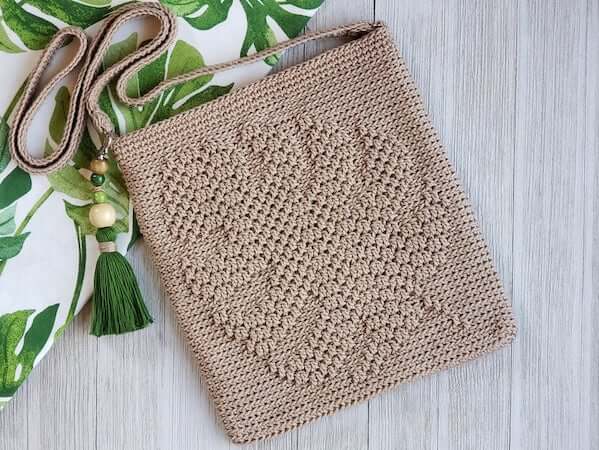 Get the Pattern by Kathy's Crochet Closet here

15. Chic Carry-All Bag Crochet Pattern by Red Heart
This crochet carry-all features cables and a pretty floral motif. Each side panel is a super-sized square that's started in the center and worked outward like a usual granny. The pattern creates a wow factor on the juicy version shown, but experiment with shades that spark your creativity. It's perfect for carrying your current knit or crochet project.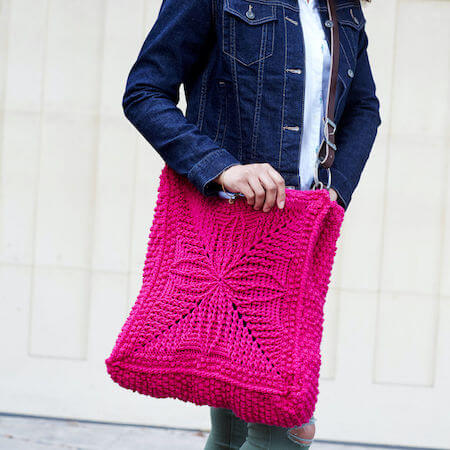 Get the Pattern here

16. Hippie Sling Bag Crochet Pattern by Hooked Homemade Happy
This Hippie Sling Crochet Bag Pattern will be your new favorite thing! It's such a fun shape, the colors are bright, and it's easy! It's just 3 granny squares sewn together plus a strap! So many different color combinations would be super cute for this bag.
The pattern is written for 4 colors, but you can easily make this pattern your own!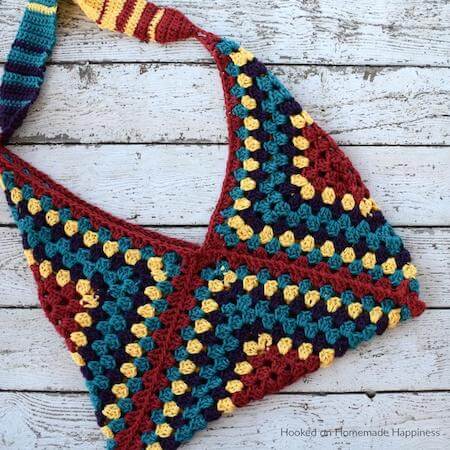 Get the Pattern by Hooked Homemade Happy here

17. Everything's Beachy Cross Body Bag Free Crochet Pattern by Nana's Crafty Home
This Everything's Beachy Bag is a cross body sling bag that is perfect for your beachy getaway — large and roomy enough for your beach day essentials and easy to tote hands free!

Made with bright cotton yarn you could match to your beach ensemble and this easy bag will be your go to fashion accessory for the beach or just to carry your favorite work in progress!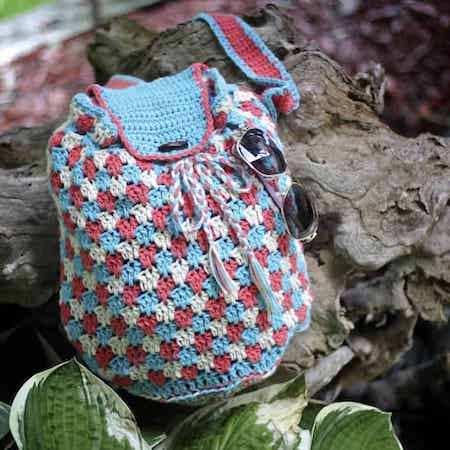 Get the Pattern here

18. Crochet Sling Bag Pattern by Earth Tricks
Use this pattern to make three styles of bag – wear this as a backpack, a tote bag, or a sling bag! This pattern has one outline for the pattern of the bag itself, and then two sets of customization options: you can choose from three styles of straps and you can choose to do a top flap, or leave your bag as a drawstring top.

Both of these customization options are outlined following the creation of the bag itself! Reuse this pattern multiple times to get all sorts of different, funky bag options!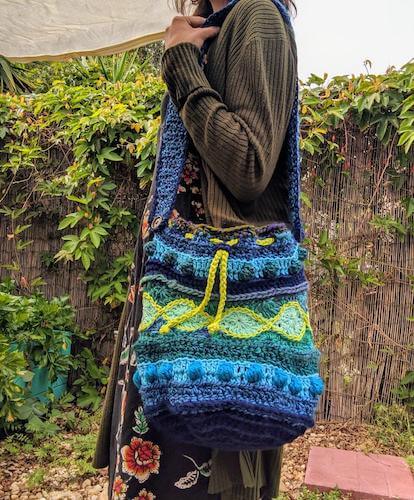 Get the Pattern by Earth Tricks here

19. Sundance Crossbody Bag Crochet Pattern by Hello Wildflower Co
Crocheted with bulky t-shirt yarn, this Sundance Crossbody Bag is soft yet sturdy with a little bit of stretch. Large enough to hold your essentials, light enough to dance the night away. The pattern includes 3 different options to make the crossbody strap and plenty of pictures for the visual learners.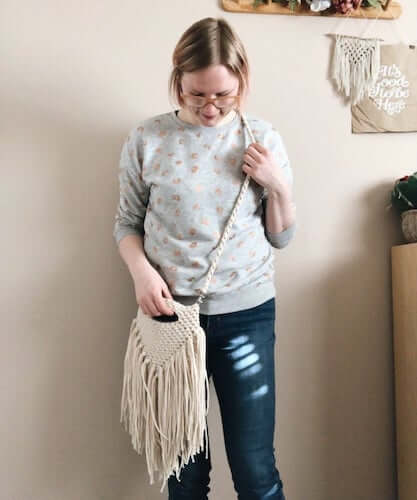 Get the Pattern by Hello Wildflower Co here

20. Endless Waves Bag Crochet Pattern by Mostly Yarn
This Endless Waves Bag is an intermediate crochet pattern, written in US terms. This cross-body bag is the perfect summer bag – light and airy, for a day at the beach or a night out.

You will love the open stitches and the light but sturdy feeling the bag has when made with raffia yarn (though a slouchier version can be achieved with acrylic or other softer fibers).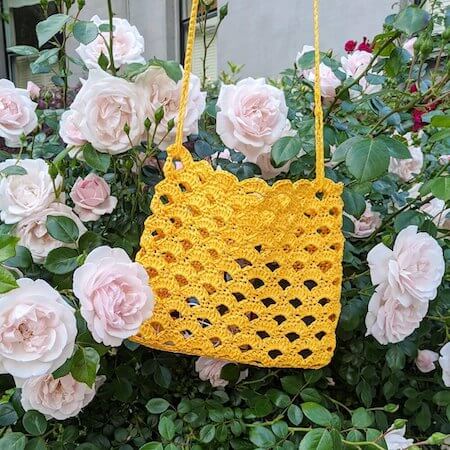 Get the Pattern by Mostly Yarn here

21. Ginter Crossbody Bag Crochet Pattern by Rebekah Haas
Make a statement on the go with this textured clutch that can double as a crossbody purse. This pattern is worked flat, then folded and seamed to shape the bag. The raised shell stitch is easy and quick to make, giving this Ginter Crossbody Bag a little bit of that modern boho feel.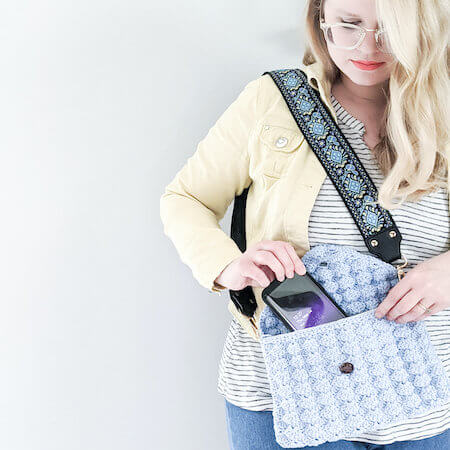 Get the Pattern here

22. Embellished Paisley Crochet Crossbody Bag Pattern by Red Heart
Why carry a bag that looks like all the others when you can crochet one that reflects the crochet-lover in you?! This bag is just the right size and is easy to crochet. The colorful paisley design is added with easy to learn cross-stitch.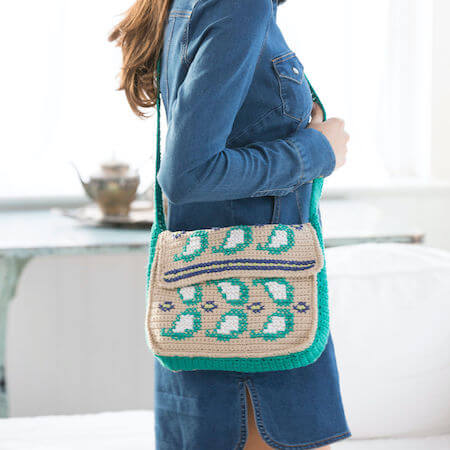 Get the Pattern here

23. Aster Alpine Bag Crochet Pattern by Burgundy And Blush
The perfect spring summer project, a crochet bag pattern using the alpine stitch! You will love it in this mustard yellow, obviously, but would also be lovely in other summery colors. This bag can be a long or short shoulder/cross body bag with a flat base as the long strap can be made adjustable, or customized to your own preferred length.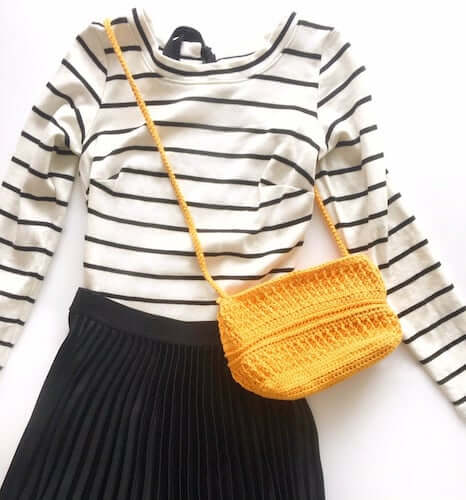 Get the Pattern here

24. Summer Crossbody Bag Crochet Pattern by Kathy's Crochet Closet
This crochet pattern makes a cute summer crossbody bag that looks so urban chic! The body of this lined bag is done with an extended double crochet in a granny stitch style and the easily made drawstring doubles as the crossbody strap. sThe bag can be made in a solid version and a striped version.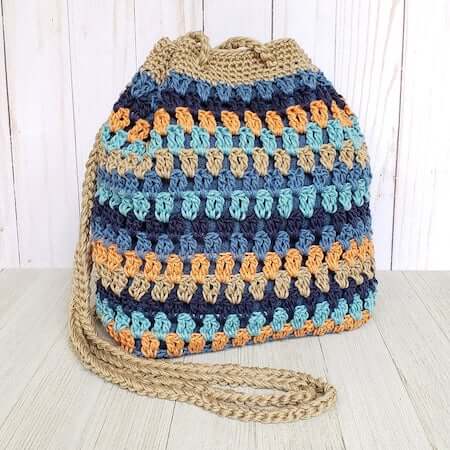 Get the Pattern by Kathy's Crochet Closet here

25. Crochet Toddler Crossbody Bag Pattern by A Crafty Concept
This Crochet Toddler Crossbody Bag would be perfect for a little girl! A great gift idea, it is soft and durable for her adventures! The finished size of the purse is about 4.5 inches tall and 4.5 inches wide. From strap to fringe the entire bag is about 22 inches.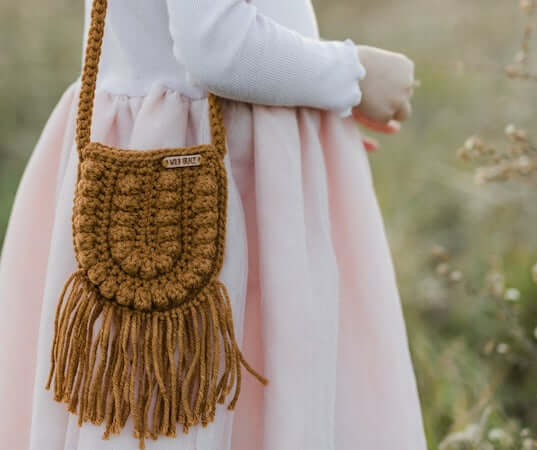 Get the Pattern by A Crafty Concept here

26. Crochet Owl Crossbody Bag Pattern by Yarnspirations
The pattern have shown this clever crossbody bag with a child who loves it, but there are much older girls that would find it to be a "hoot", too! Crocheted in a multi print yarn, the feathers have added dimension while keeping the pattern easy.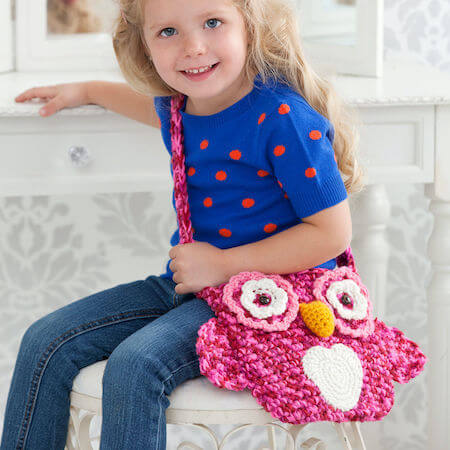 Get the Pattern here

27. Chic Casual Crochet Crossbody Bag Pattern by Olha Bilyk
This Casual Crochet Crossbody Bag Pattern is made with an aesthetic knitting pattern which is modern and visually pleasing. It will surely be a perfect accessory that will complete any style in any occasion!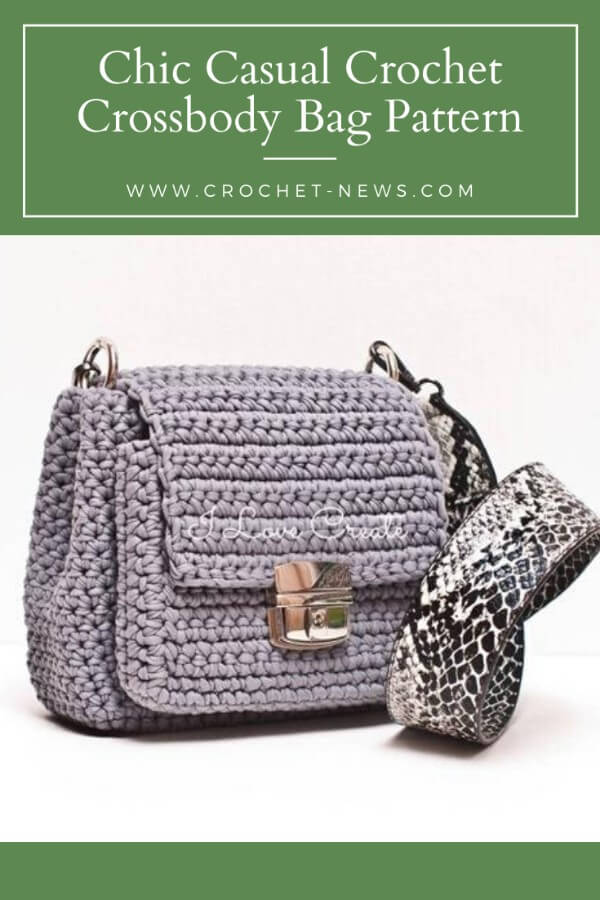 Are you tired of your outdated and old-looking big bags and want something practical with a stylish look? Well, this cross-body bag will surely embody the charm of its wearer. Handbags for women are considered a fashion statement that can either make or break your style.
The kind of pattern that this Chic Casual Crochet Sling Bag Pattern has, leaves the wearer a sassy and chic vibe as it looks delicate without being lacy. This can also come in a variety of sizes and colors of your choice. Aside from that fact, it is also lovely and can be entirely hands-free thanks to the strap!

This Chic Casual Crochet Crossbody Bag Pattern is a great present for birthdays, anniversaries, holidays or just for an ordinary day for your mother, sister, girlfriend, wife, friend or maybe just for yourself.

CHIC CASUAL STYLING
In times where you just want to blend in the background, use a top or a dress the same color as your bag. Pair it with a pair of flats or boots for a more laid-back look. Now, you can appear conservative and subtle while wearing this Chic Casual Crossbody Bag Crochet Pattern!

ABOUT THE CROSSBODY CROCHET BAG PATTERN
The Chic Casual Crochet Crossbody Bag Pattern will come in a pdf format, instructions will be in English, and crochet terms will be written in US terms. The best thing about this pattern is that it comes with a detailed video that even beginners can cope with!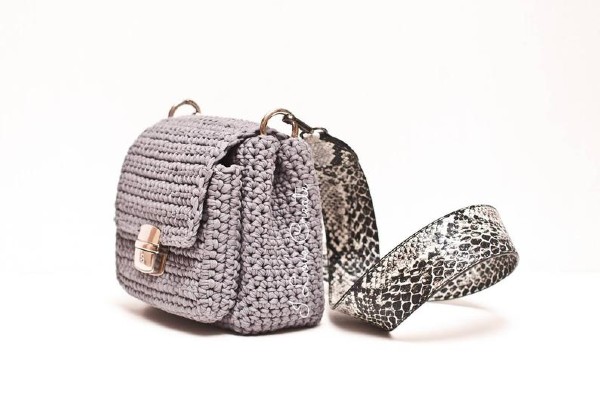 SLING BAG CROCHET PATTERN VIDEO TUTORIAL
How to crochet a bag
How to sew a pocket
How to install the lock
How to cut out the lining for the base of the bag and for the pocket

CROCHET MATERIALS
2 skeins of t-shirt yarn 5-7mm/0.2-0.3" (or 150 m/275")
a closure or a button
2 snap rings
a piece of chain (or a strap) for this bag (of the size: 23 cm * 19 cm * 13 cm)
a crochet hook (5-5.5-6 mm)
t-shirt yarn

SIZE OF THE CROCHET CROSSBODY BAG
The size of the finished bag will depend on the thickness of the yarn used and the crocheting density.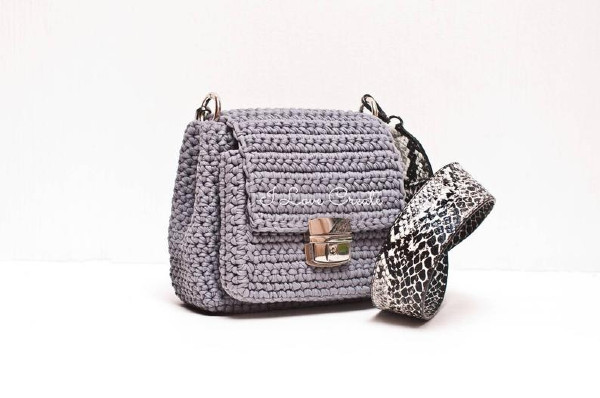 You don't need to be a proficient crocheter to make this wonderful bag, even if you are a beginner you can ace it for sure! The time for crocheting this bag only lasts between to 2 to 3 days. This bag will be surely a perfect accessory for any of your occasions or just for your everyday use.

So what are you waiting for? Grab your crochet hooks and yarn and start doing this Chic Casual Crochet Crossbody Bag Pattern!
WHEN IT COMES TO EASY ACCESSORIES, NOTHING BEATS THE HANDS-FREE CROSSBODY. SO, WHIP UP A CROCHET CROSSBODY BAG PATTERN TODAY!
If you make these bags, we would love to see your versions. Stop over to the Crafting News Facebook Page and share a photo! Then hit the beach, the farmer's market or your lunch hour feeling awesome because you made something useful and beautiful with your own two hands!

If you loved this round-up, you might also like to check out these crochet backpack patterns, crochet tote bag patterns, crochet market bag patterns, and crochet purse patterns to whip up next. You may find a pattern here to inspire your next project – or maybe not just one!

With these crochet crossbody bag patterns, you can make new accessories to match your wardrobe during each season of the year!