What season is not the perfect time to rock a clutch? For cocktail parties, wedding weekends, and the like, every stylish gal needs her go-to clutch. But maybe you're up for a weekend project that doesn't involve going to 10 boutiques all over the city to find the right one.
Maybe you want to make your own! Here are crochet clutch patterns we think you'll love. After all – who can rightfully say that a store-bought bag is any better than a DIY clutch?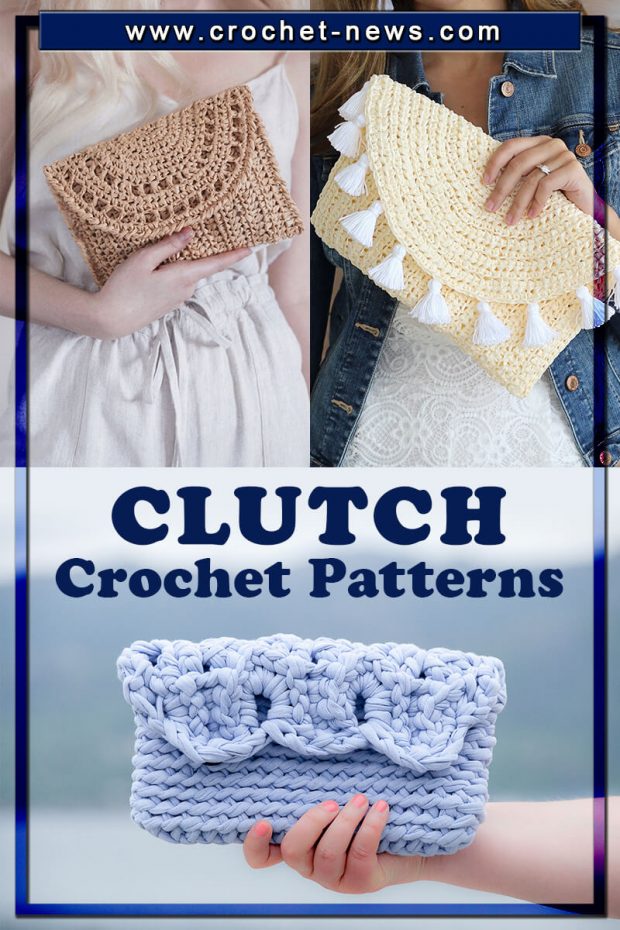 For all we know, it may even be the other way around as having a handmade clutch guarantees you won't run into someone with an identical piece!

1. Crochet Clutch Pattern by Yarnspirations
Two solid braids of yarn is all it takes to crochet this adorable clutch, so grab your hook and get started! Work your project in one piece using the versatile solid shades featured, or create a personal color story with your own project vision.
It's stylish and ready to set-off all sorts of cool summer looks.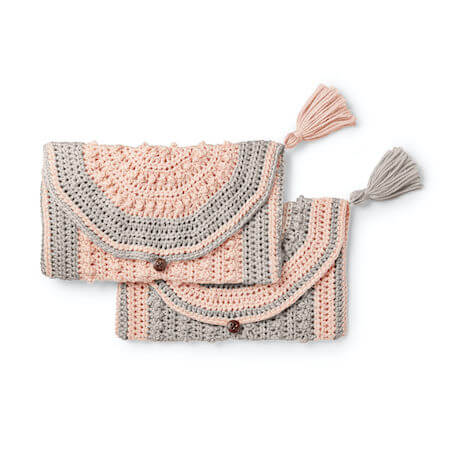 Get the Pattern here

2. Rica Crochet Clutch Pattern by Whistle And Ivy
This colorful crochet clutch is made up of simple stitches, but has stunning color effect. Mix and match different colors to make your clutch totally unique! This pattern is perfect for your mobile device, for crocheting on-the-go or sitting comfortably at home.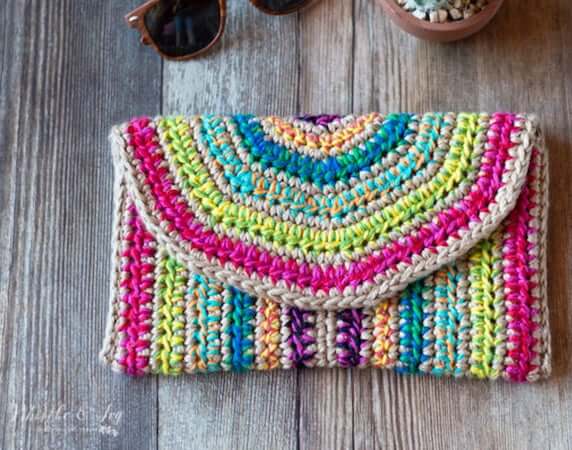 Get the Pattern by Whistle And Ivy here

3. Evelyn Crochet Summer Clutch Pattern by Lakeside Loops
This beginner-friendly crochet clutch pattern is the perfect accessory to add to your Summer wardrobe. This purse is modern and fun with cute tassel details. It's the perfect size for date night or lunch with friends!
Choose tassel colors to complement your white sundress one day and your colorful romper the next – so many possibilities!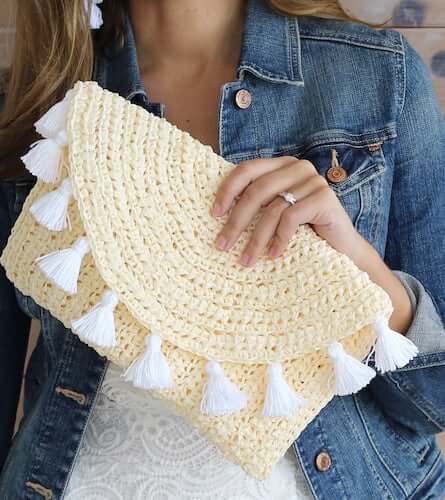 Get the Pattern by Lakeside Loops here

4. Free Crochet Clutch Bag Pattern by Gathered
Hook up a this gorgeous crochet clutch bag pattern to match your new outfit, or to give as a quick gift. The semi-circle front and full-on fringe of this cute crochet clutch bag is totally trend city! Make it in any shades you love!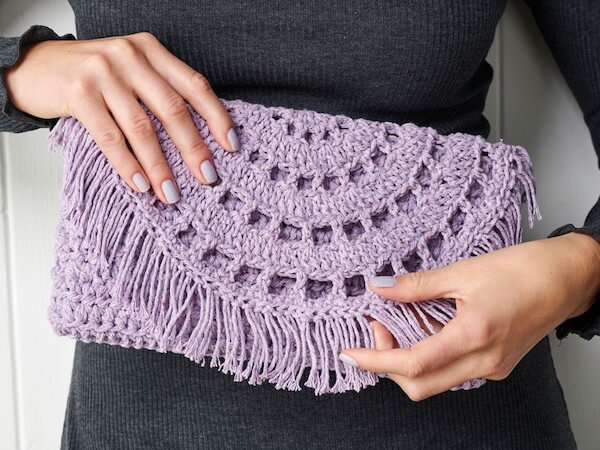 Get the Pattern here

5. Summer Clutch Crochet Pattern by Darling Jadore
Beautiful, classic crochet stitches and subtle eyelet lace combine to create this Summer Crochet Clutch – a stylish must-have purse for summer that's fun and easy to make!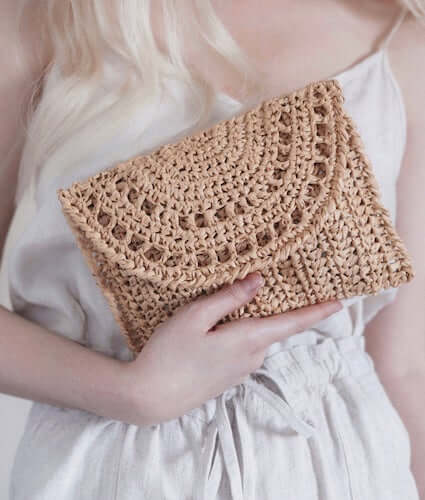 Get the Pattern by Darling Jadore here

6. Tapestry Crochet Clutch Pattern by The Story Of A Mulberry
This clutch is made with tapestry crochet technique. It is an elegant and versatile design that features leaf shapes – a design that will bring a delicate touch to any outfit, but will also look good in any kind of project whether it's a bag, a tablet/laptop cover or even a pillow!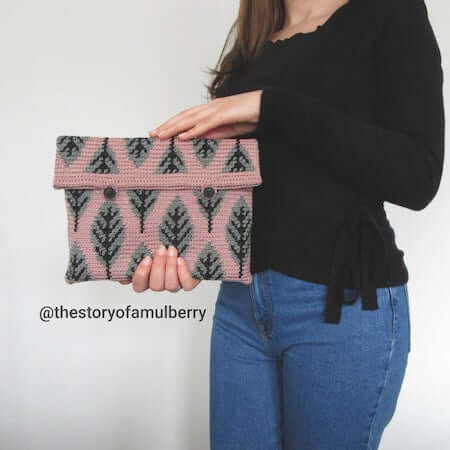 Get the Pattern by The Story Of A Mulberry here

7. Chain Edge Raffia Crochet Clutch Pattern by Persia Lou
Colorful raffia meets shiny gold hardware in this simple yet stylish DIY clutch. Make your own summery pouch with this free Crochet Clutch Pattern. These little clutches are simple to make and work up quickly, but the raffia texture and shiny gold chain detail make them extra special.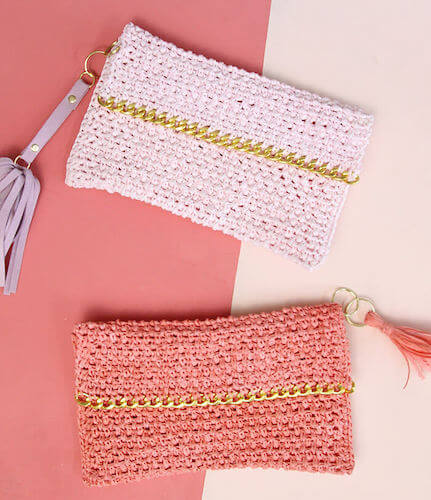 Get the Pattern here

8. Crochet Leopard Clutch Pattern by E'Claire Makery
Get ready to show your wild side with this Leopard Clutch, a beginner friendly tapestry crochet clutch purse pattern featuring bold leopard spots. This fun crochet bag pattern is a great beginner crochet color work pattern, and is so much fun to make.
With just one rectangle, you can have a fun crochet purse!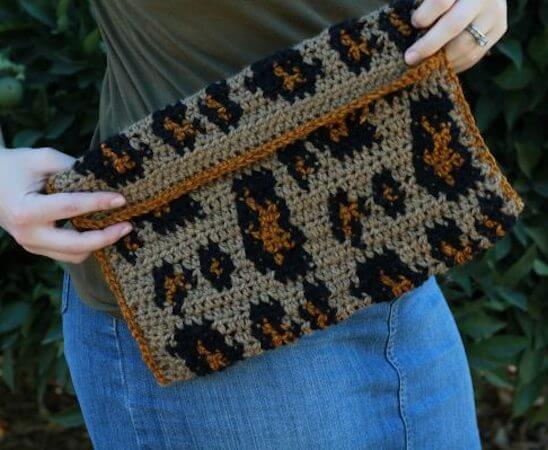 Get the Pattern by E'CLaire Makery here

9. Checkered Crochet Clutch Bag Pattern by Lucinda Ganderton
The checkered design of this sweet bag may look tricky but it's actually a piece of cake. Simply work a row of alternating groups of trebles and chains, then on the next row, work trebles over the chains on the previous row, and vice versa.
This means that you only need to use one color per row.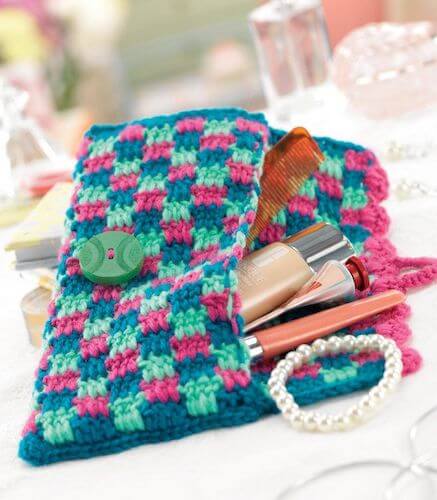 Get the Pattern here

10. Free Crochet Clutch Pattern by Made With A Twist
This is the perfect size for all your different roles. Whether you're headed to work and need a place to store your lip gloss and phone, you're headed to the park and need to carry your sun protection and emergency diaper, or headed to a coffee shop for some me-time and need to protect your tablet, this Chic Clutch has you covered!
The options for use are endless, as are the color options.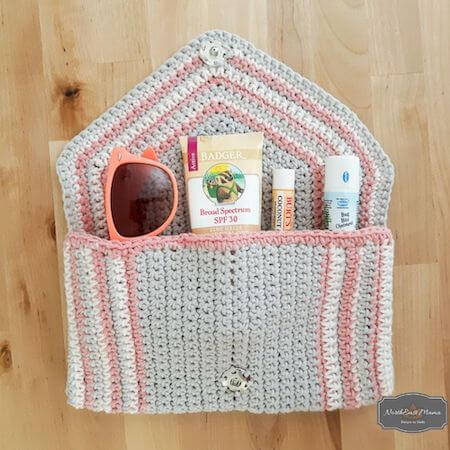 Get the Pattern here

11. Owl Clutch Crochet Pattern by The Hook Hound
This Owl Clutch is done in beautiful cables to create an owl pattern along the bottom of the purse. There is one Momma Owl and three adorable babies. The "momma owls" eyes are buttons which are attached during the actual crochet work and not sewn after. So no sewing on later!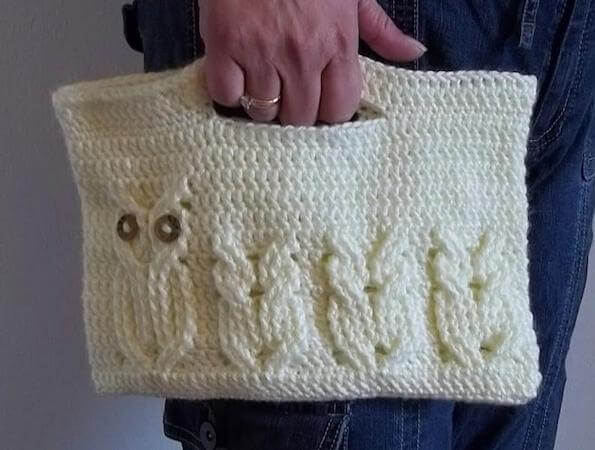 Get the Pattern by The Hook Hound here

12. Irish Fling Clutch Crochet Pattern by Moogly
This Irish Fling Clutch is the perfect little project to start thinking Spring with – snowy white bursts forth with bright green vines and frivolous fringe. Add a wristlet strap and you'll be ready for that first sunny day adventure!
Get the Pattern here

13. Crochet Flower Clutch Pattern by Thoresby Cottage
If you love pretty pastels, portable projects, or granny squares, then get your hook ready for this Flower Clutch! This pouch is made using a repeat motif (small flower square) that is then sewn together to form the pouch.

The stitches used fit quite snugly together, which means that you don't have to line the pouch if you plan to use this for slightly larger things like your phone or wallet. It's the perfect project to use up all those colorful scraps!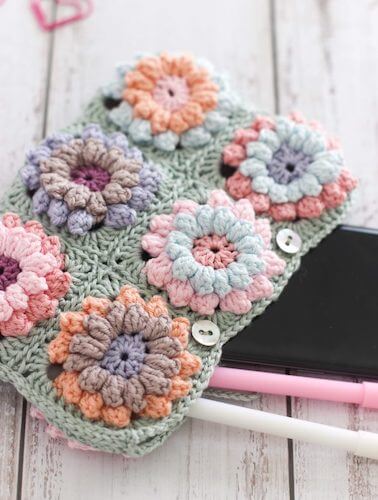 Get the Pattern here

14. Color Pop Clutch Crochet Pattern by Simply Collectible
This Color Pop Clutch is the absolute perfect size for all of your essentials and doesn't leave any room for you to carry around extra, unneeded items. This is so chic and trendy, and it's such a quick crochet you can make it in one sitting.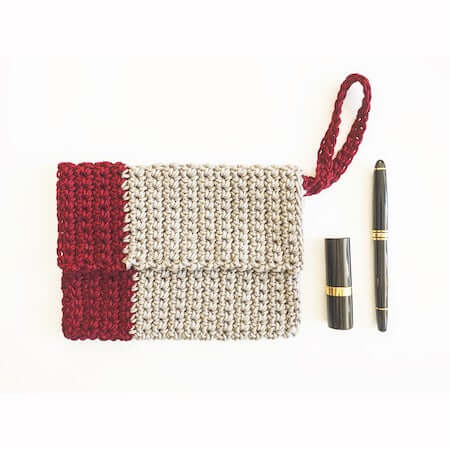 Get the Pattern by Simply Collectible here

15. Crochet Hearts Clutch Pattern by Chabe Patterns
Make a cute medium size clutch with a classic print and take tapestry crochet to the next level by working more than two colors at a time. The repetitive pattern makes it easier to follow and the three contrasting colors give it a fun modern look.
You'll make a beautiful, resistant bag, perfect for any day to celebrate love all year long.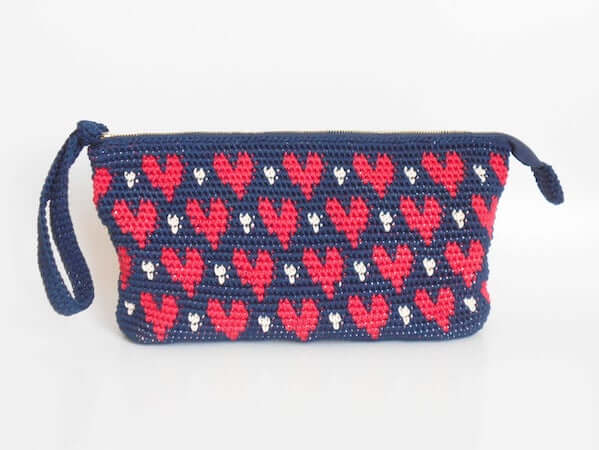 Get the Pattern by Chabe Patterns here

16. Florence Scalloped Clutch Crochet Pattern by I Like Crochet
A row of pretty scallops accents the flap of this vintage styled clutch. A chain-stitch loop and vintage button provide the bag's closure and add an elegant touch. Simple to stitch in a single panel of worsted-weight coral cotton yarn, this project is ideal for summer stitching and accessorizing.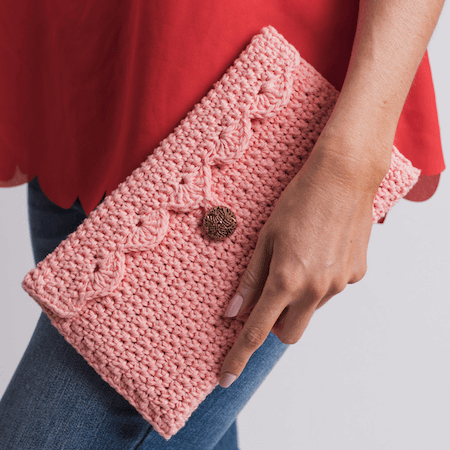 Get the Pattern here

17. Aisling Infinity Crochet Clutch Pattern by Briana K Designs
Modern with a twist, this Aisling Infinity Crochet Clutch is a popping accessory. It can be dressed up fancy or for a casual coffee date. Dress this up with your own flare by adding tassels or a leather tab.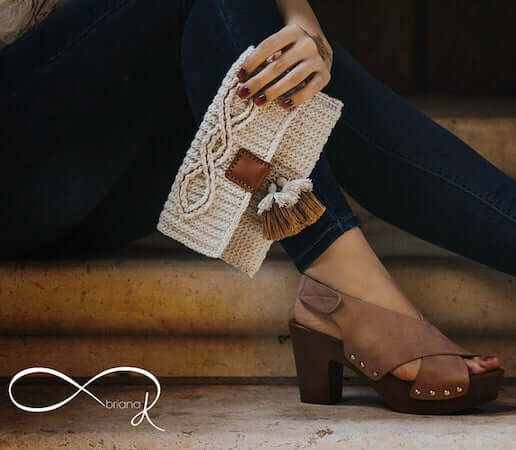 Get the Pattern by Briana K Designs here

18. Summer Crochet Clutch Bag Free Pattern by Joy Of Motion Crochet
You're going to love this free pattern for the Crochet Summer Clutch. First of all, if you don't have much time, this amazing crochet pattern is perfect for you. It's also going to be your true companion whenever you need to bring something with you all summer long.
Let say, shopping, traveling, a summer party? That's what the Summer Clutch pattern is made for.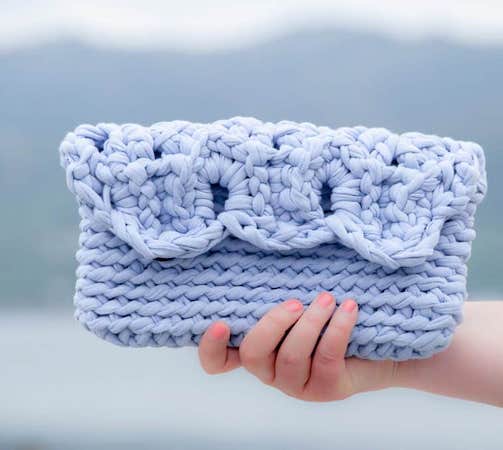 Get the Pattern here

19. Geometric Clutch Crochet Pattern by Spin A Yarn Studio
This geometric pattern makes a beautiful and stylish fold-over clutch bag, but you could also use it as a tapestry wall-hanging, a trendy accent pillow, or make several panels, join them together and make a rug or throw.

The bag is worked in two separate pieces worked in flat rows and joined together. The bag also includes an optional fabric lining that is crocheted in place.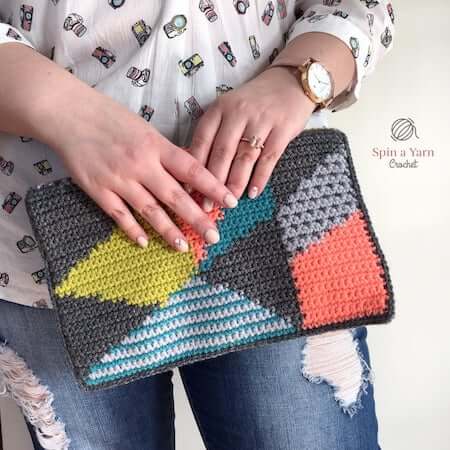 Get the Pattern by Spin A Yarn Studio here

20. Fringe Clutch Crochet Pattern by Dabbles And Babbles
We all know teenagers can be hard to shop for. With so many changing interests, how could you possibly keep up? Let alone, know what to make for them! That's where this Fringe Clutch Bag comes in.
This is the perfect little present you can make for that teen or tween in your life who loves getting dressed up. This little purse is crocheted in a rectangle with a half circle flap closing the bag.
What really makes this bag modern though, is the delicate fringe detail and fun tassel attached to the edge.
Get the Pattern by Dabbles And Babbles here

21. Cool Cobbles Clutch Crochet Pattern by Stitch In Progress
This crochet purse pattern is super simple and a great option for beginner or it makes a super quick project for veteran crocheters. It is a clutch style purse or bag because it doesn't have any handles. Of course, you could easily add one if you like!

You will love the bright colors in this one, but it would look great in a solid too or maybe even stripes!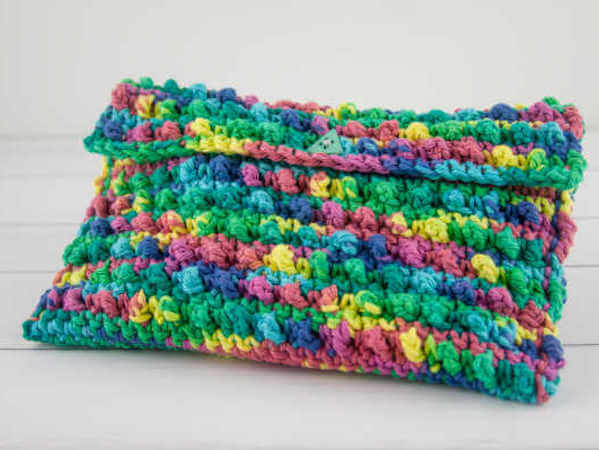 Get the Pattern here

22. Bella Borsetta Clutch Crochet Pattern by Sweet Potato 3 Patterns
This Bella Borsetta is a fun sized and darling clutch or handbag. The crochet pattern features fun stitches with a simple construction but a eye popping look. This bag is designed to be about 5″X5″ square.
You can made the handle any length you wish to be a clutch, handbag or even a crossbody bag.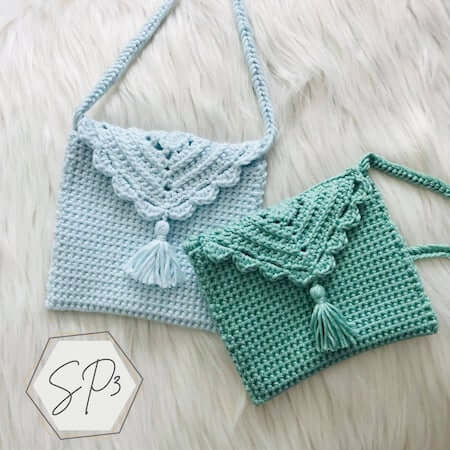 Get the Pattern by Sweet Potato 3 Patterns here

23. Crochet Clutch With Color Block Flap Pattern by Jakigu
This is so much more than just a crochet clutch. Pencil case? Perfect size. Cosmetics bag? Absolutely! Journal cover? Yes! Purse organizer? A great one! An actual handbag for a night out?
Oh, you bet! Book cover, notebook cover, e-reader cover? Check, check, check. Whatever you choose to use your crochet clutch for, be sure to make a couple extras to give away.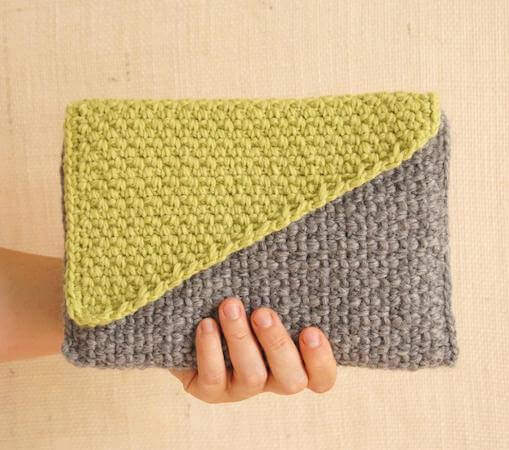 Get the Pattern by Jakigu here

24. Scrapadoodle Clutch Crochet Pattern by Crafting 4 Weeks
This Scrapadoodle Clutch is a fun way to use up yarn scraps. With color changes every two rows, you have endless possibilities of different color combinations. It is designed with cotton yarn, but can be made with any worsted weight yarn.
Plus there's instructions for a simple lining, you can give this project a modern, finished look or maybe add a fun pop of color.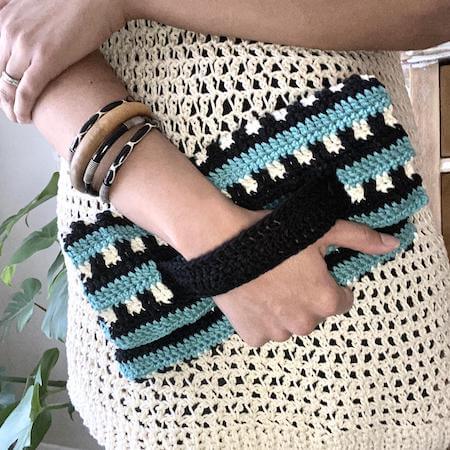 Get the Pattern by Crafting 4 Weeks here

25.
Lemon Bag Crochet Pattern

by Bagoday Crochet

Lemon Clutch Bag is a hot fresh new look for this summer. The video tutorial below is quite easy to follow, and takes you through from the beginning of the pattern right to the end.

This pattern uses 1 skein of 100% acrylic worsted weight yarn, with a 5.5mm crochet hook. You can purchase the yarn here. The clutch uses a rocky road stitch in a multiple of 4+3.

You can find other products from BagODay Crochet at her Etsy store.
I CAN'T GET ENOUGH OF THESE CROCHET CLUTCHES – AND IF YOU'RE A GIRLY-GIRL LIKE ME, I'M SURE NEITHER CAN YOU!
We'd love to see how you make these clutches your own, either by using different colors or adding your own personality and style. Share your completed projects with us on Facebook!

In the mood for more crochet bag patterns? Check out these Crochet Market Bag Patterns, Summer Crochet Bag Patterns, Crochet Tote Bag Patterns, Crochet Crossbody Bag Patterns, Crochet Handbag Patterns, Crochet Shoulder Bag Patterns, and Crochet Purse Patterns.

Affordable and easy to make, these crochet clutch patterns are exactly what you'll need in order to update your style this season in a creative way! Enjoy crocheting!