Even though these hexagon crochet blankets are all made of the same shape, these projects all look completely different! Using different colors, stitch patterns, and sizes, you can personalize your blanket to match your decor.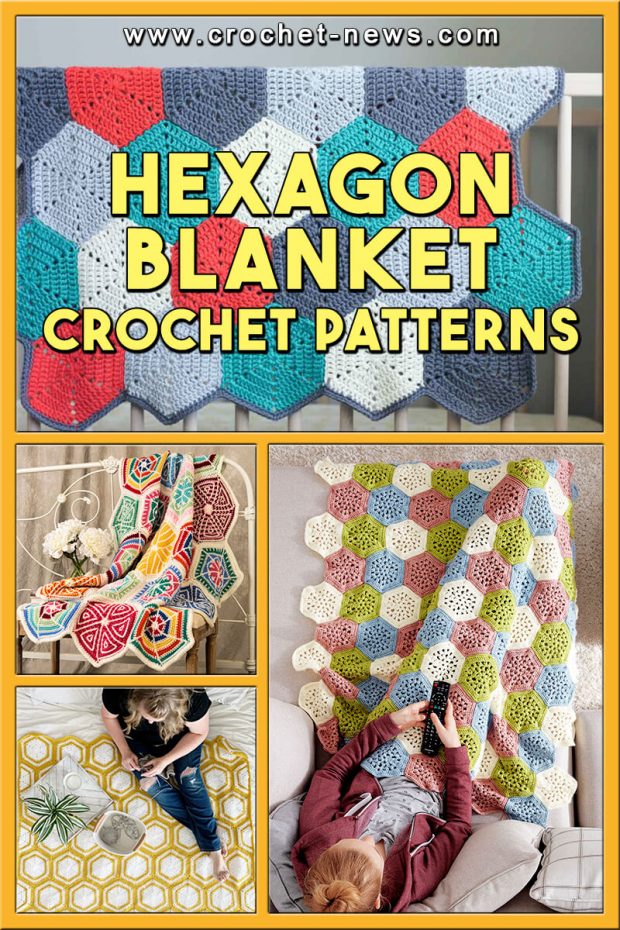 We're big fans of hexagon motifs – there's just something so pleasing about the way they all interlock together.
15 Hexagon Crochet Blanket Patterns
With 15 eye-catching projects to try, there's plenty here to spark the imagination. Simply pick your favorite pattern and get crocheting, or mix and match the blocks to create your own unique project!

1. Crochet Afghan Hexagon Blanket Pattern by Make And Do Crew
This Afghan Hexagon Crochet Blanket Pattern is simply stunning. The symmetry with the hexagons on this blanket is just fantastic. It works so well in the pattern and really makes the blanket pop.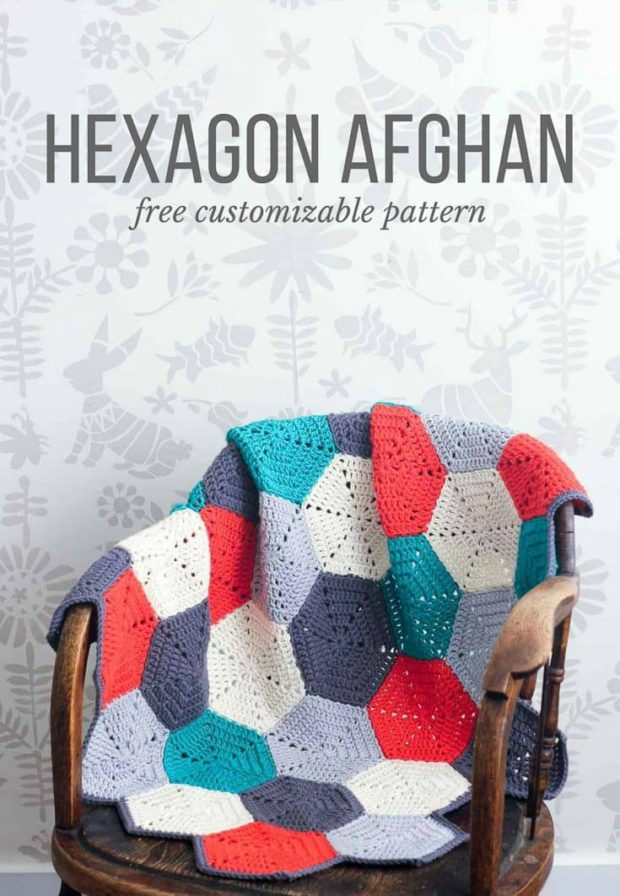 This blanket would be great in any room of your house, whether you keep it in the lounge room, bedroom or outside on the patio. You can change up the colors of the hexagons to make them brighter and more colorful.
Or you can use a few different shades of the one color to make a more subtle palette for your home. Whatever suits you!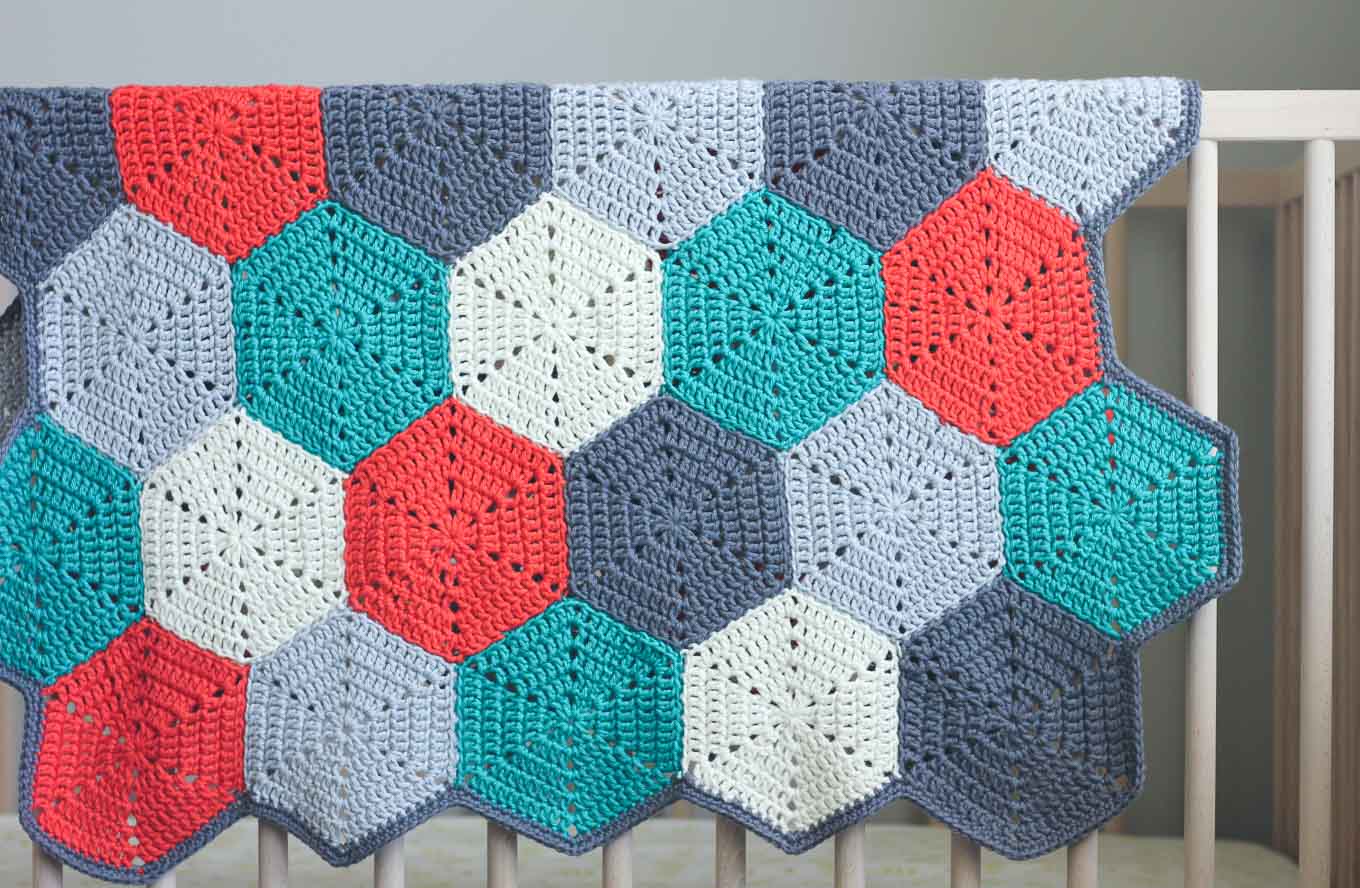 Materials
• Yarn in 5 different colors in. Pictured is "I Love This Cotton" in Bright Teal, Ivory, Orangeade, Pewter, Dove
• size h hook (5 mm)
• tapestry needle
• scissors
• blocking board (Learn how to make your own for $2 with this tutorial!)
Note: For the yarn you will need 1 skein per 7 hexagons you will crochet + extra in whatever border color you plan to use. Each hexagon is approximately 6″ x 5." So if you want to customize the size of your blanket you should be able to work out how much yarn you will need.
Get the Free Tutorial HERE

2. Crochet Hexagon Afghan Pattern by Yarnspirations
Gather-up the gang to tackle this hexagon afghan in pieces. It's a fun project where each person makes their own hexagons separately, then they all get stitched together!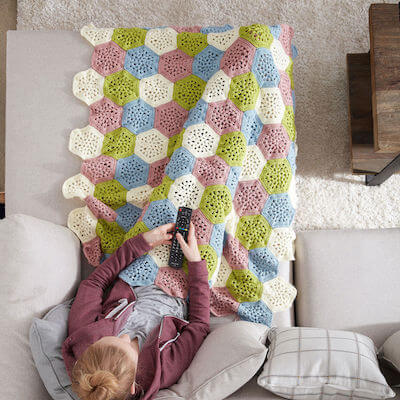 Get the Pattern here

3. Crochet Succulent Spring Hexagon Afghan Pattern by A Crocheted Simplicity
Beginners and seasoned crocheters alike will love that this Succulent Spring Hexagon Afghan Pattern uses simple crochet stitch patterns to create visual interest in the design.

This hexagon afghan pattern is simple enough that advanced beginners can successfully complete it and the combination of changing stitch patterns (and colors) will keep others from losing interest.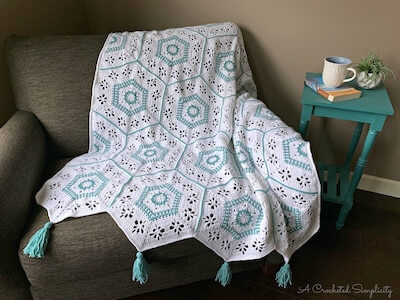 Get the Pattern by A Crocheted Simplicity here

4. Crochet Hexagon Blanket Pattern by Meghan Makes Do
Add a bit of sunshine to your home with this Winnie Blanket. This two toned hexagon blanket will quickly become your favorite thing to make. This blanket is constructed of 59 hexagons and 8 trapezoids to create the perfect accessory for any home.

The simple color changes create a unique design when all pieces are assembled. The modular construction make it easy to take this blanket on the go.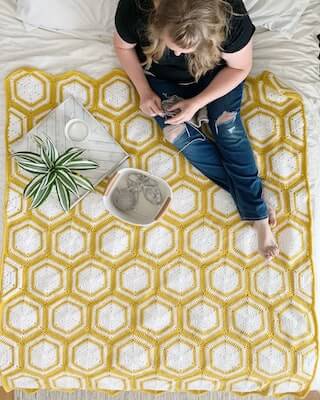 Get the Pattern by Meghan Makes Do here

5. Hexagon Crochet Blanket Pattern by Petals To Picots
The best thing about crocheting this hexagon afghan is getting to play with different color combinations. The pattern chose a palette of greens, reddish browns, and blues but this pattern would also work up great in a more monochromatic color scheme. The creative options are endless!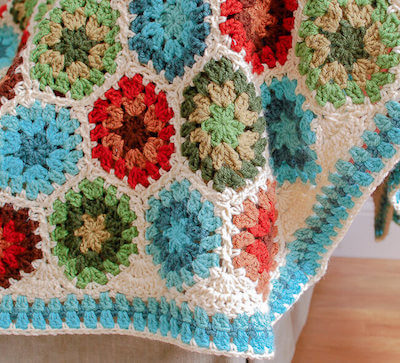 Get the Pattern here

6. Hexagon Baby Blanket Crochet Pattern by Red Heart
Bring this crochet blanket to life with individual hexagon motifs that are joined together as you work. Cheerful colors complete a cuddly blanket for your precious little one.

Love it as designed, or imagine a whole new colorway to accent the nursery. The pattern includes a helpful diagram to guide you with arrangement of motifs.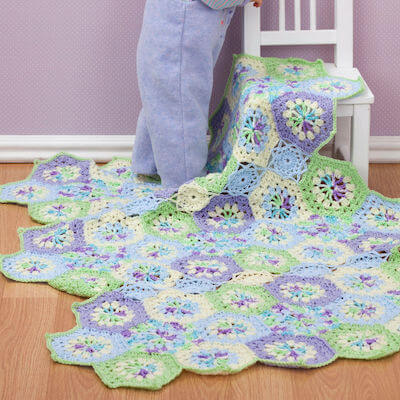 Get the Pattern here

7. Rainbow Garden Throw Crochet Pattern by We Crochet
This Rainbow Garden Throw is inspired by love of nature and passion for bringing the outdoors in. The cheerful colors and textured flower petals provide a modern take on a classic design.

This lovely throw uses simple hexagons with floral centers to create comfy and soft blanket. Arrange them so that colors flow like in a rainbow, or mix them up!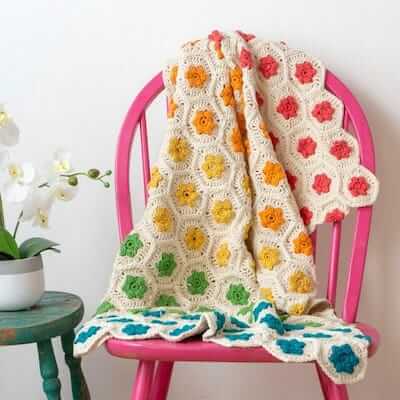 Get the Pattern here

8. Brioche Crochet Hexagon Blanket Pattern by Beba Blanket Designs
This textured hexagon pattern is a very relaxing pattern but also something new and different to try and to learn. It's created using brioche technique which creates not only an incredible effect but a thick texture as well.

You can work a continuous any size hexagon or join the motifs to create blanket, sweater, bag, rug.
The pattern requires at least two contrasting colors. It's a perfect stash busting pattern!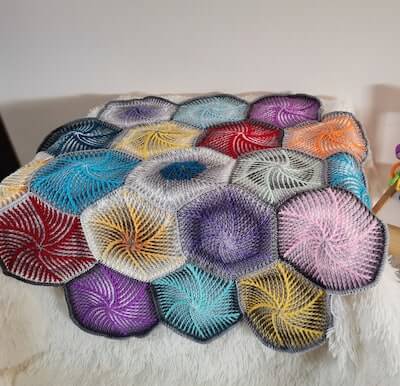 Get the Pattern by Beba Blanket Designs here

9. Hexagon Burst Crochet Blanket Pattern by Cypress Textiles
Structural design of these hexagons look very intricate, but is in fact quite easy to make. Choose main color motif and add pops of bright hues here and there!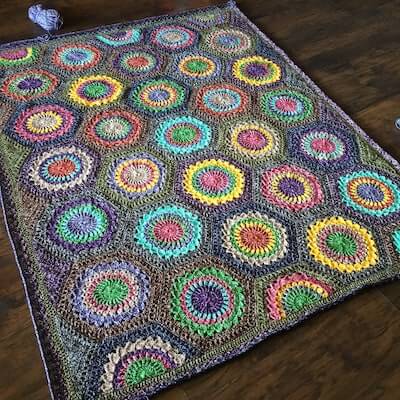 Get the Pattern by Cypress Textiles here

10. Gaudi Sidewalk Crochet Blanket Pattern by Briana K Designs
Gaudi's Sidewalk in Barcelona is world-renowned, and this Gaudi Sidewalk Blanket brings the artwork to life in your own home. Just 1 hexagon shape is repeated over and over, and, once joined, creates a magnificent result.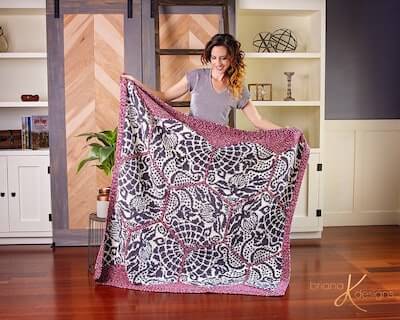 Get the Pattern by Briana K Designs here

11. Colourful State Of Mind Blanket Crochet Pattern by Haak Maar Raak
A caboodle of colors is the perfect remedy for a dull day. This Colourful State of Mind Blanket is an intricately looking yet surprisingly simple blanket! Once you got a feel for these two-toned motifs, they will roll off your hook.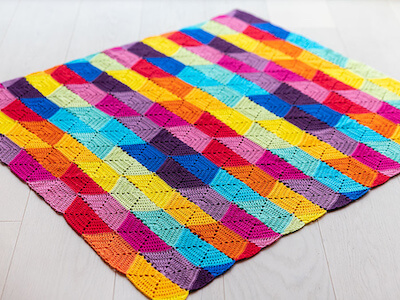 Get the Pattern here

12. Modern Hexagon Chevron Crochet Pattern by Lakeside Loops
This light and airy crochet blanket pattern has a modern hexagon + chevron design. With 4 sizes including a baby/stroller blanket size, lapghan or crib blanket size, queen size, and king size, you can crochet one for any part of your home.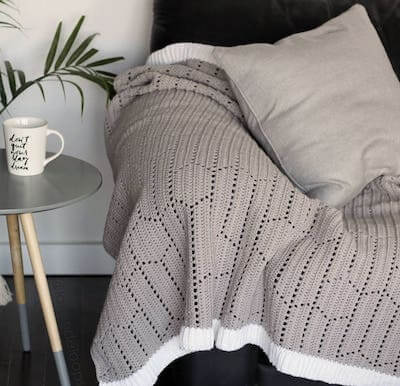 Get the Pattern by Lakeside Loops here

13. Coral Story Blanket Crochet Pattern by Lilla Bjorn Crochet
This stunning Coral Story Blanket uses the brioche technique in hexagon motifs. This easy crochet method uses familiar crochet stitches and chains to create a gorgeous coral pattern!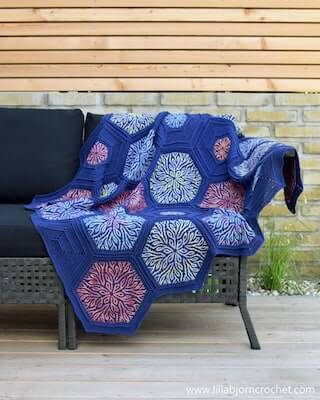 Get the Pattern by Lilla Bjorn Crochet here

14. Florence Hexagon Blanket Crochet Pattern by Divine Debris
Bold geometric shapes and the earthy charm of flowers combine in this Florence Hexagon Blanket to create a classic and sophisticated design.
And the one hexagon at a time assembly makes it a great project for any time, at home or on the go. The perfect blanket for Fall snuggles or Winter naps.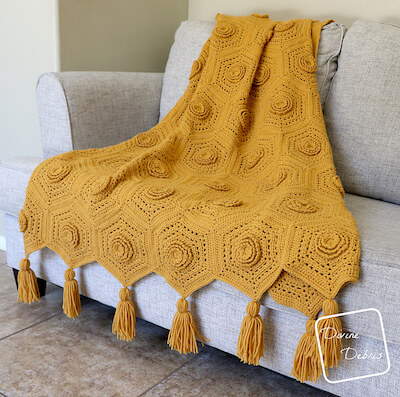 Get the Pattern here

15. Mandala Sampler Throw Crochet Pattern by Red Heart
Wow your family and friends by displaying this masterpiece in your home. Every hexagon in this mesmerizing crochet throw is unique and interesting in shades that you like.

The throw is made from 19 hexagons sewn together following the assembly diagram included with the pattern. It's a satisfying project that adds color and interest, whether tossed over furniture or strewn across the bed.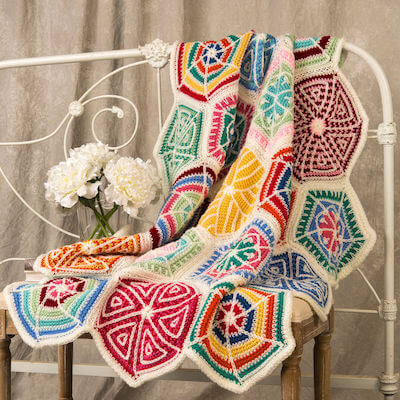 Get the Pattern here
WHETHER LIGHT AND AIRY DESIGNS OR DENSE AND STRUCTURAL, THESE HEXAGON CROCHET BLANKET PATTERNS ARE ALL CERTAINLY WORTH A TRY!
Let us know if you'll be trying out these hexagon crochet blanket patterns and what modifications you make to them by sharing your finished blankets on our Facebook Page!
Are you kinda digging this blanket thing? We've got a lot more for you to make! Check out our Crochet Ripple Blanket Patterns, Rainbow Crochet Blanket Patterns, Modern Crochet Blanket Patterns, Crochet Star Blankets, Crochet Queen Size Blanket and Heart Crochet Blanket Patterns.

Hexagon crochet blankets are among crocheters' favorite motifs. So don't waste a single minute more and head straight into your favorite hexagon crochet blanket pattern and have fun crocheting!