The expected hot days will come faster than we think. These 33 Crochet Bralette Patterns will help you be prepared in advance to fully enjoy the Summer Season.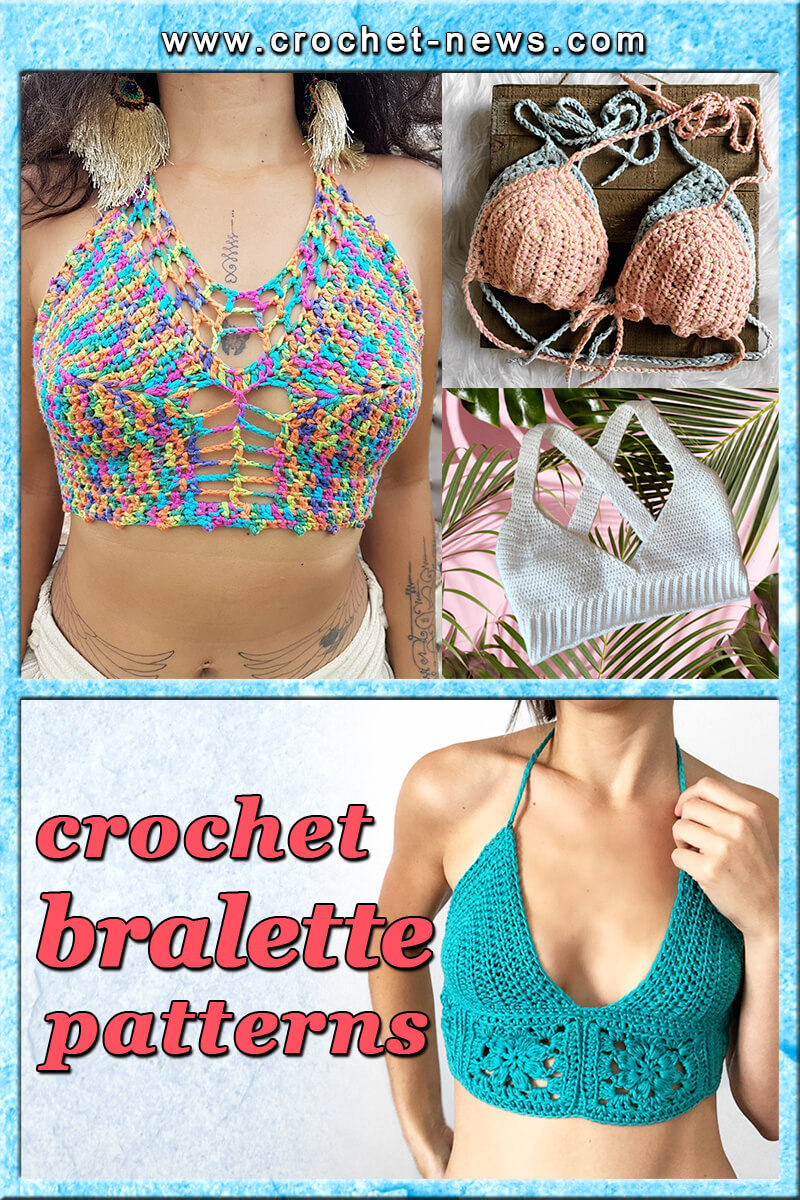 I collected for you some recommendations for Crochet Bralettes to kickstart your creativity and get the juices flowing!
33 Crochet Bralette Top Patterns
These ideas will be great for the day at the beach or wandering around the city. Say hello to your next cute and comfy summer crochet project!
Cute, comfy, and handmade undergarments? Yes, please!

1. Ocean Bralette Crochet Pattern by Evelyn And Peter
This pattern is written so you can easily adjust your cup size to a perfect fit. It is recommended to use cotton yarn if you want to wear this bralette as a bikini top for swimming at the beach.
This beautiful Crochet Ocean Bralette is perfect for those lazy summer days at the beach and those warm fun-filled summer nights out!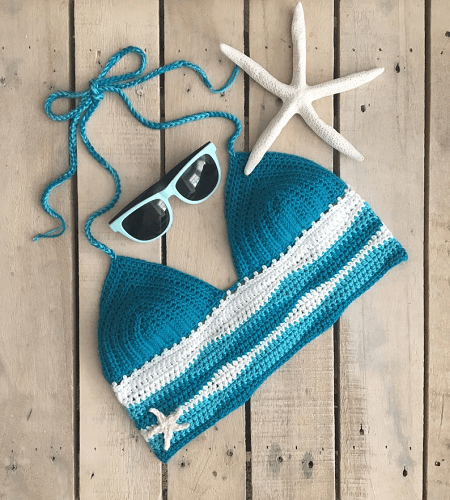 Get this Pattern by Evelyn And Peter here
2. Gilmore Bralette Crochet Pattern by Knits N Knots Wpg
This pattern shows you how to crochet a bralette! It has photo tutorials included to guide you along. The cups are worked first, attached together, then the body is worked onto the cups.
The mesh and side panels are added after, and straps are added last. This pattern is written in tutorial-style so that you can make this top for any measurements, any shape, any body size.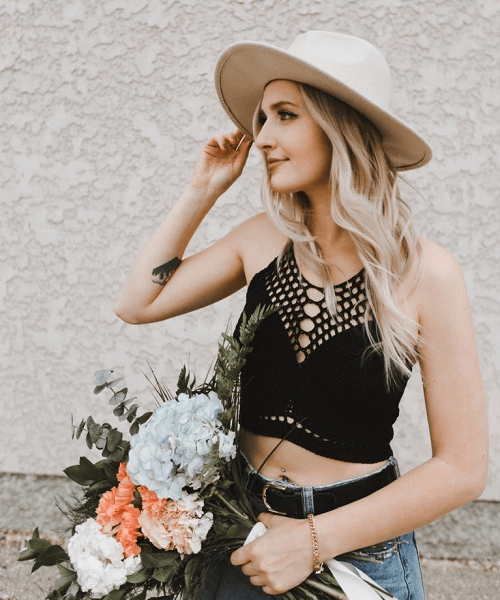 Get this Pattern by Knits N Knots Wpg here
3. Moonlit Bralette Crochet Pattern by Hanna Christena
Strut along the beach in this stunning bralette by Hanna Christena. This pattern is available for free and was written to inspire you to make your own garments.
This crochet bra top pattern uses Paintbox Yarns Cotton DK so you can make it in one of the many magnificent shades they offer or make a dozen in your favorite colors.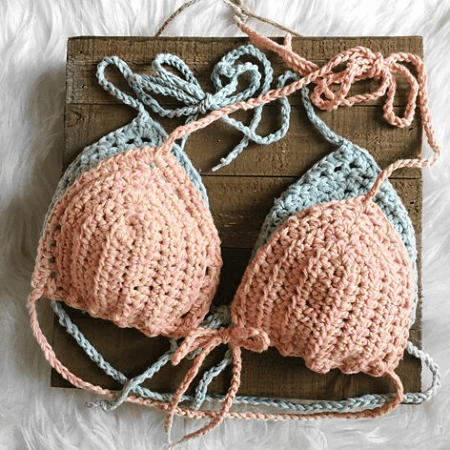 Get this Pattern here
4. The Perfect Bralette Crochet Pattern by Cozy Creative Crochets
This is another amazing bralette pattern from Cozy Creative Crochets you will like adding to your summer wardrobe. You will surely love the style, the colors, and the top itself!
This bra top is another perfect outfit for a day at the beach or a festival or even for lounging around the house!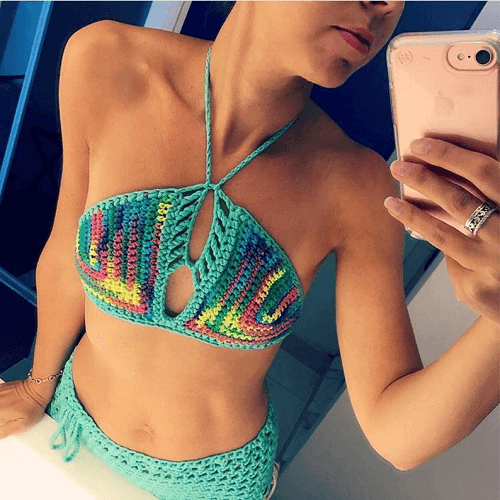 Get this Pattern by Cozy Creative Crochets here
5. Crochet Bralette Pattern by Cozy Creative Crochets
You can make this bralette with or without the edging at the bottom. This crochet bralette is so chic and stylish you will love wearing it right now!
This pattern itself is amazingly simple and works up just perfectly. A pretty bralette top to wear in the summer months!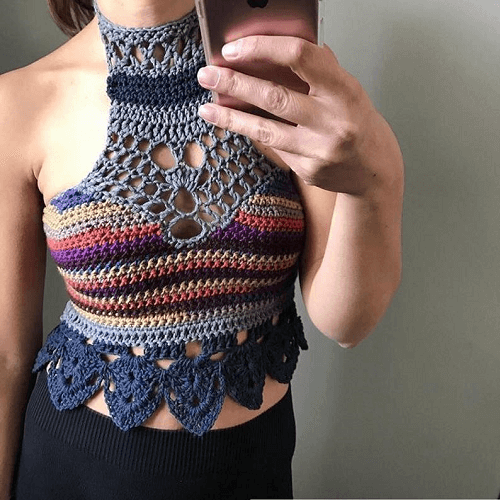 Get this Pattern by Cozy Creative Crochets here
6. Crochet Curvy Bralette Pattern by Morale Fiber
This simple beginner bralette-style crochet top is a fun, basic piece that could be altered easily. The flattish triangle style cups are great because they can be expanded to any size, but to fit best over bigger chests they need some edging to curve them inward a little.
In addition, a bit of strappy flair along with the inner cups is added, because it's trendy!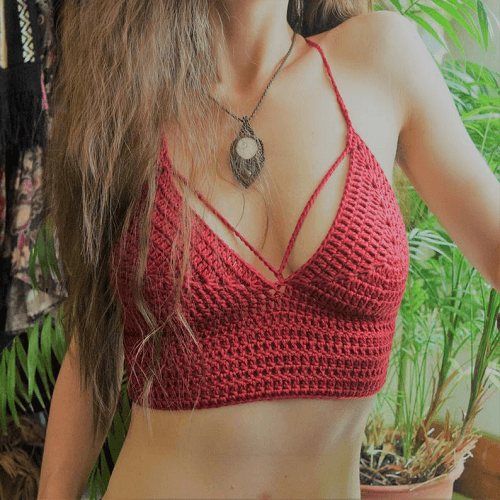 Get this Pattern here
7. Boho Bliss Bralette Crochet Pattern by Cozy Creative Crochets
This Boho Bliss Bralette is so on-trend right now. You can make it with your choice of worsted weight yarn, either acrylic or cotton, just look for the number (4) on the yarn label.
This bralette top is perfect for spring and summer. Get a Lace Shawl pattern here to match.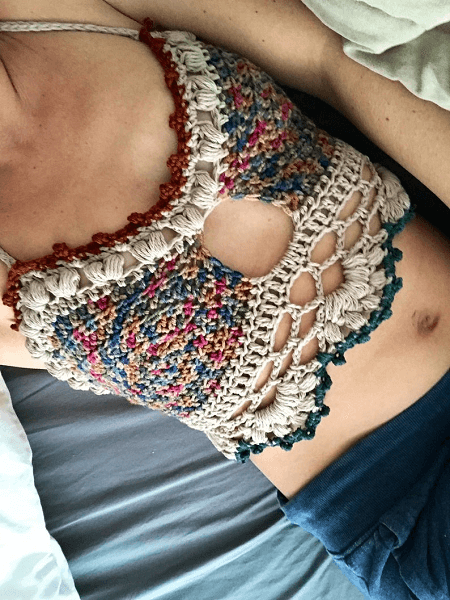 Get this Pattern by Cozy Creative Crochets here
8. Tamara Bralette Crochet Pattern by Moara Crochet
This crochet bralette has a lot of detail. With some cute shorts, this is ideal for a summery beach day, or dress it up with a long boho skirt and you're ready for a music festival.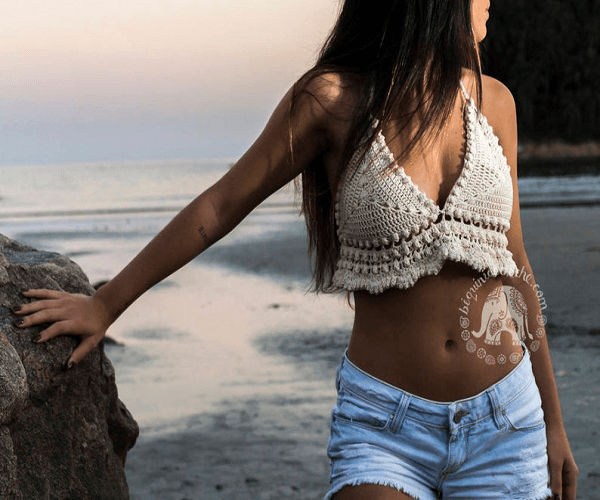 Get this Pattern by Moara Crochet here
9. Crochet Ribbed Bralette Pattern by Dulcie Marie Designs
This ribbed bralette pattern features a ribbed pattern underneath the bust and attaches all the way around to the back and also features criss-cross straps at the back and criss-cross cups at the front.
This pattern comes in S-M-L and is written in standard US terms.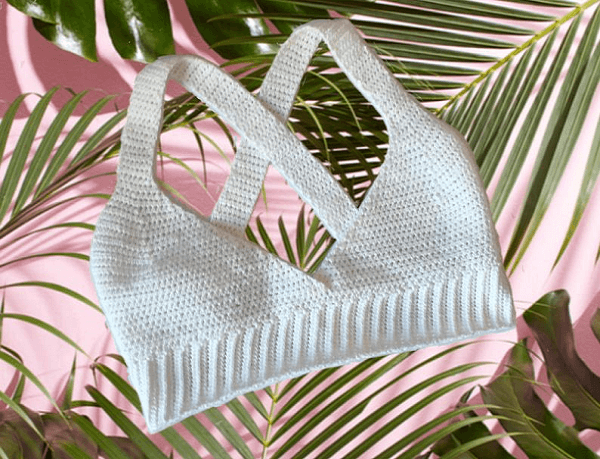 Get this Pattern by Dulcie Marie Designs here
10. Jasmine Bralette Crochet Pattern by Casale Crafts
This Jasmine Bralette is a little longer than just a normal bralette. This fun bralette top is very light and breezy, perfect for summer or the warmer days of fall. This pattern is very fast to work up and is very size adjustable.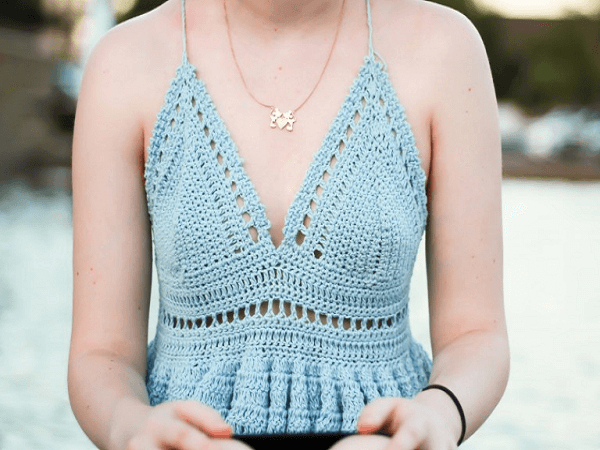 Get this Pattern here
11. Crochet Sarah Bralette Pattern by OTH Crochet Nook
This is an easy bralette pattern that is perfect for warm temperatures, summer nights, and music festivals! You can also wear it in the water and wash it very easily.
Get ready for a swim in the sea and enjoy the waves wearing this!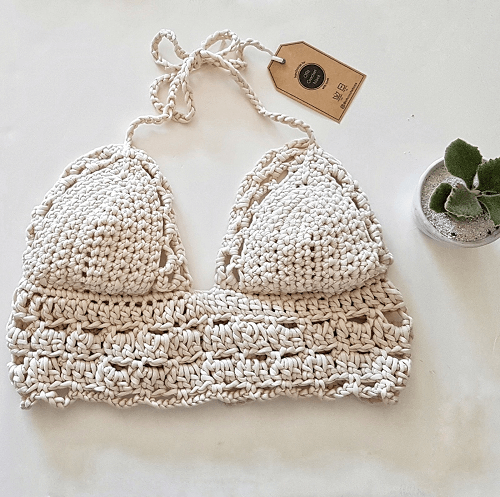 Get this Pattern here
12. Colette Bralette Crochet Pattern by Knitting By Ali
This Colette Bralette/Festival Top is perfect for all occasions! Match with a nice pair of black pants and some heels for a night out on the town.
Or wear under a slouchy sweater with ripped jeans and a pair of boots for a more casual look. This crochet bra top is very cute and quick to make!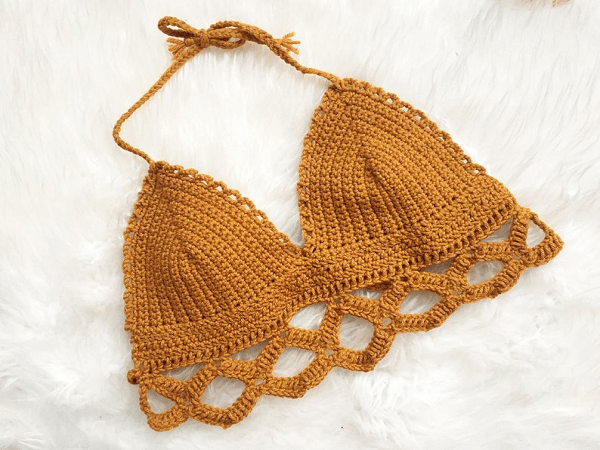 Get this Pattern by Knitting By Ali here
13. Seabreeze Bralette Crochet Pattern by Alicyn Crochet
Bring out your inner hippie with this pattern! This super stylish bralette/bra top is perfect for the warmer months. Wear it alone, or under a vest, tank top or v-neck tee shirt.
This is great for festivals, vacations, or just to wear day to day. You can use whatever size crochet hook and kind of yarn you desire!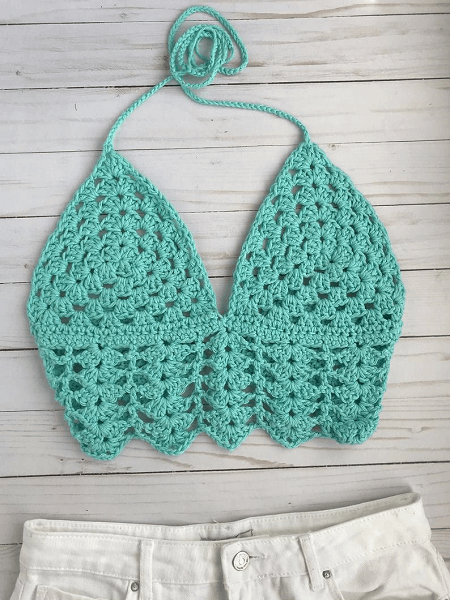 Get this Pattern by Alicyn Crochet here
14. Butterfly Bralette Crochet Pattern by Maya Luna Corazon
This Butterfly Bralette is made with cotton yarn and comes in color of your choosing. You can make this in a variety of colors or a solid color of your preference.
This bralette top ties at the back to allow for adjustment to your unique size and shape. Pair this crochet bralette top with your favorite bikini bottoms and enjoy the summer breeze!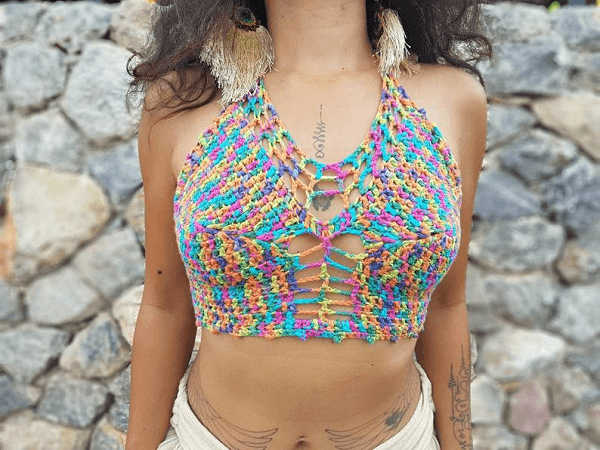 Get this Pattern by Maya Luna Corazon here
15. Sasha Bralette Crochet Pattern by Taylor Lynn Crochet
This Sasha Bralette is so comfortable to wear and will be breathable for those long hot days standing in the sun. The back laces up which makes the sizing a bit more flexible.
You can lace up the back as tightly or loosely as you need and it will still fit! This would be another great summer top to add to your wardrobe!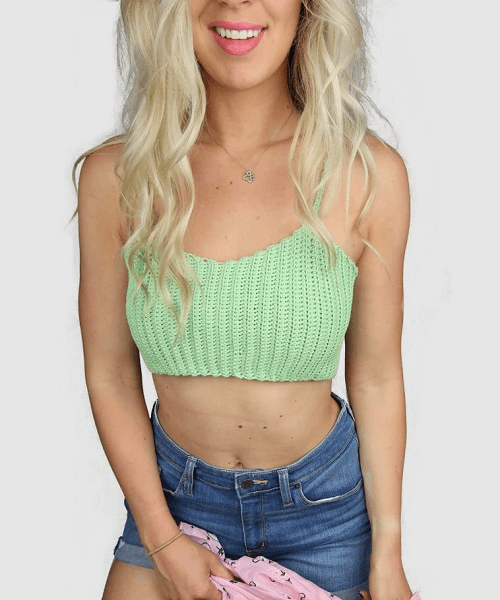 Get this Pattern here
16. Ariella Mermaid Bralette Crochet Pattern by Capitana Uncino
Be ready for those hot summer beach days with this Mermaid Bralette Pattern! This is an intermediate pattern and consists of a chain stitch, single crochet, slip stitch, and double crochet.
This pattern includes instructions for sizes XS, S, M, and L.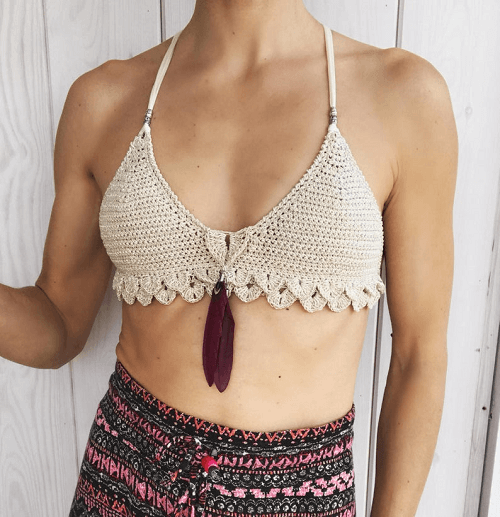 Get this Pattern by Capitana Uncino here
17. Here Comes The Sun Bralette Crochet Pattern by Nomad Stitches
This Here Comes the Sun Bralette is a lot of fun to make and wear. It has a lot of detailing on the cups, band, and adjustable straps.
There are three sizes available for this pattern: XS (A cup), S (B cup), M (C cup), and L (D+). You can select your size based on desired coverage.
Get this Pattern by Nomad Stitches here
18. Granny Square Bralette Pattern by Evelyn And Peter
This pattern is written with options for A, B, C, D Cup and has 2 back closure options to choose from. This is perfect to wear paired with summer shorts or skirt, or layered under a breezy summer cotton button-up shirt! The granny square adds a really nice flair!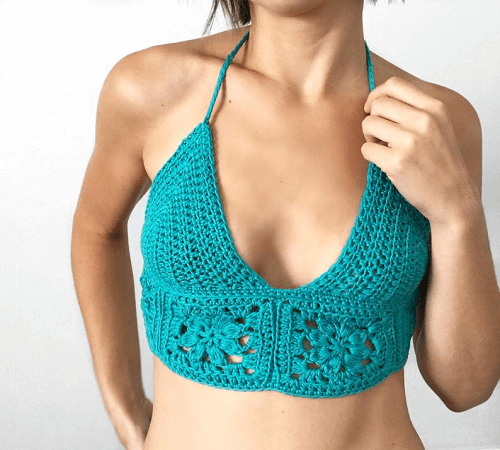 Get this Pattern by Evelyn And Peter here
19. Natalie's Bralette Crochet Pattern by The Lavender Chair
This Natalie's Bralette is an amazing summer crochet pattern! It could be worn as a swimsuit top or a bralette for Coachella! A simple bralette pattern with added lace ribbon in the bottom.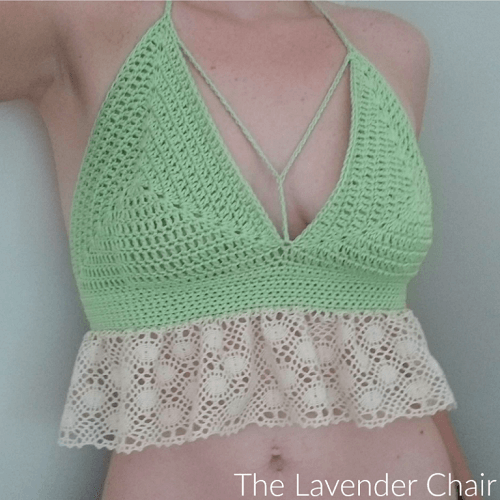 Get this Pattern here
20. Meadow Tie Top Crochet Bralette Pattern by Taylor Lynn Crochet
This bralette top is more bandeau than bikini top. it's super easy to make, and the free crochet pattern walks you through all the little details. From the buttons to the bottom bow, you'll love how simple and sweet this creation can be.
This is an easy level crochet pattern, and the stitches used are Half double crochet BLO(back loop only), single crochet, and other basic stitches.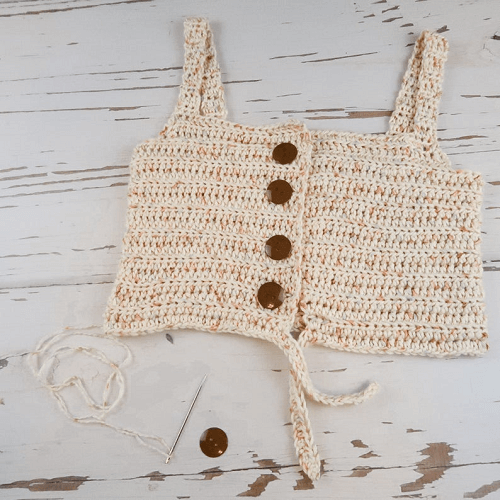 Get this Pattern here

21. Crochet Boho Bralette Pattern by Green Bird
This beautiful boho bralette top is designed in such a trendy and amazing form of the thread working and you would love wearing it all the time on the beach parties and in the summer fun parties.
This Boho Bralette is so chic you will want to make it in all your favorite colors!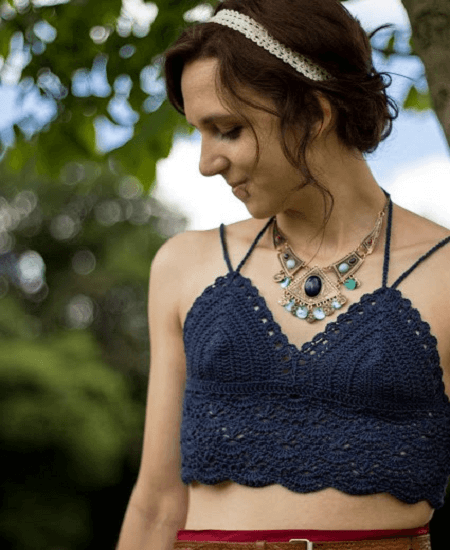 Get this Pattern here
22. Fan Edged Bralette Crochet Pattern by Adorish Originals
This is a sweet little bralette top that is perfect for the hot summer weather either alone or under a button-up or light shirt. This is a quick and easy project!
This pattern is super easy to follow, sizing is very accurate and fits perfectly!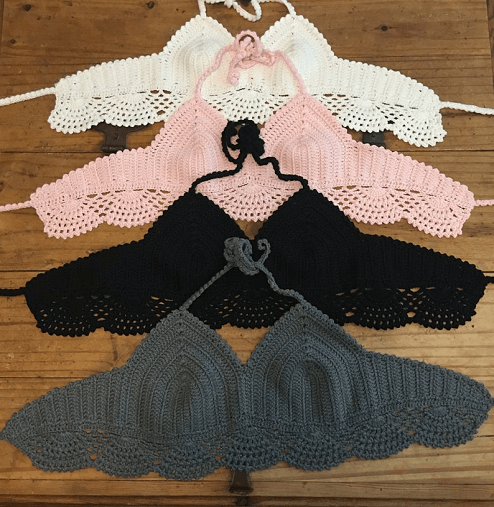 Get this Pattern by Adorish Originals here
23. Crochet Bralette Pattern by Maya Luna Corazon
This pattern includes sizes for XXS up to XL. With the guideline from the flower of life geometry, you can add as many rows as you wish and make any size to fit you.
It's a super comfortable design, which supports your breasts and looks greatly layered under loose clothes instead of a conventional bra! Such a pretty design along the neckline!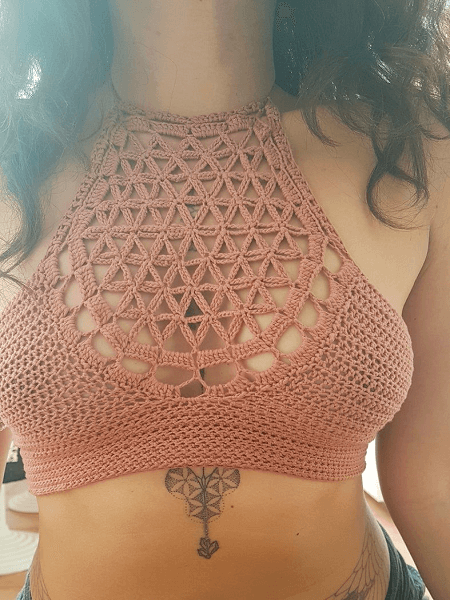 Get this Pattern by Maya Luna Corazon here
24. Athena Bralette Crochet Pattern by Doe And Deer Crochet
With this simple, beginner-friendly pattern, you can make your own cute and comfortable Grecian-inspired crochet bralette. This includes directions for making an A-D cup.
A fantastic beginner pattern and introduction to creating your own crochet bralette designs, as well as an easy intermediate make!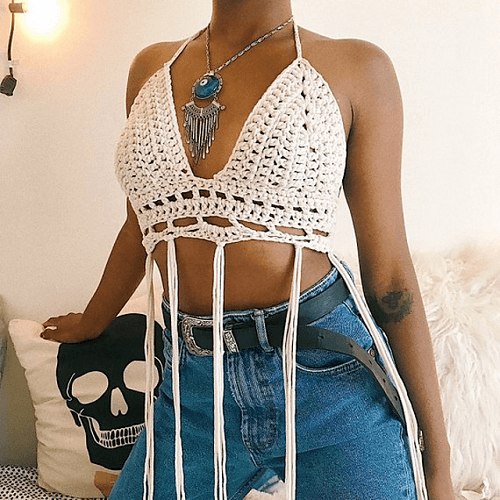 Get this Pattern here

25. Crochet Festival Bralette Pattern by Yarnspirations
For a cool warm-weather look, pair this crochet bralette with an oversized, openwork cardigan. A simple tie-back bralette is made in cotton yarn using single crochet and ribbing techniques.
Use a neutral tone for versatility, but the pattern would look great in any color. It's a fashionable must-have for any wardrobe.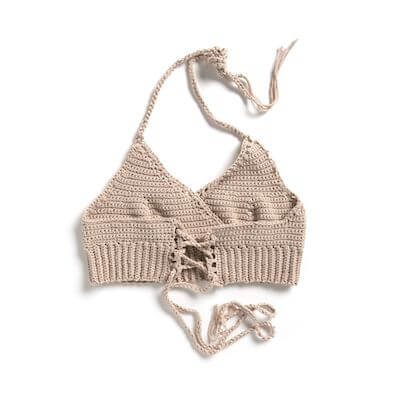 Get the Pattern here

26. Crochet Aileen Bralette Pattern by Hey Faustine
This beginner-friendly crochet pattern features a comfortable and stylish bralette made with basic crochet stitches. Begin your Aileen Bralette project right away with an infinite number of color options!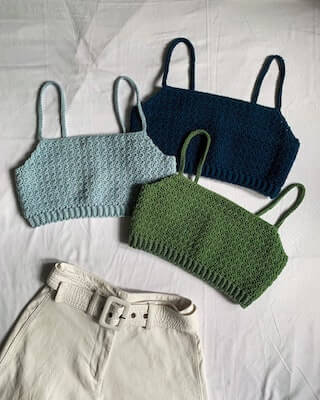 Get the Pattern by Hey Faustine here

27. Eyelet Stitch Crochet Bralette Pattern by Red Heart
This simple little garment will add versatility to your warm-weather wardrobe. This V-shape directional crochet, V-neck top includes crochet, as well as increases and decreases techniques. Wear it with a crochet cardigan or another loose-fitting covergan for the hottest summer look!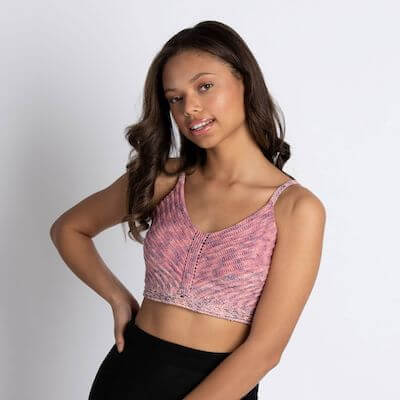 Get the Pattern here

28. Easy Crochet Racerback Bralette Pattern by TCDDIY
For added support, this crochet bralette has a scoop neck and racer back. Ribbing adds a modern and trendy touch, while thin straps keep it dainty and flirty. This simple piece can be completed in a matter of hours, so sit back, turn on your favorite show, and relax.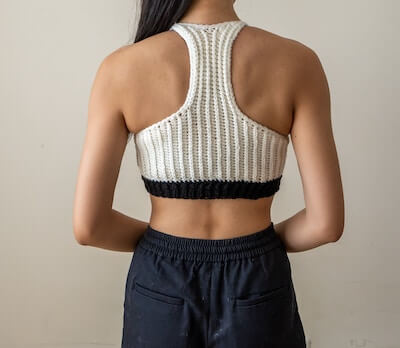 Get the Pattern by TCDDIY here

29. Crochet Daisy Bralette Pattern by Ruby Webbs
Daisy Crochet Bralette Pattern is easy to make with stretchy worsted weight yarn. This halter-style bralette ties around the neck and back and is available in five women's sizes. The picot trim adds a feminine touch to this bralette.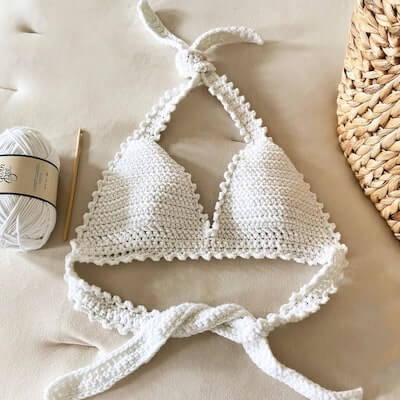 Get the Pattern by Ruby Webbs here

30. Jasmin Crochet Bralette Pattern by Moara Crochet
This lovely crochet bralette is made of crochet and your choice of ribbon. The crochet top curves beautifully around the chest, making it ideal for a summery beach day with some cute shorts or dressing up for a music festival with a long boho skirt.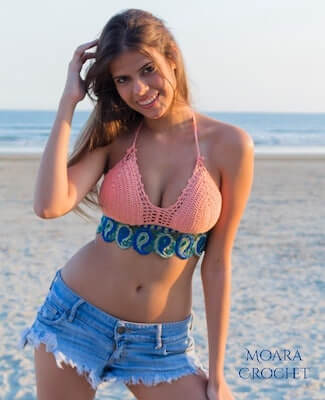 Get the Pattern here

31. Sienna Bralette Crochet Pattern by Purls PH Patterns
Their bralette takes on the bandeau style. Because of this, it can easily become longer to transform into a true tank top if you're looking for that. The pattern is easy to follow and offers plenty of flexibility for sizing and creativity.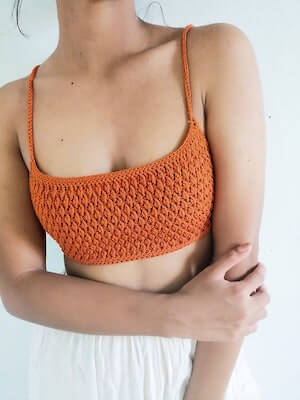 Get the Pattern by Purls PH Patterns here

32. Viper Bralette Crochet Pattern by Indigo Madness
Crochet naturally makes a statement, and this Viper Bralette is a true standout. It has just the right amount of coverage while the halter top design leaves plenty of space for attractive cut outs.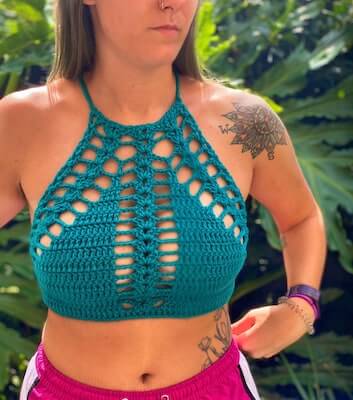 Get the Pattern by Indigo Madness here
33. Old Rose Lace Crochet Bralette Pattern
The Old Rose Lace Crochet Bralette Pattern creates an easy bralette that can be used as a top or as a lingerie. Beginners in crocheting who want to make a crochet bikini can try this!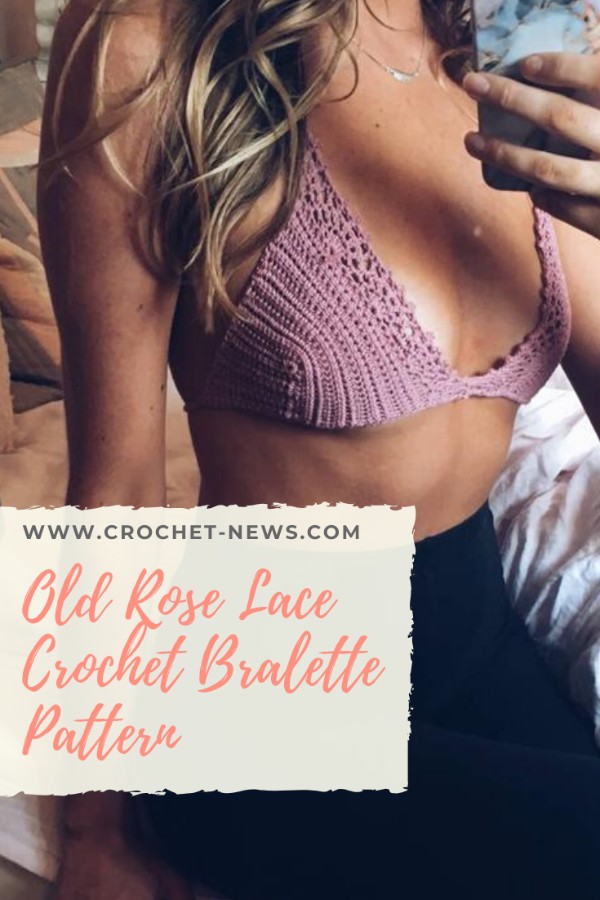 The end bralette produced by this pattern is a versatile piece of clothing – a low cut bra that emphasizes the cleavage.
The crochet stitches creates a solid fabric that supports the breast. The lacy details web-like details frames the mound and directs the eyes to focus on the bosom.

WEAR THE OLD ROSE LACE AS A:
Lingerie

This bralette can be worn as a lingerie. It can give you that feel good feeling everywhere you go, knowing that inside, you are wearing something beautiful.

This is perfect for those who wants to feel good but is too shy or don't have the confidence to wear something beautiful outside.


Detail

You can wear this bralette underneath a baggy top for some 'oomph'. Underneath a low cut top or a thin strap dress, the lace pattern can be quite the seductive detail. It's a piece that can tease. It shows but not quite there yet.

Going on a date? Wear this underneath!


Bikini

Oh how versatile this piece is! You can even wear it to the beach. It may be crocheted but that's what adds to the charm. The lacy details will be unlike any other regular swimwear.

Check out 42 crochet bikini patterns here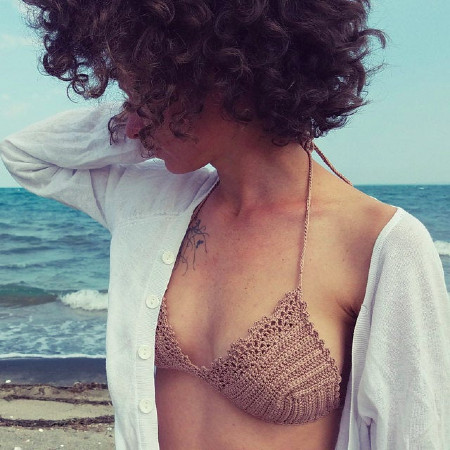 ABOUT THE BRALETTE PATTERN
This beautiful Rose Bralette Top Crochet pattern was made by Dulcie Marie of Dulcie Marie Designs. The pattern is immediately downloadable in PDF form, without shipping charges. It uses standard US terms of crochet.

Reviews describe this downloadable pattern as something cute that is easy to make. The instructions are easy to understand, with detailed descriptions and pictures that make it possible to do for someone that is new to crocheting. The end product also turns out exactly as the photos!

SIZES FOR THE OLD ROSE BRA
Worried that your bosom is too small? Or too big? Fear not as this pattern comes in four sizes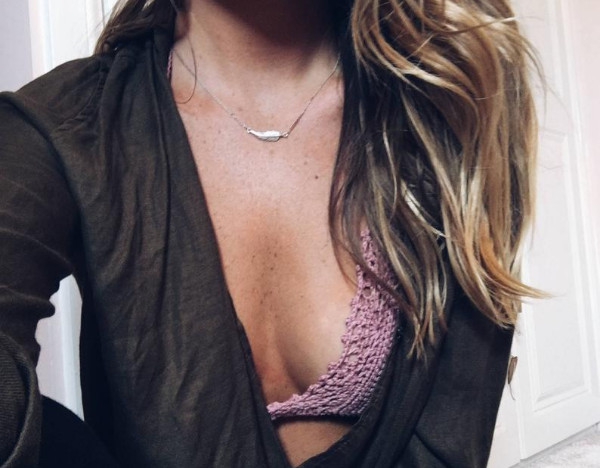 Checked the sizes and still can't find the perfect size for you? You can contact Dulcie Marie. She responds fast, within 24 hours, if you don't understand something about the pattern.
No matter if it's a small bust or a big bust, this bralette pattern can provide the perfect frame for the bosom.
It can be cute or seductive depending on how you style it and the color of the yarn you use. You can try a different color for the lace details for a pop.

Ready to start doing your Old Rose Lace Crochet Bralette Pattern now?
Crochet Bralette Patterns Frequently Asked Questions
What is a bralette?
Bralettes are similar to bras but lack the structure. They are not wired, lined, or padded. Bralettes are comfortable and simple to wear. When you combine that with the handmade quality of a crochet bralette, you have an effortlessly stylish top or layer for any occasion!
Is it easy to crochet a bralette?
If you already know how to do the basic crochet stitches, then the process to crochet a bralette won't take more than a few hours.
How much yarn do you need to crochet a bralette?
Your pattern should state how much yarn you'll need, but you'll probably need 1-2 skeins of yarn for a crochet bralette, an average of about 4.5 ounces (127.5 g) or 227 yards (208 m) in length. It's best to buy an extra skein just in case. It's always better to have too much yarn than too little!
How do you style a crochet bralette?
Crochet bralettes are the most common way to wear crochet. It's a great beach look, and there are numerous options available, ranging from designs and fits to colors and patterns. They pair well with jeans, linen pants, and even bikinis. You can also wear a crochet bralette open under a button-down shirt.
What is the best yarn to make a bralette?
You can use cotton or acrylic yarn, but I find cotton yarn to be more durable and breathable for tops!
Wrapping up these awesome Crochet Bralette Patterns
We also have patterns for Crochet Shorts, Crochet Skirts, Crochet Off Shoulder Top, Crochet Halter Top and Crop Top Patterns and crochet sun hat patterns to add to your crafty bucket list because it's time to start thinking about summer!
You can also add some coverage, check out these Crochet sarong patterns and crochet cover up patterns. Whatever you decided to make, do show us some of your works by posting them on our Facebook Page!
A crochet bralette will add a real hippie flair to your summer outfit and will definitely come in handy when you would want to take that perfect Instagram picture near the pool!
Really, if you want to be prepared for the hot season, you better start making yourself some cute crochet bralettes now!