Check out our awesome range of crochet shorts patterns. Plenty of styles to suit everyones booty. Whether hitting up the beach or hanging around at home, do it in stylish and comfortable handmade crochet shorts.
Digging out shorts each year and pairing them with cute, cool tops is one of our favorite parts of the summer season. It might only be spring right now, but here are crochet shorts patterns to make before summer comes!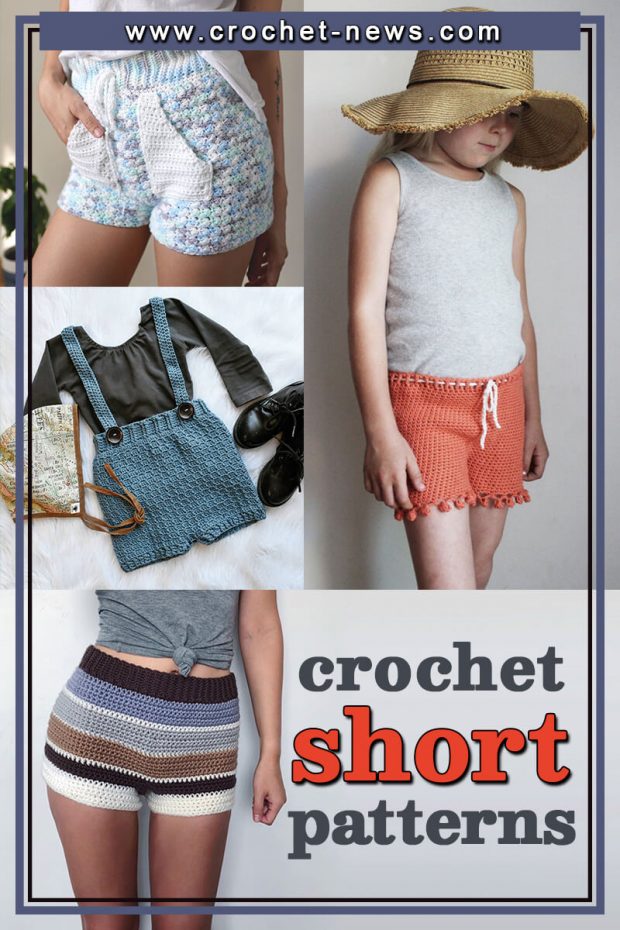 30 Shorts Crochet Patterns Perfect for Summer and the Beach
Need proof that crochet is not just for freezing cold temperatures? Stitch up some crochet shorts for the sweltering days.
Some of these shorts can even transition into fall and winter with right leggings underneath.
1. Crochet Rainbow Shorts Pattern by TCDDIY
These shorts are amazing! The fit, colors, and details are ideal for the spring/summer season. The V pattern on the main body of the shorts is a fun detail that adds shape and a distinct look.
Because it was long in the back, it covered the booty, and the side curve elongated the legs. The color of the shorts is the best part—make it a rainbow or mix and match to suit your mood.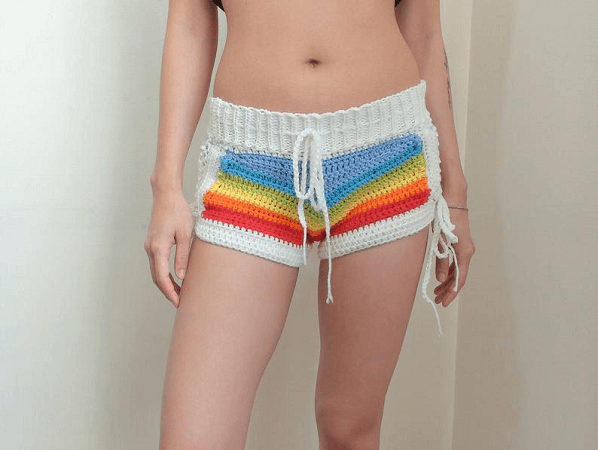 Get the Pattern by TCCDIY here

2. High Waisted Crochet Shorts With Pockets Pattern by TCDDIY
These simple crochet high waisted shorts are ideal for anyone starting out in crochet; as long as you know the basic stitches, you'll be fine! The shorts have a wonderful texture that is both soft and stretchy.

There is a drawstring waist cinch and additional pockets for functionality. These shorts can be made to be high waisted, low rise, or anything in between.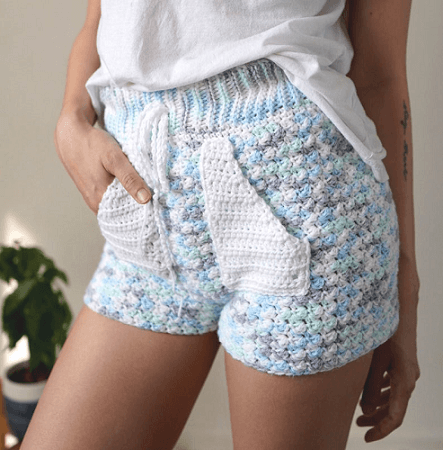 Get the Pattern by TCDDIY here

3. Crochet Granny Skull Shorts Pattern by Lovin You Homemade
This cute pair of crochet booty shorts features a skull buddy on the sides! The pattern is for an advanced beginner or intermediate crocheter.

It works up surprisingly quick and the best part is that you can use mostly any yarn and hook size.Tailoring it to your size is super easy and ensures you get a perfect fit every time!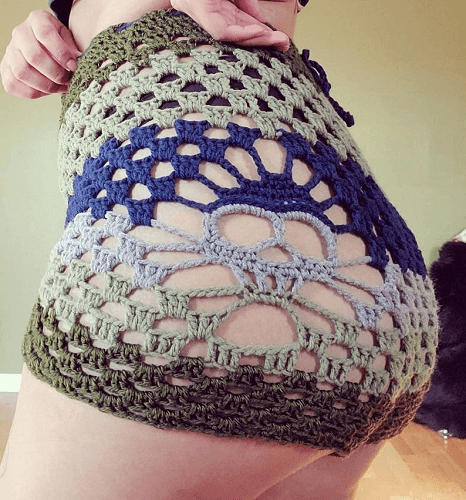 Get the Pattern by Lovin You Homemade here

4. Comfy Cotton Free Crochet Shorts Pattern by 365 Crochet
There are numerous ways to personalize these Comfy Cotton Shorts! You can easily shorten or lengthen them, use multiple colors or stripes, add pockets or leave them out, or add even more pockets.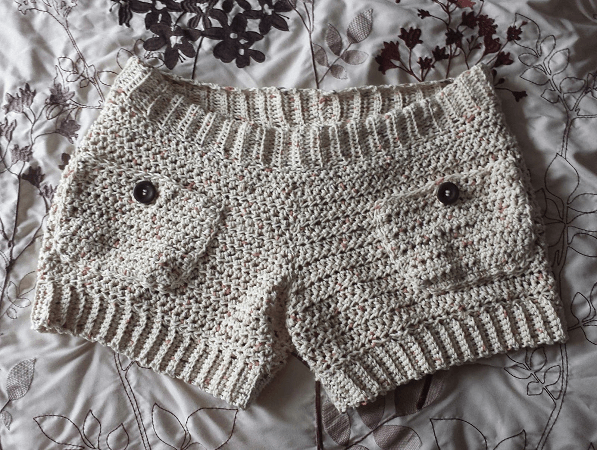 Get the Pattern here

5. Stria Shorts Free Crochet Pattern by Skeins And Stitches Co
These pretty Stria Shorts use single and half double crochet stitches along with picot stitches. The recipe style pattern relies on your body measurements. While the recommended yarn is a bulky weight, the designer says that it is actually on the lighter side of bulky (or the thicker side of worsted). As you can see, they actually turn out quite dainty looking!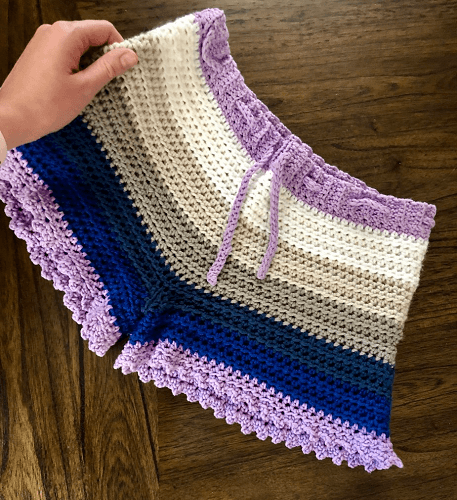 Get the Pattern here

6. Pom-Pom Crochet Shorts Patterns by Shop Doe And Deer
Create your own pair of cute and comfy Pom-Pom crocheted lounge shorts that are absolutely perfect to craft in! Utilizing blanket yarn as an alternative method grasps that extra coziness!

This pattern includes instructions on how to make a pair of shorts in any size as well as a size guide for S, M, and L sizes.
Get the Pattern by Shop Doe And Deer here

7. Crochet Lakeside Shorts Pattern by R Crafty Creations
These adorable Lakeside Shorts will quickly become a wardrobe staple. They have a nice drape and an adjustable waistband, making them ideal for a day at the lake, beach, or park.
A great pair of shorts for boys or girls!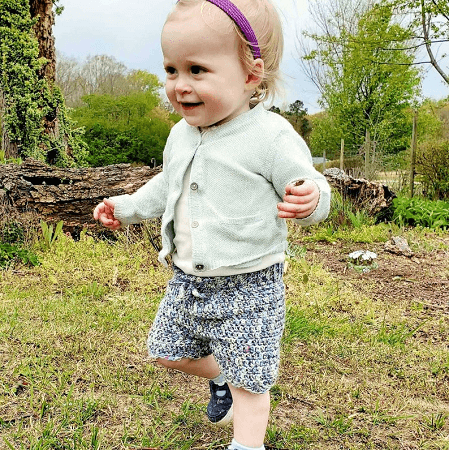 Get the Pattern by R Crafty Creations here

8. Crochet Granny Stripe Shorts For Men Pattern by Repeat Crafter Me
These shorts are constructed from two granny stripe squares. Very simple and just a funny little 4th of July wardrobe accessory!

You can actually make these smaller if you'd like! Adjust the length starting chain and reduce the number of rows you crochet.
It helps if you have a pair of shorts you (or the person you are making them for) typically wear as a way to measure the waist cirumference while you crochet.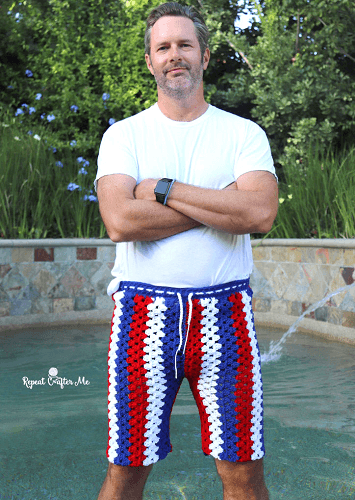 Get the Pattern here

9. Granny Stitch High Waisted Booty Shorts Pattern by Lovin You Homemade
These cheeky high waisted Granny Stitch Booty Shorts are unlined and therefore pretty see-thru. Good for layering on top of a bathing suit or great as your next festival look!
You can use your scrap yarn to assemble multiple colors for your shorts or use one color yarn.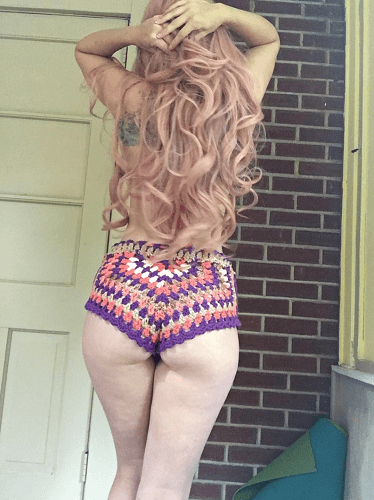 Get the Pattern by Lovin You Homemade here

10. Crochet High Waisted Cable Stitch Shorts Pattern by TCDDIY
The vertical ribbing's slimming feature provides plenty of stretch and comfort, while the drawstring adds functionality. Wear them around the house or out and about, and you'll always look fashionable. These shorts are easily adjustable to any desired length.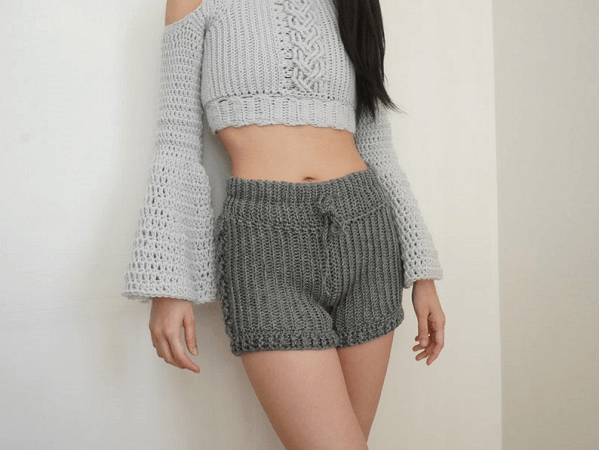 Get the Pattern by TCDDIY here

11. Retro Stripes Shorts Crochet Pattern by Evelyn And Peter
You can wear these high waisted shorts with Retro Stripes as 'regular shorts' or over your bathing suit, during the day with your favorite shirt or bikini top, or at night as PJ bottoms.
The pattern includes sizes XS-2XL and can be made in any color you'd like!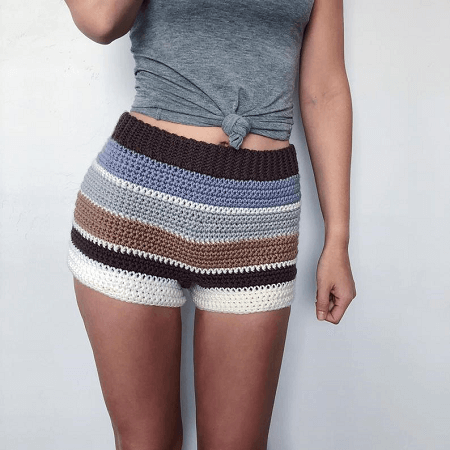 Get the Pattern by Evelyn And Peter here

12. Shell Shorts Crochet Pattern by Hooked Homemade Happy
These Shell Shorts Crochet Pattern are perfect for summer! They're made of cotton so they can easily be worn over a swimsuit or bikini and to the beach or pool!
Now you can dream of a summer spent frolicking on the beach while you create these stylish bohemian vibe beachside shorts.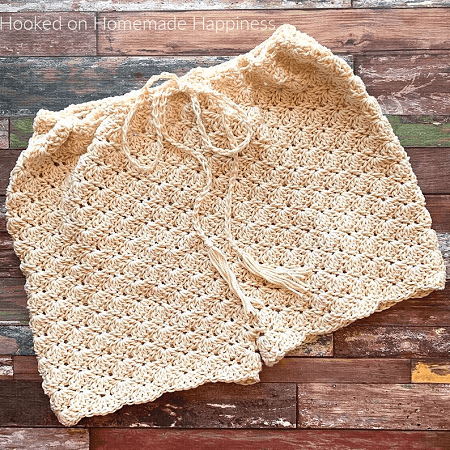 Get the Pattern by Hooked Homemade Happy here

13. Crochet Isla Shorts Pattern by Naturally Nora Crochet
These Isla Shorts are simple to make and make an unexpected, cute little project. These are a laid-back and on-trend piece thanks to the drawstring waist, easy-going shape, and eye-catching pom-pom trim.
Perfect for and the little lady in your life who just wants to be California girls.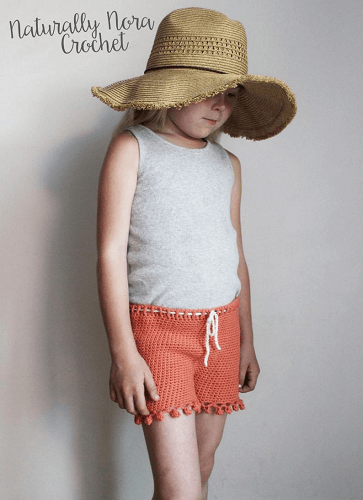 Get the Pattern by Naturally Crochet here

14. Easy Crochet Shorts Patterns by Hooked On Homemade Happiness
These Easy Crochet Shorts are light, comfortable and so easy to make! Perfect for wearing over your swimsuit.
The finished shorts measure approximately 10 inches long, 32 inches around the waist, and 36 inches around the hips.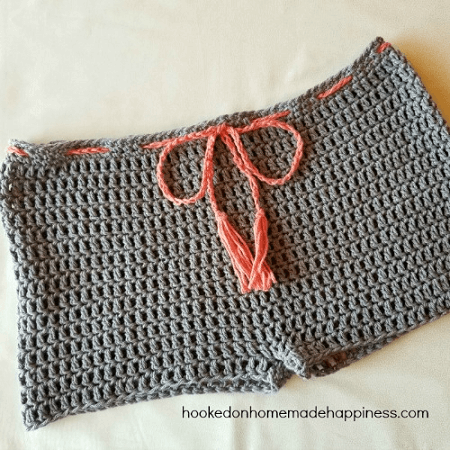 Get the Pattern here

15. Lil' Sprout Shorts Crochet Pattern by Woodland Stitch Craft
This Lil' Sprout Shorts Crochet Pattern will guide you through the process of creating these adorable and comfortable crochet suspender shorts for the baby or toddler in your life!
Using lightweight cotton yarn, you can use this crochet shorts pattern to make suspender shorts that are breathable enough for spring and summer, and then transition into fall by adding layers like tights or leggings!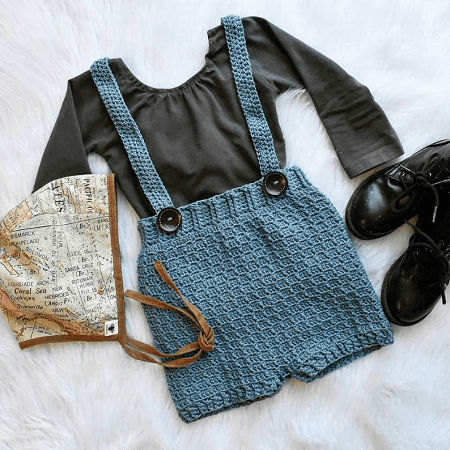 Get the Pattern by Woodland Stitch Craft here

16. Kiss My Shorty Shorts Crochet Pattern by Inchworm Crafts
Get ready to turn heads with these fun and flirty Kiss My Shorty Shorts! This easy-to-follow crochet pattern us perfect for all skill levels and is guaranteed to add a pop of color to your wardrobe.
It's a 70s-inspired pattern, but your color choice dictates whether these shorts look retro or modern. It is a quick work-up, and designed to be completely seamless so you can get your boogie on in no time with very few ends to weave in!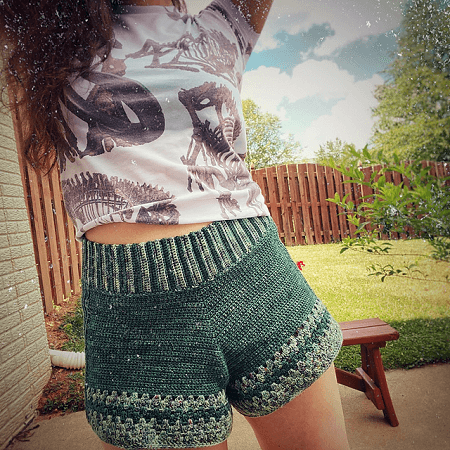 Get the Pattern by Inchworm Crafts here

17. Crochet Booty Shorts Beach Cover Up Pattern by Furls Crochet
You'll be looking lovely in these lacey Summer Breeze Shorts. The design is made from four panels worked flat and then joined together using mainly half double crochet stitches. These shorts would work well as a swimsuit cover up.

You could maybe even crochet them to be a bit more solid for everyday wear and just keep the lace scallops along the bottom edge.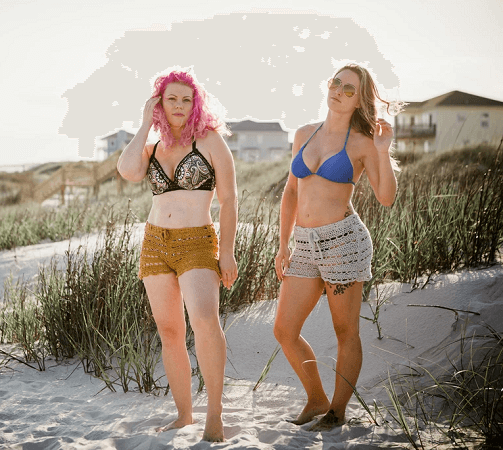 Get the Pattern here

18. Bella B Shorts Crochet Pattern by Carroway Crochet
Are you looking for a cute pair of swimsuit cover-up shorts or something to keep you cool this summer? These Bella B Shorts are exactly what you need. Make them out of cotton for those warm summer days. They pair perfectly with a bralette top.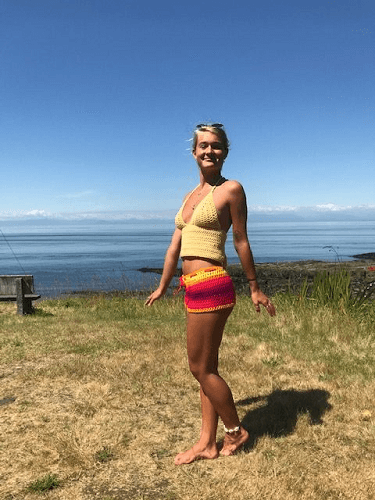 Get the Pattern here

19. Crochet Lace Shorts Pattern by My Beautiful Stuff
No summer is complete without a beach shorts to see you through. Perfect to throw on over your bikini and go to a beach bar. Finish your look off with sandals and sunglasses for the beautiful summer look.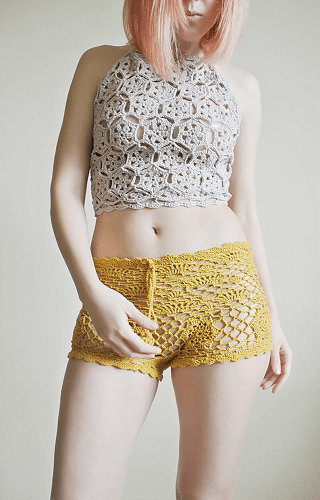 Get the Pattern by My Beautiful Stuff here

20. Granny Square Crochet Shorts Pattern by Set Free My Gypsy Soul
Shake that crochet-queen botty in some awesome Granny Square Crochet Shorts with this quick and easy free crochet shorts pattern!
Pick your own colors or yarn weights if you want to. You will only need 4 crochet granny squares to make these cute shorts!
Get the Pattern here

21. Ripple And Waves Men's Beach Shorts Crochet Pattern by Splash By Quetita
These Ripple and Waves Men's Beach Shorts features colorful waves in 4 different colors of white, red, yellow, and beige. A drawstring has been added to the waist for extra support.

Make a statement the next time your family hits the beach. Your husband or loved one will stand out with this colorful and creative pair of shorts.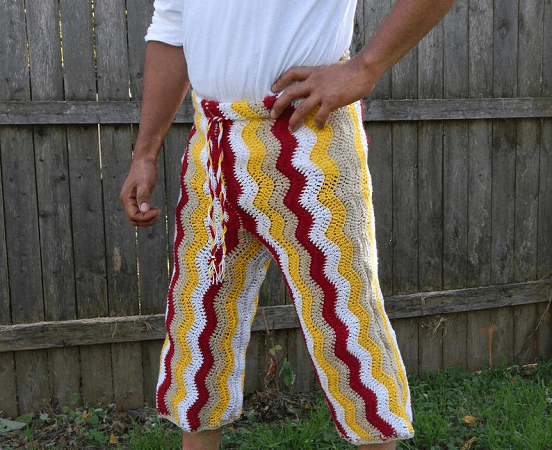 Get the Pattern by Splash By Quetita here

22. Velvet And Fur Booty Shorts Crochet Pattern by Modern Stitches With T
These sexy shorts are completely customizable in terms of size, material, and style! They are meant to be worn high waisted with the bum showing.

You can, however, position and style them however you want. Roll the waistband, pull it lower, higher, tighten it with the waistband tie, and so on. It is entirely up to you.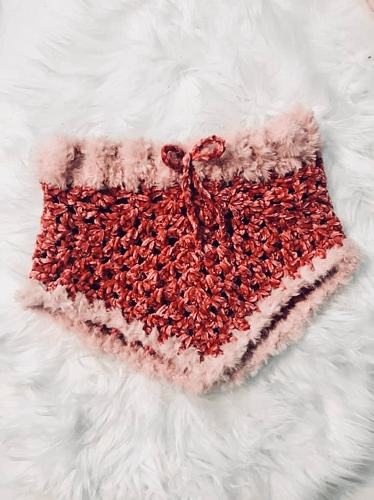 Get the Pattern by Modern Stitches With T here

23. Super Sonic Crochet Shorts Pattern by Hug A Hooker
Whip up these cute shorts for summer! Sexy, light, breathable, and comfortable, this design features a shell pattern that can be made using several colors to create the effect of striped waves, or all in one solid color for a more lacy appeal.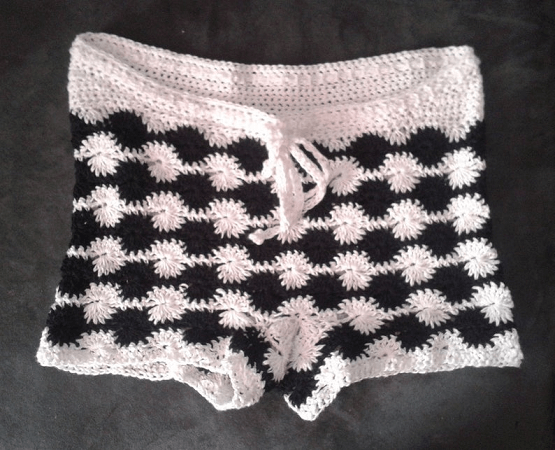 Get the Pattern by Hug A Hooker here

24. Baby Shorts With Suspenders Crochet Pattern by Mon Petit Violon
These little cute diaper cover shorts will be perfect for both boy or girl! If you don't want to use buttons, you can make the straps without button loops and simply sew them on the front.
You can also cross the straps on the back! Perfect for all seasons to keep your little baby comfy and stylish!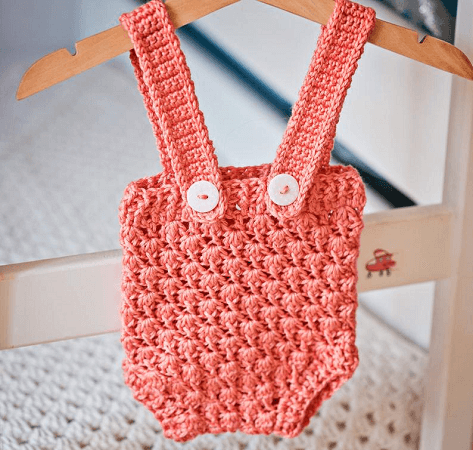 Get the Pattern by Mon Petit Violon here

25. Free Crochet Shorts Pattern by Beautiful Crochet Stuff
Many of us think that crochet shorts are only for the beach, but why not wear them at the beginning of autumn?
Imagine how and where would you wear them! With this crochet shorts pattern you can easily make your own shorts really quick.

Anyway, they will surely look good with a leather jacket, knee height boots and tights. What do you think?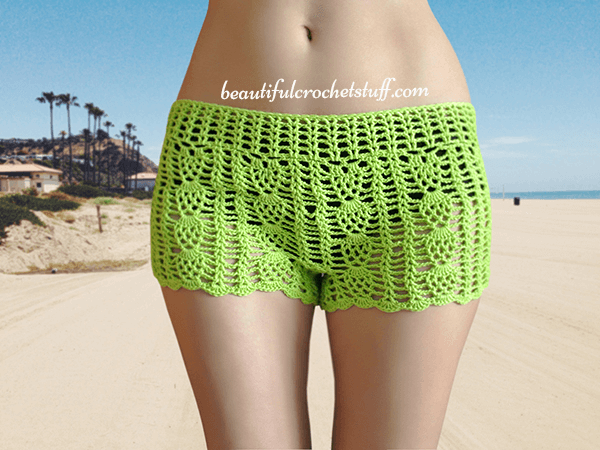 Get the Pattern here

26. The Beachside Shorts Crochet Pattern by Yarn And Things By Allie
This Beachside Shorts Crochet Pattern uses a color changing cake yarn. While this might bother some folks who like to have more control over their color changes, I personally like the way that the colors naturally transition.
The pattern begins with a back loop single crochet ribbed waistband and then is worked in double crochets in the round to finish up.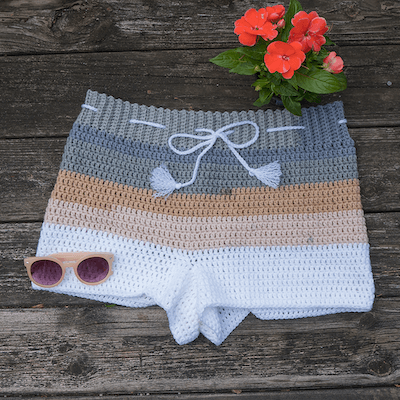 Get the Pattern here

27. Crochet Men's Beach Long Shorts Pattern by Splash By Quetita
How many other guys at the beach are going to be rocking crochet shorts? These Crochet Men's Beach Long Shorts let you stand out from the crowd and show everyone your unique and fashion sense!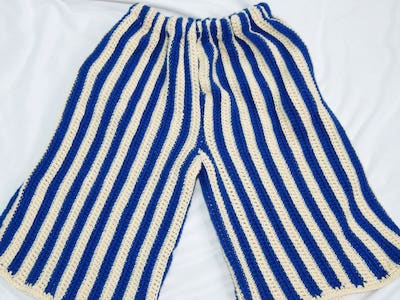 Get the Pattern by Splash By Quetita here

28. Flower Power Crochet Beach Shorts Pattern by Muto Crochet Designs
Channel your inner modern-day-hippie with these flower motif crochet shorts. With a lining, these shorts make a fabulous piece for a summertime date, concert, or music festival. Or, leave them unlined for the cutest swimsuit cover-up!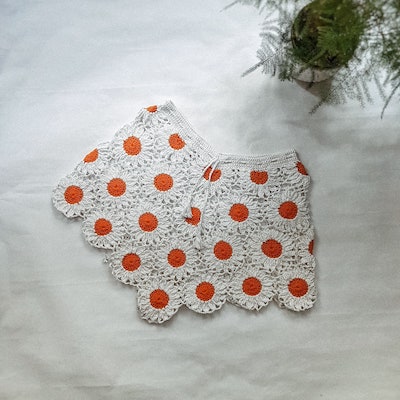 Get the Pattern by Muto Crochet Designs here

29. Elly May Crochet Beach Shorts Pattern by Drops Design
Using mostly single crochet stitches and a thin yarn you can create a really solid pair of crochet shorts. The cute and classy design is dressy enough for brunch and casual enough for a day at the beach. Choosing a neutral color like white is a great way to ensure that they go well with a variety of outfits.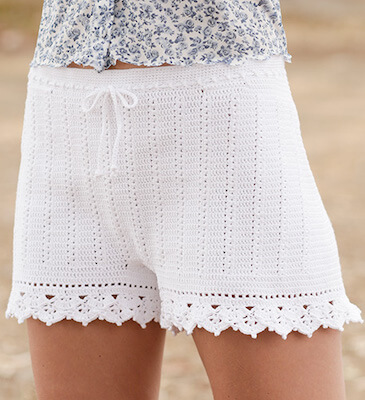 Get the Pattern here

30. Crochet Beach Shorts Pattern by Carroway Crochet
Keep it classic with white in these crochet beach shorts. It's a double crochet design that's both stunning and simple.
After crocheting from the top down in the round, you will add a decorative round of shell stitches around each leg hole. This little design element really adds a lot to the overall look and it's not too tricky either.
Get the Pattern by Carroway Crochet here
Crochet Shorts Frequently Asked Questions
Why crochet shorts?
Crochet shorts are a cute and fun item to add to your outfit, especially as the weather warms up! They can also be extremely versatile, such as using a lightweight cotton yarn for a breathable fit to wear at the beach or wool to keep your legs warm.
How do you wear crocheted shorts?
Grab a pair of crocheted shorts, a coordinating T-shirt, and add a blazer over top for an easy, on-the-go, appropriate-for-everything look. You can dress up the outfit further with a pair of chunky boots or strappy heels, but if you're just running out to do some errands, a fresh pair of white sneakers will do.
What kind of yarn do you use to crochet shorts?
Cotton yarns and cotton yarn blends are ideal warm weather fibers due to their lightness and breathability. Many easy crochet shorts patterns listed use cotton and other natural fibers such as linen yarns, bamboo yarns, and yarn blends.

Acrylic yarns, while affordable, do not create a breathable fabric so they are not the best suited for summer clothing like crochet skirts and crochet summer shorts. They would be more suitable for shorts you would wear at the beginning of autumn, or early spring.
How to measure your crochet shorts?
Crochet patterns for shorts are typically available in three sizes: small, medium, and large. Check the pattern to ensure you're using the correct size. If you are unsure of your size, try on a pair of pants that fit well and use that as a guide (or make one or two test swatches).
If you have trouble getting accurate measurements from yourself or others, consider measuring over clothing if possible or having someone else measure you instead of doing it yourself.
Are crochet shorts in style for 2023?
Yes, crochet shorts are definitely in style for 2023, so make yours before they go out of style! Most celebrities are seen wearing them, and we can't help but adore this trend. These shorts are definitely worth crocheting, so get your hands on them and wear them with matching crochet sets or any plain shirts or crop tops.
These crochet shorts are perfect for wearing over your swimsuit or for everyday wear.
If you make shorts out of these patterns, would you mind sharing your finished works with us, please? Post it on our Facebook Page. We'd love to see your efforts!

And if you're eager to find a lot more clothing patterns, we have a crochet clothing collection where you can find fashion-forward garments that are all worthy addition to your wardrobe. Crochet dresses, tops, corsets, you name it!

We hope this collection of crochet shorts comes in handy, and now that the season of Summer is almost knocking, get started and upgrade your wardrobe!