We have picked some amazing crochet sarong patterns for you. These are all stunning, light and airy crochet garments that are perfect for a day at the beach. Sarongs often feel like an afterthought, but they're one of summer's most valuable outfit accoutrements.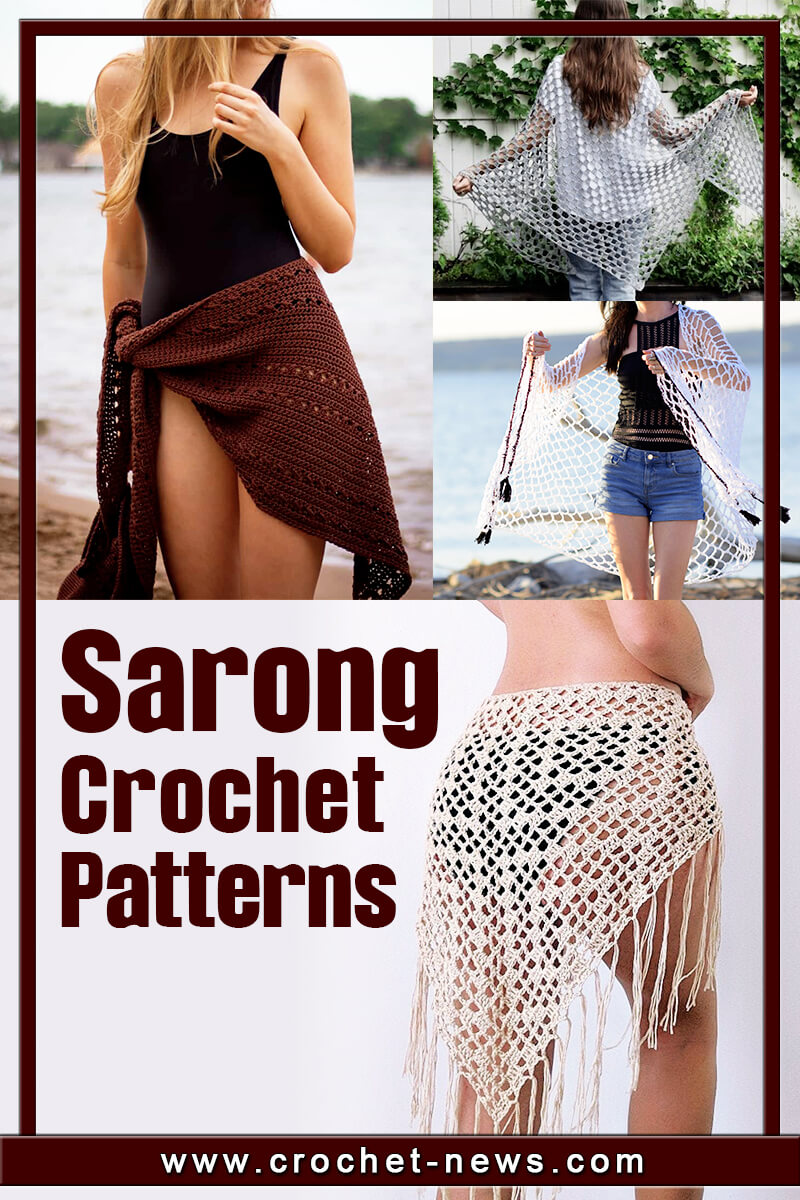 The benefit of a crochet sarong is that it easily doubles as a shawl or a scarf when you're going for a little more classy look at the beach. Let's say you've just stepped off the beach for a quick bit at a trendy cafe.
Just pull this fancy sarong around your shoulders or tie it around your waist and ta-da! you're ready for your close up! Play with the length to create the perfect sarong for your tastes.

1. Geometric Lace Sarong Crochet Pattern by The Snugglery Patterns
Take your filet crochet skills to the next level with this springy, Geometric Lace Sarong. You'll love the fast workup time, stylish triangle shape, and versatility of this pattern.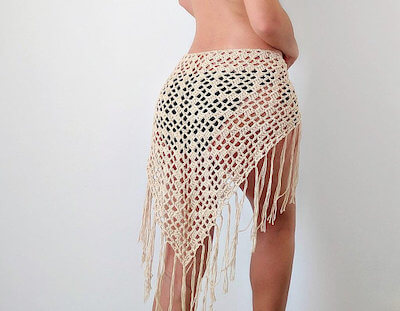 Get the Pattern by The Snugglery Patterns here

2. Cover-Up Free Crochet Sarong Pattern by Mama In A Stitch
This piece could be the most versatile cover-up that you've ever owned. This unique and airy sarong can be worn so many ways! Use it as a striking shawl or make in into a dress or skirt.

You choose how much you want to cover up and what style you're in the mood for. Plus, it's fun to crochet as it uses a super simple stitch pattern.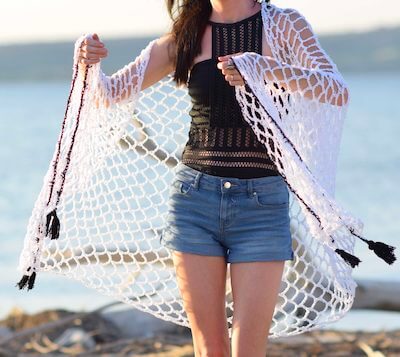 Get the Pattern here

3. Seashell Sarong Crochet Pattern by The Frosted Stitch
This gorgeous lacy number is perfect for wowing at the beach! Classy, but a little racy – let those legs shine with a gorgeous slit/opening and spice it up with tassels! Seashell here looks great in one, two or three colors so make it your own!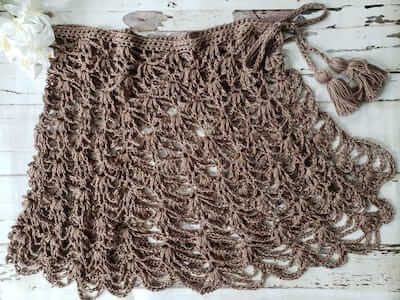 Get the Pattern by The Frosted Stitch here

4. Lace Harbor Free Crochet Sarong Pattern by Yarn Thrift
As summer wraps up, who doesn't love a good versatile and convertible crochet piece? This piece is originally designees as a sarong but it's also a great scarf! And a great wrap and shawl.
In short, this piece is a closet staple that can be used with so many outfits!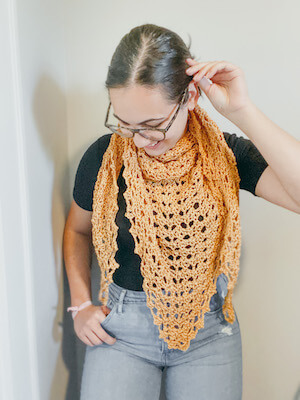 Get the Pattern here

5. Crochet Triangle Wrap Sarong Pattern by Two Of Wands Shop
Conjure up some spells while you drape this spider web-like shape over your shoulders like a cape, go for an effortless look with it styled like a scarf with the point in the front, or bring out your inner free spirit by tying it as a sarong at your waist.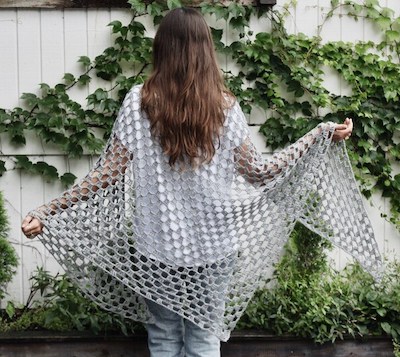 Get the Pattern by Two Of Wands Shop here

6. Beach Cover Up Easy Crochet Sarong Pattern by Whistle And Ivy
This easy and pretty Crochet Sarong Beach Cover Up is a quick evening project! Make it for your next beach day to wear in between sunning and swimming.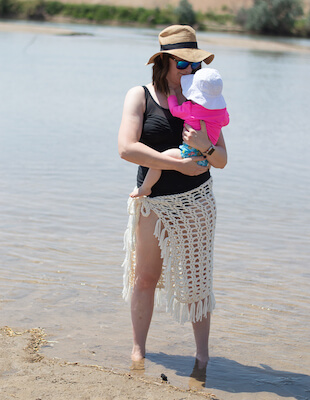 Get the Pattern here

7. Crochet Sarong Pattern by Crochet Garden
Wrap yourself in this striking, alluring summer cover up. Stitches were carefully chosen and then cleverly combined creating a stunning wrap of texture and lace that will compliment many figures and many wrap styles.

The vertical symmetry of textured stitches along curves captures the silhouette of the wearer, while the open work leaves one in awe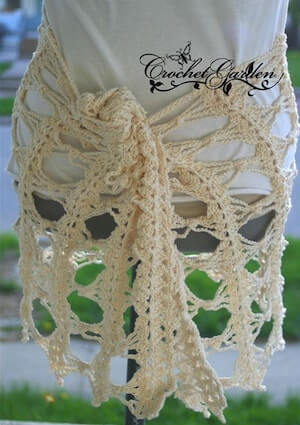 Get the Pattern by Crochet Garden here

8. Ariel Mermaid Wrap Crochet Pattern by Hello Gabby 88
This a wonderful pattern that you can customize by making in solid colors, or multi-color yarn! This is a great beginner project to work with great results. You can wear this like a scarf, a poncho, a shoulder or waist wrap!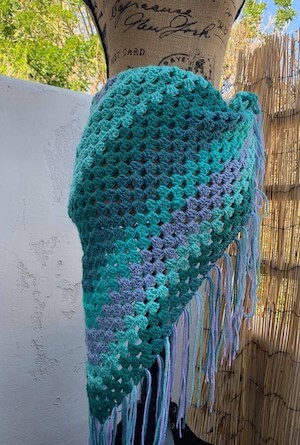 Get the Pattern by Hello Gabby 88 here

9. Crochet Beach Sarong Pattern by Standing Stones Yarn
Inspired by the love of fringe, this piece is created as a fun and lightweight summer accessory that can easily go from a beach cover-up, to something you wear over a pair of shorts or a skirt, to even a beautiful summer shawl. The possibilities of this versatile piece are as boundless as your imagination!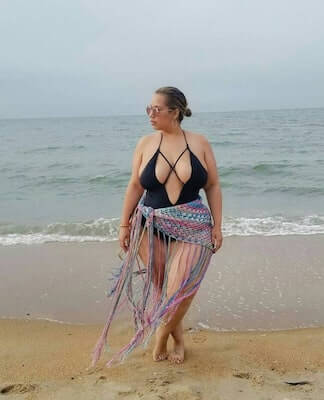 Get the Pattern by Standing Stones Yarn here

10. St. Croix Beach Wrap Sarong Crochet Pattern by Cre8tion Crochet
This wrap, though inspired by the sea, is not just to be worn at the beach. You can wear it lakeside, poolside or even while walking the boardwalk on any given day.

This St. Croix Beach Wrap has stitches that resembles stacked shells. You can make this wrap any length and color that you'd like making it uniquely yours. This wrap can also be worn as a shawl for when the sun is setting and the night is getting cooler.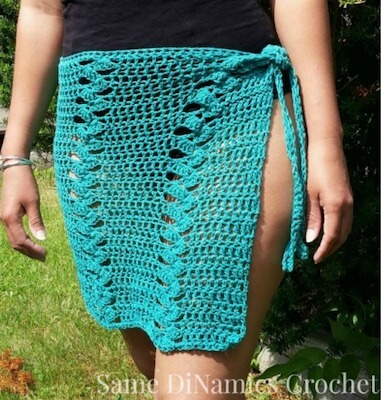 Get the Pattern here

11. Reggae Beach Wrap Crochet Pattern by Pattern Paradise
This is a fun wrap that may be worn in so many different ways. These pretty mother of pearl rings are added for a beachy Caribbean feel, but you can leave it plain or add fringe for different looks.
Use it as a lightweight summer shawl or a sarong beach cover-up! It would also look great over a tank or tights as a fashion statement.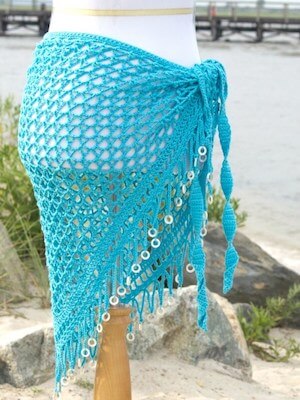 Get the Pattern here

12. Seaside Shawl/Sarong Crochet Pattern by Originally Lovely
Protect yourself from the sun in style with the Seaside Shawl Crochet Pattern! This convertible summer shawl transitions perfectly from hot days at the beach to cool summer evenings.
The unique triangle shape of the shawl can be worn as a sarong, scarf, or even a top.
Get the Pattern here
WHO KNEW MAKING A SIMPLE AND AIRY CROCHET SARONG COULD TURN INTO A SUMMER VACATION STAPLE?
What an easy and fun project for summer. If you make your own, you've got to share a pic with me over on Facebook. I'd love to swoon over it!

If you're eager to find a lot more summer garments to make, check out our list below:
Any of these beautiful crochet sarong patterns will have you ready to hit the beach in style. The only hard part is picking just one. Happy hooking!